Wrapping up the last of my parent's remodel here – I thought I would give you a brief peek at the rest of the house.
The living room was a small, low ceiling room with original wood floors, dingy white walls and some nice mid-century modern furniture (which wasn't staying, as it belonged to previous owners). Oh, and no overhead lighting whatsoever.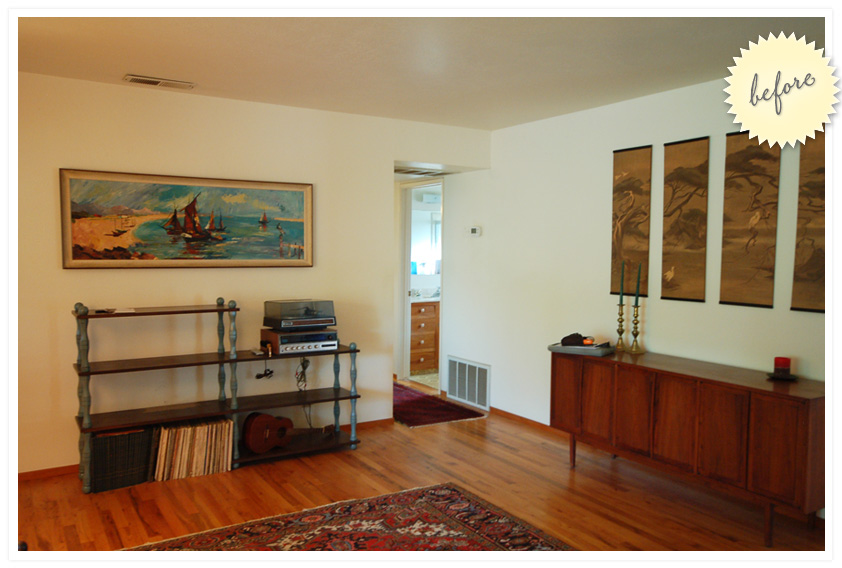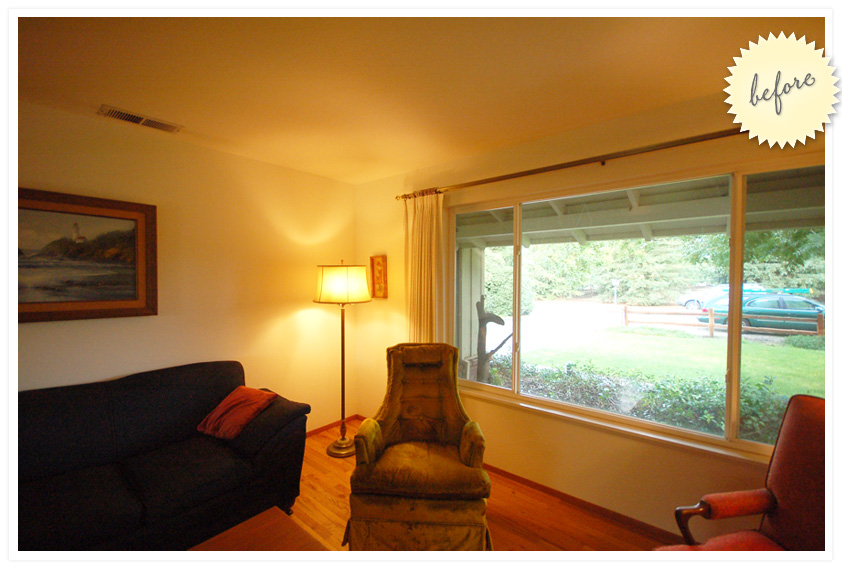 My parents painted it a pale yellow (are you sensing a theme here yet?) and bought some built-ins and a couch from ikea to keep it fresh and simple: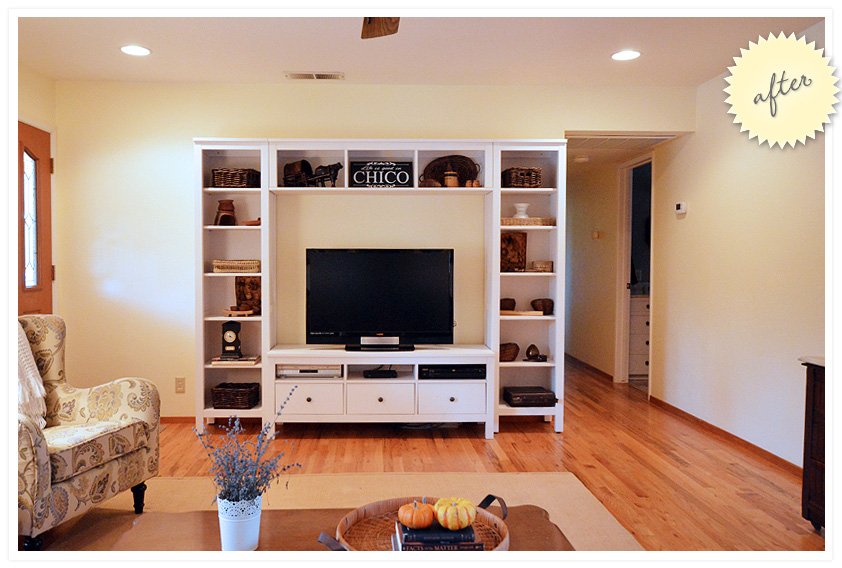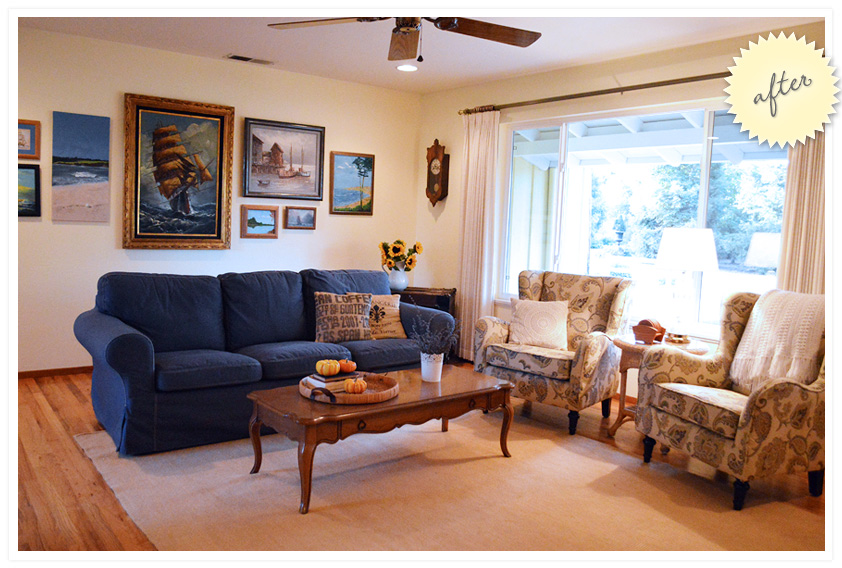 The couch was originally white, but they ended up having to get a denim slipcover because they just couldn't handle the dirt/dust any longer (living by orchards can be quite dusty). So we decided to roll with it, and assembled a ship/ocean gallery wall behind the sofa. The huge oil in the middle? They picked it up down the street at a yard sale for 20 bucks. That frame alone is worth the price of admission…
They plan to refinish the coffee table (also a garage sale find), and I am still trying to convince my dad to let me paint that ceiling fan white…
The paintings were collected over time – a watercolor from the Paris flea (we brought that back from our trip in 2009 – they watched Cam the whole trip), an oil from the Philippines, paintings by friends, etc.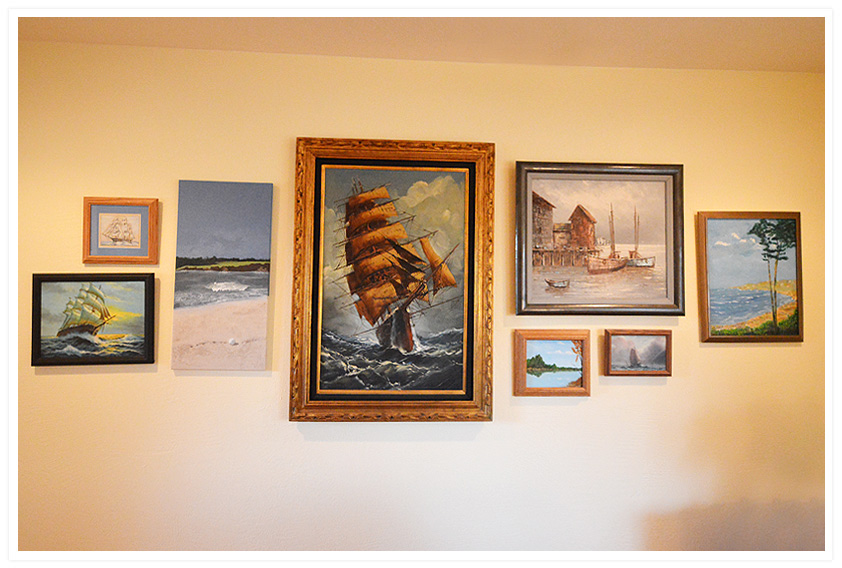 The dresser my mom also picked up for a steal: I love the marble top (surprise surprise) and wood patina: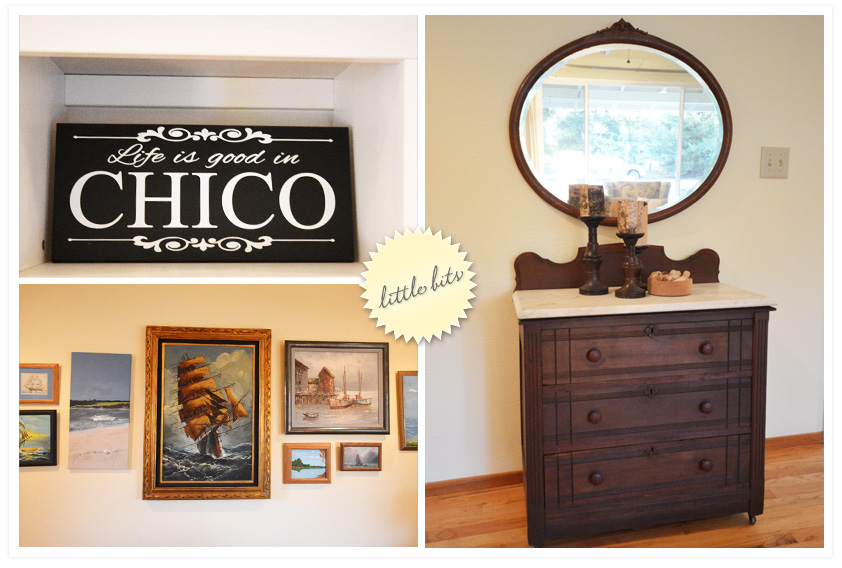 The wing chairs are from Pier 1 (like this but in blue), their scale is small, which is good for a small room: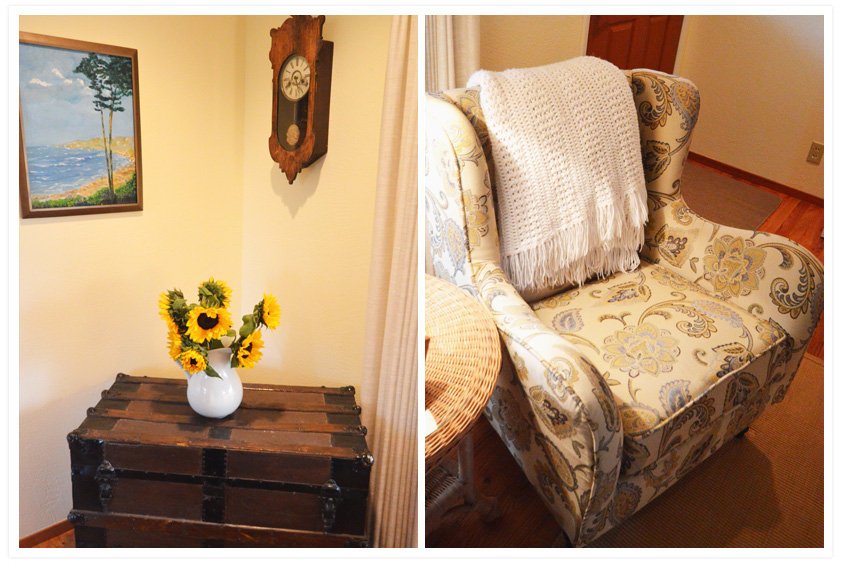 Next up, the dining room! Here is the before, it was acting as a sort of den: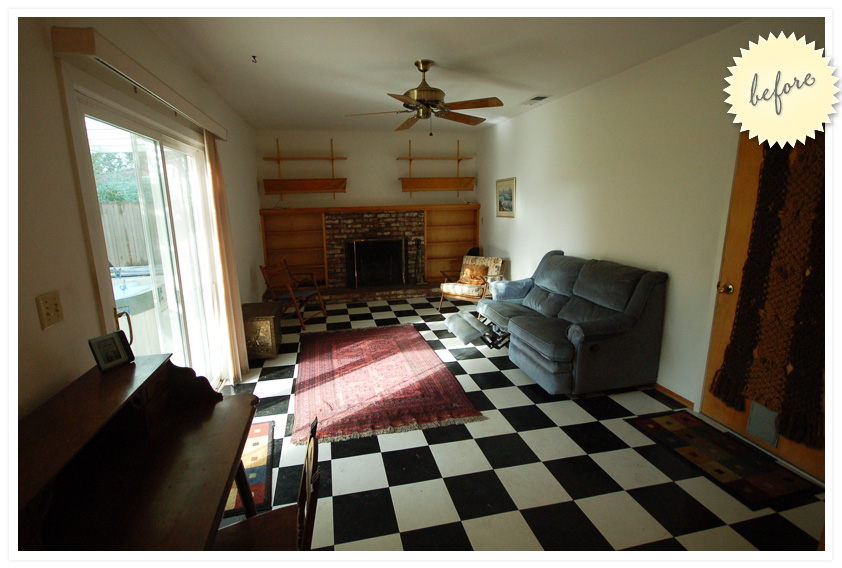 And here is the after: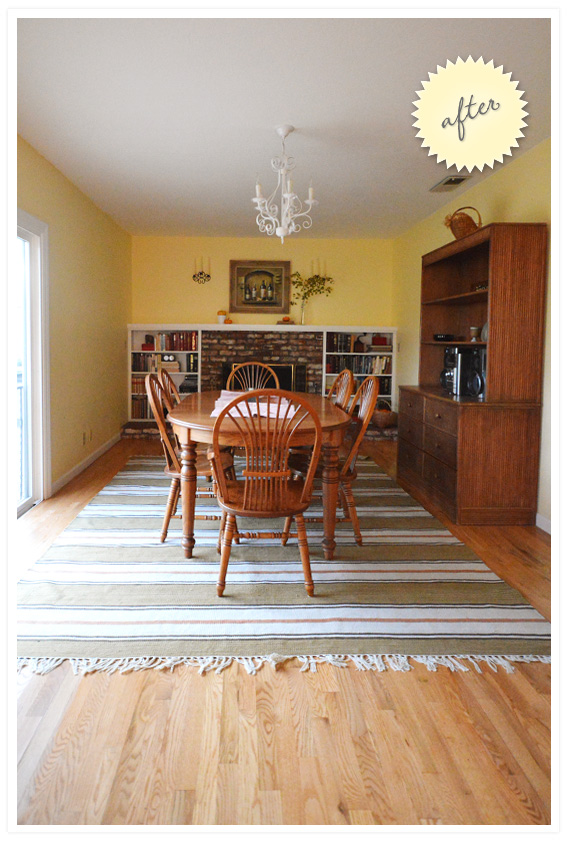 Including a shot of it set up for thanksgiving dinner (20 people!):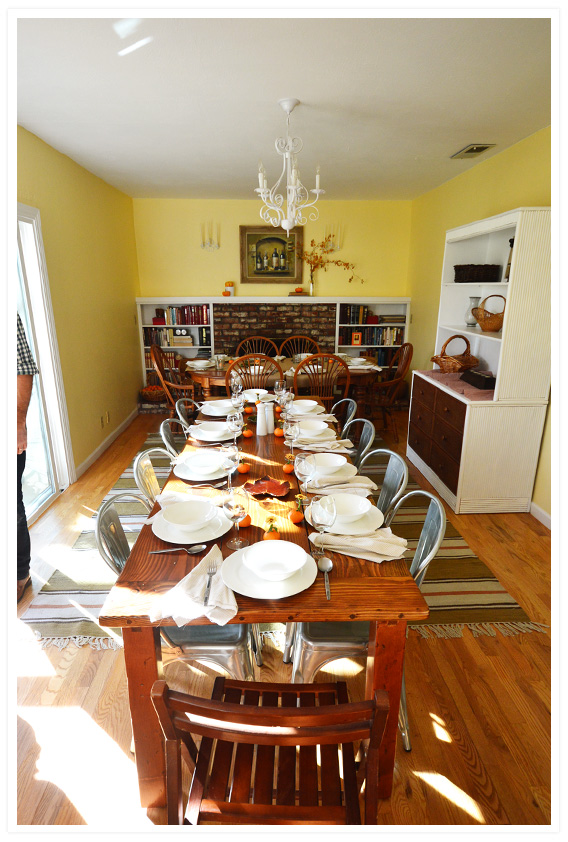 The fireplace is in the dining room: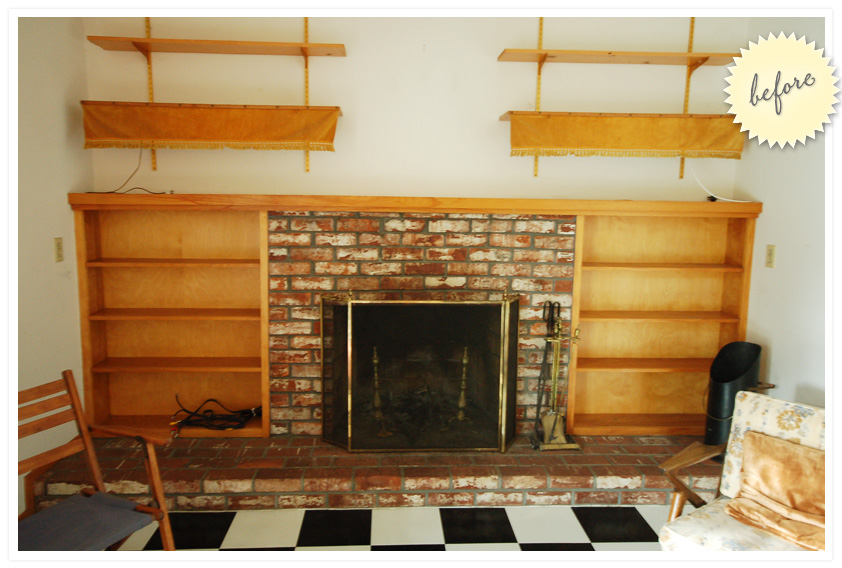 They simple painted the built-ins and removed the upper shelving: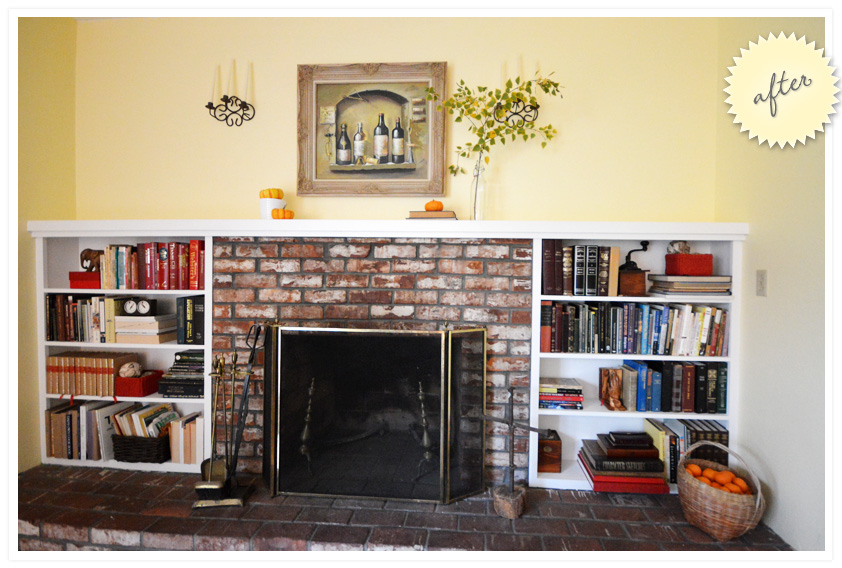 A little arranging by color: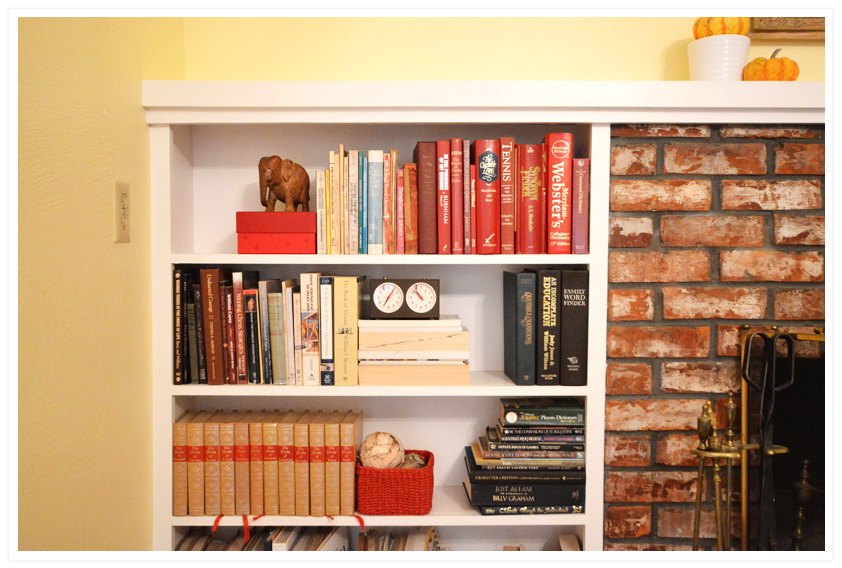 And mantle prettying: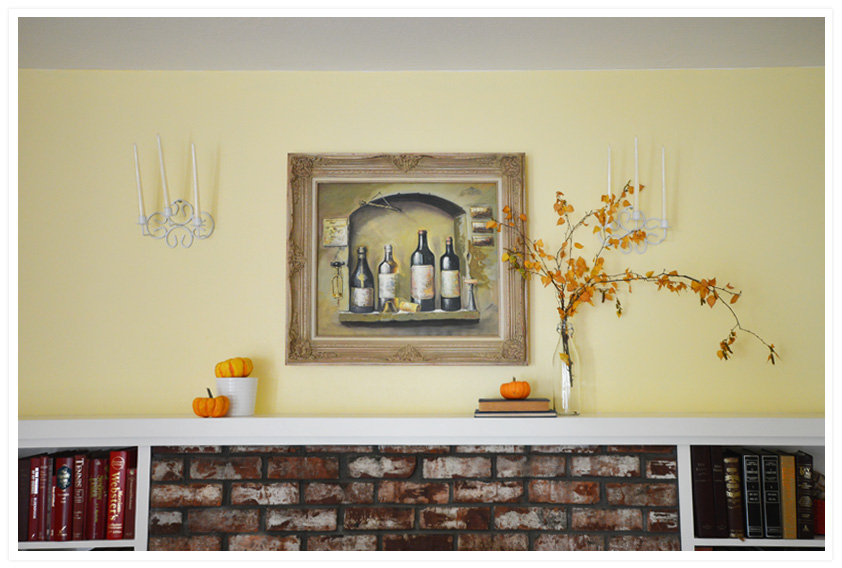 And, done!
Finally, I have some shots of the hall bathroom.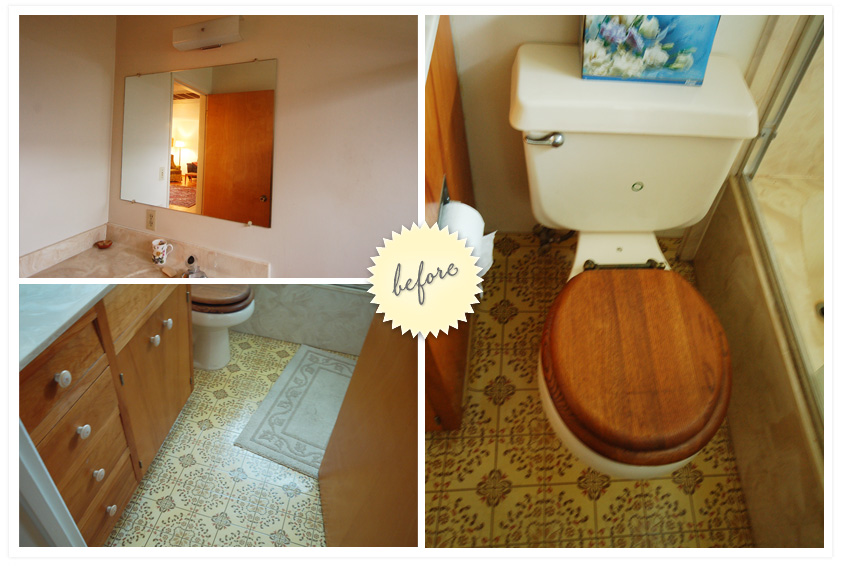 Too small a room to easily capture in one shot.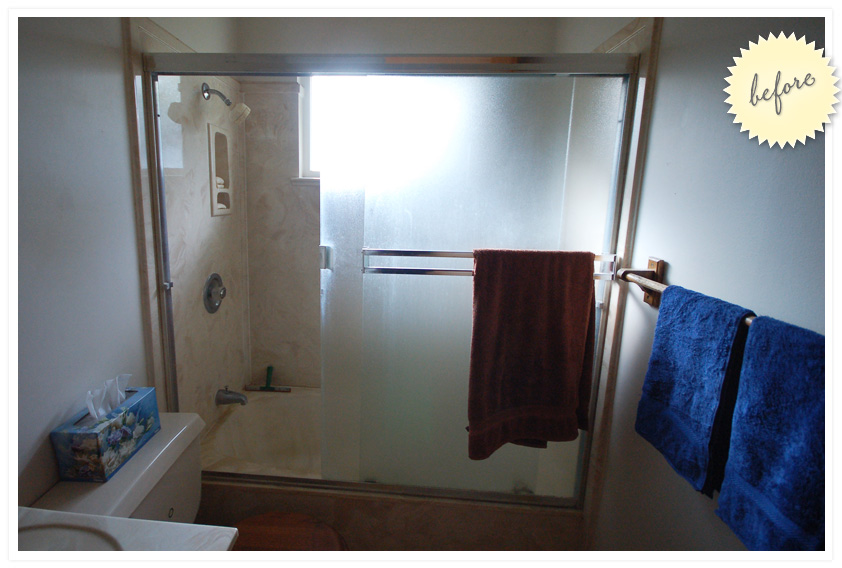 Old linoleum, old glass shower door, cultured marble.
To keep the costs down on this, they simply replaced the old vinyl with hexagon floor tile, replaced the mirror and fixtures and painted the vanity and walls.
And in my opinion, a new toilet (or at least toilet seat!) is always very, very important.
That's the last of my parent's little cottage ranch makeover! Thanks for playing along! If you want to catch up, you can read more on the original inspiration, the front of the house, the amazing backyard, and the kitchen remodel.
Hope you're having a great week!