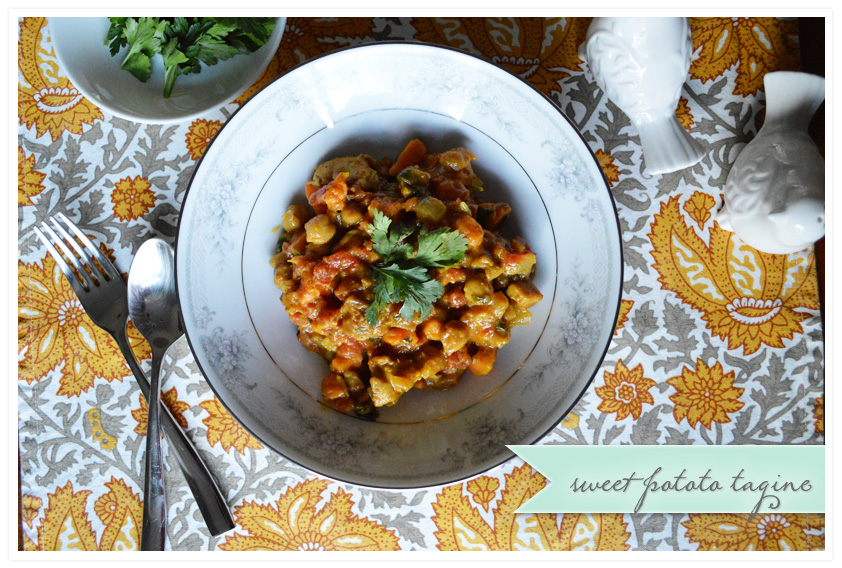 Popping in here with a quick recipe. I've been totally crushing on tagines lately! Perhaps it's the winter weather (no that can't be it, because we haven't been having any), perhaps it's the abundance of root vegetables at the farmer's market (likely) or maybe just that cozy soup/stew feeling you want to have as the days are dark early and the nights set in cold. Regardless, Moroccan-influenced cuisine fills that spot perfectly.
This recipe is a corruption of true Moroccan cooking. With a tagine stew, I use what I have on hand, so the ingredients vary greatly. Also, I have an adorable tagine pot (similar to this one) which I have used on a number of occasions to cook the stuff, but now, with four strapping men that eat around here (seriously, those littles can EAT!), I cook this in my big cast iron number on the stove. Any pot would work.
I like to roast my vegetables. When the kids get up from nap, as we settle into the evenings activities, I chop up whatever root/squash/vegetable I'm using, toss it with a little olive or coconut oil, and put the tray in the oven for 20 minutes. It's easy, takes no time at all, and I can always find a use for those vegetables in my dinner prep, or the next day. Roasted sweet potatoes? Delicious. Roasted butternut? Check. And don't get me started on roasted broccoli and cauliflower…. yum.
So, you could skip the roasting part (the sweet potatoes will cook in the stew if you do), or you can roast them and add their sweet charriness and crunchy but soft texture right at the end of cooking the dish. That is what I recommend.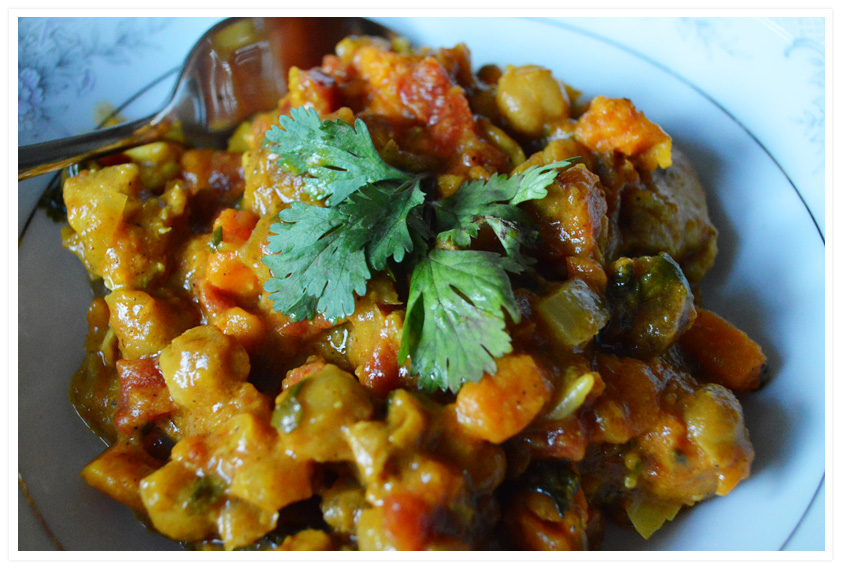 I apologize that I don't have any process photos for this recipe. Like I said, it was a last minute idea, as I ate leftovers for lunch the next day, to post this recipe.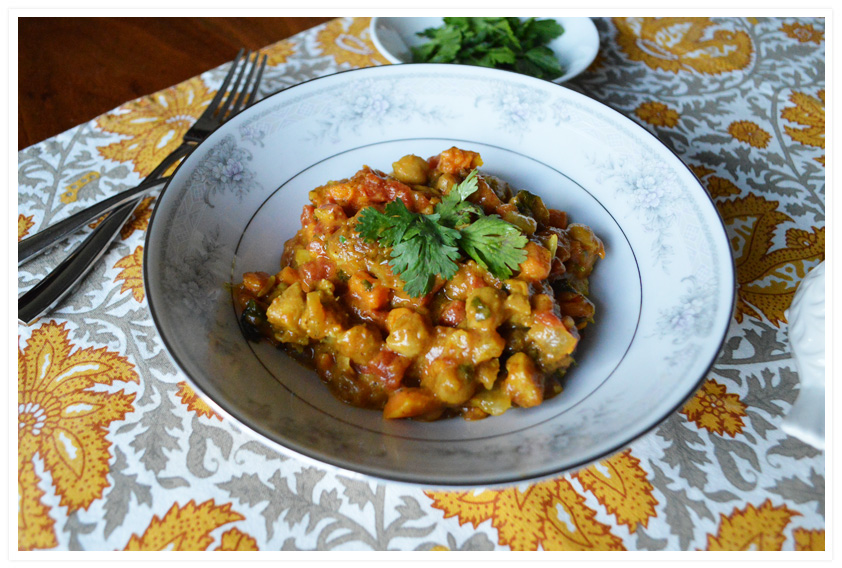 This stuff is good, folks!! And pretty fool-proof too.
Sweet Potato and Chickpea Tagine
3-4 medium sweet potatoes, peeled and diced
1 onion, chopped
1 clove garlic, minced
1 Tbsp (at least) Garam Masala spice (or a blend of your own spices: cloves, cinnamon, cumin, cardamom, ginger, turmeric, cayenne, black pepper – you can and/or whatever you have on hand)
1 14 oz can chickpeas (garbanzo beans), drained
2  14 oz cans diced tomatoes in juice (or fresh if they're in season)
1/2 or 1 14 oz can coconut milk (I know this doesn't sound very moroccan, I'll explain later)
3/4 cup Dried Apricots, chopped (or raisins if you don't have these)
Fistful of fresh cilantro
Slivered Almonds
Cubed cooked chicken thighs (if you have a meat-eater who can't tolerate the idea of vegan food)
Toss the sweet potatoes in coconut oil (my favorite) or olive oil  and roast in a 450° F oven, for about 15-20 minutes. Meantime, sauté the onion in a little olive oil until soft, then add the garlic and spices and let it get very aromatic (if you were cooking or adding raw chicken you could do so here and brown it completely). Add the chickpeas, tomatoes and coconut milk, bring it to a simmer. Add the dried apricots and cilantro, season to taste. Garnish with slivered almonds and cilantro, and serve with basmati rice or couscous, or by its delicious self!!
*A note on the coconut milk – I used it because I was out of vegetable broth (the normal liquid ingredient) and it delighted me with it's light creaminess and curry-like qualities. So, I recommend it. This is all fusion food anyway!

The substitutions are endless – don't have sweet potato? Try butternut squash (yum) or parsnips. Out of Apricots? Any dried fruit will work, although maybe not pineapple. Parsley for cilantro, add other veggies, the possibilities abound with your imagination. Mediterranean olives are an excellent addition.
What food are you crushing on right now? I'd love to hear your current go-to recipes!