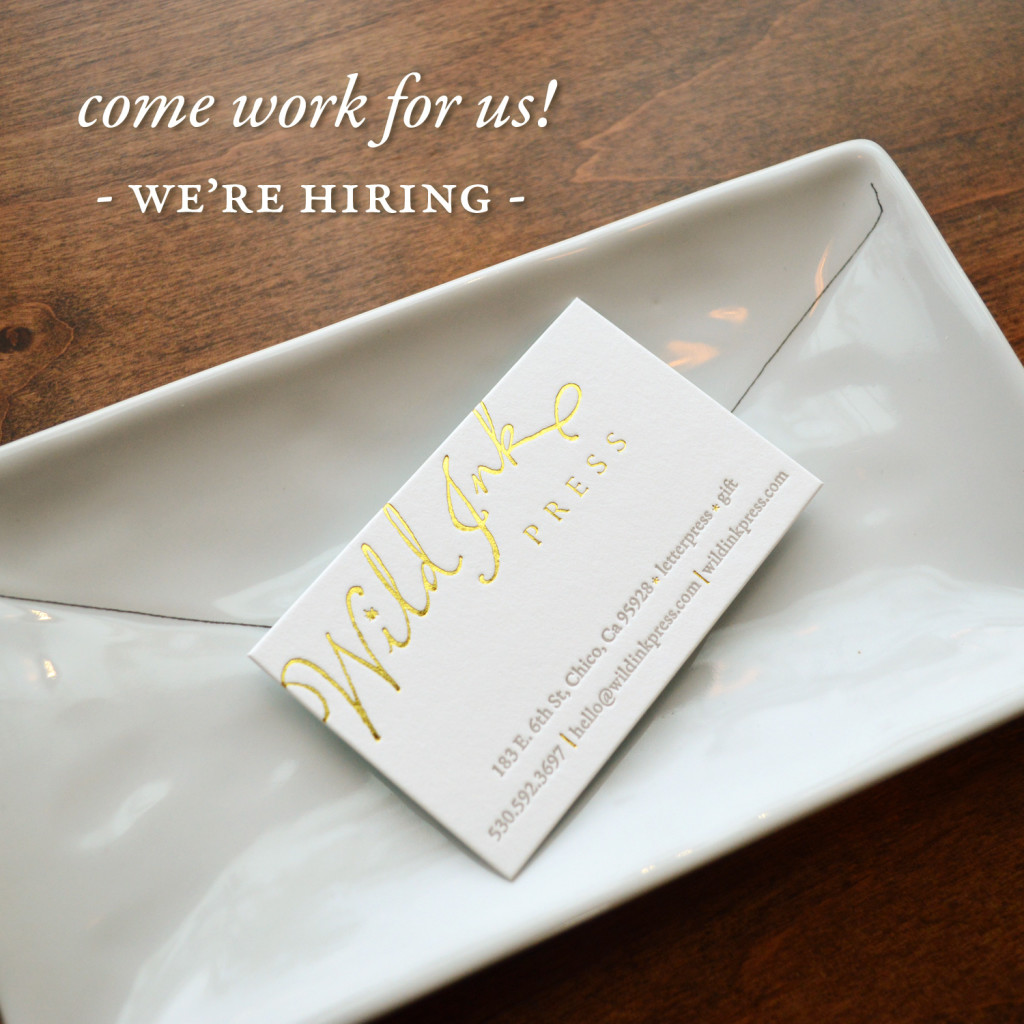 Yes we are!! Would you like the above to be YOUR business card? (And yes folks, that's our new address!) We are expanding our team and looking for someone special to join our crew of six. Read below…
We are looking for:
A Sales Manager / Accounts Specialist / Marketing Creative (all rolled into one smart person)
About you:
Strong attention to detail (this is not optional!)
A thorough knowledge of letterpress and Wild Ink Press' brand essence
Warm, enthusiastic and take direction well
Able to nurture and maintain client relationships
Highly self-motivated
Excellent time management skills
Experience in sales and marketing environment
Amazing phones skills and a good sense of humor
What you'll do:
Wholesale Accounts
Maintain and motivate wholesale accounts
Establish new customers
Special mailings (offers, gifts, thank yous)
All wholesale information management
Sales Reps
Develop new rep relationships
Maintain current sales rep communications
Calculate commissions
Marketing
Travel 3-4 times per year to Tradeshows and other engagements (mostly NYC, usually one week at a time)
Research and establish marketing plan both locally and nationally
Come up with promotional strategies
Be involved in Social Media and blogging as necessary
Incidentals
Occasionally act as a personal assistant to Rebekah (errands, second on photoshoots, etc)
Be able to operate front sales at the retail shop and cover main sales persons lunchtime/off shifts
About us:
Wild Ink Press is a letterpress studio and greeting card company in Chico, California. We value fine craftsmanship, attention to detail and fun ideas. We are a growing young company with a warm and friendly environment and excellent work ethic.
Etc:
25-35 hours per week (potential to full time) Compensation DOE, with bonus structure for accounts.
BS/BA strongly preferred, computer proficient on a Mac and with Word/Excel (In Design & Illustrator a plus!)
Send brief bio, photo (if you have one) and  résumé  to: hello (at) wildinkpress.com with the subject line Marketing Creative. Absolutely no phone calls please. Position will remain open until filled.
PS how pretty are those business cards?
PPS you'll really like working for us!