Hi guys! Look at me, back on the blog only a week later! I thought I'd pop in to share with you a fun thing I've been doing these past couple of weeks: Menu Planning. Oh, I know, it sounds institutionalized and stuffy and a bit like summer camp or some other large server of mass-market food (i.e. on Tuesdays we have peanut butter and jelly, and on Wednesdays it's bologna and cheese…), but it's not really like that at all.
We were in a bit of a food rut. I'd find that I'd stock my cupboards and fridge full of food and then arrive home from work near 6 pm with no idea what to make, look at Matt and ask: "What should we have for dinner?" His usual reply: "Well, what are our proteins?" (As in, what meats are in the fridge – just like a carnivore man. Yeesh.) Then I would throw together something from there, not terrible, but not super-inspired, either. Tacos, spaghetti, pizza, you know. Basic stuff.
So in order to break out of that malaise, I decided to try menu planning. I started it two weeks ago and so I am 14 days in, and let me tell you, it's been a big hit! I start the shopping week (Saturdays for us) by going to the farmer's market and buying what's in season there. Strawberries, broccoli, cabbage, all the early spring leafy greens and herbs. Then I write out a menu based on recipe books/Pinterest (let's face it, mostly Pinterest) using what I just bought. THEN, I go to the grocery store and pick up the other items needed for those recipes, trying to interchange meat, fish, and vegetarian options through the week.
I pin versions of all the recipes I use that week to my Pinterest board Eat the Rainbow, which you can follow if you'd like! But I mostly wing it on the recipes, and substitute/make my own for what fits our needs and schedule. So, do you want to see what we ate and made? Let's do it!
Here was this week's plan…
French Lentils with Mushrooms and Kale: This was a really good recipe, and would be vegan (except I added a teeny bit of cream and parmesan to finish it off, rather than coconut milk). Very excellent, with earthy mushrooms, a nice way to start the week off meatless.
The unedited photos of how it turned out: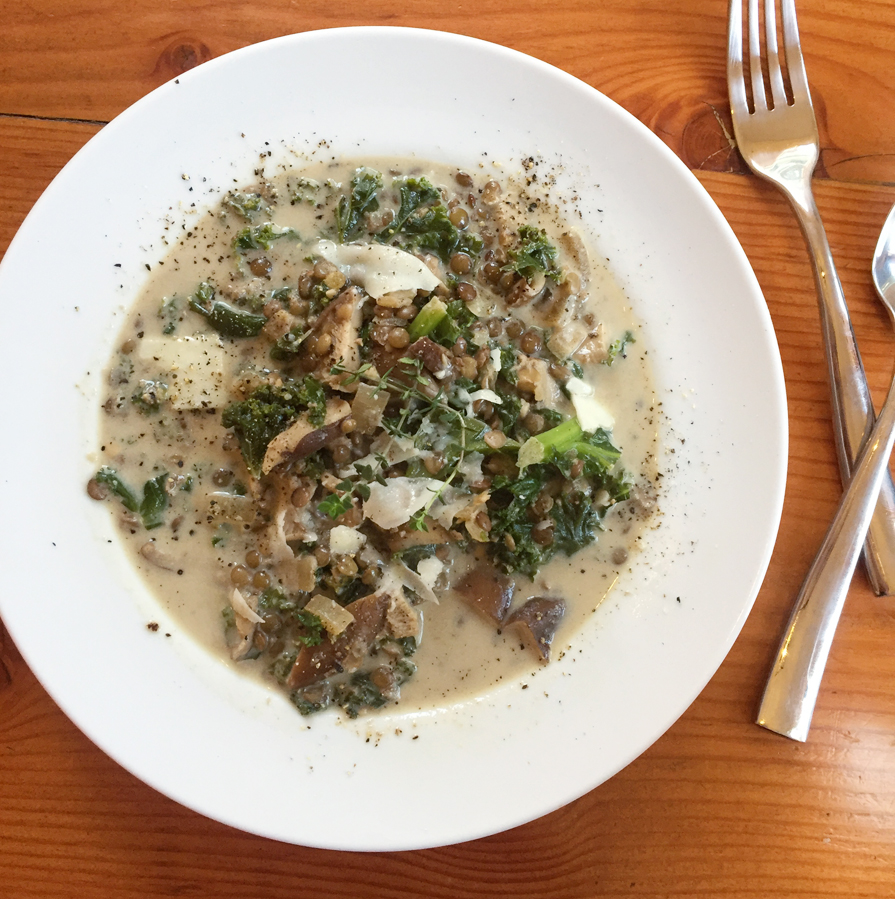 Would make again for sure.
Paella Valenciana / Paella Mixta – We have three rabbits in our freezer gift to us by a friend from the FFA auction (future farmers of america). I need to see them through before we end up with a new year's batch in there! This recipe used up one rabbit – you can easily substitute chicken. I added shrimp and mussels because the boys are crazy about them. We had impromptu company and still lots of leftovers.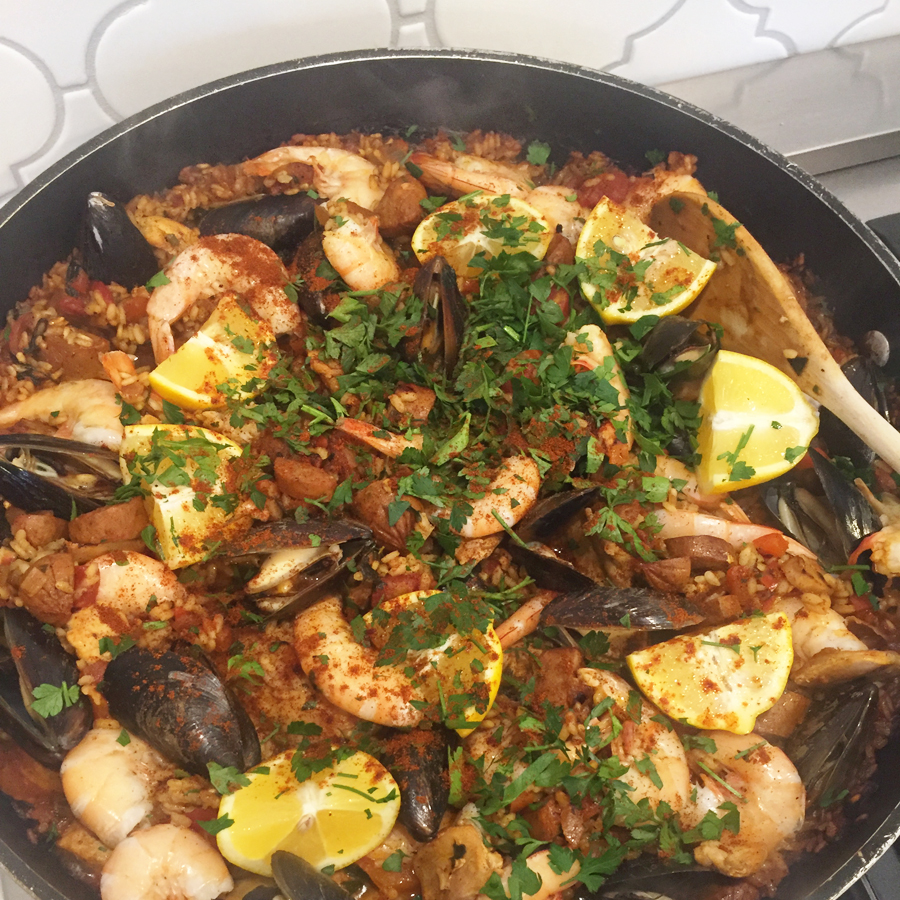 Verdict: time consuming, so not every day, but a fun once-a-year dish. After you butcher and chop everything, it comes together quickly.
That day because it was Sunday, I also made pie! Our march pie from the Calendar is Banana Cream. Easy and fun.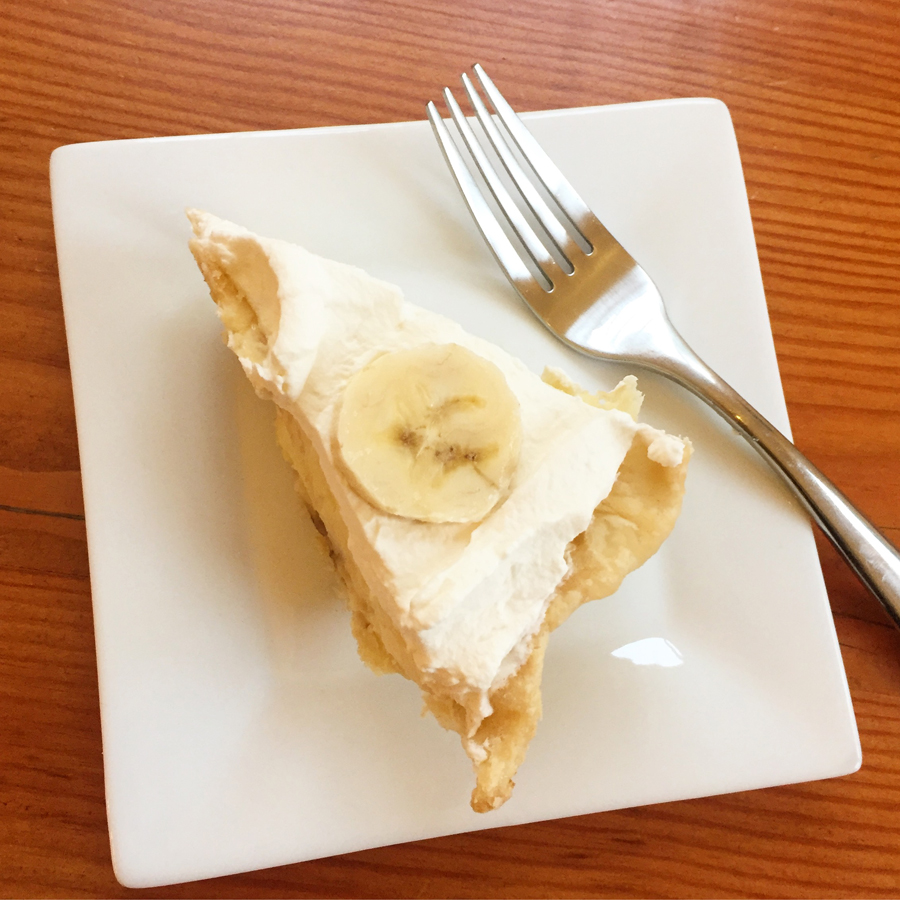 The next day: We had leftovers.
Mahi Burrito bowls with Coconut-Cilantro lime Rice and Strawberry-Mango Salsa – I do not have a picture of this one, must have gotten distracted, but it was very good. We love burrito bowls because no tortillas necessary! Good use of all the strawberries I had from the market.
Korean Beef Tacos with Asian Slaw – I had a beef brisket in my freezer (this is not the corned/red kind) that I wanted to work through. Also, I had fresh cabbage from the market. I boiled the beef the way you would to make korean rice cake soup (seared in sesame oil, then simmered in water with green onion and leek), shredded it and added a korean barbecue sauce (We Rub You) plus some more chili paste. Shredded cabbage, green onion, cilantro and carrot in an asian style vinagerette (brown sugar, rice vinegar, sesame oil, ginger), and voila! Easy, tasty, done. It does take a while to cook the beef so I suggest you do it the day before.
The unedited photos of how it turned out: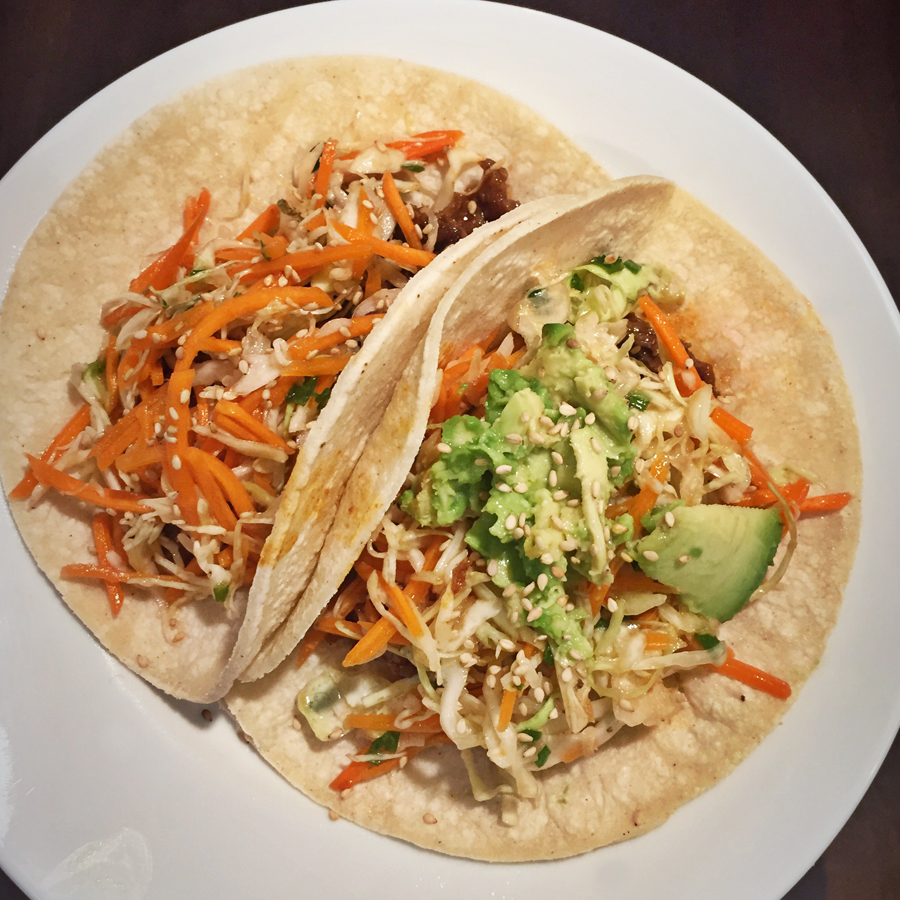 There is always a Korean style taco somewhere in our month. Yum.
Spinach Chicken Curry Saag – If I did a korean dish, my sweet little punjabi boy will always ask if an indian/pakistani dish is up next! Saag is delicious and easy, I cut the fat by using greek yogurt instead of cream, and I served it with brown rice. Yum.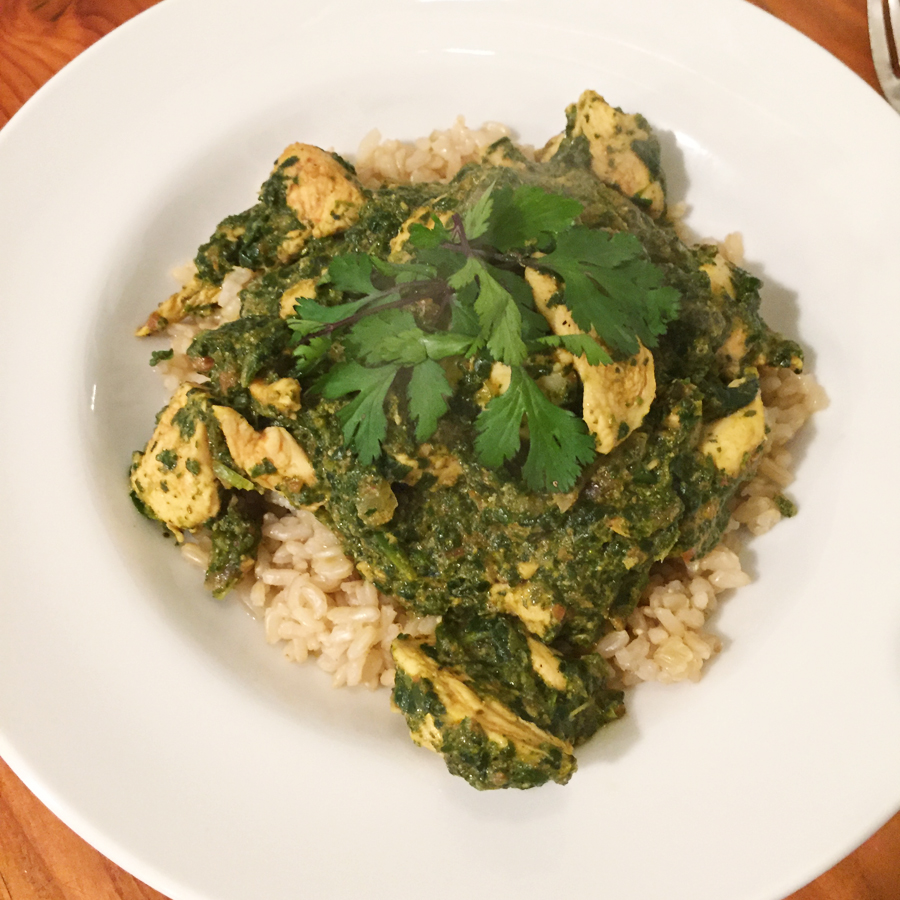 This was so much better than the restaurant kind to me! I'm not sure why – maybe less heavy, with beautiful fragrant new spices (I ground mine up fresh).
Tonight: leftovers and family movie night! I'm planning to make a pie because I still have one more crust.
PS I left out the salads/veggies we ate with these meals. We did eat salad and veggies.
This week's budget was $140 for groceries and the market. This includes breakfast, lunches and dinners for 5 people, three of which are hungry boys. It was less than last week's cost ($170) because I used two freezer meats – Rabbit and Brisket.
Speaking of which, just for reference, last week we had:
Corned Beef and roasted cabbage with Irish Soda bread
Shrimp Tacos with Cilantro slaw
Foil baked Salmon with mushroom quinoa
Chicken Tagine with preserved lemons
Thai Coconut Boullabaise
I plan to share my weekly menu on my instagram account each Friday or Saturday, with a recap of how it went, you can follow along there! I may occasionally pop in here to share my very favorite recipes.
So tell me, friends, how are you spicing up your day-to-day meals? Any great inspiration/finds  you've been cooking lately? I'd love to hear about them!
Happy weekend.