(I wrote the start of this post in July 2016, so it's a bit dated. But it is a good time capsule of how I felt at that moment!)
You guys. I want to share with you about our new old home. It's a 1926 Tudor Revival, a vintage gem.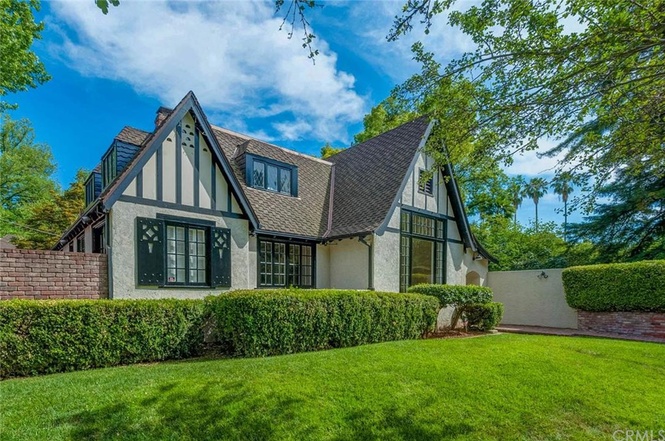 (Photo from the MLS listing)
Honestly, we have ALWAYS loved older homes with charm and character, but life back then handed us a newer, respectable, albeit rather bland home, and we worked with it, pouring all our love into renovating bit by bit, and gave it tons of newfound character and appeal. In fact, we've recently said that ONLY one of our "bucket list homes" (i.e. an older home with character close to downtown and the park) would ever make us move at this point. I wasn't even really watching the real estate market, something I usually comb compulsively, because: once a real-estate-gawker, always a real-estate-gawker ;-). But we had been so busy with the stationery show, shipping orders, school being out, and then guess what? On a random Wednesday I checked the MLS and one of those older homes, one on our top four sheet, had just come up that day!
Things like this rarely happen: we saw it that same day, we fell in love, it was within our (dream home) budget, we made an offer (and I threw in a pleading letter about how much we love the home and the park and here's a pic of my kids running races last year, etc.), and we waited for a bidding war or a counter or for them to hold out on us, and, and… they didn't! They accepted our offer. Craziness.
(Okay, welcome to current day. Fast forward nine months and I'm writing the rest this afternoon (3/23/17) gearing up to share with you some before-and-afters,  but it seemed like posting the bit of history above was important.) Thanks for bearing with me, you guys are great!
So, we've been living here nine months and let me tell you, we love it. We've been working hard to preserve the historic charm and also remove inconsistencies and update it to shine as the gem that it is. So far, we've painted the interior, refinished/restored the original hardwood floors, completely overhauled the sunroom (as a result of unexpected wet rot), and remodeled the kitchen and butler's pantry (which were both from the seventies era). We have not touched any of the bathrooms (some are original and need love, others are modern and ADA and need a historic renovation), nor have we delved into the master bedroom (which needs a revamp – again, ADA).
Soooo…. I want to share some of those before-and-afters, but before that, I think a mini-home tour is in order. Not the whole shebang, but bits and pieces so you can see what we're loving on right now. (Pssst – if you follow me on instragram a lot of this is old news, including the remodel, my 13 weeks of basement kitchen, and house snaps filed under the hashtag #1926tudor).
Without further ado! (All photos here are from before we moved in);
This is our home: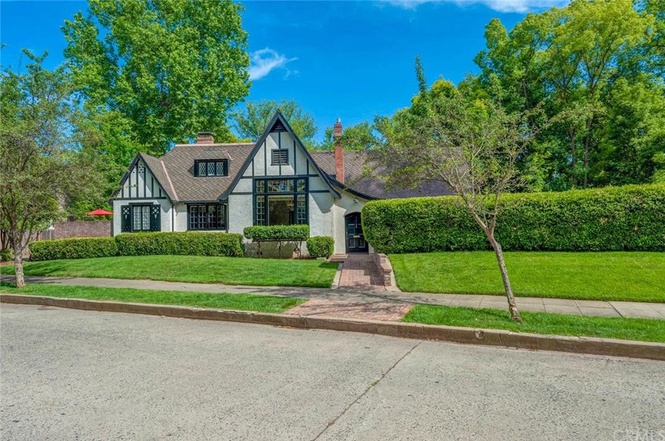 This is the entryway: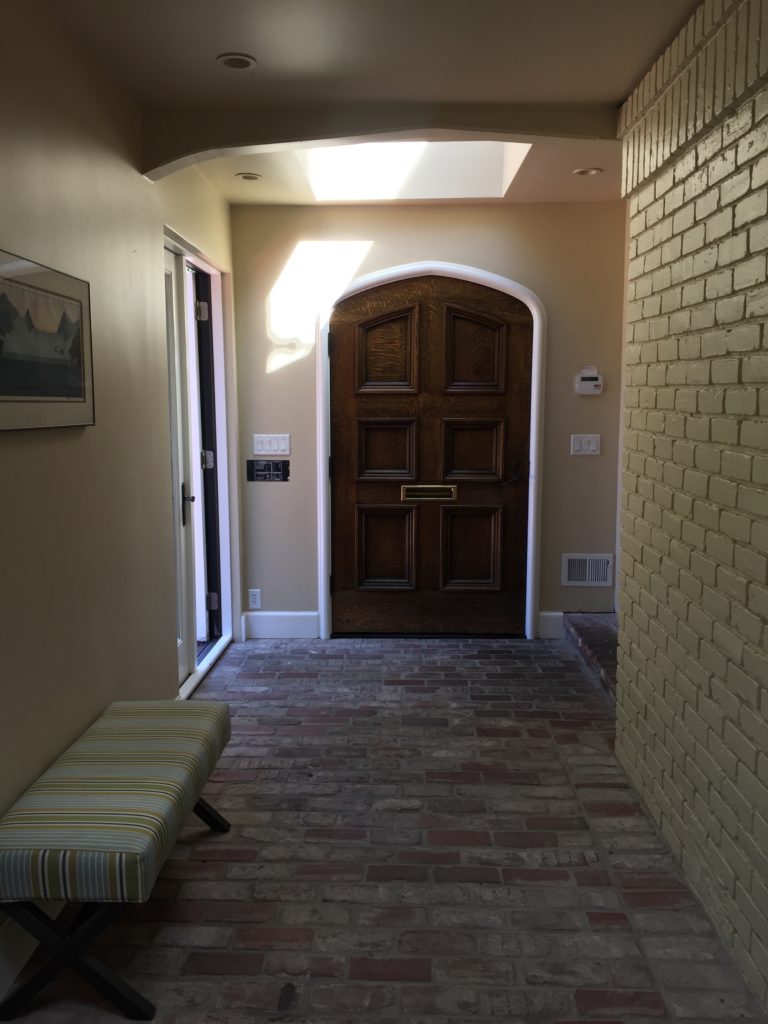 Here was the living room, staged for sale: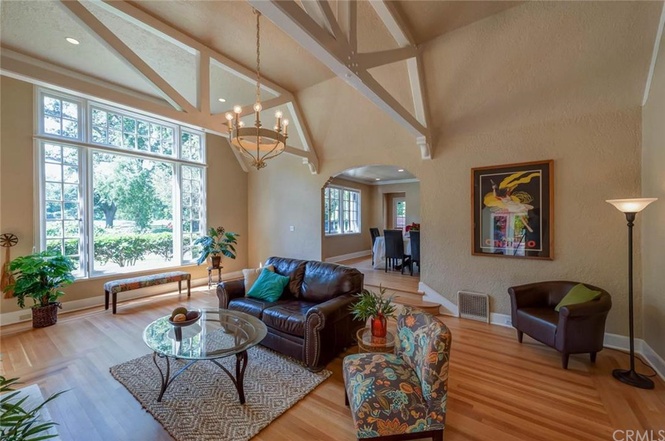 And the dining room: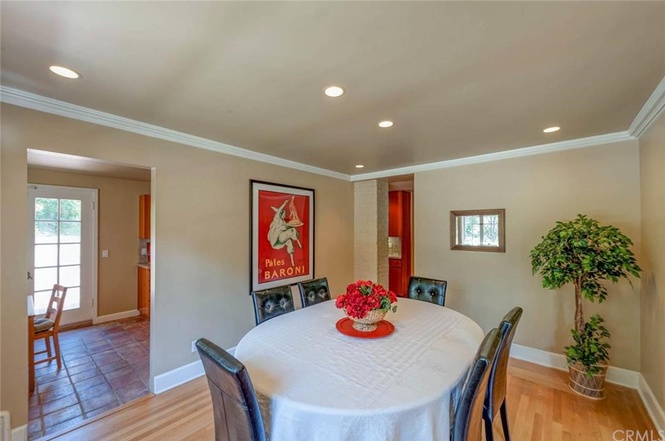 Kitchen (that is no more):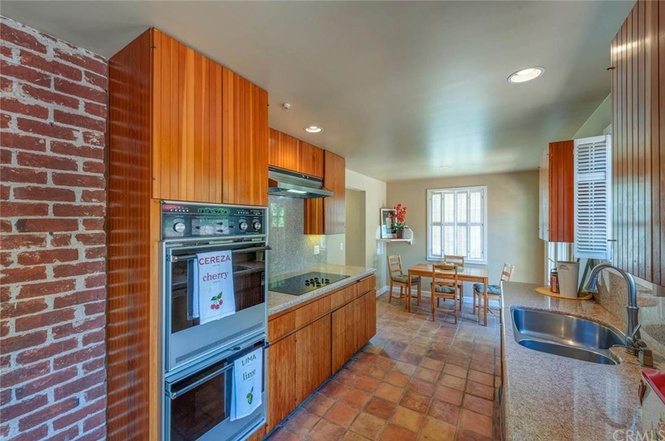 Butler's pantry (also no more):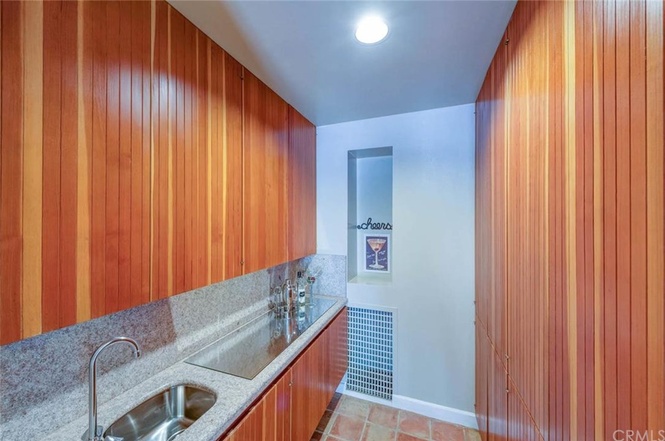 Sunroom (that has had a gut renovation since):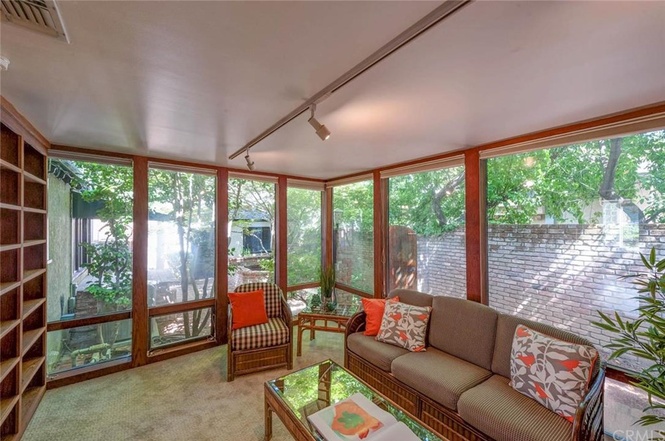 Office:
Upstairs Bedrooms: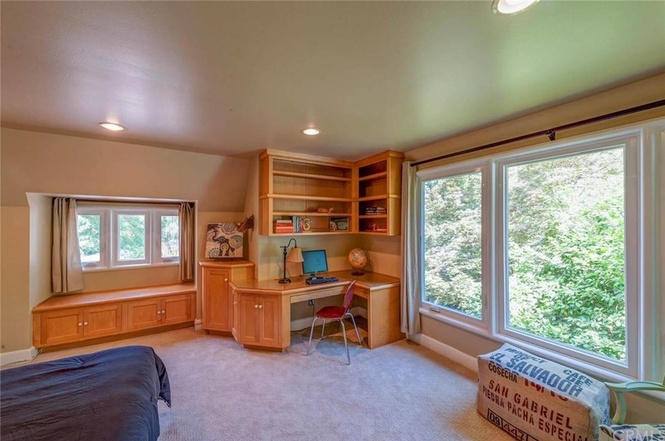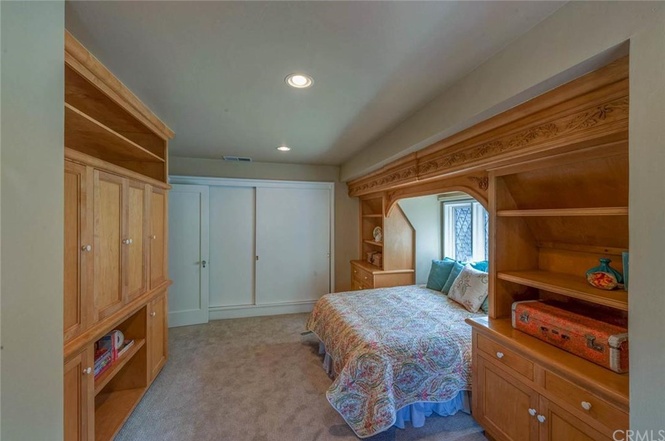 SECRET room (we hadn't even found this when we made an offer!!):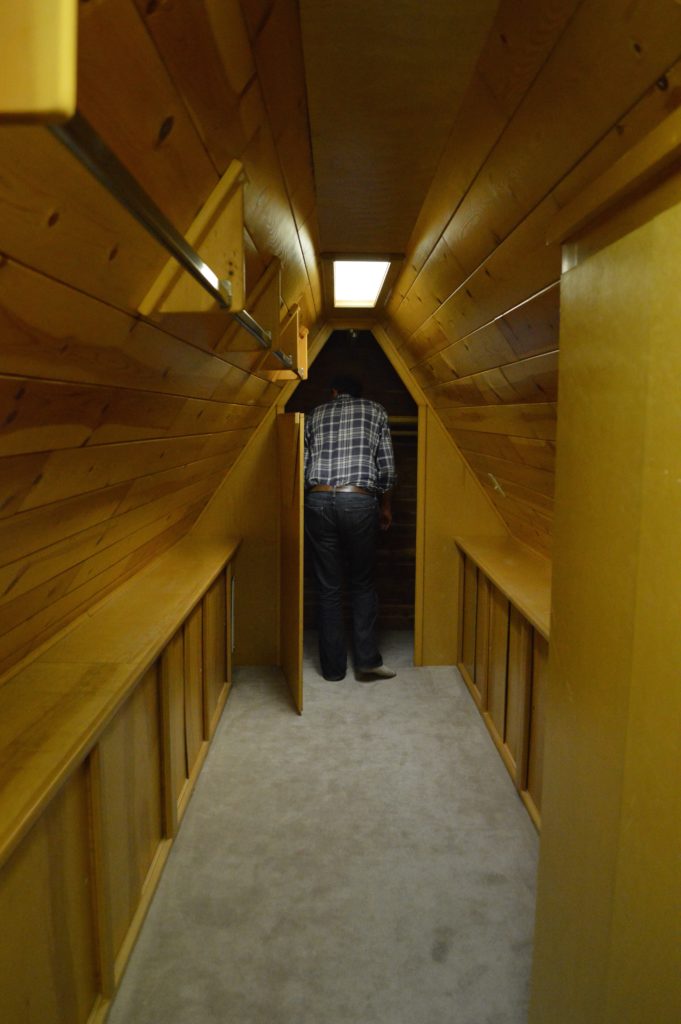 Upstairs lavender and tan bathroom (with original purple toilet!):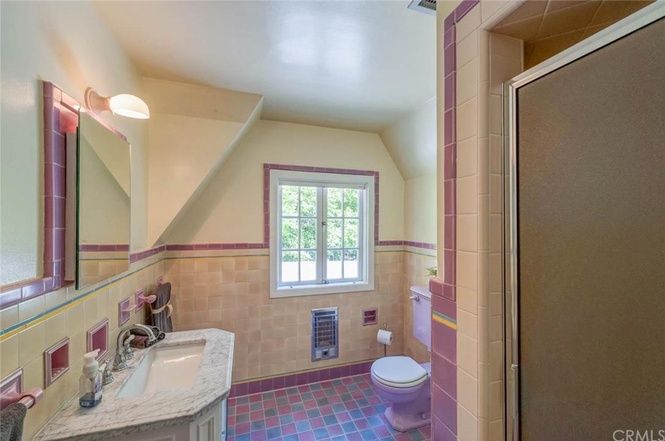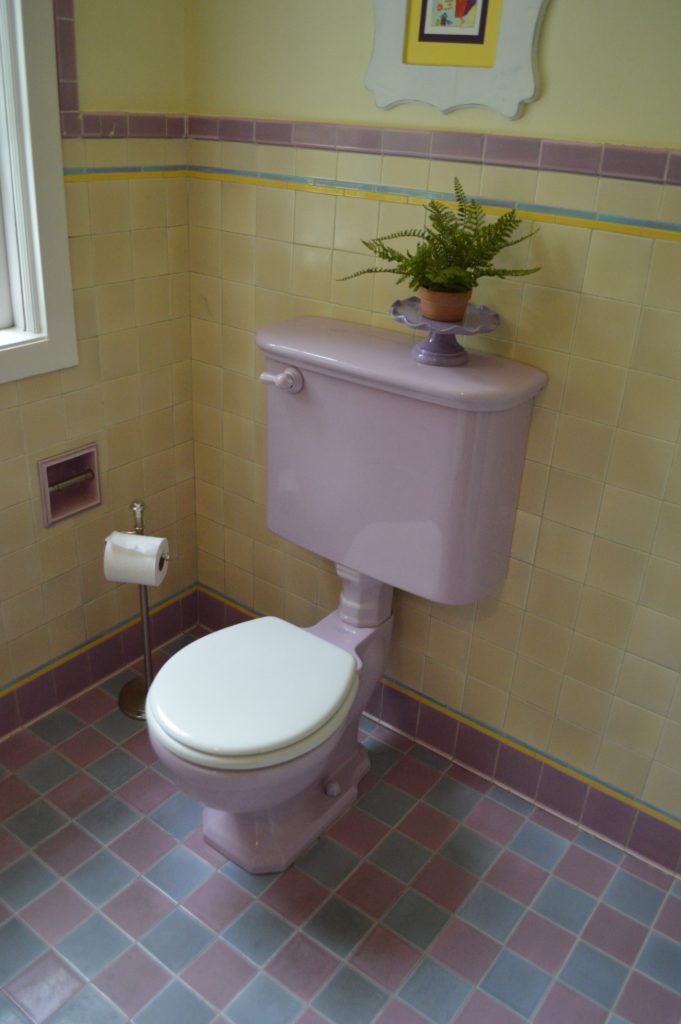 Downstairs original pink and green bathroom (with laundry chute to basement!):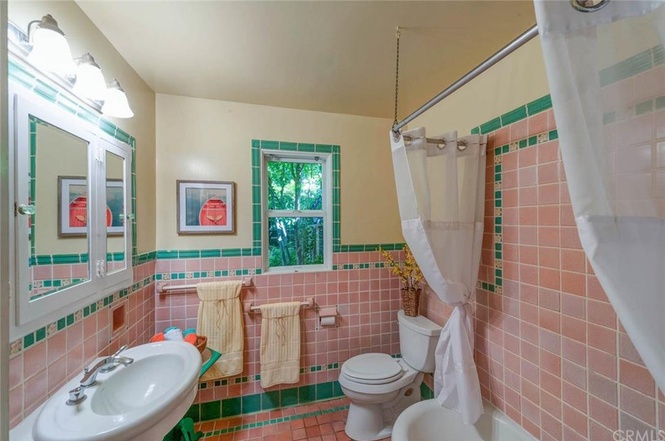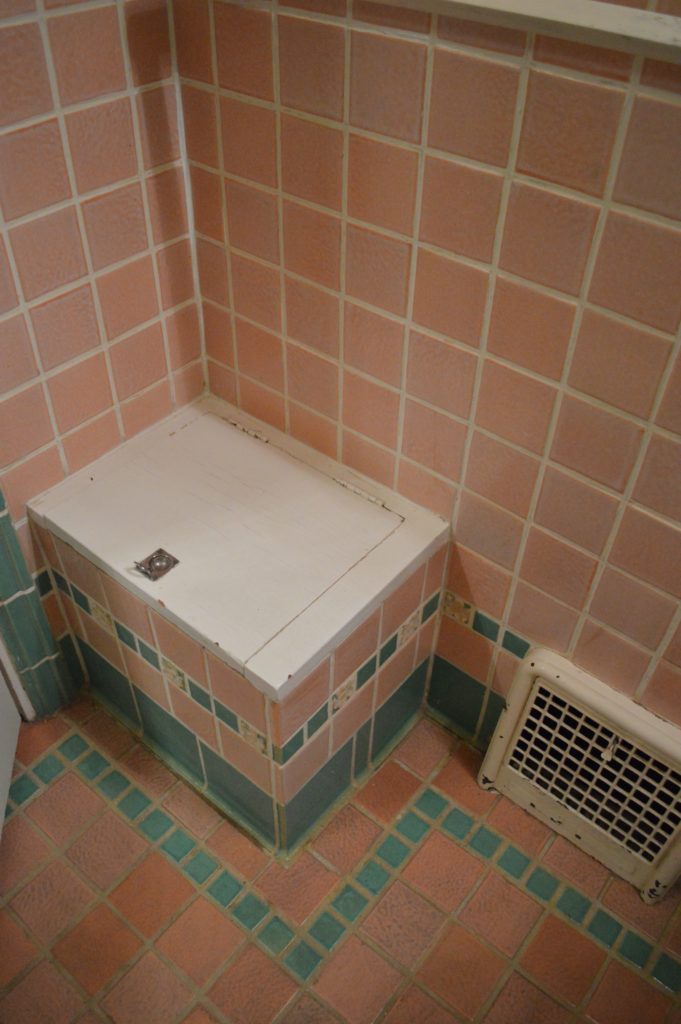 Master bedroom (which is ginormous. Seriously huuuuge):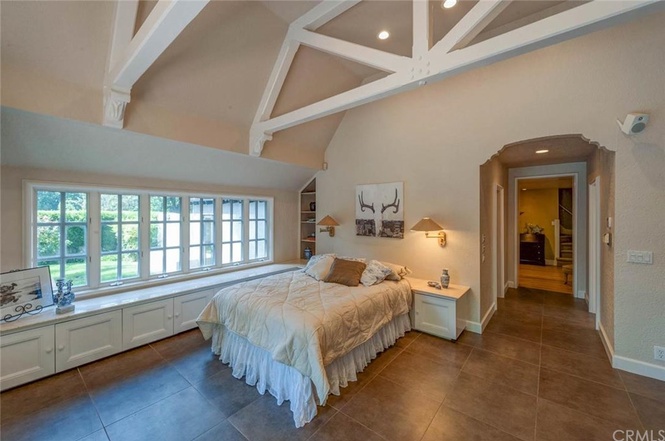 Master bathroom (ADA, verrrry open, and in need of a historical revamp, but that's phase 2):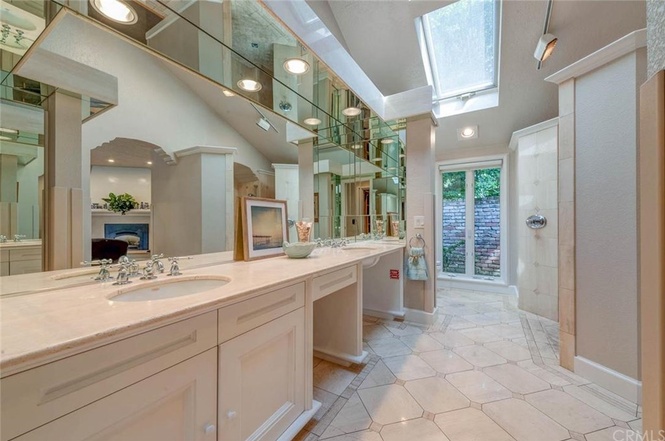 Hallway/Landing: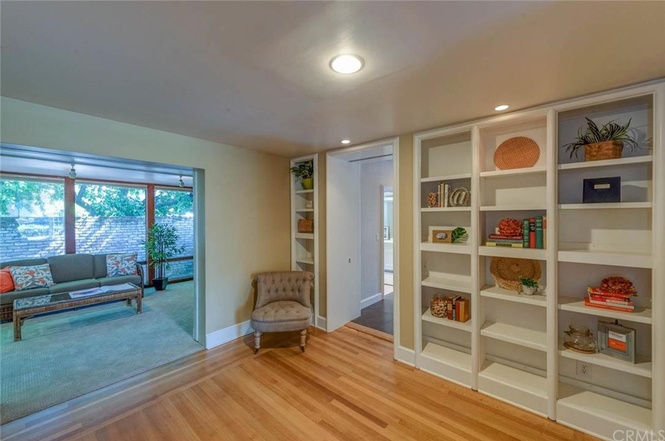 The cavernous basement: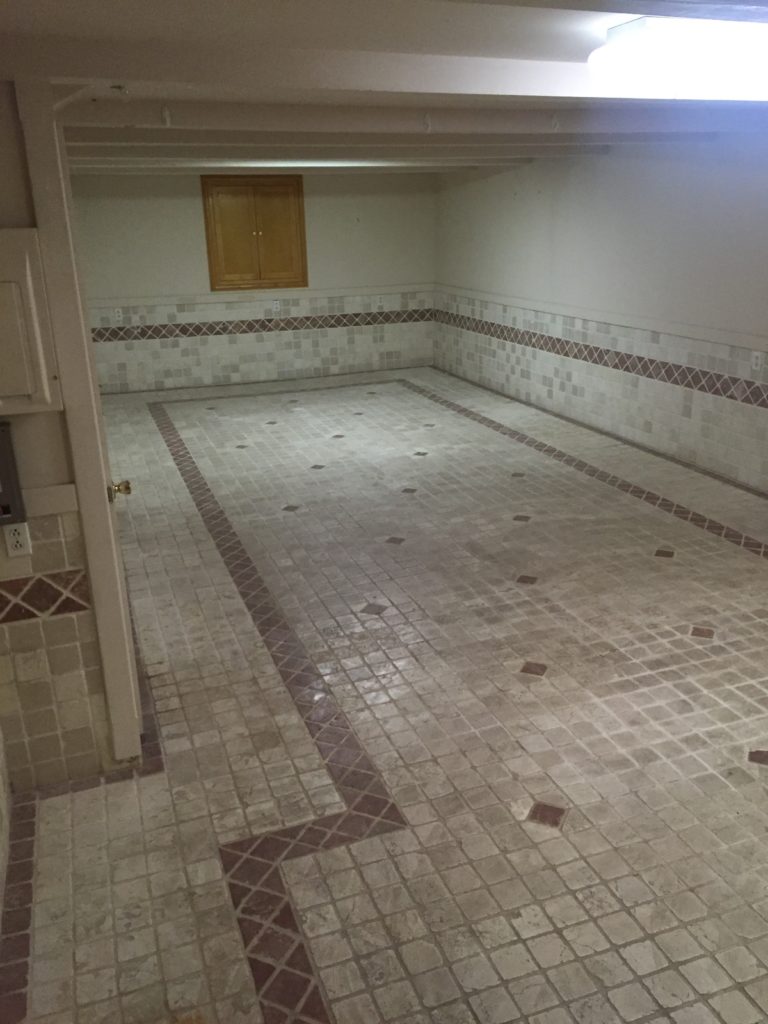 And last, but not least, backyard: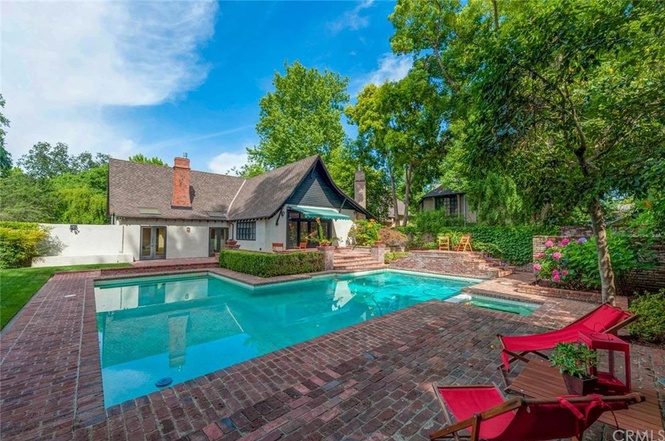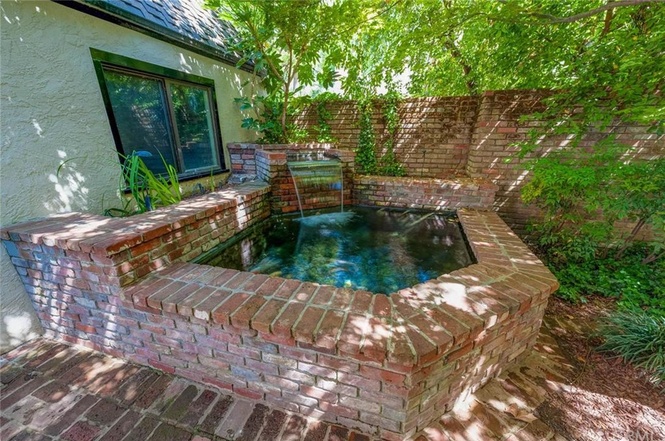 Well, that's a good little initial tour/overview!
It didn't take us long to pull up the carpet upstairs and find original hardwood underneath. Which means, a little wood floor restoring was in order, during which we took the floors back closer to their original finish (that we found under layers and layers of carpet)…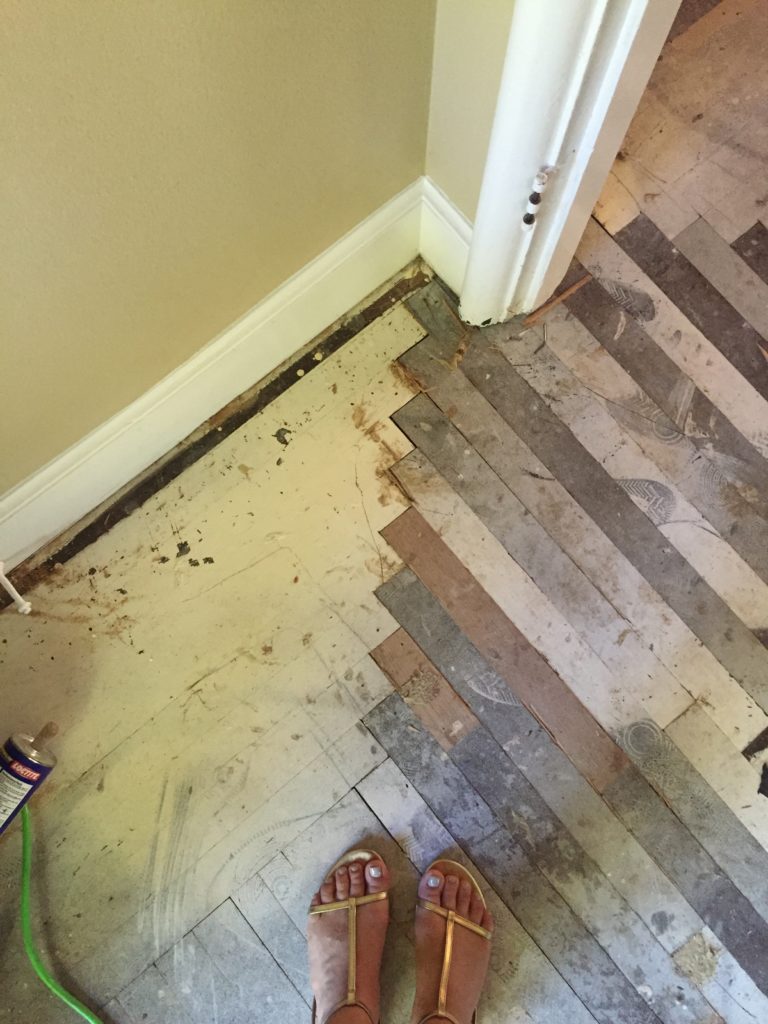 Eeenie, Meenie, Minie, Moe…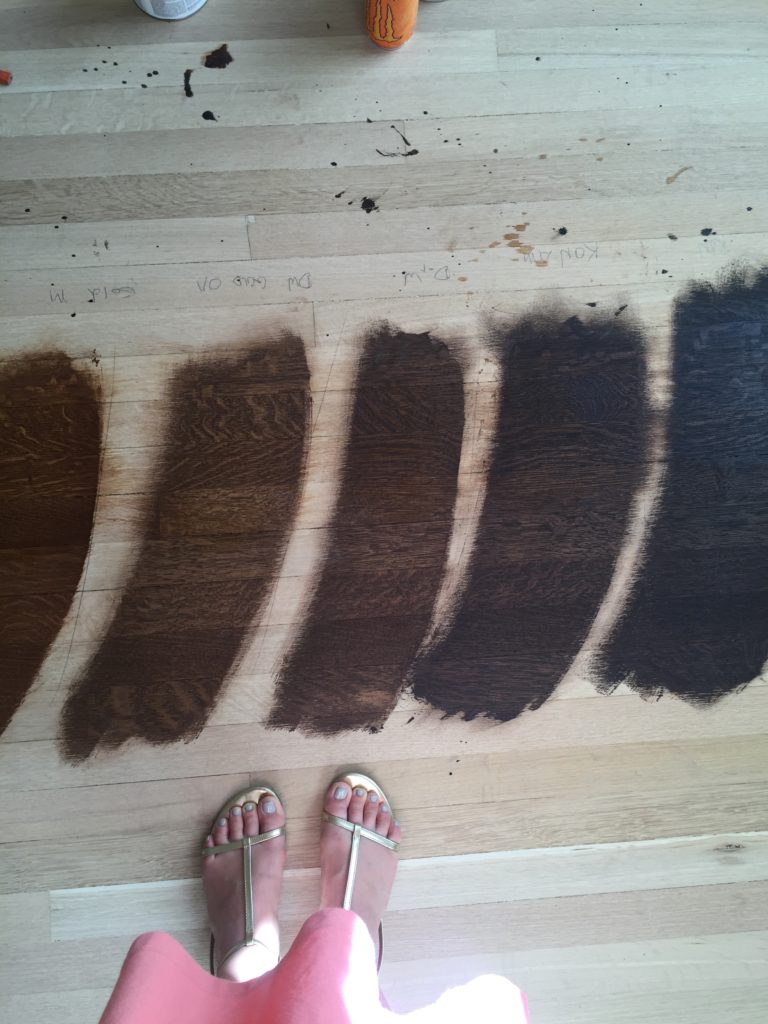 Tada! Sneak peek of the refinished living room floor.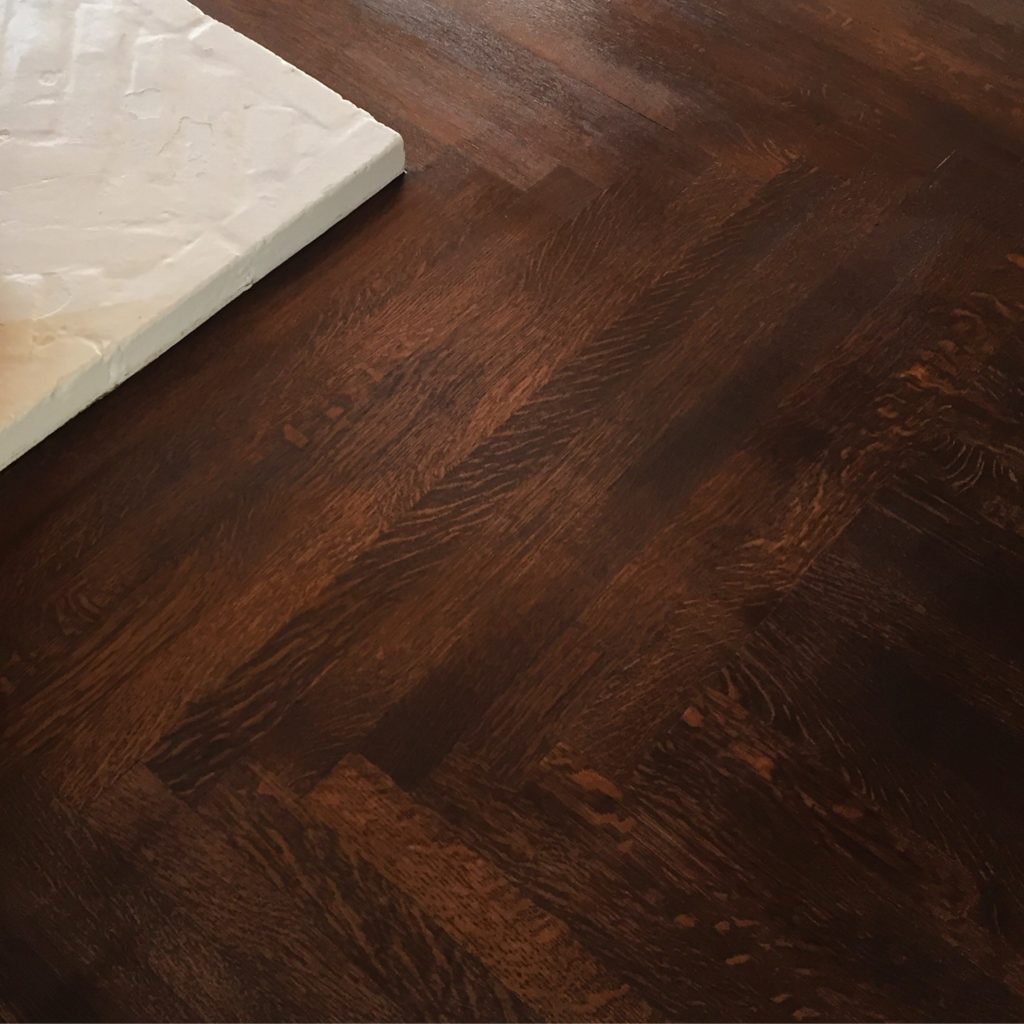 What do you think, friends? So glad to reconnect, thanks for your emails, comments and reaching out to see if you could take a glimpse at our new home.
OKAY, so if I'm not back here within a week or so with some durings and afters of the kitchen and sunroom – you blab at me and remind me to get on it!!
See you soon. 😉