Well, I'm not sure how many of you, my loyal and true readers, are still following along with this semi-annual blog (hopefully you subscribe by reader or email and so never have to check!), but I have some BIG news to share!!
After eight (8!) amazing years renovating and loving our house, we are putting it on the market. Yup, we are selling our home. It's kind of crazy to say, because, well, I started this blog partially to document our renovations, and some of you have followed along from the very beginning, seven years ago, when I shared our diy kitchen remodel. This house (and the love and hours we poured into it) put us on Brooklyn Limestone, the Nate Berkus Show, in Cottages and Bungalows Magazine, and even now, a little birdy told me our sideyard garden will be showing up somewhere special very soon (sh!).
Why are we moving? Well, we bought an old house! A charmer by the park! However, that is a story of its own, and worthy of its own blog post. 😉
Honestly, I'm just popping in here to give a little tribute to my home that I have loved. And I know a home is just a thing, that you can't take with you when you leave this earth, but I like to think that all the joy and memories, and making as many things just as beautiful and thoughtful as we could, are worth a little reflection and love. Plus, if you've ever wanted a full home tour, this is your chance!! I've never done one before here on the blog.
Here we go!
This is our home: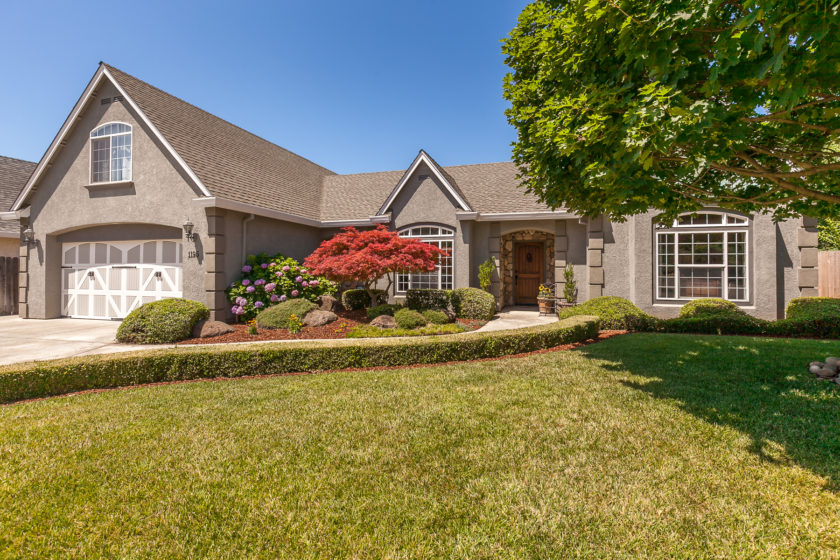 I don't know if you remember the front, but this is how it used to look back when it was builder beige: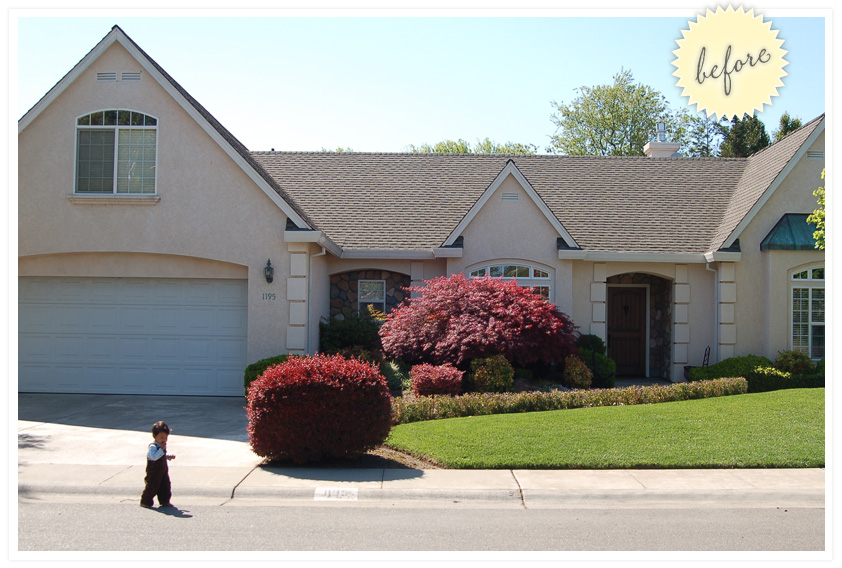 (Look how tiny Cameron was!)
The biggest changes we made to the exterior were paint (5 shades of grey to pop out the architectural details!), a new carriage house style garage door and larger scale lighting. Oh, and a new custom-made front door with an antique lion knocker we found at the Paris flea market.
This is the backyard: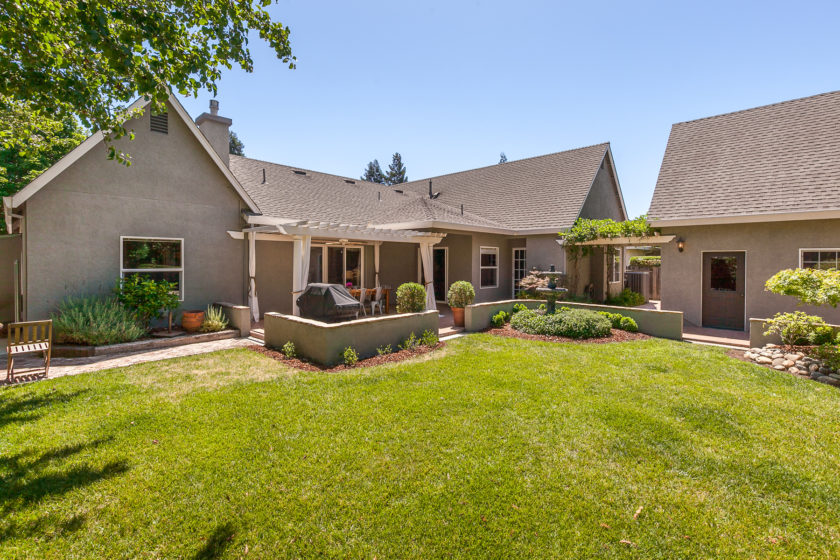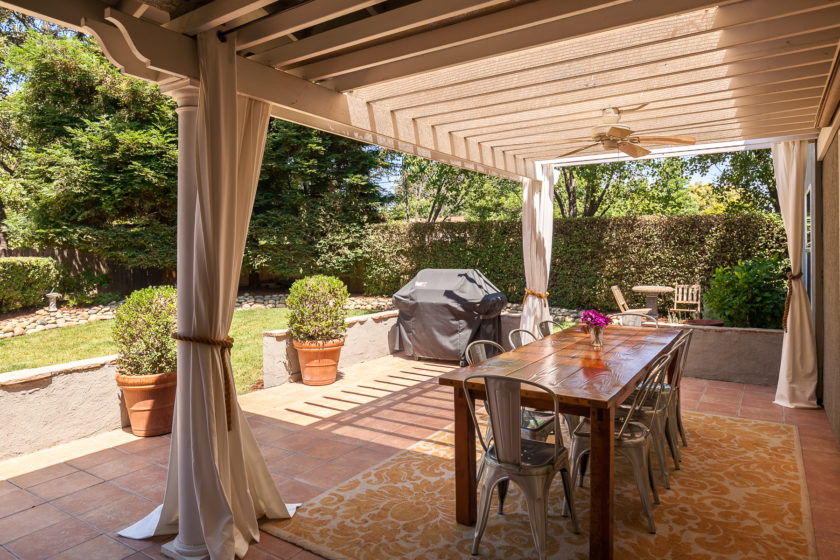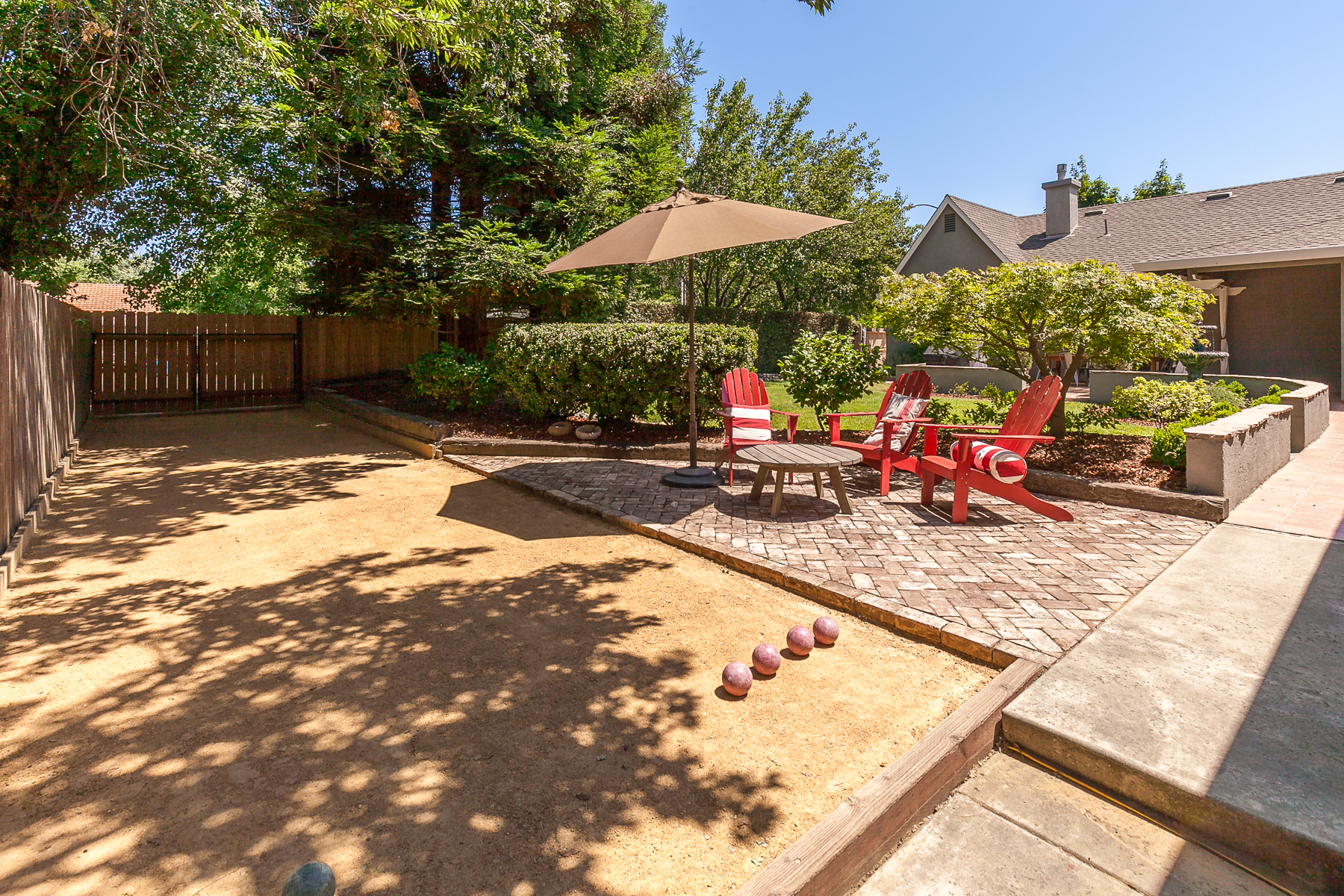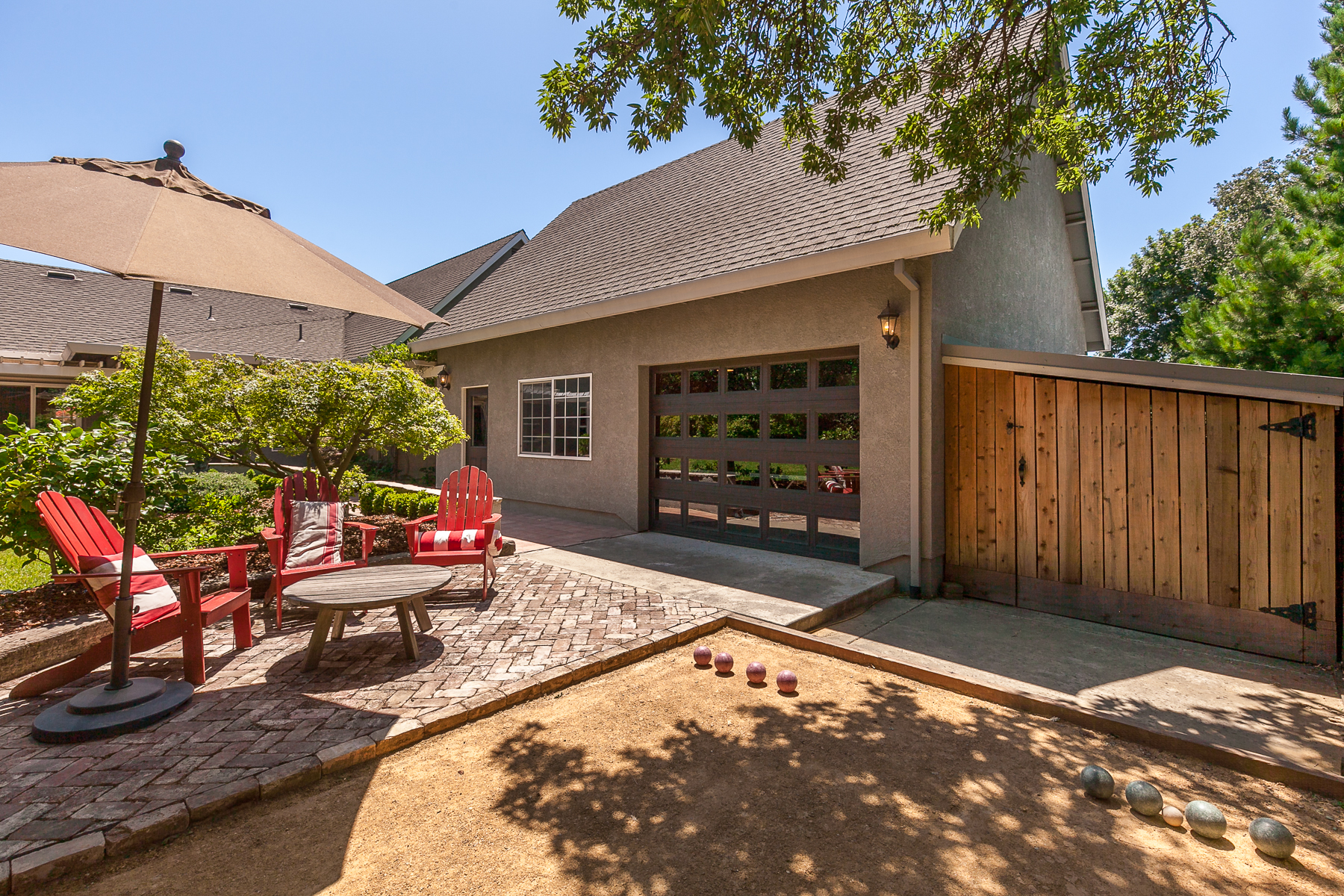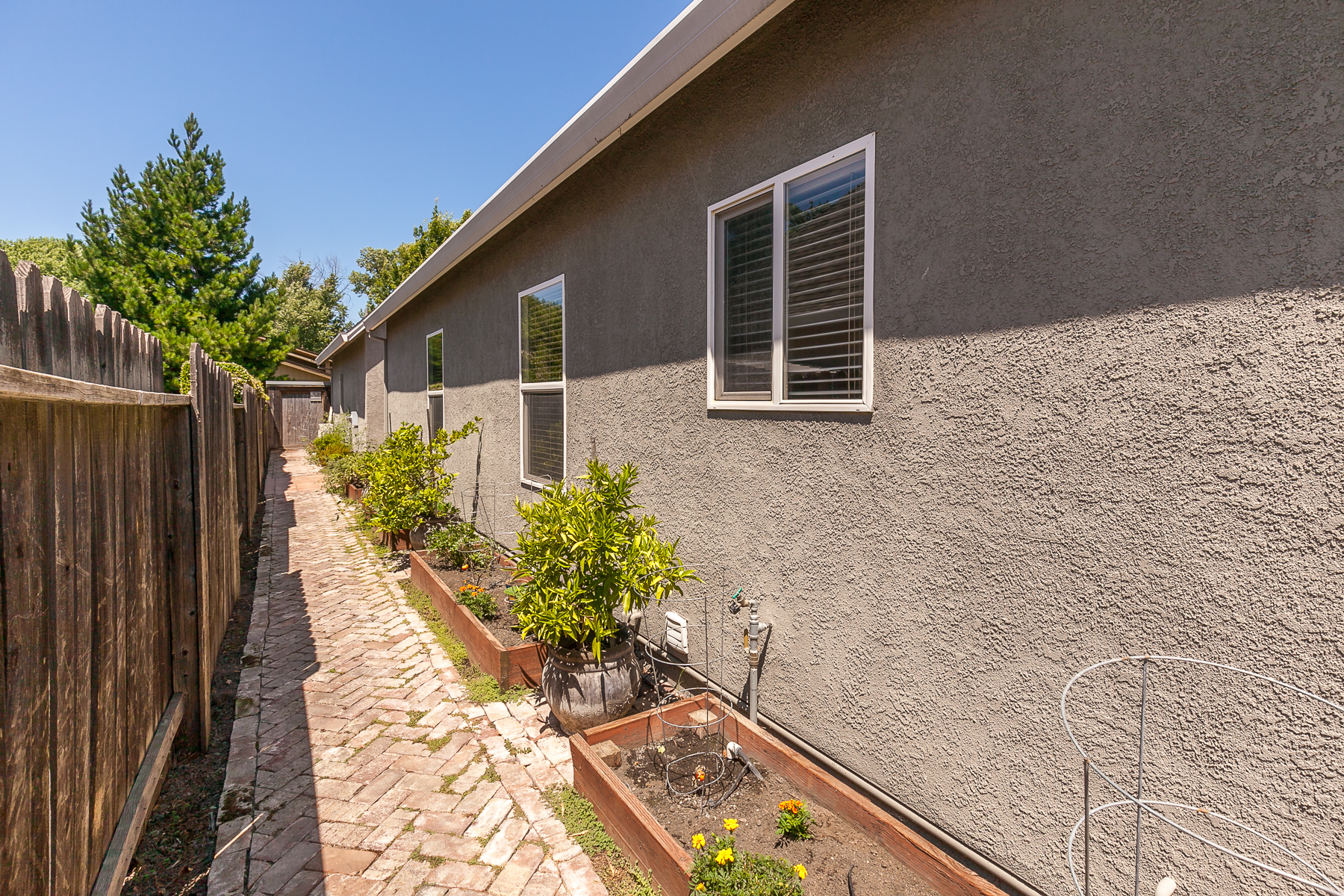 Do you remember the before of this little sideyard? No?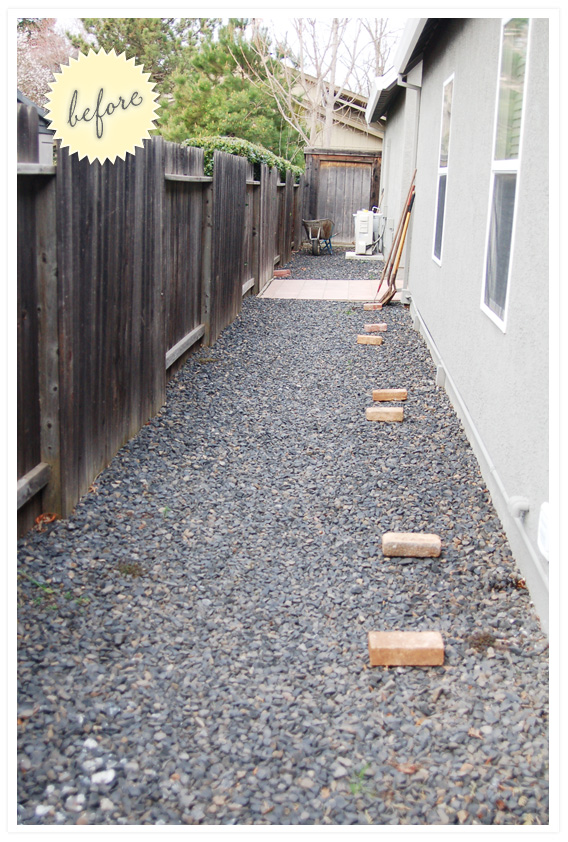 The bocce court was there already, but we've resurfaced it to keep it happy. We added curtains to the pergola, and Matt's fabulous reclaimed wood farmhouse table looks as good as new. The sideyard was one of my favorite additions, and one I'll miss desparately. Even now, charming tomoatoes, squash and herbs are growing this very moment in what used to be a gravel dump. Ah, sideyard garden, I will miss you.
Behind the wooden gate next to the bocce is Matt's woodshop, which he built and shaped out of a lean-to shed into a crafty man's paradise. And deep in the big redwood trees, up high and so hidden you can't even see it, is every little boy's dream tree fort with rope ladder and swiss-family robinson style railing, built by Matt, of course. Over-engineered, of course. 😉
But let's back up to the front of the house and head inside!
This is the view from the front doorway: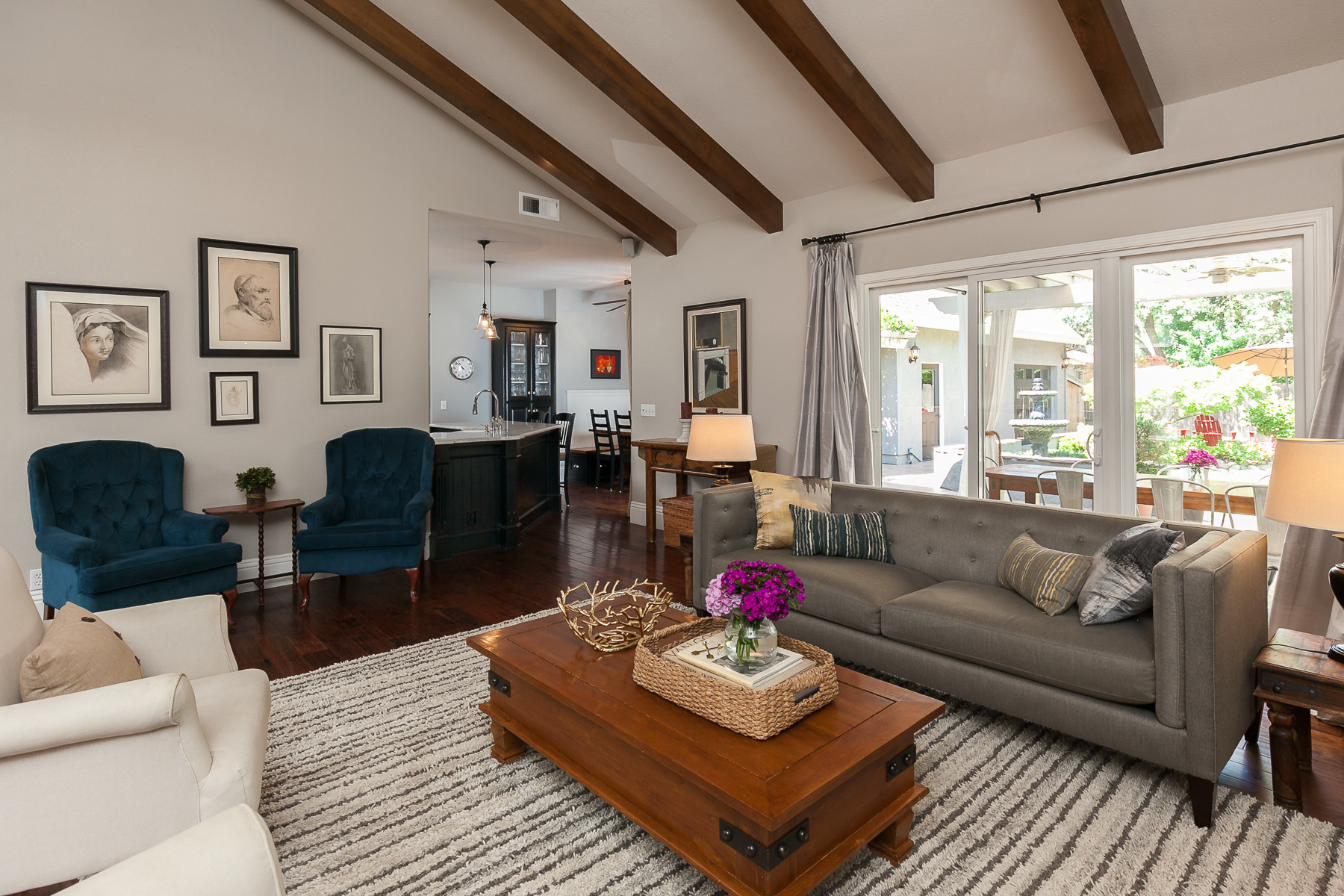 Yes, my living room has changed since you saw it last! The floors, wood beams, paint and art are all the same, but I've reupholstered the chairs in a durable navy performance velvet (because: boys) and I finally got a new sofa! With no loose back cushions!! Aaah! Also, a rug on clearance from West Elm adds a graphic touch while lightening up the space.
Here is the space from a few different angles so you can see how it all flows together: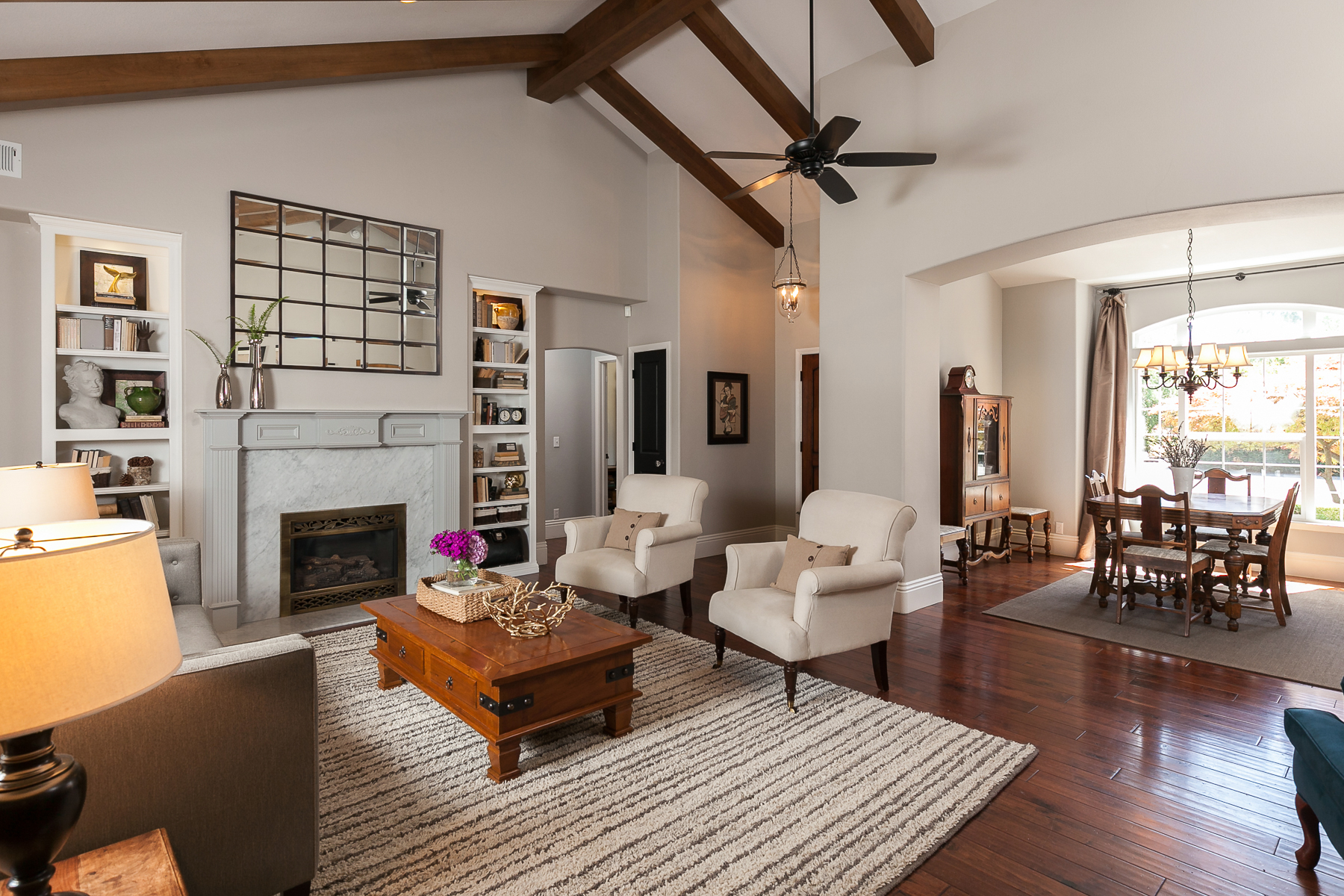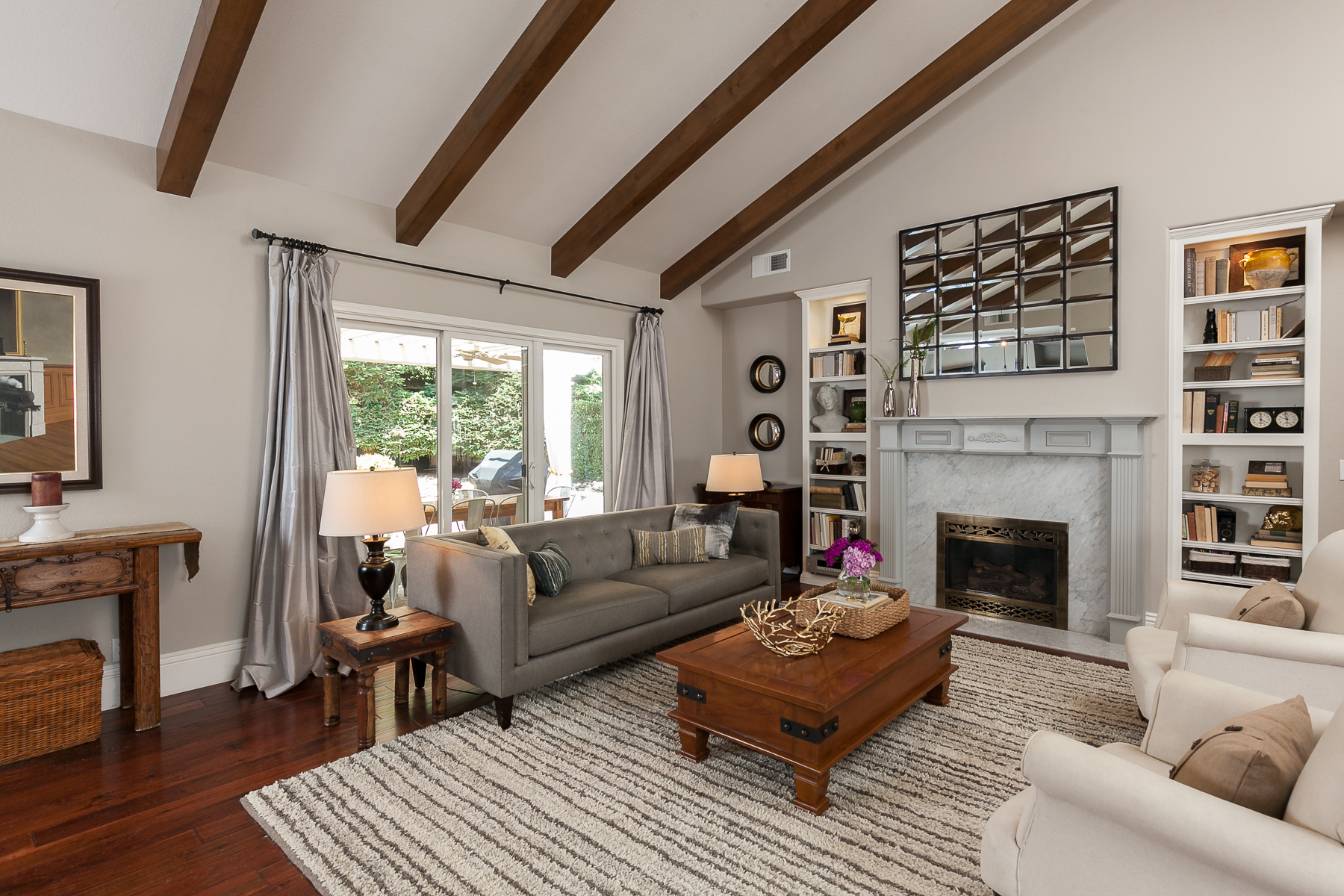 I don't know if you remember, but we changed the surface of the walls A LOT (see this post for details, can you say "90's niches"? No really, try and say that 10x fast.) and added bookcases, hand-scraped walnut floors (removing all the huge beige tile ourselves! Gah!), and big beams for architectural character.
This is the dining room, which is simple but lovely, with a large window looking at the prettiest Japanese Maple ever…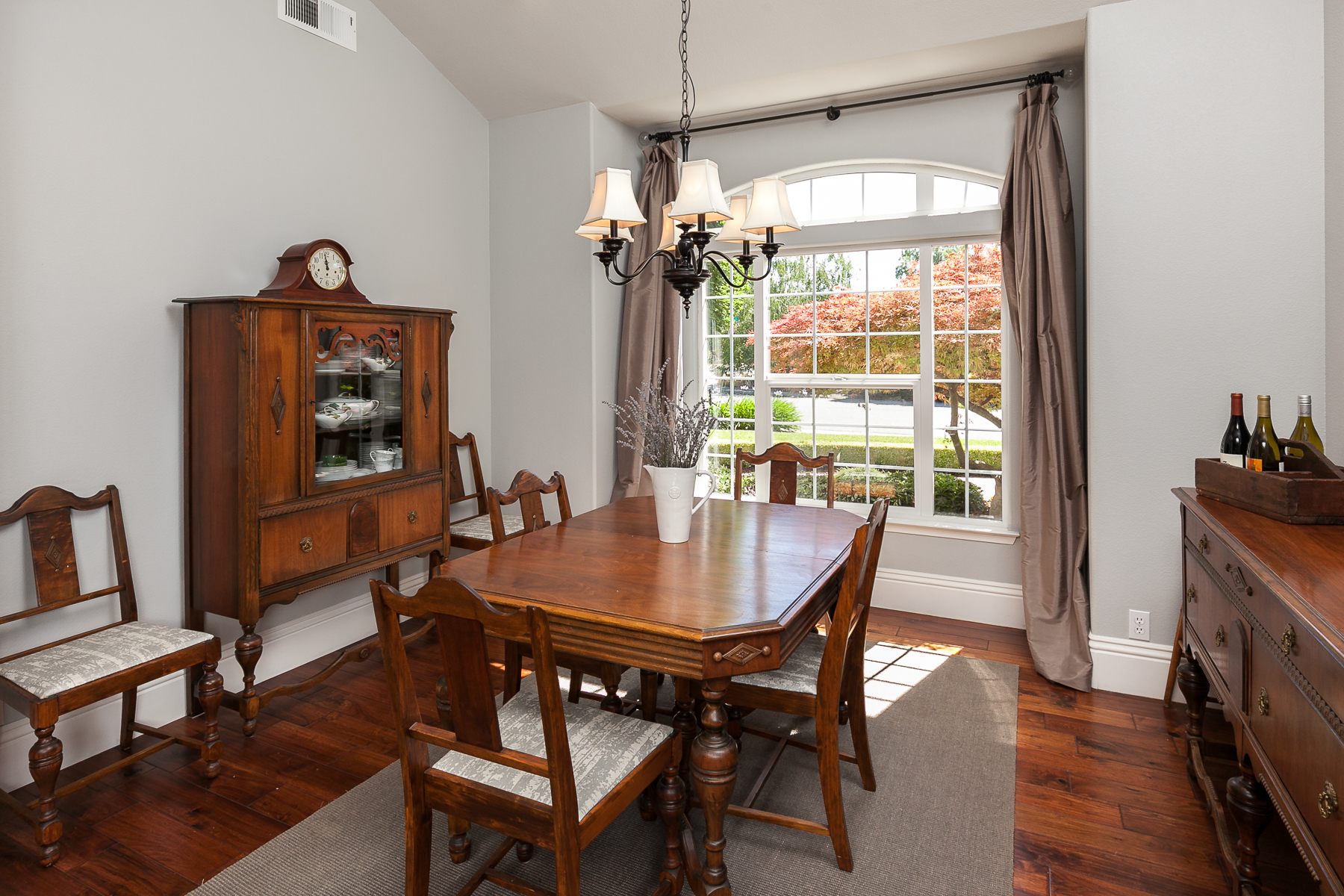 And the kitchen. Oh the kitchen. If you remember, there is a whole series of blog posts on that, and all the crazy diy work that ended me on the Nate Berkus Show.
I have loved on this kitchen and cooked crazy stuff in it for eight years. I will miss this place.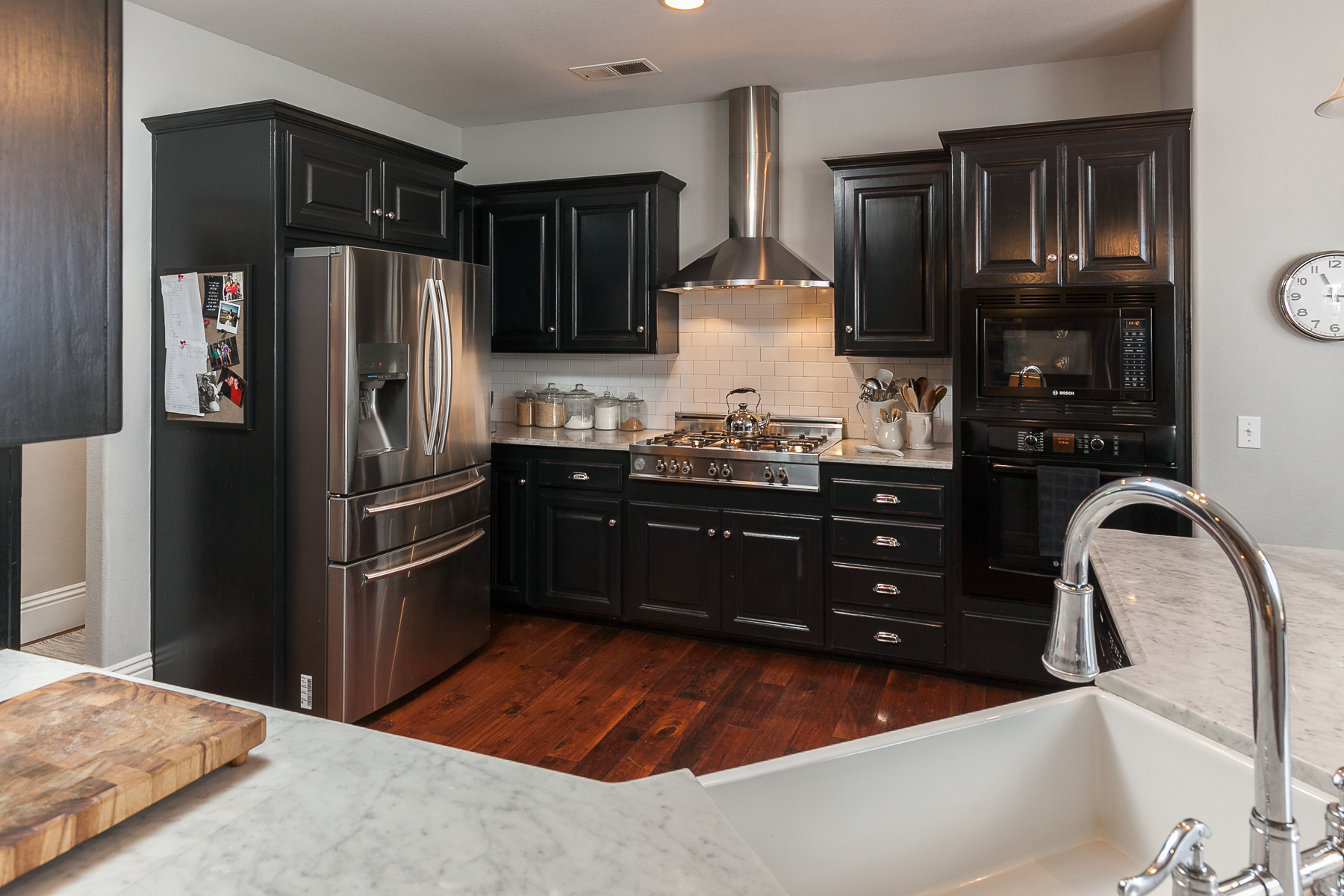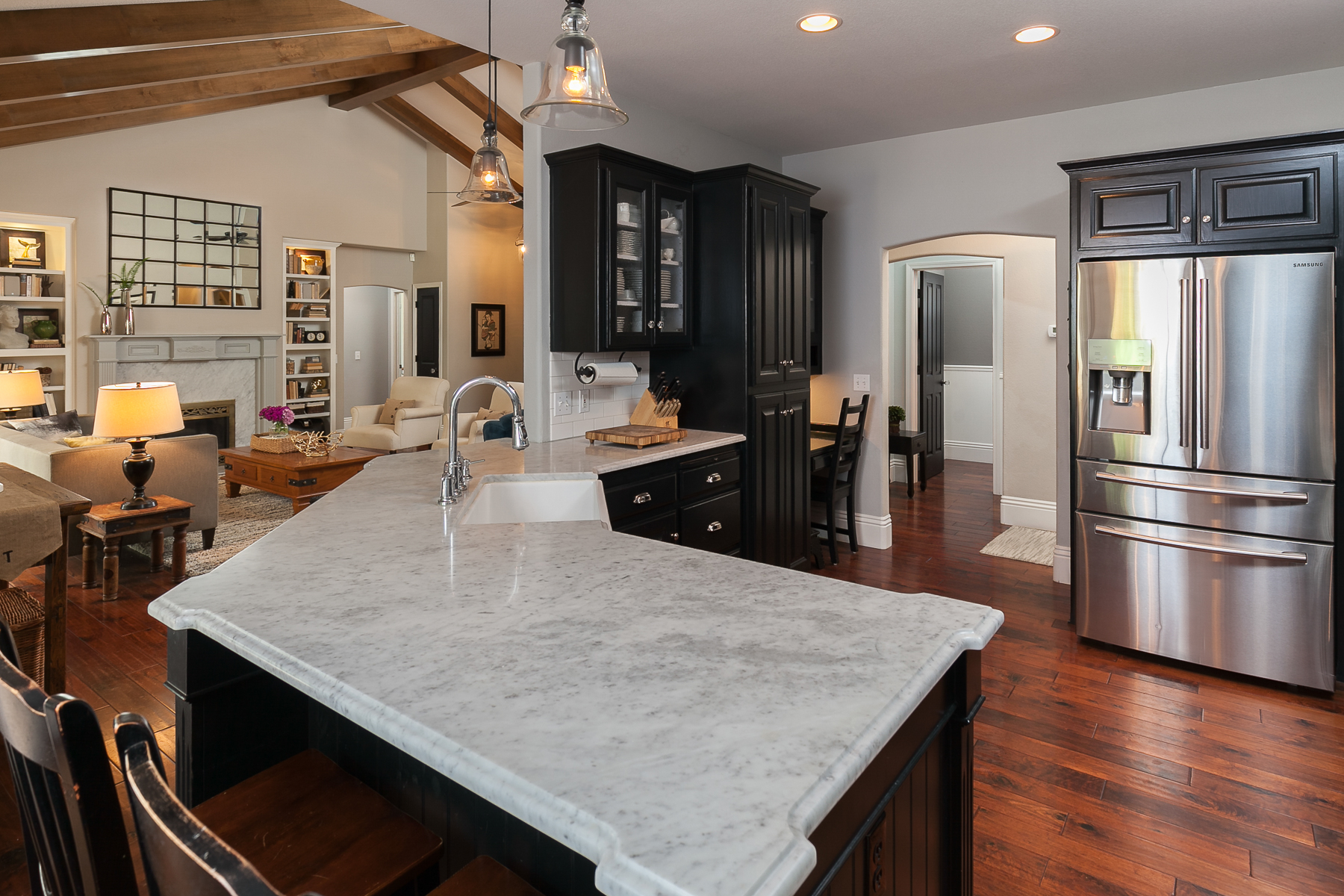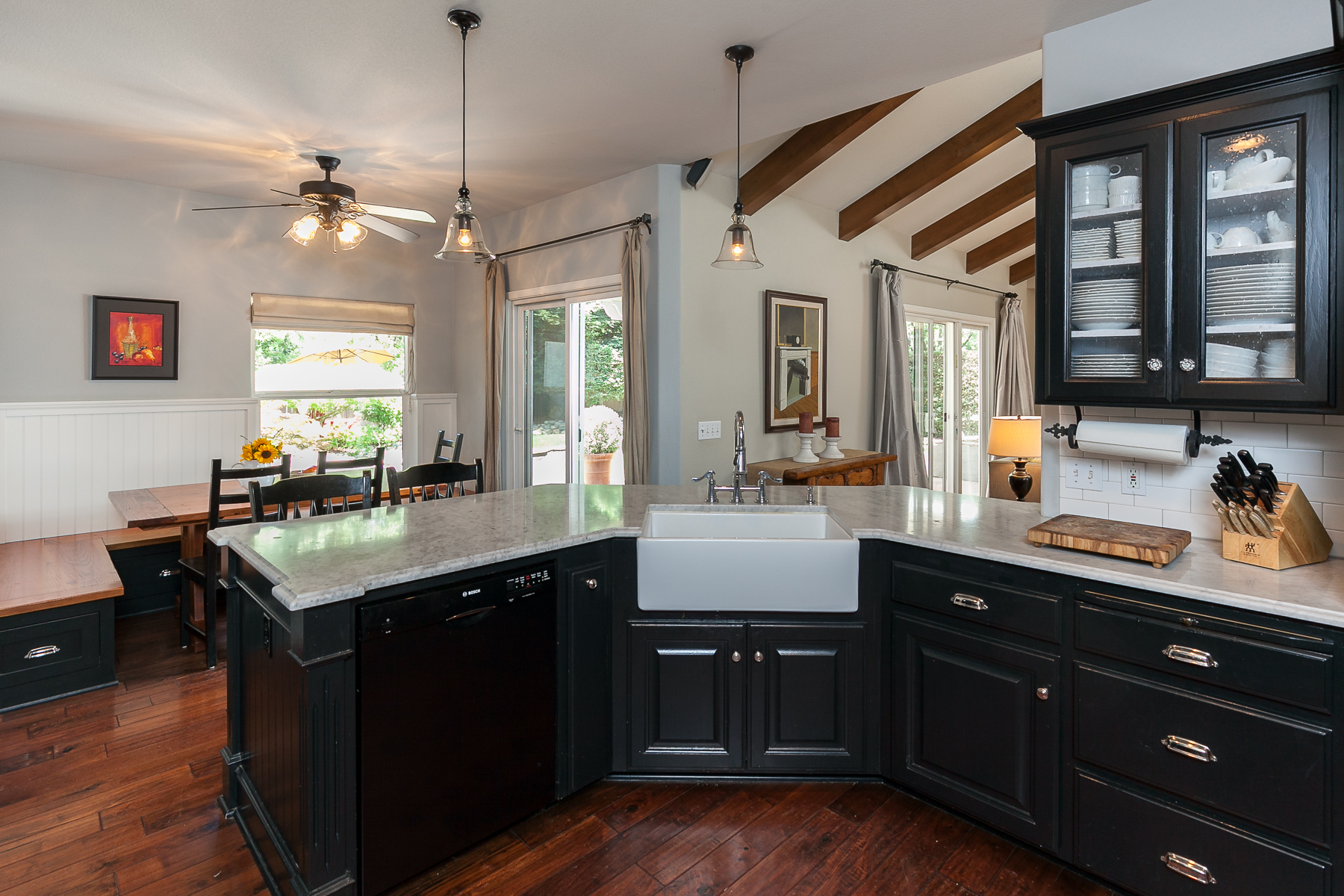 It's pretty much the same since 2008, and has held up bee-you-tifully well over eight years of heavy use. The only thing here you see that is new is my fridge, which dispenses sparkling water(!) and has a built-in fruit and veggie drawer and is definitely coming with me, unless someone pries it out of my cold, dead fingers. 😉
But memory lane calls – here is the 90's builder before: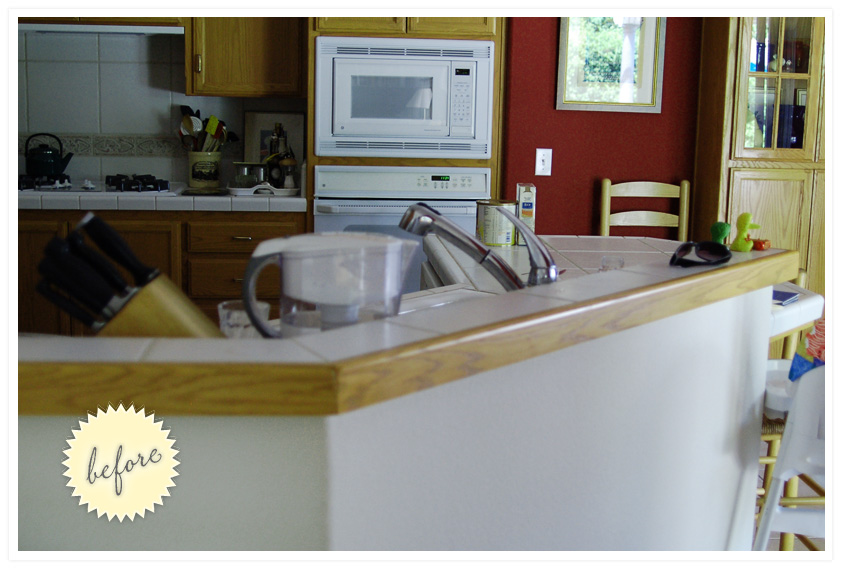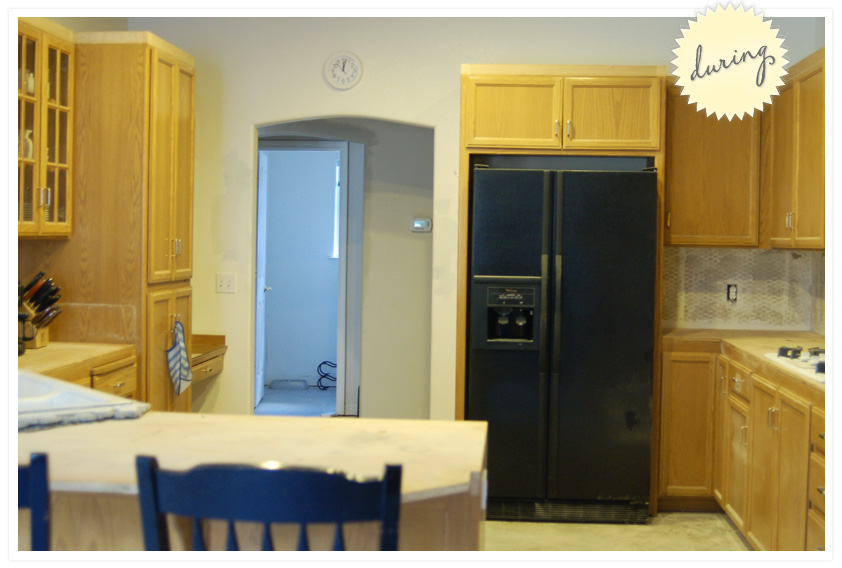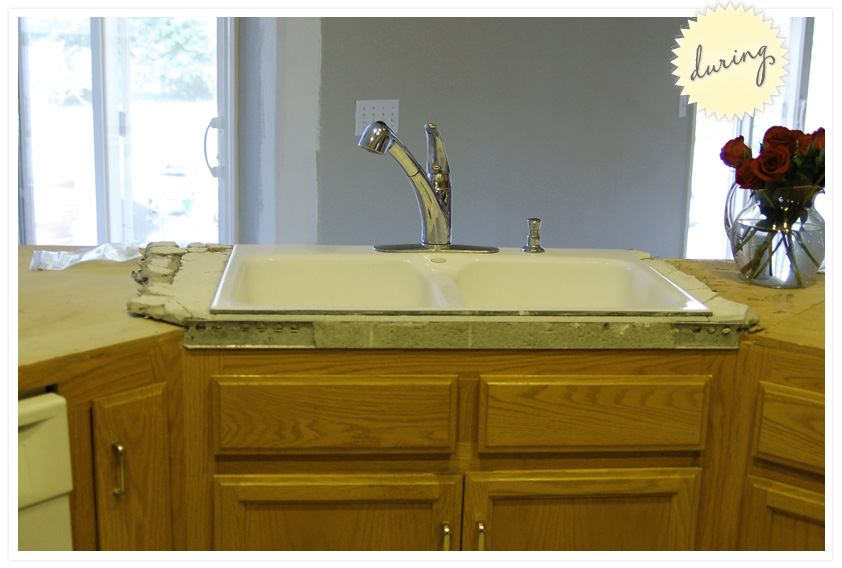 Next to the kitchen is our breakfast nook, which as we added kids in to our family became a tight squeeze, until we thought of custom building a banquet…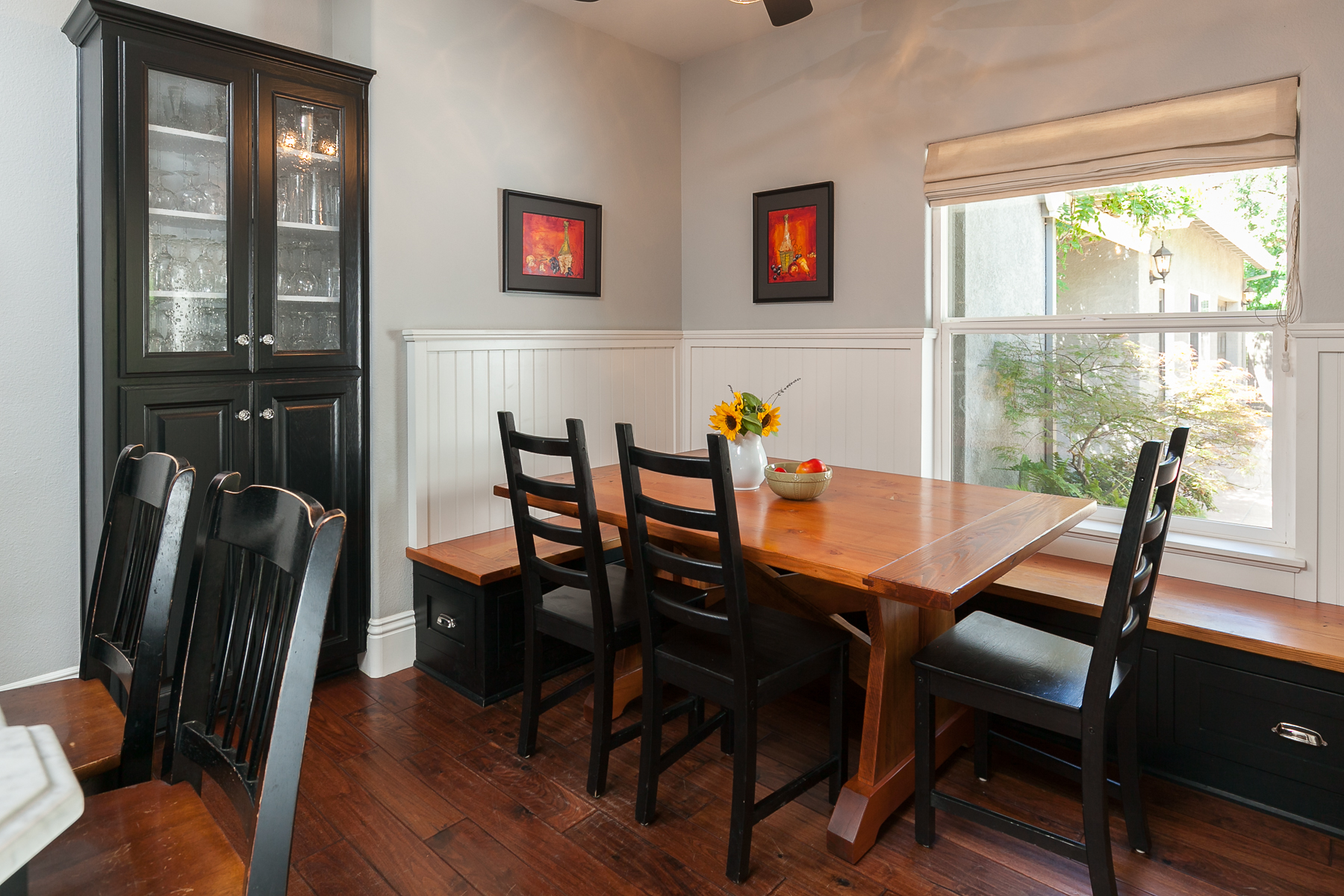 Now it can fit like eight kids, and two grown ups! I know because of cousin week, and not because I'm planning to have more than three. 😉
Here is the study (which you can see our refresh of it in this old post):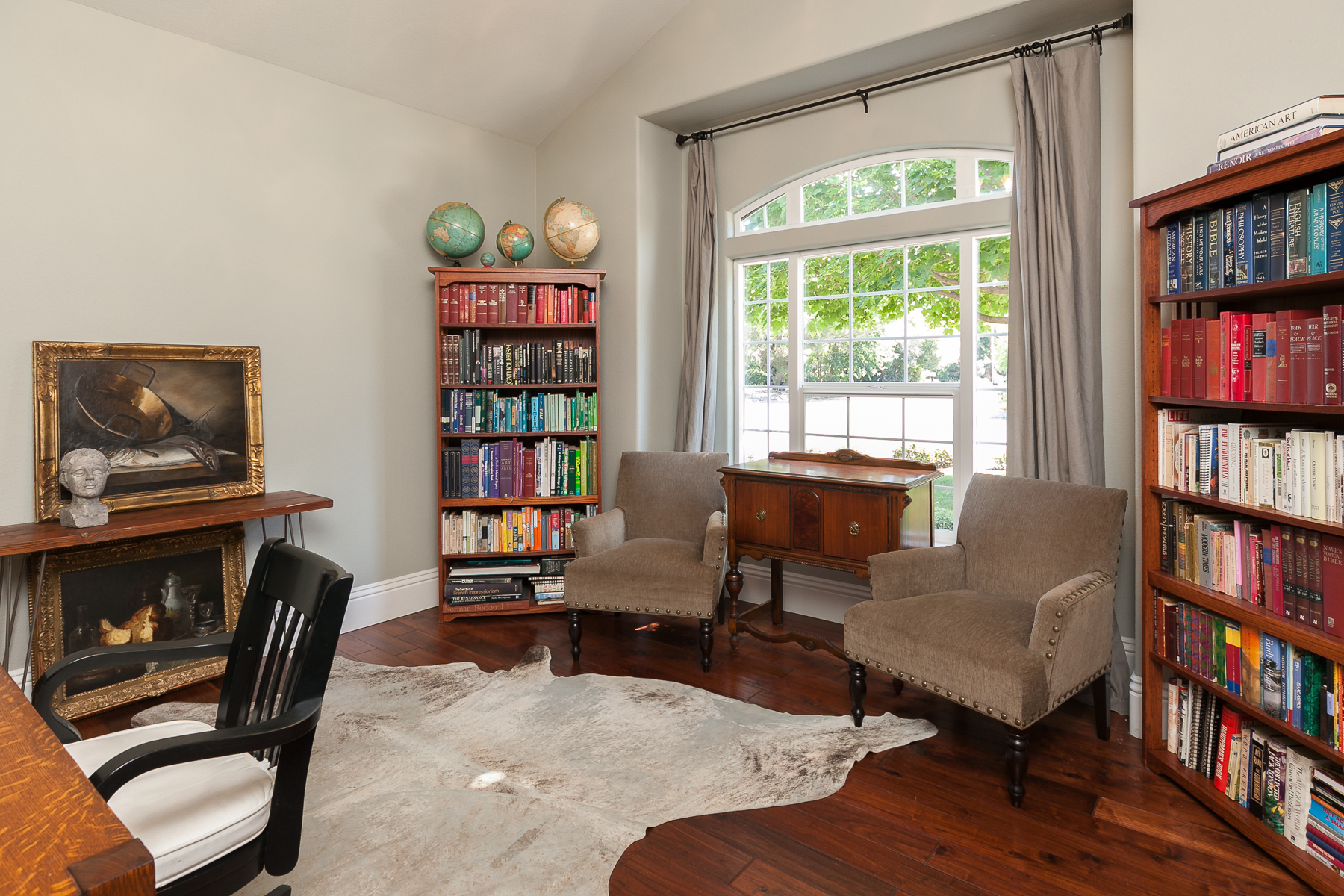 I no longer have a computer at home, as I do my work entirely at the studio, so my hairpin desk is all about paintings we never got to hang in this house that will move to their new abode.
For posterity, the before: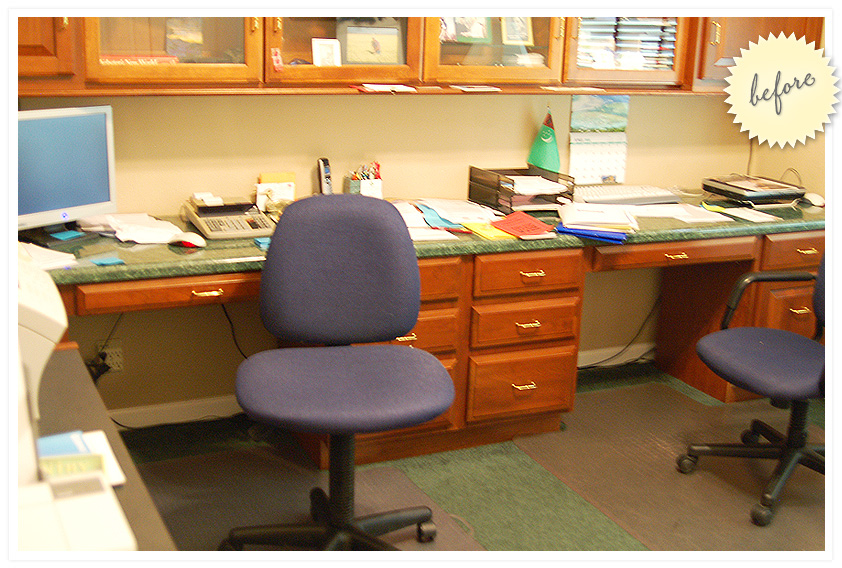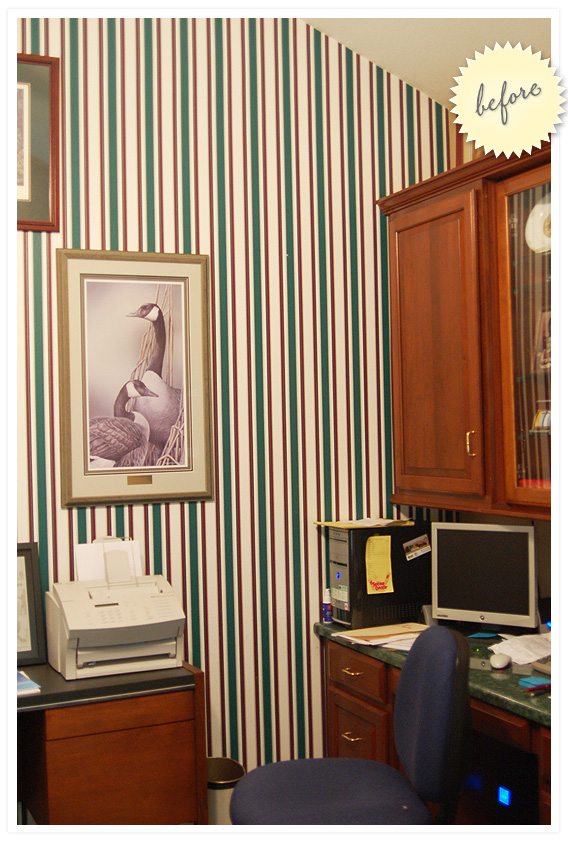 And what used to be the nursery, but now houses a custom-made murphy bed that I never got to show you on the blog! We had plans to get a piano and turn it into the music room aka "conservatory" with guest murphy bed, but never finished the piano part, and the fact that there is a big open space and the dress up closet is in there has actually caused it to be labeled "the combat room" as in, "go wrestle in the combat room" or "no light saber battles near my lamps! take it to the combat room." 😉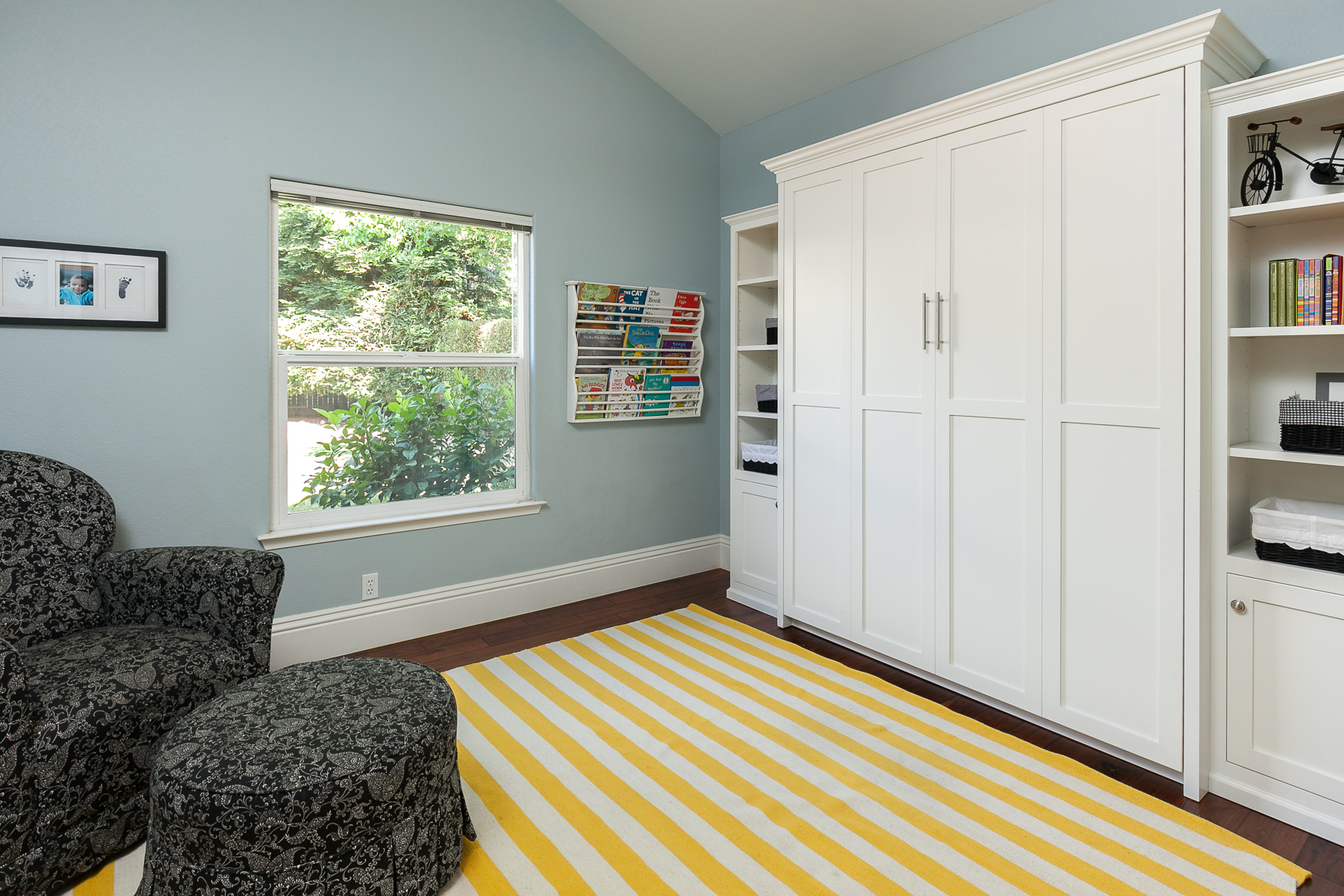 That murphy bed though! Love it! Sad we didn't get to use it more. Built by our favorite D'Amato and Lee, it is functional and beautiful at the same time.
Here is the kid/guest bath, which remodel got a feature in Cottages and Bungalow magazine: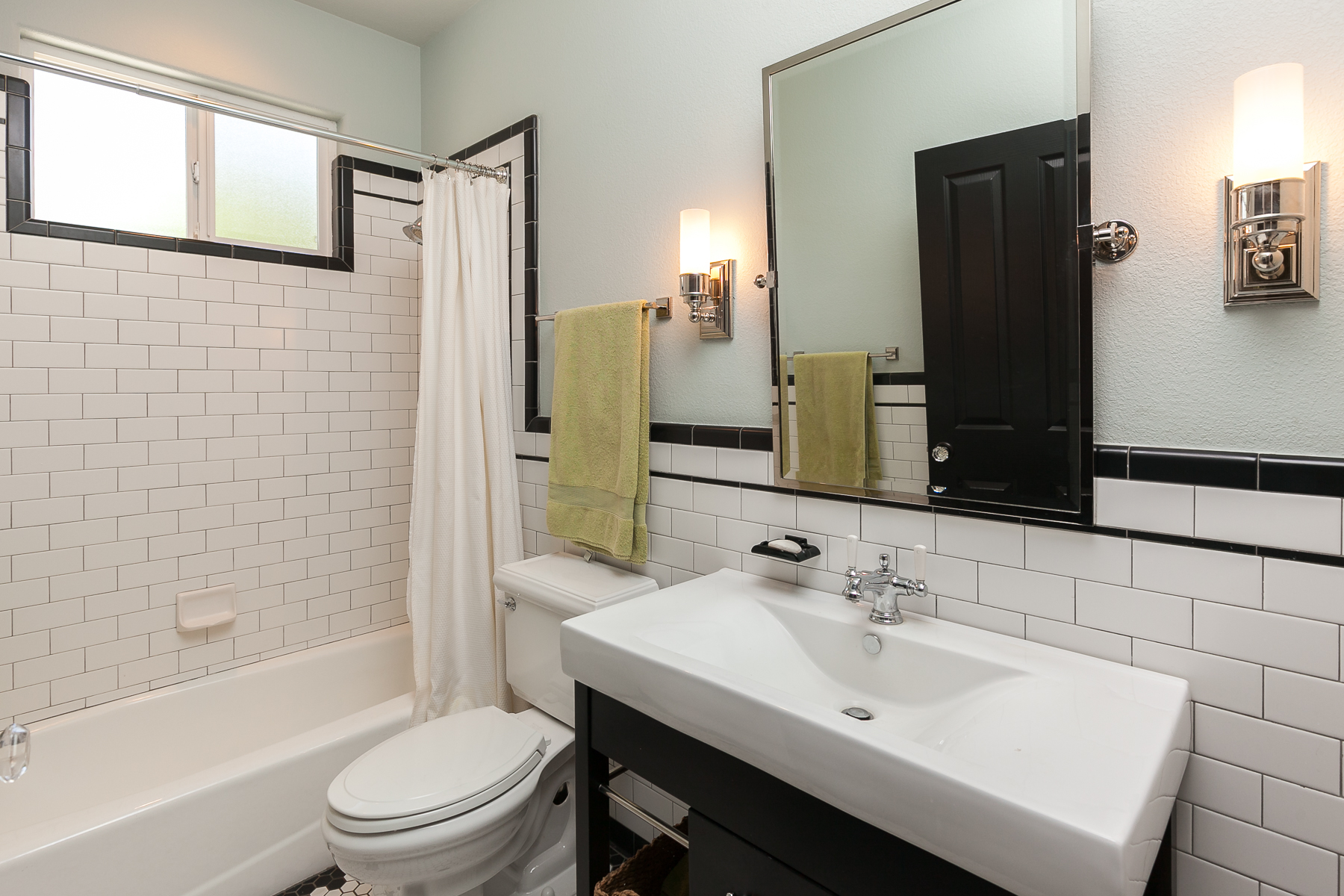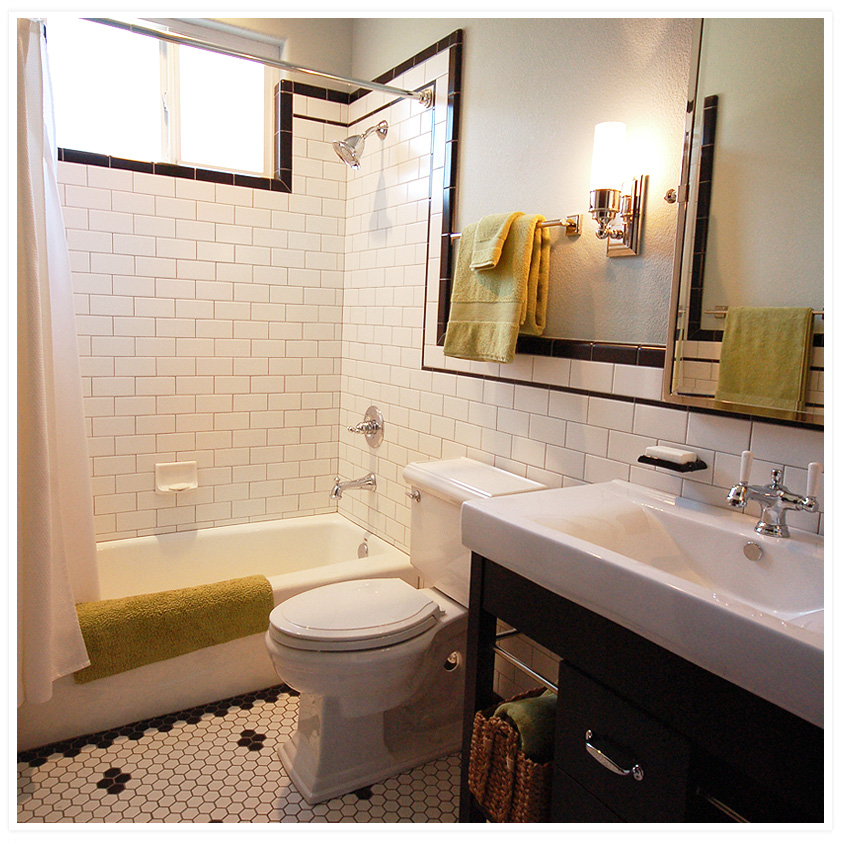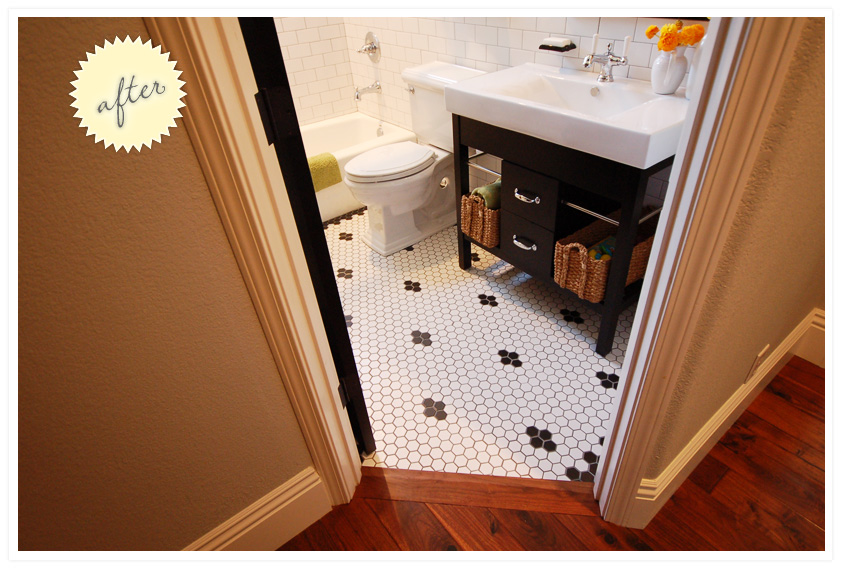 And the before: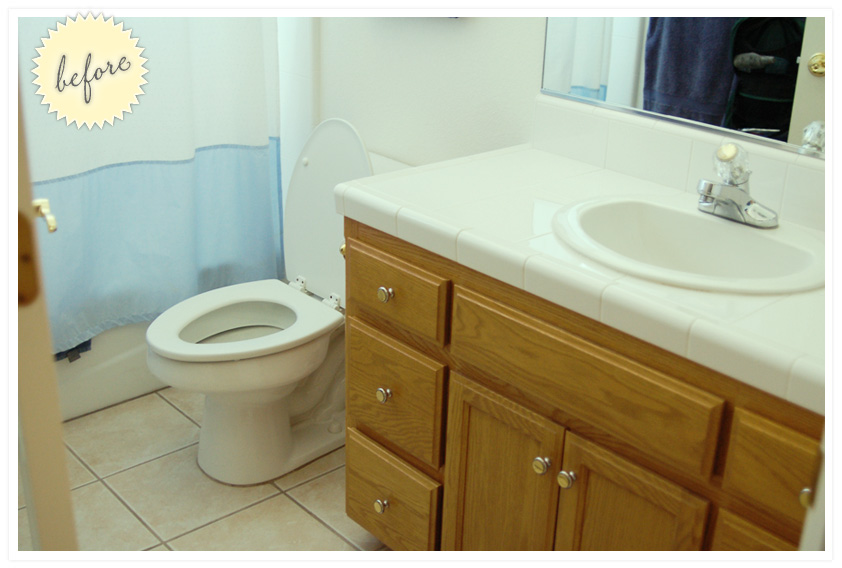 Heading to the hall bath, which I'm not sure I've shown you: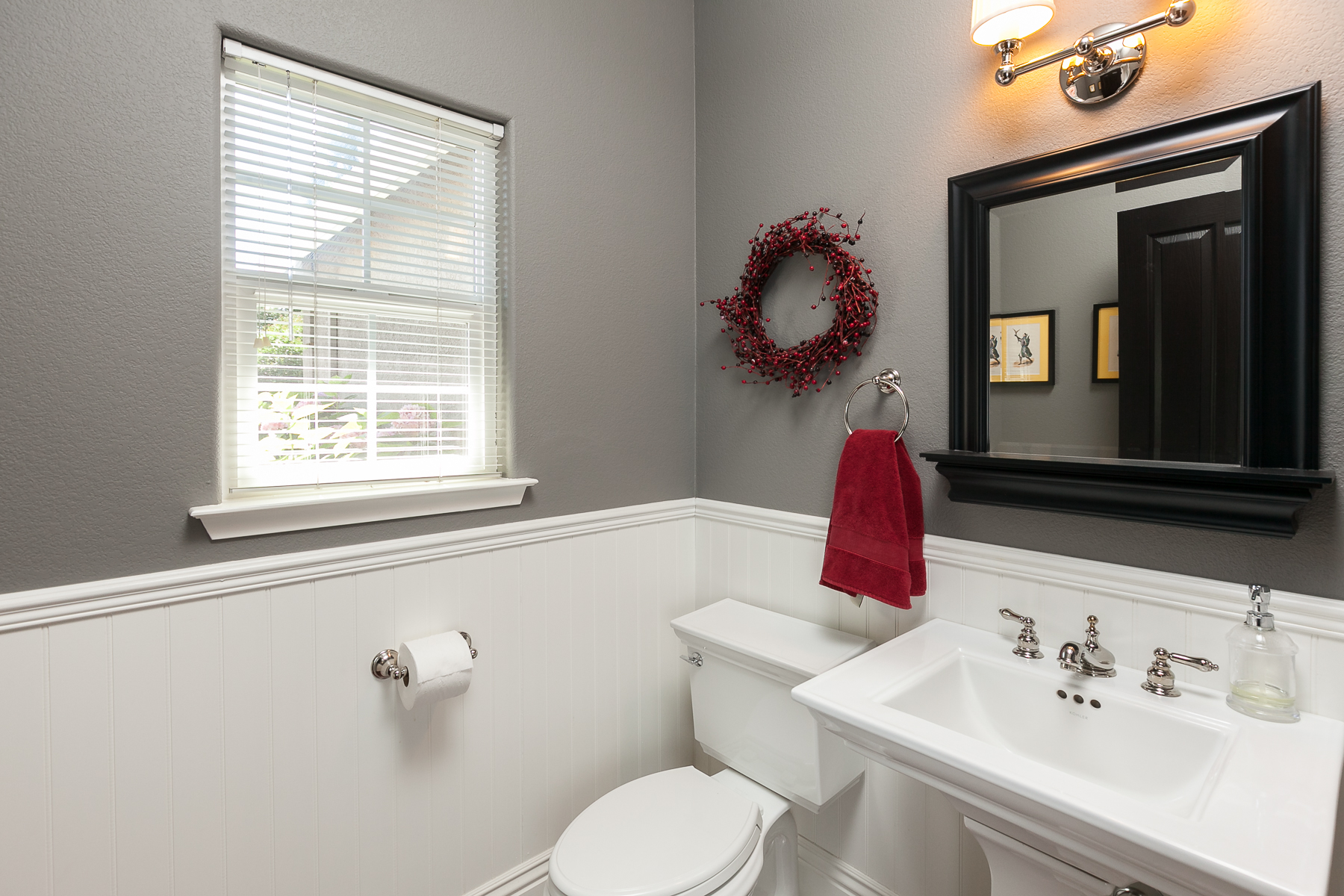 It's tiny, but mighty. Matt installed the wainscot, and I finally(!) touched up the black trim just this Saturday. It's only been bugging me for 8 years… #sigh
This is our master bedroom, which we remodeled in 2010. We installed chevron hardwood floors, black french doors, and we painted all the doors in our house black. I love this room. It's simple, spacious and a serene retreat.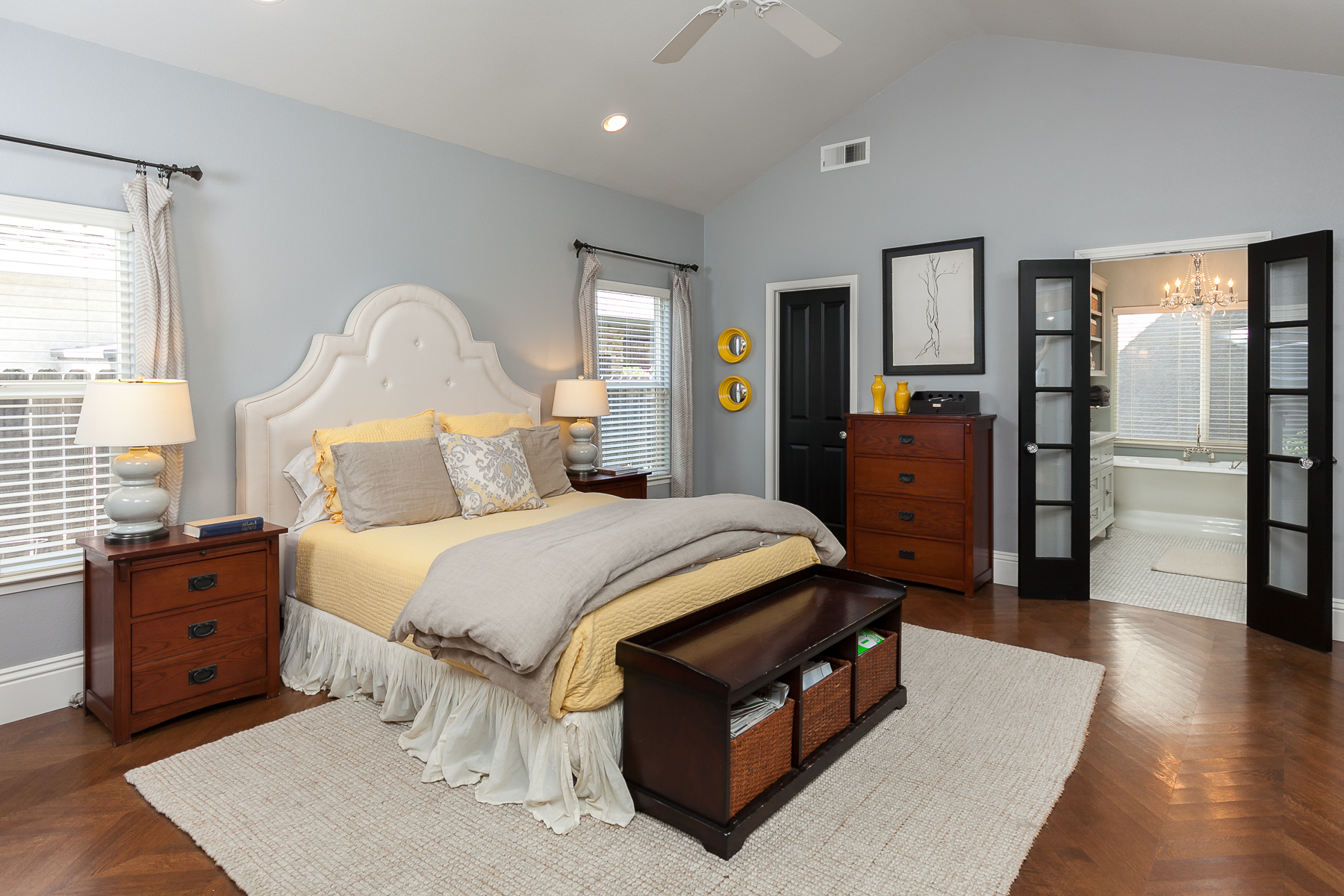 Here's the carpeted (including bathroom! Yuck!) before: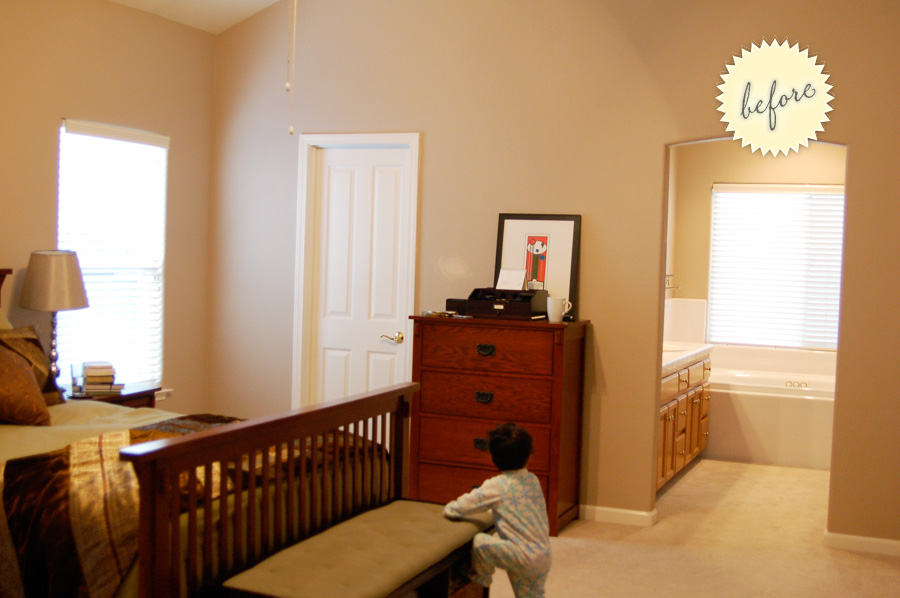 And my favorite room in the whole house… my bathroom. So much love and thought (and marble!) put into this thing: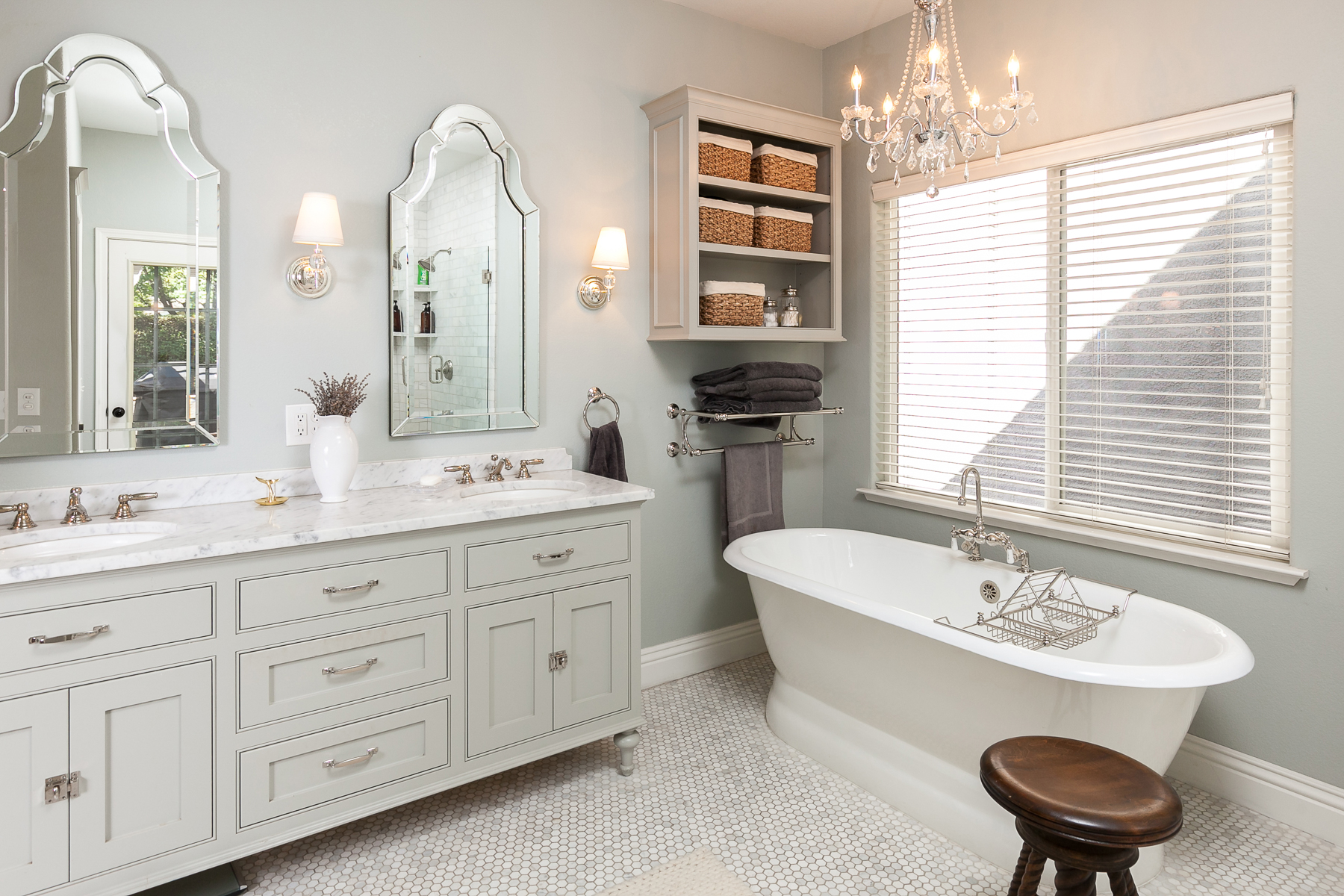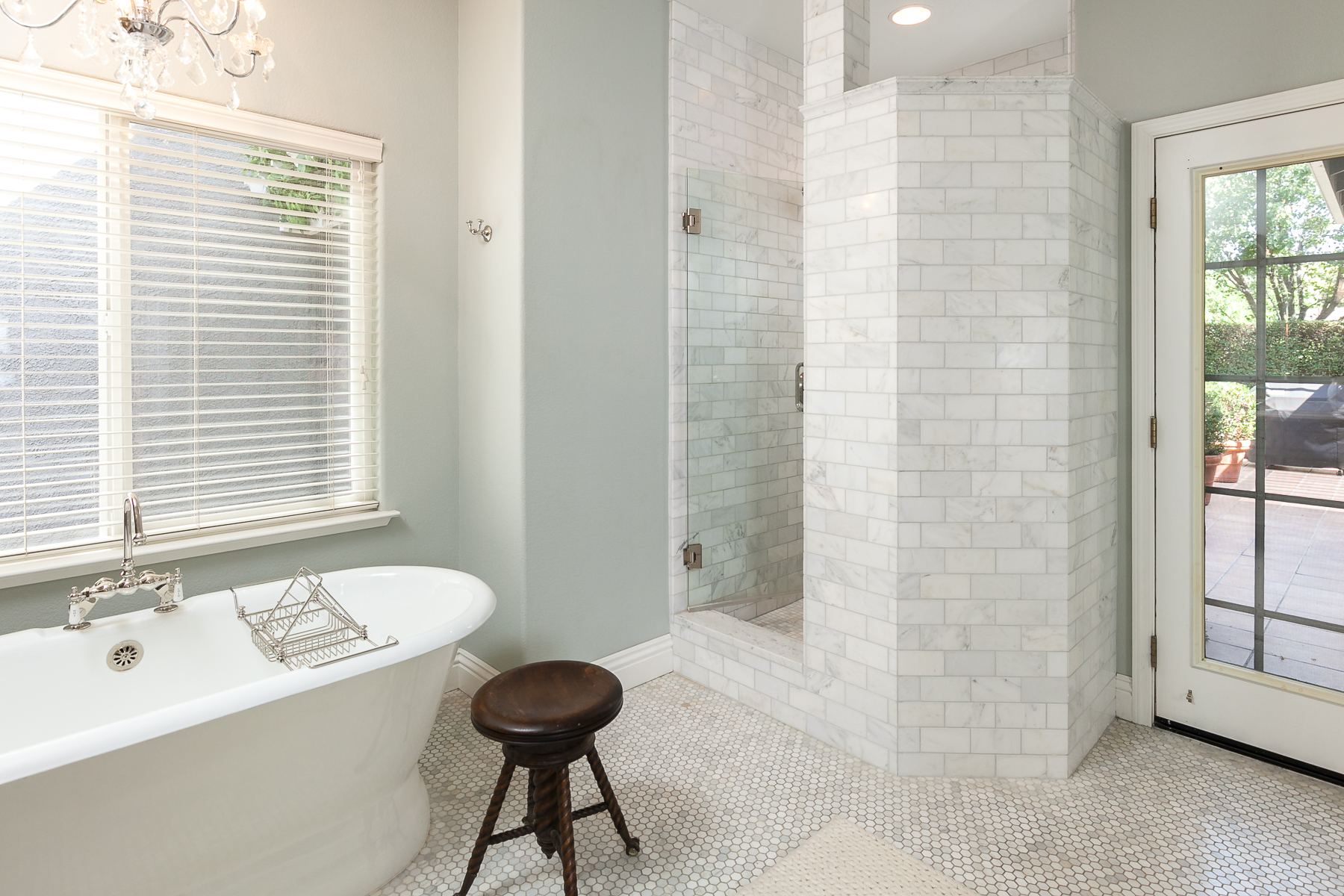 We added the soaking tub, the chandelier, aaaaalll the marble, and the custom cabinetry and vanities. Oh, and we did it the same time as our other bath to save lots of money (and keep us very stinky for a few months). You can see a full FAQ about the bathroom here.
This was the before:
Lastly, let's head upstairs to the boys room! Another place where you haven't seen how it looks recently: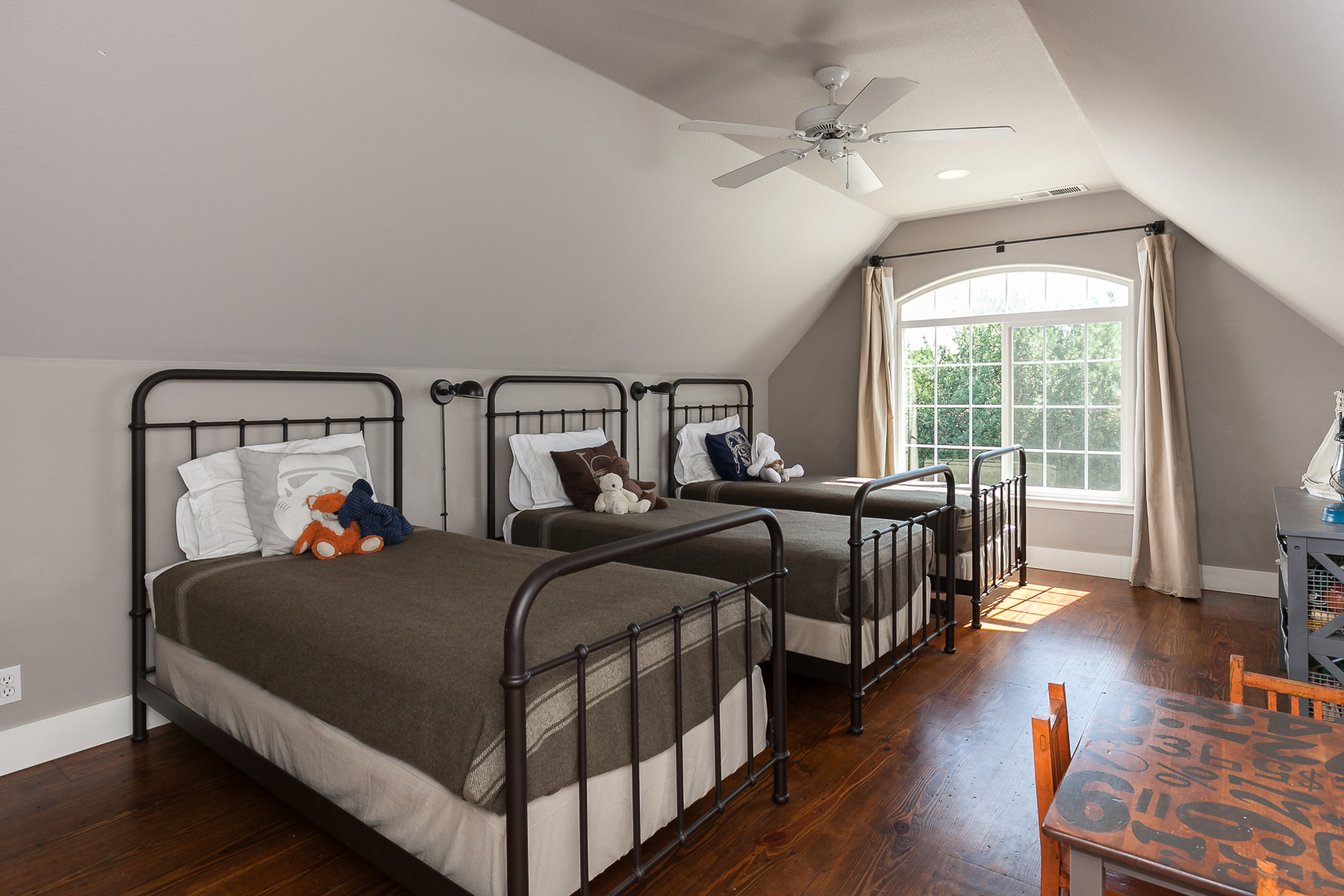 Yup, all three boys share this lofty space! We tore out the carpet, added wide plank pine (diy install on a budget), and it doesn't usually look this severe, but we trimmed the loveys down to two each for the sale, and moved the toy kitchen and tool bench up to the attic temporarily. It's a happy little place.
You might remember it from before when we had just two boys up there: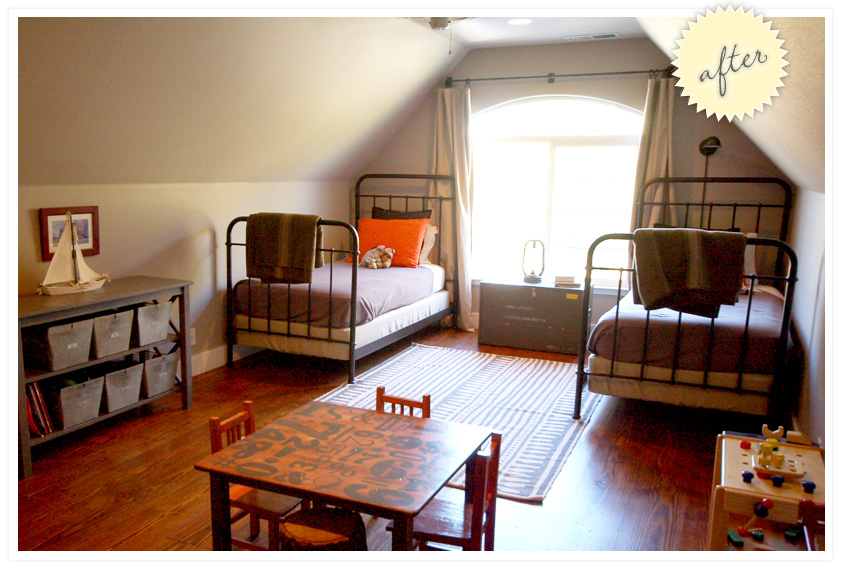 And this was the vanilla before: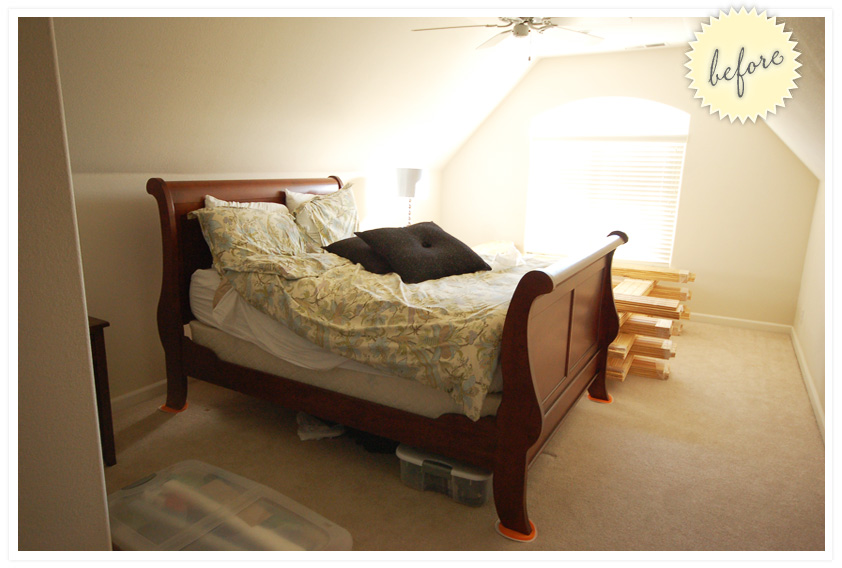 Other bits the real estate pictures don't cover include our laundry room and staircase which you can see here and here.
But wait, what happened to our letterpress studio? Well, when we moved downtown, Matt converted it into a game room: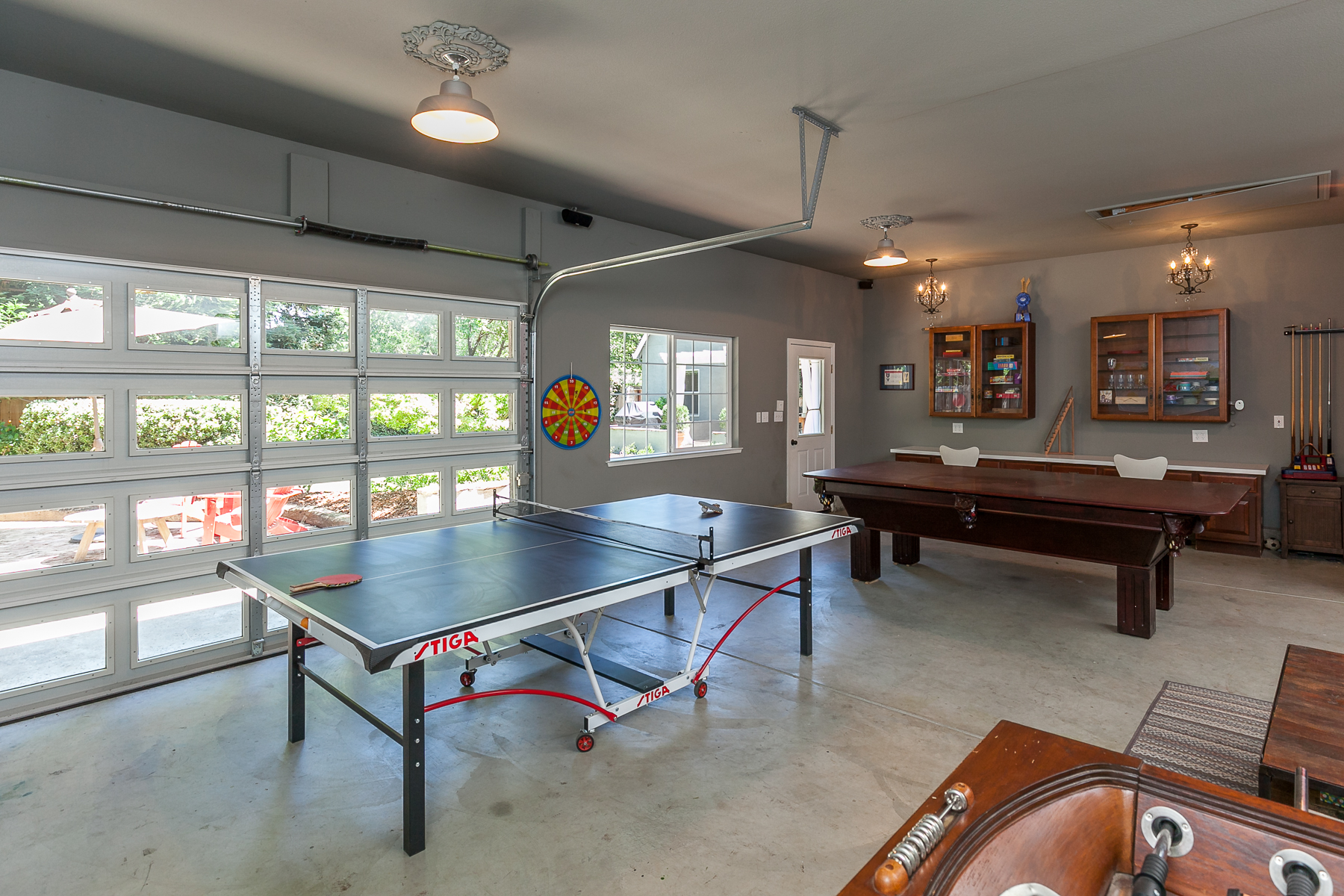 We painted the acid green into a boy-friendly grey, and added a ping-pong table, foosball table and pool table, as well as dartboard and stash of board games. Clearly we're trying to compensate for not allowing our kids any tv or video games.
I don't have a super good shot of the other direction, other than this grainy panorama I did Christmas 2014, with Matt looking appropriately fierce as he shows off his new man cave: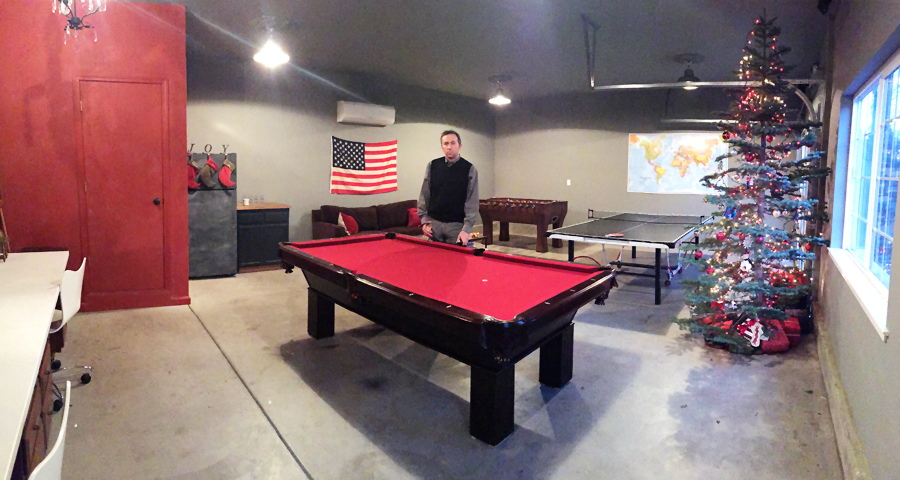 The red wall is a chalk wall, hides the bathroom, and gets drawn all over by kids! It's perfect for Cam's cubscout troop that has met here this past year.
But for reference, this was the before:
And here it was back when it was a teeny letterpress studio (before we outgrew it and it got terribly messy):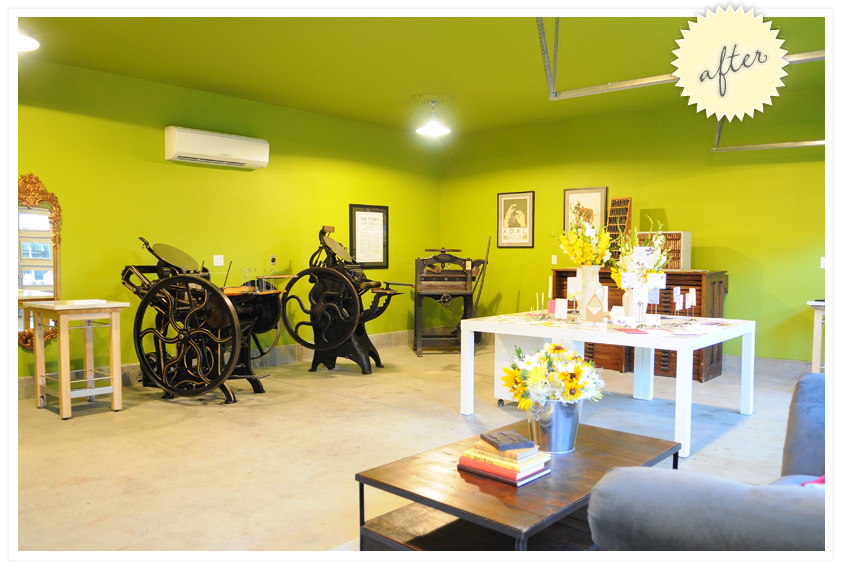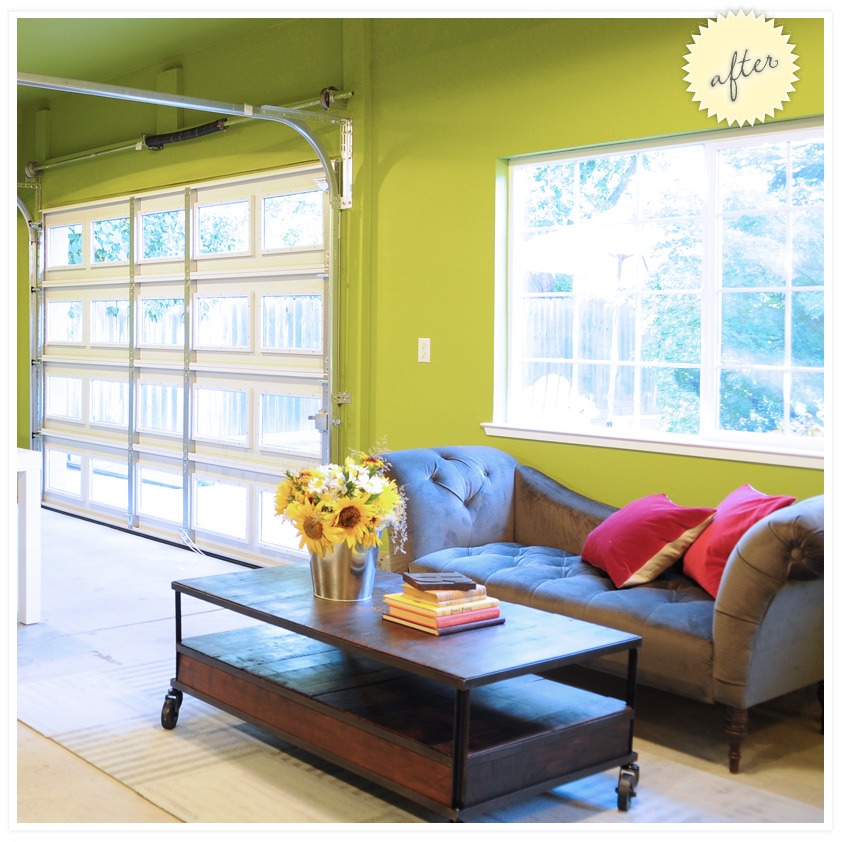 And above the studio is an attic. With a treadmill and a pull-up bar and lots of storage. Storage that used to be messy (what can I say, Matt and the boys were in charge up there!), but is now neat as a pin: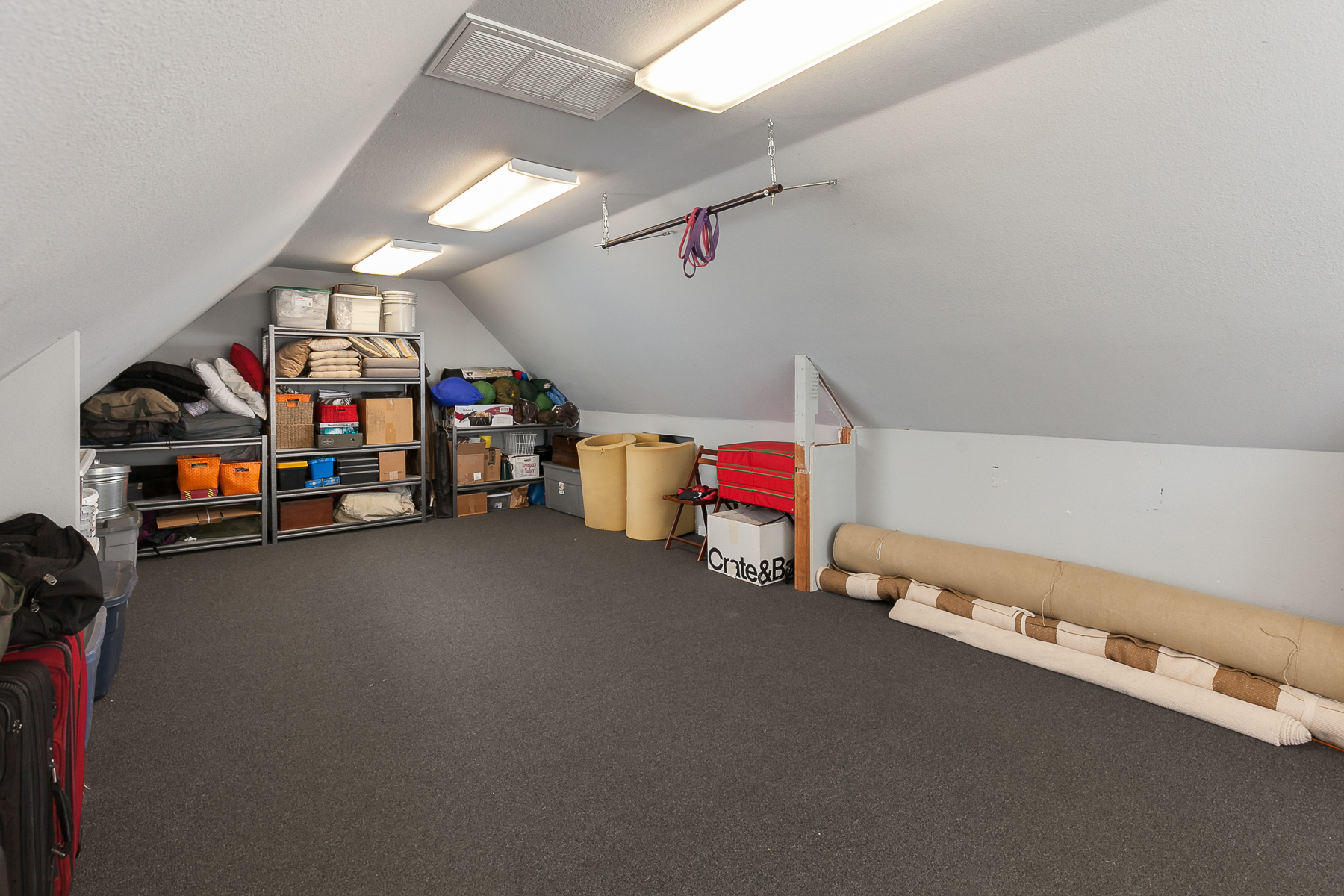 That's a wrap! Our home that we have loved. We have had easter egg hunts, a grand opening, a rabbit dinner party, a sit down dinner for 40 guests, and the world's tallest christmas tree each year. We've used every little inch of the space (from woodshop to garage to sideyards to attics!) and loved every little bit.
My one sincere wish for this home, is that it would find someone who would love and appreciate it. Not keep everything exactly the same, per se, but genuinely enjoy it and use it and LIVE in it as we have as a happy family.
The end. If you want to see the listing you can find it here.
I'd love to hear your thoughts, friends! I've missed you! What's your favorite part of what we did? Should I blog about the new house and remodel? Am I ready to start all over and charm a place up? Ack! Glad to be back talking to you. Happy, happy weekend.