Well, hello there! Popping in today to share with you a quick little gifting guide for some ideas to get you through the last three weeks of the holiday season, which, let's face it, includes a lot of holiday parties and get togethers. A hostess gift is a must, and soooo many people bring wine (which is okay, bring on the wine), I just wanted to give you a few options for a more imaginative thoughtful gift.
BONUS: these are ALL available at the Wild Ink Press Brick & Mortar shop! With free parking and no mall crowds! Chicoans, you're pretty lucky. I'm just sayin'.
For the hostess with the mostess: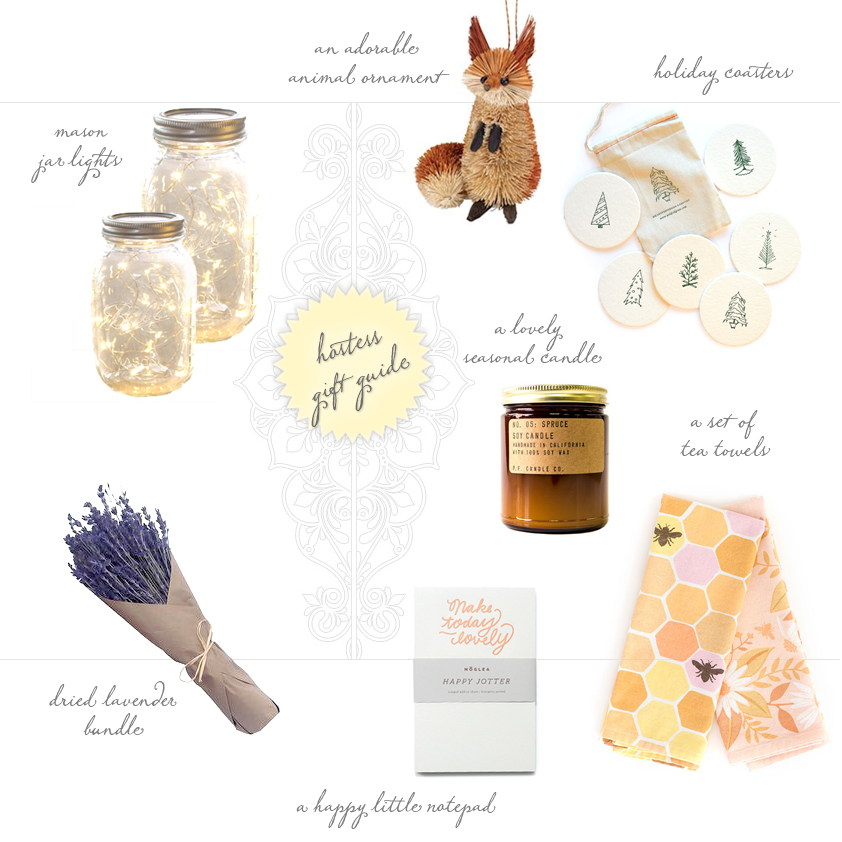 Clockwise from top left:
Mason Jar Lights (battery-operated), to make her home look like fairy town.
Adorable animal ornament. These little guys are made of the palm sago bush and are fair-trade from the Philippines. The fox may be sold-out but we have llamas and frogs and owls, oh my!
Holiday Coasters. A set of six little christmas trees with a cloth muslin bag. Designed by yours truly, etterpress printed here at Wild Ink Press.
A lovely seasonal candle. PF Candle co. is based in California and makes some amazing holiday scents. Spruce is GREAT (but Apple Picking is my favorite).
A set of tea towels. These lovelies are by the fabulous gals at 1Canoe2, but we have more than five styles of tea towels in stock, including holiday.
A happy little notepad. Edge-painted and letterpress printed, this little gift by my friend Meg at Moglea is sure to give a smile.
Dried Lavender Bundle. This is my current favorite hostess gift. Fresh 2015 crop, already dried and wrapped in brown paper tied up with string, ready to give. Who wouldn't want to receive this as a hostess gift?!
Hope you enjoyed this little guide. You can find these online, or if you're in Chico you can pick them up at our little shop downtown!