August marked the one year anniversary of buying our studio downtown! It's hard to believe that it has only been a year (really only nine months since we actually moved in), it feels like it's been home to Wild Ink Press for a long time. We're already running out of room (a bit!), and the space feels loved and lived in.
In honor of the anniversary (and similar to how I shared my kitchen remodel a year after the fact), I will be posting a whole series of before-and-after pics of the space!! If you know me at all, you know before-and-afters are my favorite, so I hope you like them as well. I feel like they sort of demystify the process of a design and remodel, and make it more accessible to your average DIY hack (read: me). So hold on to your seats – we're starting with the exterior, but we'll be covering, in no particular order: the pressroom, retail shop, shipping room, packaging area, my office, and a couple how-tos – how to tile a word, how to plan and layout a space on a computer (or on paper) and how to ombre paint a wall.
I hope you enjoy the ride! First off, to start at the beginning. We were desperately running out of space in our little two-story converted garage studio behind our house. You can see it in its original heyday here:
Lovely seating area, old presses, cabinet storage. Good for the occasional greeting card, and to meet brides and design custom invitations and print them on old presses.
But with our company, the greeting card section took off, and we had to hire employees for shipping, packaging as well as bring another pressman on. Also, we had to store our growing line of cards and gift wrap. So, around last summer, it looked more like this:
I'll spare you the mess that was the attic stock room. With all that stuff, plus four employees coming each day, it was clear we needed to find a new space and find it fast.
I won't bore you with huge long tale, but basically after poking around all over Chico, we found this empty office building downtown:
5200 square feet of blank dingy beige structure. It had been the assessor's office for about 20 years, but for the last two it had been empty. Prior to that it had been a local title company (their space is now next door), but its original use was as a soda bottling plant – owned by Bowman's Beverage Company and built in 1941. I searched around as well I could and these are the two best items I could come up with for the building's history – the first, an ad for Bowman's Beverage (bottom left) listing our address and what they bottled here: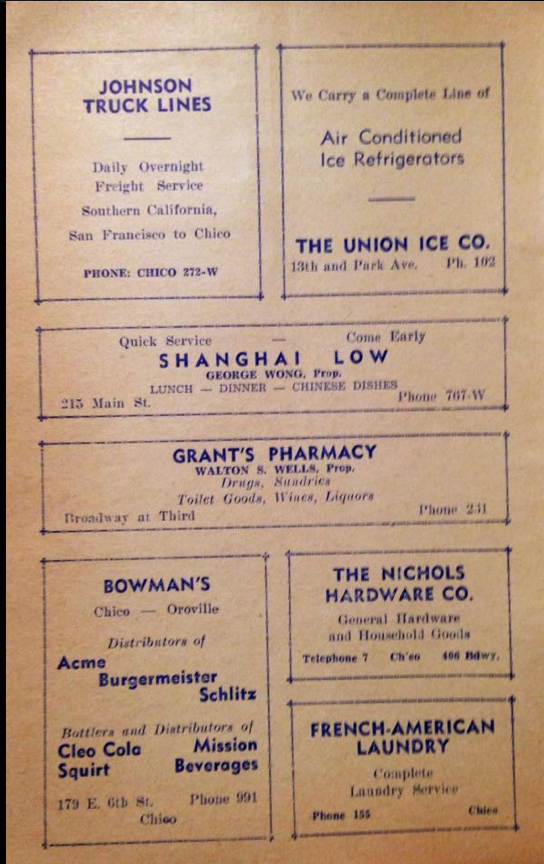 And this bottle of squirt which lists Bowman's Chico as its place of origin:

Apparently they also bottled Nehi soda here, We found a big vat of Nehi grape concentrate shoved in the rafters of the building when we remodeled (perhaps stopping a leak? Holding it up?). It was pretty wedged in there, so we left it right where it belonged.
Back to the story, we saw potential (rather I saw design/remodel potential, Matt saw space/equipment potential and we trusted each other to know what we do best), so we made an offer to buy the building and it was accepted.
So the fun begins!! How do you take a beige box and make it interesting? Turn it into a jewel box! First, a moodboard…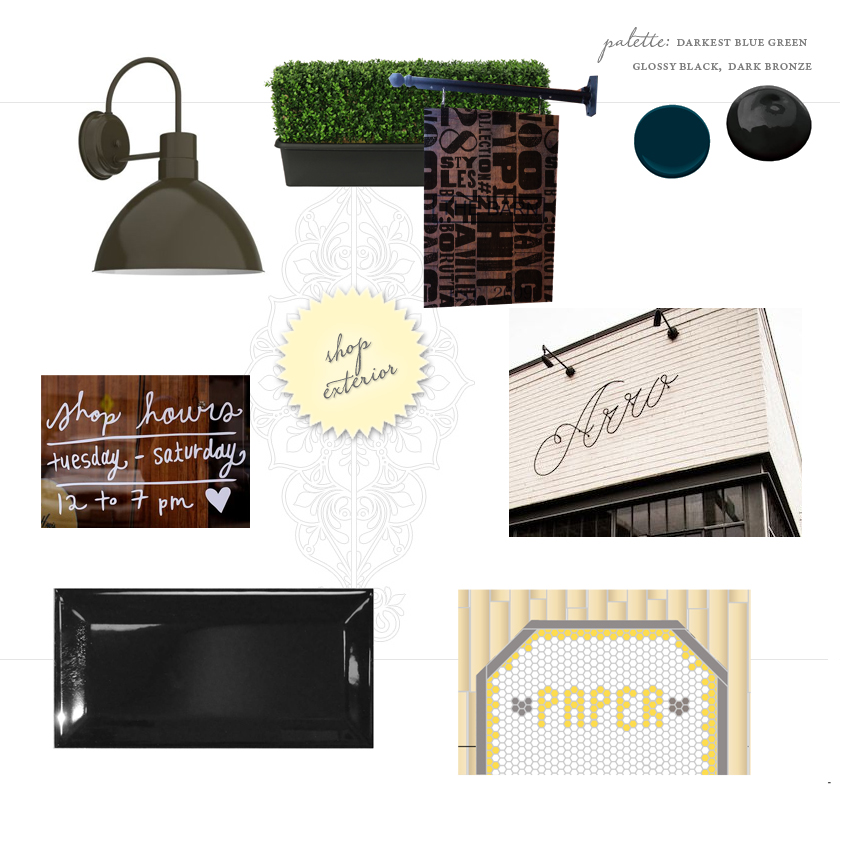 The plan was to use a really dark palette – rich green/blue (almost black), with glossy black subway tile, bent metal signage, revamped lighting, and a tile entry.
Next came a digital mock-up so we could get the city's approval: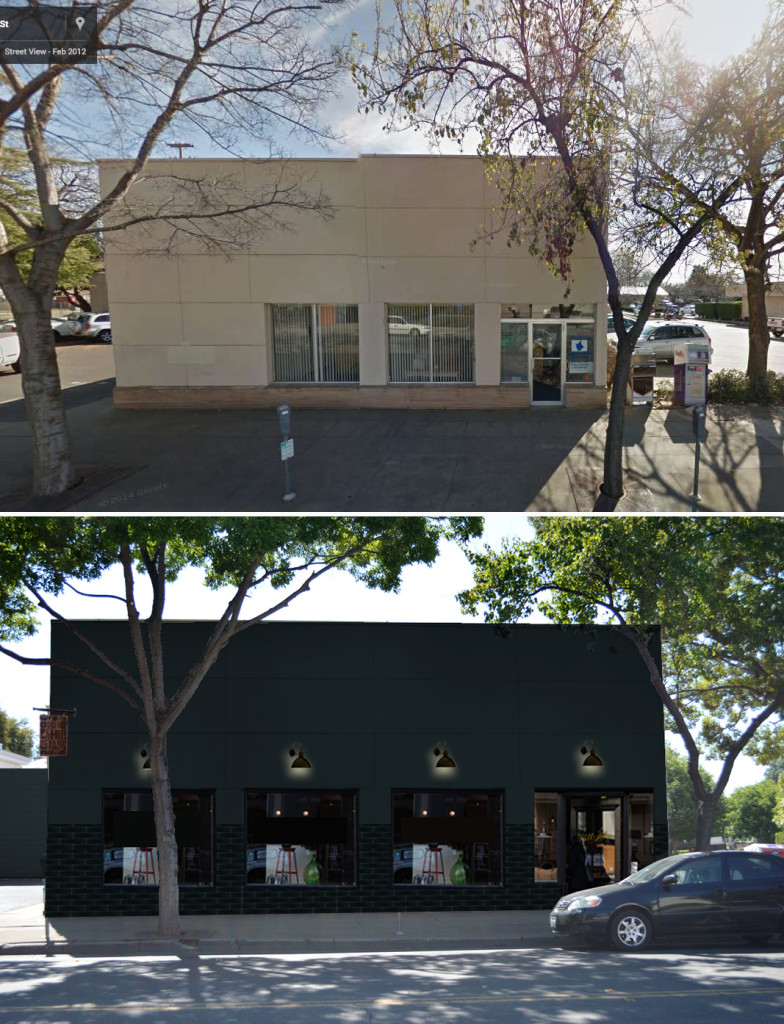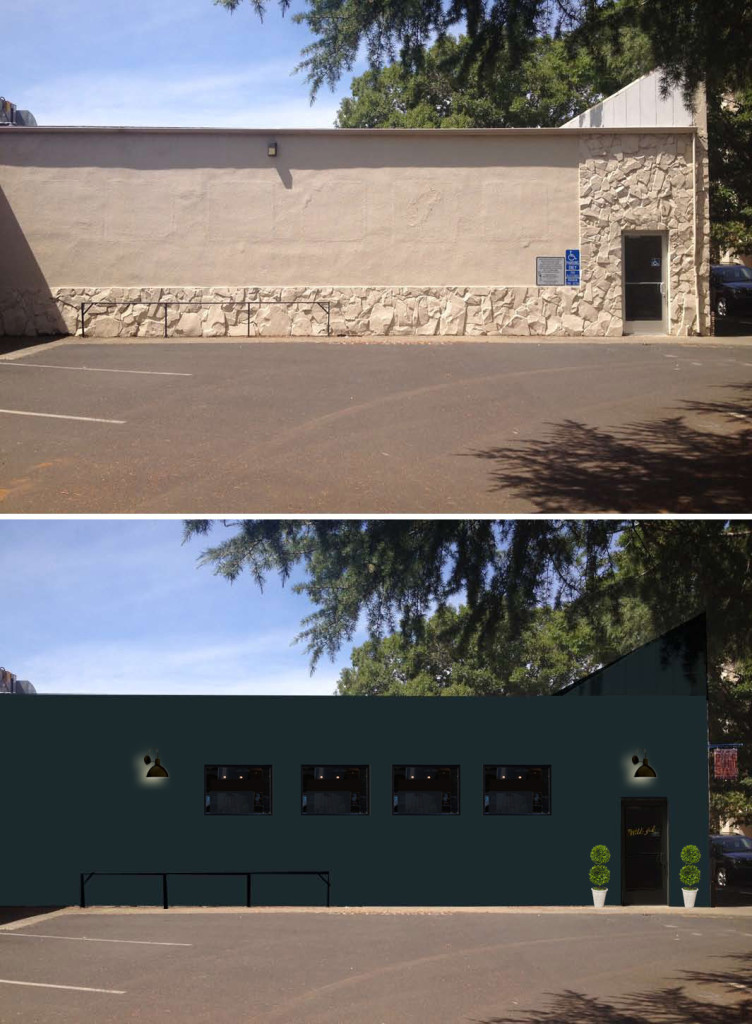 And then, the dirty work of tear-down. In taking off the seventies-added fieldstone and stacked rock, we found a couple discoveries: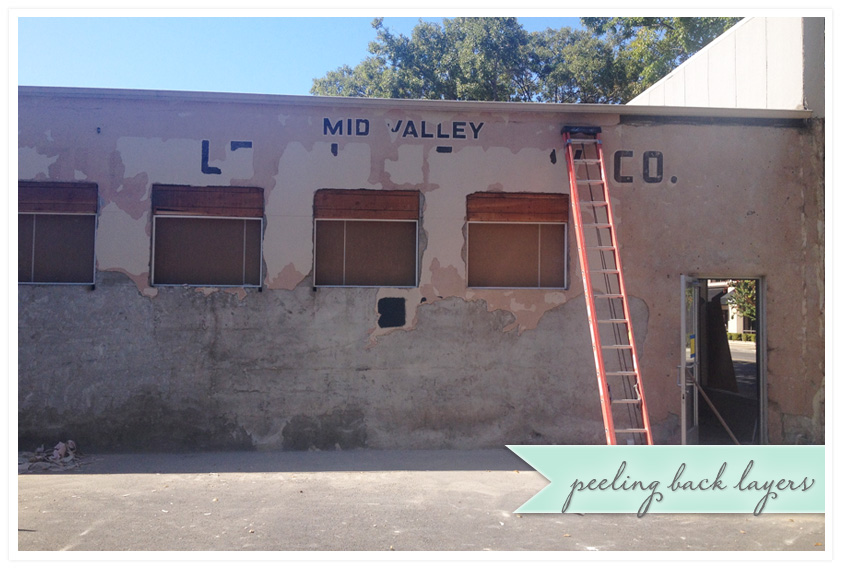 The original title company signage, and… windows!! Windows in the concrete that had been boarded up and stuccoed over previously.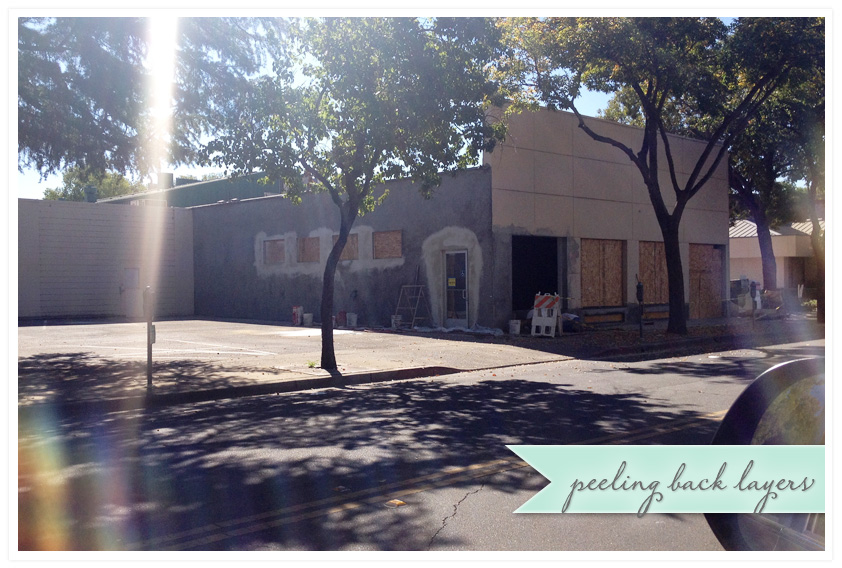 Even another large window in the front, which balanced out the building greatly.
Also, beneath each front window we uncovered a little niche which had been sloppily filled in with brick before being  covered in stacked rock…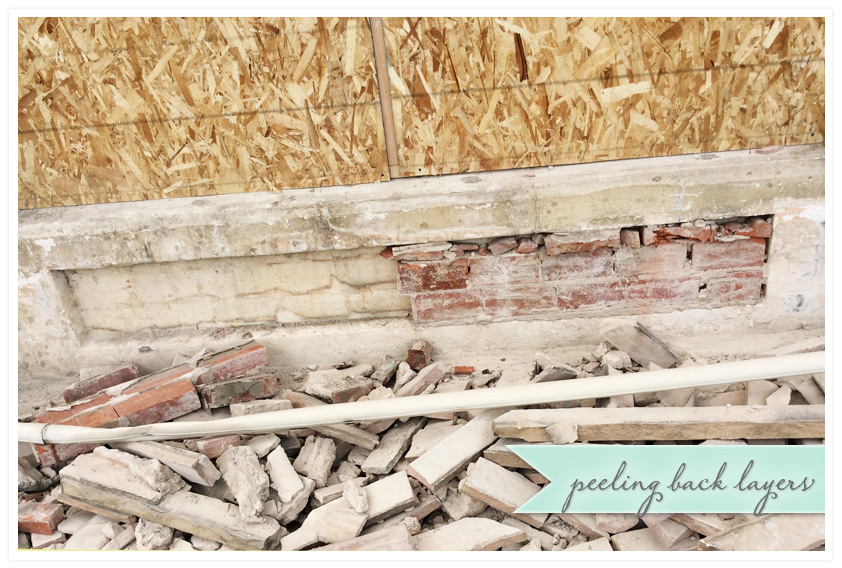 Perhaps it was for advertising, or a special tile design, but we wanted to keep them open of course, despite it adding cost to the project. They added a great deal of dimension to the front of the building.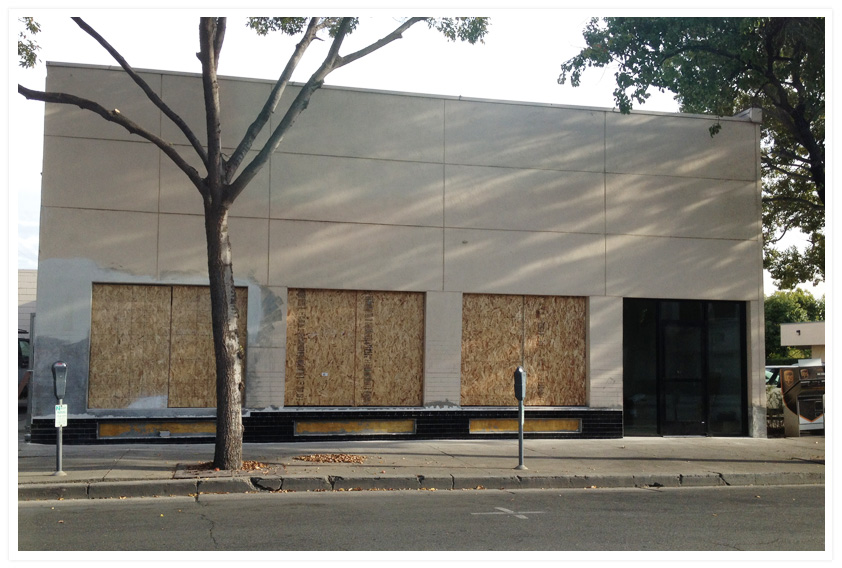 Meantime, our sign was being bent out of raw steel by the talented Dave Richer at Earthen Iron: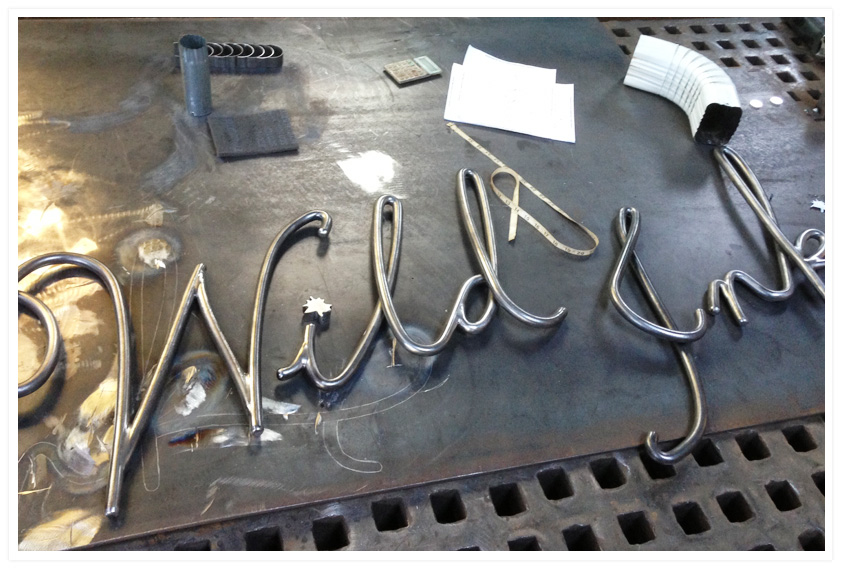 Bent and welded. Aren't those overlaps amazing? Such a cool process, I just had to show you a tiny bit of it.
Well, not belabor things, are you ready for the after pictures? Here goes…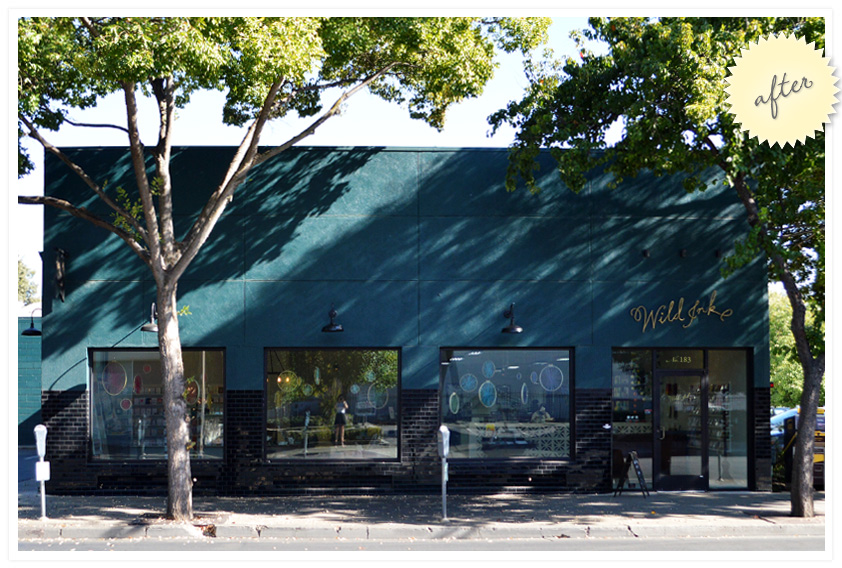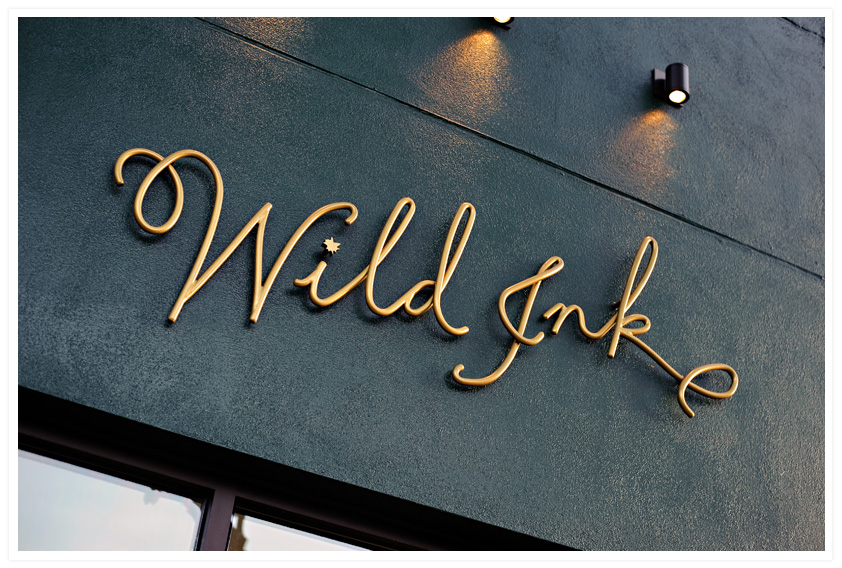 Old school gilded lettering on the doors…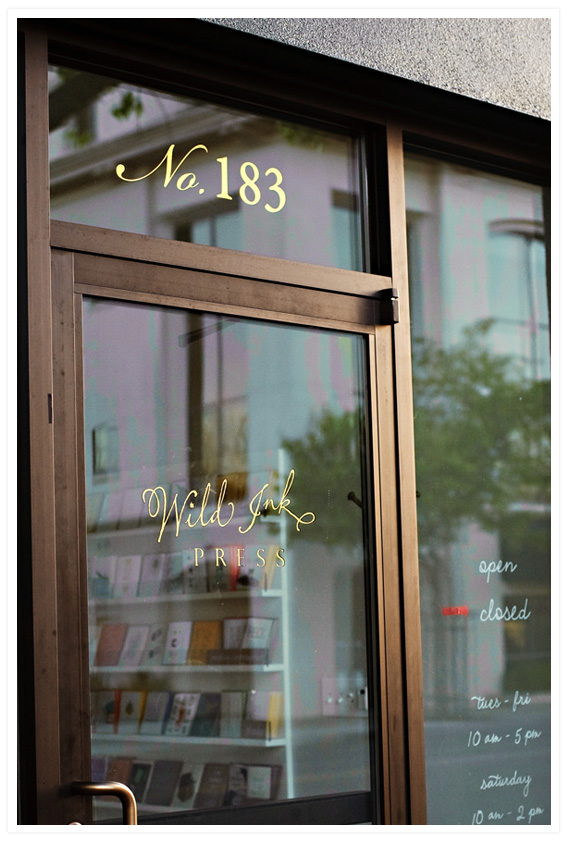 And here's a "glamour" shot at twilight: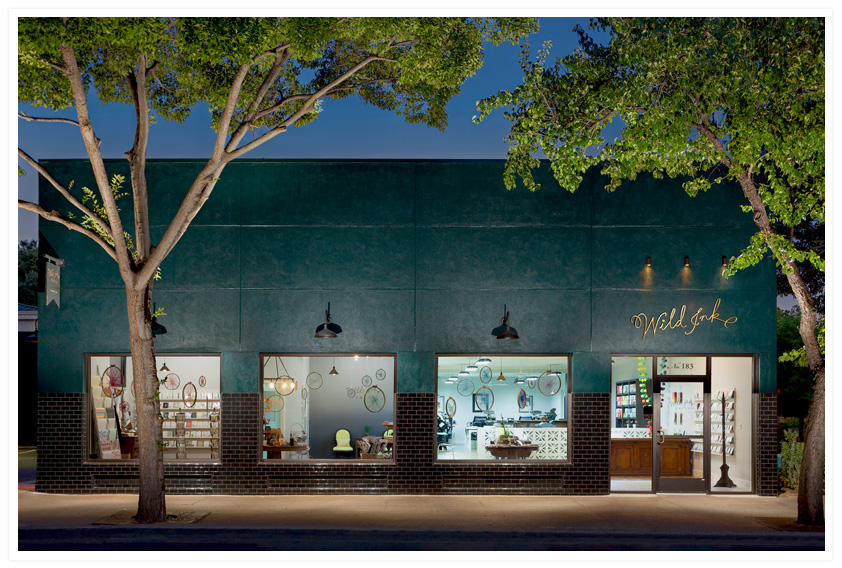 My favorite bit of the front: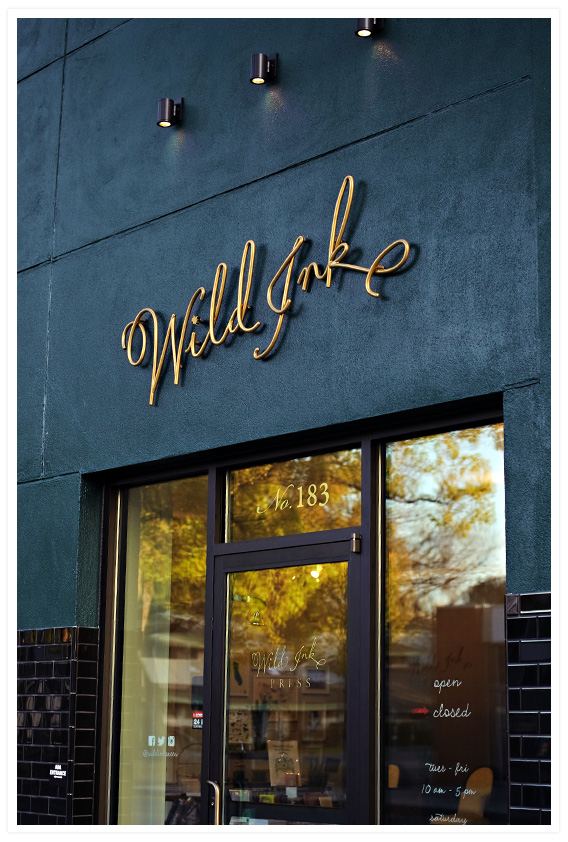 And our hanging sign (different from my original concept, but I love this one):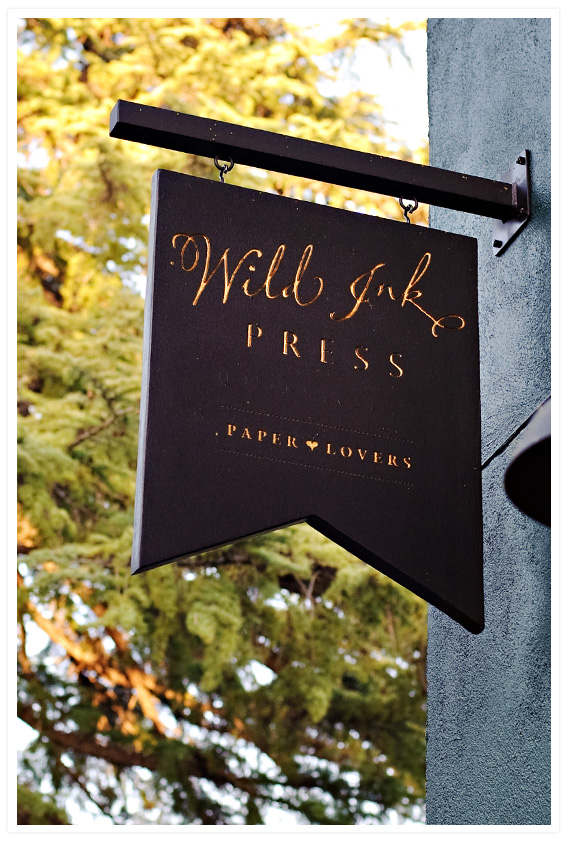 We love our little shop, and I was so happy to transform this little empty spot and become a vibrant part of downtown Chico. What do you think? Would love to hear your thoughts in the comments!
Up early next week… stay tuned for the interior (it's a doozy!)