I'm back with a fitness update! If you remember the post from December – My Journey to Me… which some of you found encouraging/inspiring (and that was my goal), I just wanted to keep you all posted on how it's going. Real talk!
I finally hit my goal weight in January, after 18 plus months of hard work (can I get a woohoo?)! Oh, wait, there's a card for that (one of our new happy cards).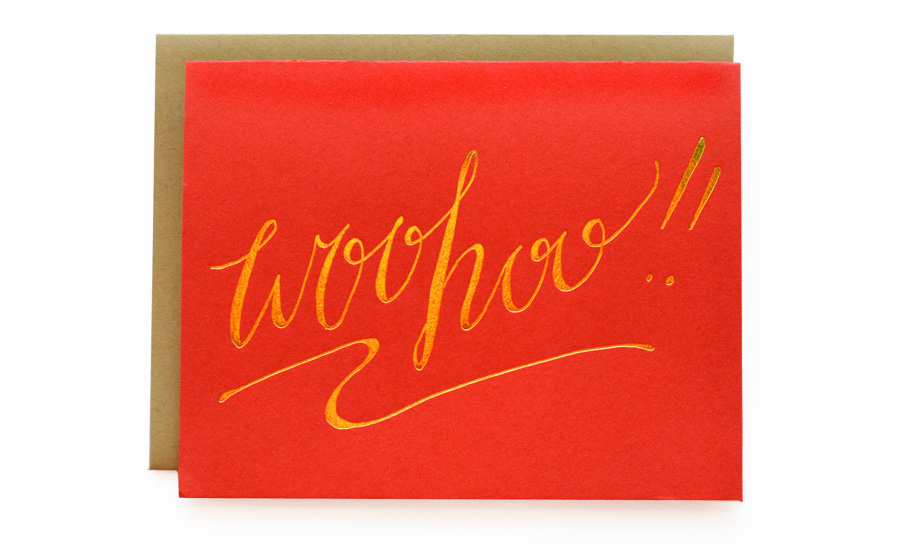 Now, I'm sure any of you who've seen me in person (or just in pictures) knows that my goal weight is not supermodel-thin, or actress-thin, or even average street-thin. Rather, it's healthy and strong, and it's the spot where I look in the mirror and think – "you look pretty good." I recognize that unattainable goals can be a slippery slope, so I'm happy where I've parked myself, and here I stay.
My new goals (goals are important!) involve challenging myself – completing unnassisted pullups, holding a longer plank, stilling my mind more.
But the reason I popped in today is I wanted to share with you what is possibly my FAVORITE breakfast of the past almost two years. The breakfast that really got me through it all, made me happy and full and healthy each morning I had it.
I present to you… my version of Huevos Rancheros. It's so simple and easy, one pan, done in 7 minutes. Total, start to finish.
Begin with 2-3 cups of fresh spinach – cook them in a pan over dry heat (no oil, no water necessary) until they wilt: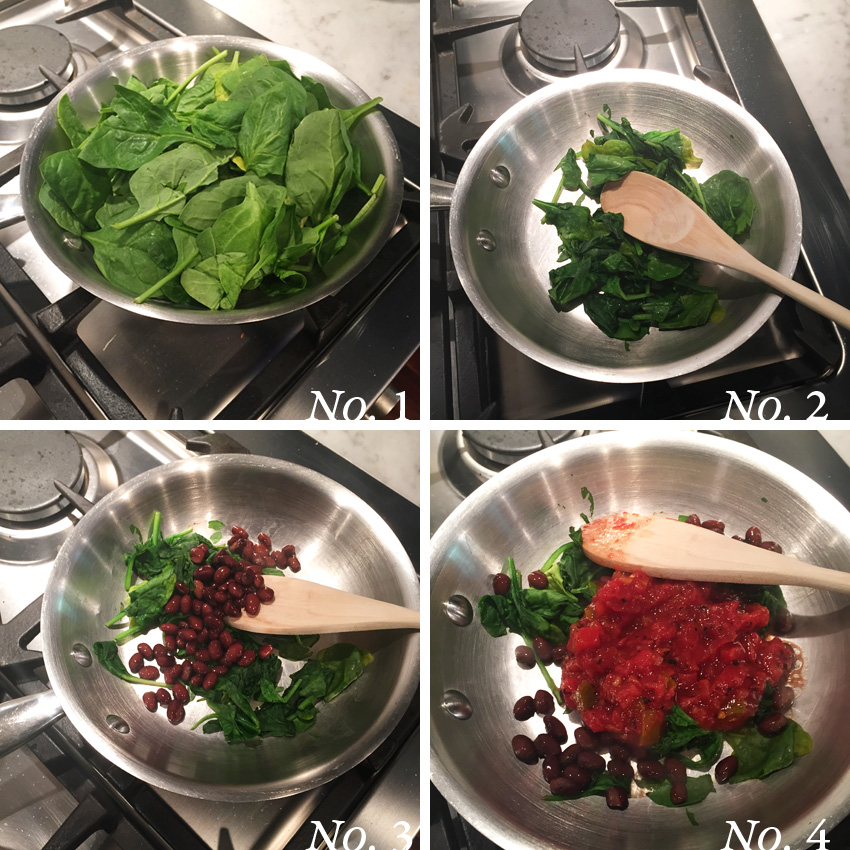 Add 1/4 to 1/3 cup of black beans (I use Trader Joe's Organic as the sodium is lower). Add 1/2 cup of salsa, as hot or mild as you like, or as pico or rojo as you like. Sometimes in the summer I just use straight tomatoes.
Heat it all up, and make a bed for two eggs – crack them right in there and put the lid on.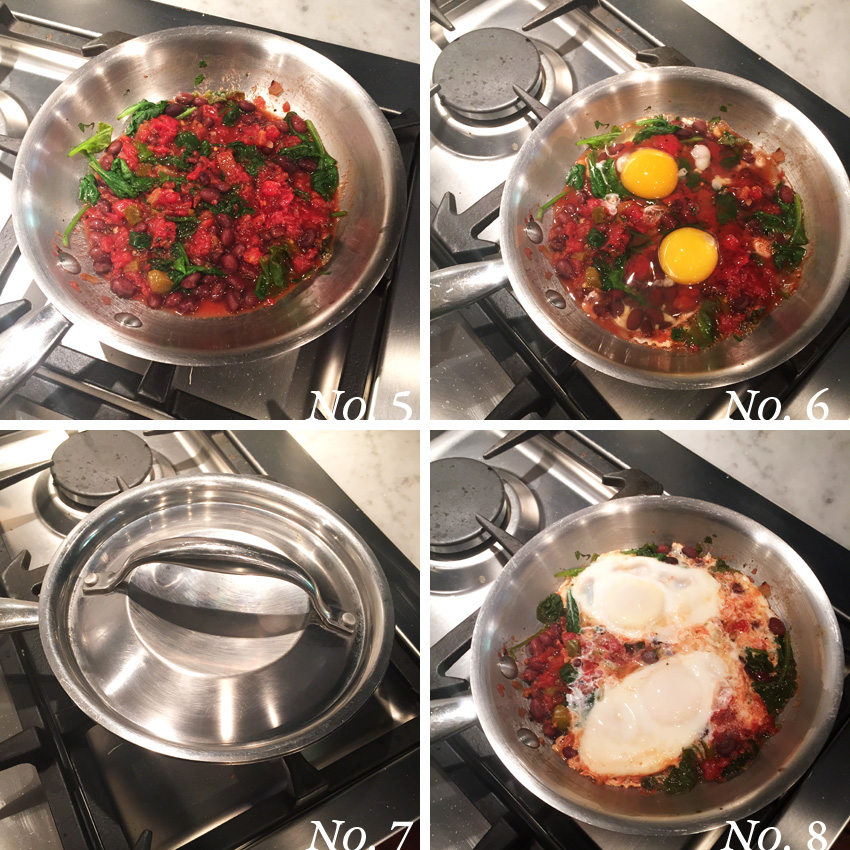 Cook five or so minutes, depending on the heat of your pan and how done you like your eggs (I like mine medium/not too runny for this application).
Remove from heat, salt and pepper, and add less than a tablespoon of shredded cheese (I used to leave this off entirely), and some fresh cilantro: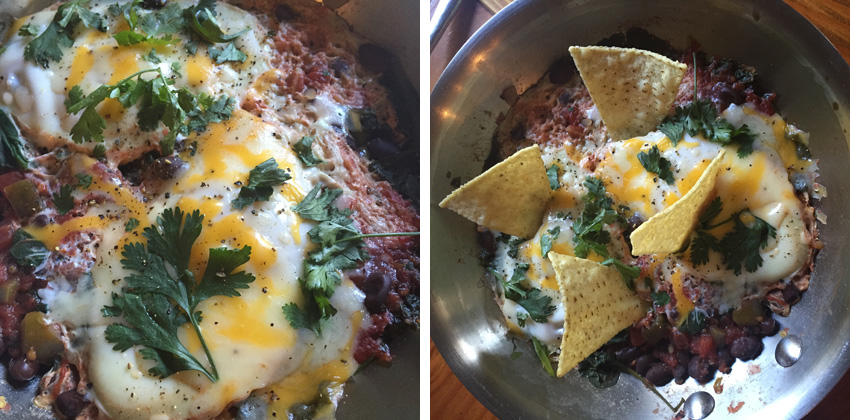 Oh, and you can add in four tortilla chips (not more!! and no snacking from the bag!) to stud the top. I don't usually add this, but it's a fun level of decadence occasionally. Only add it if it won't slip you down the slope of eating the whole bag. 😉
Now, I like to save dishes, so to round out my ideal morning: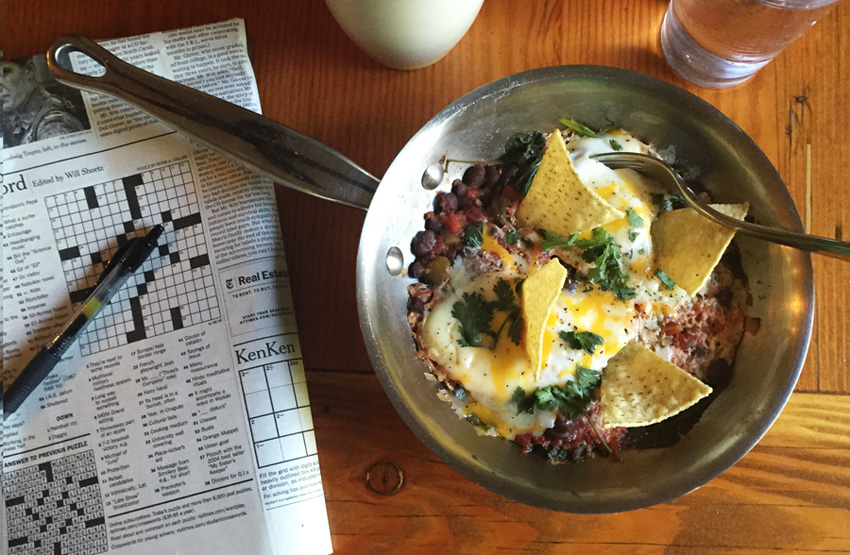 Just add water, coffee and the New York Times Crossword puzzle. Happy day.
This recipe has so many variations! Green onion, avocado, flax seed are all great additions. But just remember, the base is simple and easy and always there for you.
Nutritional Value:
Calories: 314 (287 without the 4 chips)
Fiber 6.7 grams
Sugars 4.8 grams
Protein 20.5 grams
Carbs 26 grams
Vitamin A  212%
Vitamin C 82%
Iron 28.3%
Calcium 28.9%
Not bad, right? For someone like me, who can't handle drinking her breakfast in a smoothie, it's a wonderful option. I can guarantee you, it also makes you feel very full.
So, for any of you on a similar journey here's another card for you…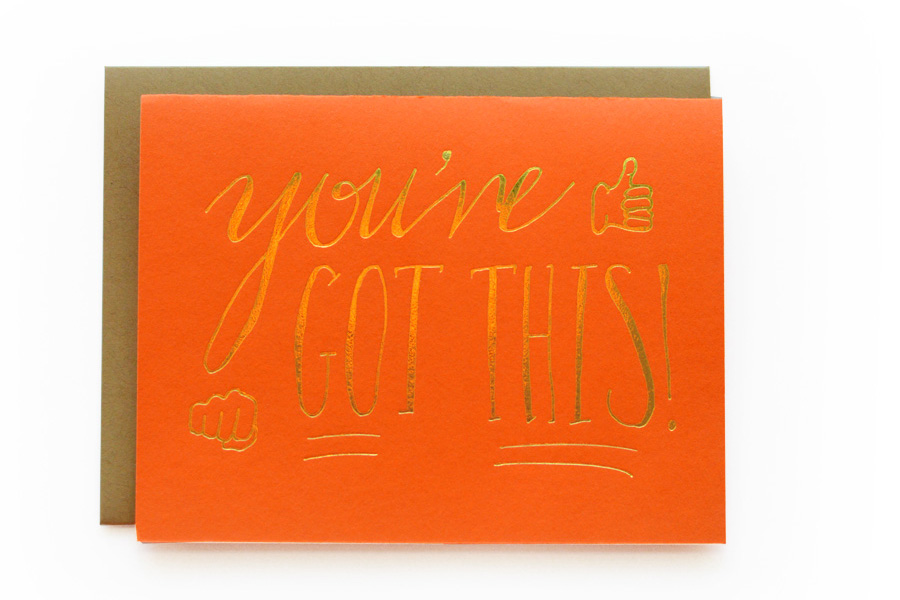 You've got this!!