I've been hinting over the past few posts that this summer we went whole-hog with the remaining home improvement projects and may have conjured up not just one, but two farmhouse tables.
Lemme 'splain.
This is our breakfast nook: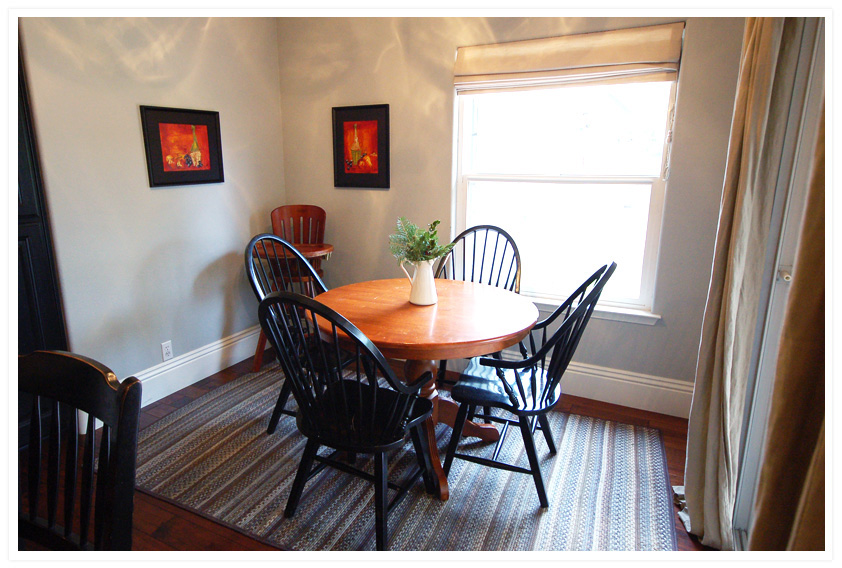 The first (and only time) you may have possibly laid eyes on it (unless you've come over and seen the house in person) is in this Christmas home tour. Which I still get nostalgic about and visit sometimes (yes, I visit my own blog). It just seems so bright and warm and cozy and homey. The only problem with the above picture? It basically never looks this good. Before or since. This was when we had 1.5 children (i.e. only one walker) and the area had only seen three years of light use. Now? Two years later – it's been used and abused, baby. The boys, my three crazies, have dropped so many crumbs on that floor, have tried to set a record for sticky smears, and enjoy bumping the chairs into the wall, leaving a big black streak on any occasion they can. I still love the braided rug, but I don't even want to think about all the ickies it harbors.
However, none of this was unbeatable. I just needed to be a better cleaning ace. The major, unsolvable problem was the fact that we are a family of five, and that table only seats four. Four with no place to really put any food besides four small plates. Imagine adding serving bowls of rice, meat, salad and vegetable to that table and what do you get? Yup. No space.
So, enter the idea of a banquette (original kudos to Matt and also his mom for bringing forth the notion of a built-in). This was not a job for us amateurs, so I called in my favorite carpenter (Carl Lee from D'Amato & Lee) – sketched out my vision, down to the last detail, and he built and installed it for us.
The result?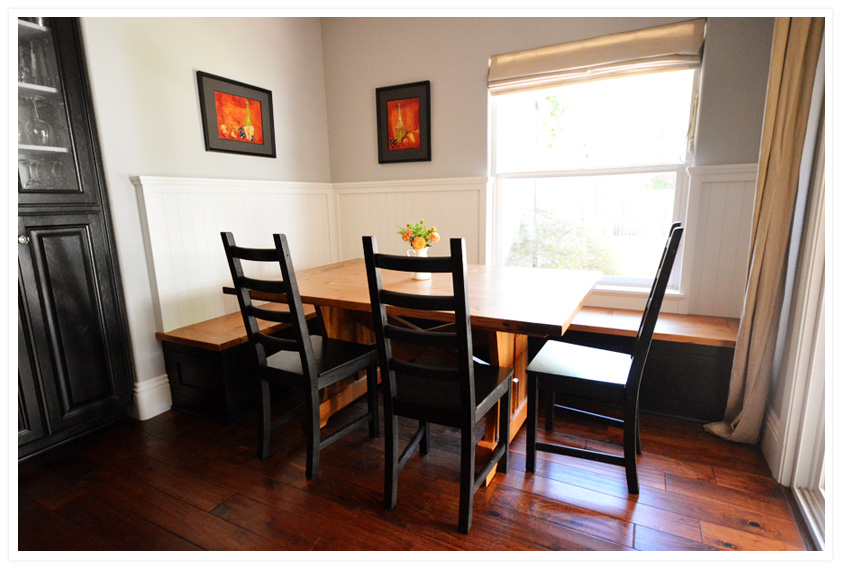 A roomy, laid back nook that could seat at least 8 (or ten kids lined up on that bench!). We love, love, love it.
I chose black for the lower half to tie-in with the kitchen cabinets (and to hide dirt and scuffs). The white beadboard  I used to create a super wipe-able finish, and make the area feel cozy and special. The table is custom, and uses reclaimed wood that Carl had "out in the back pile".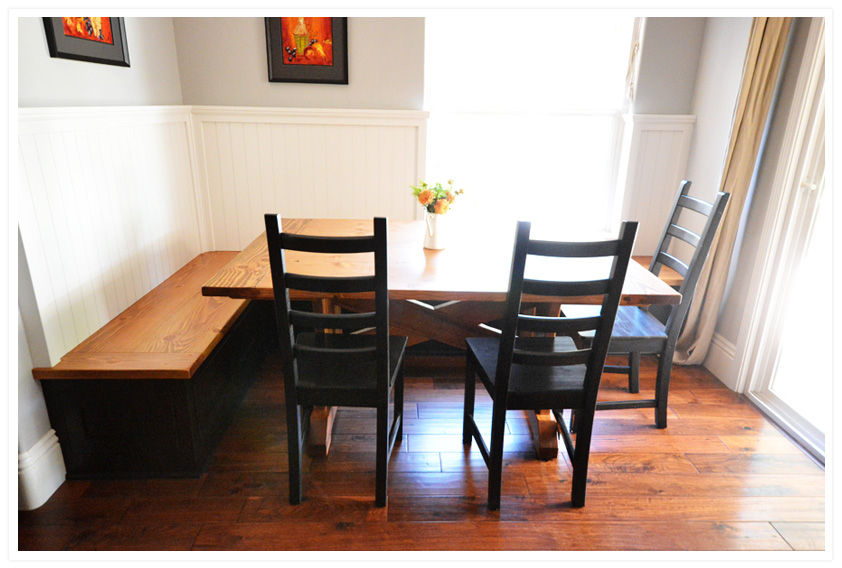 The under table construction is downright, dare I say, sexy: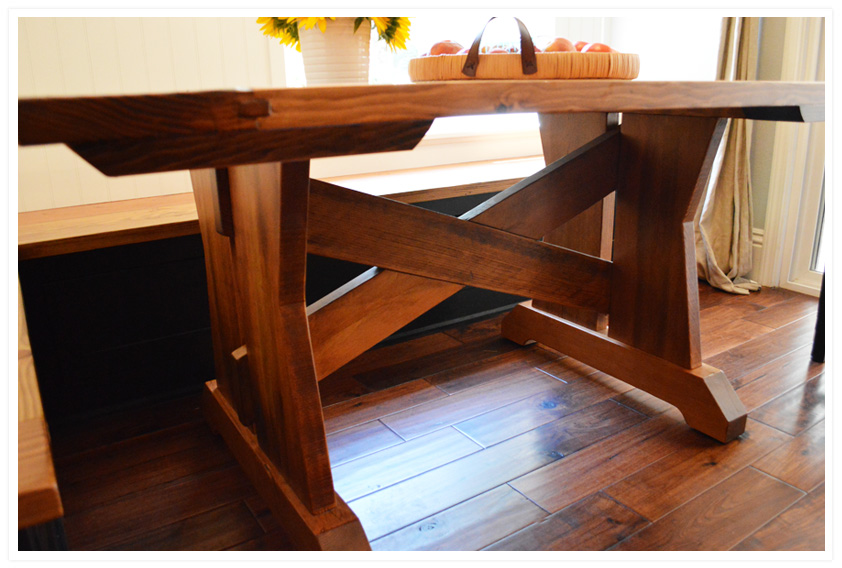 Hello, beautiful crossbeams.
The end is also pretty hunky: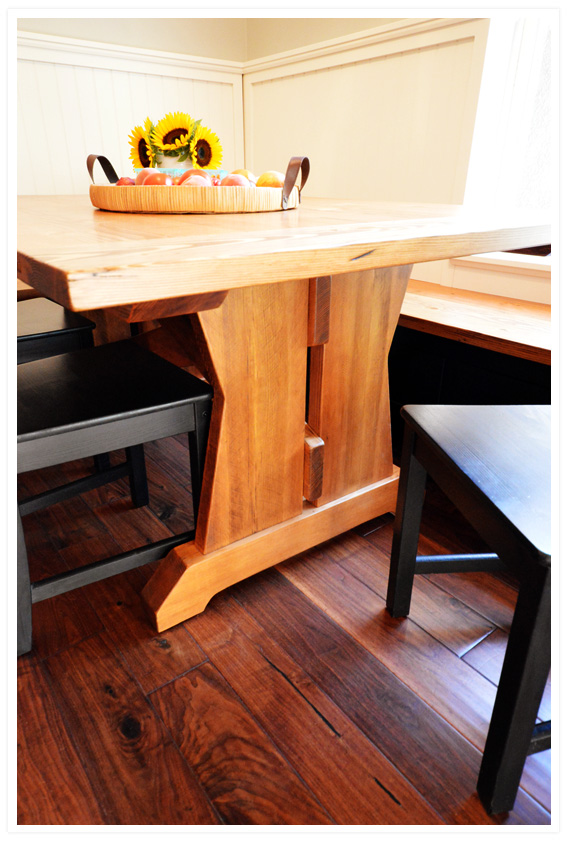 The built in bench is topped with a similar wood (although not reclaimed), and those are all drawers and cupboards!! Storage space, baby!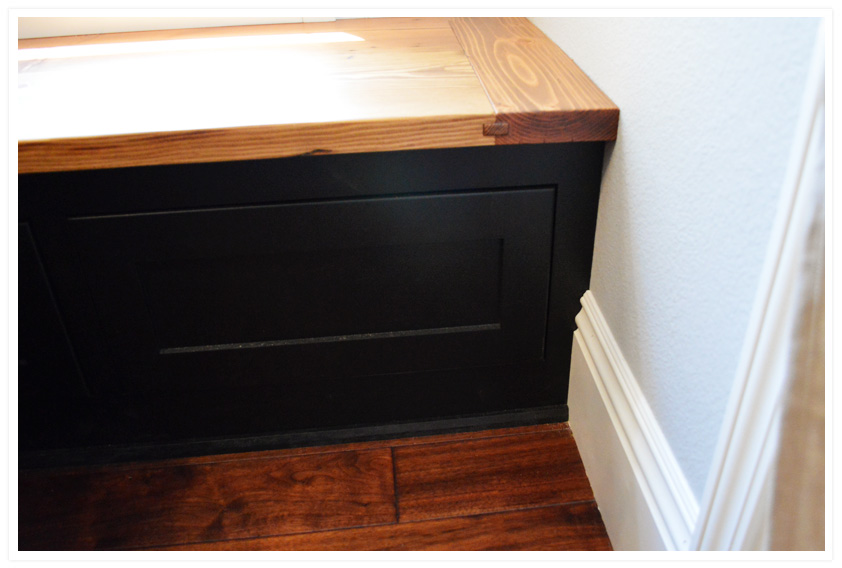 I still need to add handles. And to dust the front, obviously.
Here are more juicy details: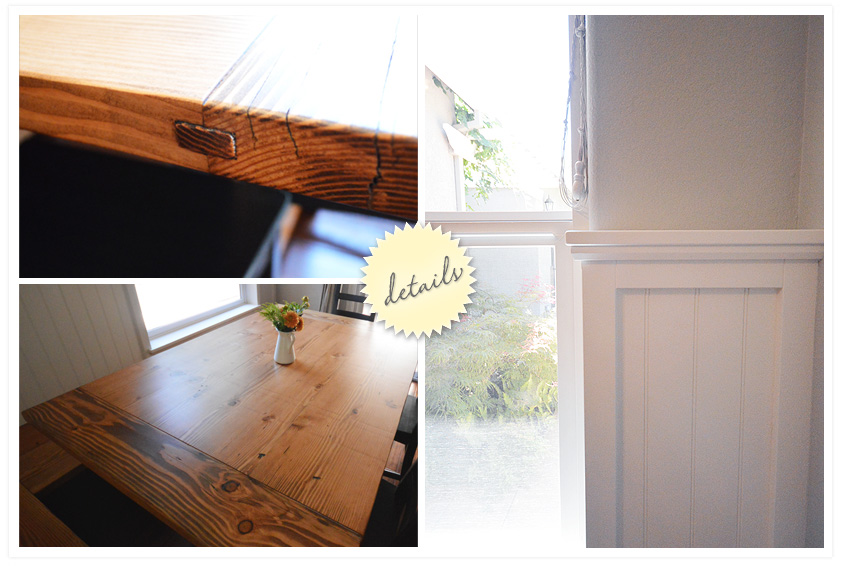 Clockwise from right: the beadboard ends at the same height as the window sash; the end boards have wild graining and add personality on the table; a slightly proud piece connects the two wood slabs. It's the little things that can make something really special.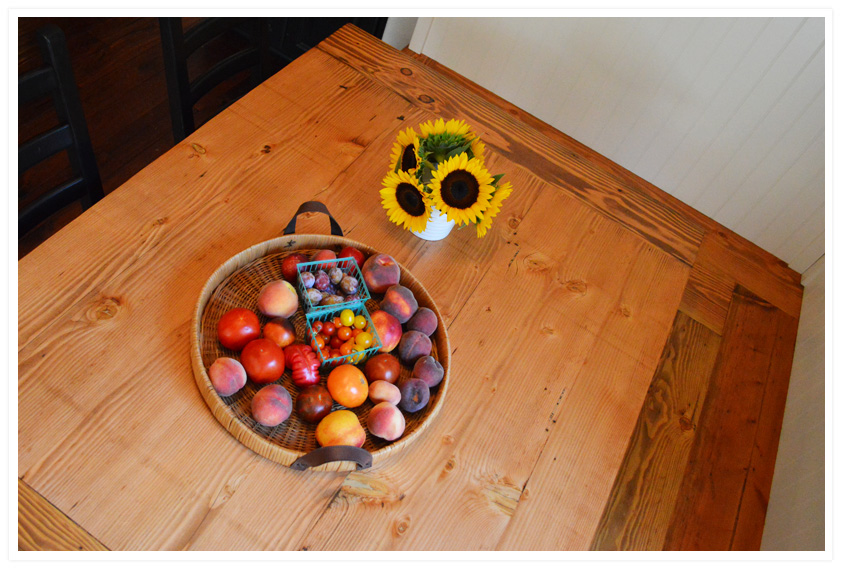 Lots and lots of space for big baskets of summer fruit.
And one big surprise bonus: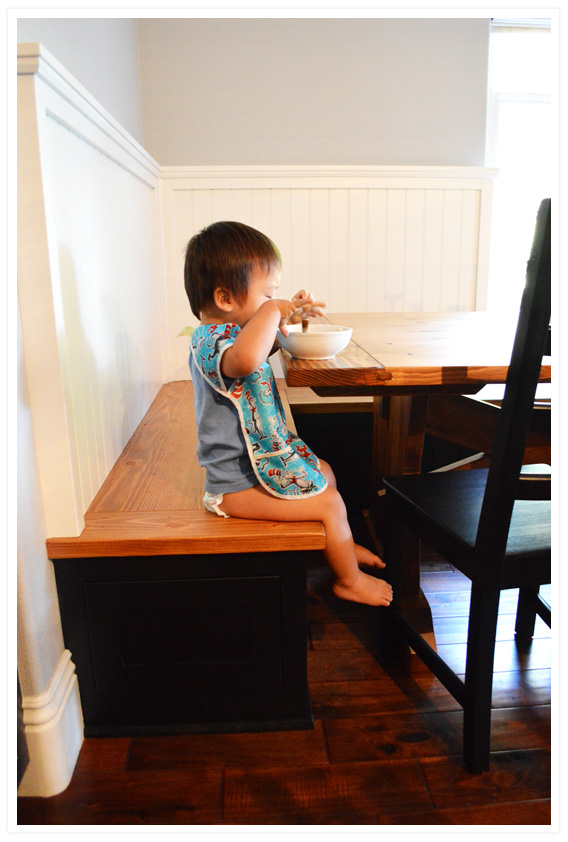 No more highchair! The built-in bench means we are officially. done. forever. with highchairs. Amazing!!
Here's another angle to illustrate the better use of space. Before, in 2011: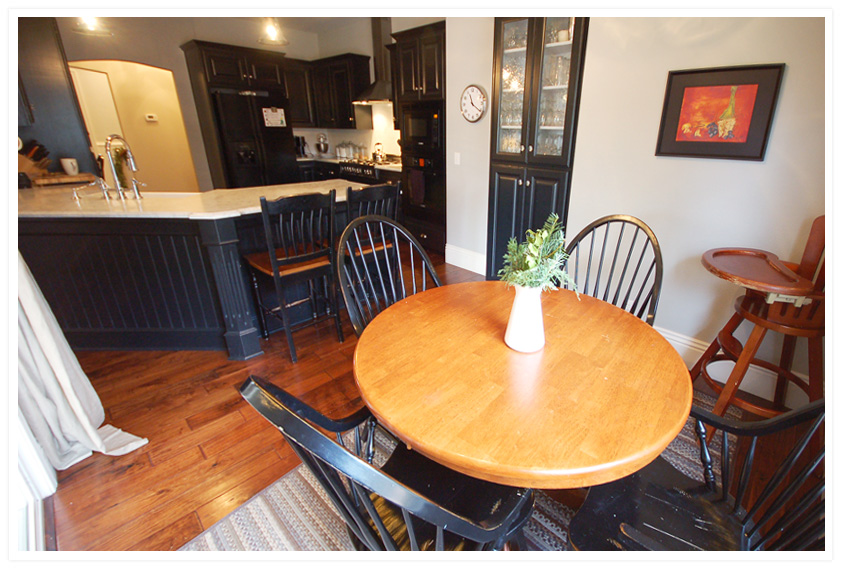 And today: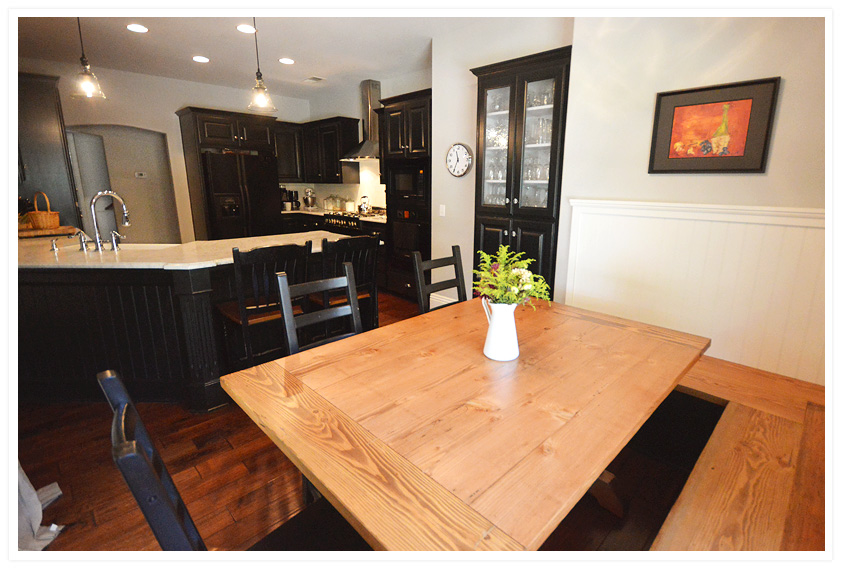 It's a much roomier table and a happy place. Matt and I both have said it kind of feels like a bed-and-breakfast when you sit down in the morning. Speaking of which, this was the breakfast I served the very first morning to celebrate: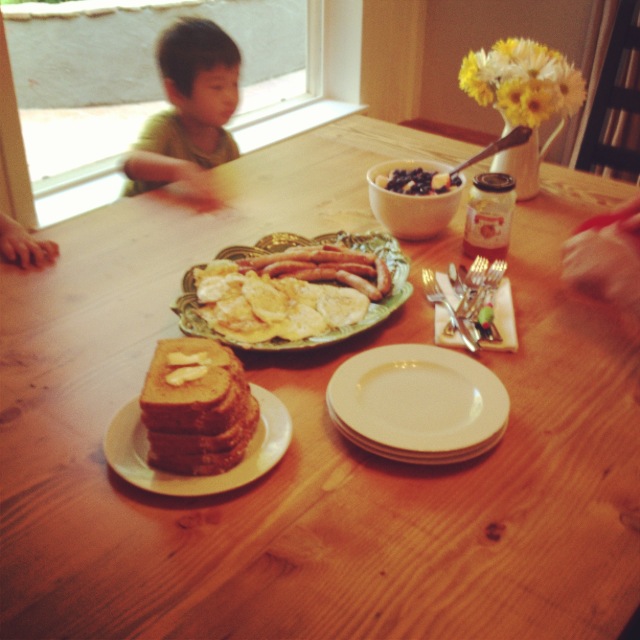 Can you believe how much my three small (and one big) boys eat? What shall I do in the future? I'm doomed!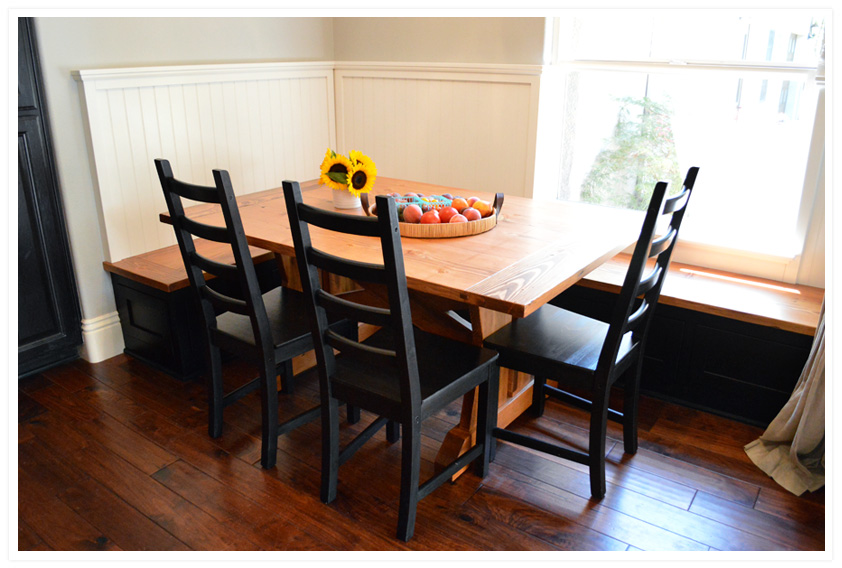 That's it. A tale of girl and her new breakfast nook. And so ends our series of little summer refresh projects. If you missed the rest, here they are: the fan makeover, the office redo, a little fireplace fix, and the diy outdoor table.
P.S. Does anybody want a 42″ round pedestal table for very cheap? 😉
P.P.S. In the same vain, we also still have our beloved computer armoire for sale!