I've been wanting to replace our little outdoor dining table for a long time. The original Safeway special (that we bought in 2003) had seen many refinishes, and barely seated six people, which is simply our family plus one lonely little guest. So, I wanted something long, to easily seat up to ten warm bodies, and I wanted minimal under-table bracing and other nonsense (you know, the big "t" or "x" support underneath that interferes with chairs and legs and screams "spider resort"). Oh, and I was partial to the farmhouse style. The rest of the details? All diy. All Matt Tennis.
The man lugged home some very long and paint-ey boards from our church's back lot (junk they were cleaning out, I might add) and piled them in the corner of our garage, I don't know, two years ago, saying they would make a great reclaimed wood project. I doubted it would ever get finished. Yes, I doubted. Boy, was I wrong!
Here it is in all of its glory: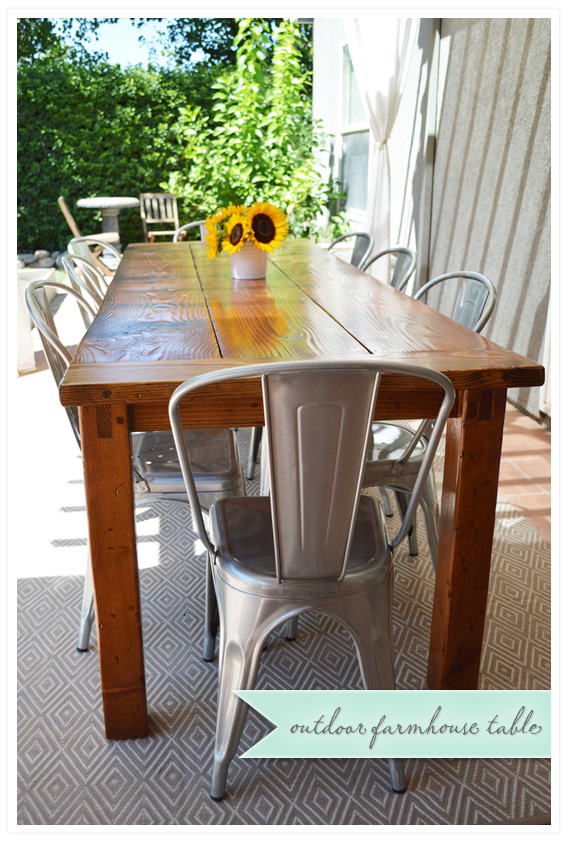 I love this table. So much. It's eight feet long, 32 inches wide and seats eight spaciously and ten with relative ease. It has four beautiful straight legs and no more (exactly what I wanted!). It's wood on wood joinery and finished with a marine varnish to stand the outdoor elements. My favorite of all, it feels like an indoor piece of furniture.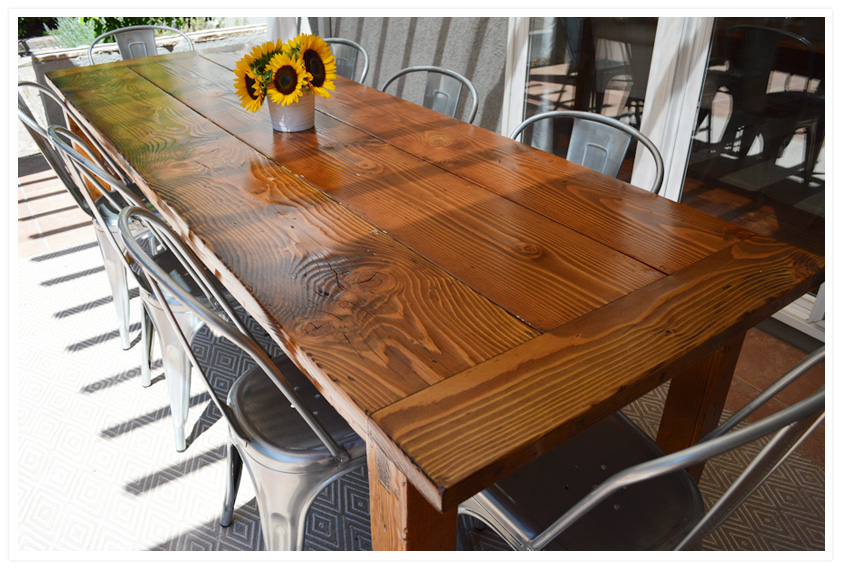 I'm going to share with you how he built it, and I stained and varnished it. We're not really plan followers, more like DIY hacks, but I'll just tell you what worked for us, and you can hack it your way if you'd like!
Matt's Materials:
Old fir boards, 12″ x 96″ long at least
Metal braces (we used part of a bookshelf system from our local ReStore for just a couple bucks)
4 fir 4 x 4's, cut to 28″ tall (as straight as possible)
Fir 2 x 4's, for apron
Wooden Dowels
A boat-load of fun new woodworking tools that you tell your spouse you "need" for the project 😉
My Materials:
Sandpaper, multiple grits
Tackcloth
Stain, Minwax Early American oil-based
McClosky's Marine Spar Varnish, satin finish
Ikea brushes
Starting with Matt's fun little tools, this is the woodworking space he's fashioned himself next to the letterpress studio: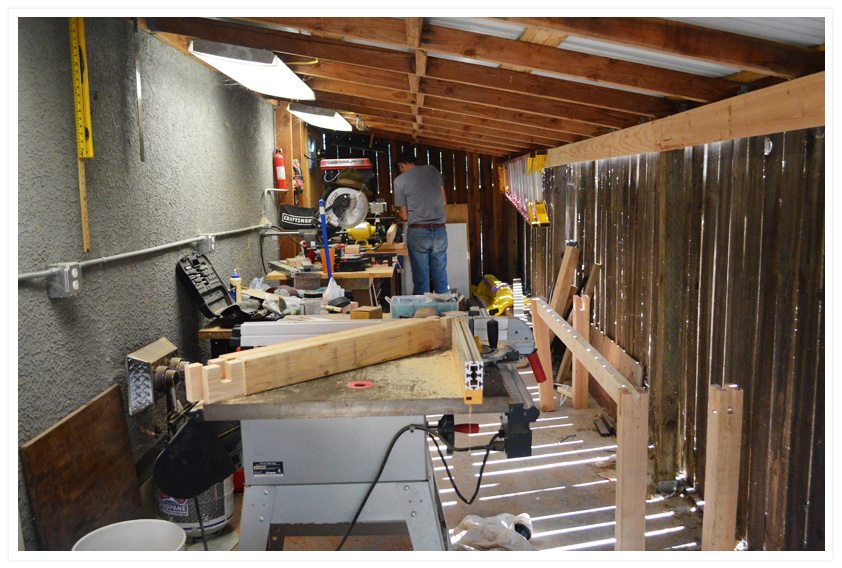 First, he built the tabletop, and I forgot to take pictures of that process (oops!):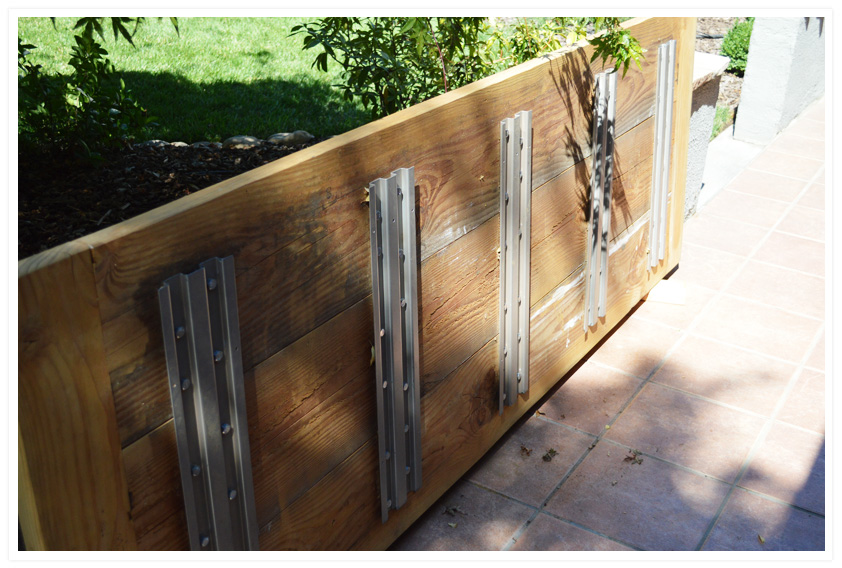 Basically, he put together three 84″ long 12″ wide boards with 6″ x 32″ end boards and connected them together with wooden dowels. The long boards also are held together with the salvage bookshelf system and bolts. We were going for cheap but effective here.
For the apron and legs, Matt used a mortise and tenon plus wooden dowel combination: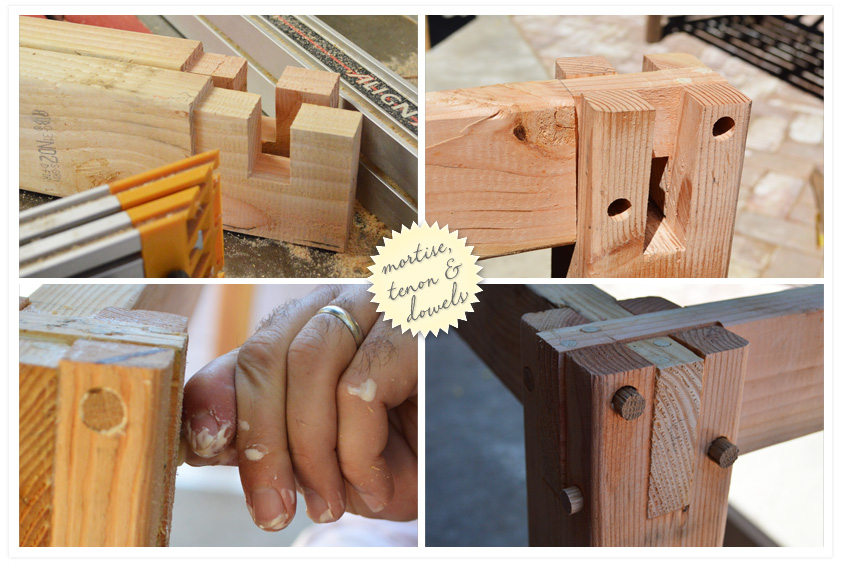 It assembled together like this: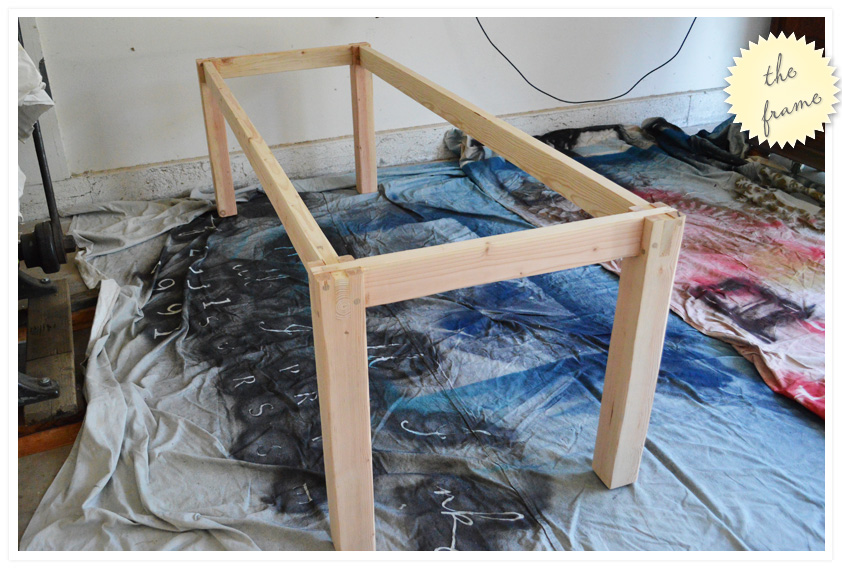 Then, he sanded the whole thing down, from 80 grit to 150 fine.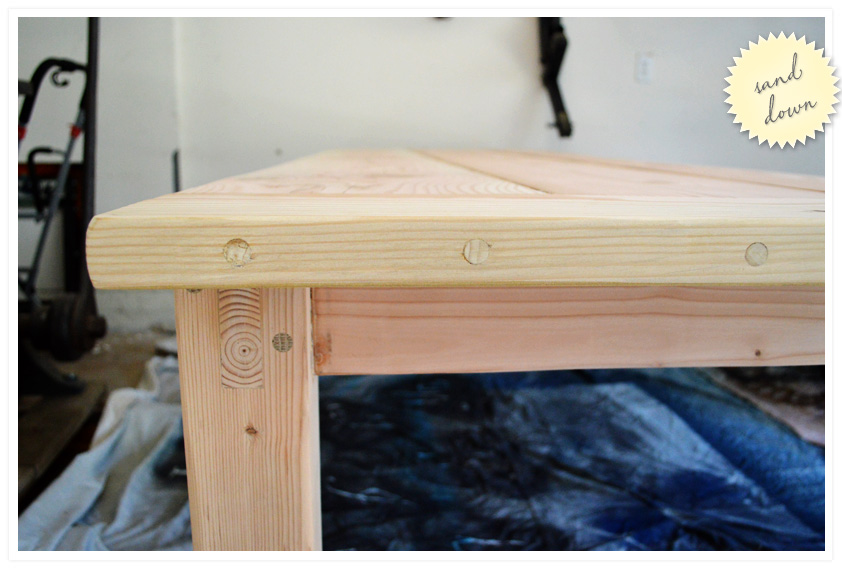 I really liked how the dowels and end boards shine through with great grain variation.
The tabletop just rests on the frame: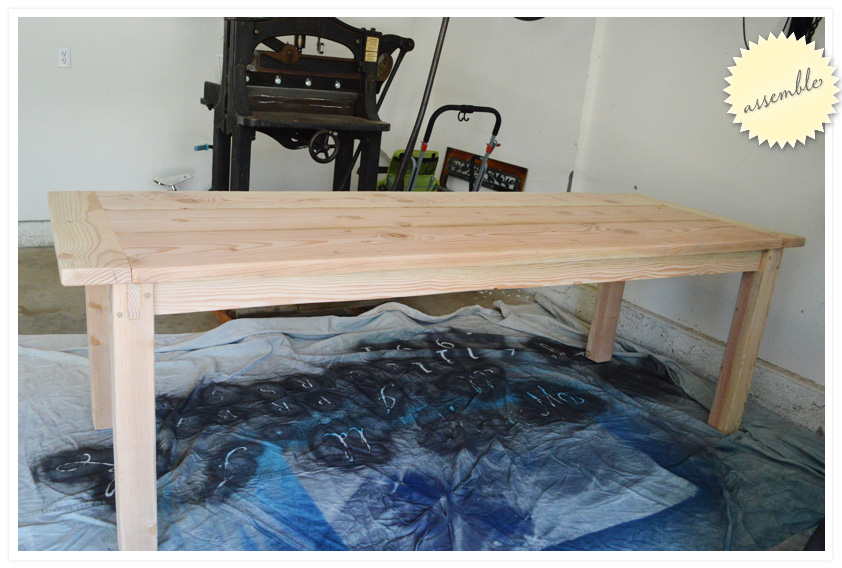 And then, Matt handed that thing of beauty over to me. Although he kept popping his head back in ("Is that too dark?" "Are you distressing it too much?" "Are you distressing enough?" "I was hoping for a honey-drippy look"). Oh yeah. He totally trusted me to not ruin his little piece of art. 😉
I distressed it a little (the key is not too much) and mostly the legs so that they matched the naturally distressed reclaimed boards: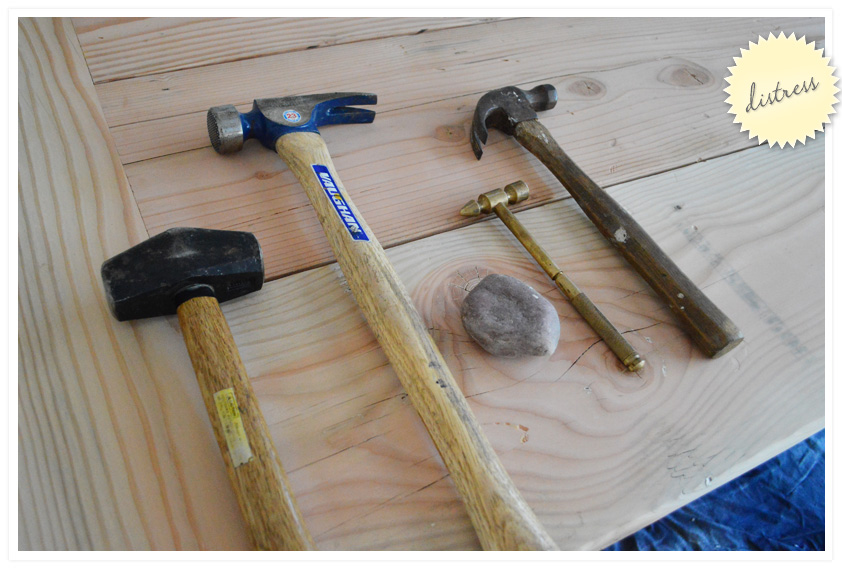 Then, I pre-conditioned the wood so the stain would penetrate evenly (very important):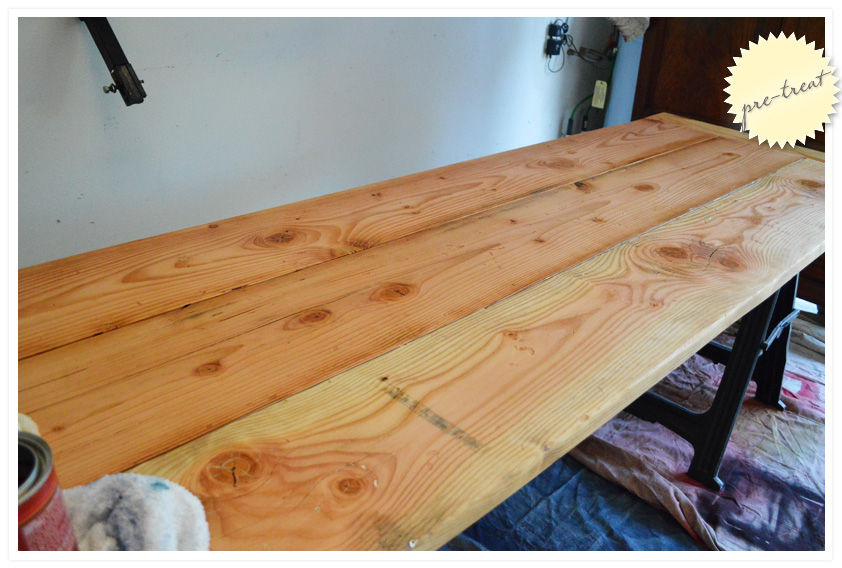 Brushed on one light coat of Early American stain: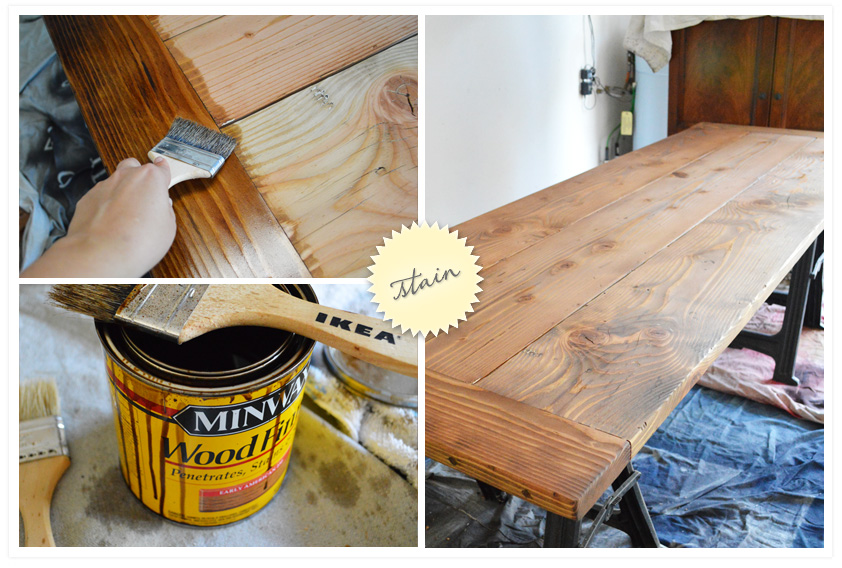 And because this was an outdoor table, I was sure to stain and protect the underside too, even though you'll never see it.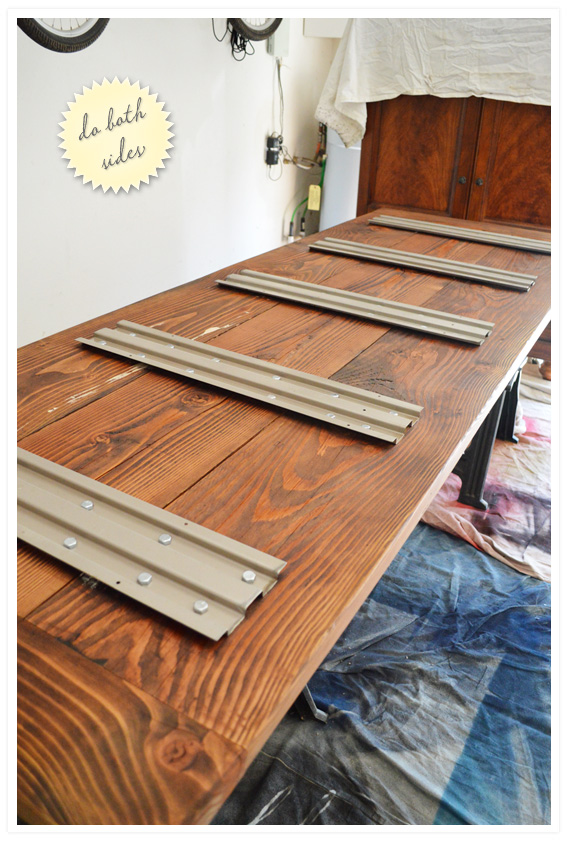 After that had dried, I applied the marine varnish with a brush: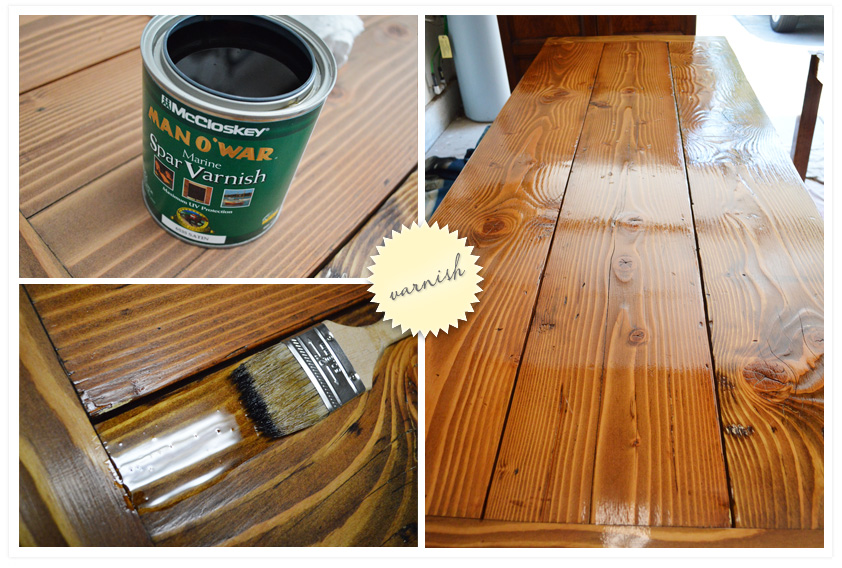 I did three full coats, sanding with 220 grit between and then 320 grit before the last coat.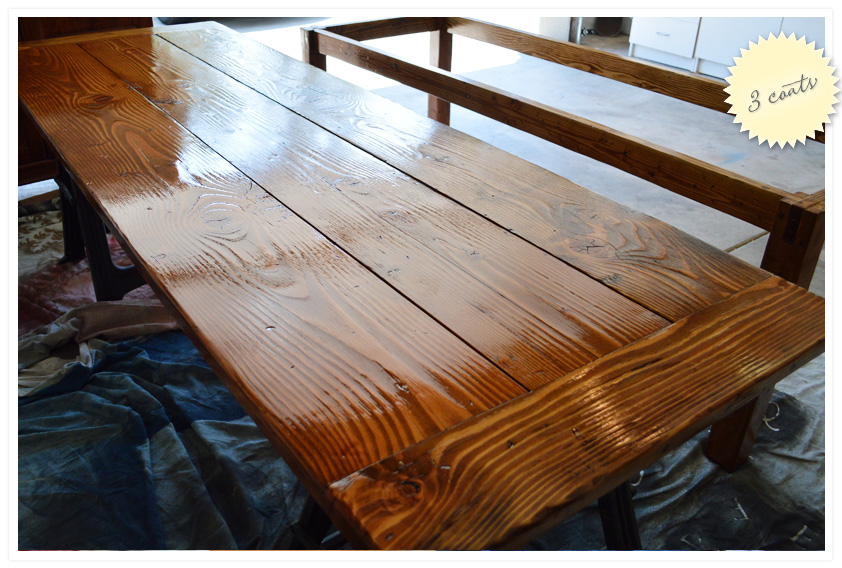 Let it dry for 48 hours, and it was done!
Here's a fun little bonus I threw in at the same time, our little $20 kids picnic table got a quick refresh too: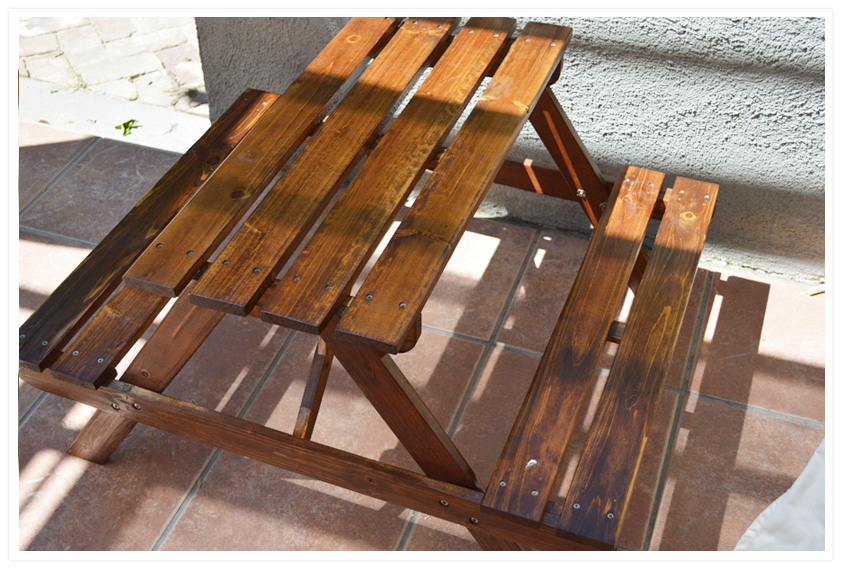 I love the little details on the main table, it's simple, yet exactly the blend of rustic and fine I was looking for: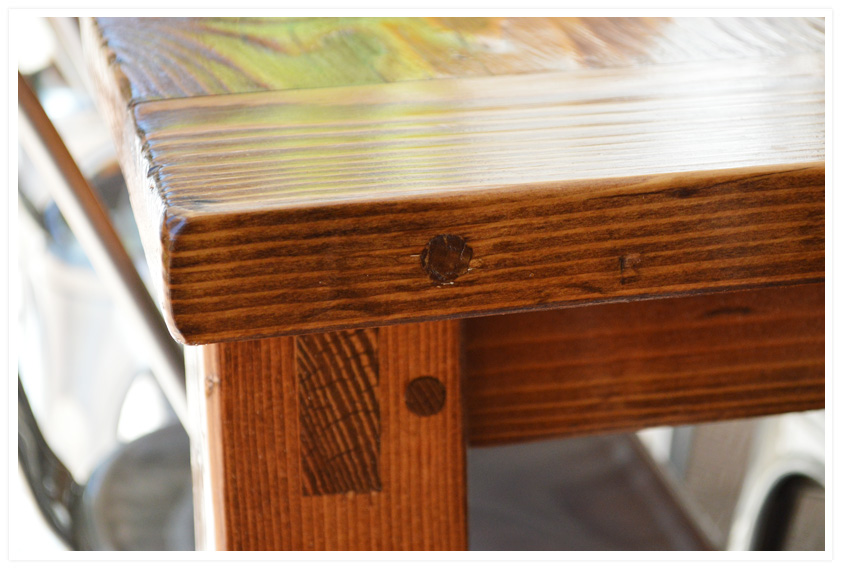 The chairs are from Industry West, they stack (bonus!) and are galvanized for outdoor use. Honestly, they were the real splurge in this fun outdoor dining room refresh (other than all of Matt's fancy woodworking tools.)
So what do you think? Wanna come over for dinner?