Whoa. August? Really?! I must have blinked, and the back-to-school gremlins (last two weeks!) came along and stole my summer!!
As I alluded in this July post, we have been doing tons of little house projects this summer. Organizing, cleaning, trying to make our current home the best it could possibly be right NOW, rather than way down the road right before we fix it up to sell it or something. And no, we don't have any moving plans. I'm just working with the mindset of "if I was going to sell this house (or had just bought it), I would touch up the paint right there, or change out that knob"… and then just going ahead and DOING IT, right then and there. Get. It. Done. And I have to say, it has massively improved our quality of life! Tiny little things that make a huge difference in how you feel about a space.
Which is what I'm going to show you today. I've been living with this shiny fake brass ceiling fan in the office for almost five years now: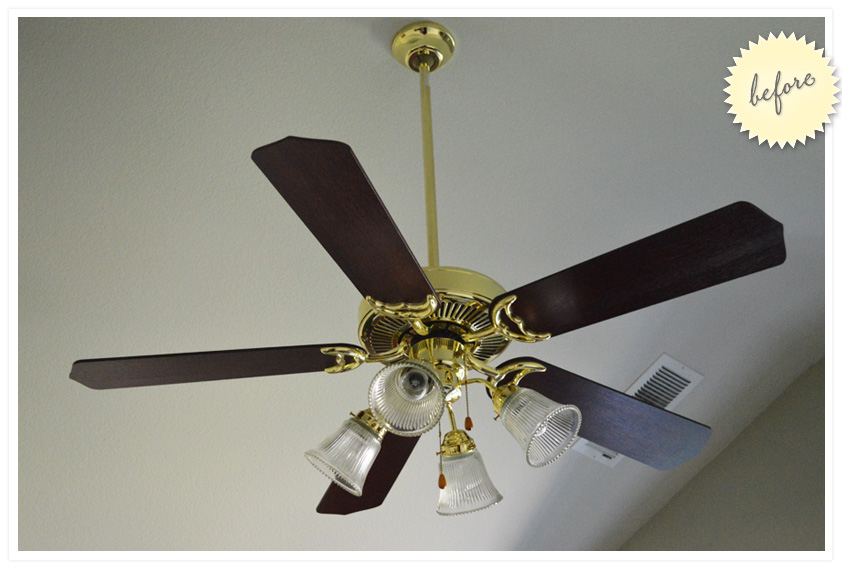 Which was on my list of "I hate it, gotta change it" right when we moved in. But, um, yeah. It has just languished and hung there, its greenish-gold finish taunting me, day in and day out, for the past half-decade. Oh, and did I mention it was in the office? Where I work on my computer every stinkin' day of the year? Yeah. Talk about not getting it done!
Well, this July I started organizing the filing and closets in there, got rid of my big computer armoire, threw out and donated a bunch of stuff… and the fan, I couldn't put it off any longer. I had to make it as awesome as the rest of the room. Guess how long it took? Part of one measly afternoon nap. That was it. I shoulda done it years ago!!
Anyway, I'm blabbing on. You probably want to see the after, right?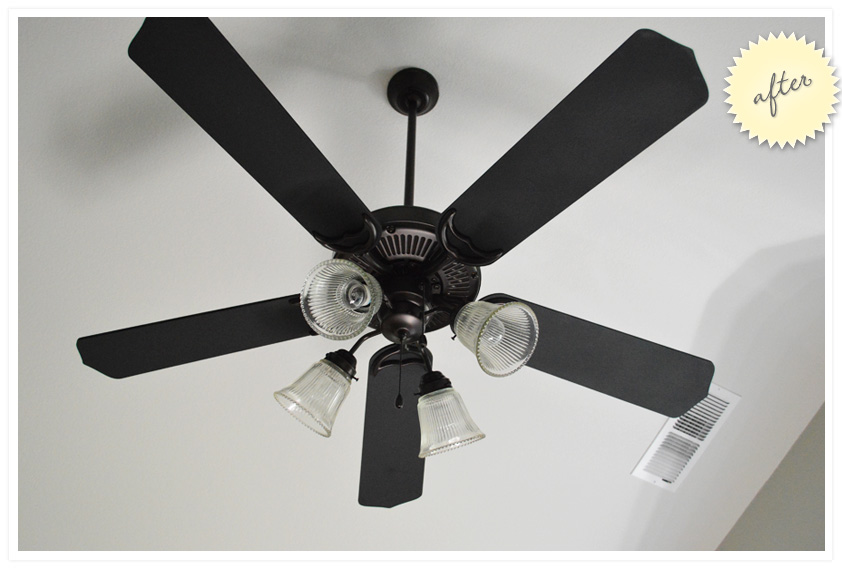 Voilà!
It was so easy. And it only cost $12. I thought I'd give a quick little tutorial, I know you know how to paint, but a ceiling fan can be a little intimidating – and it doesn't need to be!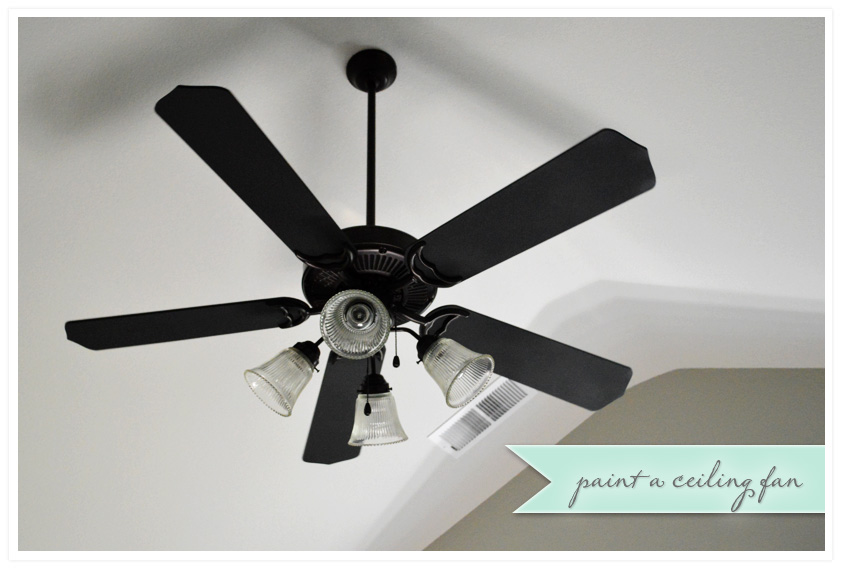 Start by taking the fan down (turn off the house power or just be sure the light/fan switch is off) and remember the way the colored wires go together for re-installation (write it down).
Matt took the fan down for me, and he also strung it up from a tree in our backyard, like this: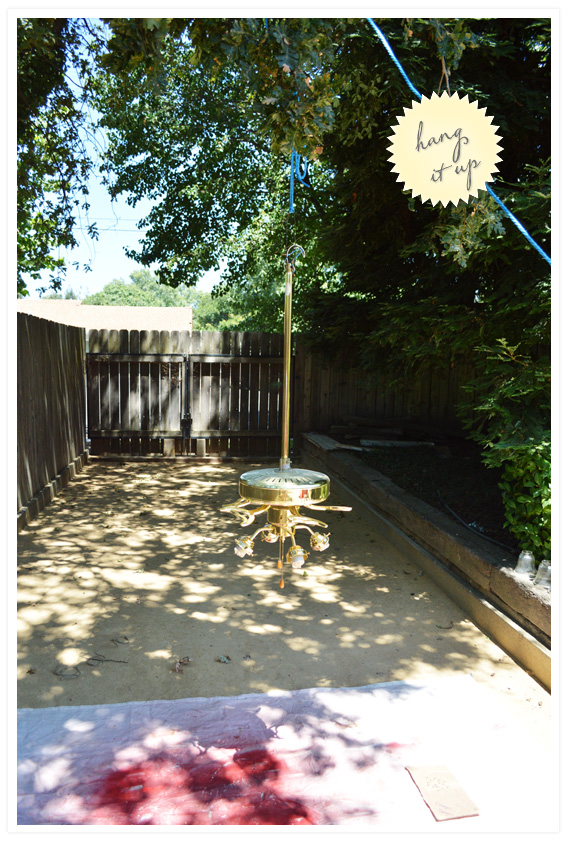 This makes painting all sides SO much easier.
Remove all the fan blades, bulbs and light covers: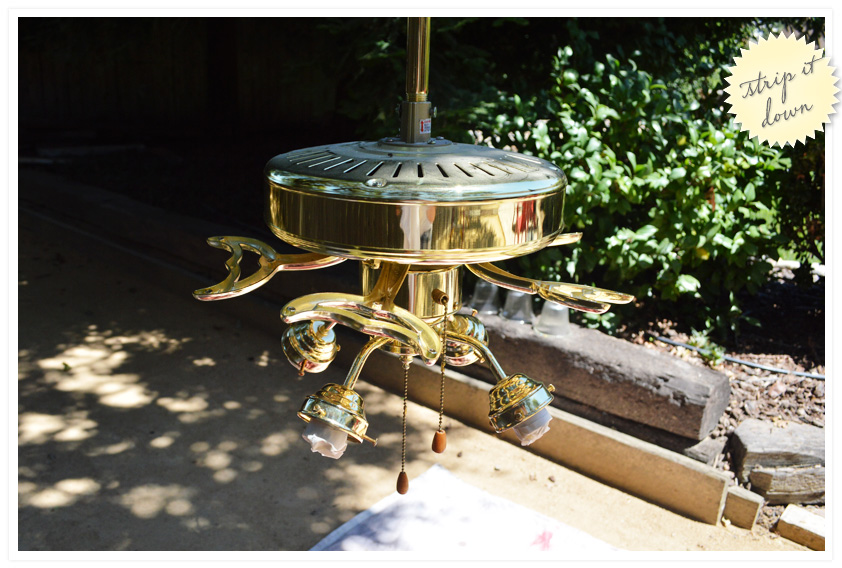 And wipe the whole fan down so it's clean and dry: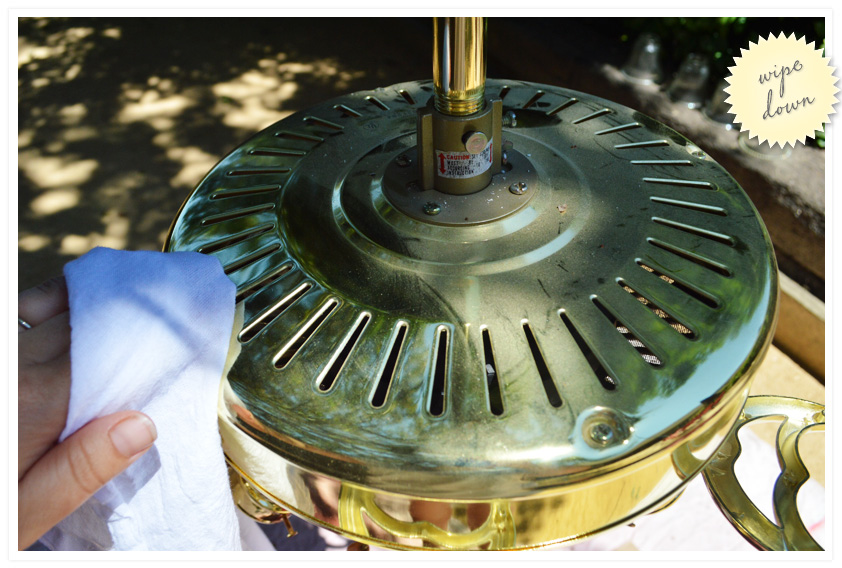 Tape over the ceramic sockets with masking tape: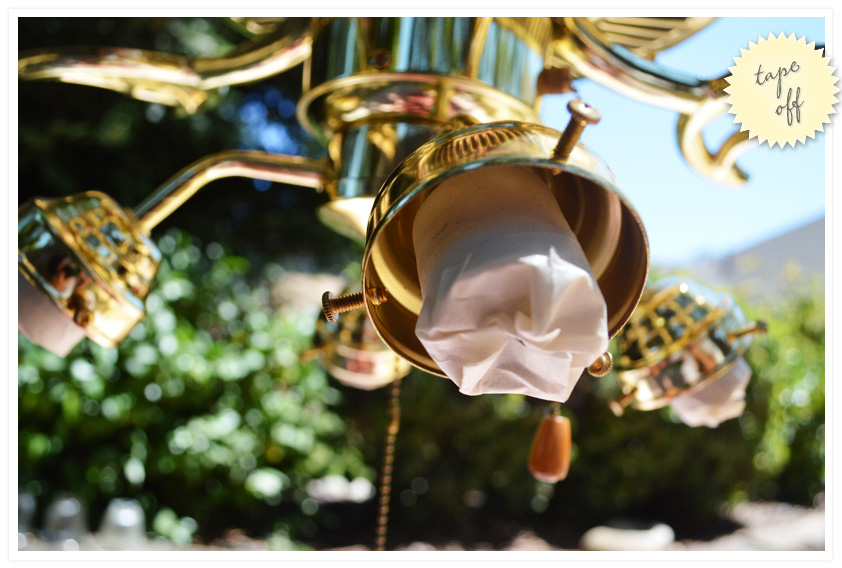 And then with small hardware like screws, punch them into a piece of cardboard so you can easily paint the tops:
Yes, that does say "Danger, Dragons" Why wouldn't it? 😉
Lay out the fan blades and the ceiling canopy: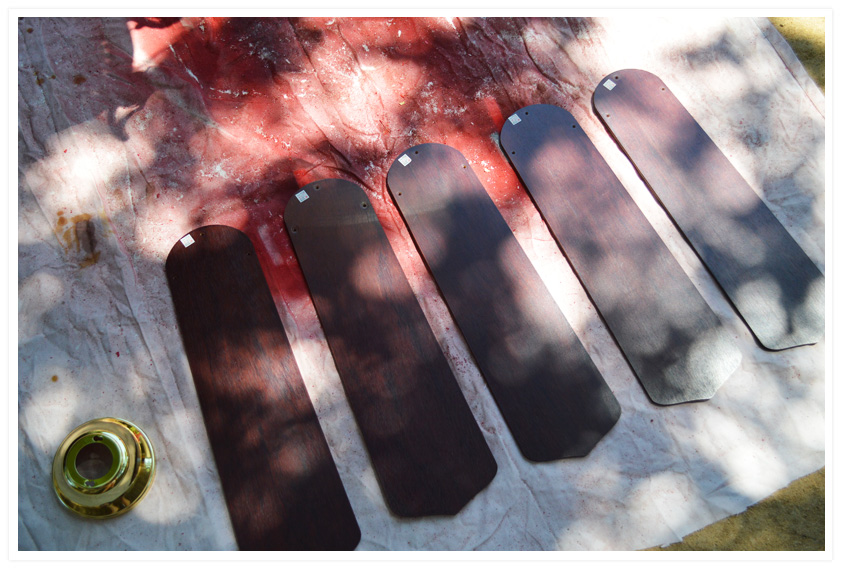 You've just done 90% of the work! It's all in the prep. The painting is easy.
I used one can of dark bronze metallic (for the brass parts) and part of one can of flat black (for the  fan blades).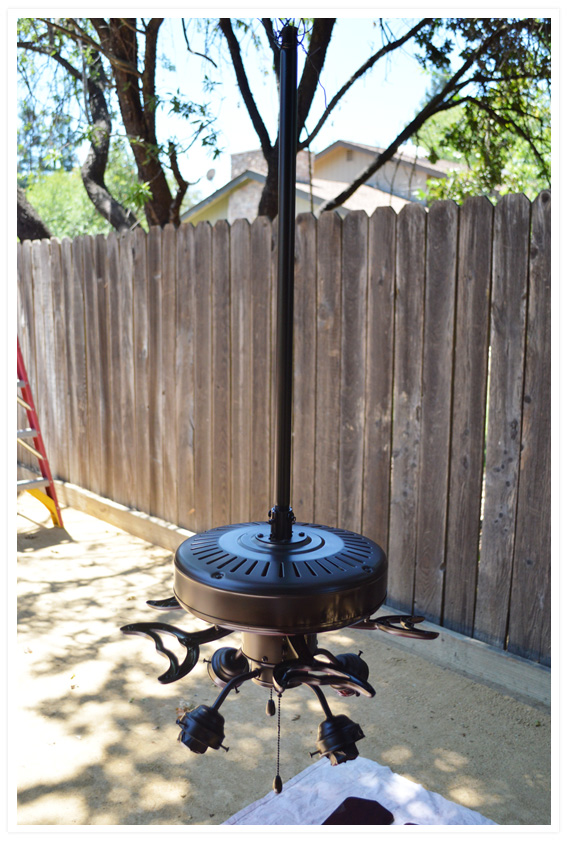 Spray on thin and even coats, just a few minutes apart. Don't be tempted to spray it on thick! The thin coats don't take very long at all.
Crawl under to make sure there are no paint holidays from any angle: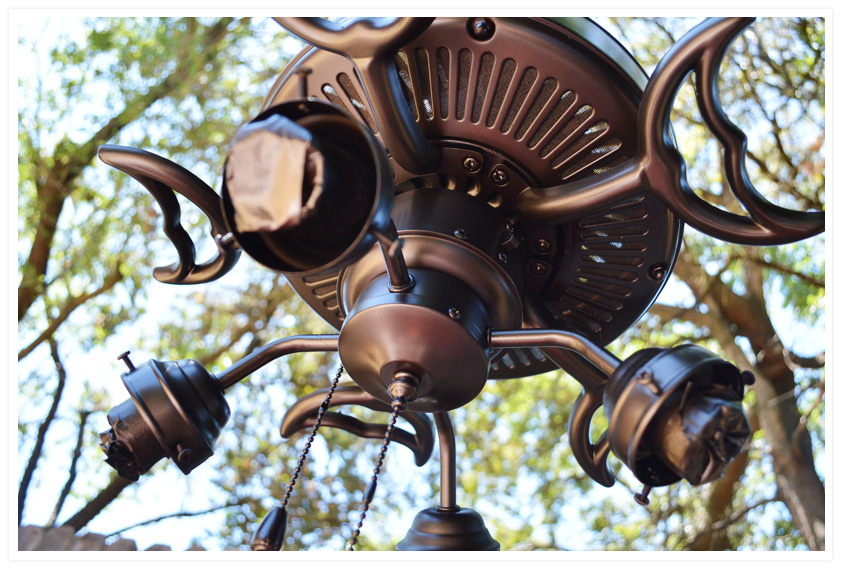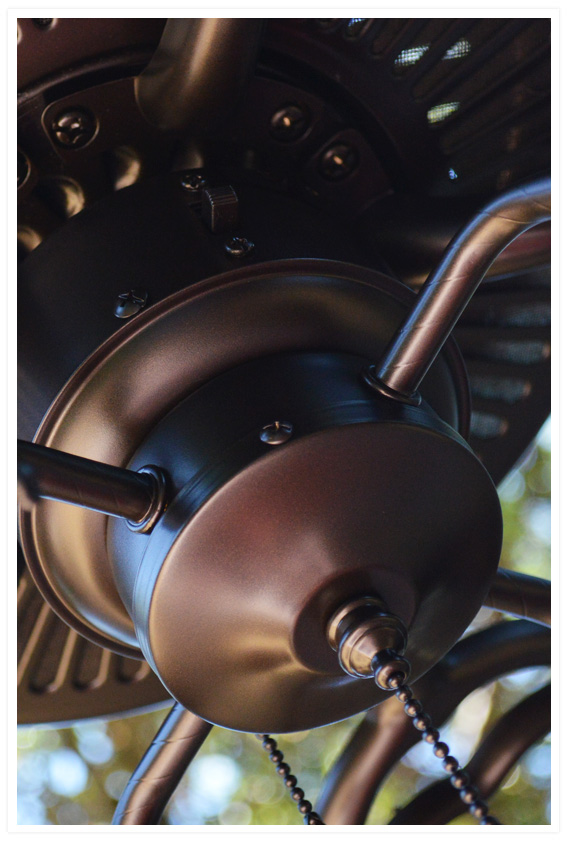 Metallic bronze is quite pretty in the sunlight. Spray the screw heads too: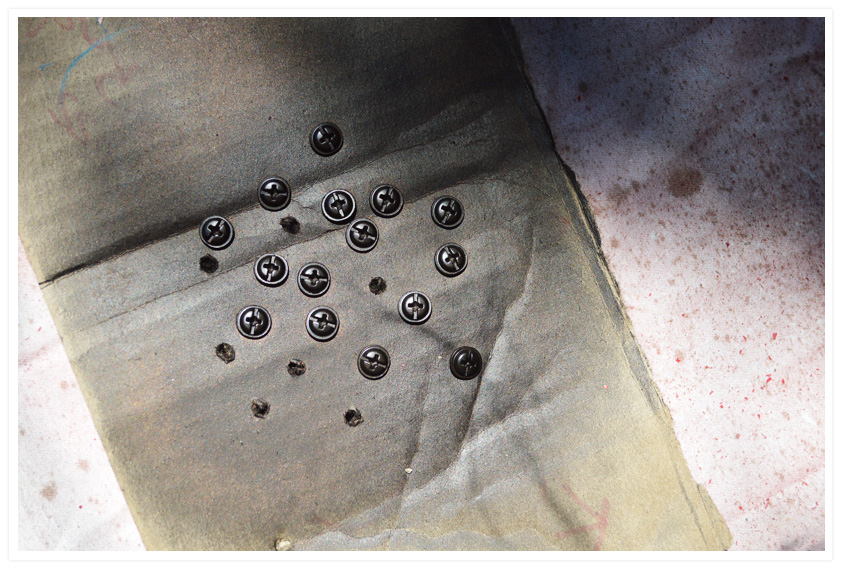 And spray the canopy in bronze and the blades in flat black: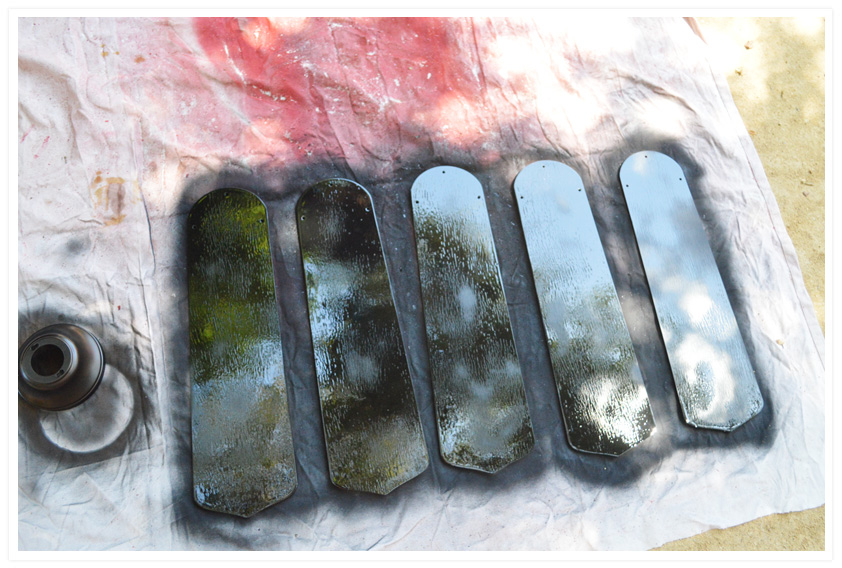 I just painted one side of the blades and left the other side cherry wood in case someone wanted to flip the blades over someday. Options. 🙂
We let it dry for an hour or two and then Matt put it back up. Simple as that!
I love the two different finishes for the fan, it's subtle but looks totally professional like it came from the store that way – if I'd painted the whole thing with just flat black I think it would have looked like a home grown job.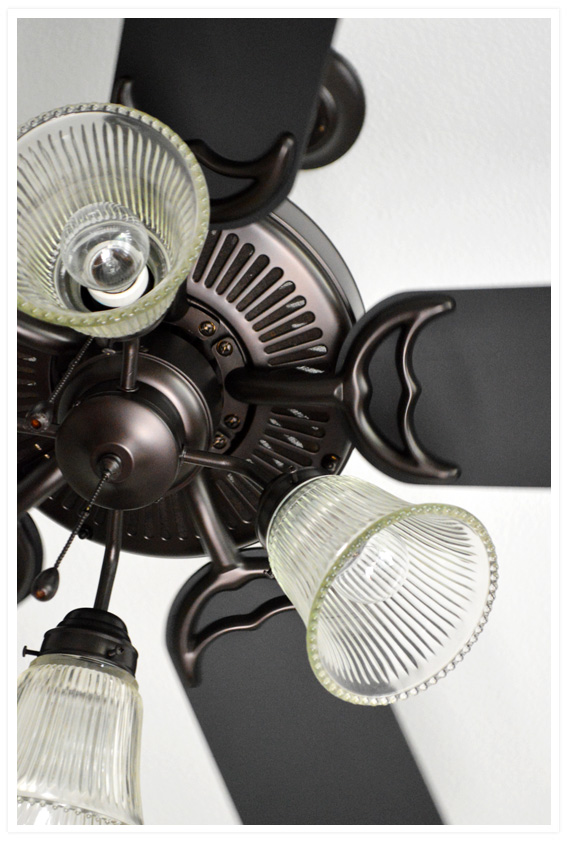 I'm still toying with replacing the light covers. Seeded glass, maybe? What do you think?
It's much, much better and I'm very happy with how it came out!  But that's not all that's happened in the office…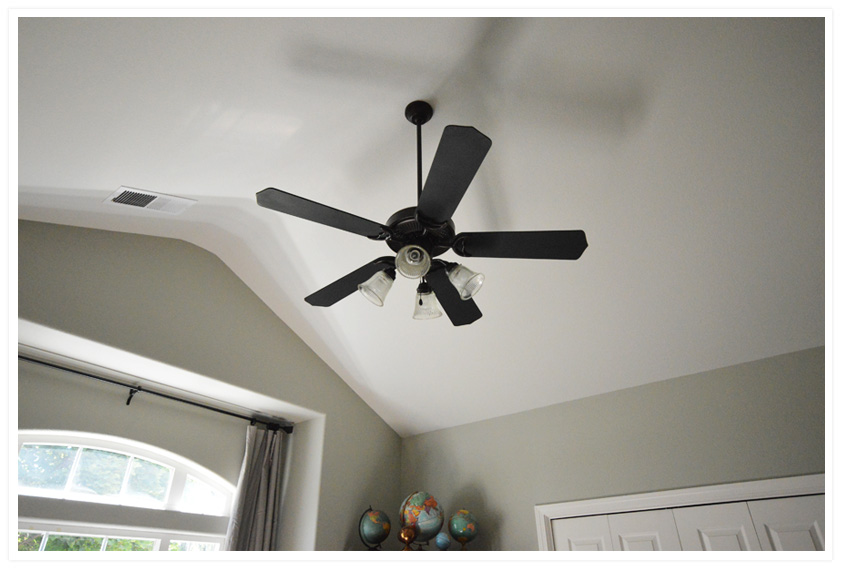 Small sneak peek of things to come! Hm… do we spy a vintage globe collection? And curtains to replace the burgundy tape blinds?
I'll be showing the whole organize/refresh this week! Stay tuned. 🙂