What's the month of January without a bit of a remodel? Fresh year, fresh start…
You may be wondering if I have anything at all to remodel left. After the exterior, living room, kitchen, master bath, guest bath, master bedroom, nursery, boy's room, studio, laundry room and side yard, there can't be anything in my home untouched, right? For the record, my office and the studio bathroom and attic storage remain on the list. Never fear, I will never be out of projects!
But I have to admit, I miss the thrill of completely refreshing and revamping a space (like my kitchen). Therefore, I am happy to share with you that two tremendously awesome things happened in the late fall: 1) my parents moved up to Chico, and 2) they bought a home that needs a complete overhaul. Can you see me rubbing my hands together with glee?
The home they bought is teeny-tiny, but it sits on a full acre in the charming country-side – yet just five minutes from downtown Chico. Not only is the home teeny-tiny, but even smaller is the kitchen:
To give you an idea of just how small, that photo my friends, was taken with a wide-angle lens. The room only measures 8 feet across.
Fortunately, my parents accounted for a remodel with their home purchase price. So while it would be on a tight budget, there was enough to completely gut the kitchen and make it a cozy, functioning space. The inspiration for the space is cottage, farmhouse, country charm (and not in the cluttered sense of the term). The problems: A water heater and vent that took up almost 1/3 of the whole kitchen, outdated and broken appliances, not enough counter space, bad lighting, and don't even get me started on the black and white vinyl floor tile…
I have a whole pinterest board of cottage inspiration, but these two photos really exemplify the look they wanted for their kitchen: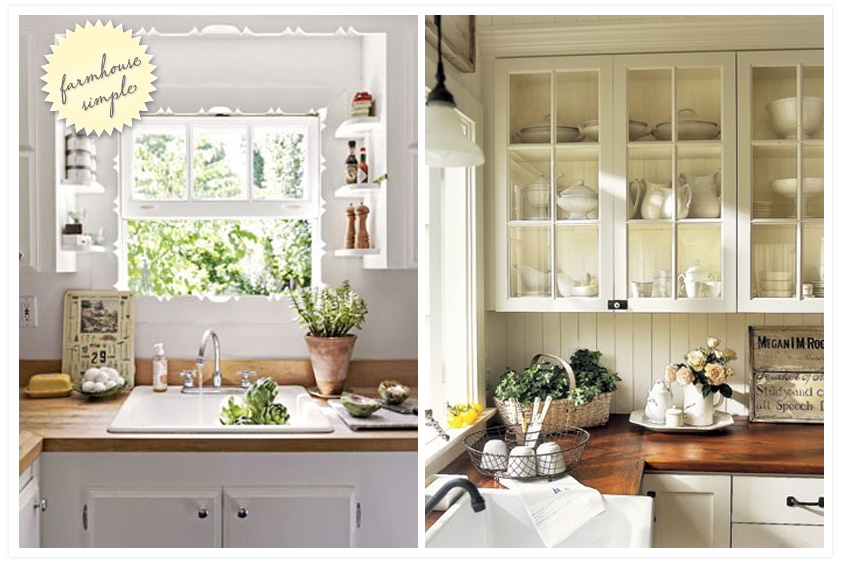 Much, much better, right? Simple. Light. Charming.
Here is the mood board I created with the kitchen inspiration: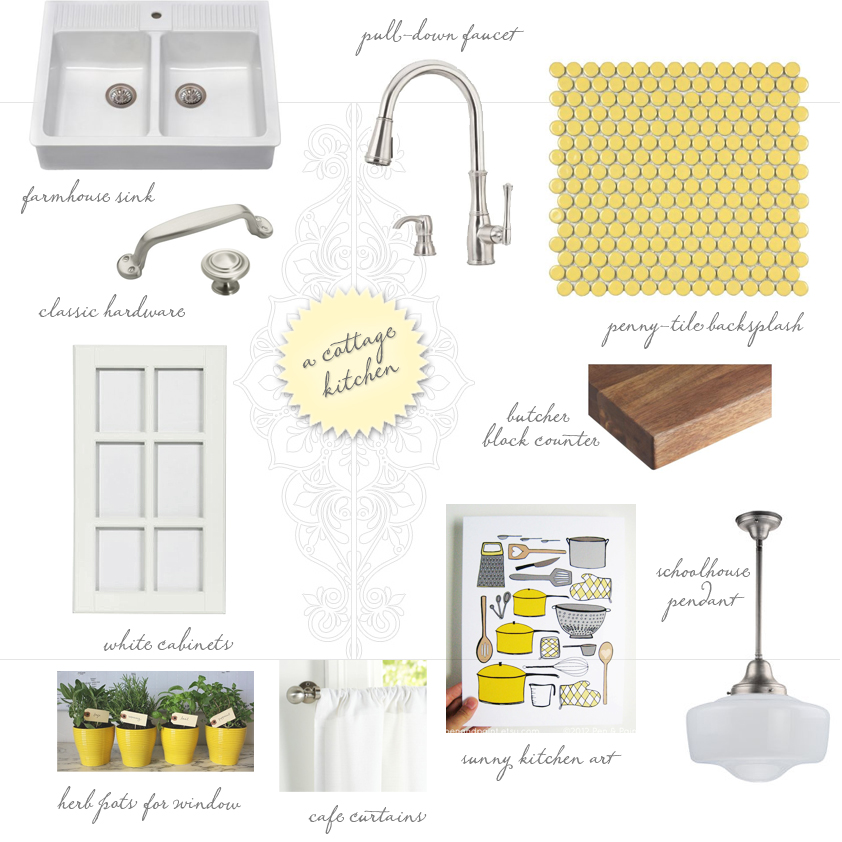 In case you can't tell, my mother is very fond of yellow. 🙂
The cabinets are from Ikea (Lidingo), as is the farmhouse sink and the butcher block counters. The yellow penny tile backsplash is from Home Depot. It's such a simple yet pleasing look, really, and perfect for a small space.
The place has already been gutted and the new kitchen is going in! I'm excited to share with you the "after" and a full breakdown once the kitchen is finished.
Happy Monday, friends!!