I'm here today to talk about fruitcake. Yes, really.
Poor fruitcake. Much maligned, much joked about, even rumored to be banned by the TSA (it's not true, I assure you). And we've all heard the laugh about there only being one real fruitcake in existence, passed around each year ad nauseam.
Here's where I stir up controversy and also come out of hiding. I am a fruitcake fanatic. Yessiree. But before you go hitting me over the head with one of those heavy store-bought lead-and-candy loaves, I should clarify. I like REAL fruitcake. The old-fashioned, spicy, nut and dried-fruit only, candied-nonsense-need-not-apply-here kind. I have made it nearly every year since I was twenty. It's fantastic, and worth blogging about even  in the face of potential ridicule. So ahem, here goes. Bear with me, and keep an open mind!!
The recipe I use is modified. It's based on an over-100-year-old recipe, but to bring it up to our more modern lifestyle (suet, anyone?), I kind of morphed it with Joy of Cooking's Dark Fruitcake recipe. And added a little of my own twist to it. The results are completely holiday. If ever a bite could taste like Christmas, I think a mouthful of brandy-aged, spicy, eggalicious, real fruit-and-nut confectionery should qualify. (Have I overrun my adjectives on this post already?!? Sorry.)
Let me start you off with a picture…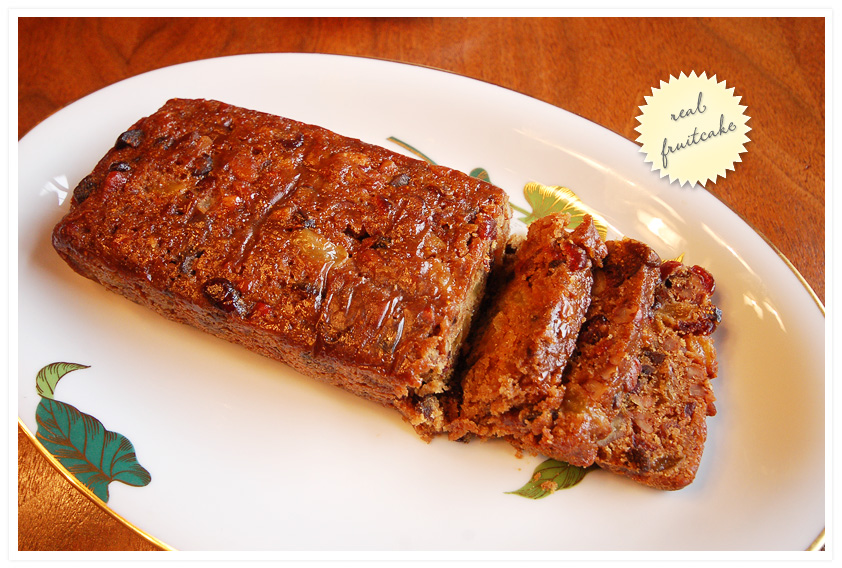 And, for further inspection, a cross section: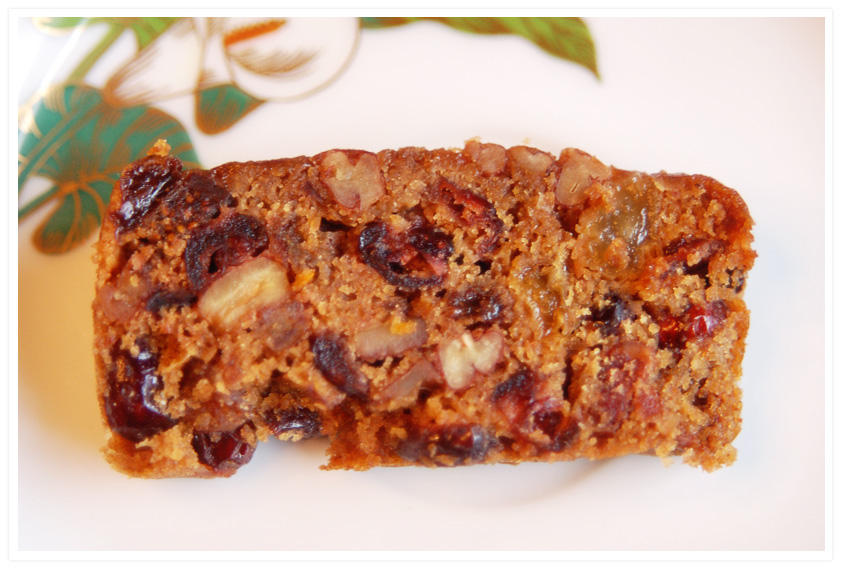 See what it's loaded up with? I have made a highly scientific diagram to clarify: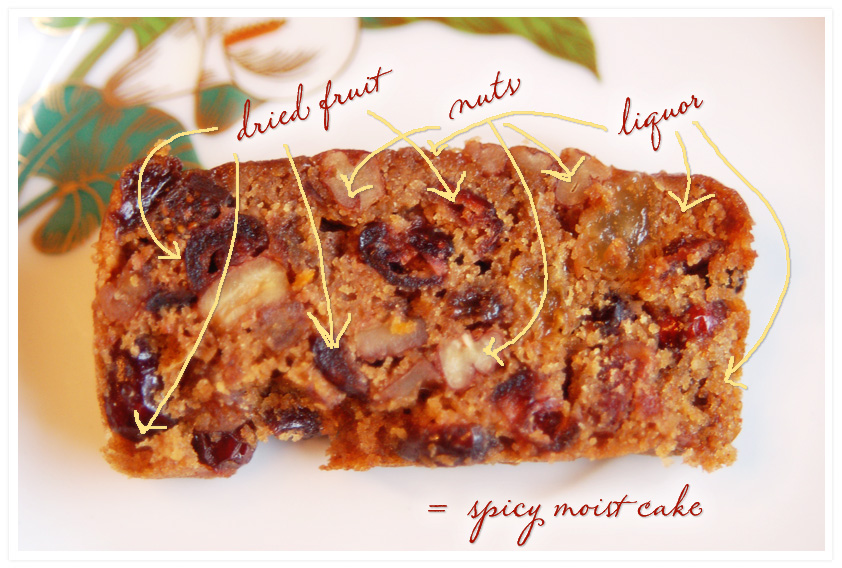 Dried fruit. Nuts. Liquor. Almost All you really need for a spicy moist cake.
What's missing? Candy. Citron. Day-glo. Your next doorstop. Frosting. And all that dry-yet-heavy cake batter.
I for one, think the former is immensely preferable. Here is how you start: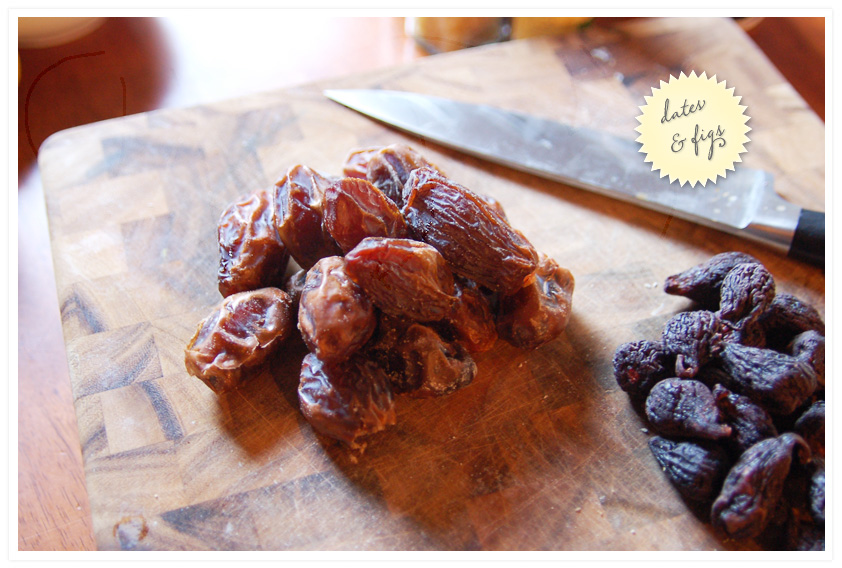 Dried fruit. Lots of it. I use figs and dates (chopped) plus currants, golden raisins, and cranberries (whole).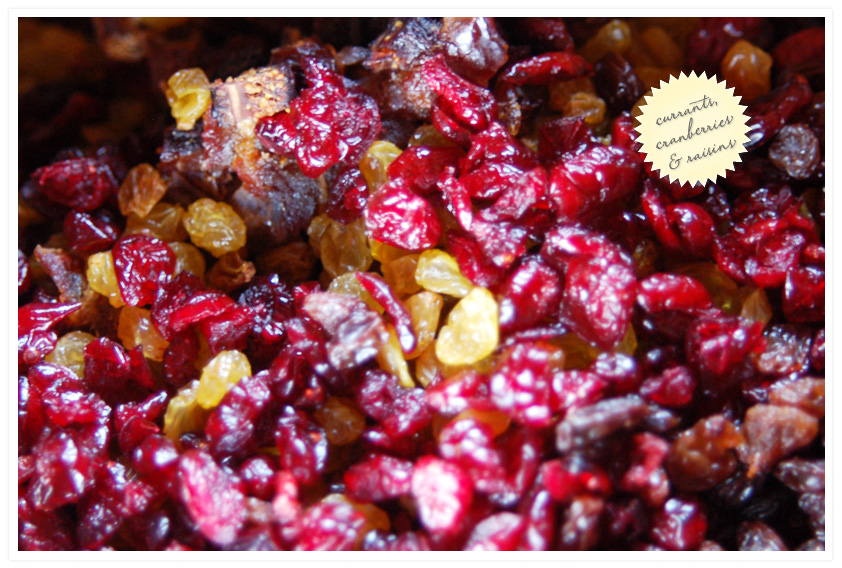 You can also use dried apricots, dried plums, whatever suits your fancy. I would stay away from anything tropical, though, it will mess with the taste of the cake.
Nuts are also important: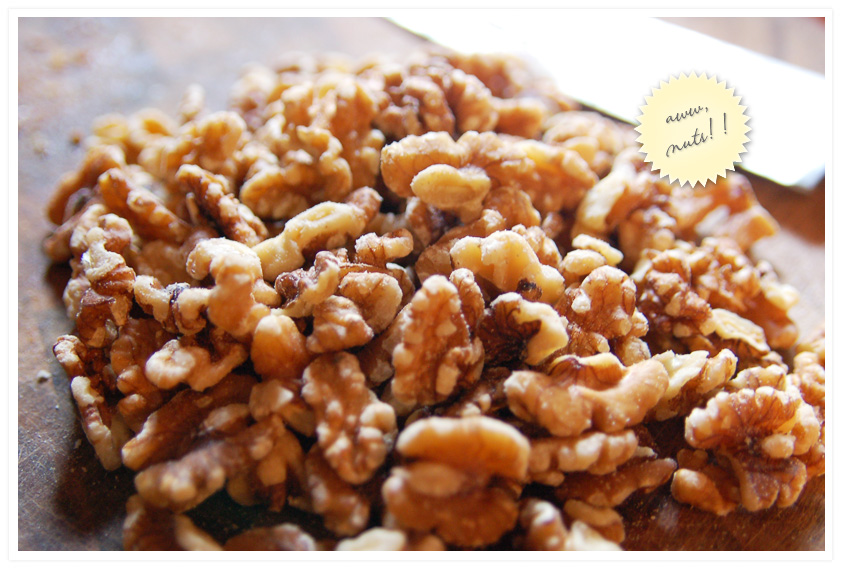 Usually walnuts and pecans end up in mine.
Combine it all in a large bowl, and pour a half cup or so of brandy over the top: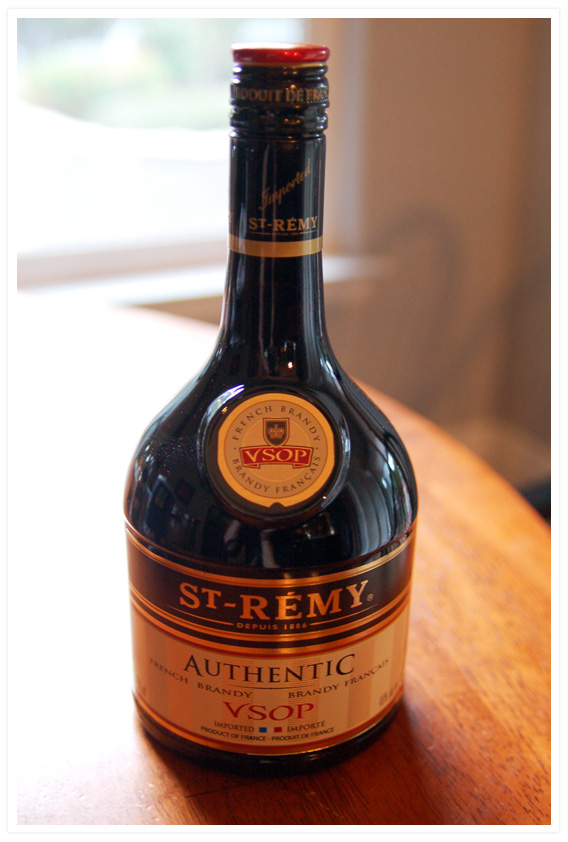 Toss it all together and let it sit and soften in the liquor bath – overnight if you have the time, but just an hour or two will work if you are in a hurry.
Mix together your dry items: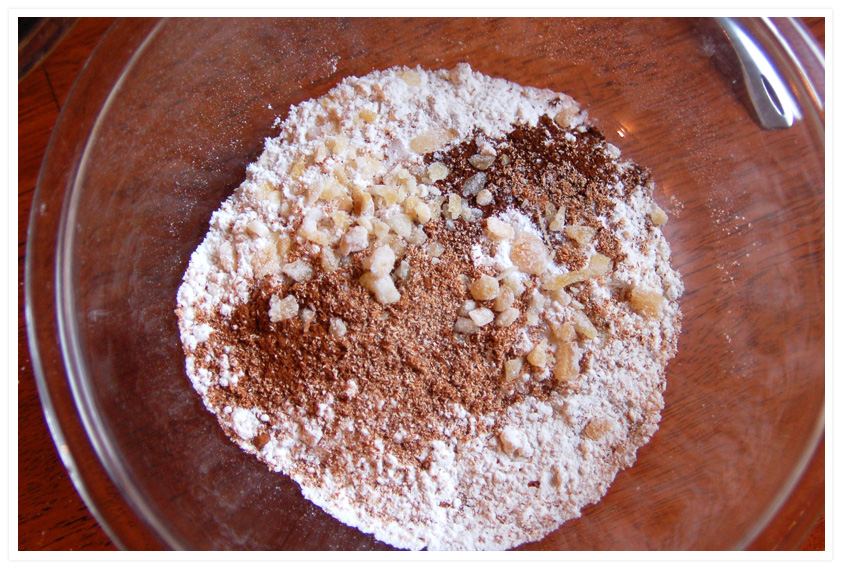 Flour, salt, leavening and spices (I say use freshly ground/grated if at all possible… it is SO much better).
Cream together butter, sugar and eggs: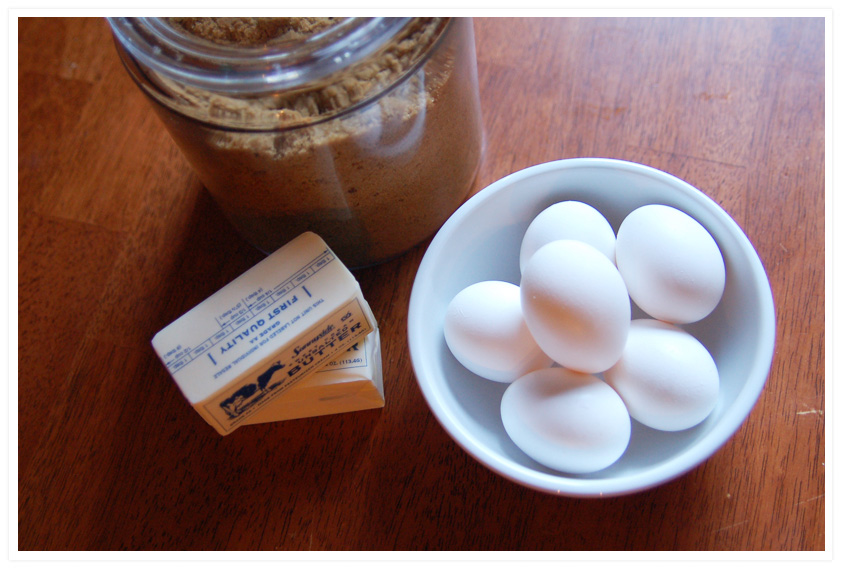 Zest and juice lemon and orange:
And mix this all together with the dry ingredients and the fruit and nut mixture.
Spoon the batter into small loaf pans, lined with parchment paper and greased: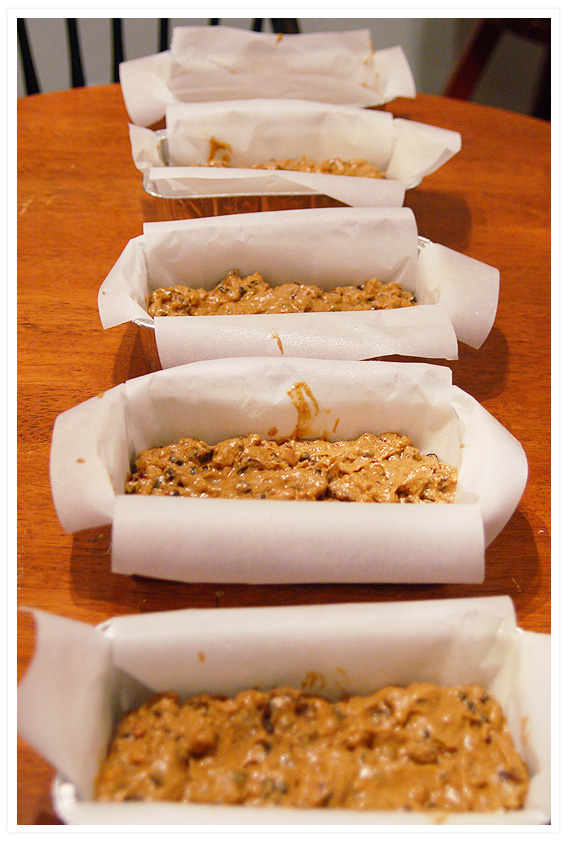 And then bake for about 90 minutes at 325 F (with a water bath below):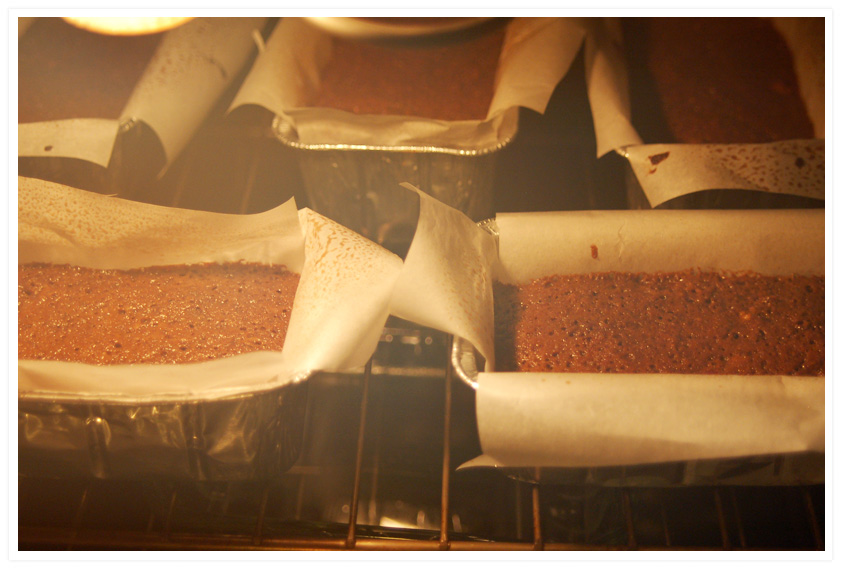 Cool on a cooling rack. Once they are completely cool, wrap them in muslin or cheesecloth, then plastic wrap.
This is delicious enough to consume right away – but don't. Patience, patience. You are going to liquor-age the cake. Aging is what makes this cake special. I usually make mine the week after Thanksgiving and age the cakes all the way up until Christmas (although I'll admit, we eat one or two of the loaves along the way, if you can wait you have more willpower than me).
A day or so after you baked the cakes, unwrap the plastic wrap and poke ten or so small toothpick holes across the top of each cake. Then spoon a half tablespoon or less of brandy across the top, letting it soak into the cake. Wrap it back up. In two or three days, check the cakes again and repeat the process. After about the first week, you won't need to add brandy anymore. Just let it age gracefully all by itself.
The final result? An inspiring old tradition, reinvented and loved by you and your family and friends.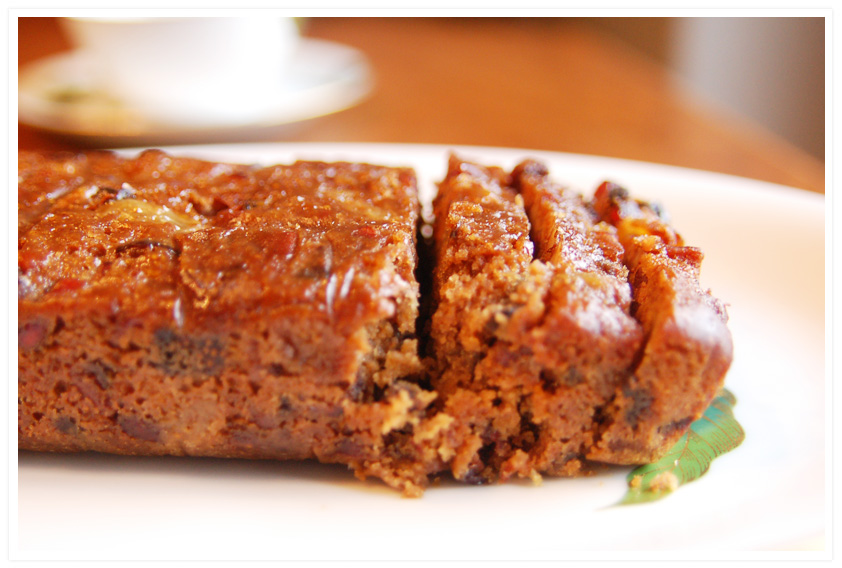 A delicious one at that.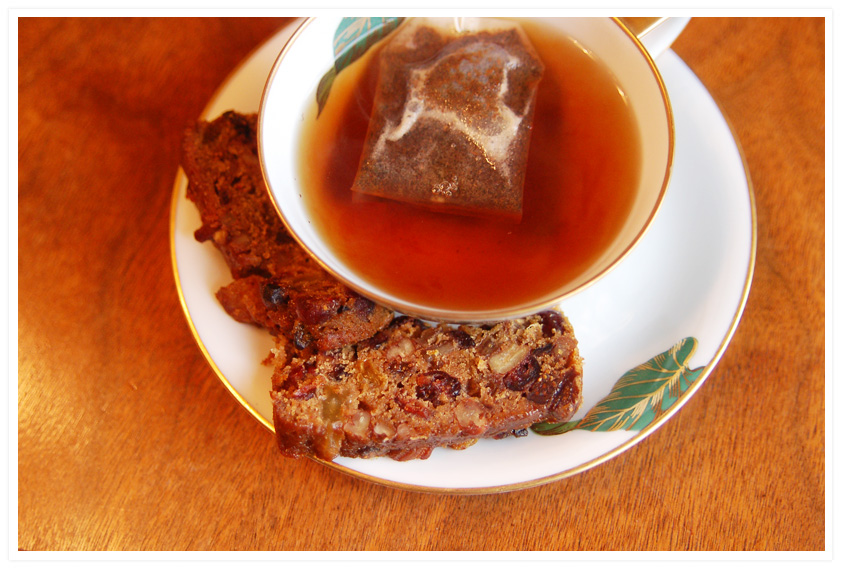 Here is the recipe:
Old Fashioned Fruitcake
6 cups of dried fruit- chopped dates, chopped figs, golden raisins, cranberries, currants
2 cups of chopped nuts – walnuts and pecans
1/2 cup brandy, for soaking
2 cups flour
1 tsp baking powder
1/2 tsp salt
1/2 tsp baking soda
1 tsp grated or ground cinnamon
1 tsp freshly grated nutmeg
1 Tbsp crystalized ginger (I found mine at World Market)
1/2 tsp cloves
1/2 tsp allspice
1 1/2 cups white  or brown sugar (I like brown)
1/2 lb unsalted butter
6 eggs (yes, six!)
Zest and juice of one lemon
Zest and juice of one orange
1/4 cup dark molasses
1 tsp vanilla or almond extract
More Brandy (for aging)
This recipe makes six small loaf tins. It can also be cut in half if you don't want to make so many. See the above post for all the baking instructions. 🙂
So…. I am dying to know: what do you think? Do you love fruitcake? Hate it? Are you willing to reconsider and try this for Christmas?
PS Fun fact – When we were first married (I was 22), Matt wrote a piece about my fruitcake making ventures that appeared Christmas day in the Chico ER editorial section. 10 years of fruitcake bliss, honey!