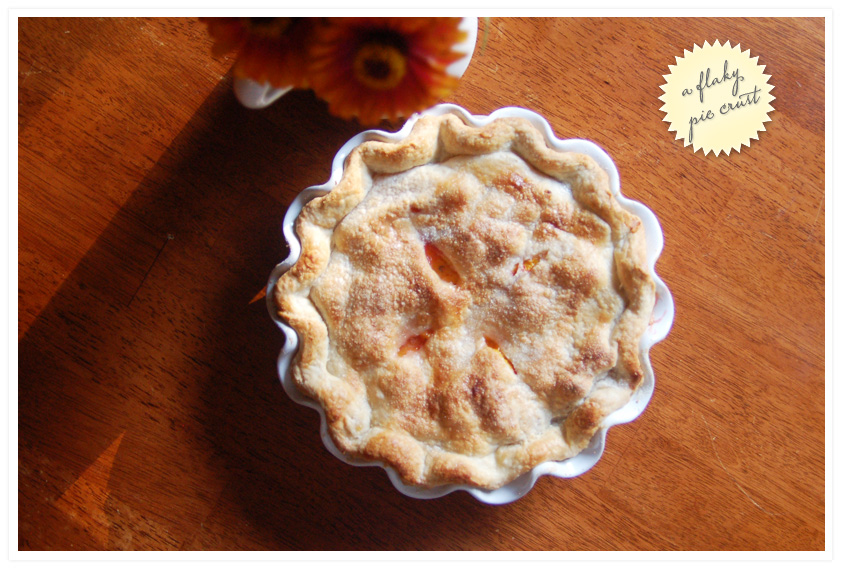 **I'm sure you all are headed every which way in your Thanksgiving travels (I wanted to get this post up much earlier, but what can I say? Three kids and letterpress holiday season) – I hope you all travel safely!**
—————————————————————————————————
This post has been long in the making. Remember two and a half years ago, I made a list of goals for age 30? (hello, age 30, I miss you)
Item 13 was "make a pie crust from scratch, and do it well". I was able to cross off that first part early on, but the "do it well" part was years in the making… and I think I have finally arrived. To a place where I am happy with my version of a pie crust that I can make from scratch comfortably. Wow.
I will tell you a story of the journey that I took…. It started with a pie crust lesson from my mother-in-law (who makes awesome pies). A group of us got together, peeled apples, had a lot of laughs, and guess what? Audrey's crust – came out perfect. Mine? Not so much. In fact it stuck to the counter, separated into a bunch of little pieces and had to be piled atop the pie like a crumble. I was feeling a bit like a loser, at which point she handed me some very wise words: "You have to find the recipe and crust that works well for YOU that YOU can master and enjoy."
So, for the past two years I have been on a quest to discover that little zen dough. And finally, through trial and error, I feel I have found it. And I've made it consistently all year long into happy, happy pies. So now, in honor of Thanksgiving, I want to share it with you all. It may work for you, it may not, but please, don't be scared to try it and stuck in the trap of buying processed pie-dough.
The recipe I settled on is a butter crust. No shortening, just pure beautiful butter.
Here are the ingredients:
13 oz flour
1 cup ( 2 sticks) unsalted butter
1 tsp salt
1 Tbsp sugar
1/4 cup spirits
1/4-1/3 cup water
And here are the directions. Pay attention closely, because herein lies the fool-proof nature of the crust.
Start with 13 ounces of flour. I'm not even going to tell you how many cups that is equivalent, because cups are not the accurate way to measure flour. Did you know it has over a 6 ounce variance depending on how it is scooped? No, no, you must weigh it. I weighed mine in my cheapie old scale that I zeroed out for the glass bowl's weight. Much faster than measuring  by cups, actually: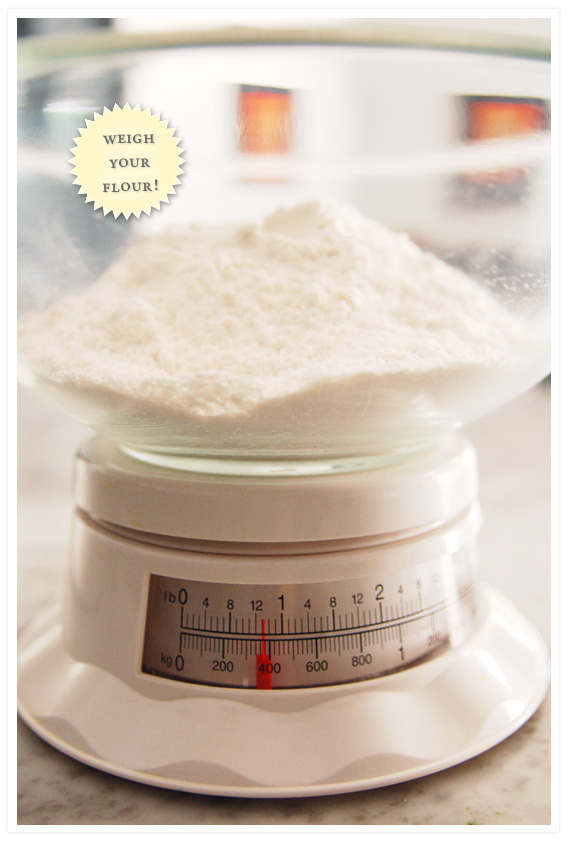 Next, cube unsalted butter into small chunks, and stick that into the freezer while you work (yes, the freezer!):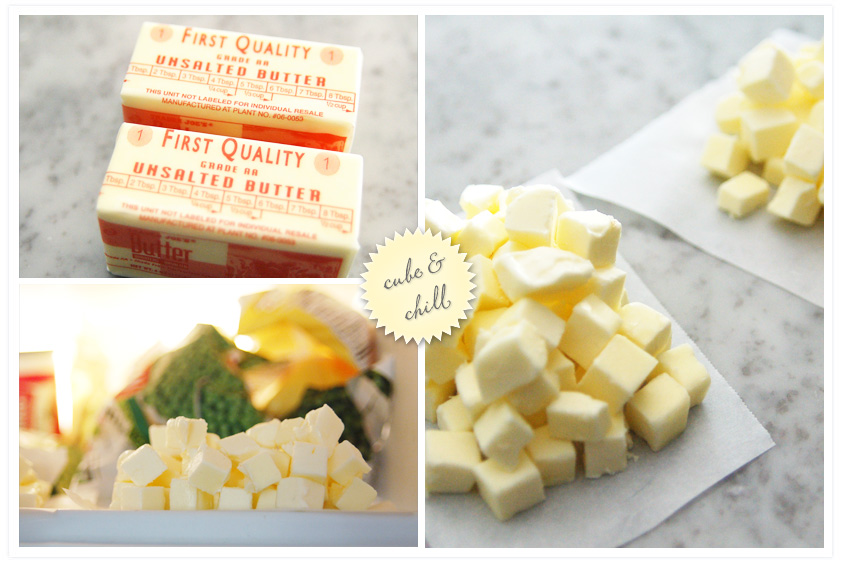 I even showed you a horrific photo of my freezer top shelf to prove my point. You want cold, cold butter. Not frozen through, but very cold.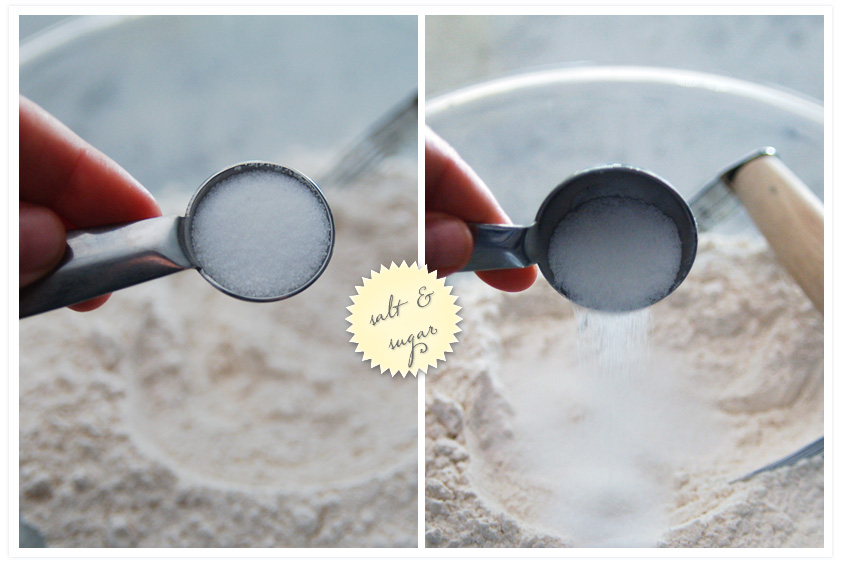 Measure in your salt and sugar, and whisk it together. Then stick the whole bowl of flour mixture into the freezer also (I'll spare you that photo.)
Measure out your alcohol (vodka for no added taste, but depending on the pie, I sometimes use rum, especially for spicy pies):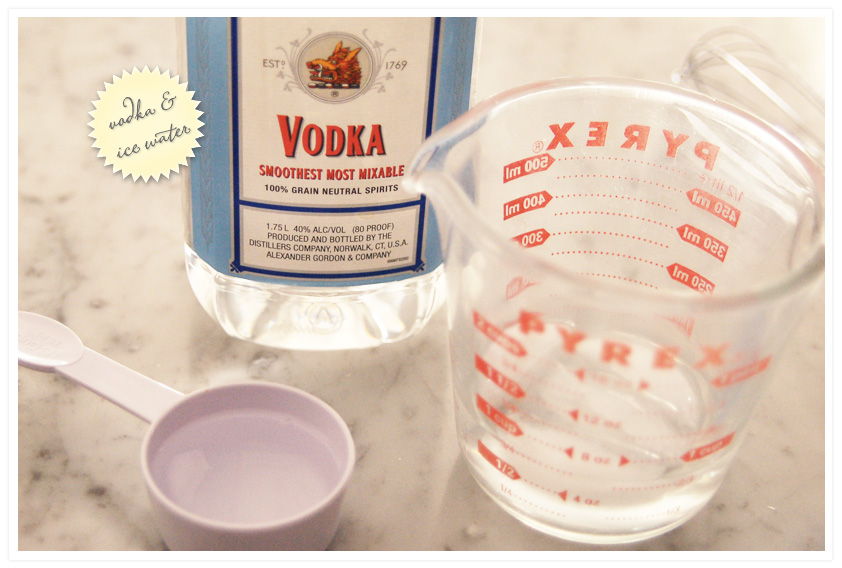 Measure your water (add ice cubes) and stick those in the freezer too. Really. And while you're at it? Add a pastry blender to the freezer as well.
Then, wait 10 minutes. Clean up your mess, wipe down the counters, work on the pie filling, whatever, but wait 10 minutes.
Now, pull out all your perfectly cold items to mix together: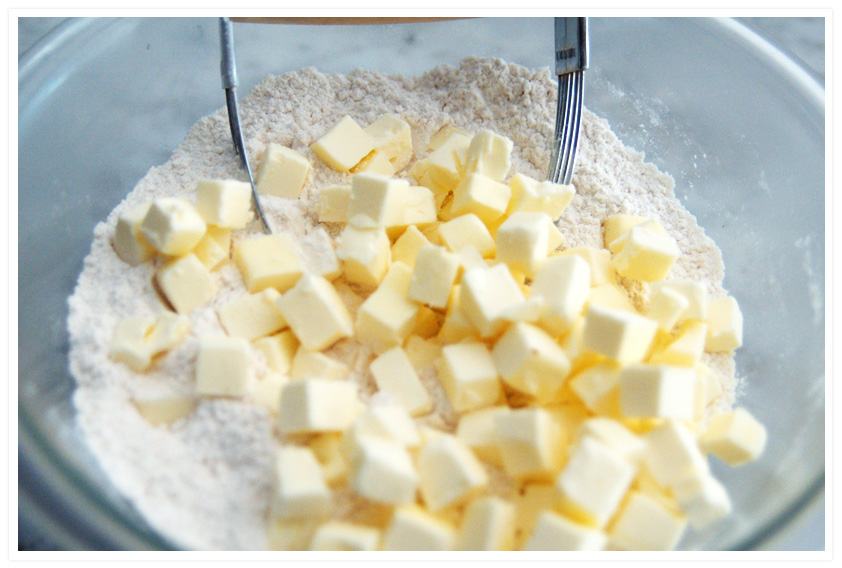 I start with the pastry blender. But let's face it, I'm a hands-on cook, so I soon drift to my hands.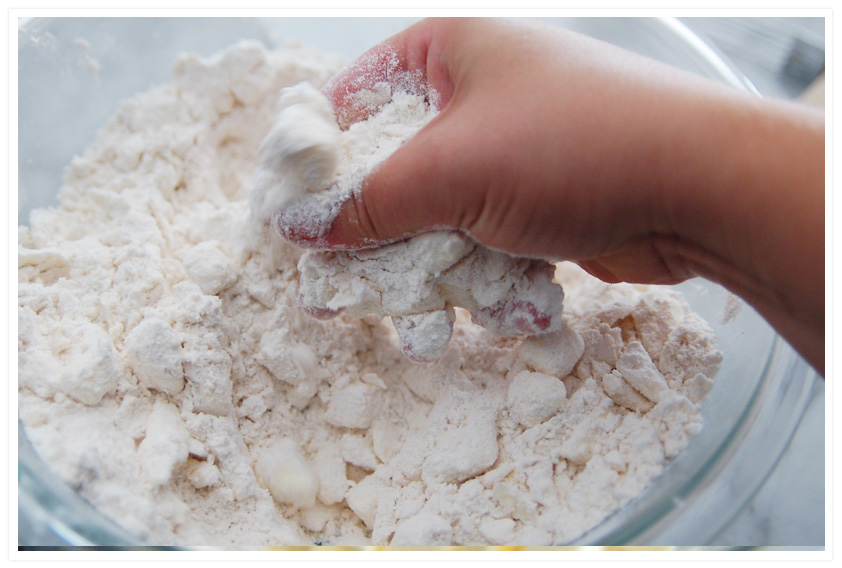 Fortunately, my dough is so cold it doesn't matter. In fact, it nearly chills my fingers off.
At about this stage is when I add the liquid (see how big the butter still is?):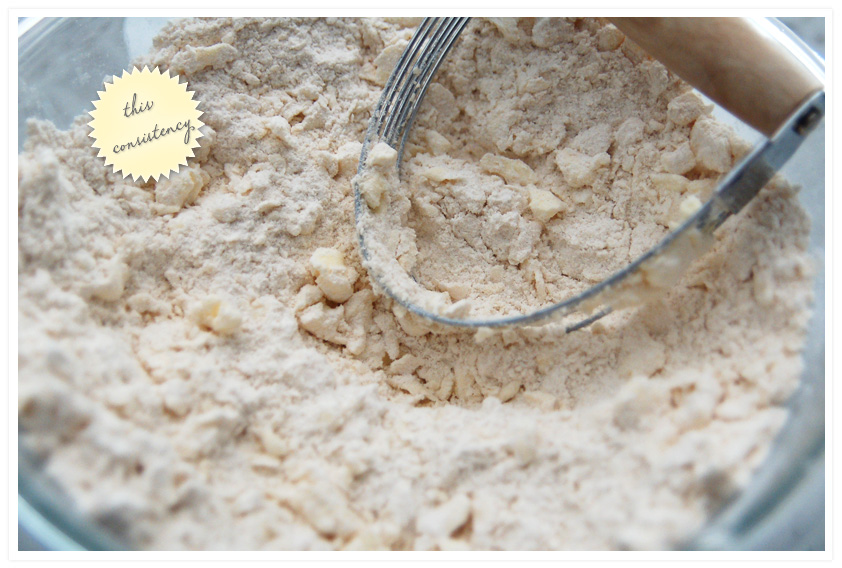 I've included the pastry blender for scale.
So, I add the vodka and the cold water, and I'm not shy about it. Don't overwork it when the liquid is added! Just until it comes together: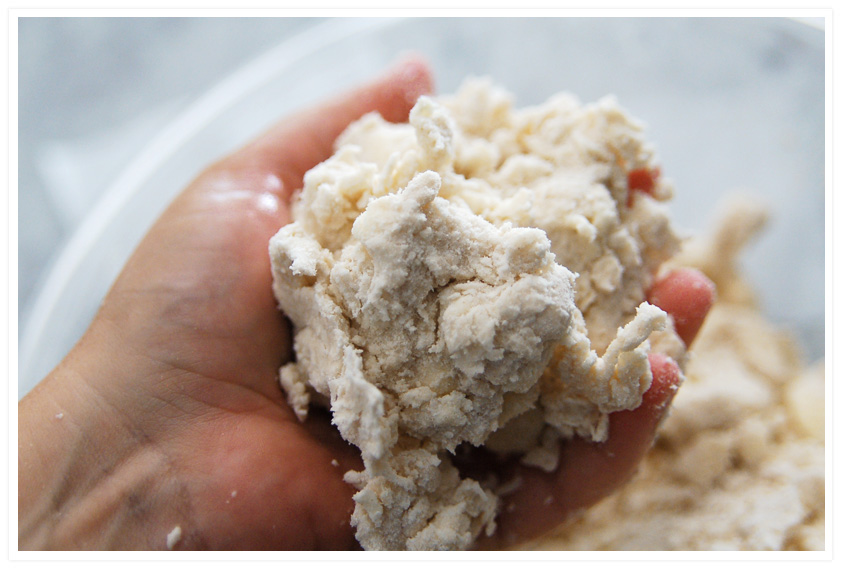 Then, divide it in two halves and pile it onto a piece of plastic wrap:
Use the plastic wrap to help you flatten it into a neat disc: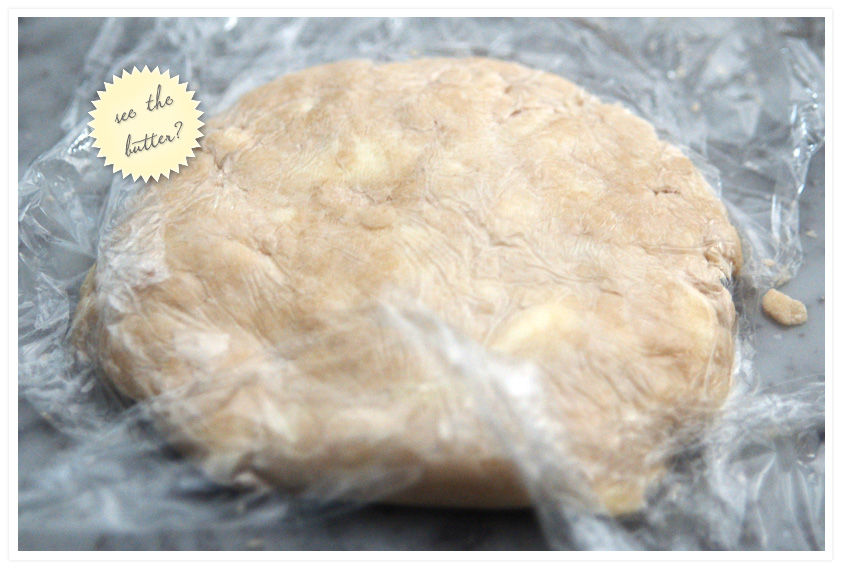 Note the large chunks of butter you can see on the surface. This is crucial to good flaky dough – don't blend those in!
Next, you chill the dough! One hour in the fridge. If you don't have that, I'd say 10 minutes in the freezer and ten in the fridge. Just be sure it is chilled.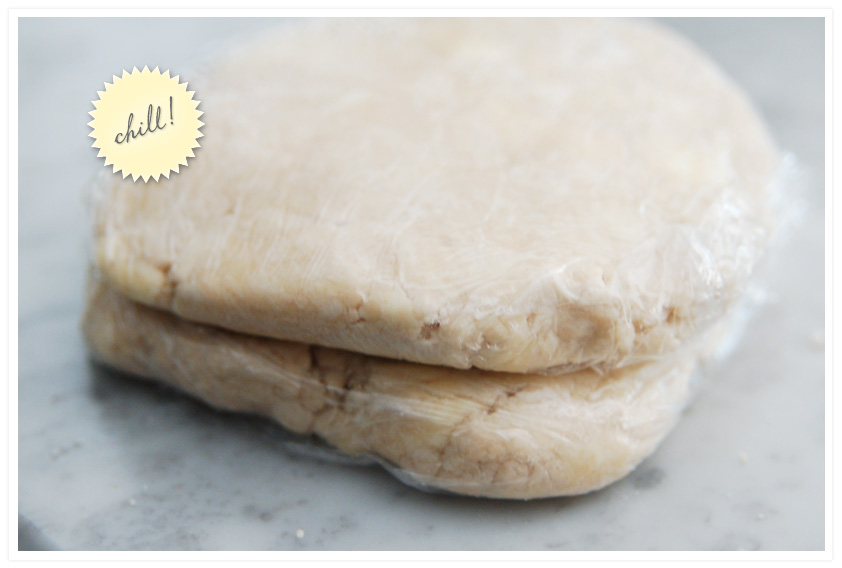 Oh, and I also chill this: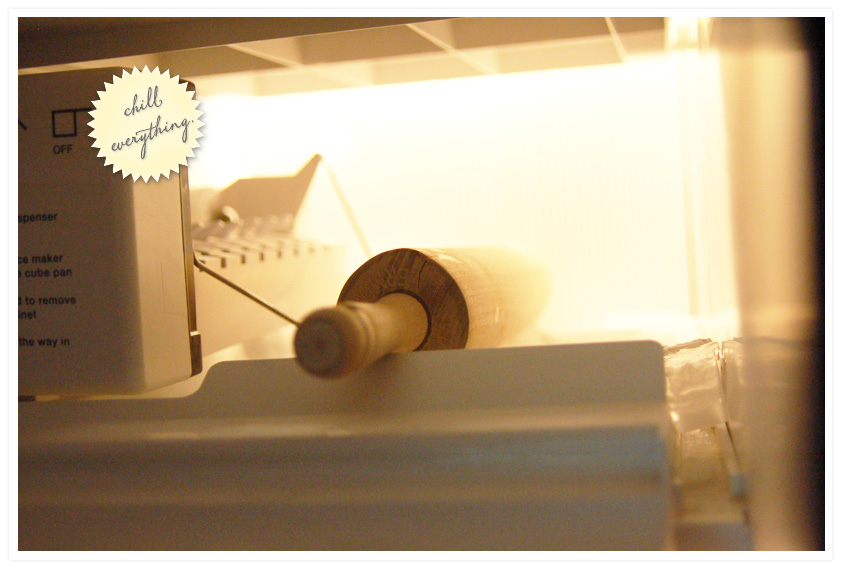 Yes, I chill it all. It's the real pie solution, people!!
So, shall we roll out the dough? A generous sprinkle of flour…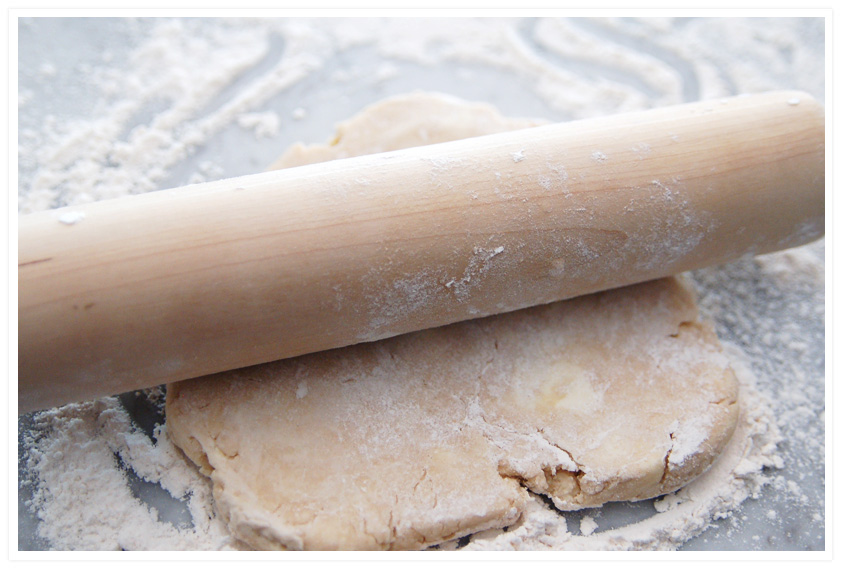 This is where I fall in love with my cool-to-the-touch marble counters again.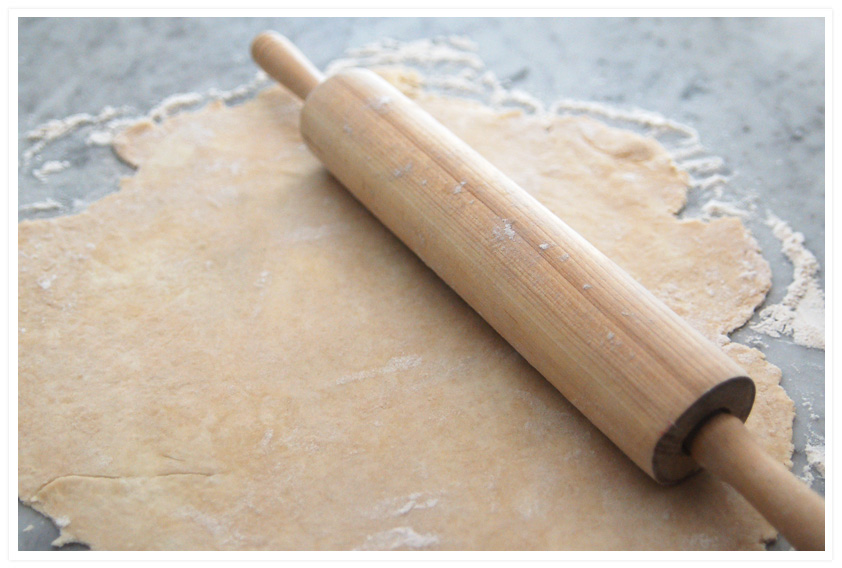 I don't like a crust that is too thick. So, roll it out not too thick, but not so thin that the pie filling will leak, and then drape it into a pie pan: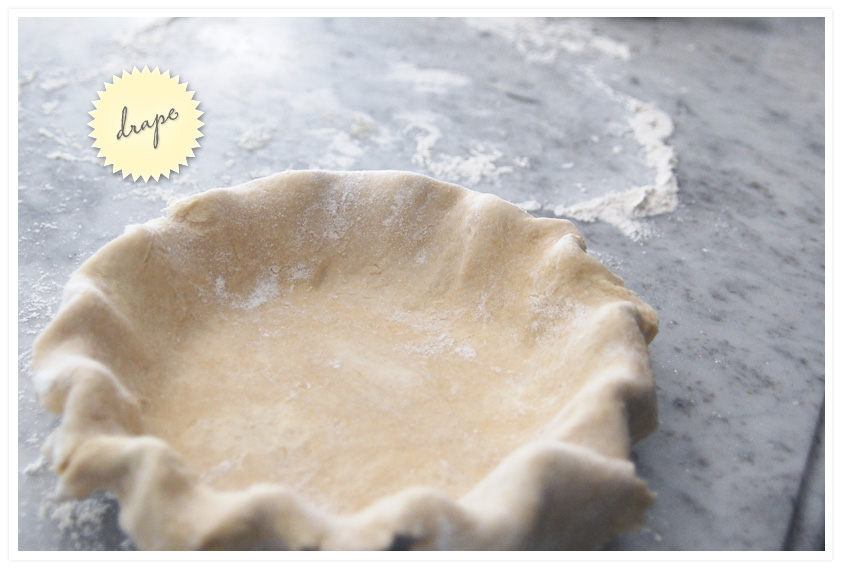 In my mind, the best pan is a ruffle-edged pan. It does all the edge work for you.
Trim, crimp and fold: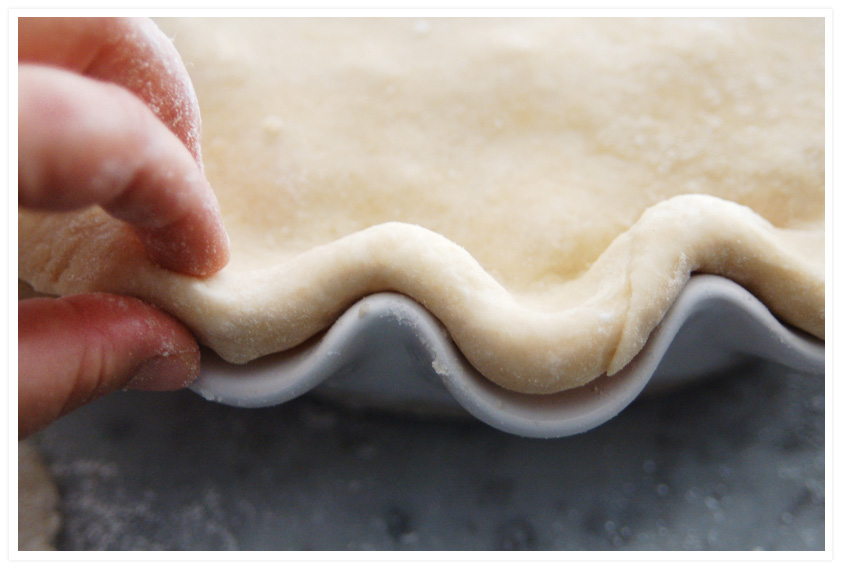 If you are making a two crust pie, add your filling and then brush the top crust with milk and sprinkle sugar lightly over that (this is a heavenly way to brown the crust evenly!):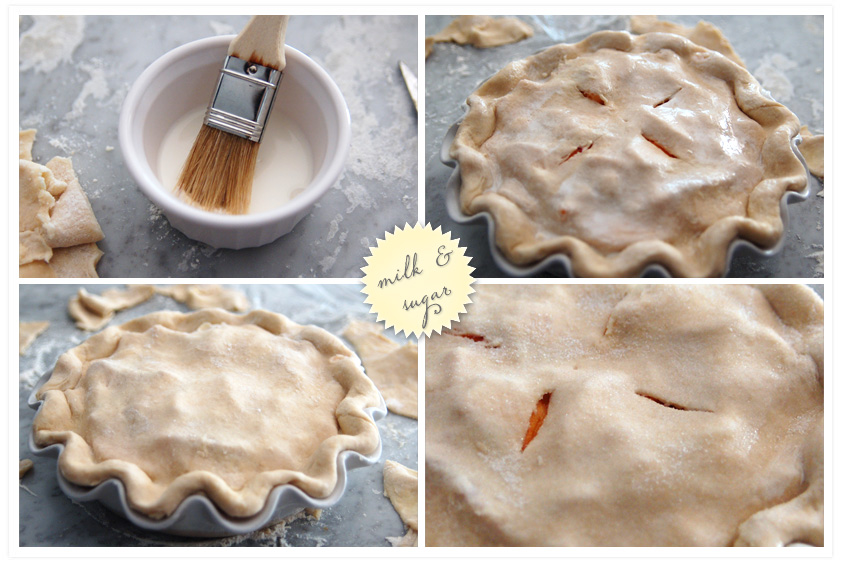 Here is a genius foil trick I learned from my MIL. How many of you have cut strips of foil and tried to connect three of them around the border of the pie so it doesn't over brown? And one or two strips fall off as you slide it in the oven? (Raises hand) Well, this is the real way to do it. Cut a large square of aluminum foil. Fold that into quarters. Place it over your pie and trim the edges into a circle, and then again into a ring: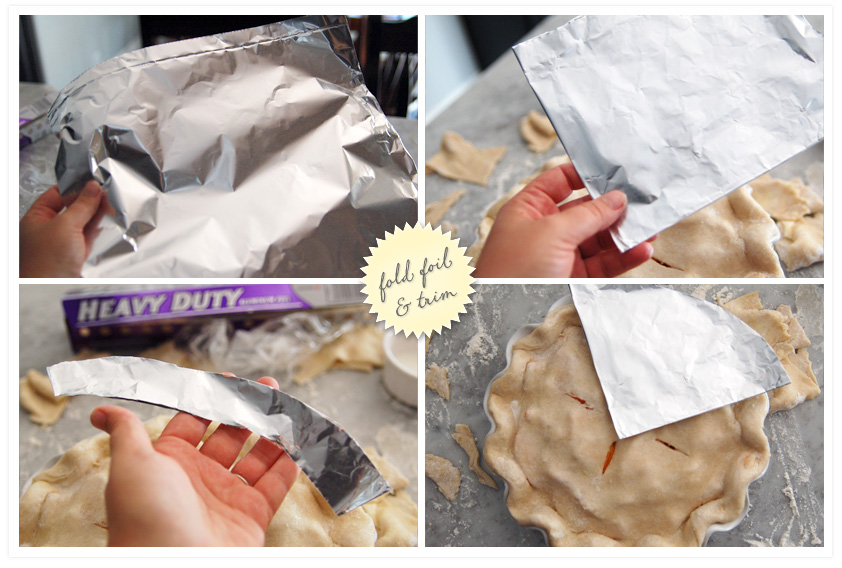 Unfold it and you will have a beautiful fitted foil guard for your pie: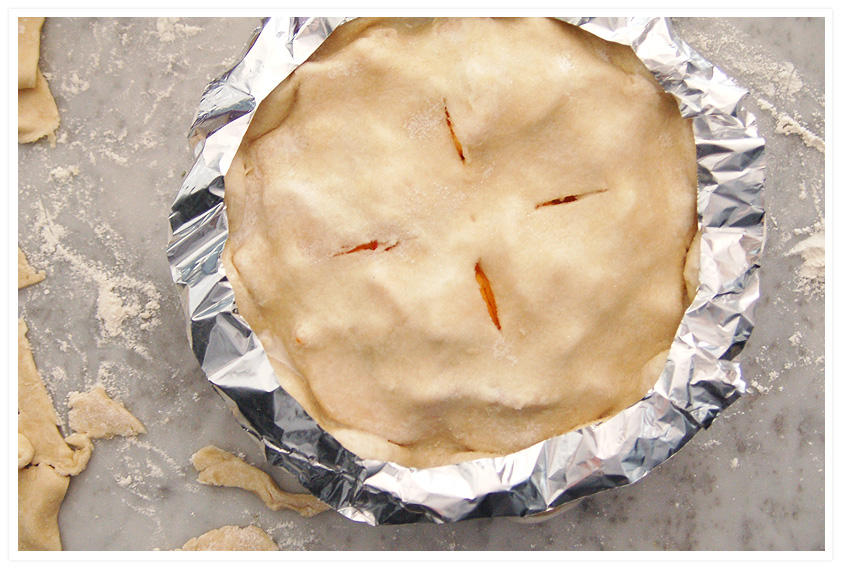 Don't forget the leftover dough trimmings. Your children (heck, adults too) will love you for this little roll-up:
Buttery, flaky, cinnamon sugar. Yum.
Where were we? Oh yes, bake your pie. Let it cool.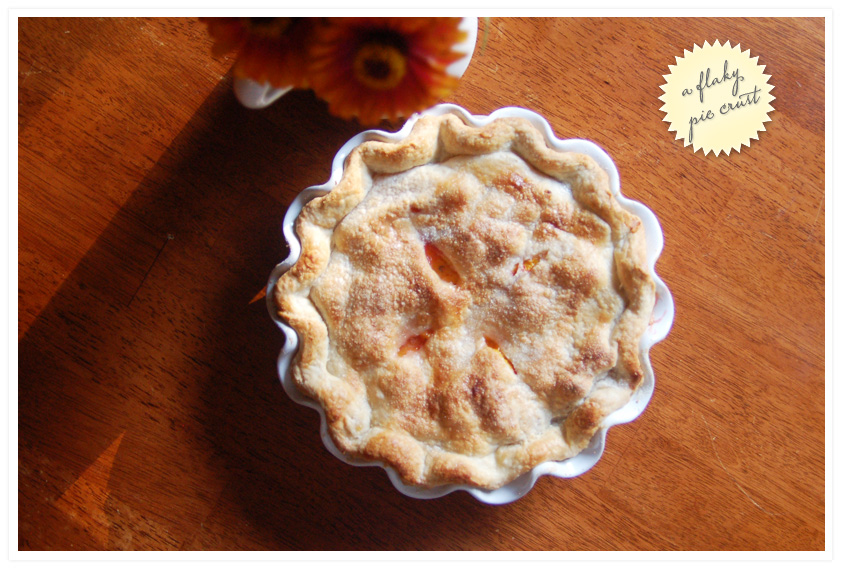 This was a peach-rosemary pie I made back in August. I will share it with you sometime. Look at the details of the crust: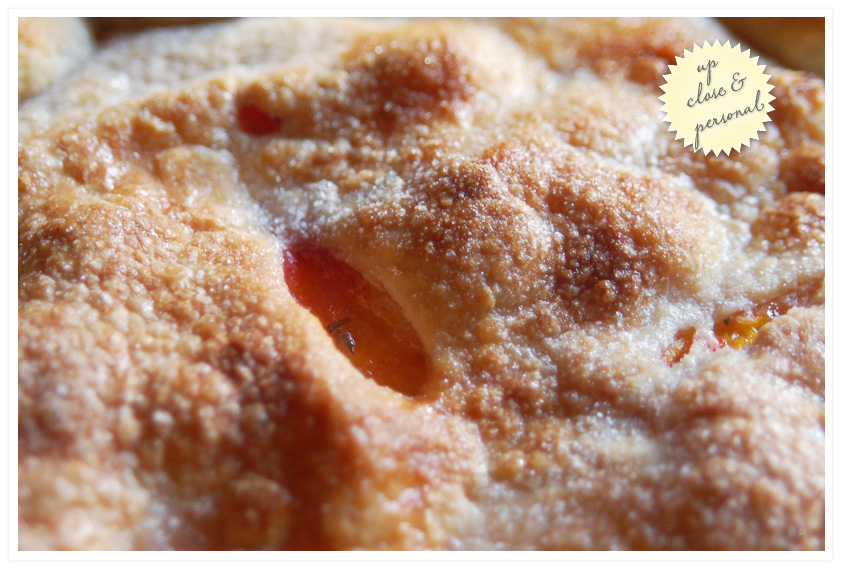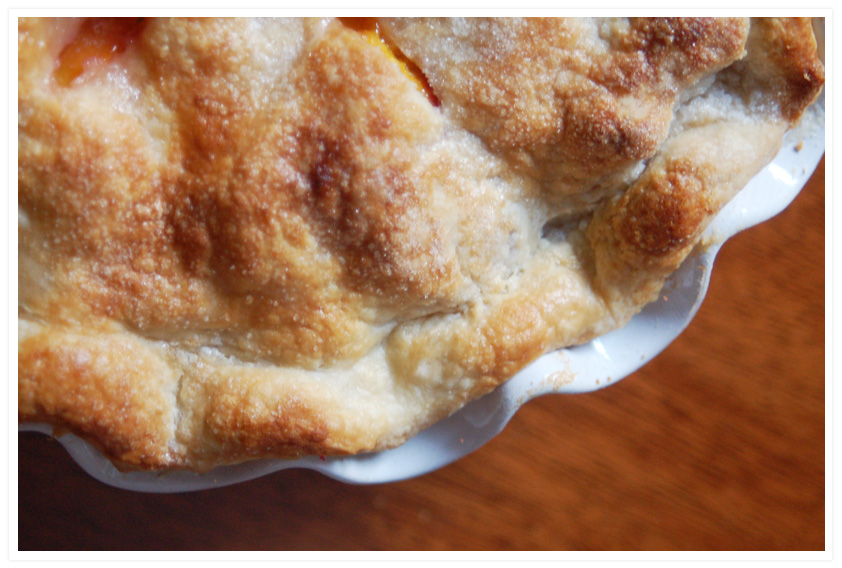 I am happy, happy with how it turns out (and tastes).
A couple of days ago, I made a pumpkin pie (recipe here):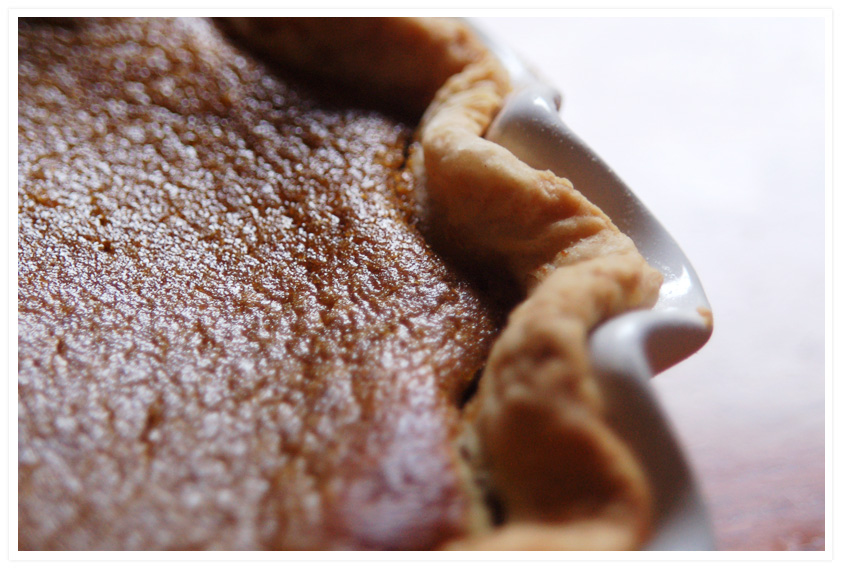 Luscious, mysterious, and perfectly Thanksgiving.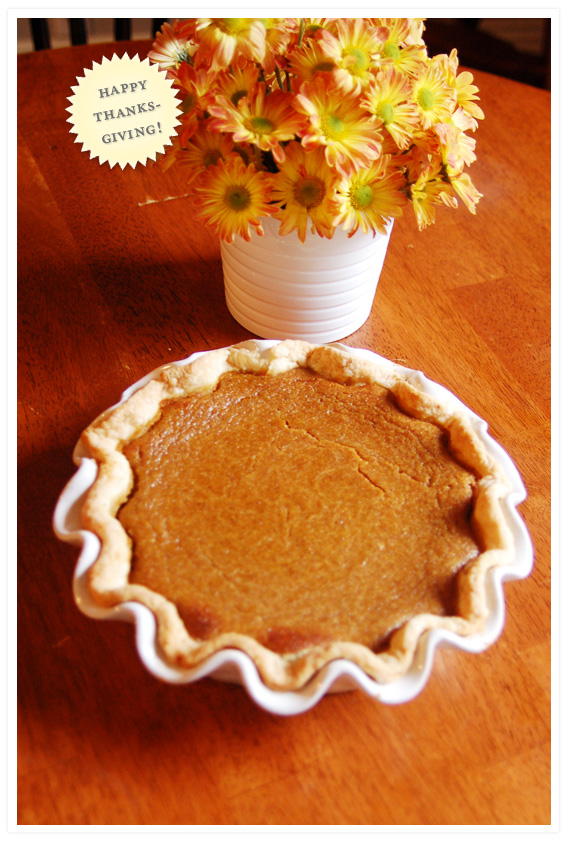 I have so much to be thankful for this year. Signing off for the weekend, and I hope you have a wonderful Holiday with your family and loved ones!