As I mentioned in my last post, we celebrated Matt's birthday with a rather large dinner party. I'm really excited to share it with you because I think it's important to demystify this part of entertaining: planning and having events that could otherwise seem unattainable or just plain scary to pull off.
I was really happy with how it all went! There were hitches, there were teensy hang ups, but overall it was a wonderful night with wonderful people and I hope it made them and Matthew feel so special.
Let's just jump in, shall we?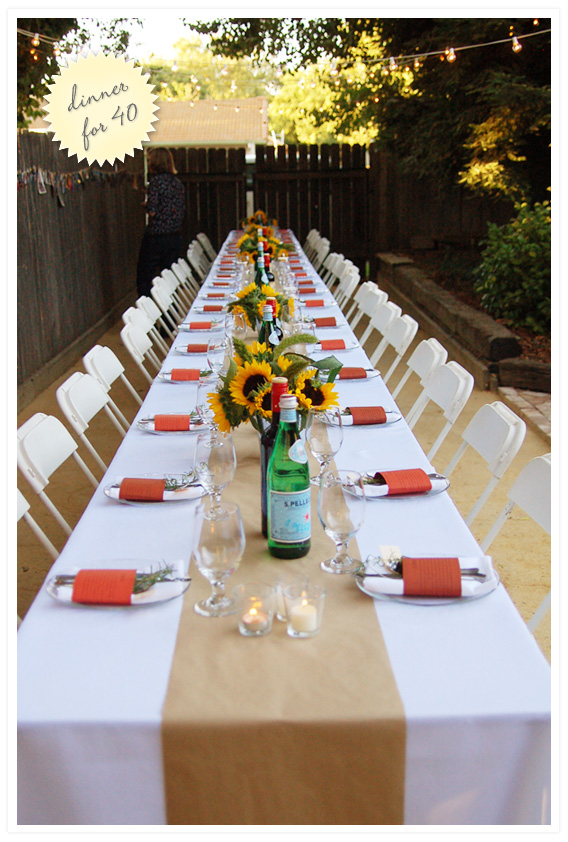 I created a pinboard of inspiration for this event. I kind of knew what I wanted: outdoor twinkle lights, good food and a thoughtful menu, wine, candles, and one long table that we could all sit at together. The perfect spot for this proved to be our Bocce court in the backyard next to the letterpress studio.
I borrowed some tables and rented the remaining, plus 40 chairs and five long white tablecloths. The glassware, silverware and dishes were borrowed from an awesome friend. (Can you believe she has dinner service for 50? Talk about incredible.) The flowers I picked up from the farmer's market, and the butcher paper runner  I had a roll of in the studio.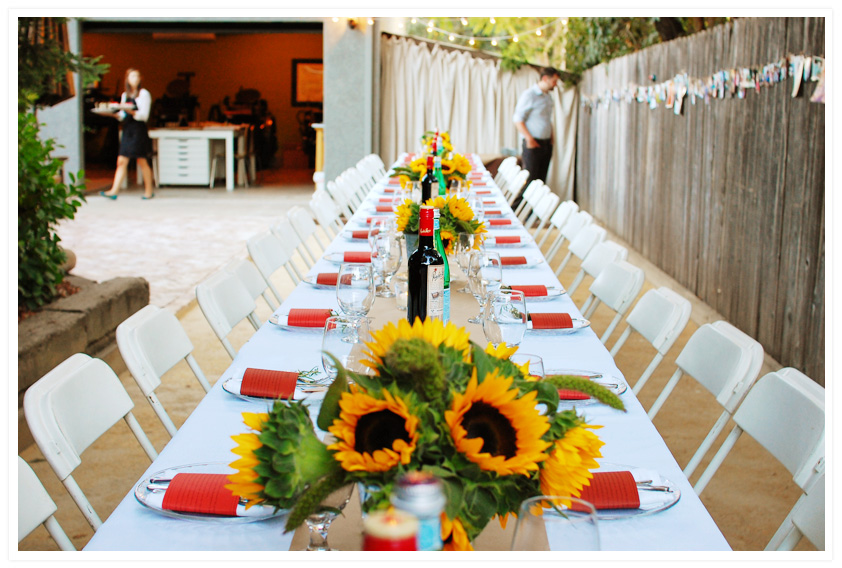 I kept the table setting simple and low. The menu was a cuff around the silverware and napkin, we tucked rosemary from the garden into each as a little aromatic. The napkins were actually floursack cloths picked up for 60 cents each (cheaper then renting them! Need some kitchen towels? I'm stocked now!!)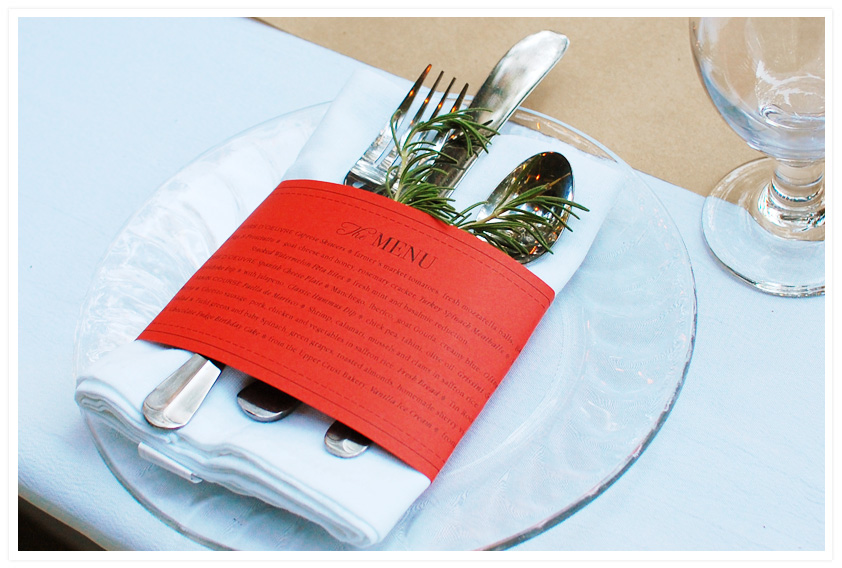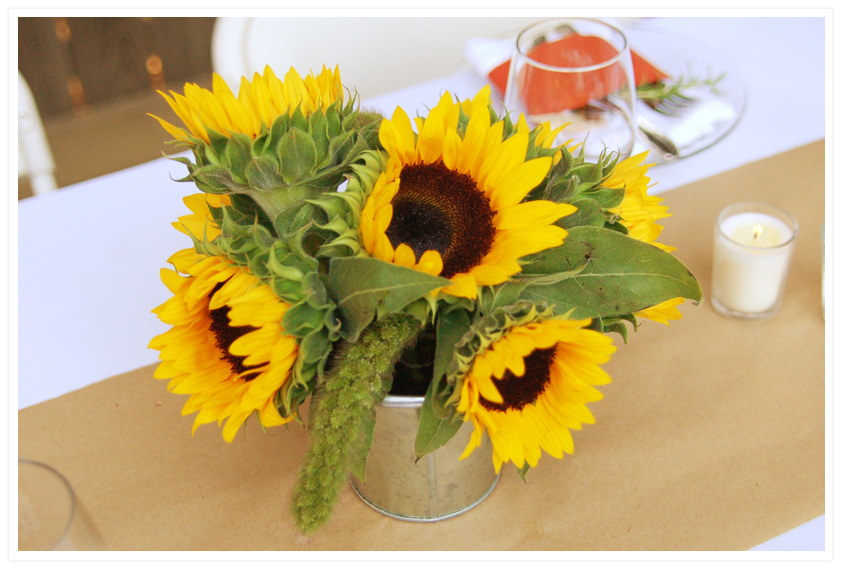 Here's the deep-breath part: I decided not to cater this event. The price tag was just too big. Also, I wanted more control and variance than was offered at an affordable amount (read: not another tri-tip, rice and bagged salad event). So, instead, I came up with an appetizer menu (again, thanks pinterest), pre-prepped as much as I could, hired our wonderful babysitter and a couple of her friends as service staff (complete with $7 black aprons from Cash & Carry), and then ordered huge pans of Paella from our little Spanish restaurant here in Chico. Plus fresh bread from the Tin Roof Bakery, large bowls of tossed greens with sherry vinaigrette, and birthday cake from the completely wonderful Upper Crust Bakery.
The appie menu? Here it is.
Watermelon Feta bites with fresh mint and balsamic reduction: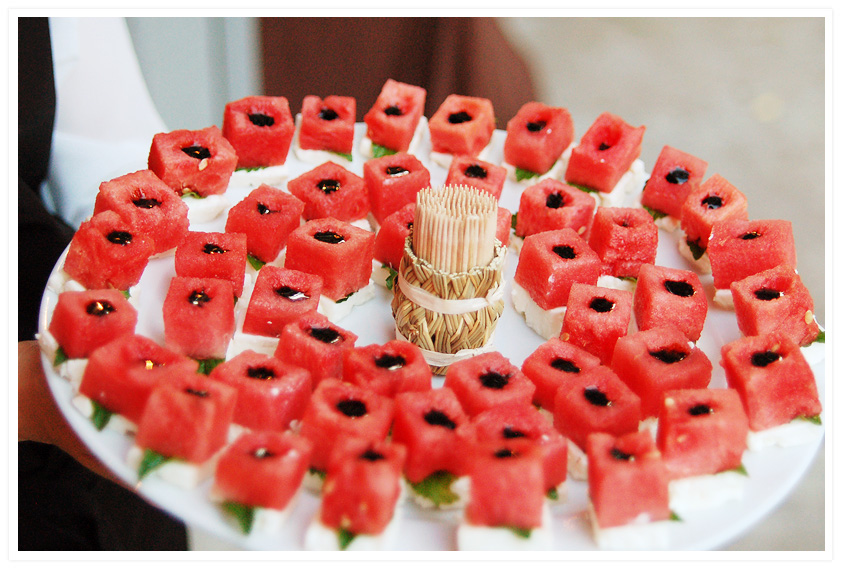 Completely amazing bite. Really. The little well for the balsamic is a genius idea, but I can't claim credit for it, I found that part on pinterest. I need to insert a major shout out here to my sister-in-law Kelly, who was visiting from Colorado and sous-chefed 100% of this dish at close-to-the-last minute for me (the batch that I had preprepped had completely frozen in the back of the fridge!)
We passed caprese skewers (cherry tomatoes, basil and fresh mozzarella balls). So easy, so delicious.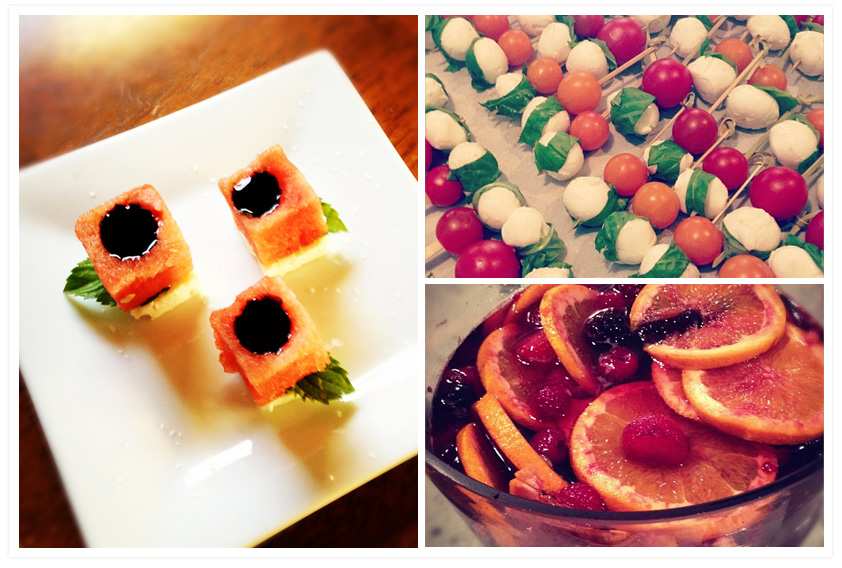 And, using a recipe from my fabulous assistant Elizabeth, we made virgin Sangria to serve beside the wine and sparkling water.
We had a station for cheese and hummus and dips, and also passed figs with prosciutto, goat cheese and rosemary cracker (yum!) and turkey spinach meatballs picked up from Bacio.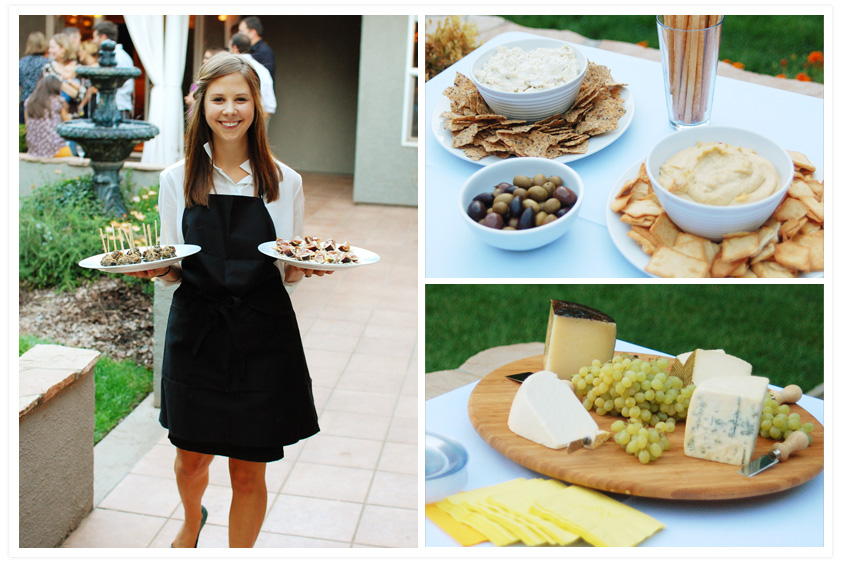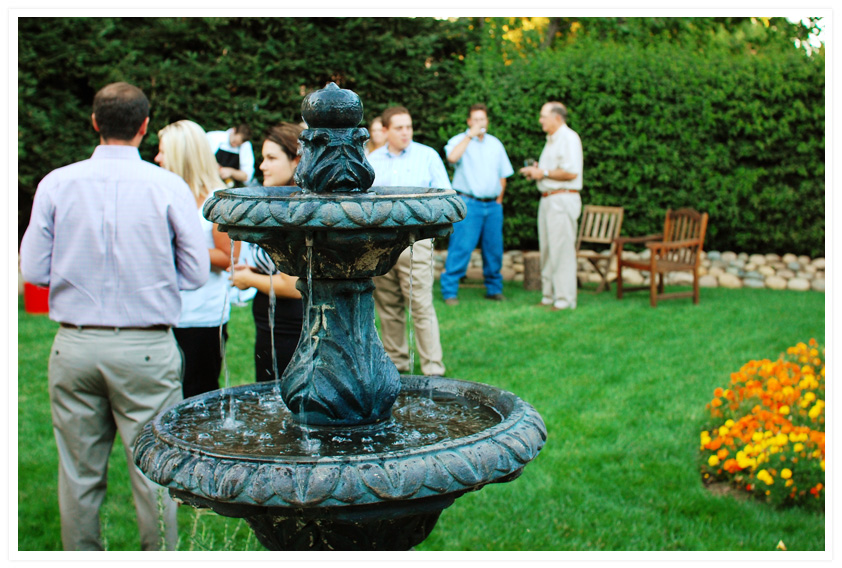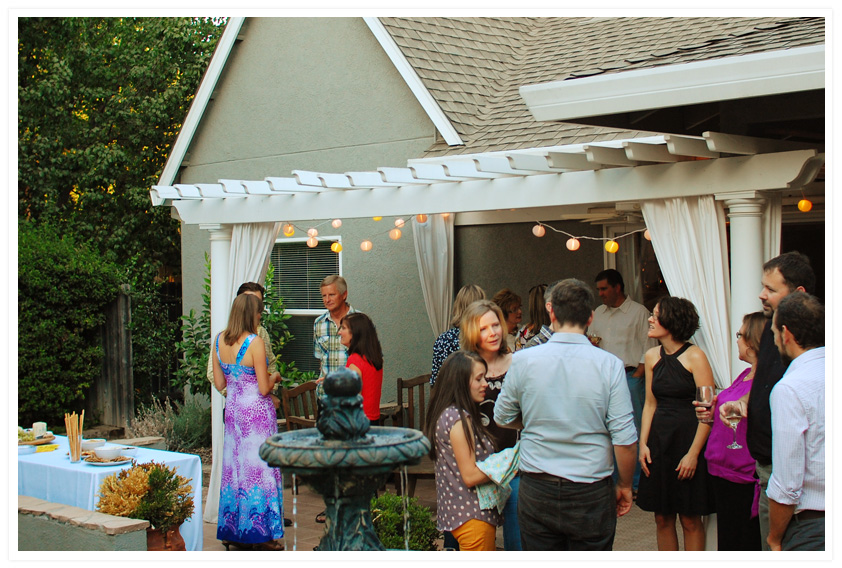 Those were the appetizers. But the fun had barely begun!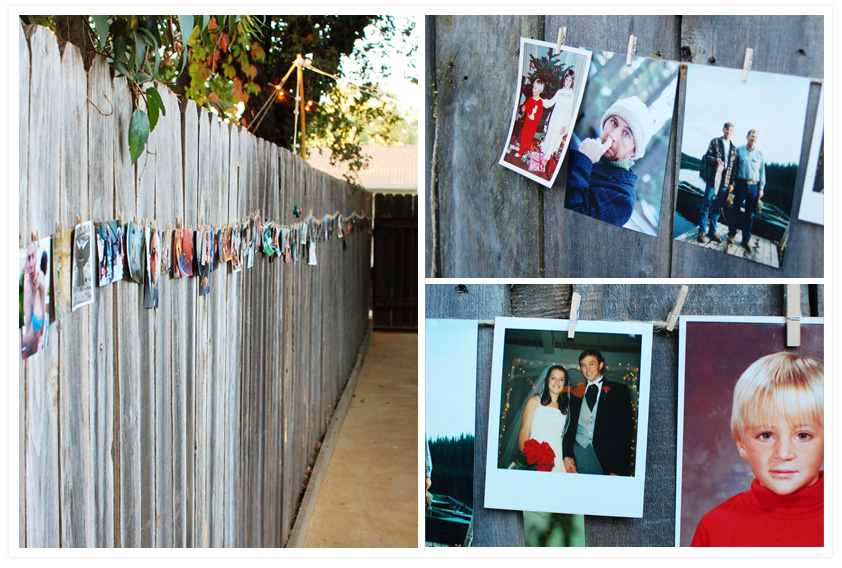 I pinned the whole length of the fence with photos from Matt's many years. There were so, so many to choose from. I mean, this is the guy who sees a camera aimed at him and automatically goes to pick his nose. Pure gold from a photography standpoint.
People loved looking at them and finding themselves at spots in his life…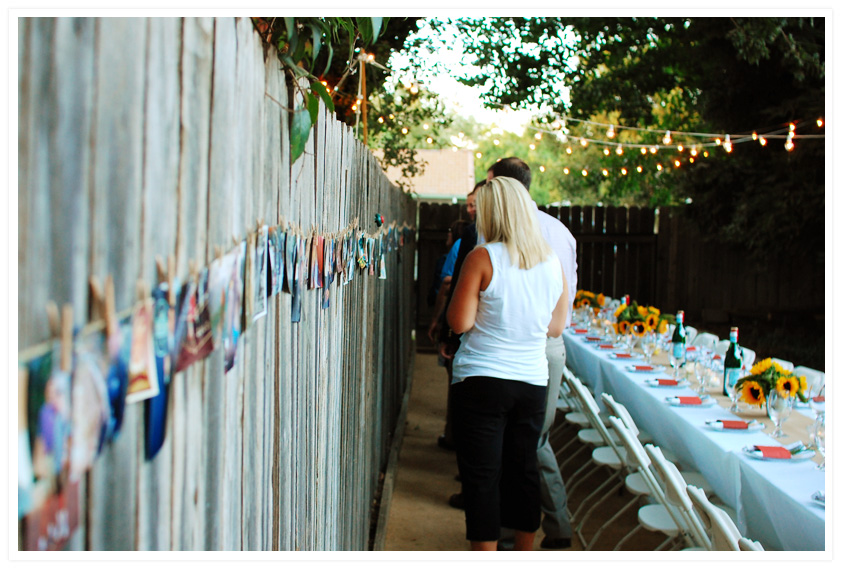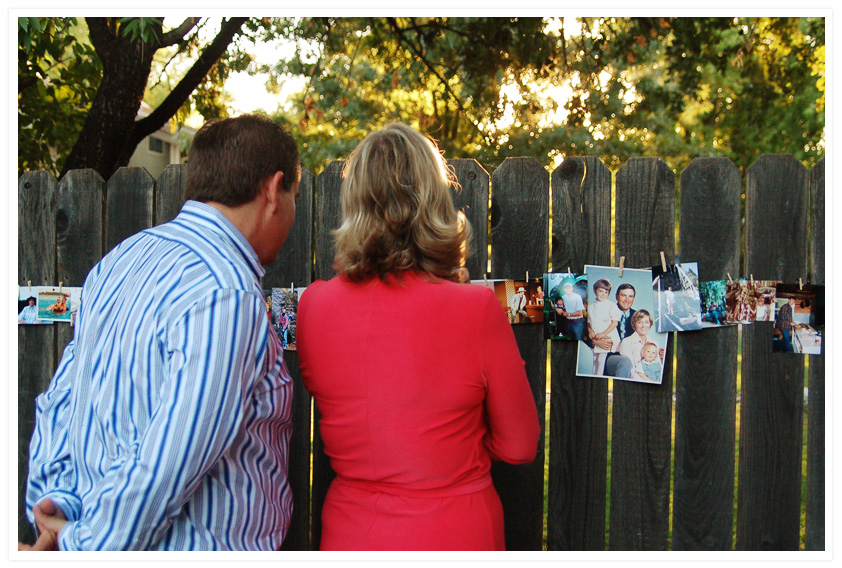 Then, it was time for dinner!!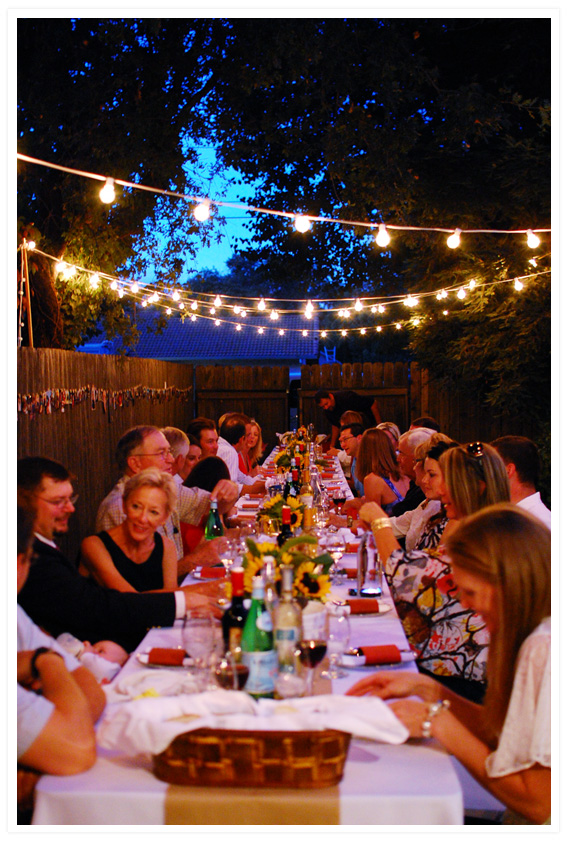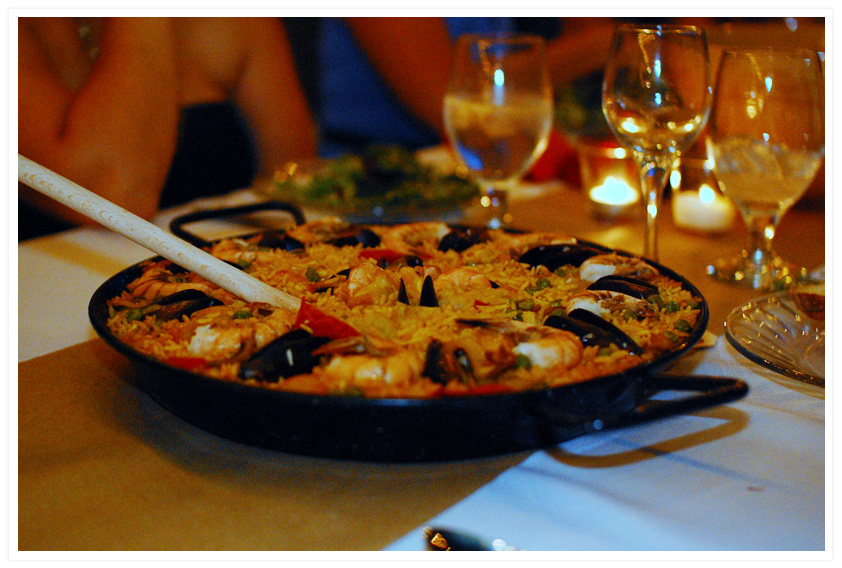 This was by far my favorite part of the evening. Good food, good friends, good conversations, and plenty of laughter and memories (not to mention perfect weather).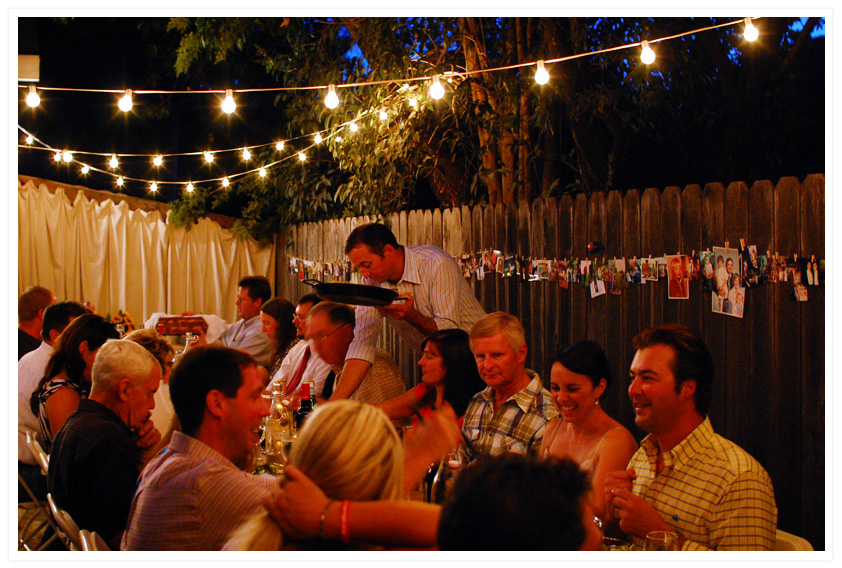 In my mind, this is really why you throw a dinner party: the mingling of conversations, kinship, the breaking of bread, enjoying each other's company.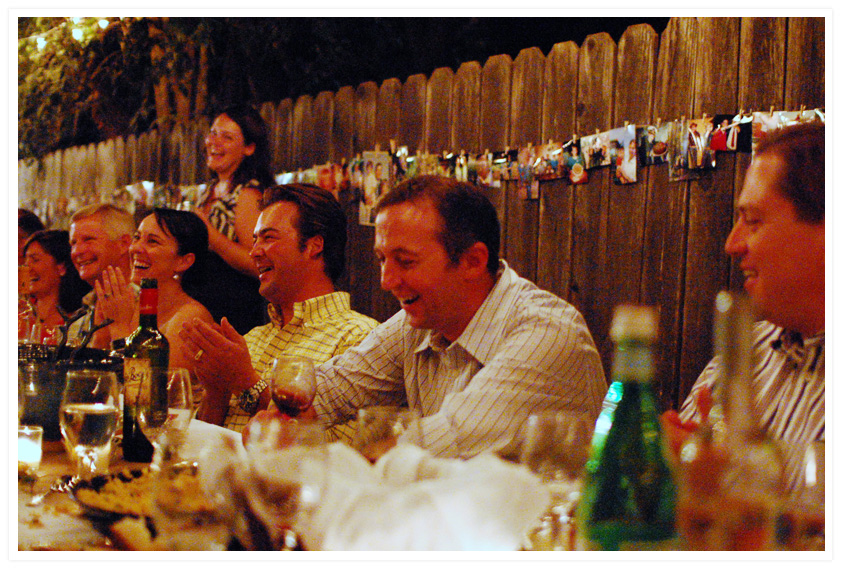 A toast, a roast (or four or five) later, and we brought out the birthday cake (40 candles!!) and sparklers…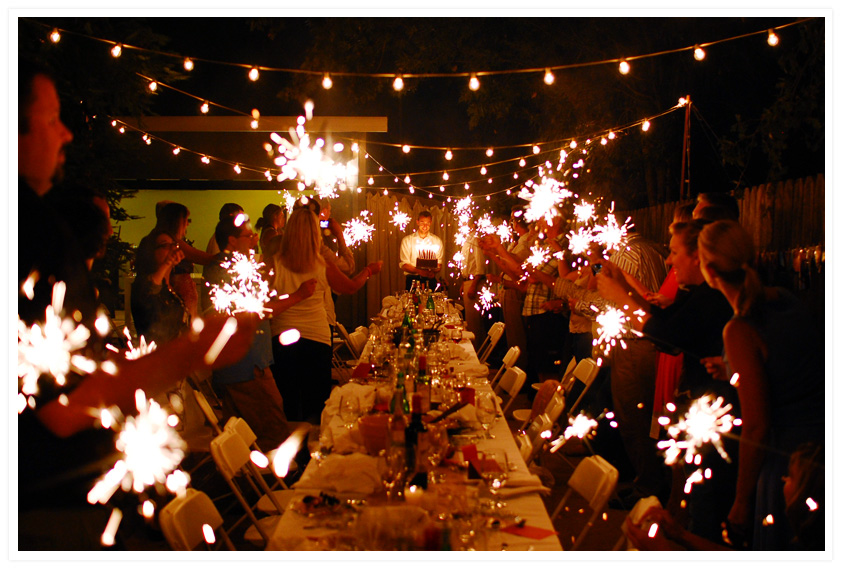 Sparklers make everything just a bit more fun. It was an enchanted evening.
That my friends, is one 40th birthday party and one dinner for 40 people.
Many thanks to our friend Matt Wolf for taking the lovely photos so that I could enjoy the event without a large Nikon around my neck.
Are you going to go plan a big event? What's the biggest entertaining you've ever done? Tips? I'd love to hear your stories!!