Ahem. Announcing a before-and-after room reveal! One big boy room!
Well, it only took 21 months. Really. We started with planning and a mood board back in January of 2011. I showed you the before (a bland and non functioning guest room). We plunked along, redoing the floors (diy install), oiling them, finally finding the right beds to get Cam's mattresses off the floor, creating a custom play table, and giving you a little mini peek over the holidays. And I finally shot photos of it — yesterday. Yup.
The reality? The room is actually not done. It's still missing some custom toy chests that Matt wants to build (and with all the other things I pile on him, don't you think he could hurry up? Hm. ;-)), and we want to do a couple other fun little projects including a lamp conversion. However. It is as done as it's going to be in the near future, so, my friends, it's time to share it with you.
All that deserves a drumroll, right?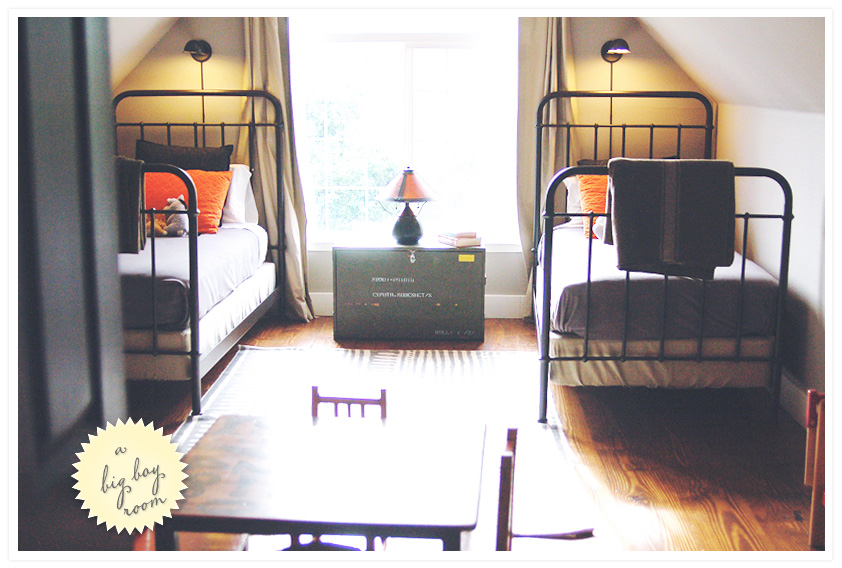 Tada! I need to insert a comment here about how insanely difficult it is to photograph a long narrow room directly into a bright window. I'm not a professional photog, and let me just say: the light. The light. The light! Argh. Trust me, this is not a dark and gloomy room, it's a bright and happy place.
Remember the before?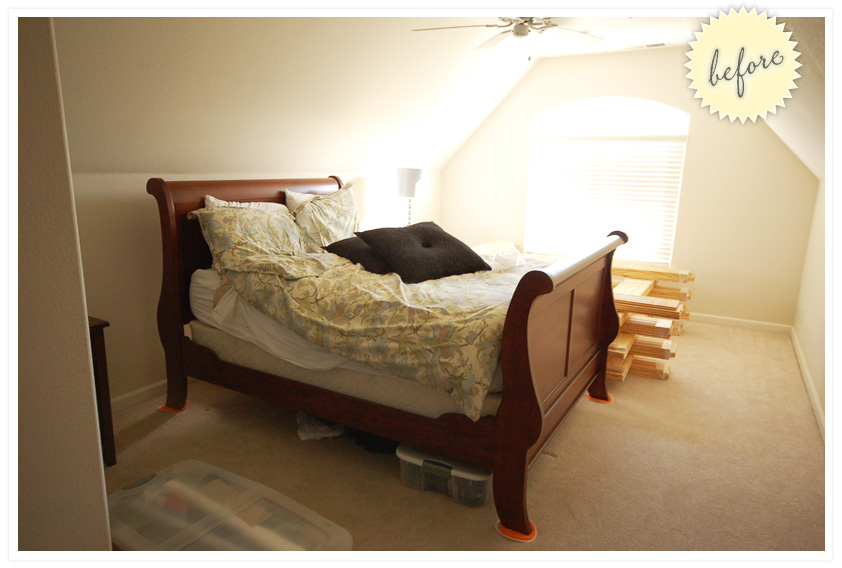 And now after…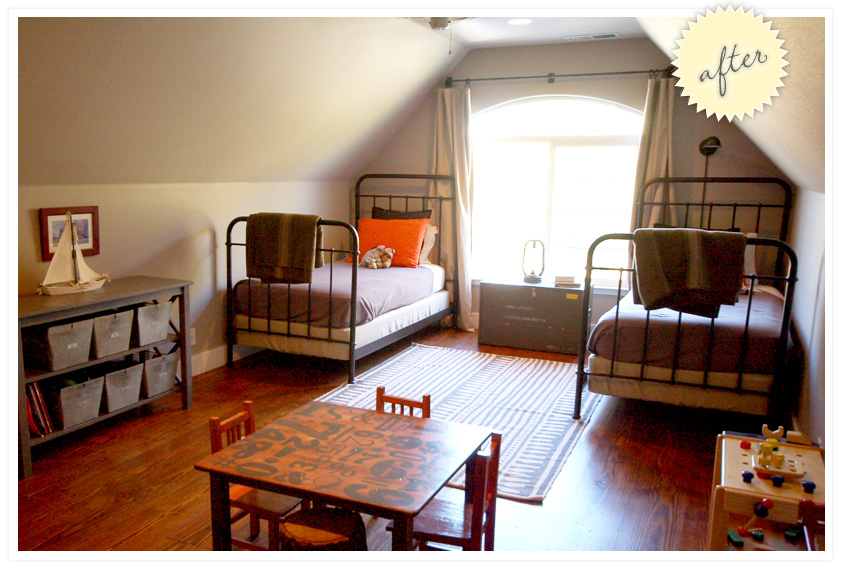 And from the other direction: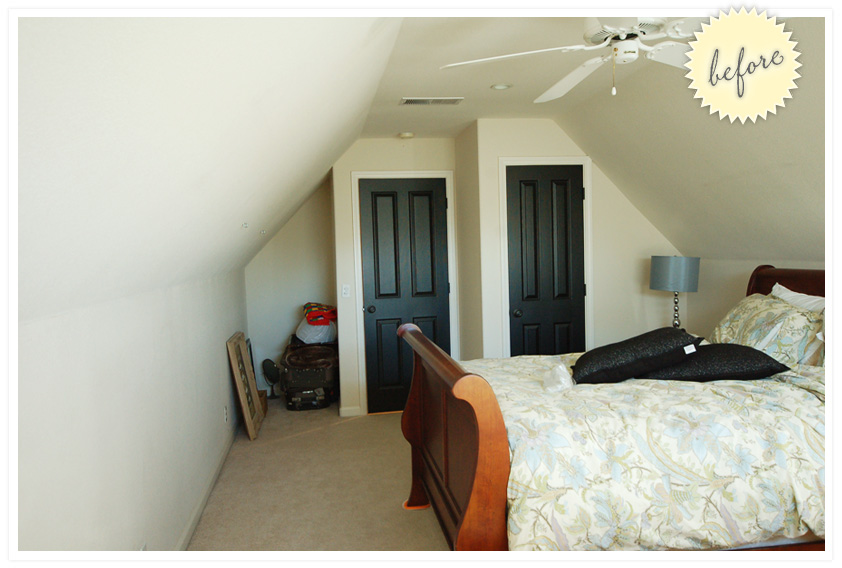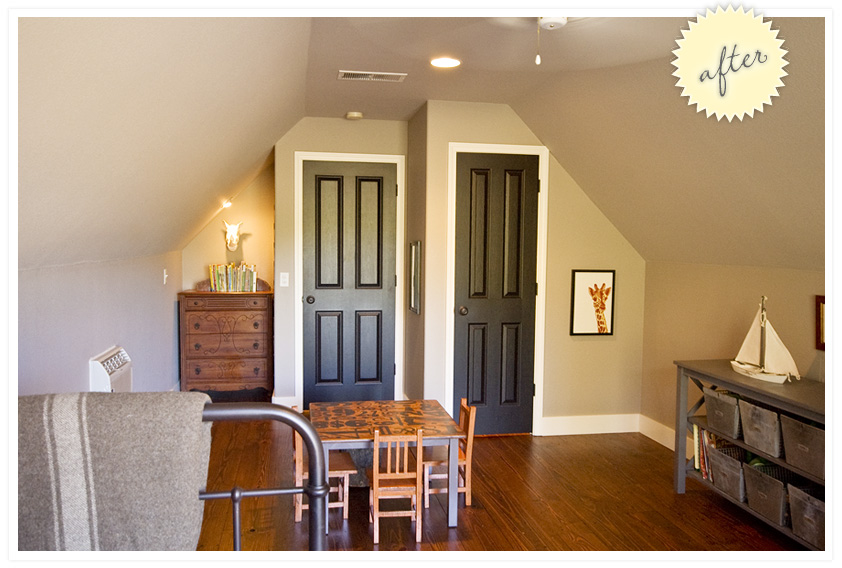 Okay, let's talk details.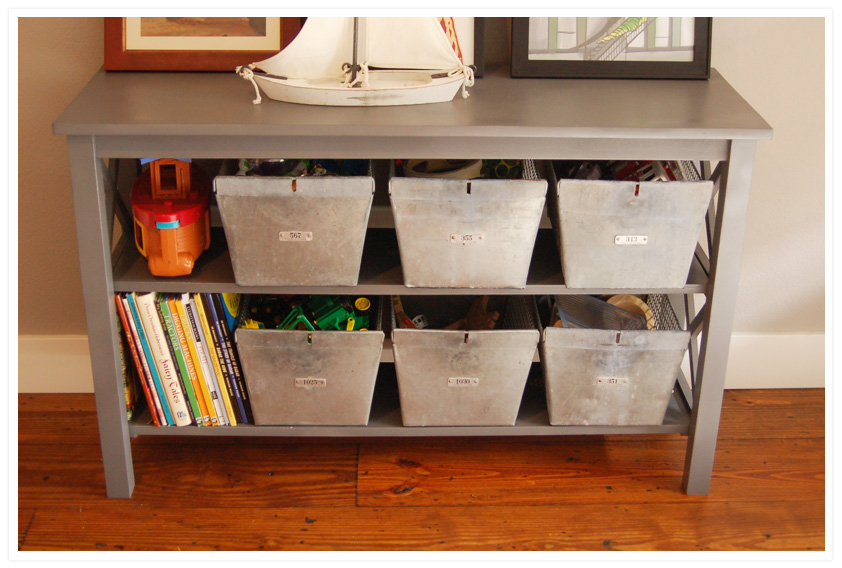 The low bookcase you might recognize from its other life as my National Stationery Show furniture. And, yes, I dumped all his toys off of it again this year and carted it back to New York. Better than buying something new, right? It used to be unfinished wood, I painted it white in 2011 and now it's a lovely boyish-gray and has super cool industrial lockers (found on etsy) to hold all his toys.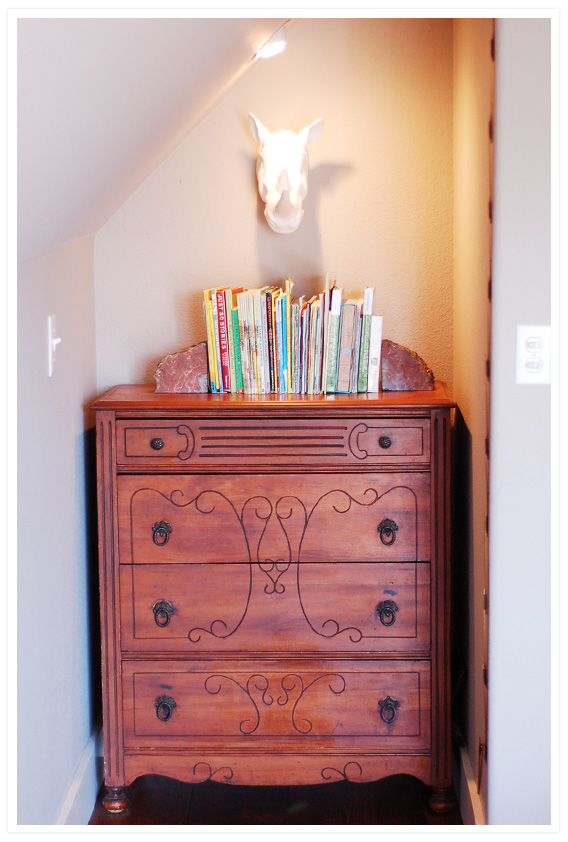 The dresser belonged to my grandmother's mother, it found a home with us after grandma passed away last year. I cleaned it up with wood renewal, and I cannot believe how perfectly it fits that odd little niche in the room. We added a light because it's a pretty dark corner. Books, a mounted plaster rhino (Z Gallerie) and a vintage ruler growth-chart complete the space.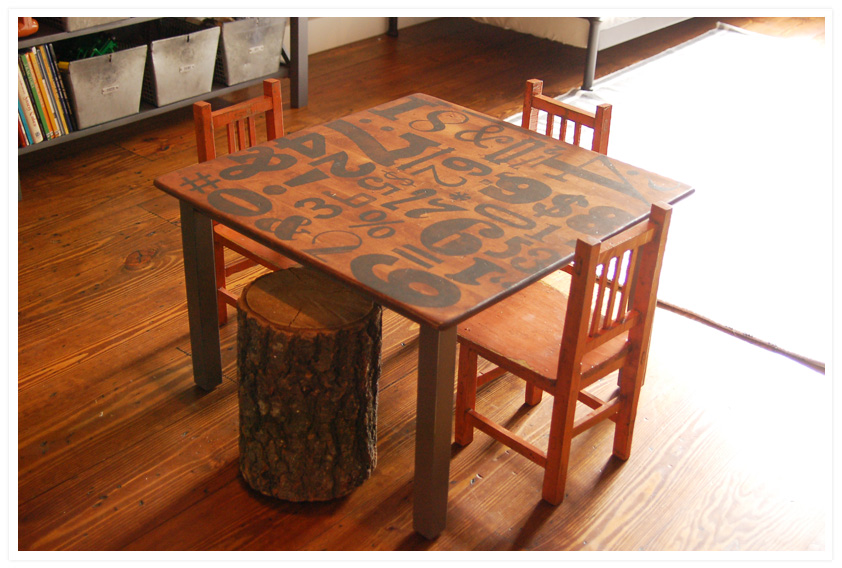 Most of you probably have already met this letterpress-inspired play table (Read all about the DIY here). The chairs were vintage and on sale for a steal at Nantucket Home, but there were only three, so we beefed it up with a fourth seat – an obliging stump from Camp Lassen. Matt did some magicry to the bottom so it doesn't scratch up the floor, you'll have to ask him about it, I have no clue. The stool comes in handy as an adult seat (it won't break on you, now will it?) and also to prop open the door upon occasion.
If this image doesn't give you vertigo, I don't know what will: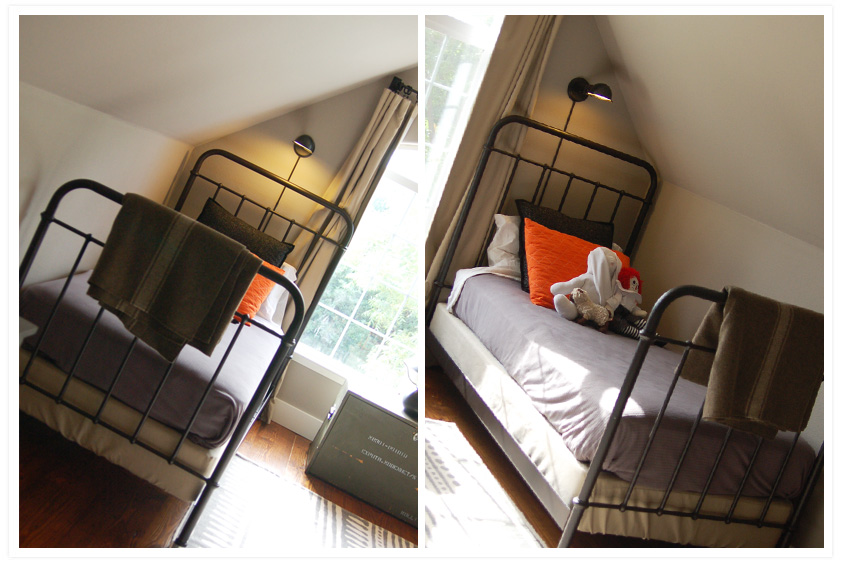 Beds. Side a & side b. Cam sleeps on the left side usually. The beds are from Restoration Hardware Baby and Child (bought on sale, and when it used to be cheaper overall – the price now is yikes!) and the reading lights (which are mounted above the beds but are plug in, not hardwired) are from the same store. The gray coverlets are from Target, $14.99 each. The wool blankets that hang over the edge of the bed are vintage Italian military blankets – $20 each from army navy surplus. We use them on the beds in the winter (and I actually like that look better), but Cam likes to have them available even in the summer (he's super cold-blooded!). Instead of a bedskirt we went with a boxspring cover – makes it SO much easier for kids and tucking and Cam makes his own bed every morning, no joke! It is poetry to go up there and see it made up neatly. A boy after my own heart.
The night-stand is an old army desk. I like that it is wide enough to serve both beds, and that it blocks the bottom of the window (which I sometimes worry about, as the room is on the second floor). We found it at our local Gates Resale – $35 bucks. I have plans to refinish the shelves inside and make it useful storage, but in the meantime it is locked. The vintage railroad lantern is from Ebay and we plan to turn it into a night light. Will share it with you when we do!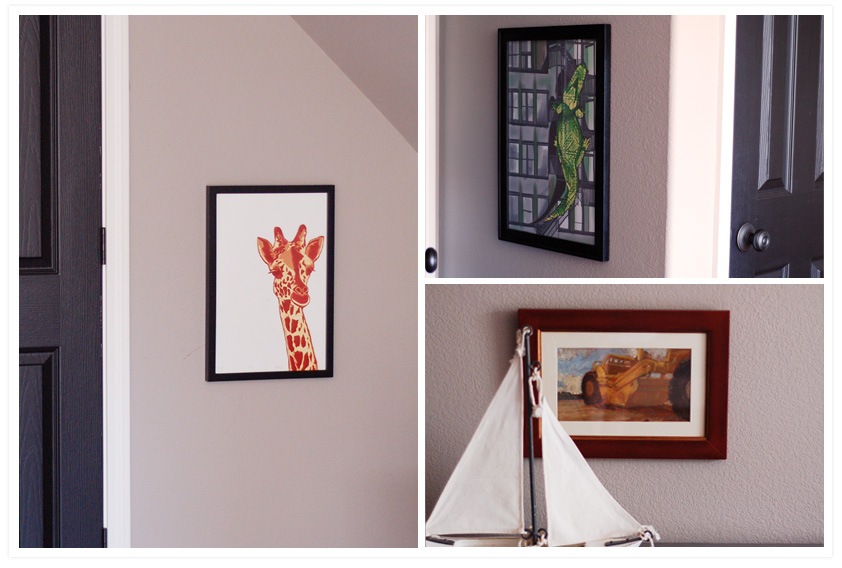 Artwork. I think "real" art is as important in a kid's room as it is the rest of the house. Why buy some large piece from Pottery Barn Kids or another chain store that every other child will have and has no special meaning? The giraffe print is a 4 color linoleum block reduction (which is the most AWESOME letterpress process) and was a gift from our letterpress friend Mary Bruno. I'm not sure if she has anymore left (limited edition) but you can always ask! The alligator print is a digital illustration from the series "Animals are Everywhere" by my talented friend Nicole of The Nic Studio. I saw this in her booth at NSS this year (we were neighbors) and I just HAD to have it. If you can't tell, it's an alligator hiding in a NYC fire escape (reminds me of West Side Story). I love that it's "hiding" behind the door when it's open. You should see the other animals in her series! Lastly, the small oil painting of the road-grader we found while browsing the El Rastro flea market in Madrid. Nothing says "Cameron" like an oil painting of a tractor. 🙂
Other bits and pieces…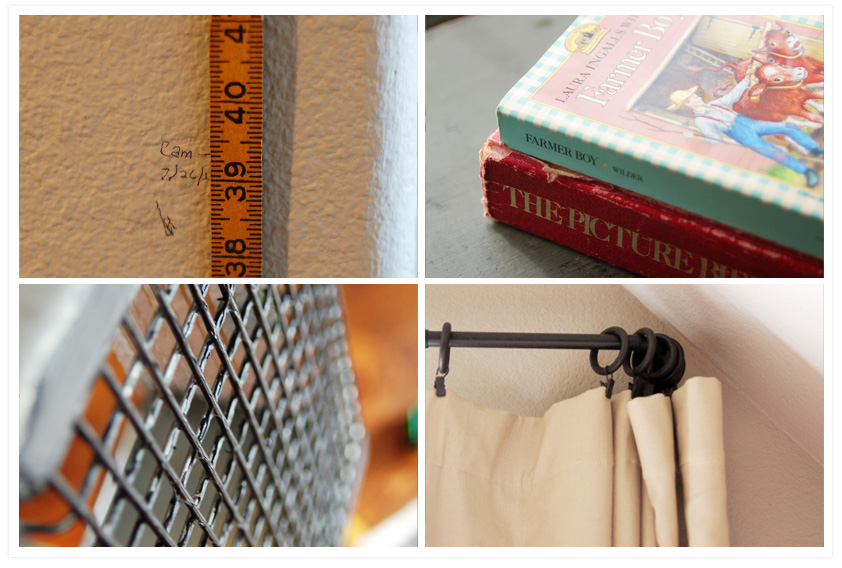 Books we're reading right now: Farmer Boy and the Picture Bible. Scratch that, we finished Farmer Boy yesterday and have moved on to Little House on the Prairie. Yay for reading! The drapes are cotton canvas and are blackout-lined. This was a really a must as the bright morning sun shines straight in that window. I mean, just how early did we want to be awakened? I dipped the bottom of the locker baskets in plastidip. It would have worked better and looked smoother if I had bought a larger container of the stuff, but so far I am pleased with the rubberized bottoms. We tacked an old wooden folding ruler up on the wall to serve as a growth chart. I zig-zagged the bottom so as not to interfere with the baseboard…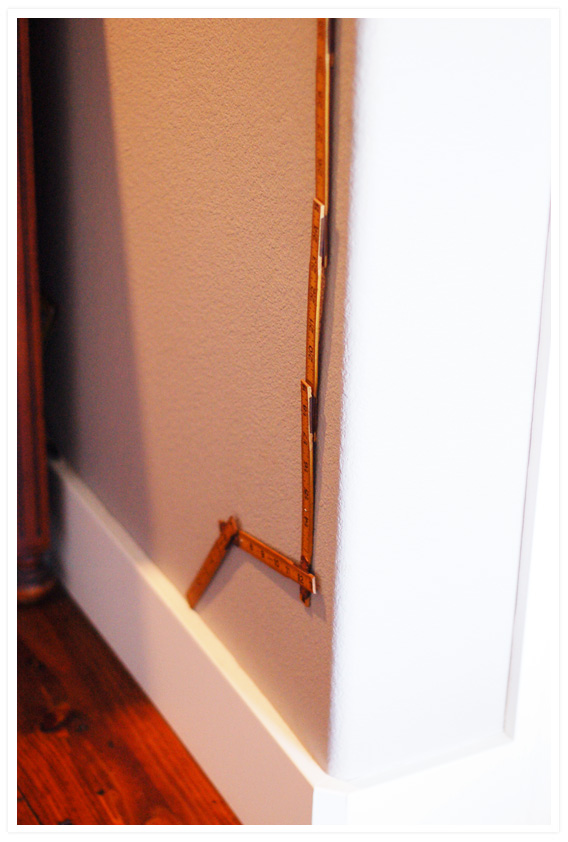 You can find old folding rulers anywhere really, but I bought mine off of Etsy.
I'll leave you with the boy at play – and in his jammies, no less: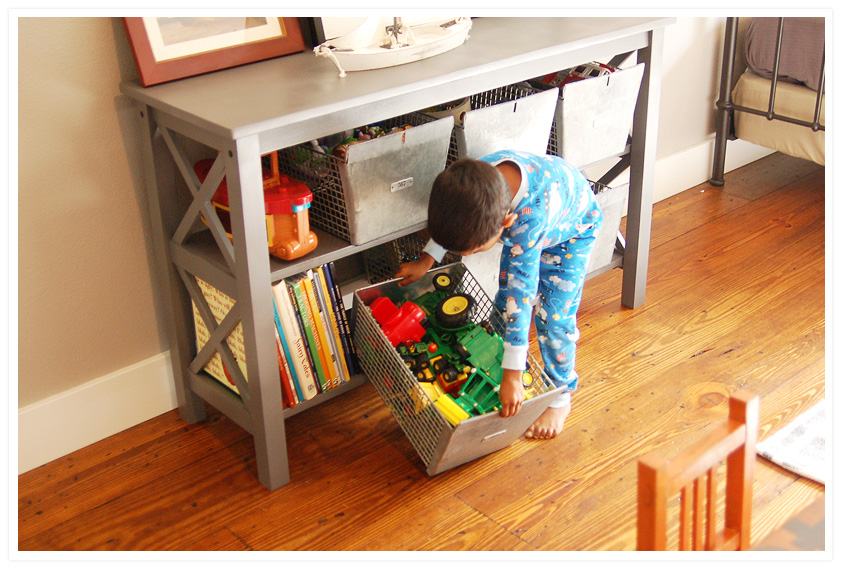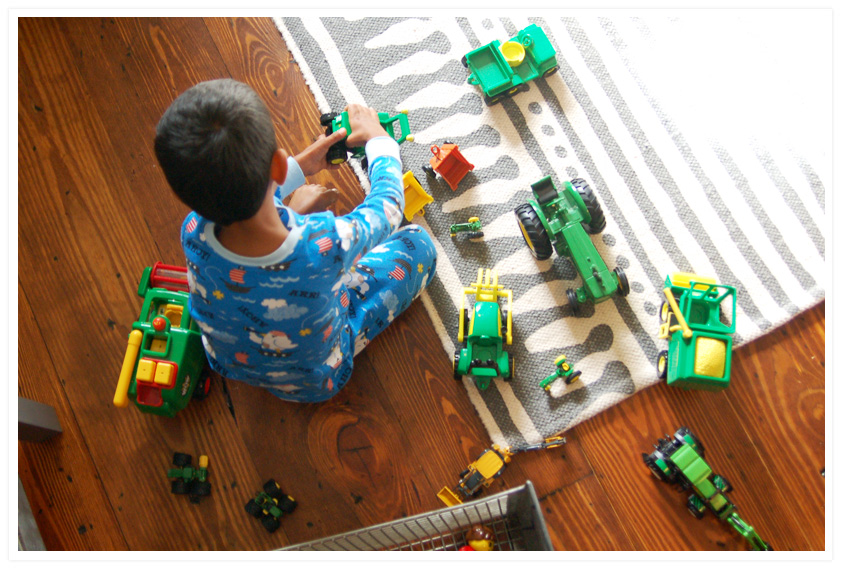 I'm going to call operation big-boy room (while still ongoing) a success.
But wait, here's a break-down of sources:
Paint: Benjamin Moore Silver Fox (ceiling and slanted walls are a half-tint, yes, I know they look the same but they are a lot lighter)
Flooring – Lumber Liquidators Wide Plank Yellow Pine, 9″ ($1.59 per sq ft)
Stain – Custom mix
Baseboards – 1″ x 5″ pine, no bevel, painted white
Beds – RH Baby and Child Millbrook Twin (purchased on sale)
Wall Lights – RH Baby and Child Academy Task Sconce
Nightstand – Army desk from Gate's Resale (local)
Rug – West Elm Rajasthan Stripe 5 x 8 (no longer available, sorry!)
Curtains – Pottery Barn Flax Linen Blackout Drapes
Curtain Rod – PB Essential Drape Rod
Blankets – Target
Wool Blankets – Army Navy Surplus (Italian military)
Rhino Head – Z Gallerie
Bookcase – Target, then painted (no longer available from them, but you can find it here for cheaper)
Toy Bins – Vintage Locker Baskets from Etsy
Growth Chart – Vintage Folding Wood Ruler from Etsy
Play Table – Amazon 30″ play table (originally plain wood, diy stained and finished by me)
Dresser – Antique hand-me-down
Orange Chairs – antique – from Nantucket Home, locally on clearance
Stump – Camp Lassen (free)
Art: Friends and flea, as mentioned above.
I think that's it, folks! Thanks for taking a look at our work in progress. In other news, Lance will be moving up to the big-boy room to share in a month or two. The boys can't wait to be together! Oh, who am I kidding? Sometimes they can't wait to be together. Sometimes they want to kill each other. That's why sharing is so important!!