This summer I have been craving freshness. Perhaps because it's been so hot lately, perhaps because I'm trying to drop the freshman sophomore mid-marriage fifteen that have crept up on me since the boys came along, but whatever the cause, my summer mantra: fresh, fresh, fresh.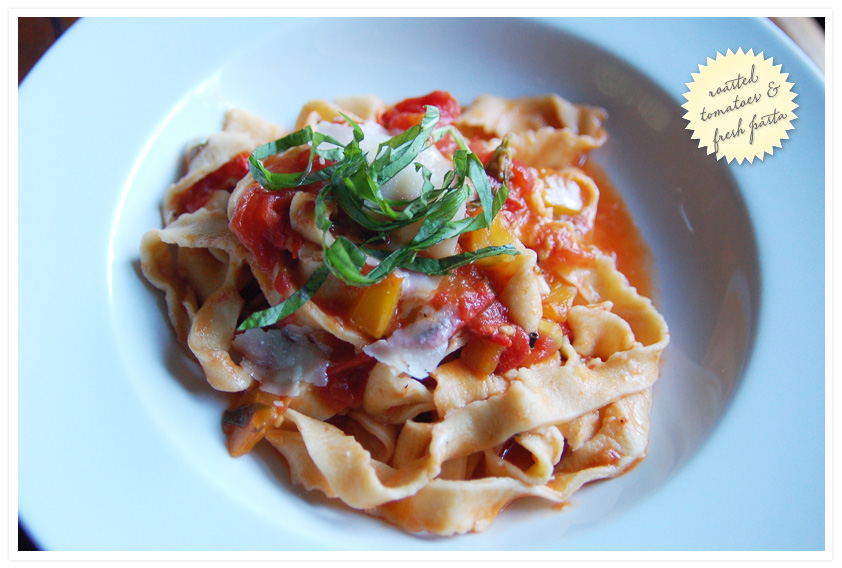 I also have been craving simple (fancy that). So, last week I threw this dish together from my garden and my kitchen, and guess what? Even the kids loved it!! If you have an abundance of tomatoes, I swear you will have all the ingredients!! The entire thing is from scratch – but guess what? It's not hard. At all. Trust me, I made it with two kids hanging on me the whole time (Matt was gone at worship practice).
Here goes.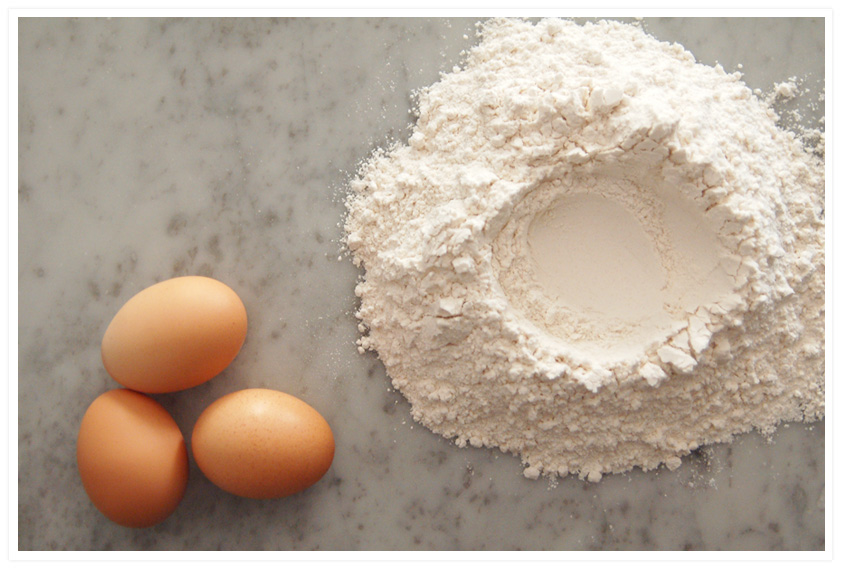 You're going to make fresh pasta. Don't be scared. Did you know fresh pasta is easy to make? For Christmas I received a KitchenAid attachment that rolls it out/ribbons it for you, but today we are going to make the dish with a countertop and a rolling pin. So simple.
Start with a well of flour. The rule I've heard is about 3/4 cup of flour per large egg. I like to do a three egg pasta because it seems to make about 2/3 of a lb of pasta (and I always seem to use 2/3 of a box of grocery store pasta, so no waste).
Crack one egg at a time in the center of the well…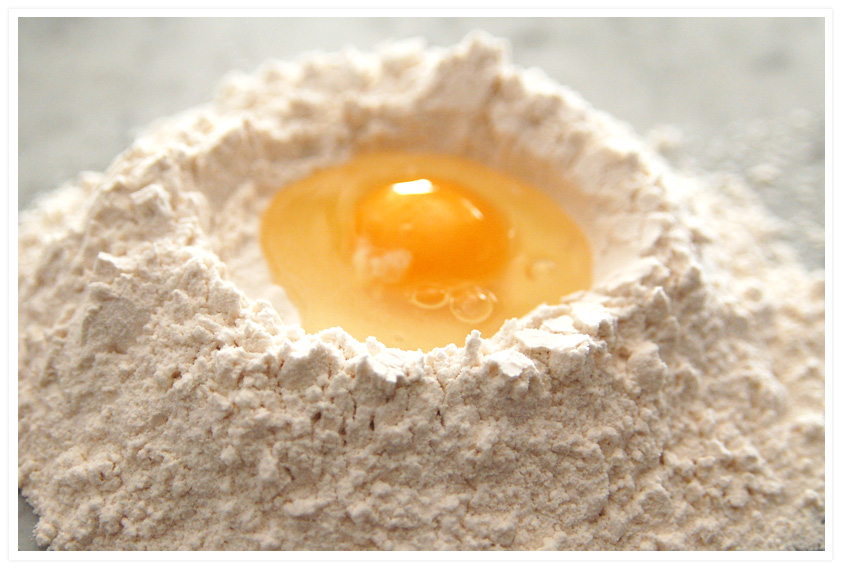 Mix it right on your clean countertop. Less dishes! Use a fork and work from the outside in: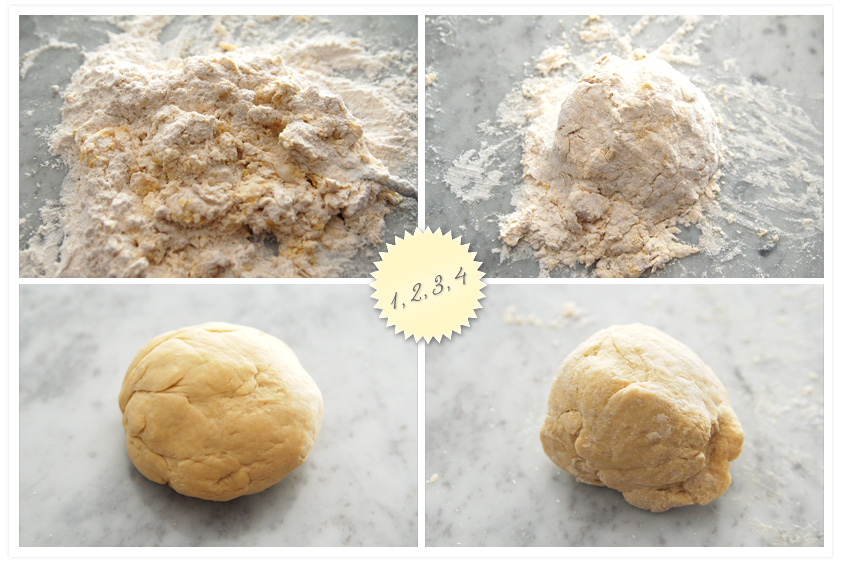 Knead it for about 7 minutes, and then let it rest for a half an hour.
In the meantime, gather some tomatoes: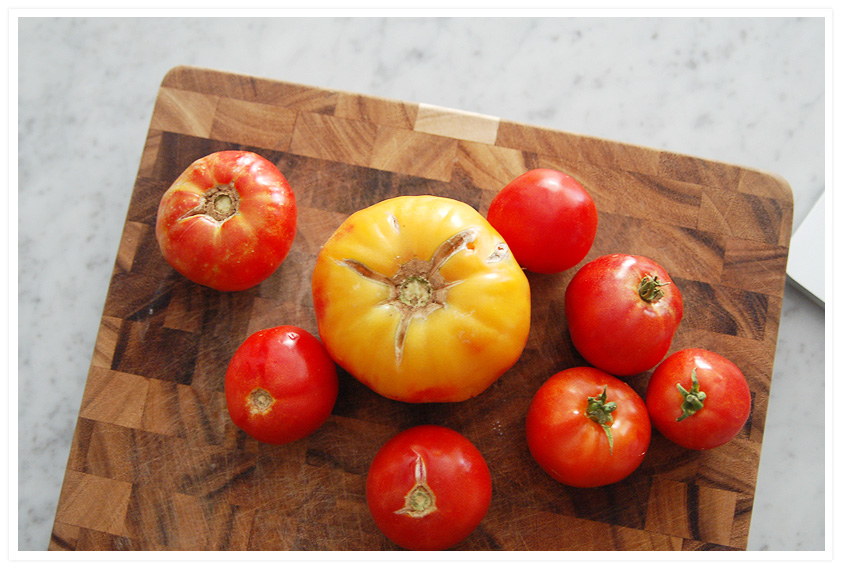 These are all from my garden. That yellow heirloom (Striped German) in the middle is my pride and joy. So good, and HUGE.
Chop them up, together with fresh Basil (also from the garden, of course!) and a glug of olive oil, plus salt and pepper: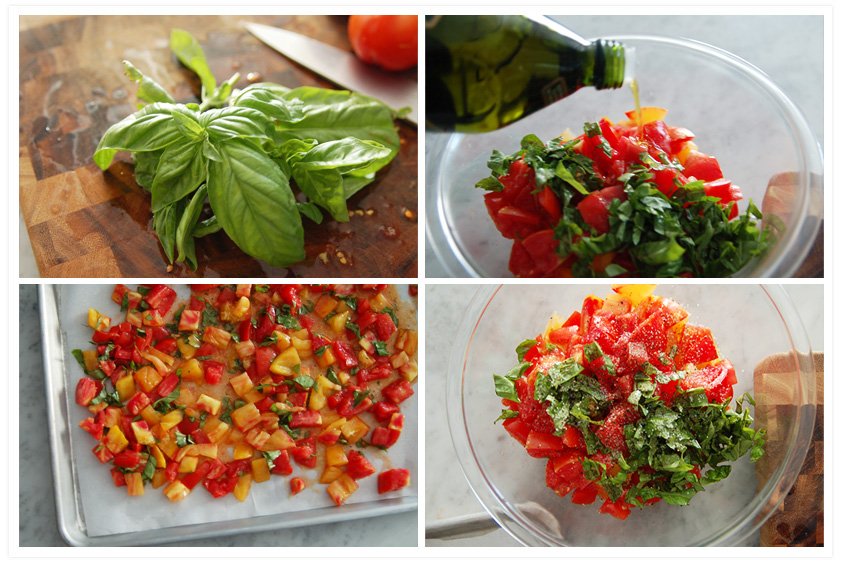 Spread that out on parchment-lined baking sheet, and roast at 450 degrees for about 20 minutes. Pssst – I have a convection oven, so maybe 25 degrees higher in a standard oven?
Now you can roll out your pasta dough…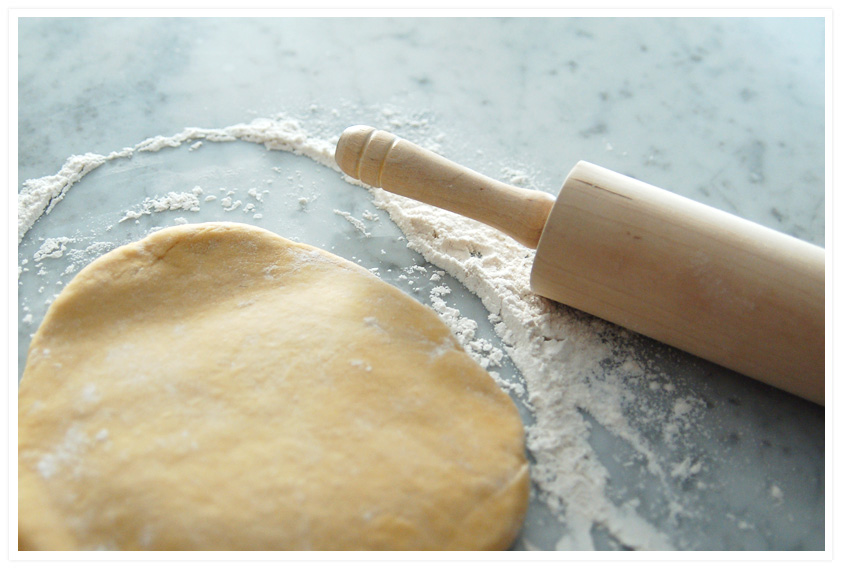 I'd say roll it out as thin as you can. I did 1/16 of an inch, but I could have easily done thinner, and I think it would have been even better thinner as the pasta plumps upon cooking.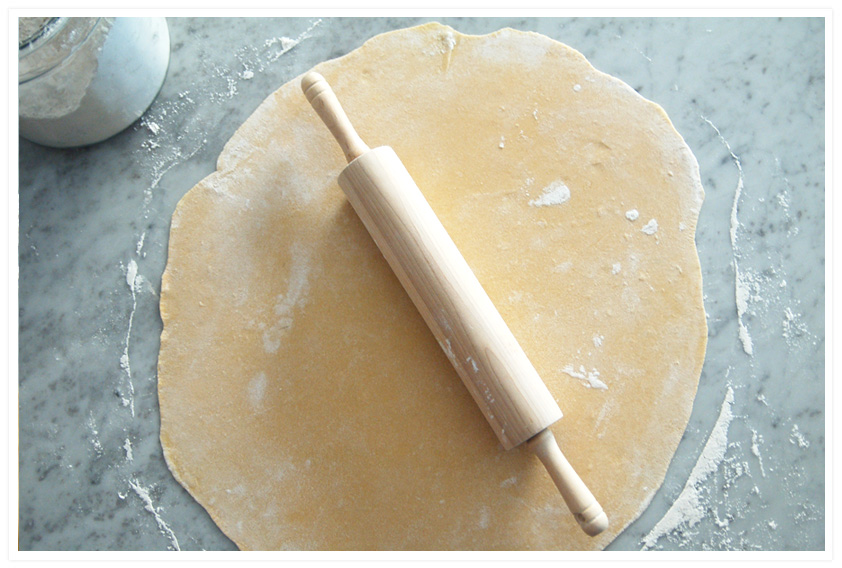 Roll it up and slice it gently: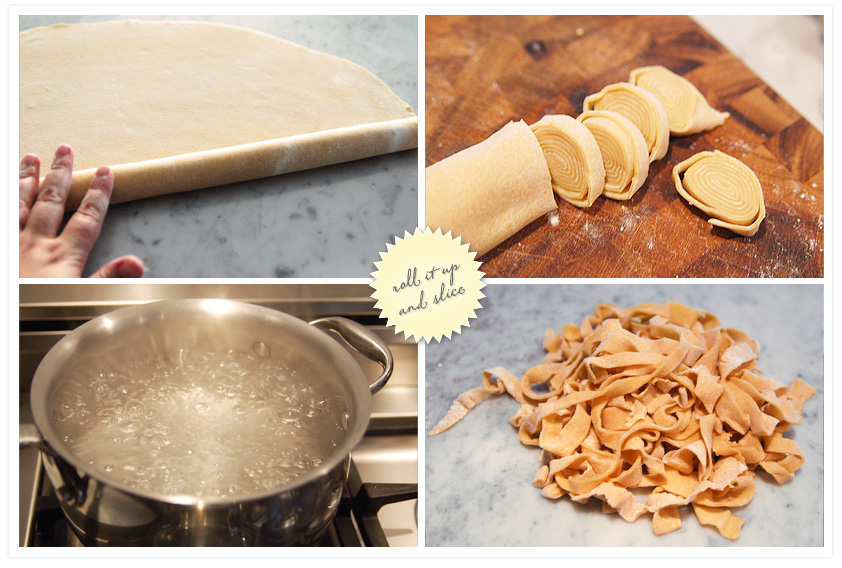 Et Voilà! A pile of fresh pasta in no time. Right before you wish to eat, add it to a pot of boiling water. It only takes 3-5 minutes to cook!!
Let's just say the camera was missing for this last part, but I took the roasted tomatoes and added in a couple of fresh chopped tomatoes (so you got the umami-roasted taste and also that fresh bright acidic tomato taste) and a small bit of marsala (any red wine would do, though) and shaved parmesan. Toss it with the pasta and that's it!!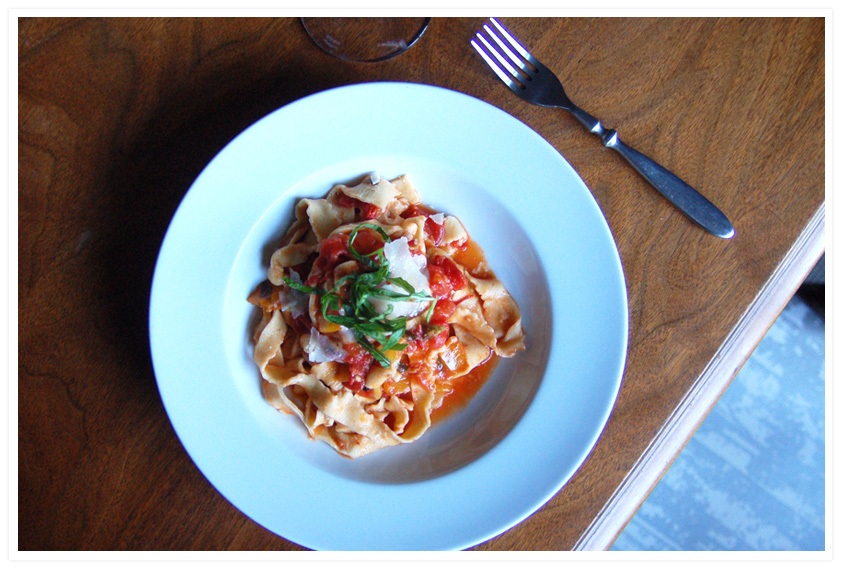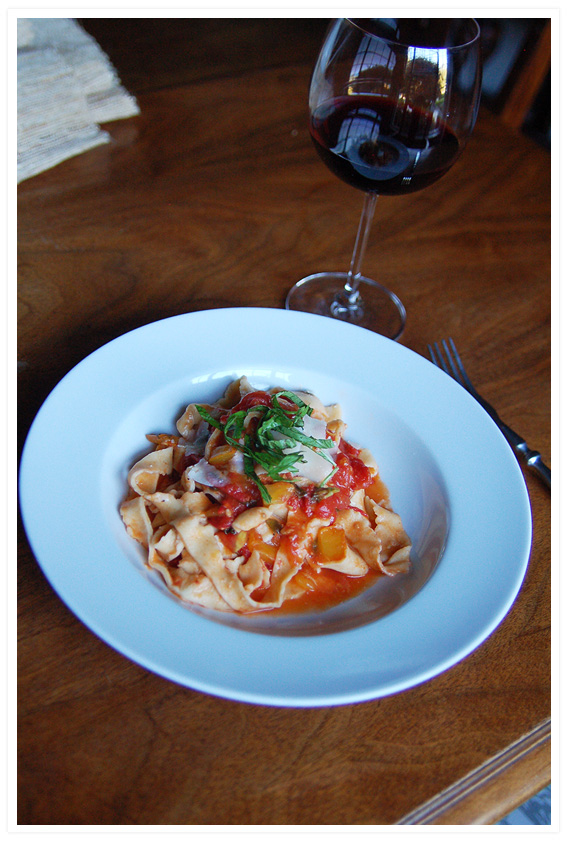 The kids LOVED this dish. Seriously, loved it. I have one non-eater (and one eat-anythinger, they come in pairs), and they both devoured the pasta.
Have a look: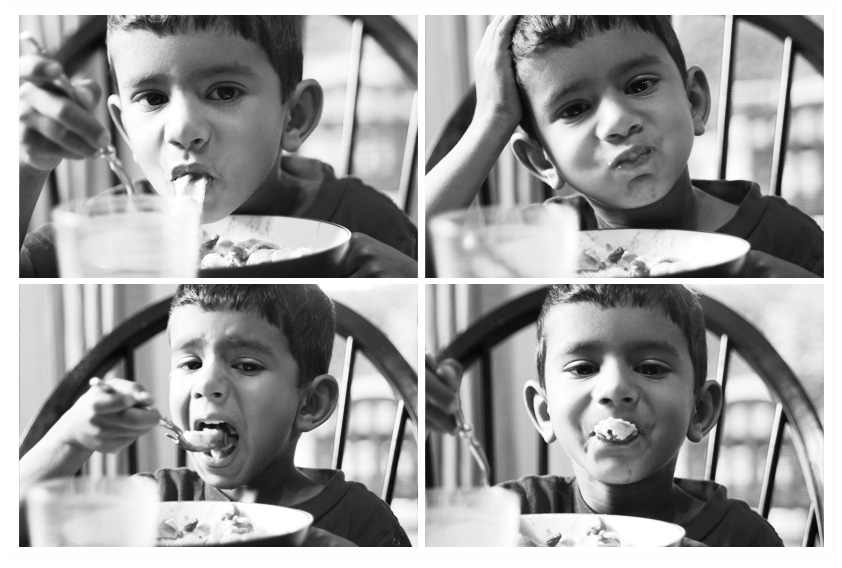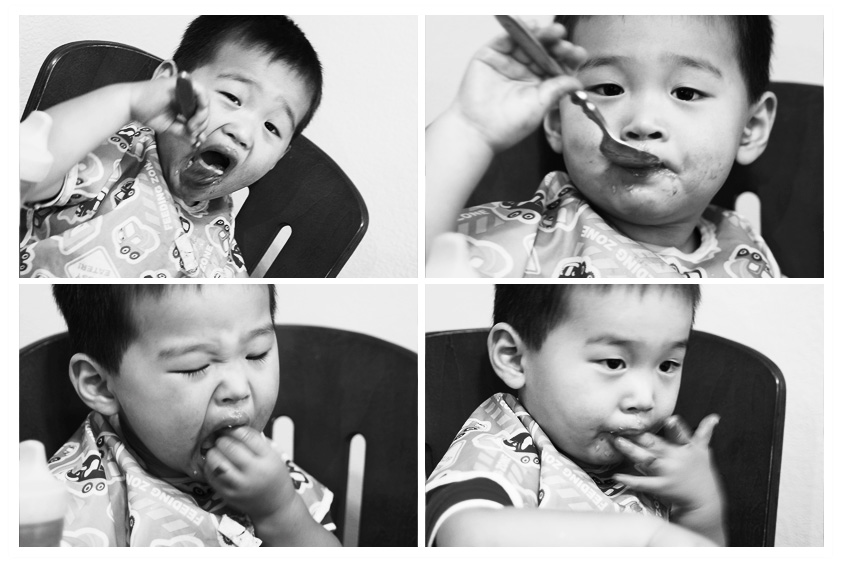 Pure tomato-ey bliss.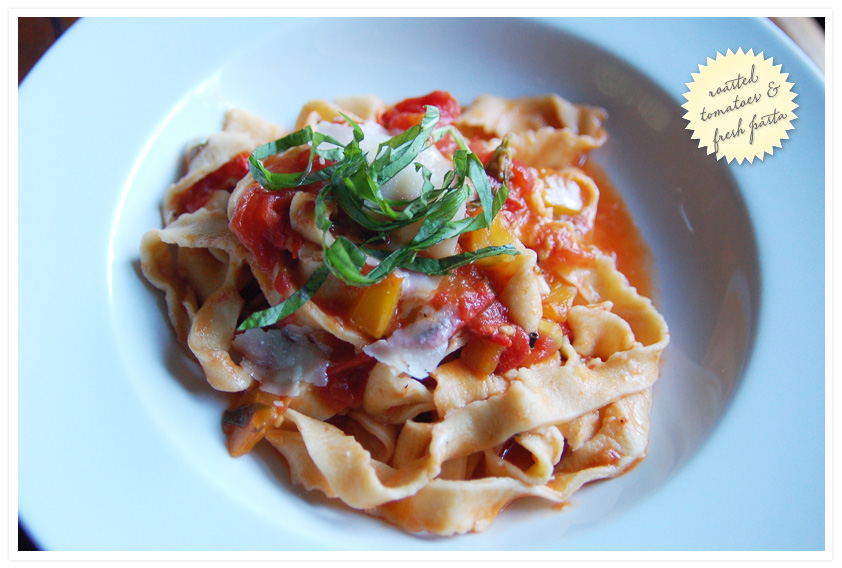 AAAND this qualifies for our Dinner on a Dime series!
How much did this cost us, folks?
Flour, 2 1/4 cups: about $0.25
3 Farm eggs ($3 per dozen, you can get grocery eggs cheaper, I'm sure): $0.75
Salt
Tomatoes: free (garden!)
Basil: free (garden!)
Olive oil: One glug? we're not going to count this. Impossible to tally.
Salt and Pepper
Parmesan Shaved: about $0.50 worth
So, $1.50. Comfortably feeds 4.$1.50!!
So here's my advice. Think you can't afford a nice steak or wild salmon? One or two nights of this recipe or similar (instead of your standard ground beef or chicken breast) and you've saved enough to have that delicious splurge meal too. Eat better, eat smarter, eat fresh!!