Three fantastic years.
This month is my three year bloggiversary – my first post was here (August 2009). I may not be the most frequent blogger in the world (daily posting is just not going to happen), but I have blogged consistently for 36 months. With 100% my own content, I might add (this not a "reblogging" or "product marketing" station). It's just been us, our kids, our letterpresses and our love of diy, home dec, food and community.
I created a little photo montage of the 36 months of blogging, and honestly got a little teary-eyed about it. I believe that having this outlet has made me stretch myself more creatively – take better photos, see more projects through, and think outside the box. And I've gotten to meet incredible readers (that's you guys!) and participate in life experiences I might never have had otherwise. Going on the Nate Berkus Show? Being in Cottages and Bungalows Magazine? Meeting spectacular brides and clients who find my work through the blog? All of that was because of this puny little blog. I've met readers in real life and become friends with them (who says the internet is superficial?), and have also become friends with people I've never even met. Great folks.
Year one was a little introduction into who we are and what we love to do: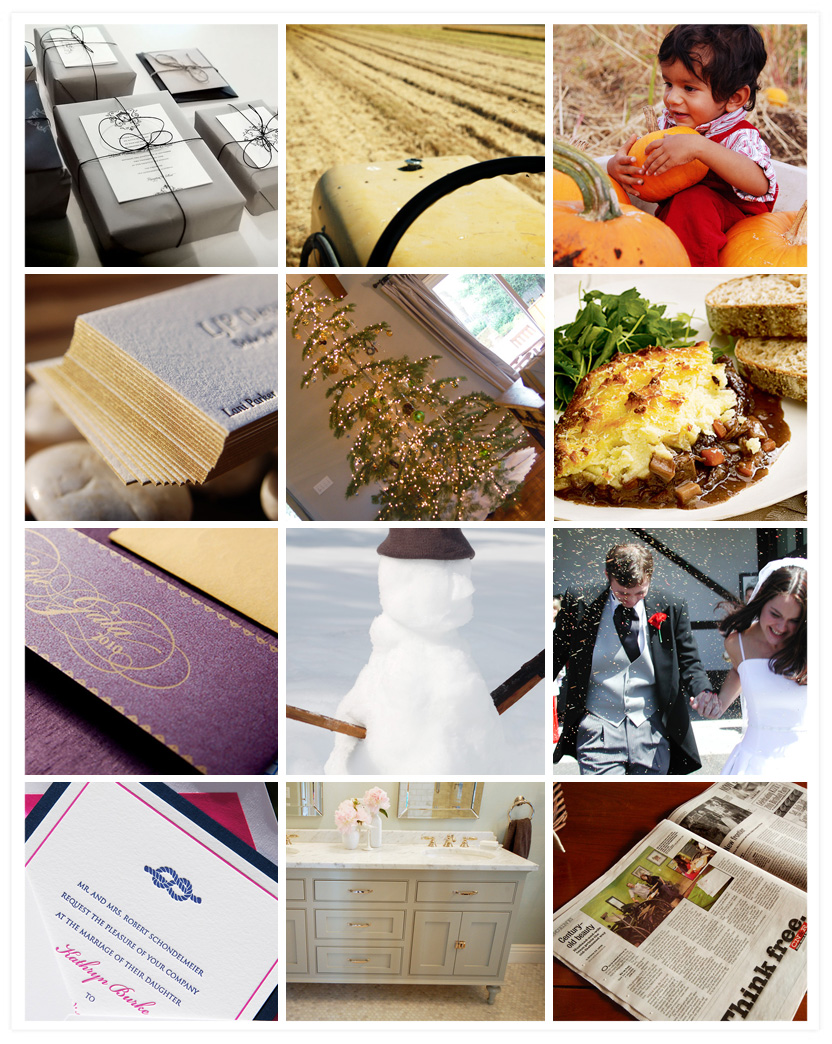 Left to right from top left: August 2009 (Black and white), September 2009 (Harvest), October 2009 (Pumpkin Patching), November 2009 (On the Edge), December 2009 (Sparkly and Natural), January 2010 (Shepherd's Pie), February 2010 (A Gala), March 2010 (The End of Winter), April 2010 (Crazy Eight), May 2010 (A Nautical Affair), June 2010 (Master Bathroom FAQ) and July 2010 (We're totally famous now).
Year two had some amazing life changes. New family, big travel, and major Wild Ink Press expansion: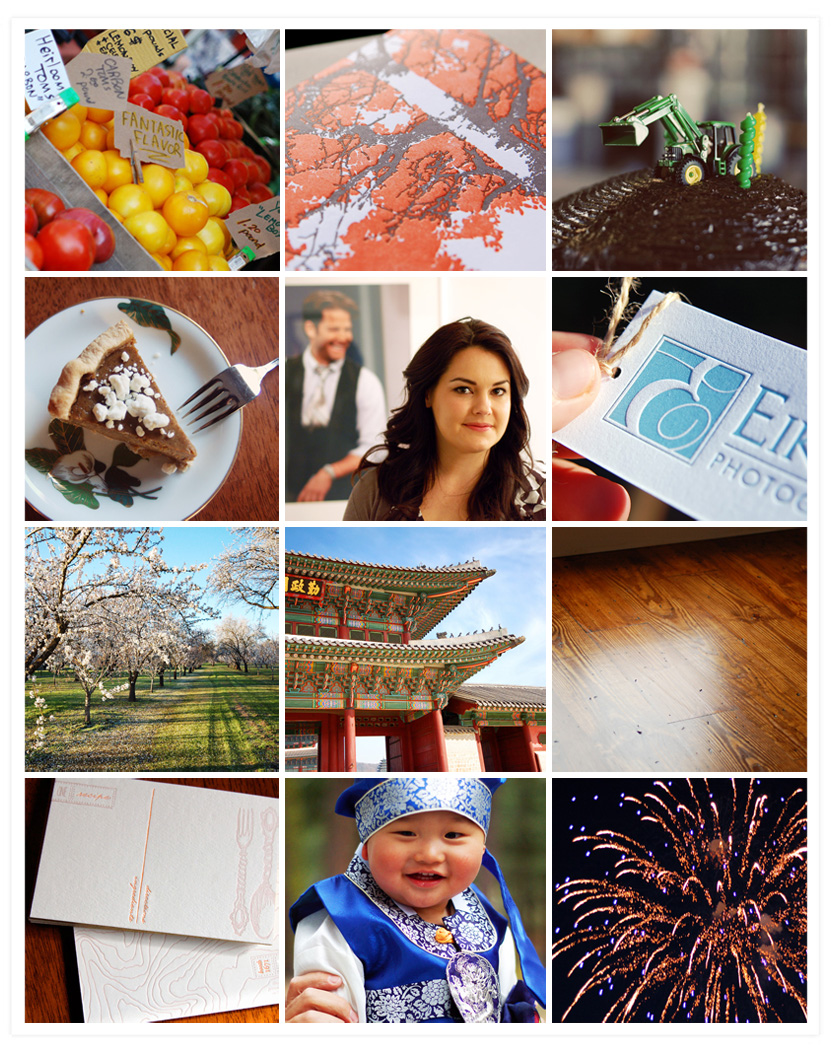 Left to right from top left: August 2010 (Farmer's Market), September 2010 (A hint of Autumn), October 2010 (Tractor Birthday), November 2010 (Peter, Peter, Pumpkin Eater), December 2010 (Nate Berkus), January 2011 (Tag, you're it), February 2011 (A new season), March 2011 (There and Back Again, Korea Edition), April 2011 (Oiled Floors), May 2011 (Booth 1671!), June 2011 (Dol), and July 2011 (Red, White & Blue).
Year three has been the busiest, and one of my most creative yet: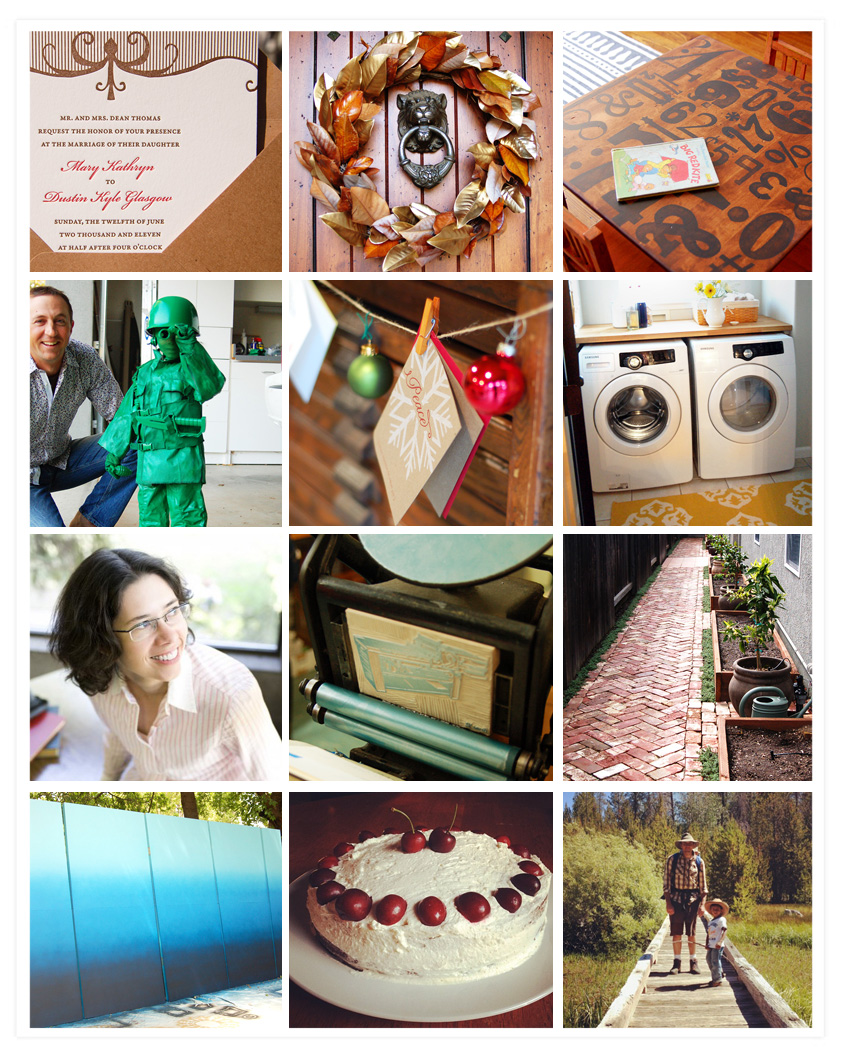 Left to right from top left: August 2011 (Vintage Wedding Suite), September 2011 (A Magnolia Wreath), October 2011 (DIY Play Table), November 2011 (Toy Army Guy), December 2011 (Holiday Open Studio), January 2012 (Laundry Room), February 2012 (A New Assistant), March 2012 (All-Star Printer's Day), April 2012 (Side Yard to Garden), May 2012 (An Ombré Booth), June 2012 (Roasted Cherry Chocolate Cake), July 2012 (Pacific Crest Trail).
There's more, there's more, so much more! It's all in the archives.
And Year Four of blogging life's little moments? A recipe, a diy project, a family moment, a letterpress goody? Bring it on. I'm ready!
But you, my friends. You are one of the main reasons I have this blog (what's a blog without friends, family and other fun readers?) So, on this fine bloggiversary we are going to be celebrating with a giveaway – three readers will win themselves some letterpress stationery! You have pretty good chance of winning – with my recent postless month, I'm sure the number of you following this has dwindled. All you need to do is leave a comment (how about how you came to find the blog? I love to meet people) and you will be entered to win! There will be three winners. Winners will be chosen randomly using random.org. Contest will close on Friday, August 24 at midnight and I will announce the winners on Monday, August 27. Best part about the stationery? You get to pick it – $50 worth of any combination of our note cards or greeting cards. How is that for fun?
Happy Monday. Hope you're having a great week!