Happy Friday, folks! My series of "new at the show" got a bit derailed, to tell you the truth, I have even more new cards to show you, but that was all I found time to schedule on the blog before dashing off on our flight to the National Stationery Show. I was literally typing as Audrey showed up to drive me to the airport, and she had to tear me away from the computer. 😉 Then, we returned home a week later and post-NSS exhaustion sinks in. No really, it's medically diagnosed, look it up. A large group of us are recovering from it right now. But look for the rest of the new line here on the blog soon, okay?
However now… it's time for the 2012 show recap!! We flew in Thursday night to NYC (I had done the red-eye the year before and decided that is best avoided if at all possible). Friday morning bright and early we headed over to the good-ole' Javits Center and there waiting for us was booth 1971: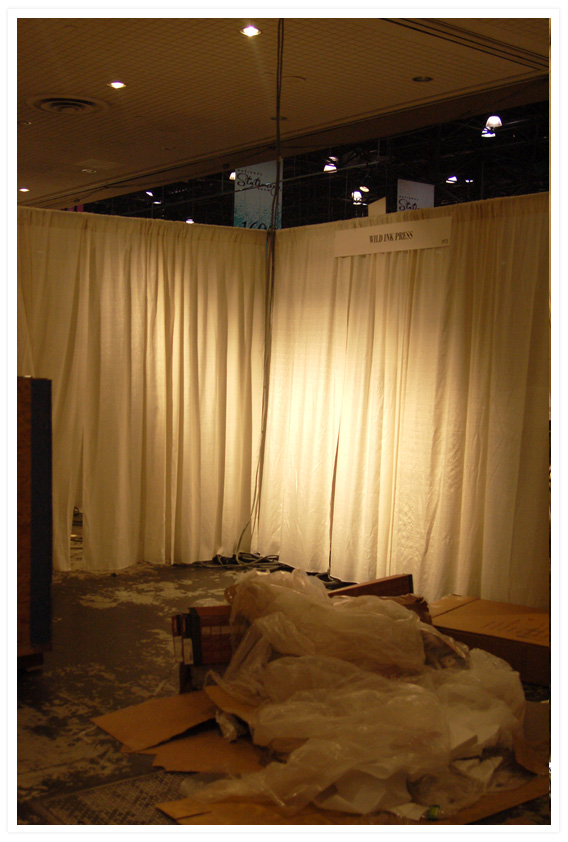 Looks similar to last year's blank space, yes? Except this year we had an extra shiny little pile of trash to greet us also. The Javits during set-up and tear-down is a messy, messy place.
Anyhow, all-woman power and Matt's excellent planning took the booth from that, to this: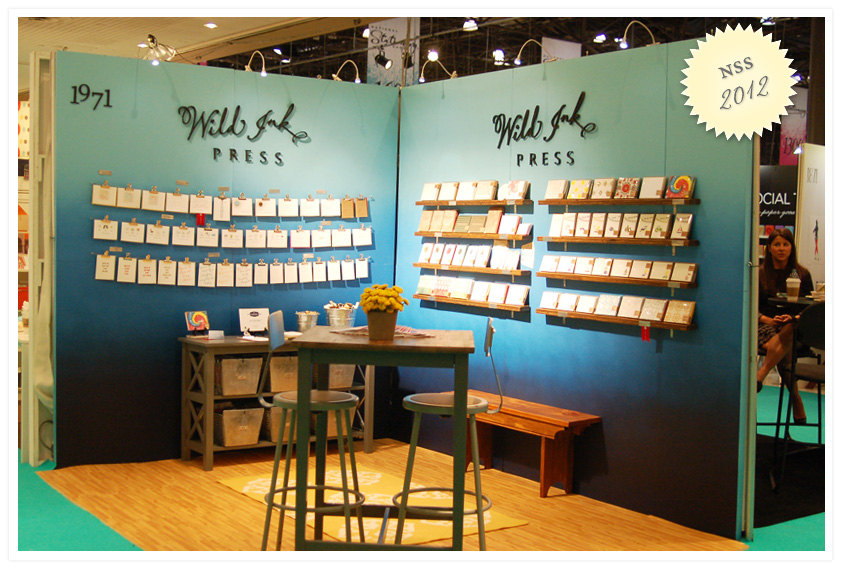 …in no time flat, really.
But wait, I'm a process person, right? I wouldn't let you sneak away without showing you a bunch of in-between shots. 😉
First, we unpacked our crate and put up the walls. Ombré this year. Same plywood and system as last year, just new paint. Reduce, reuse, recycle.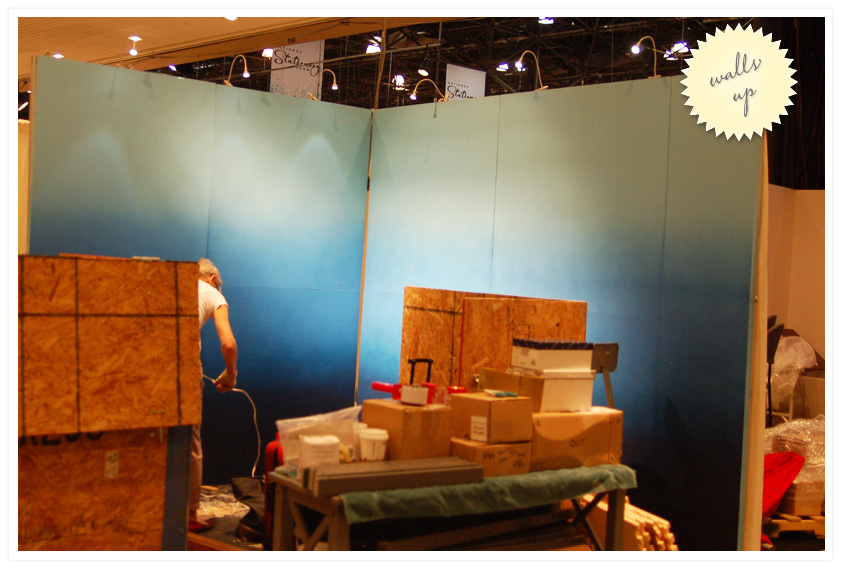 It's always a good feeling to get those walls up.
Our card display system this year included picture wire (Audrey's genius idea) and plywood shelves…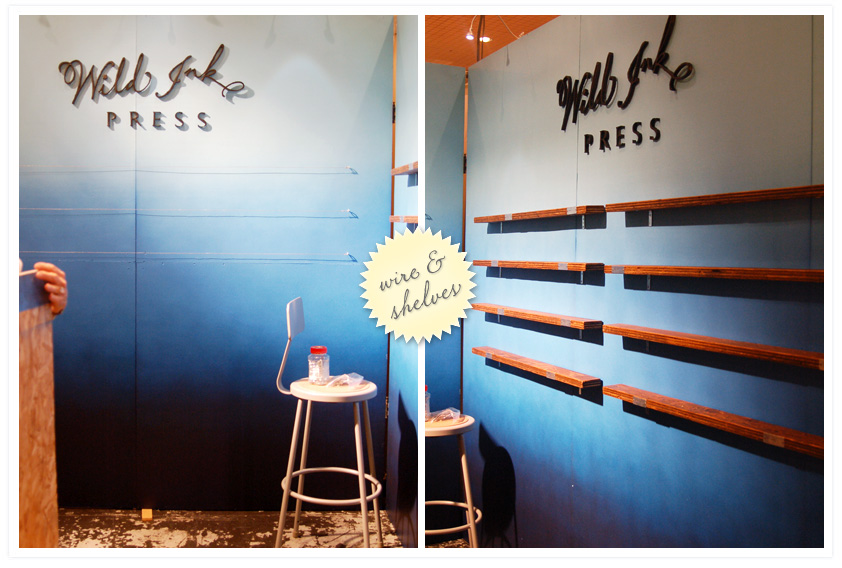 I had repainted our laser-cut logo from gold (last year) to Oil-Rubbed Bronze.
Our furniture was from the previous year also. They had been painted white, but I stripped our table-top and stained it, painting the legs gray (similar to this letterpress-inspired play table). We discovered on reassembly that a crucial piece of hardware was missing. Amazingly, we successfully jury-rigged it with a bolt from our crate: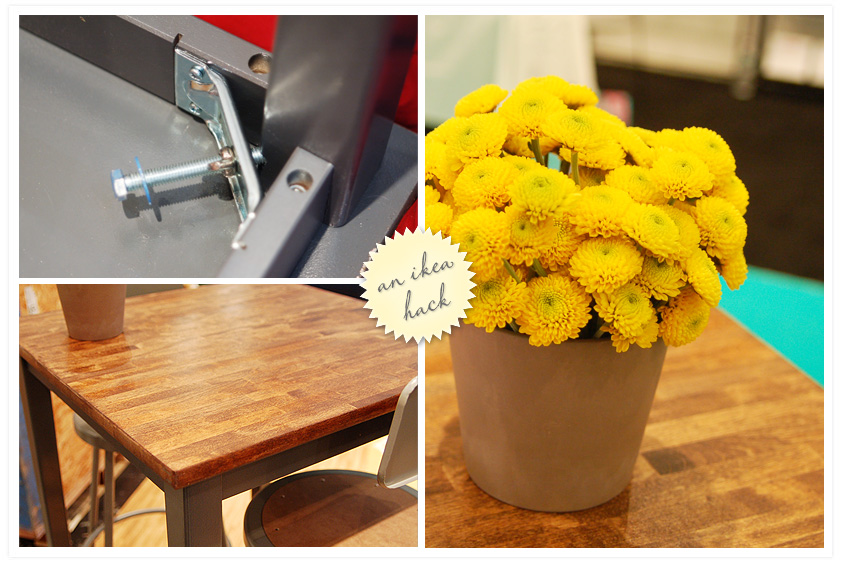 The table is counter-height, and was originally from Ikea. I think the stained top came out warm and lovely. I kinda wish I had a place to use it during the non-tradeshow rest-of-the-year at my house.
I had also repainted the "X" wood console (which has been in Cam's room all year, and will return there). Instead of the woven baskets (which are holding dry-cleaning and other such things around our home now), I used vintage metal lockers that we had already. You'll see them again if I ever show you the big reveal of Cam's finished bedroom. If it ever actually gets done. Hm.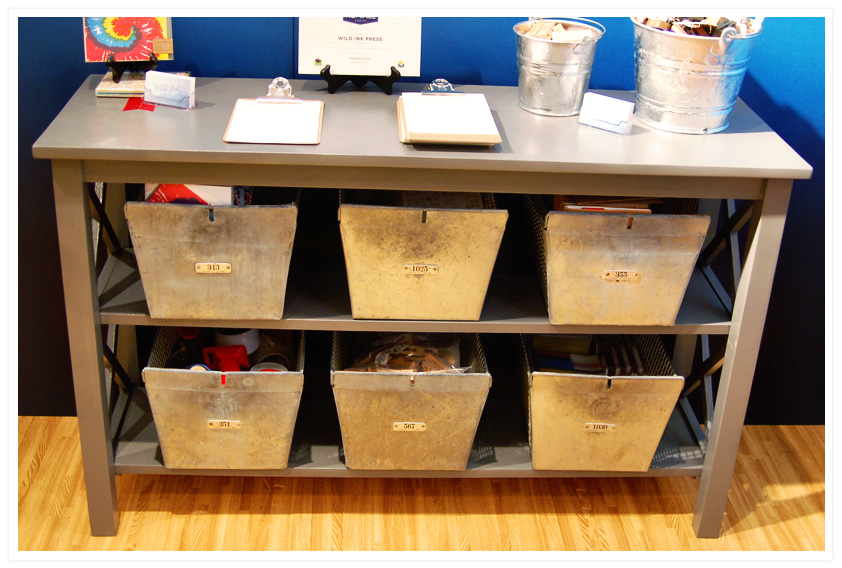 Here are other little booth details: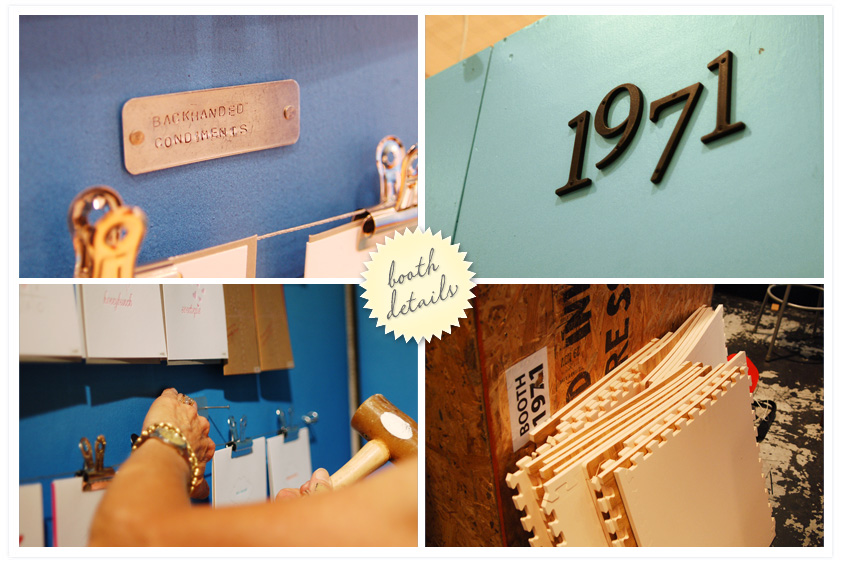 Above, clockwise from top left: metal tags to label our collection, regular hardware store address numbers, new foam flooring (which was light-weight and awesome), and last minute hammering. True fact: whenever you hammer at the Javits, some big burly union-type fellow walking by will say "knock, knock" loudly. It can be a bit intimidating, because I know we're not *supposed* to use any tools. But they never really bugged us beyond that.
So, we hung all our cards on Saturday (the second set-up day), and the booth was ready to go: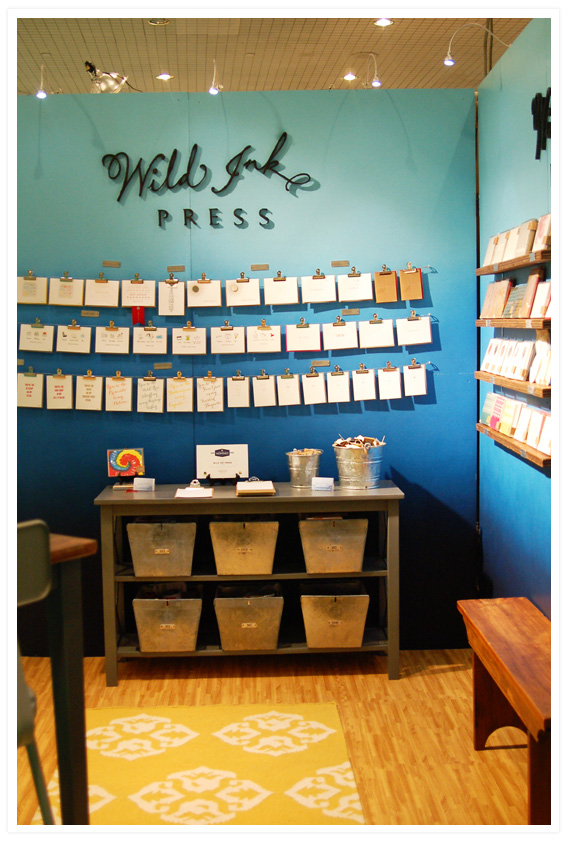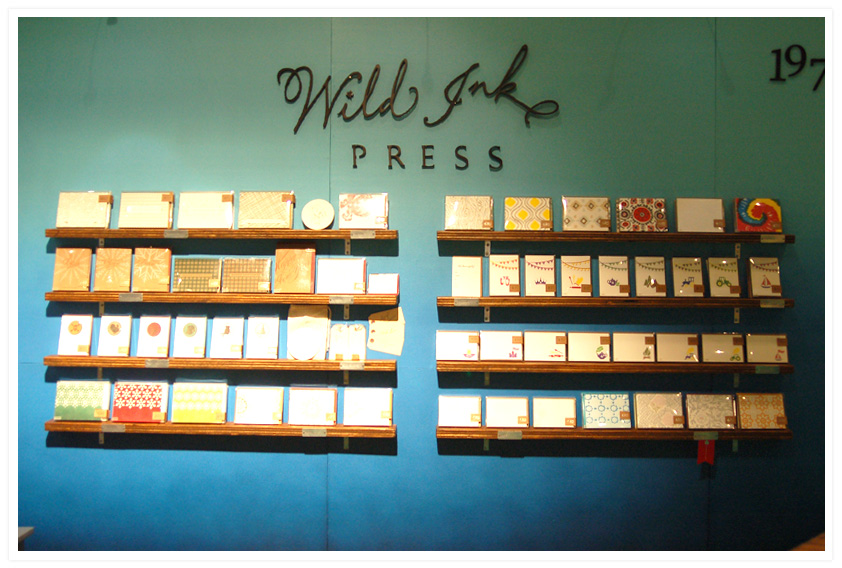 We had singles hanging on one wall, boxed sets on the other. I liked that definitive organizational system.
Here was our booth giveaway: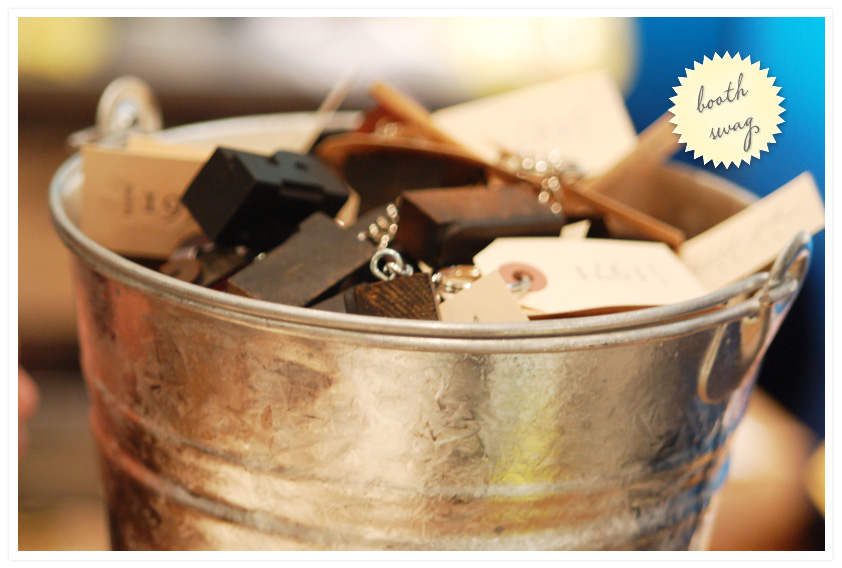 Vintage wood type we turned into key-chains. Don't worry, this was from a small, pied-type collection of numbers, a few letters and figures. Not breaking up an alphabet or anything! (Lest any die-hard printers should jump on me at this point) Plus, anyone could have easily unscrewed the key fob and used it print again. It was a very popular item, let me tell you! And it was fun to watch people sort through the pile and find their perfect number or initial.
Next, I've been accused (you know who you are) that I don't put enough photos of myself up on this-here blog. Ahem. So here's one of me at the start of the show on Sunday…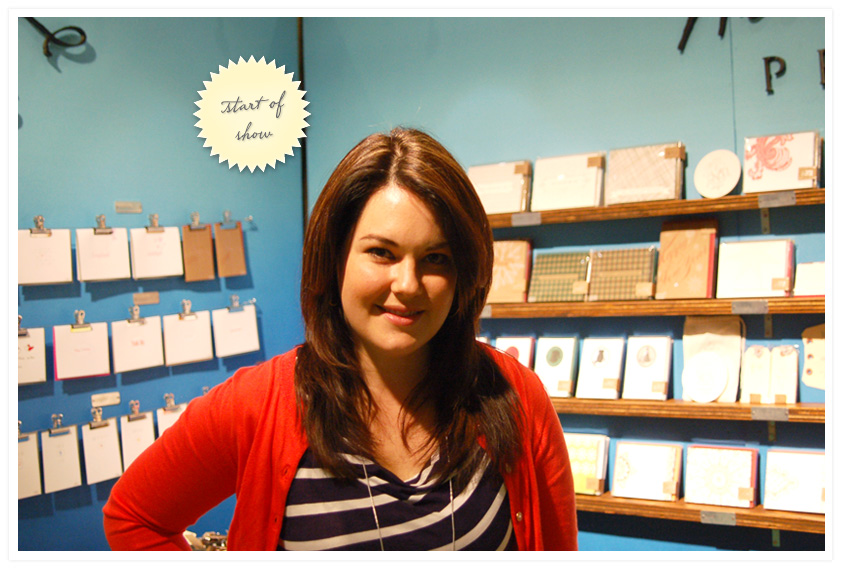 If I look like a dazed deer in the headlights, that's because our parcan light is very, very bright and very, very hot.
We were in aisle 1900, AKA letterpress row, and it was very, very awesome: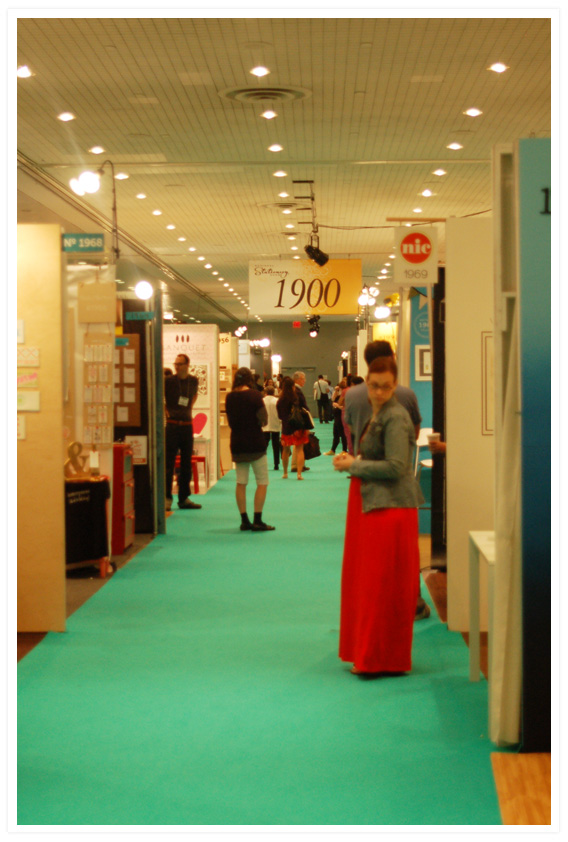 Our booth neighbors were all incredible, and because of twitter (and the previous year's show), they were all like old friends: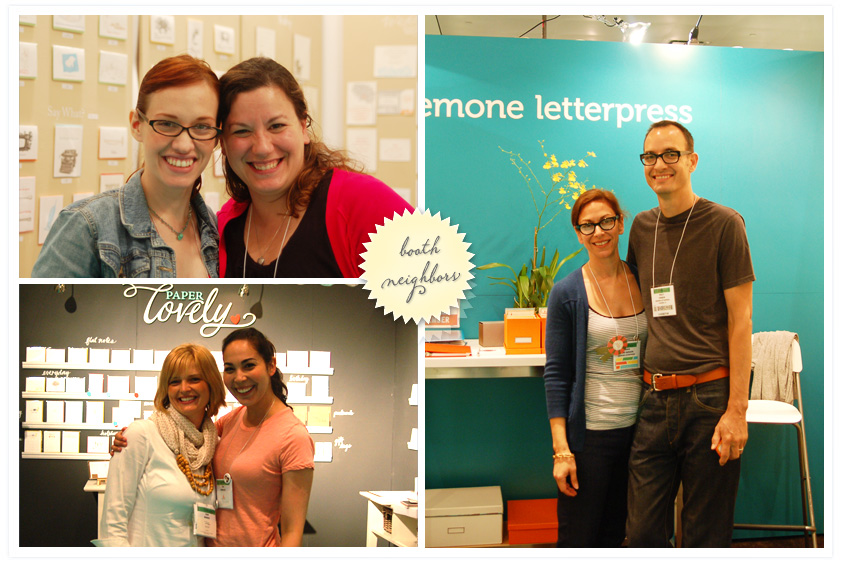 Clockwise from top left: Nic from Nic Studio, Jodi from Paisley Tree Press, Carrie and Wally from Anemone Letterpress, Eva from Fat Bunny Press and Kim from Paper Lovely.
Sunday was a big, big day! The show opened, my iphone got stolen out of my booth during a busy time (there were a rash of thefts at the Javits, actually)… and in the midst of me searching for my phone (bent over a basket with my back-side high in the air, as I recall) I hear behind me "Excuse me, are you with Wild Ink Press?" It was the managers of GLM (and a bunch of photographers) coming to tell me that our "three things" cards had won best new product for Paper Style (that's all greeting cards) at the National Stationery Show. Out of everybody!! You could have knocked me over with a feather. I was happy and dazed and confused. The next day I read about the round up of winners (from other categories, like gift wrap, weddings, etc) in Stationery Trends Magazine and all the winners had eloquent things to say. My quote? Here's the excerpt:
Rebekah Tennis with Wild Ink Press was in the midst of a hunt for her phone when she found out her Three Things Line won in the Paper Style category. "If I had a phone, I would've tweeted it!" she said.
Elegant, Rebekah. Very elegant.
Surprisingly, we were not done with awards that day! I attended the 24th Annual Louie Awards (like the Oscars for the greeting card industry) and was HONORED to win a Louie for Best Mother's Day Card. (See the winning card right here!)
Here's a little photo shoot of our awards stacked on the booth console table: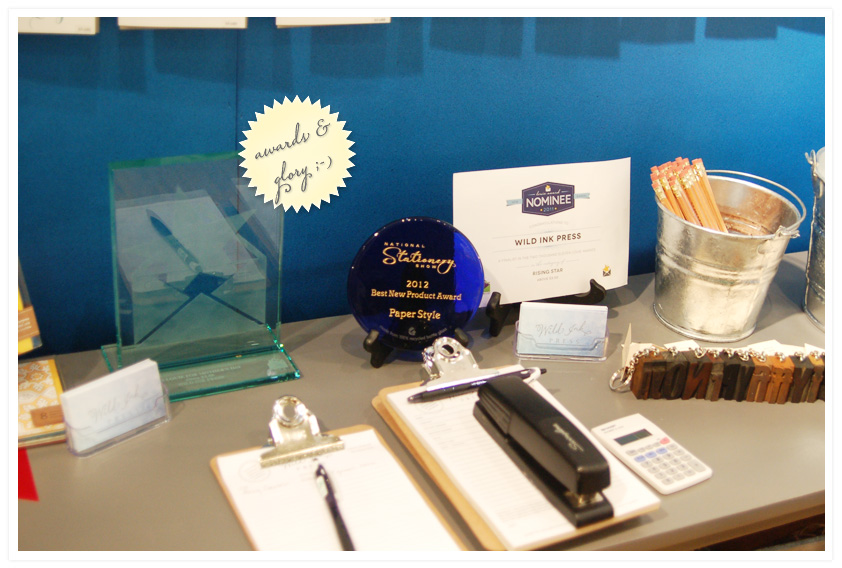 The Louie is the glass one on the left. 🙂
Monday was the busiest day of the show, with the most orders by far. We had our traditional pizza-night with all the other letterpress/stationery studios on the floor of the 1900 alley after retailers had left for the night. Followed by a crazy last-minute limo-ride to the Lego store, but that's another story for a different blog. 😉 Truly, stationery and letterpress is such an amazing community of artists and printers, and overall everyone is just SO kind.
My Mother-in-law, Audrey, was with me the whole show again this year, and if it was even possible for her to be more awesome than last time, she was. I could NOT have done it without her.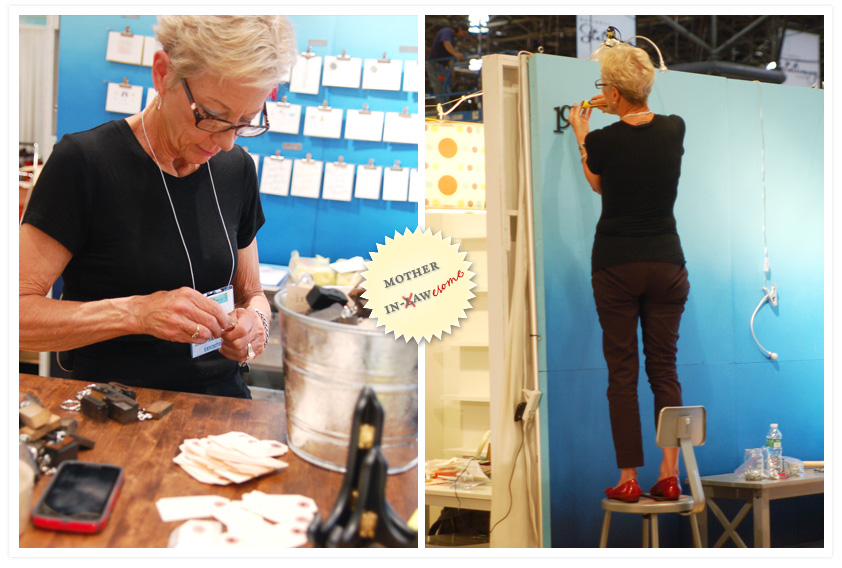 Then the clock struck noon on Wednesday, and within thirty minutes it looks like this…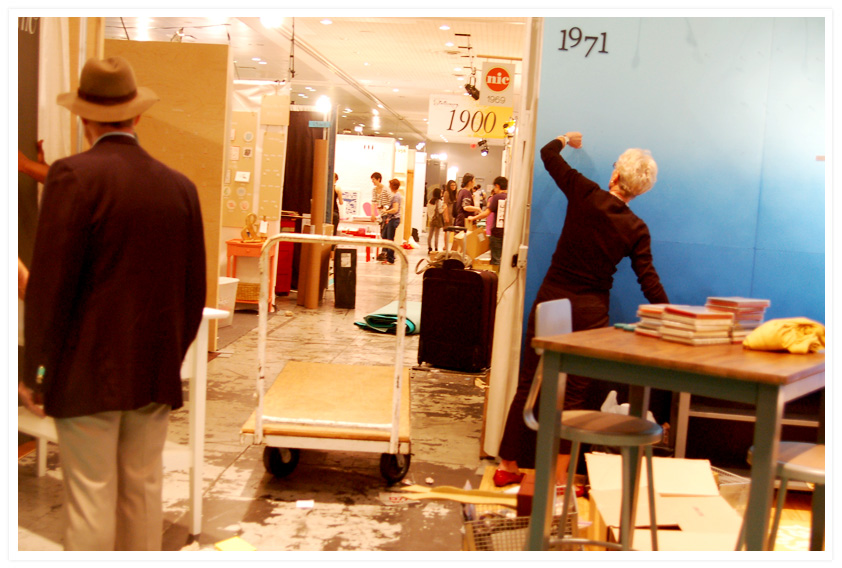 And a couple of hours later, like this…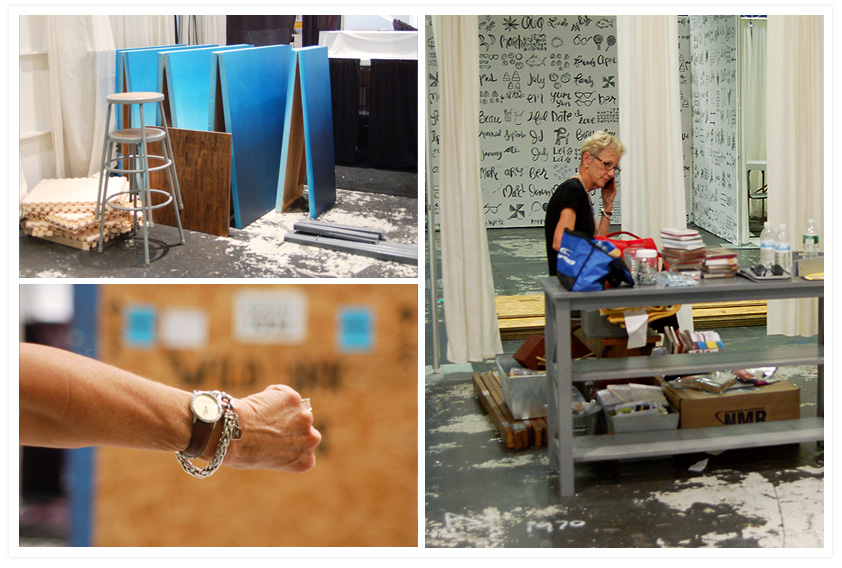 The great-crate-wait. Waiting for our crate to come back from storage. I've discovered that they send pallets back first, crates back later. Still, by 4:30 we had our crate and at 5:30 it was packed and ready to ship back to Chico.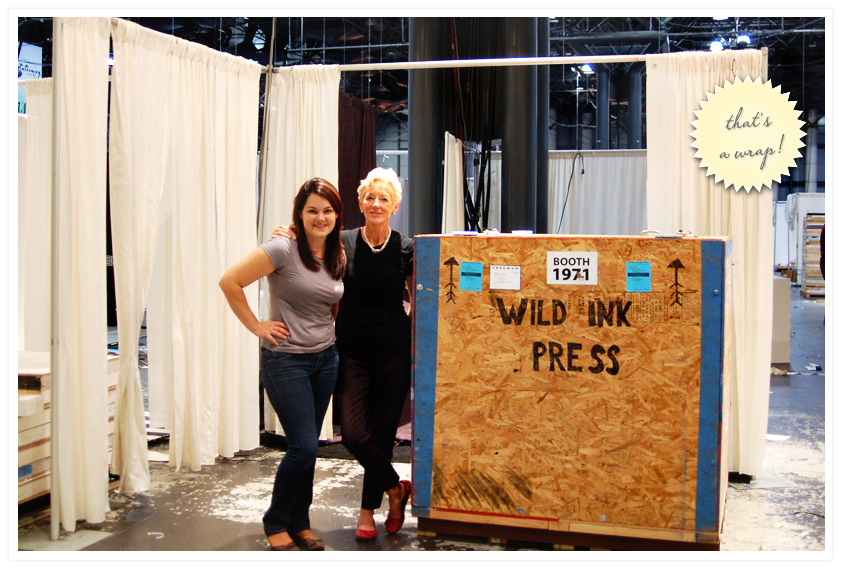 Tada!! Another crazy NSS under our belt. Thank you all for making it SO successful! We are excited to be in many new stores, were happy to reconnect with old ones and are looking at some fun (sh!) opportunities in the future, as well.
Happy weekend, friends. Coming on the blog soon… a media/blog recap of the show, the last of our new product posts and a long awaited recipe for cherry chocolate cake. Until then, enjoy the summer! 🙂