It's that time of the year again!! The grand National Stationery Show Extravaganza!! Time to see if all our hard work will pay off – we'll see. I'm sure excited about the things we've made this year!
Kicking off the show, again, is our little booth. Remember the booth building tale from last year? Well, I'm pleased to report that the plywood walls weathered a year in storage happily and with no damage. So, we pulled them out and decided to give them a fresh coat of paint. But not just any paint. An ombré paint job. Ombré  refers to gradual tonal/color changes, it's a fancy french word and my current interior design trend crush. What better place to indulge in a trend and follow a crush then a temporary booth display? Here today, gone tomorrow!
Let's get down to business. Here is the before and after:
…I threw in last year's gray chalkboard paint for good measure too. Well, what do you think?!? I LOVE it!
Let me start at the beginning. I searched the internet high and low for an "how to paint an ombre wall" post. Nada. At least not without glazes and a bunch of other nonsense. Nope, I wanted to keep it plain and simple.
So, I pulled together a test panel. Three cans of spray paint and one piece of plywood…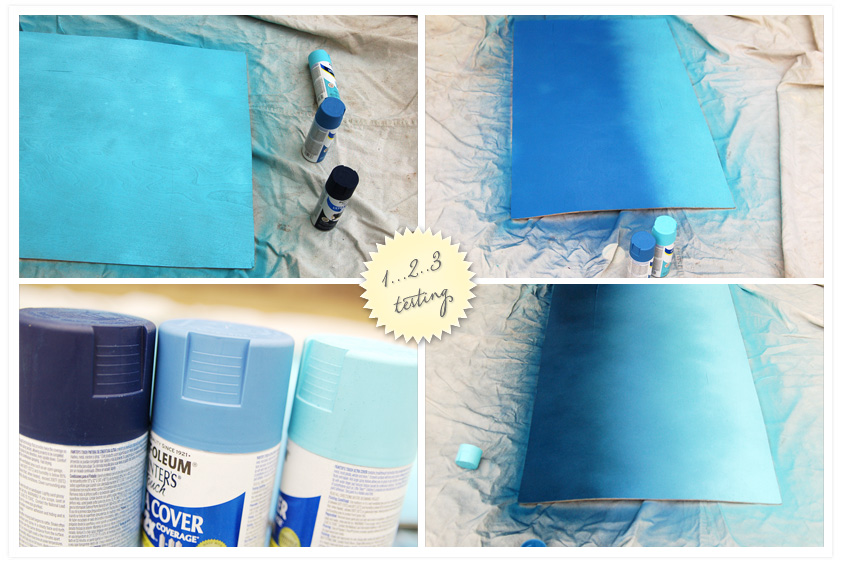 One layer at a time. Light to dark. It was actually surprisingly easy to achieve what I was looking for.
For the larger scale, however (our walls are 8 feet x 10 feet x 8 feet tall), we decided to use our paint sprayer. Matt's always looking for an excuse to use that thing. 😉 It's not an airless sprayer (although we have one of those) it's one that you use with an air compressor to run it. It can do a very fine mist and the clean up is much easier than the airless.
These are how the walls looked fresh out of storage: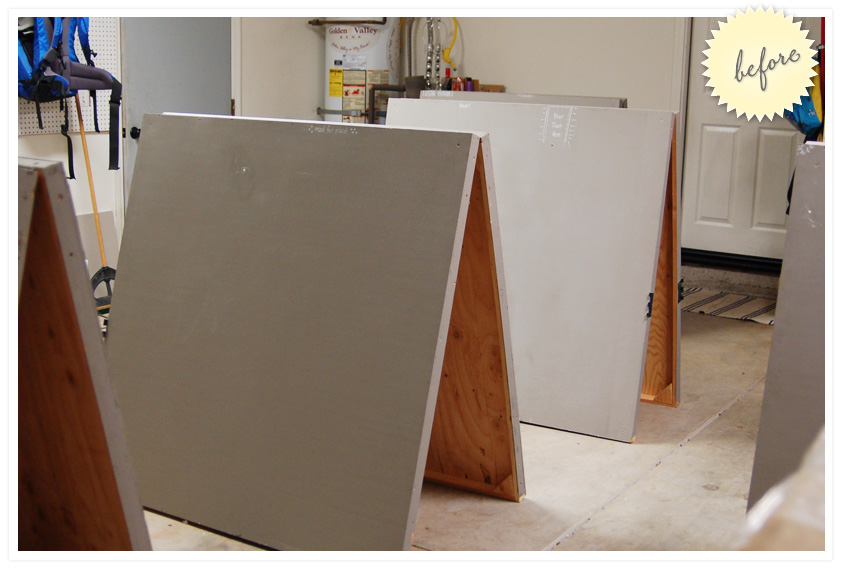 To begin with, I rolled the undercoat (the light turquoise):
Already looking happy and bright!
Then we lined them up on the bocce court: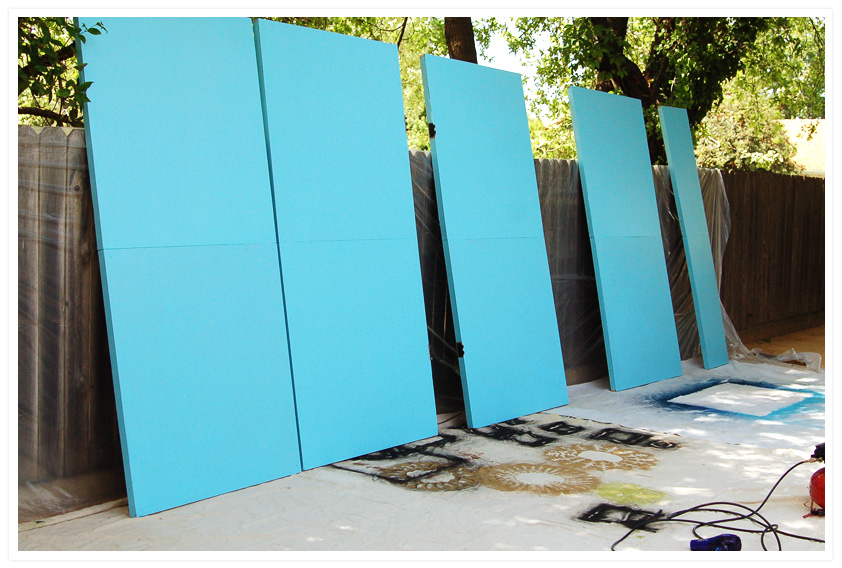 And sprayed a little bit at a time.
It was very noisy, and involved a lot of "a little more here" and "a little less there" kibitzing from me (official art director, of course).
Layer upon layer (thin coats):
And then: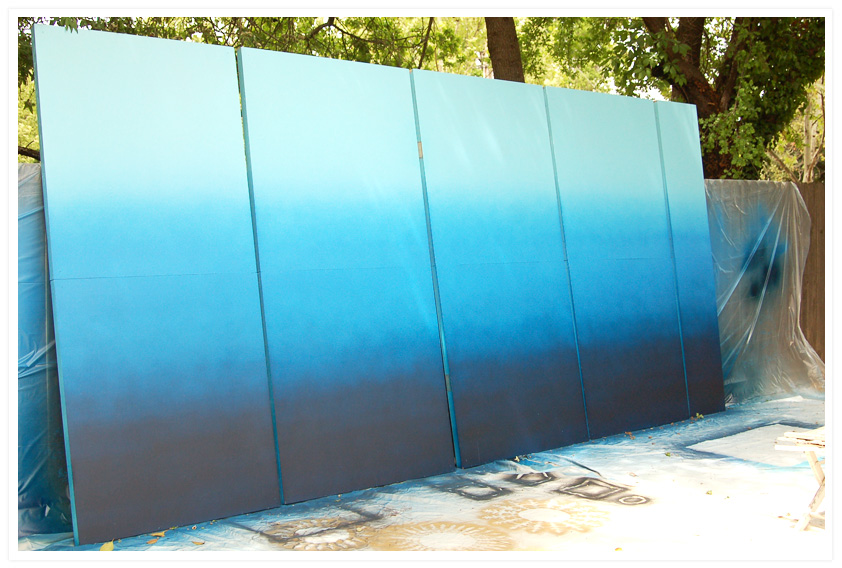 Voilà! It was done.
The entire project took us one Sunday afternoon. Not bad at all!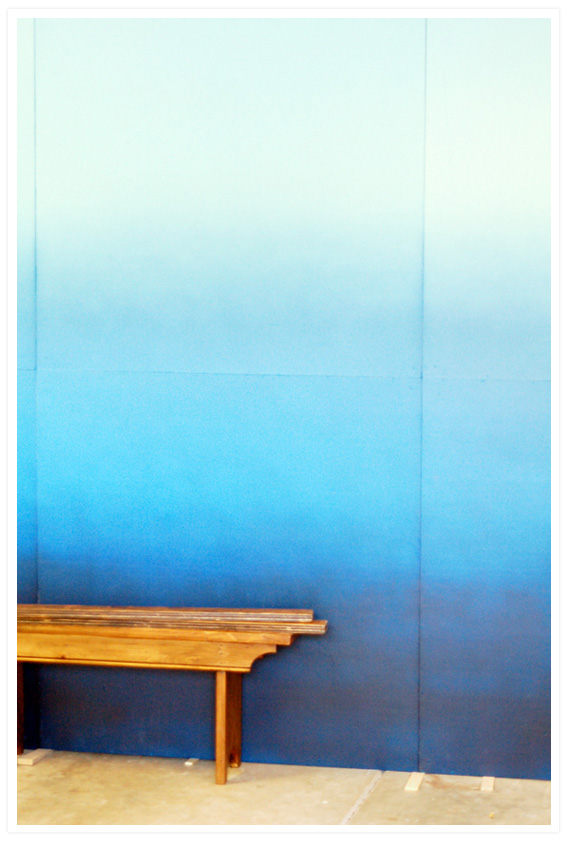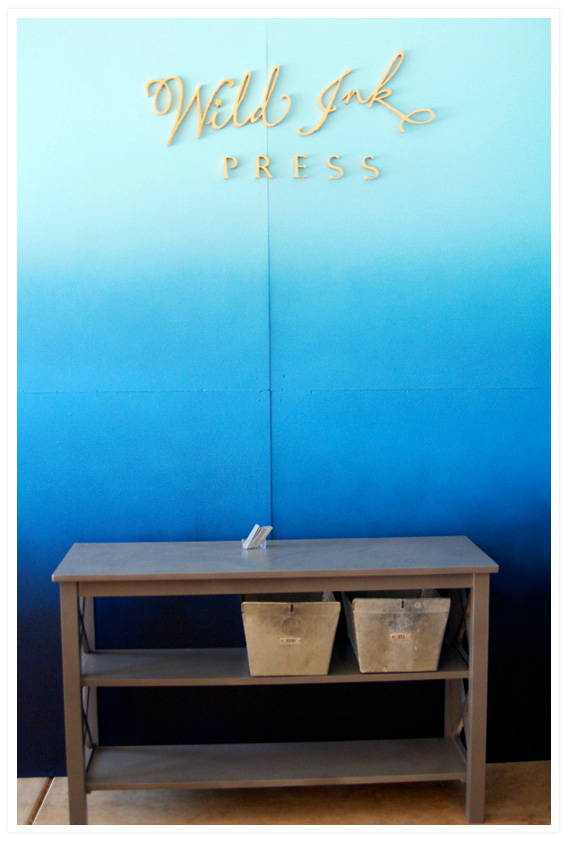 That is the tale… (a sequel) of a girl and her booth. Stay tuned next for a crate building recap and then the big new product line-up for 2012!!