Well, I've held out on you long enough – it's time to share a little spring project we did in our side yard! Um, actually, more like a complete overhaul.
Some planning and elbow grease took it from useless and gray…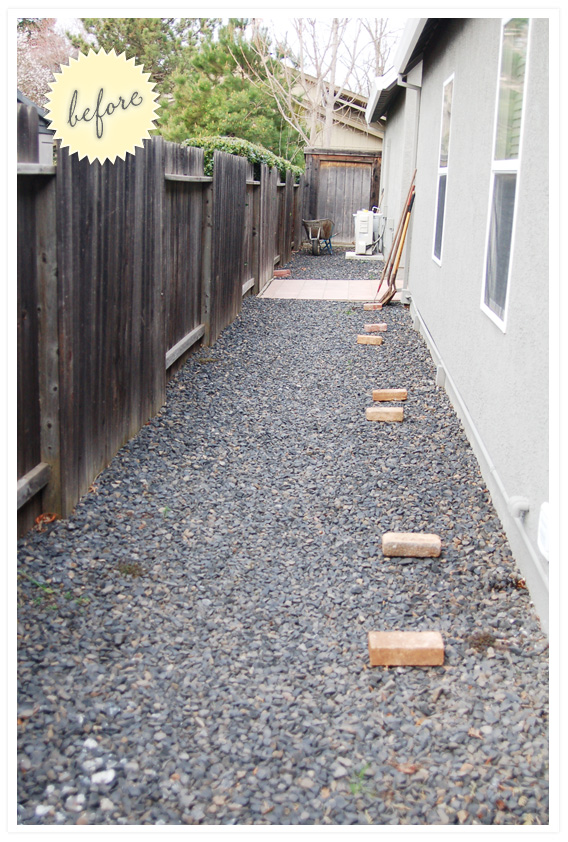 To this…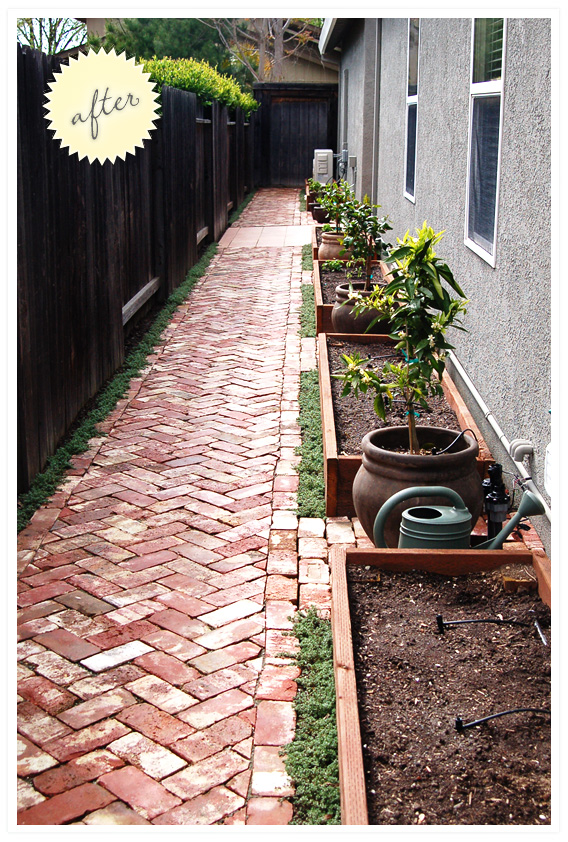 a charming raised-bed vegetable garden paradise. I am SO happy with how it came out! Before I get into the details, let's look at it from the other end of the walkway.
From this…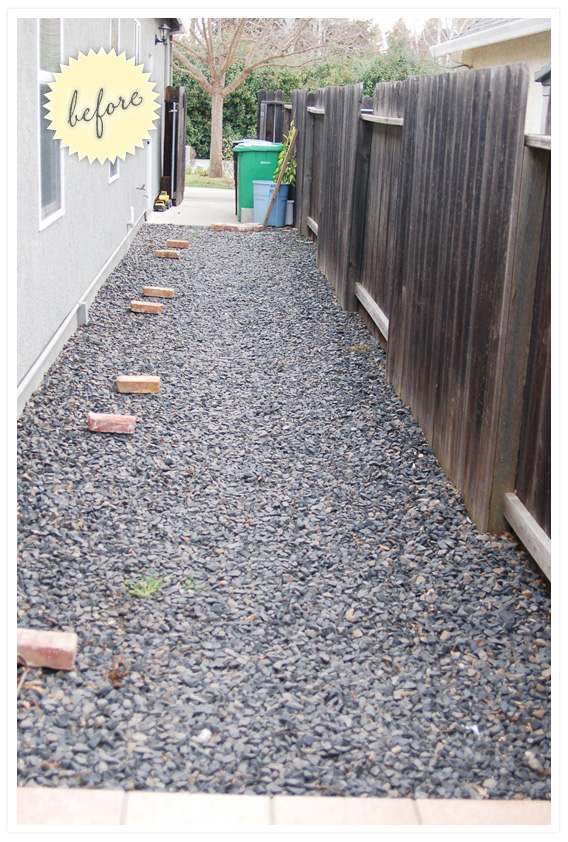 To this…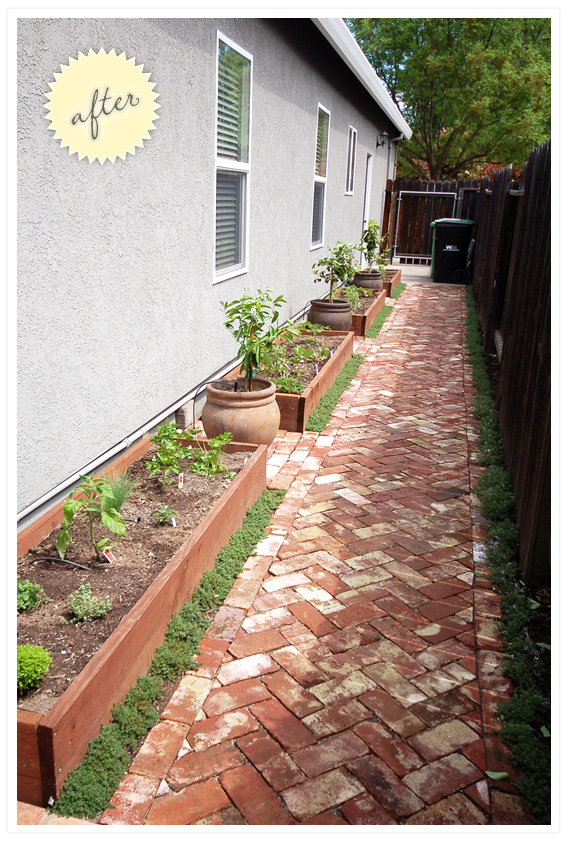 It's an understatement to say I love my new garden. I REALLY love it. So much. CAPS, Bold, Italic, you name it, it can't begin to express my joy about a wormy, soily garden spot to call my own.
I have planned to do something with our little side yard space ever since we bought the home in 2008. But it wasn't high on the list of priorities (read: it was actually dead last), so it languished in its gray-gravelness for four years. Oh, and that gravel? Useful for keeping down weeds, but A) very ugly, B) very sharp and impossible to walk on barefoot, C) very sharp and impossible to use our handtruck for orders to and from the shop and D) very, very ugly. Wait, did I say that already?
Chico is a fantastic place to garden. Plants love our just hot enough summers and tomatoes are to die for. Plus the soil around our house is simply fantastic stuff.
At some point during the past four years I realized that side yard gets full sun. All day long. It may have been the sun beating in our master bedroom windows from sun up to sun down that clued me in on that part. 🙂
Well, full sun = vegetable heaven! But was it wide enough to plant vegetables and put in a hand truck pathway? Well, we were determined to make it work!
First, I found some salvage brick on craigslist. In its former life it had been part of a lumber mill in Oroville, California, which burned down more than 50 years ago. Some guy had stacked it all neatly in his backyard and was selling it bit by bit. I loved the craggy edges and real white mortar (not paint!) and history of the bricks. Plus, they were cheaper per brick than buying new. Score!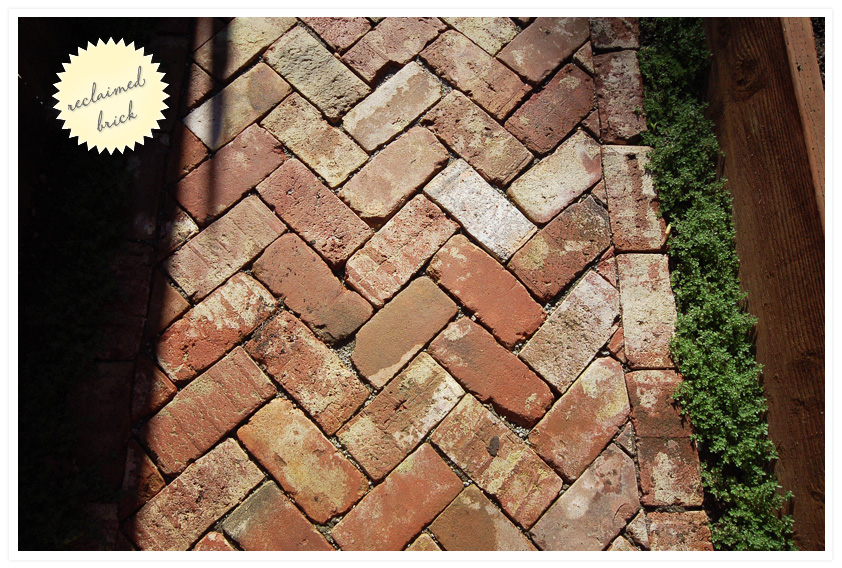 We didn't lay the path or build the raised beds ourselves, as it's been far too busy around here at Wild Ink Press to DIY something that big! Instead, I planned out every last bit on the computer and we bought all the supplies then a local landscaper came and installed it for us. This saved $$$ instead of having someone else plan out the yard, and made it doable and seemed to be a good balance of saving money vs. losing time. I laid out the brick in a herringbone pattern (which if you know me, you know I love herringbone and chevron! Exhibit A: master bedroom floor) and I think it just adds a little extra special happiness to the pathway.
Along the sides of the path we planted a creeping thyme ground cover…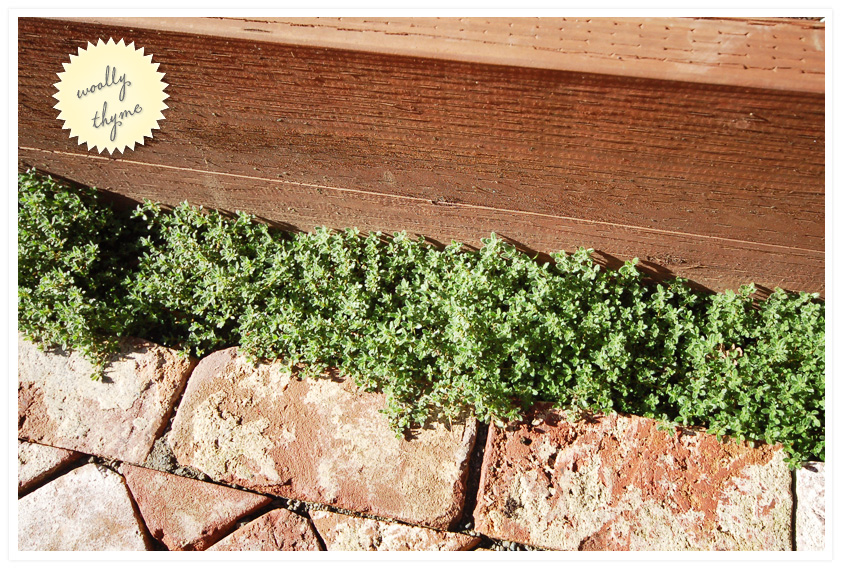 It grew in so quickly and is so lush and green! I love the stuff.
The raised beds I designed are 2 feet by 8 feet and 2 feet by 7 feet, depending on the box. They line the path on the sunny side and there are six beds total. In between the beds we put citrus trees in containers: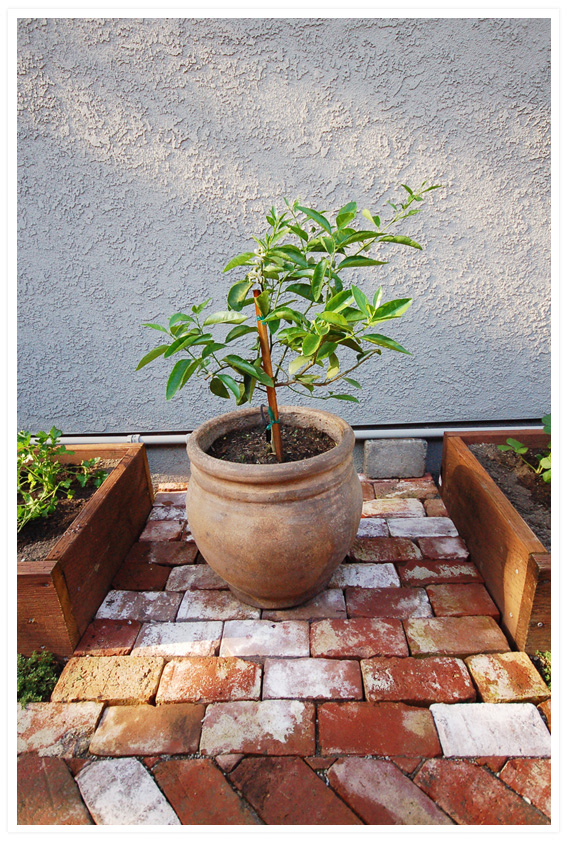 They seem to be very happy in their sunny spots!
Next up was planting…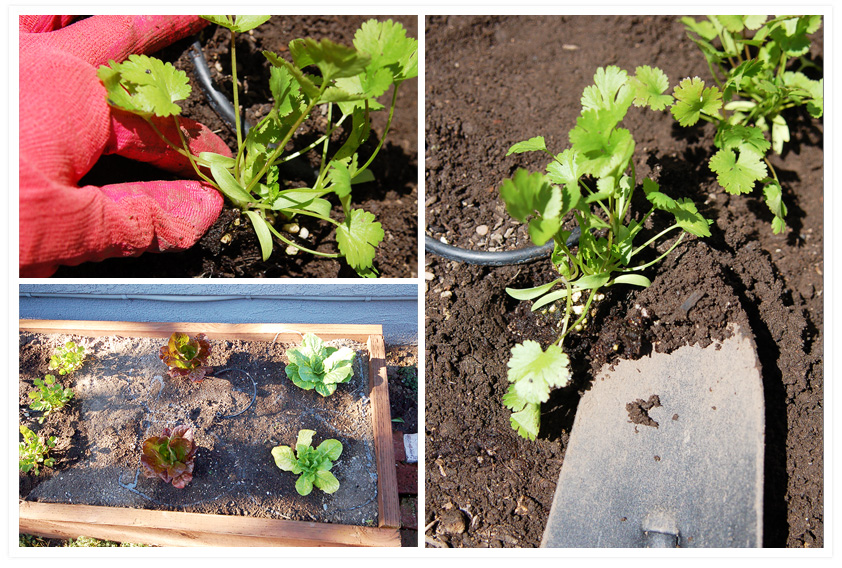 11 tomato plants, 1 zucchini, 1 yellow squash, 1 cucumber, 4 eggplant, 4 lettuce, carrots, 1 red bell pepper, 1 jalapeno, 6 strawberries, cilantro, basil, oregano, chives, sage, parsley, mint, thyme, rosemary…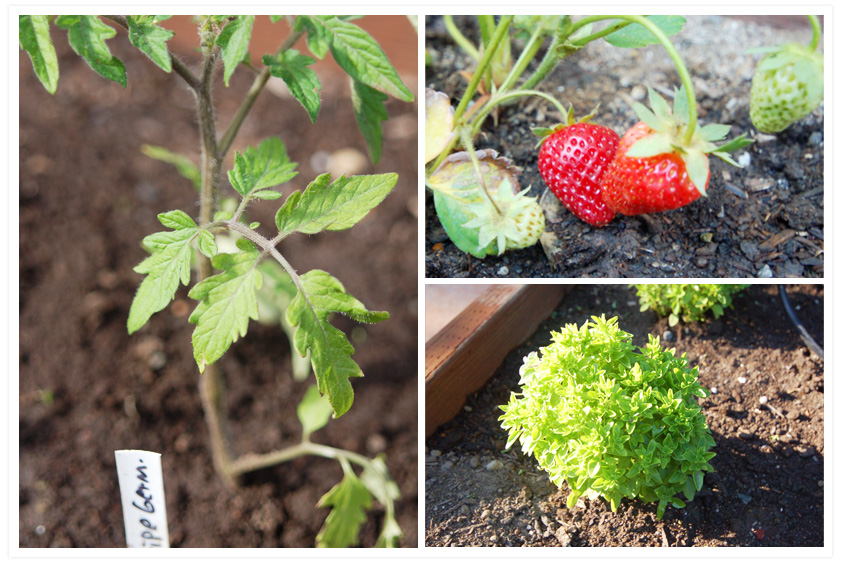 So far they are all so, so happy in this little garden. This is my first real vegetable garden, so I'll let you know how they grow!
Cameron and Lance have their own garden bed which they planted themselves. I'll let you know how that one grows too! It was great to be able to hand them their own shovels and say "go dig in your bed" as I planted in mine. And Cam comes out every day to check on his strawberries.
One last shot of the sun setting on this happy side yard: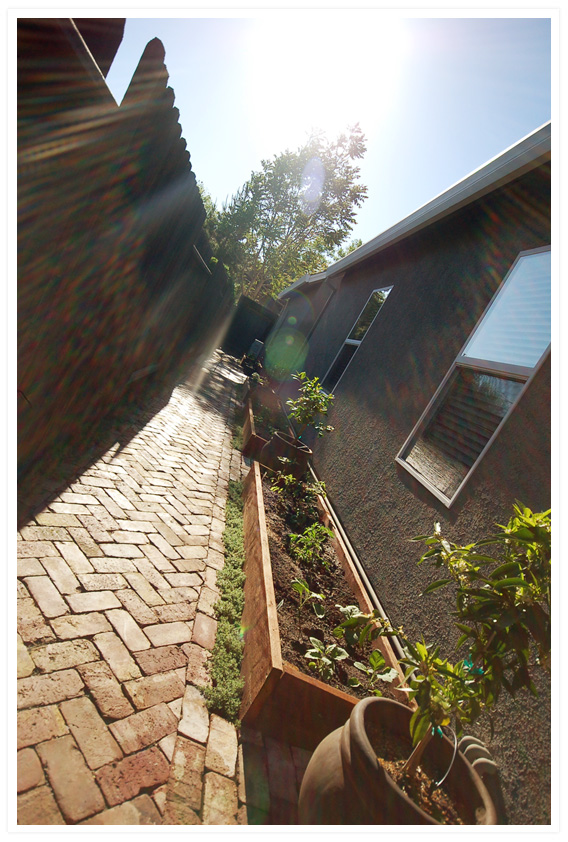 Hope you're having a fantastic Monday! Before and after of the rest of our backyard is coming up next!!