The laundry room was the last room in our house to receive the magical remodel touch. Mostly because, well, it's a laundry room. But eventually, we didn't have any rooms left (well, there is the studio bathroom, and the second story organization, and the garage to still be dealt with, but I digress), soo… we went to work on it.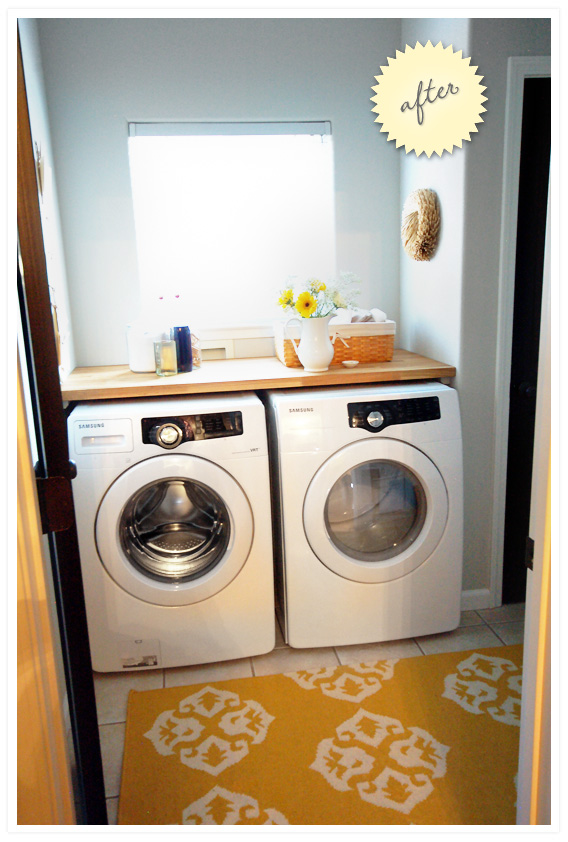 We did the entire room for under $1000. Including new rug, new light fixture (installed), paint, faucet, butcher block, artwork, glass containers, knobs, and new energy-efficient washer and gas dryer. I'm pretty happy that we pulled that off.
I promised you diy process blow-by-blow, so let's start at the beginning, shall we?
The very first thing that happened to the Laundry room was a new door. We did this about two years ago: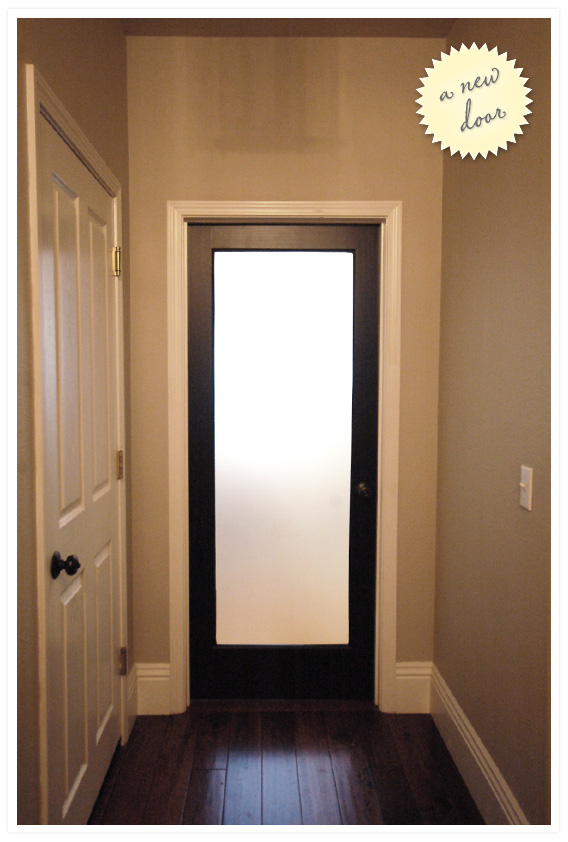 We used to have a solid white door there. Which let no natural light whatsoever into our fairly dark hallway. So, the door would be often left open. You can see it from our living room and entry. If you have a good memory, you'll remember that our laundry room always looked like this: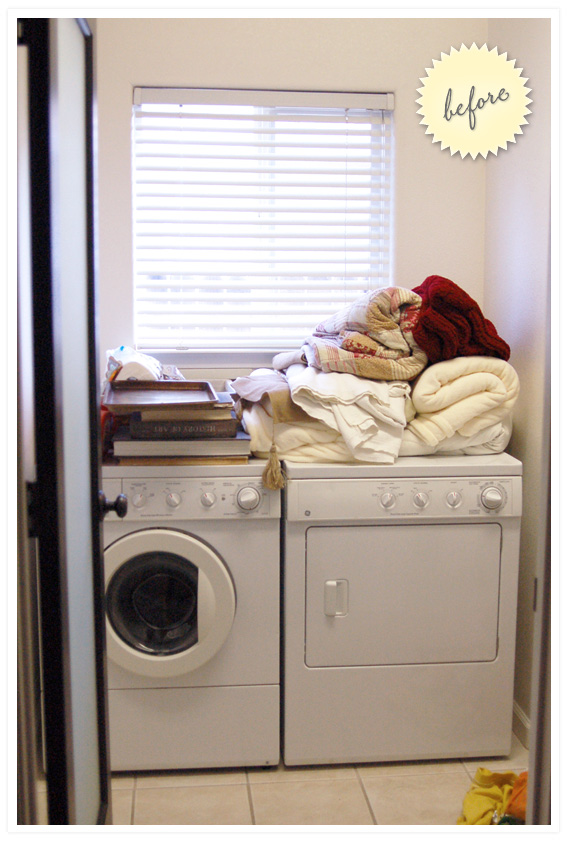 Hence, the need to close the door.
I love my frosted glass door, and would highly recommend it if you want to hide junk and let in light at the same time!
But back to the diy stuff. I'm addicted to gray. It's official. Someday I will write a run-down of all of the grays in my home, but I believe there are more than 20 shades of it painted throughout the house. It's something of an obsession. So, when I told Matt I wanted to paint my laundry room yellow, it came as a bit of a shock. He didn't really believe me – and he was right. I took home a tester pot and put it up on the walls and hated it. Back to gray. At which point Matt suggested that we use up one of our many cans of leftover gray paint in the laundry room. What? Paint it the same shade as some other room?
I pulled out my swatches.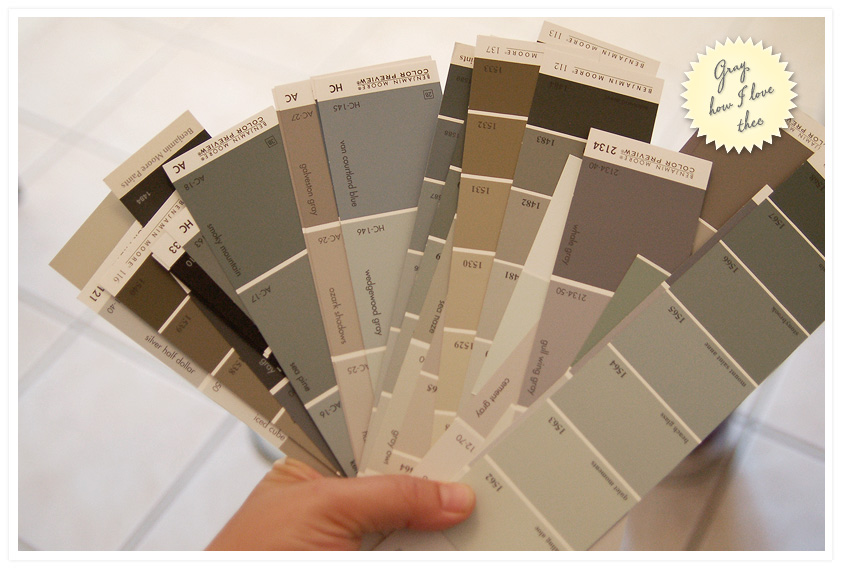 Confession: I am also a Benjamin Moore addict.
Dutifully, I went to the extra cans, picked 4 or so likely candidates, and painted test swatches on the wall.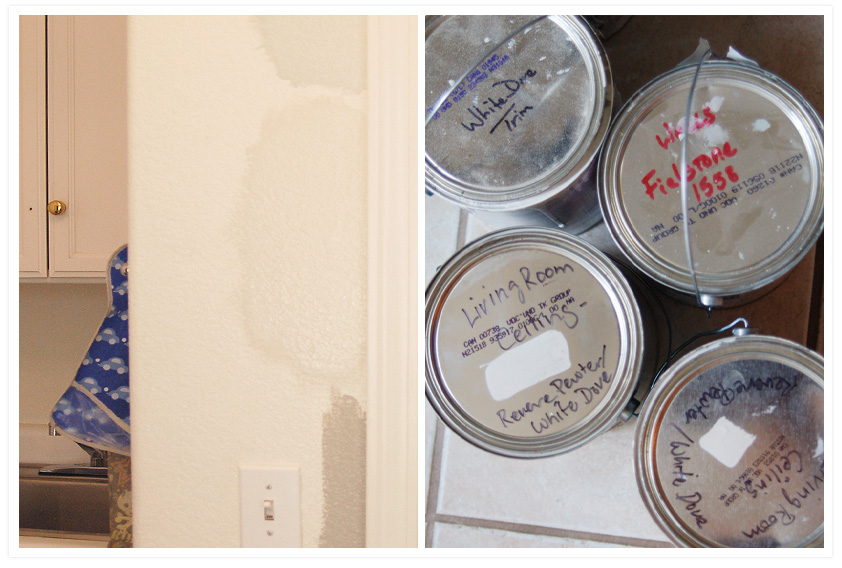 No dice. Too blue, too pale or too dark. I was going to have to purchase a new shade of gray.
But then, when Matt was off at the ranch, I had a wild and crazy idea: why not just mix the paint myself?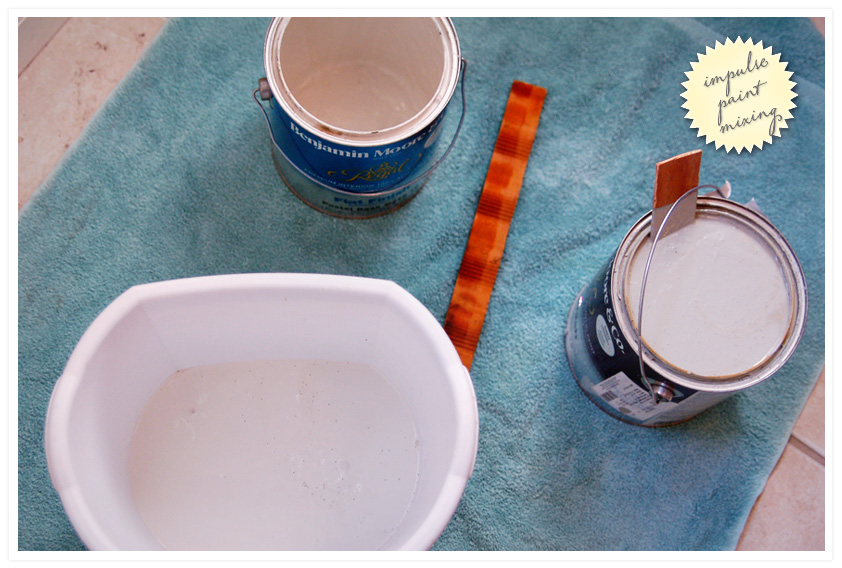 And so I did. I combined a can of Revere Pewter 1/2 ceiling blend with some White Dove and just the right amount of Fieldstone…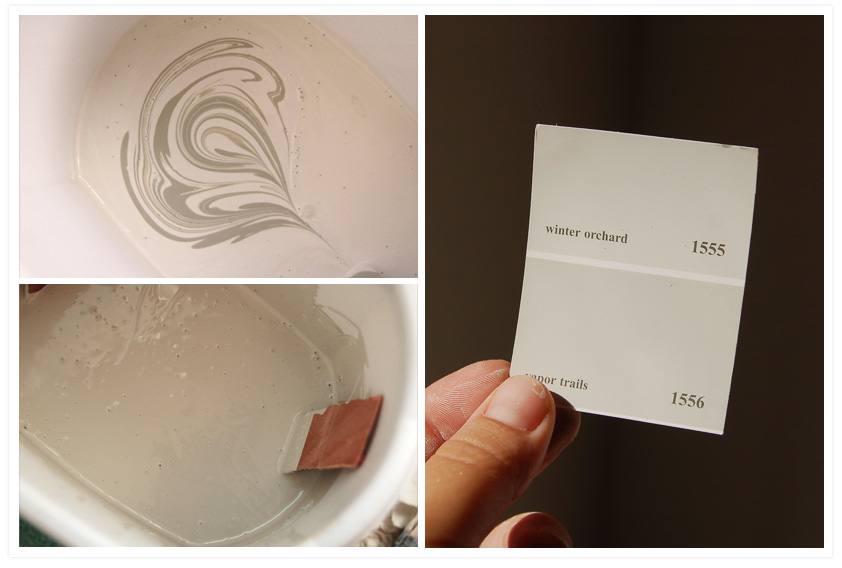 To create exactly the gray I was looking for: Vapor Trails. And, as I've never mixed paint before, I'm pretty sure it was just dumb luck that it worked out. Grandma Betty would be proud, though.
So, we painted. Or rather Matt did. With the sprayer. On far too hot a day. With no ventilation. Not recommended. I did the trim and touch up…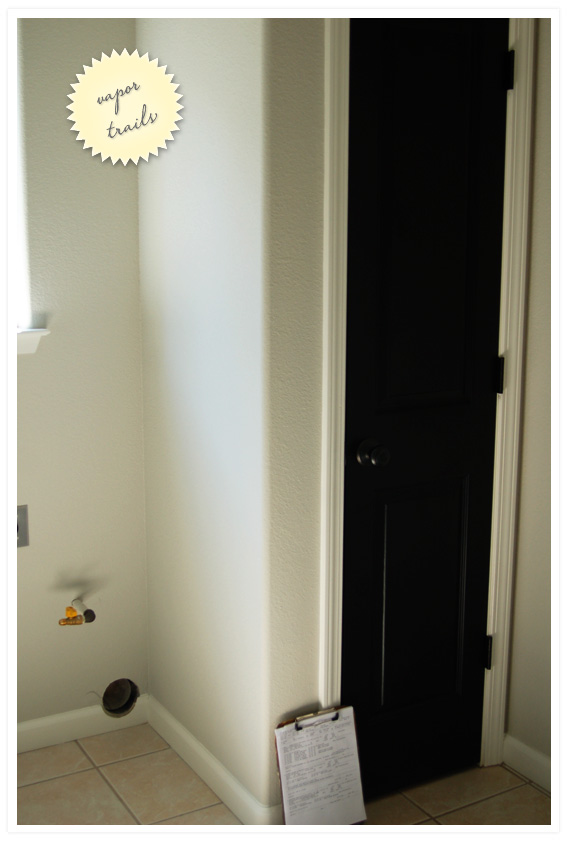 It's hard to get a good photo of the shade, but the above pic is pretty accurate. I love it.
Next, we lugged home butcher block from ikea…
Matt trimmed it down, and created some handy little ledges for it to rest on: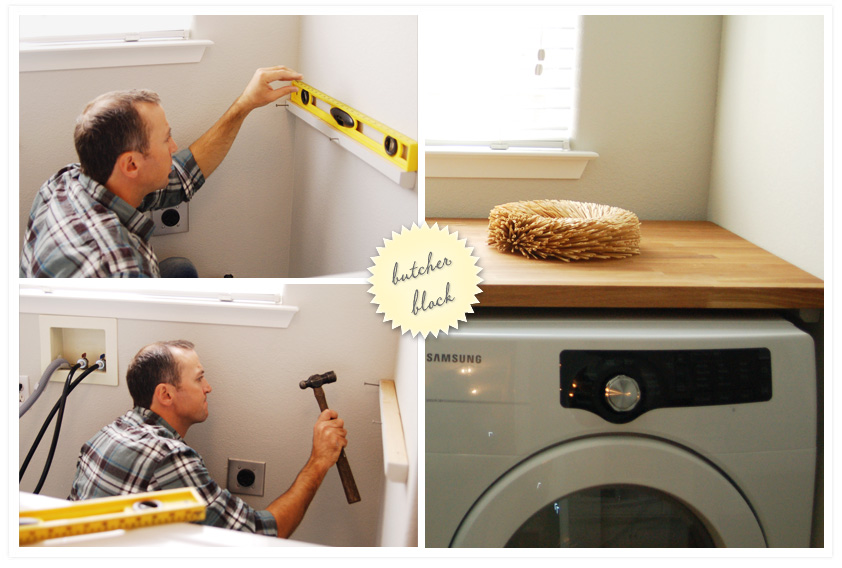 Voila! A built-in wood counter top. It slides off easily if you need to move out the washer and dryer or access the back.
Lastly, I used a buy-more-save-more special at Sears (we bought our oven, microwave, washer and dryer all at the same time = 25% off) combined with the general sale being offered on Samsung (10% off) combined with a price match from Lowes on the washer (5%), plus free delivery and install, combined with trouble they gave me delaying delivery on the microwave (another 10%) and then a gift card ($50) for yet another month's delay on the microwave (dizzy yet?) plus the sale of our old washer and dryer on craigslist = just under $500 for both new appliances.
In spite of the good deal, I don't recommend Sears. They were a nightmare to work with. I had to fight and claw for every discount I received, and it took almost four months to get our microwave, which was supposed to have been in stock for next day delivery.
Time for the complete price breakdown!
Samsung Washer & Dryer: about $500 out of pocket, discounts and sale of old models included
West Elm Andalusia Rug 3 x 5: $87 on sale (normally $109)
Schoolhouse Light Fixture: $149 at Lighting Direct (Build.com, it's parent company, is based in Chico)
Lighting install: $50 (Electrician was doing other things here too)
New faucet: free from kitchen remodel
Towel rack, etc: Free
ORB Spray Paint: $5
Wall paint: free leftover paint
Butcher block from Ikea (Numerar, Oak): $89
Ikea under-cabinet light: $12.95
Two glass bottles, Crate and Barrel: $3.95 each
One glass container, half gallon, Crate and Barrel: $9.95
Other glass container: already owned.
Grand total: $910.80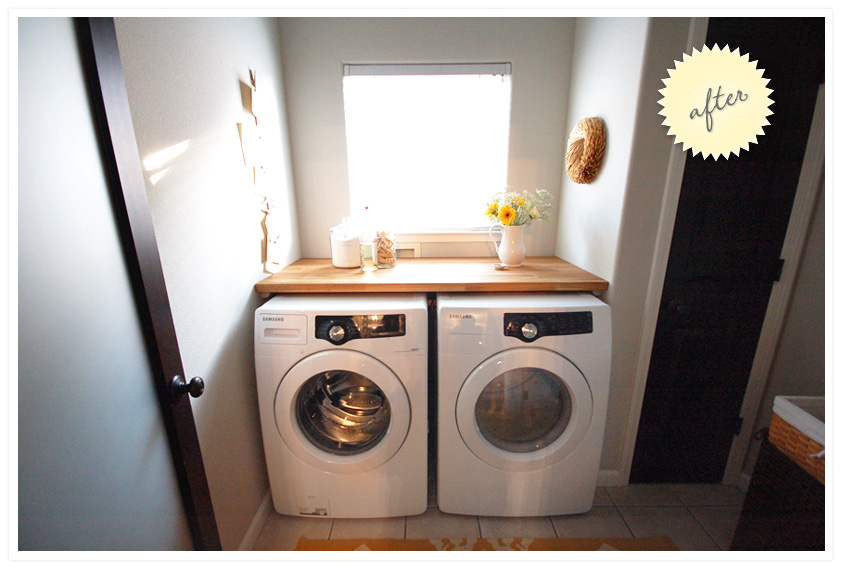 That's the whole shebang. Hope this inspires you to make some mundane surface into something you enjoy!