It seems that in January, everyone is seeking a clean fresh start. Be it going back to the gym, eating fresh healthy food, making new business plans, organizing every messy closet in the house, you name it, it's a bit purifying after the decadence of the holidays. So how about starting 2012 off with a nice little before-and-after?
I present to you our laundry room: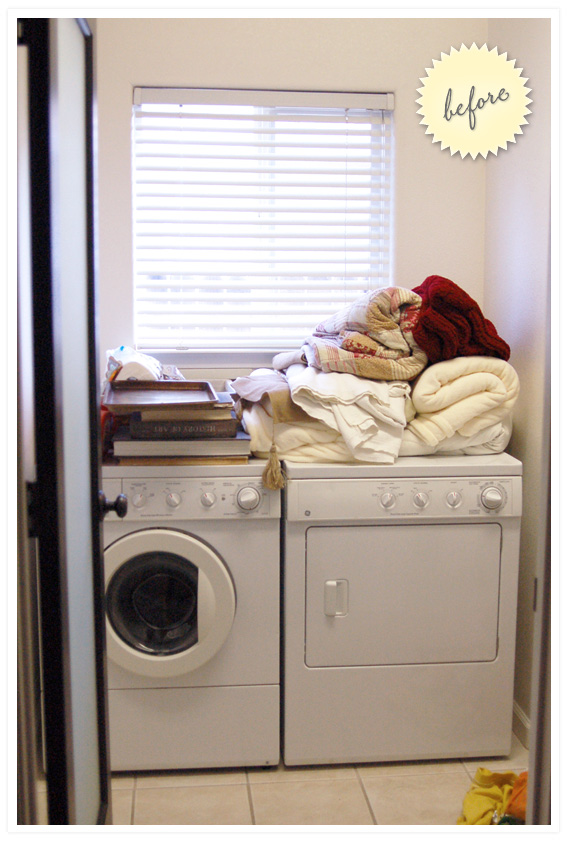 This is the part where I hang my head in shame. I hate laundry. I hate the dirty part, and the clean part. Folding brings me no joy. Sorting dirty socks even less. But still. There is no excuse for the room looking like this, none at all. However, this is how it looked for months on end. Really.
It's incredibly difficult to take pictures of a Laundry room! Not enough space, and to many tiny corners and crevices out of sight. Here is the other side of the room: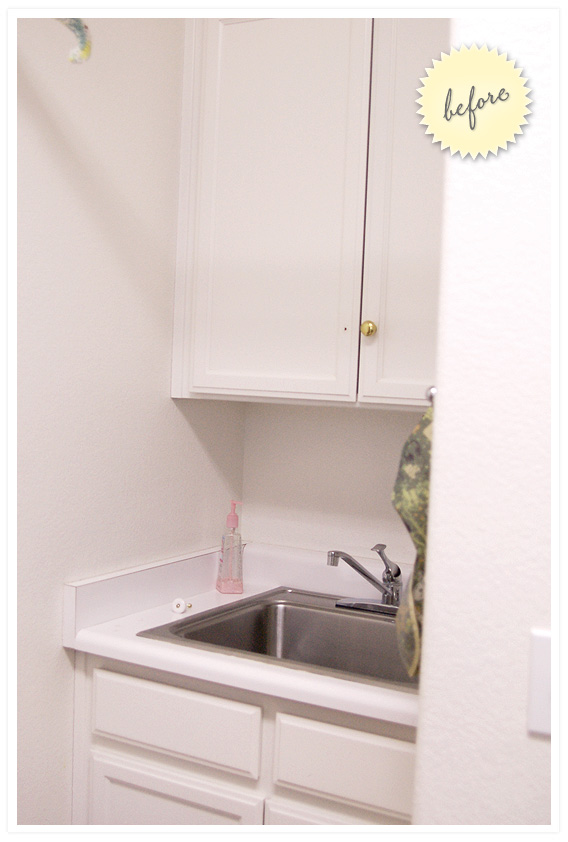 …picture me leaning as far backwards over the washer as I could to get this picture.
So, I'm really blessed to have a laundry room at all. In our last house, the laundry was in the garage… not nearly as fun. However the space in our current home was white, with builder beige tile and one big fluorescent strip fixture. It just lacked any inspiration. Which I seriously need extra of to get the grueling task of laundry done!!
Now that I've bared the ugly side of my washing space to you, take a look at it cleared up (this is the "sell the washer and dryer" picture):
That's it. Much better, but still no pizzazz.
Soooo, I went to work pinning up a moodboard on Pinterest. (You can see all my pins here.) It looked something like this: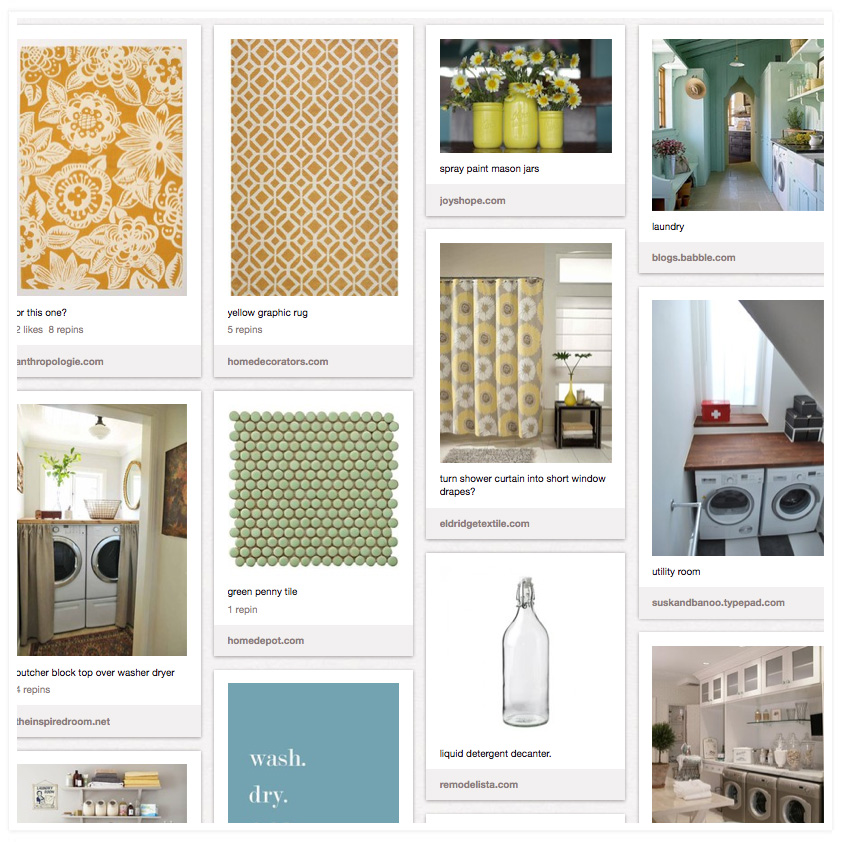 I love everything in that pinboard. Let me tell you, some folks have some phenomenal laundry rooms out there! Very inspiring.
Okay, so we sold our washer and dryer (in one afternoon!), we painted, we scrubbed, we cut and installed butcher block (post on this to come later) threw down a rug and some accessories, and… do you want to see it now?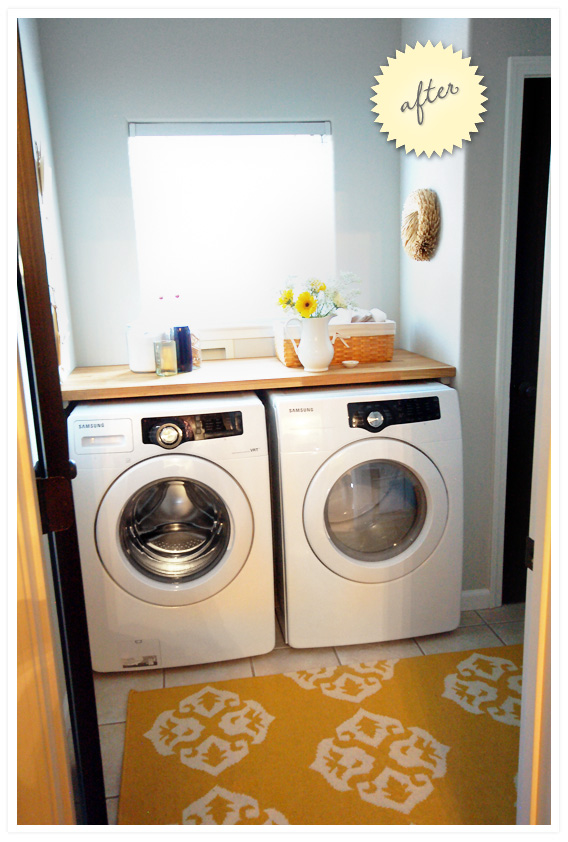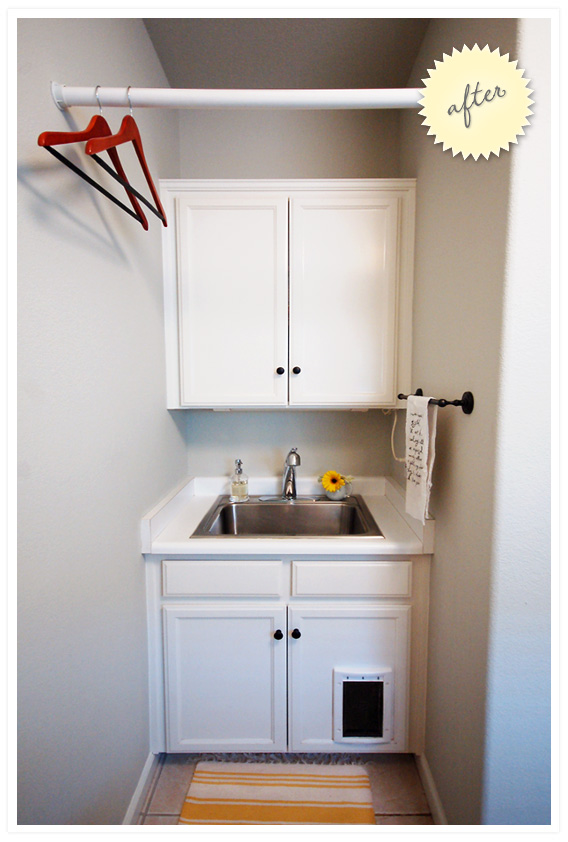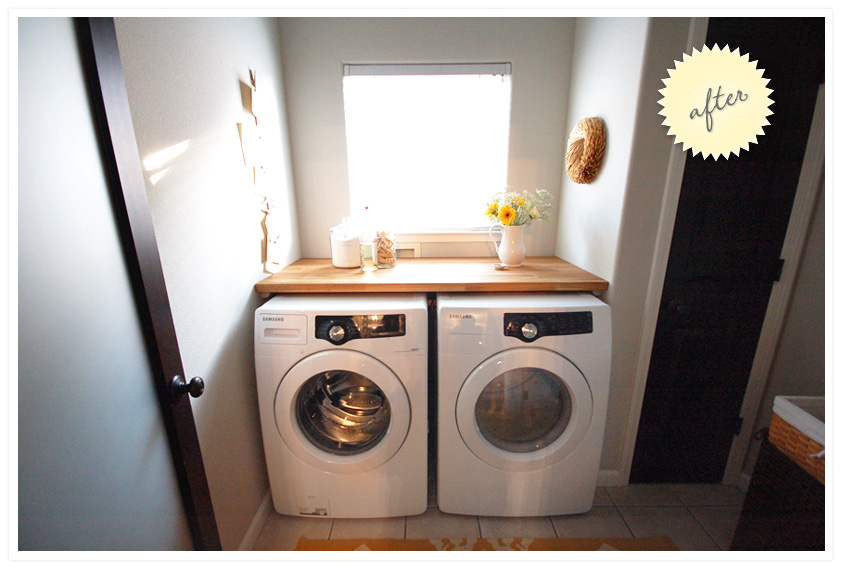 Let me repeat again: it is HARD to photograph a laundry room. Don't even get me started on trying to deal with the light coming straight at you from the window.
I'm so happy with how the room turned out! We had decided to do this on a very small budget, spending really only on our new washer and dryer, to get the best functioning energy efficient ones that we could afford. So, the tile had to stay (although I love the penny tile from my pinterest board!), and we mixed our own paint from leftovers, used our old kitchen faucet to replace the leaky laundry one, etc.
My favorite thing might be the butcher block…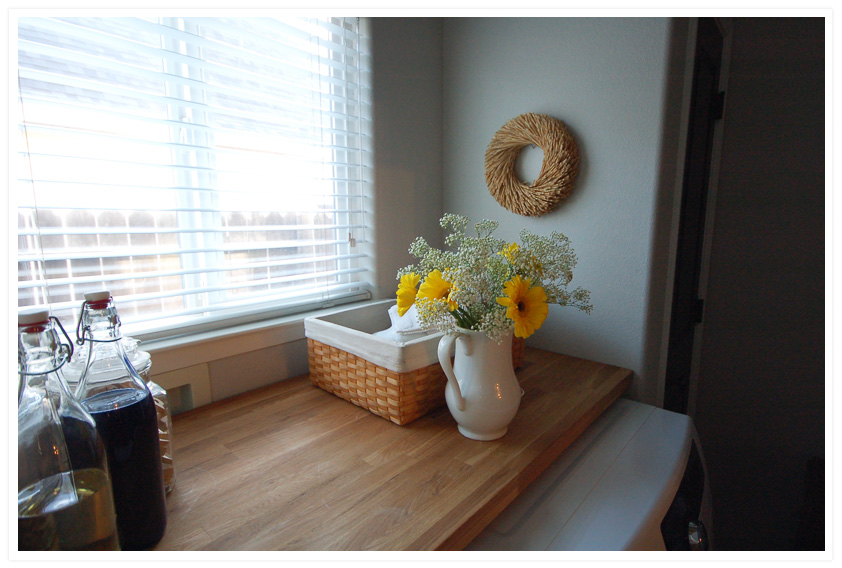 It lends such a warmth to the room, and creates a wonderful work surface.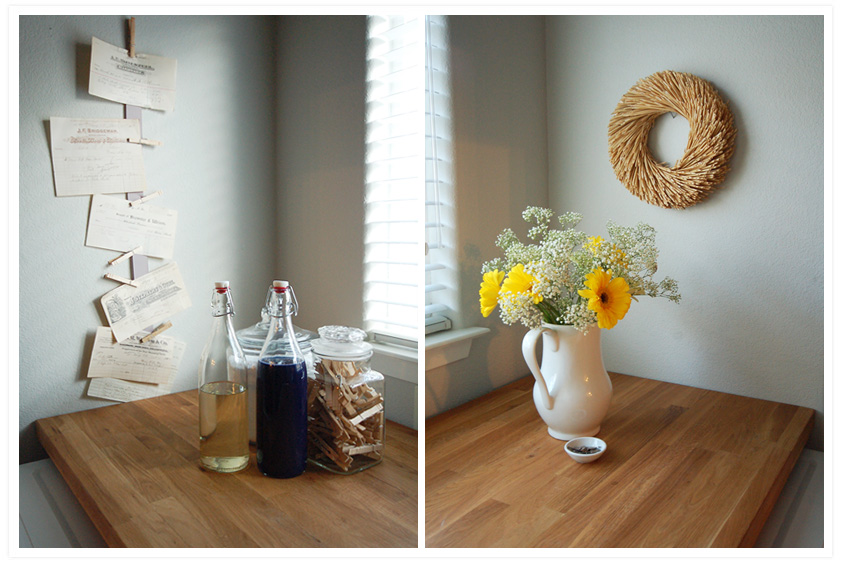 I decanted all of our soaps and detergents – the dark blue is Tide HE, the clear is Woolite HE, the dry scoop is Oxyclean…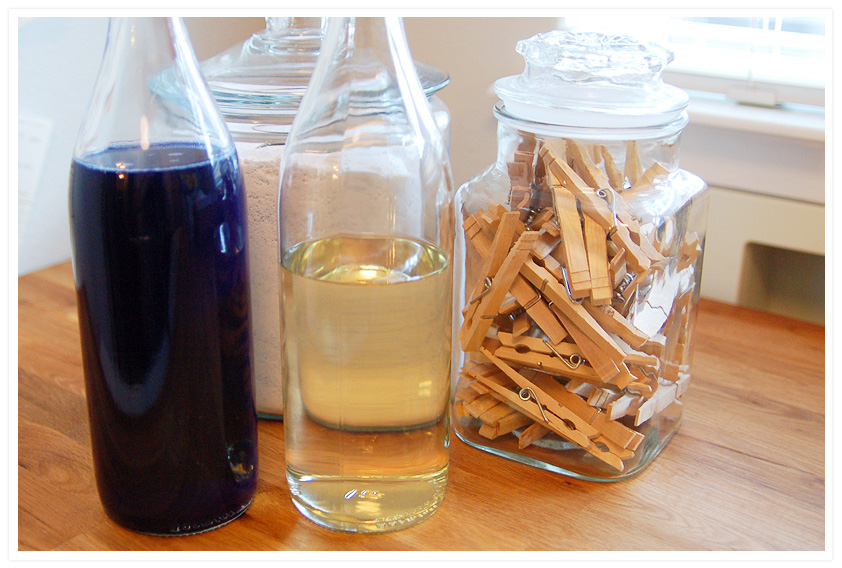 They work SO well in these containers, it's surprising! I never realized how much of a chore it was to lug my Costco-sized container of detergent over and pour it in, usually having a big residue in the cup… this works and looks much better.
If it had been my choice, I wouldn't have picked white laminate, but it's just a laundry room, so we didn't change it. We did replace the leaky groaning faucet with our old kitchen one, and installed an under cabinet light (from ikea) so that I can see better when hand-washing clothes: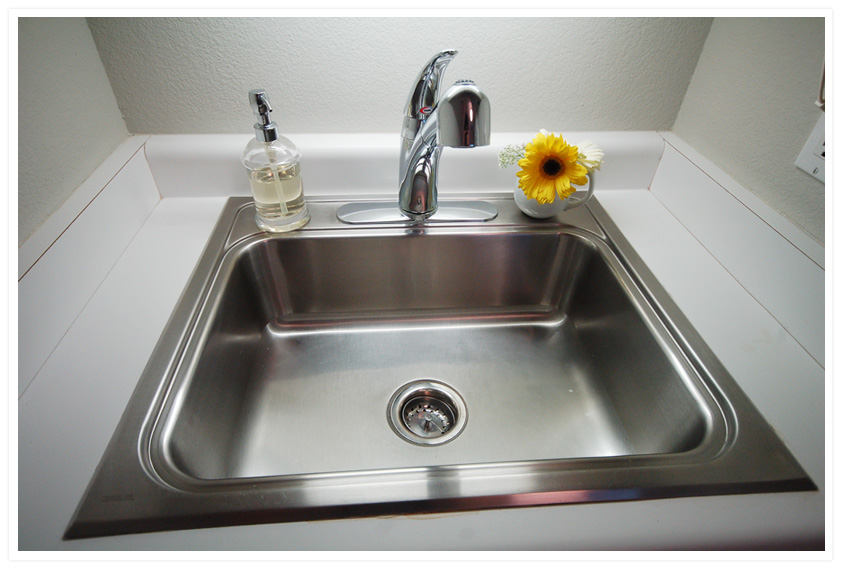 Mostly, the sink comes in handy for soaking dirty kid things:
Mr. Doggie included.
On the left wall, I hung a bunch of vintage (100 year old) receipts that I got from etsy. I simply used a glue dot to attach the top clothespin to the wall, and pinned the rest to the hanging ribbon. Easy as pie.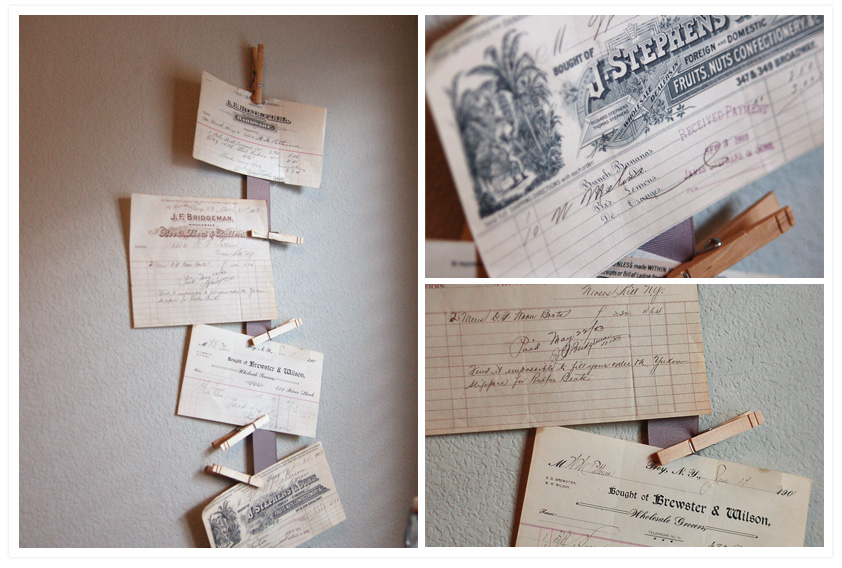 I love seeing the sundries people bought a century ago.
More little details…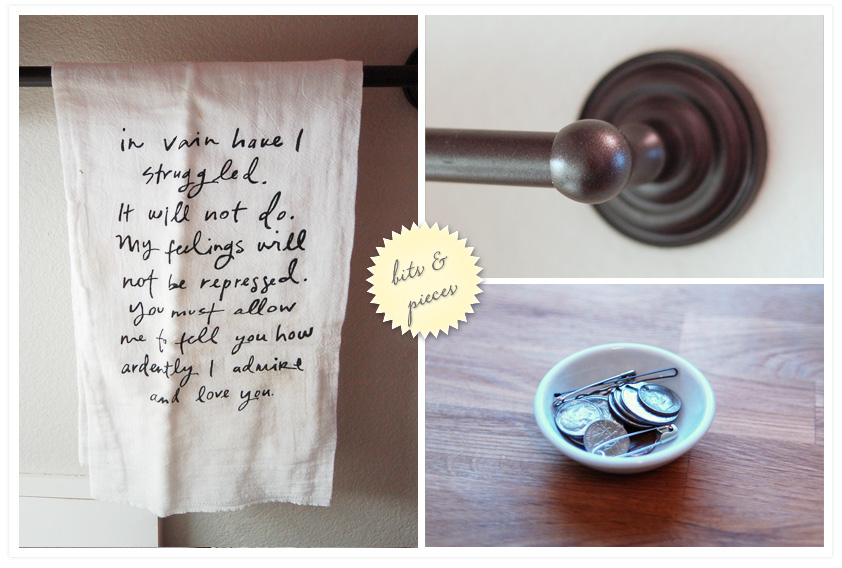 My favorite Mr. Darcy towel. I spray-painted the existing brass fixtures with Oil Rubbed Bronze paint. And a tiny dish for pocket finds. My most recent pocket find (yesterday) was six green peas. Somebody has found an interesting way to hide their lunch…
Our new light fixture…yay! Schoolhouse style from Overstock. Anything to replace the tube lights that were there before…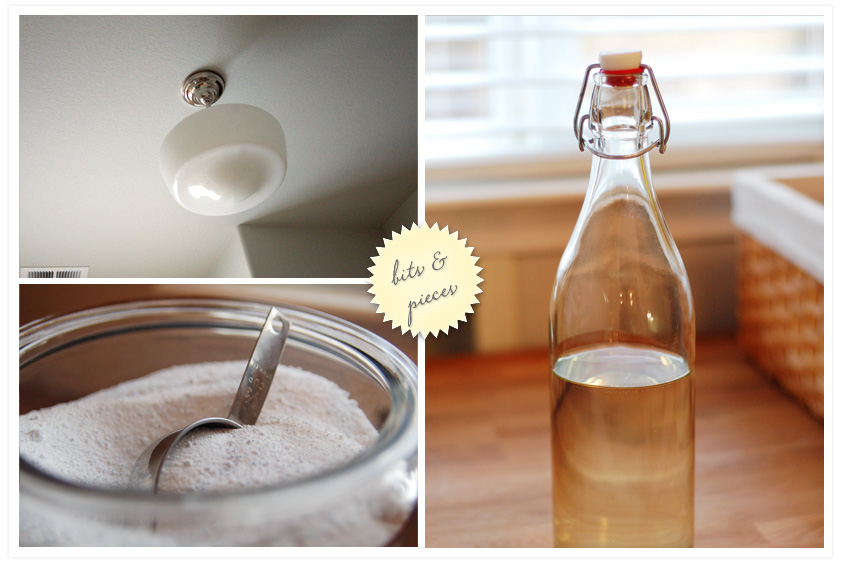 That's pretty much it! Although, we can't forget the stars of the show:
Our new washer and dryer. They work fantastically and I couldn't be happier.
Coming up next – how to mix paint, install butcher block and bully Sears into better appliance pricing!!