It's probably a little late for this post. In fact, it's definitely too late for this post. I'm supposed to be one of those put-together, organized bloggers who gives you 30 handmade Christmas ideas by December 2nd, and pre-decorates their house for Christmas in November all so they can photograph it and share it with you.
But that's kinda not what my life looks like right now. We've been really blessed this holiday season with wonderful friends, a great and busy business, and a (mostly) happy busy family. The decor went up (barely) by mid-December, we had a couple holiday opens studio events, hosted two different Christmas dinners (which were delightful), sang carols, played games and printed late into the night.
At the same time, I would feel lonely if I didn't have a chance to share my warm cozy Christmas home, with YOU, my dear blog friends. After all, you are the ones who really care about my DIY obsession, my arts and crafts trial-and-error, my silly "before-and-afters". So, yes, it's late, but pull up a chair and sit through it! I've decorated my house for Christmas and I want to show it to ya…
(Psst, this tour includes three heretofore unseen rooms of the Tennis home… yes, three! Including a peek at Cam's remodeled room! Consider it a token gift of my holiday affection for you all.)
Welcome to our front door!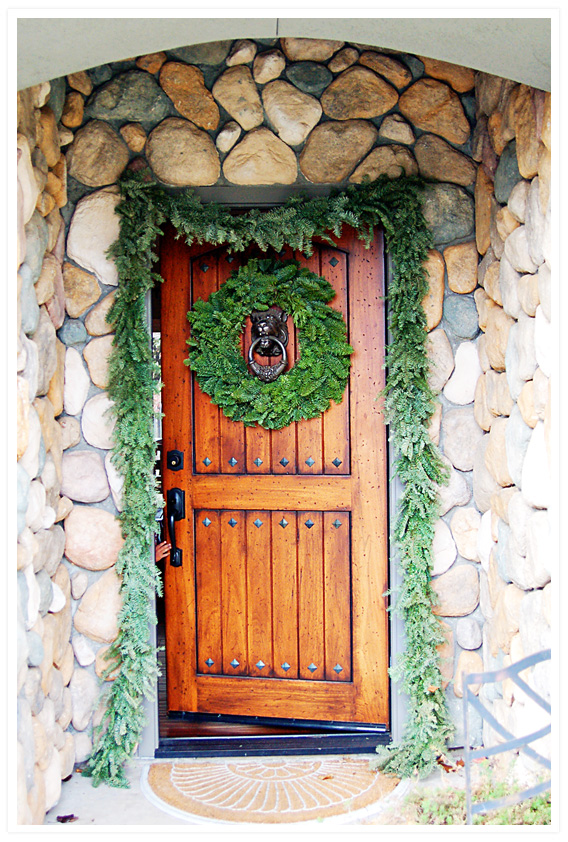 I admit, I should have probably added a bow or something to liven this up. I got too busy. But it's very classic, yes? No matter, come on inside!!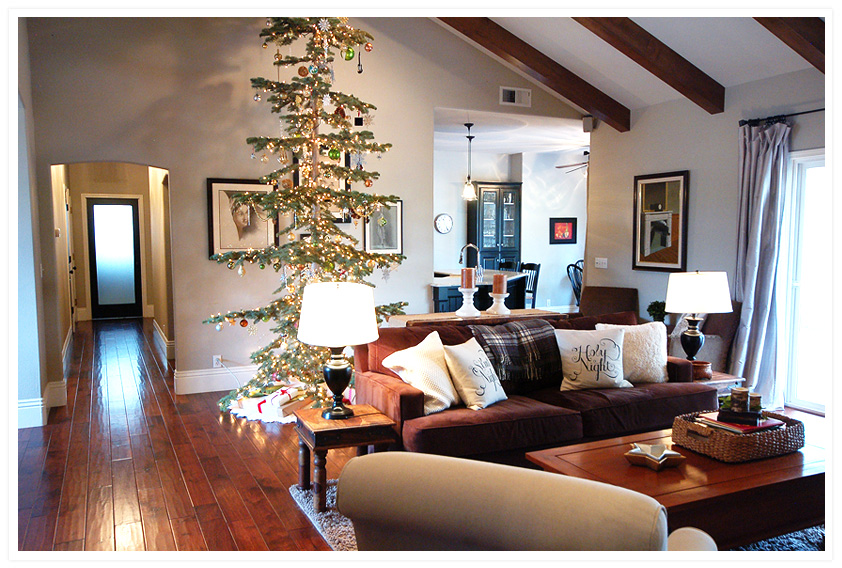 This is the view from the entryway. The main room includes our living room, kitchen, breakfast nook, dining room (to the left) and hallway. The frosted glass door at the very end is our laundry room. I have plans for a rug for that hallway someday.
Looking the other way in the living room…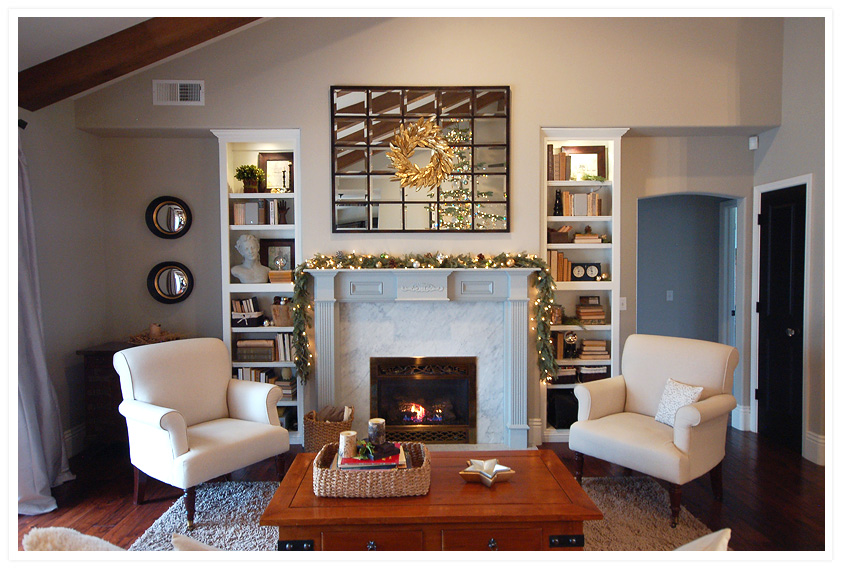 This is our cozy fire, built-ins and mantlepiece. The garland is real, extra from the one draping the front door. You can see the tree reflected in the mirror (my favorite). This is our cozy place that we love to hang out and talk or play a game. Especially after the kids go to bed. You can find us curled up in these two chairs, sipping port (me) or whiskey (him) and talking about life.
So you can see how the rooms connect, imagine you are standing in the corner behind the above left chair and looking out. It would look something like this…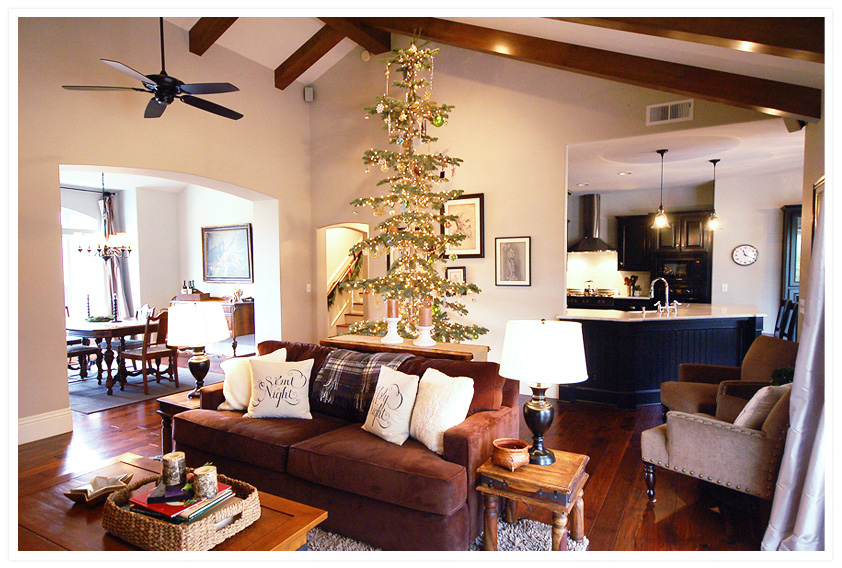 …if it was naptime and the toys were put away. Our dining room is on the left, staircase to Cam's room hidden next to the long hallway. See that painting in the dining room? It's a special old oil painting we picked up at the Paris Flea market, and someday I'll share pictures with you and tell you the story, I promise. In the kitchen, do you spy anything new? Bonus points if you saw the beautiful new black oven before I mentioned it! Install story to come at a later date, but let me tell you know, Matt Tennis is a handy-man genius, no joke.
Here's a closer look at the dining room…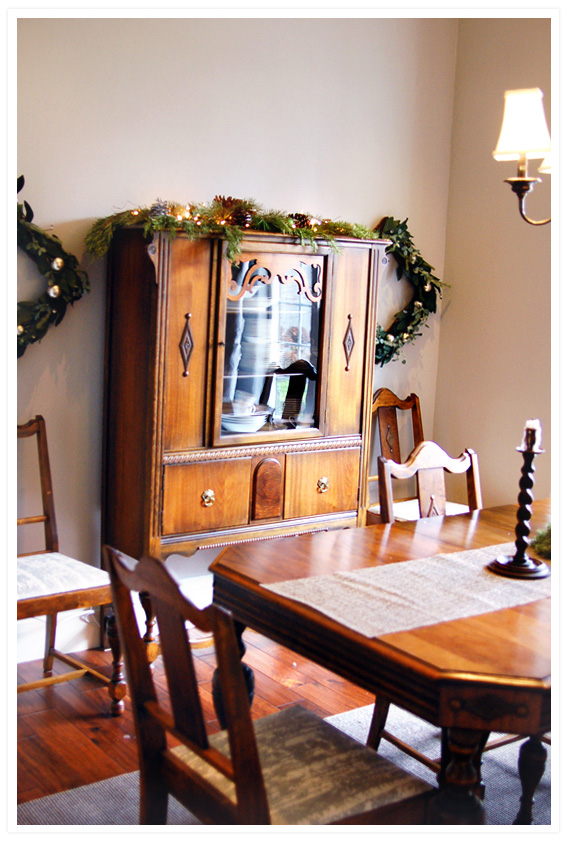 When it comes to Christmas decor besides the tree, I am pretty boring. I pile fresh cut (free) greens on top of cabinets with a few twinkle lights, ornaments and pine cones. I basically do this to the top of everything I can reach, and have for the past nine years of holidays. Original, huh? This was the first antique set we bought together, from the Pennysaver, believe it or not. It has been fabulous.
And since I've never shown it to you before (I think) here is the room to the right of the kitchen… our breakfast nook: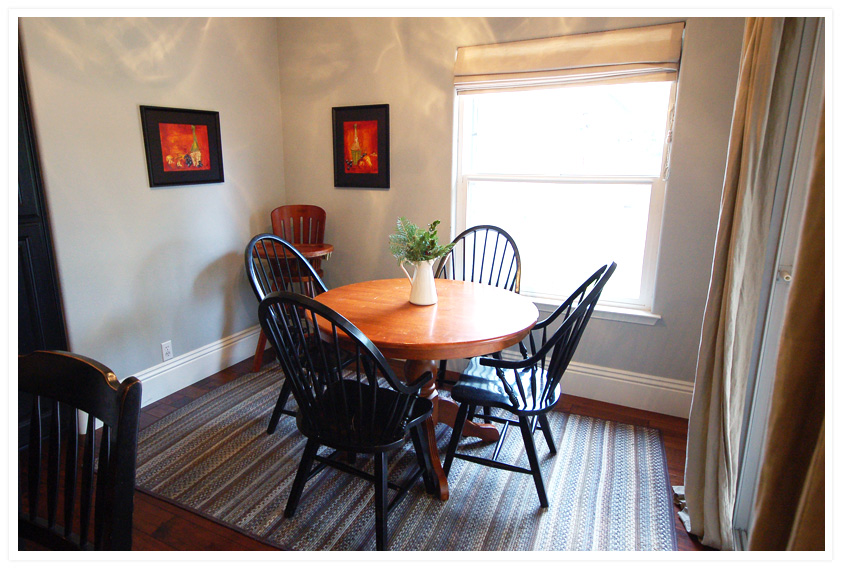 The rug I picked to withstand and hide stains, because boy, the kids make a lot of those! It's a very small, bright space, so we keep it simple. More cut greens in a vase. Again, free.
And next, our little powder bath…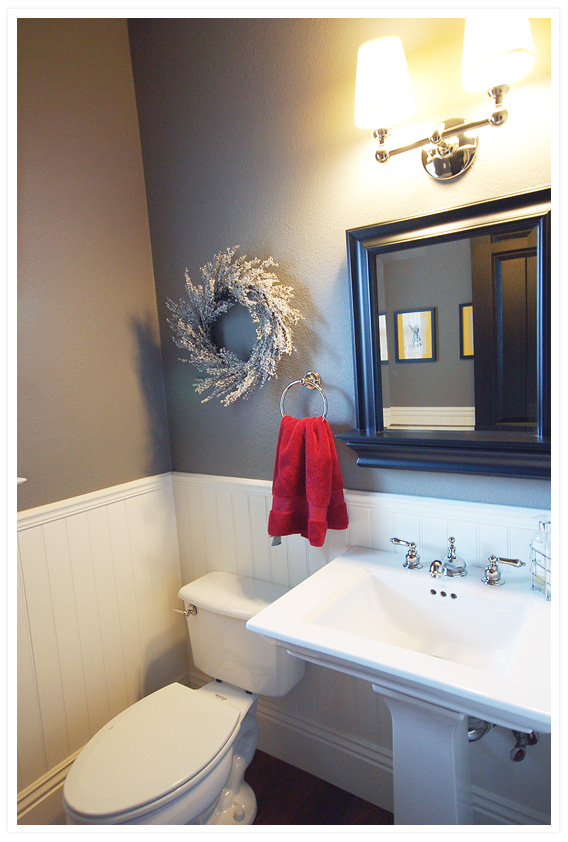 This was the first room we demo-ed in our remodel. Matt installed the pedestal sink, wainscoting, light and mirror, and I painted the whole thing Chelsea Gray (Benjamin Moore). It's a cozy little spot, and therefore hard to photograph!
Another new room…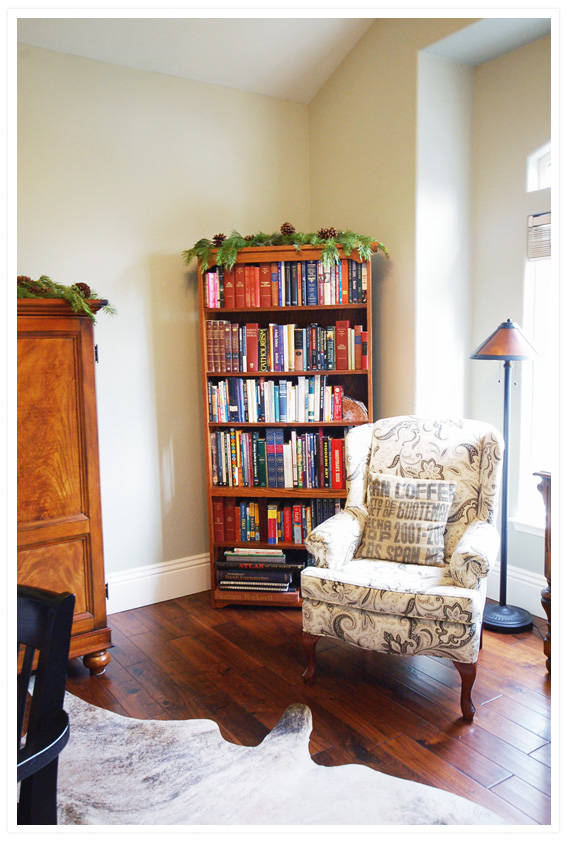 Our "conservatory room". You can call it the library or the study. Okaaaay, fine, it's our office. Sounds a lot grander in the British turn-of-phrase, doesn't it? My desk (the armoire) always looks neat… only because I can shut it up when not in use.
Matt's desk on the other hand…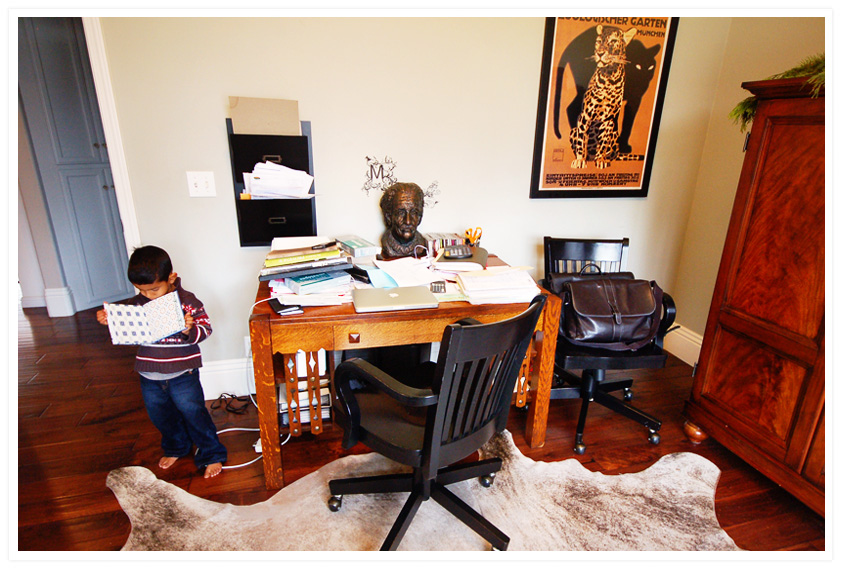 …is out in full view. Hey, before you pick on him, that's what my desk looks like on the inside, too. Heck, it's card season and tax season and everything else season, and we're keeping it real here. I still have plans to rework the office into something beautiful someday, but in the meantime, it works.
This is our remodeled staircase decked in its holiday finery…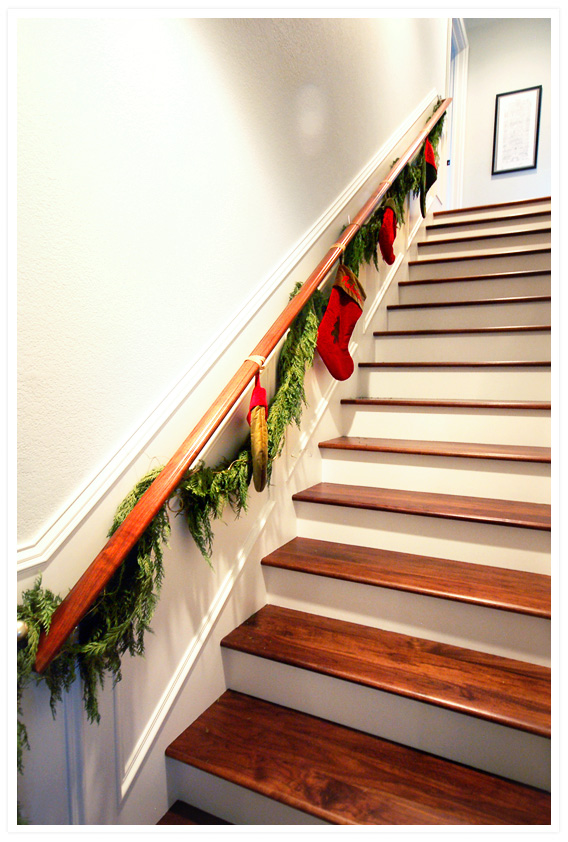 Because kids go up and down the stairs all the time, I kept it simple. Just the greens and our stockings. Nothing breakable.
And at the top of the landing, you see…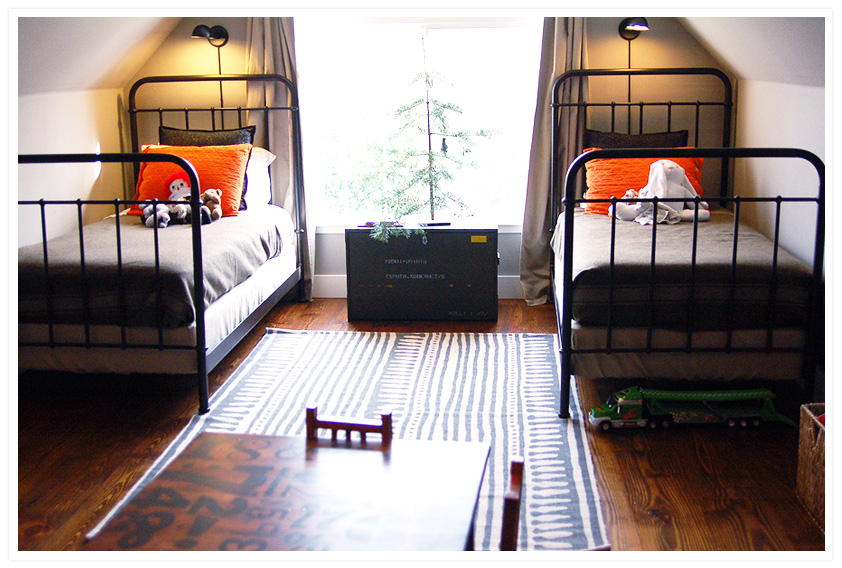 Cameron's room! Not done yet, but really, really close. Just two toy chests, some shelving, some paint and one closet organizational system away… but I figured, ah, what the heck, life's all about being lived while halfway there, so I'll show it you anyway! I love this space.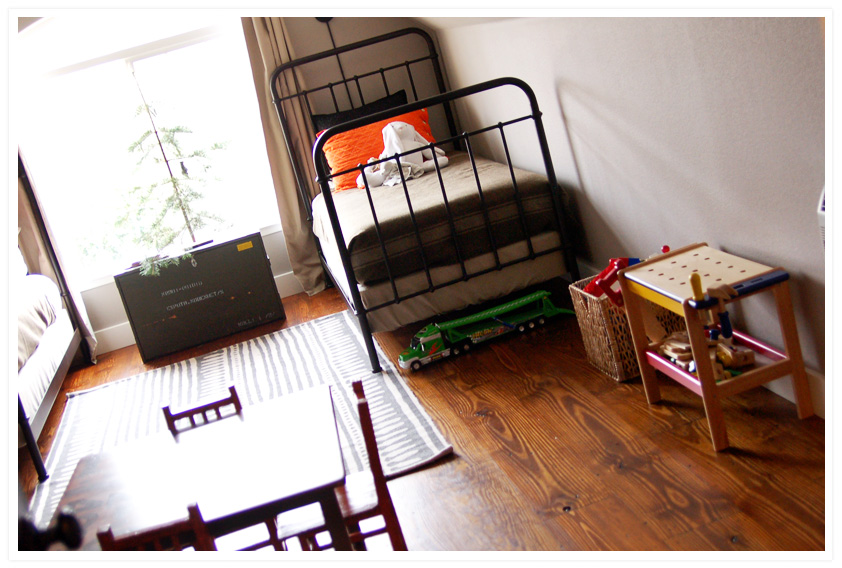 It's very kid-friendly and easy to keep clean. Cam even makes his own bed.
This bookcase (from the stationery show) I plan to repaint it grey and use some metal locker bins to store the toys: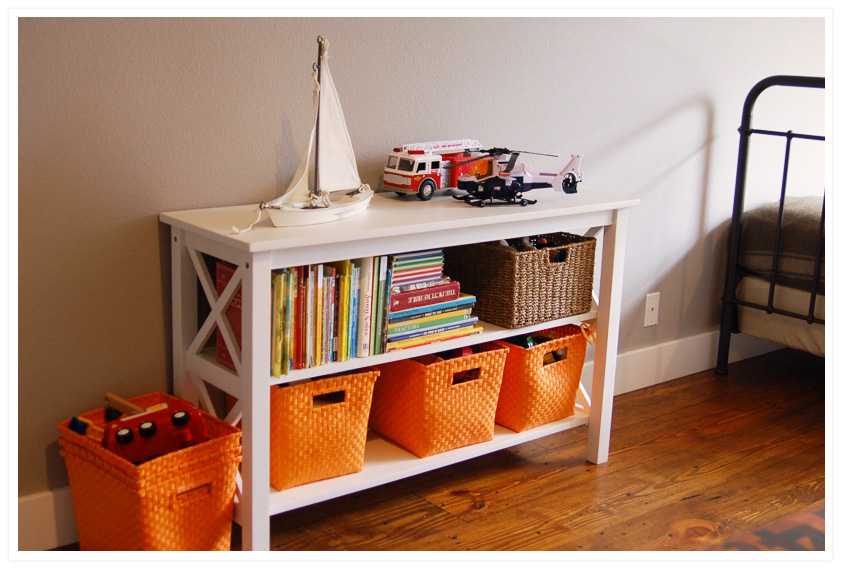 The current orange ones are a bit too bright for me, so they'll store the closet stuff and keep it organized.
And here is Cam's Christmas tree (did you miss last year and the year before?). Not much to look at this year, but it was free, and it's all his! He loves playing with it…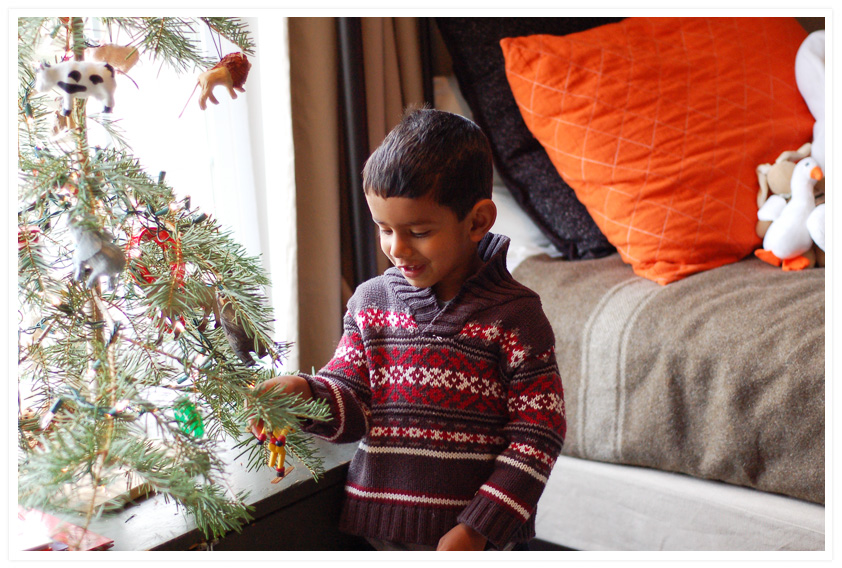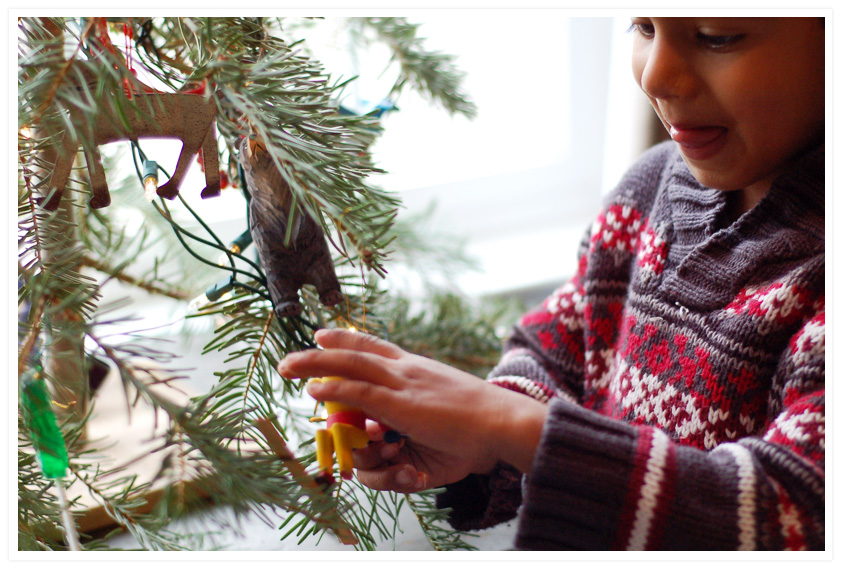 And here is the bed he made HIMSELF (I did the tucking, just to clarify)…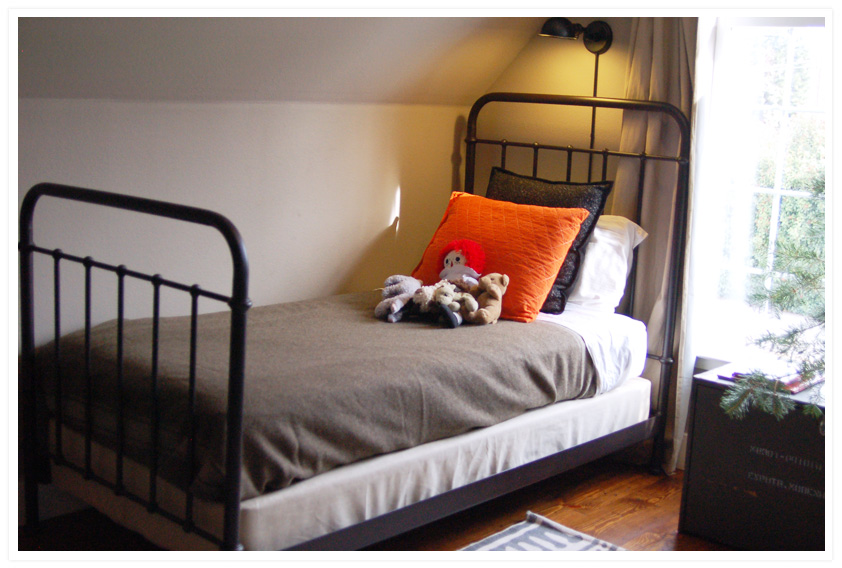 Not bad, right? The vintage wool army blanket is super-warm.
Back downstairs, let's have a look at our tree: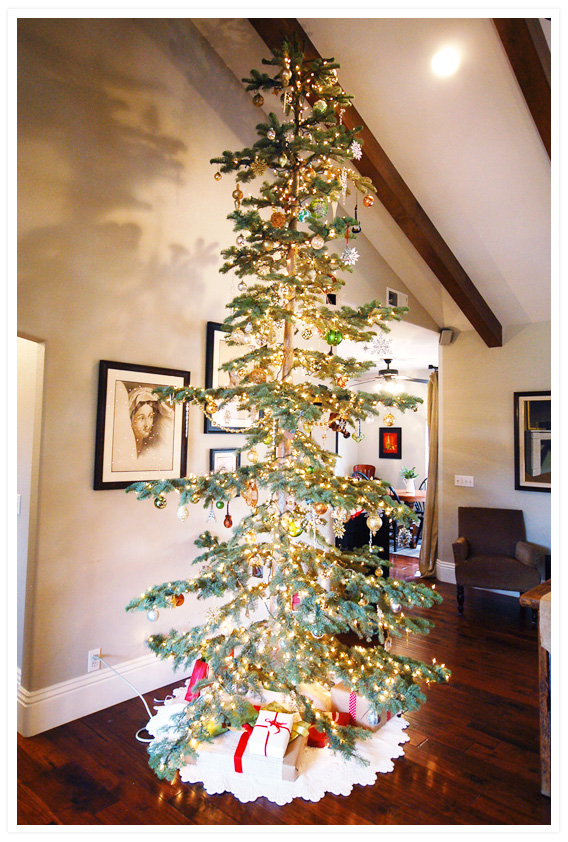 It's tall this year. Very tall. 14 1/2 feet, to be exact. Still costing just 10 bucks from our obliging National Forest Service program. It's a silver tip, and took about a billion light strands to fill out. Sometimes Lance just sits on the floor and stares up at it for minutes at a time. Speaking of which, the bottom three feet of ornaments are shatter proof, not glass, but he's been very, very good about not touching it. Perfect, in fact.
We have ball ornaments, and lights and filler, but each year our sentimental ornament collection grows (Matt and I buy each other an ornament each Christmas). We have ornaments from the first Christmas' of each of the boys (Lance's first is this year, as he was in Korea last year!):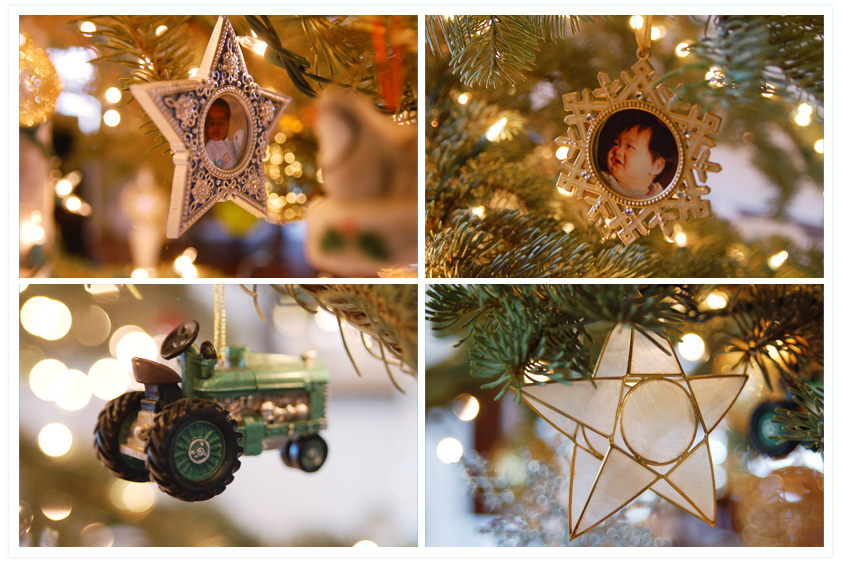 And see that new one, above lower right? That's a Philippine capiz shell star ornament Matt got me this year. I love how much it looks like a Parol.
Ornaments from the California Capitol and the White House…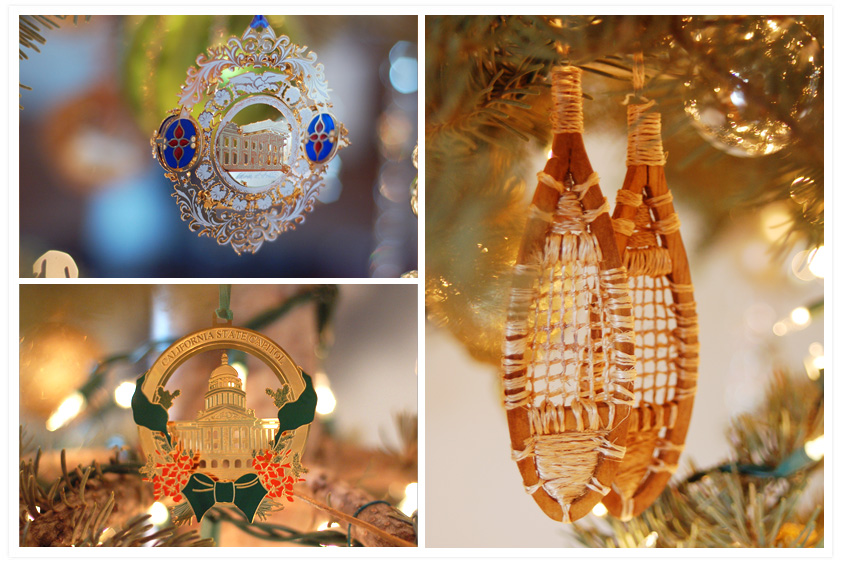 And the rustic snow-shoes I got Matt last year. Okay, I'm starting to feel very sentimental here. And you probably don't want an ornament tour of our ENTIRE tree, so I'll back up…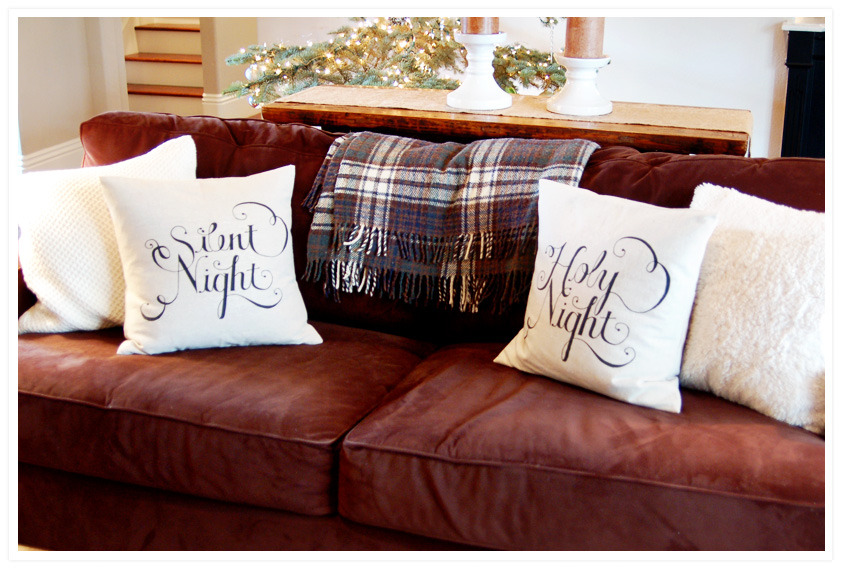 My only real new purchase this Christmas: Silent night, Holy night pillow covers. Aren't they just fantastic? Don't you wish your handwriting was that lovely?
So there it goes. A tour of our cozy Christmas home. If you've taken a look at the nursery, master bedroom, master bath, kid's bath and kitchen too, I think you've seen the whole house now!! (All except the Laundry room, that is. Someday, someday.)
Well, my pumpkin pie is cooling, and my pecan pie is coming out of the oven, so I'm going to sign off for Christmas eve. Just wanted to share our love of home decor and hominess together on Christmas, so thank you so much for stopping by.
Very Merry Christmas to you!