Hey there! Hope your Halloween was safe, and fun. We had a blast over here at Chez Tennis!
As an adult I basically saw no reason to celebrate anything Halloween related – we never dressed up, and our home in Sacramento was tucked so far back that trick-or-treaters were few and far between. But now, with small kids – you can see the joy and magic of both pretend and dress-up and candy. In innocence, it's truly a delight to witness – can there be anything more fun on Halloween than showing a four-year-old his much anticipated costume for the very first time?
So, I may have stolen my own thunder already – last night I posted this picture on Twitter and on my Facebook account. It was too cute not to share right then and there.
It was my first DIY costume.  I found this inspiration on Pinterest (Do you use Pinterest? It's so fantastic for gathering ideas. You can find my account here.) and I pulled it together on one Saturday afternoon. I am so tickled that it worked out!
Without further ado…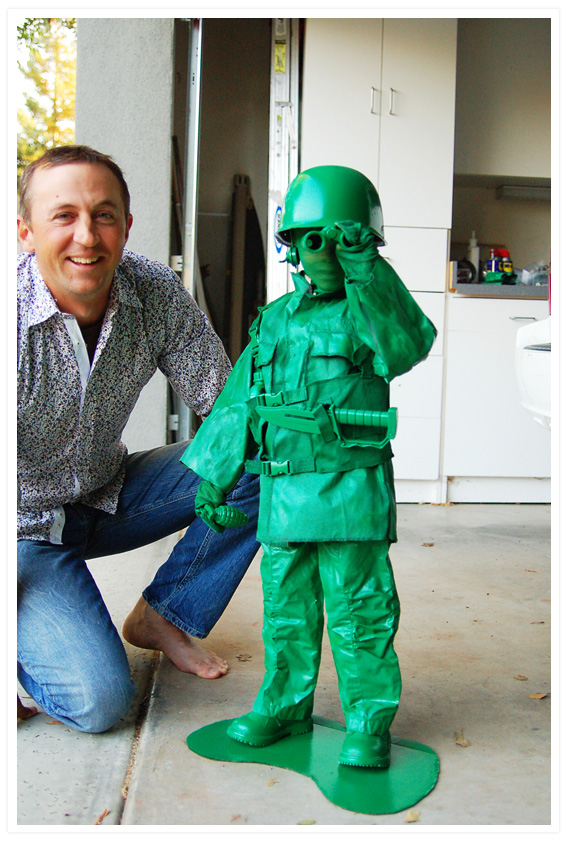 …I give you one Toy Army Guy.
Remember the little green plastic army men your brother used to play with? Or if not, remember the Toy Story series making them famous again?
Well, Cameron really wanted to be an army guy (I think he was imagining he might get a gun out of the bargain). Easy. Camo shirt and pants, right? But I decided to take it a step further and make him into the army guy he was imagining – the green plastic one.
He loved it! (Big sigh of relief.)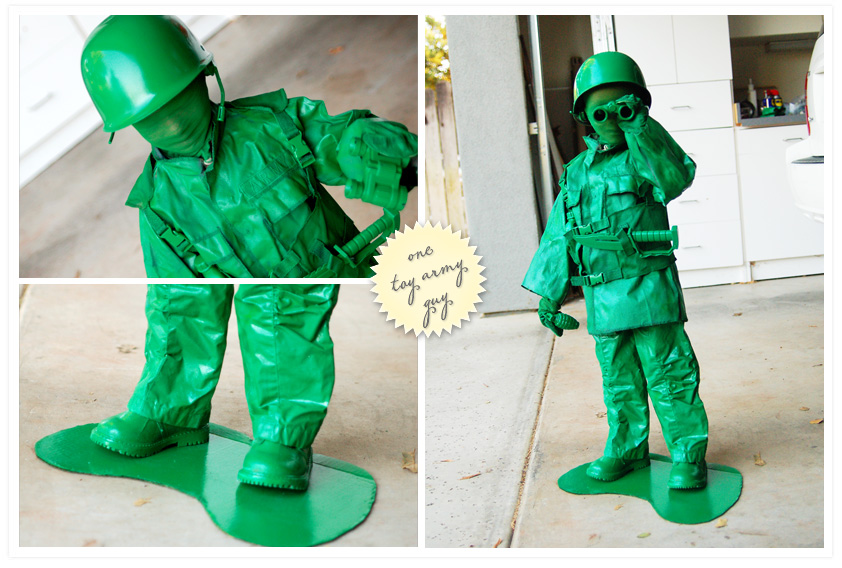 Lance was a bit too young to care about dressing up – he got to be a lion (which you've seen before here) and he seemed pleased enough to run around in costume. If he's well-fed and rested, he's generally such a happy-go-lucky guy.
And very difficult to hold still: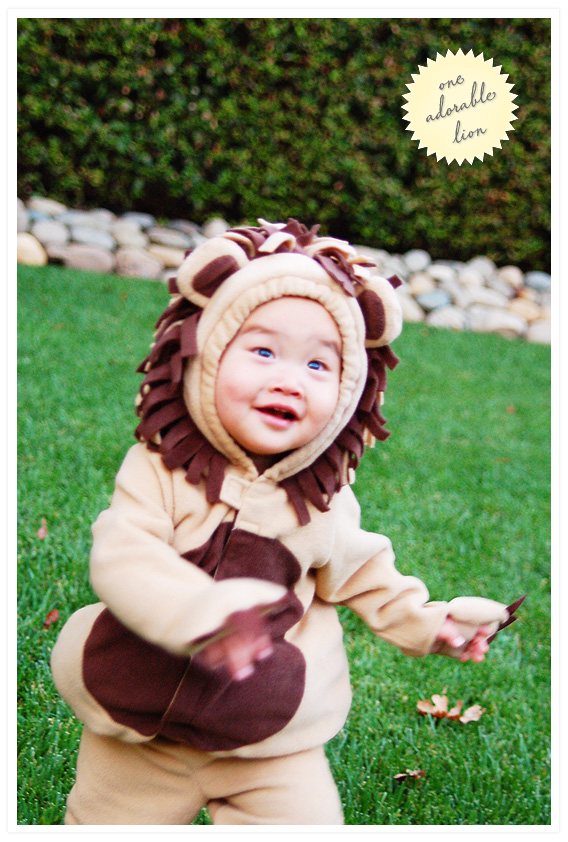 These are the only acceptable shots I got of the brothers together: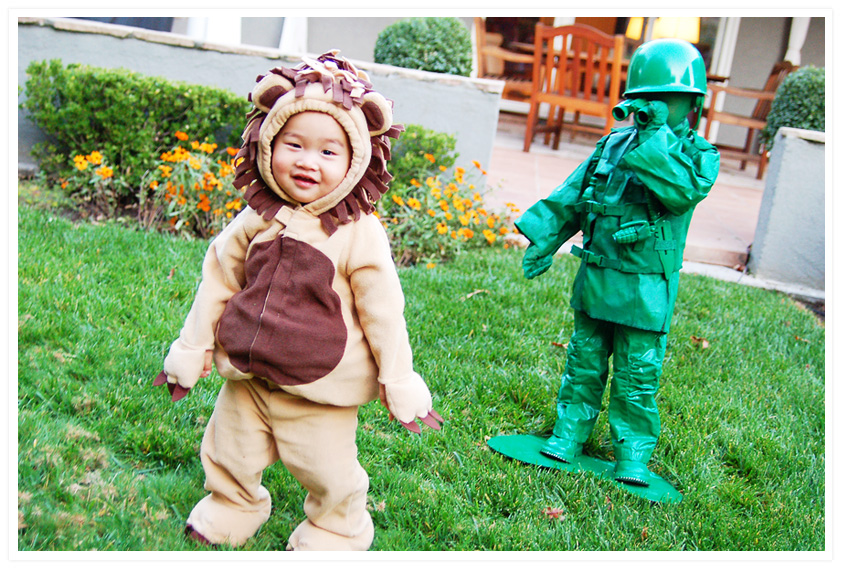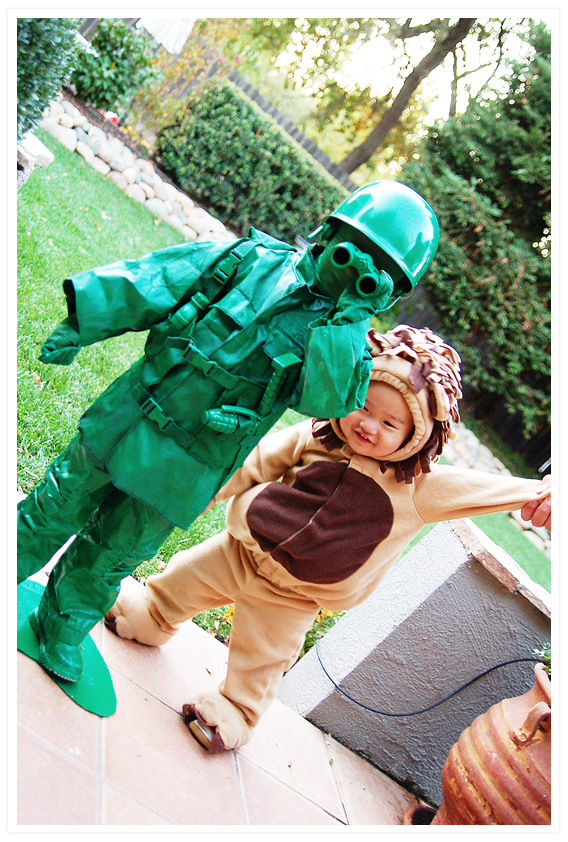 Aside from that it was total lovable chaos.
I have to tell you, Cameron loved the costume, but didn't care for the face and hand masks very much (some old nylon stockings painted green). So, most of the time, we let him go down our street trick-or-treating like this: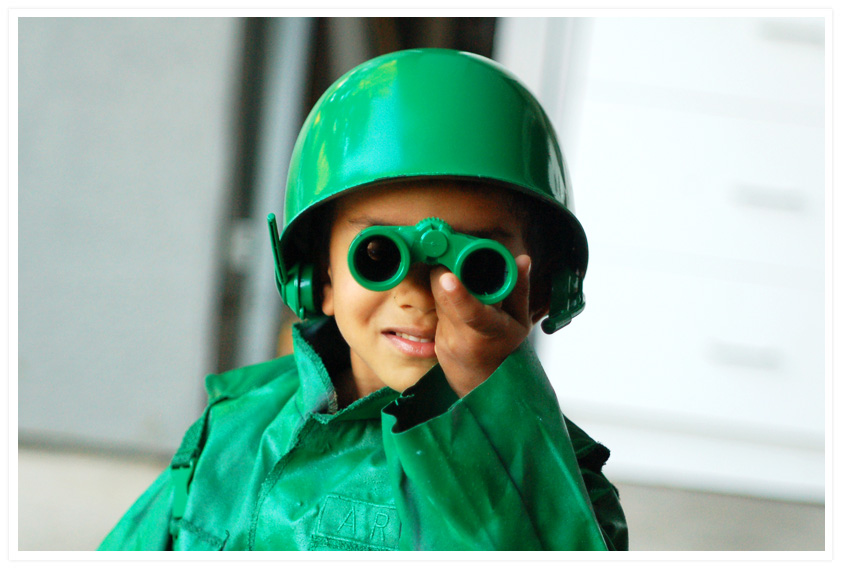 And pulling his best "fierce army guy" faces: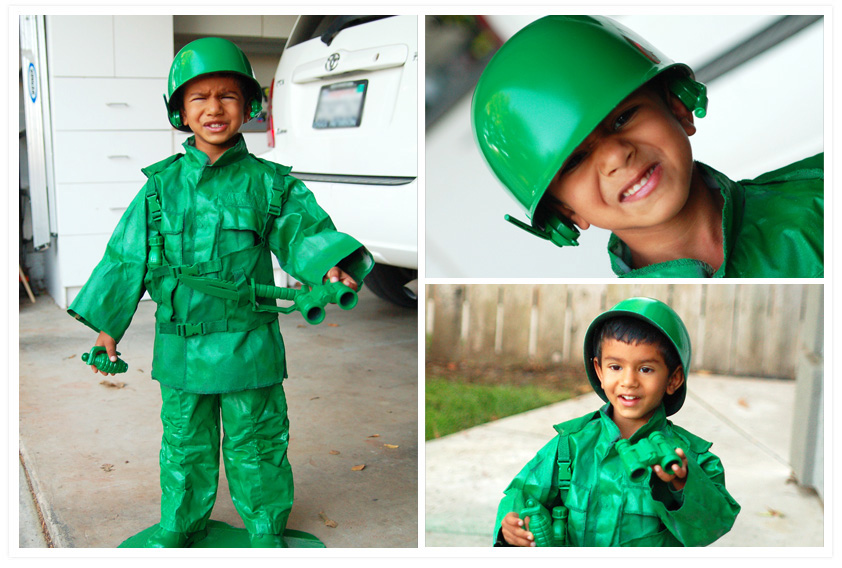 Don't mess with that tough dude!!
Okay so, I'm participating in the Pinterest Challenge with this costume (see something, pin it, and then actually DO IT in one week)… which is inspiring because it gives rise to so much creativity!
Here's a little quick blow-by-blow on how I put the costume together:
After the Saturday Farmer's Market, I threw the boys in the car and drove out to four thrift stores, three costume stores, a toy store and OSH. Good thing Chico is so small, in Sacramento that would have taken me all day driving. I arrived home in time for the boy's nap, and assembled what I had found:
At the Thrift Stores:
Pair of cargo pants, size 3T (girl's pants, sh!) $2
Pair of shoes, originally Old Navy. Stained. $3.50
At the Toy Store:
One Army costume on sale (the regular camo kind) $12
The costume included helmet, grey plastic accessories, a camo shirt and a green vest.
At OSH:
Four cans of spray paint, Meadow Green $8
Two cans of primer $3
Things I had at home:
Cardboard
A pair of snagged nylon stockings
So I preceded to spray prime and then spray paint (sorry, iPhone pics only here):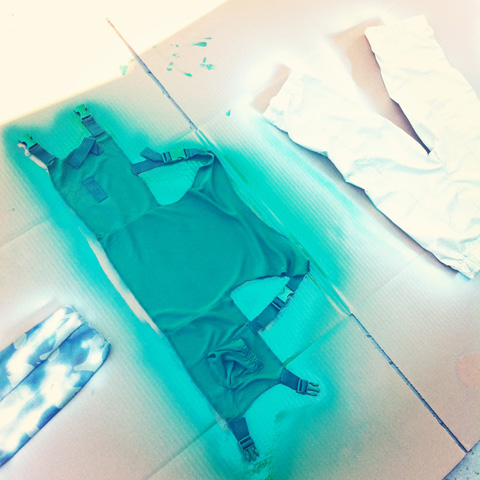 It basically takes tons of paint.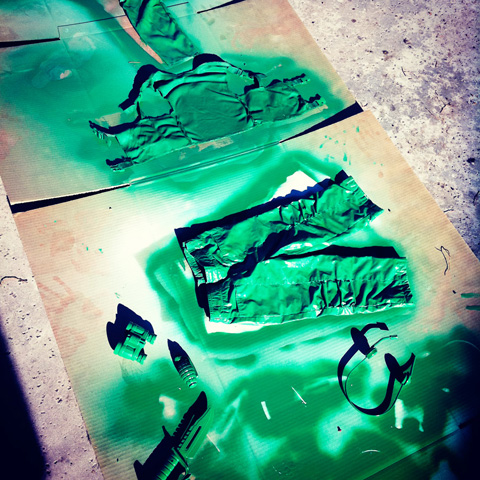 I wore the right color shirt for the job though…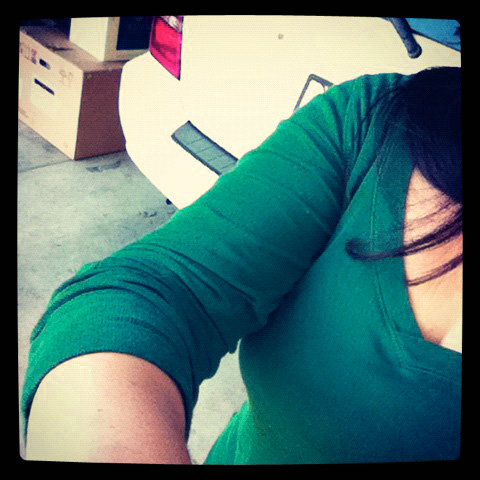 I think it was two coats of primer, three coats of green paint. And no, I didn't follow the recommend wait times for drying. I just did it all during nap. And then I let it all dry completely.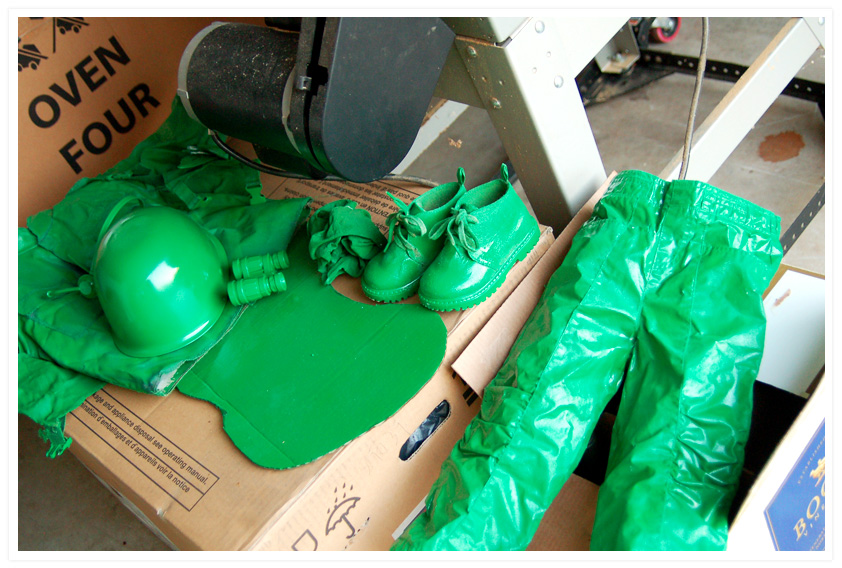 In order to paint the nylons, I placed them over some old cans to stretch out so I could spray, and then I pulled them off before they dried onto the metal.
The cardboard cutout was easy and was based on the shoes I was working with.
That's it! Not the cheapest costume in the world ($28.50 total), but sometimes just having fun with it can make it worth it!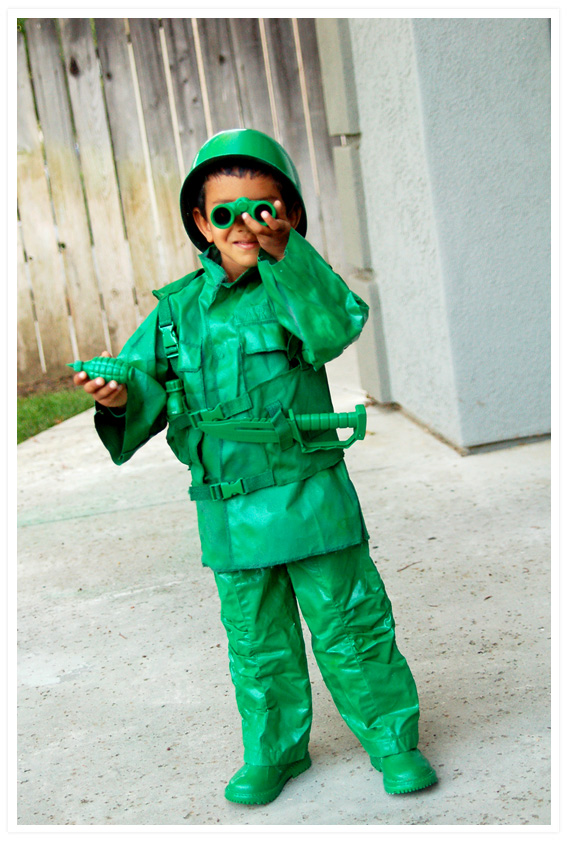 So long, army dude.
Did you make anything creative this weekend? I'd love to see!