If you remember the tractor birthday extravaganza from last year, you may have paused to scratch your head that I haven't brought up Cam's 4th birthday yet on this-here blog. It was October 9 (same as every year!) but we were waist deep in harvest and kept it really, really low key. And you know what? With a four year old, it doesn't so much matter. You can completely get away with it. Just a few special touches and I think he had just as much fun as last year's farming bonanza event.
First off, I gave him one birthday present early, so he could wear it all day…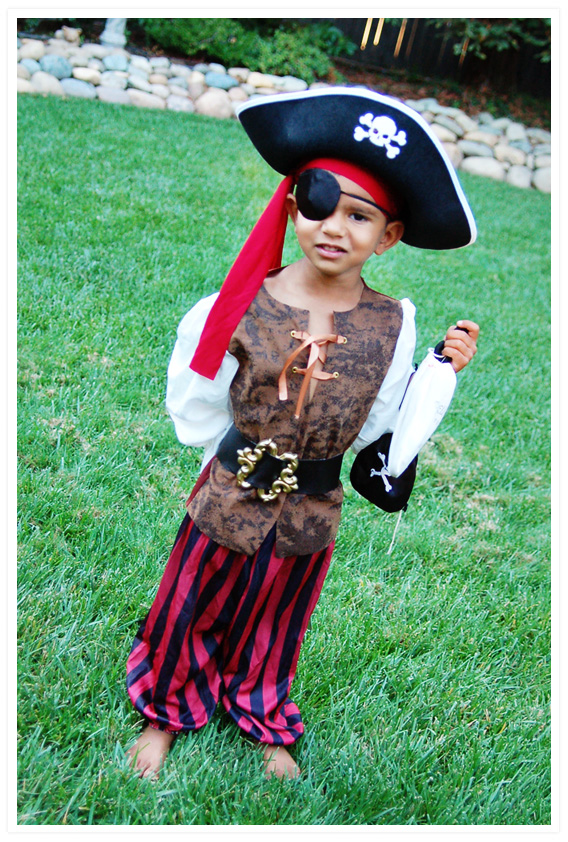 A complete pirate costume. Four is the dress-up age, let me tell you!! Tip: in order to make a fairly really cheap costume look nicer, just swap out the cheesiest elements. The "set" came with a horrible hat and boot covers, we just disposed of those and added in a better working/looking hat.
He loved it.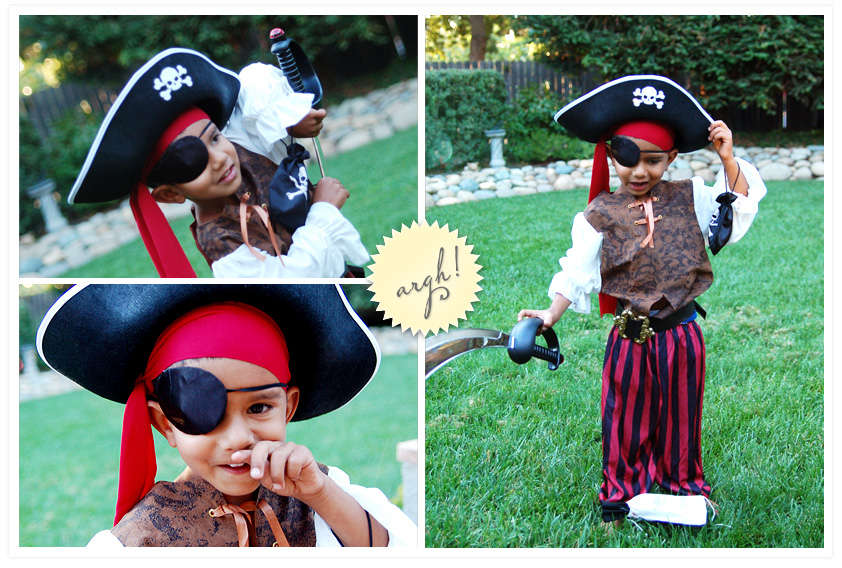 In fact, he's worn it almost every day since (that would be three weeks straight).
Next I made a birthday cake. I wanted to make a pirate ship cake, and I wanted to make the whole thing from scratch, and I started at 2 pm when the boys went down for nap. Considering the birthday dinner was at 6:30 pm, I think I got a bit lucky that this sucker turned out okay…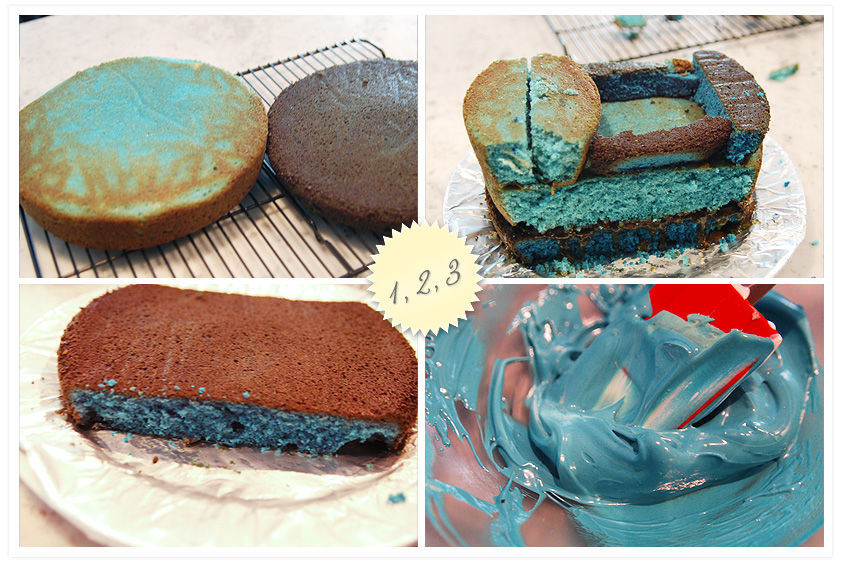 I just sort of made up the shape and it worked out.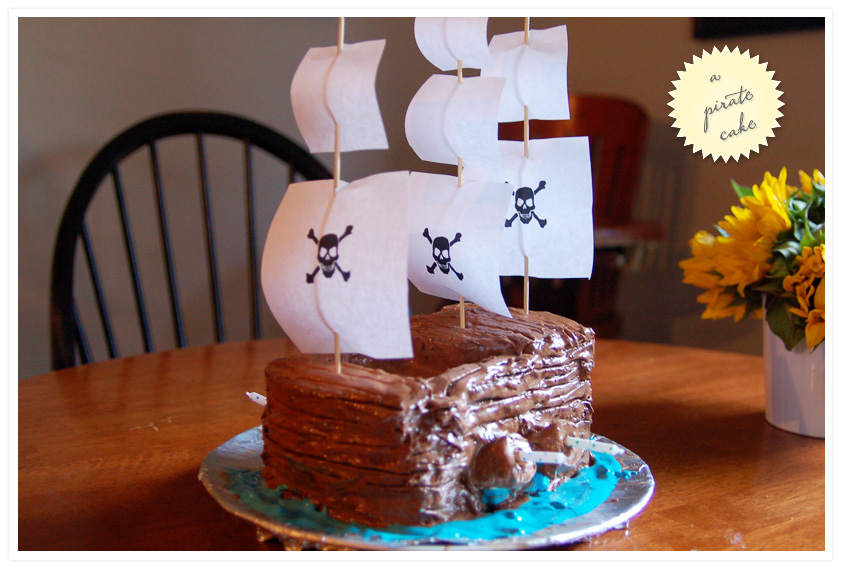 Not picture-perfect, but perfect enough to excite one small pirate: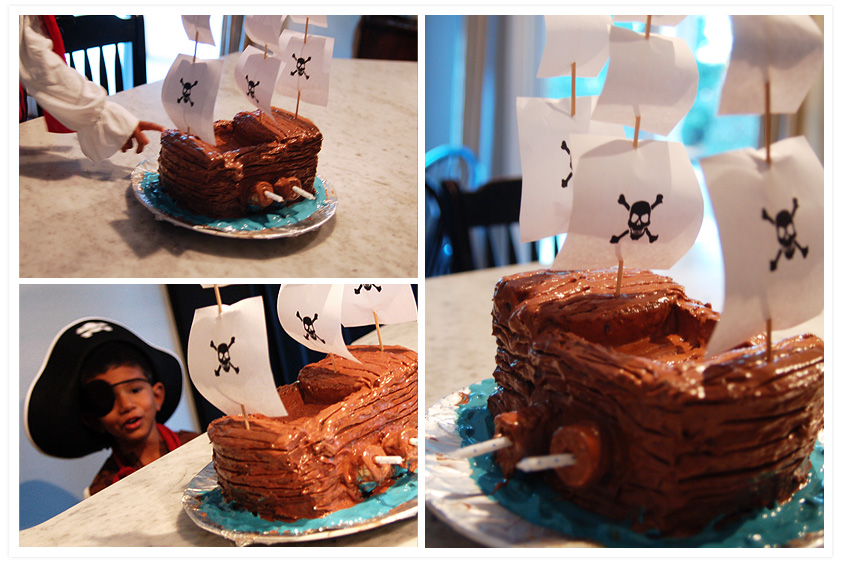 I didn't have more than a cup of powdered sugar, so I made a chocolate ganache-y egg white frosting and an almond cake with apricot filling. All considered, it was pretty tasty. The interior food coloring was a special birthday-boy request (if you recall, last year's cake had a color surprise too). The "cannons" that hold the candles (which looked completely wonderful when lit!!! I did not expect that part.) are simply marshmallows dipped in chocolate, pushed in with skewers. Again, not picture-perfect, but fun, fun, fun.
Overall, it came out much better than the cake disaster I had in May.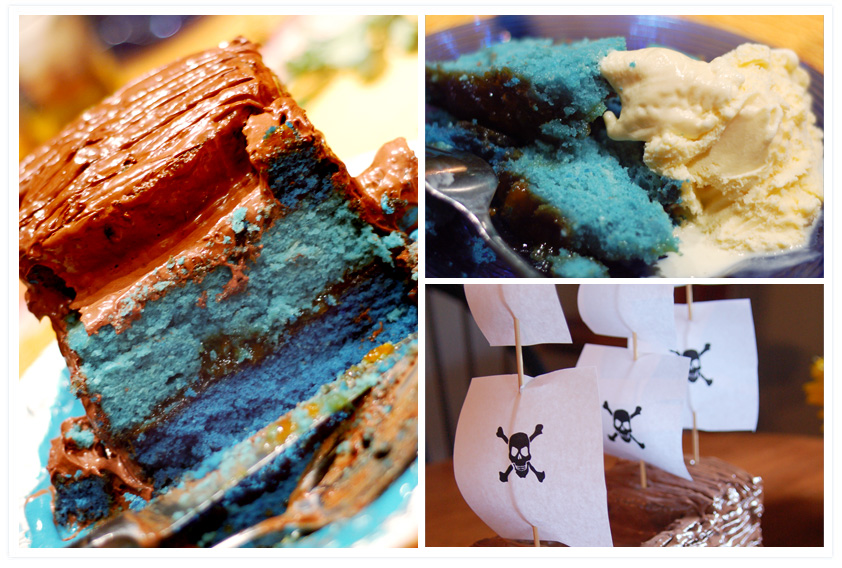 But I'm getting ahead of myself. We headed off for a birthday dinner at Grammy's house…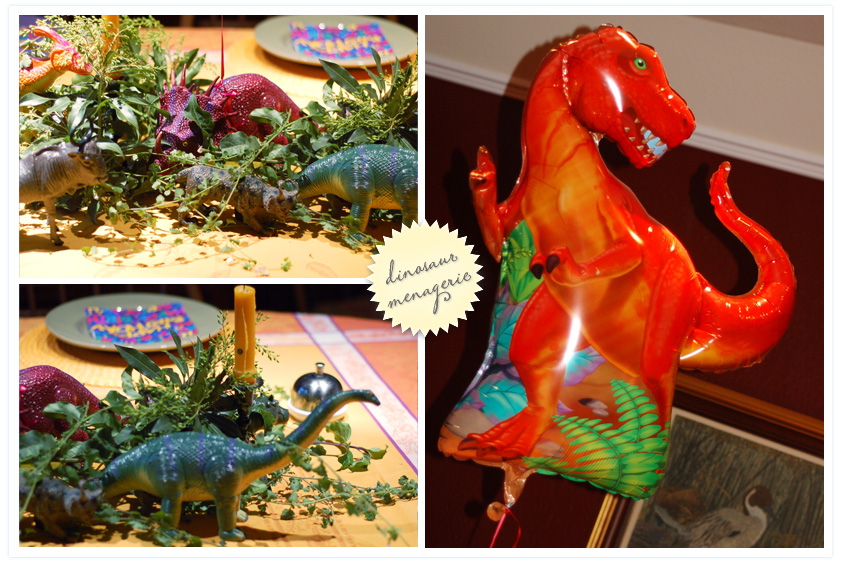 …which had perfect dinosaur decor. Seriously, isn't the table centerpiece jungle a genius idea? Too bad I don't have better photos of the layout!!
And then of course…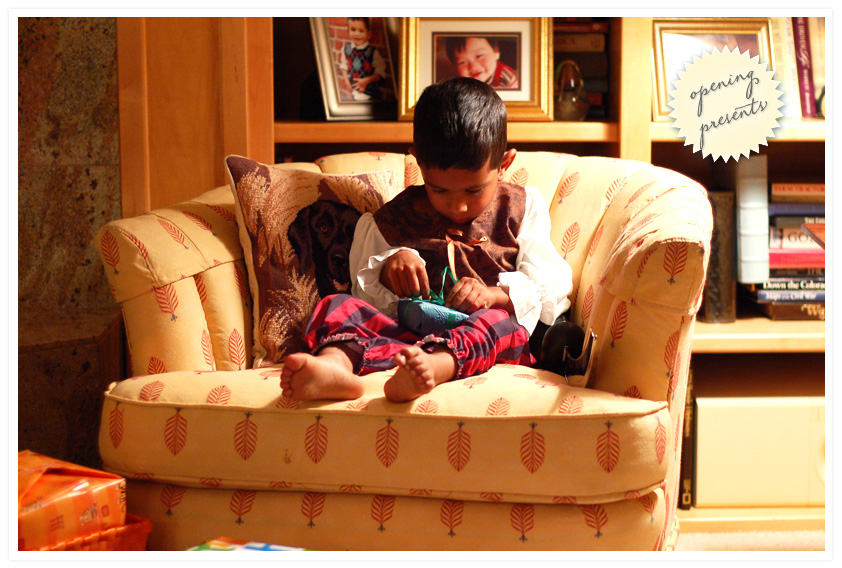 …present time.
So to sum up… pirate dress-up + pirate cake + dinosaur birthday dinner + birthday presents = one completely happy birthday boy.
Onwards, Captain, to 5 years old!!!
PS – Stay tuned for Halloween costumes and our holiday store launch tomorrow!