By now most of you will have forgotten that we were working on Cameron's big boy room… a long, long time ago. I believe I left you hanging mid-remodel, and I'm sure if anyone remembers the project at all, it is to think "poor kid, still sleeping on the floor with no furniture" —  in fact, I received an email last week from a reader asking me just that! Well, in as many words.
Rest assured, we have made progress on the room. It's nearly, nearly done. All that remains is to place artwork, work a closet storage system, paint the toy cubby shelves, build the pallet bookshelves and build two handmade toy chests. Wait, that's still a lot!! Ugh. But what we have accomplished includes finding the perfect iron beds, installing lighting, putting up black-out curtains, getting bedding and pillows, a dresser, a rug, and… a diy play table.
Which is what I'm going to share with you today. I hope you're ready for some DIY, because this one is a doozy!
I started with a 30″ play table I purchased from Amazon…
….All I wanted was to guarantee it was affordable, solid wood (no plastic, no particleboard!!!), sturdy, and small enough to fit some tiny vintage orange chairs I had bought for a steal on clearance at Nantucket Home.
In two days, with a bit lot of elbow grease, I turned it into this…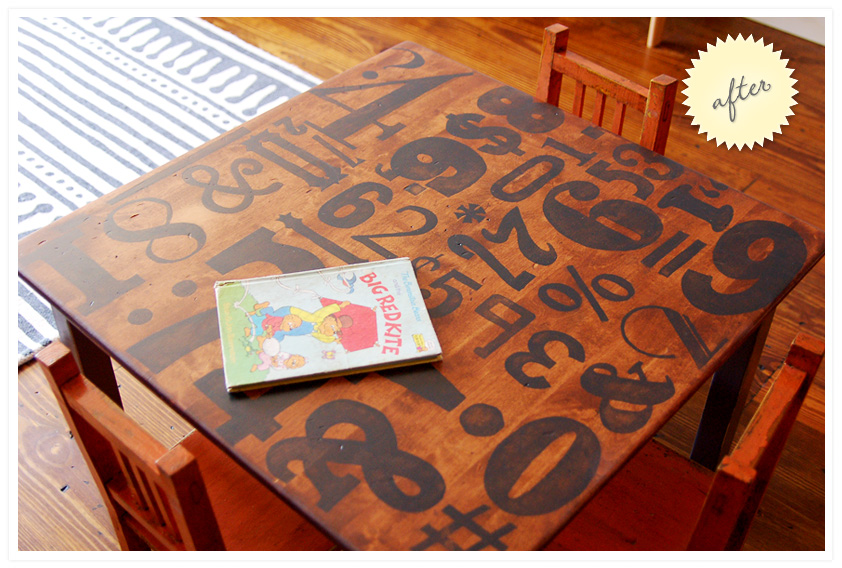 …a letterpress-inspired, numbers-fun play space.
Are you ready for the blow-by-blow? Brace yourself for 20 photos!
I began by sanding the finish off completely on the top of the table. An orbital or pad sander comes in really handy here.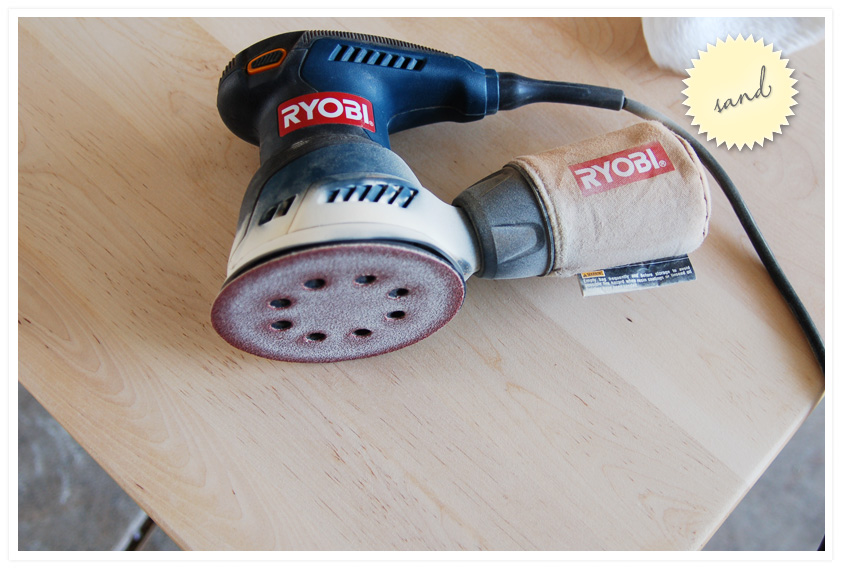 For the legs and underneath, I planned to paint them, not stain, so I simply scuffed the surface with the sander a bit.
Next, I used random items from the garage, and started banging up the surface…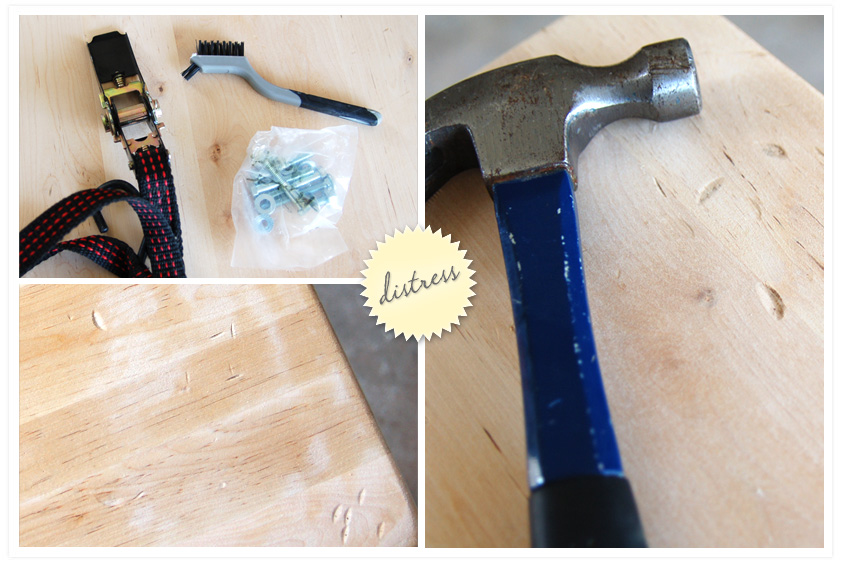 Throwing chains at it, banging with a hammer, dropping nuts and bolts, scratching with a wire brush… you name it. Just a little bit. My four-year-old really got into this part!
Then I marked up some of the dents with a Sharpie…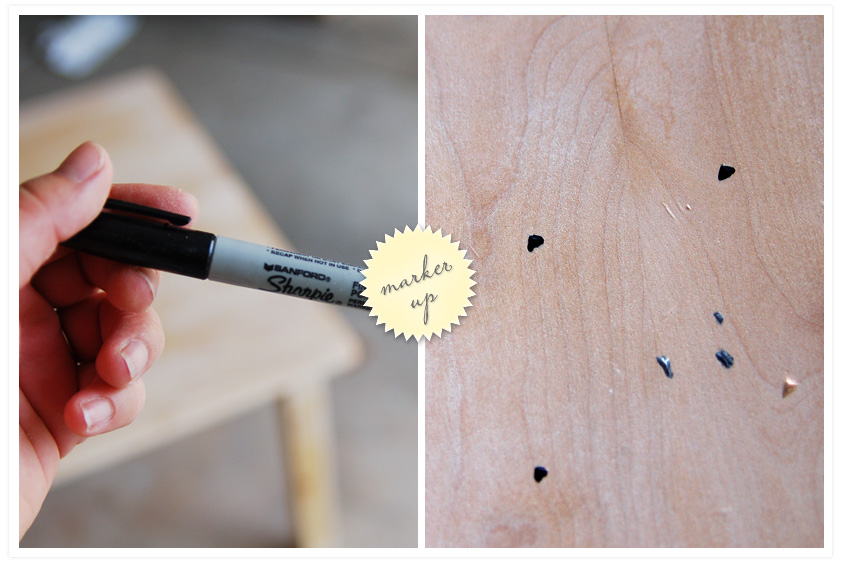 It looked scary and blotchy on application, but I knew because of our upstairs floor that it would all smooth out when the stain went on. I lightly sanded it one more time, and then wiped the table clean.
Next was the stain…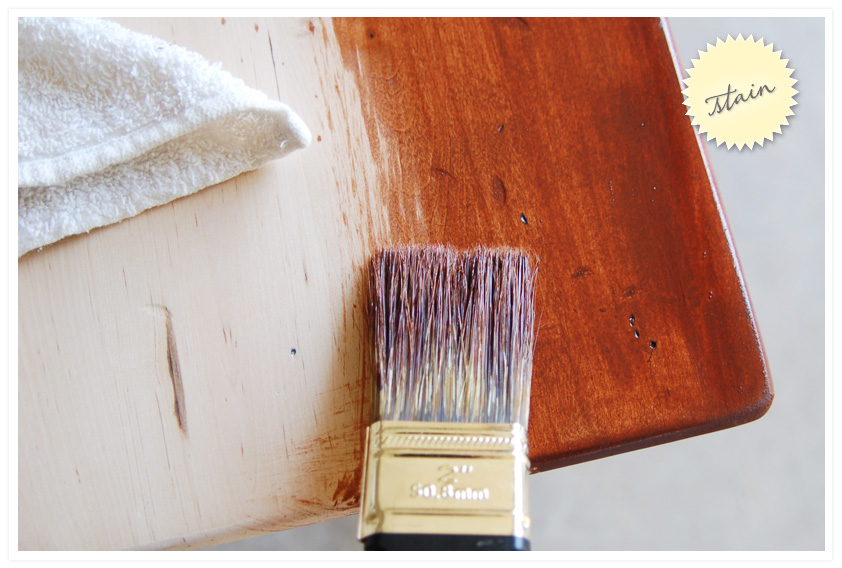 I used stain I had leftover from a past project (it's amazing how stuff collects!):
See how the Sharpie scuff marks already look better? I ended up doing a second coat of stain because I wanted the color to be deeper and richer.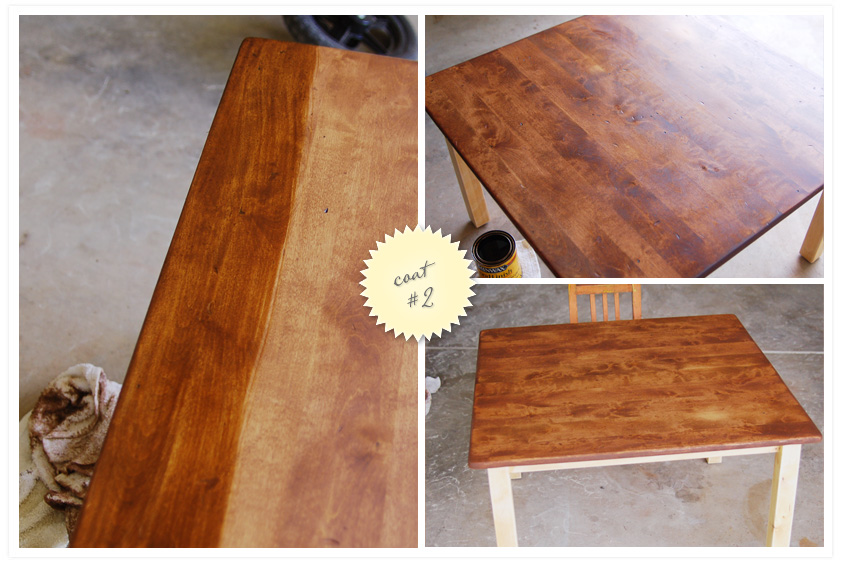 At this point I let the stain dry a bit. The stain can said for 12 hours, but I'm always overanxious to move on (major weakness), so after three hours when it was dry to the touch, I flipped it over onto a soft towel and cardboard.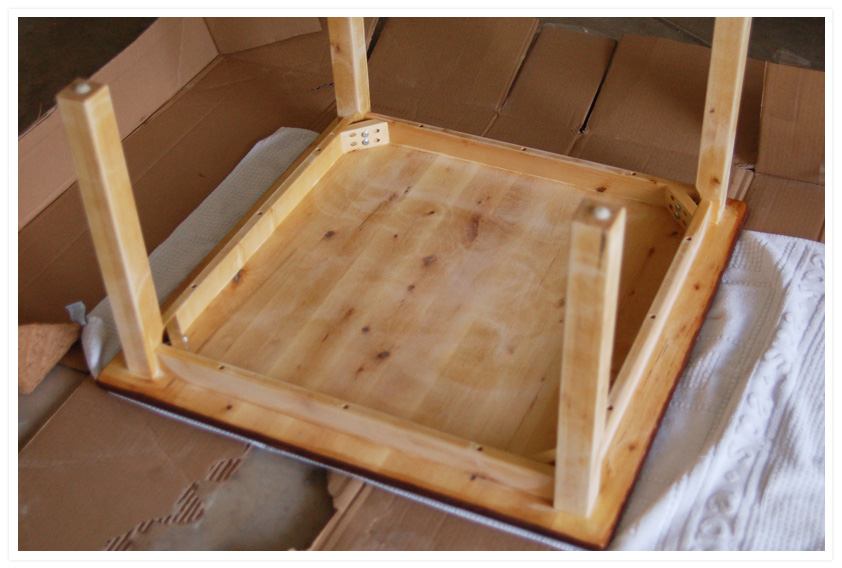 Then I primed the legs with spray primer: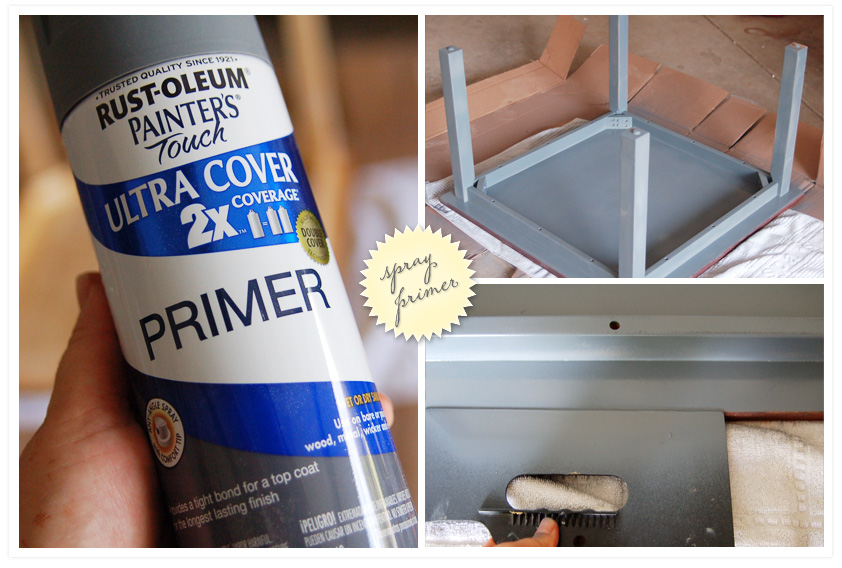 Rather than tape the tabletop which had fresh stain, I used a paint shield to keep the spray from effecting the lip of the table. Worked like a charm, although I sprayed my finger a couple times!
Next was paint – Rustoleum's London Fog, a warm shade of, you guessed it, gray: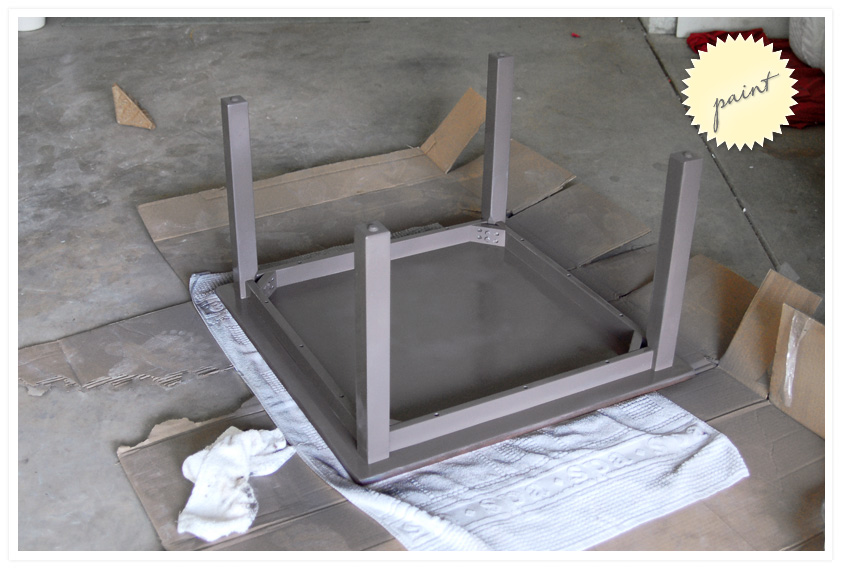 Two light coats of that, and I was finished with the legs. I let it all dry another three or so hours until after supper and the boys were in bed. Then I couldn't resist continuing.
I created a template in Illustrator, inspired by locked-up overscale wood letterpress type: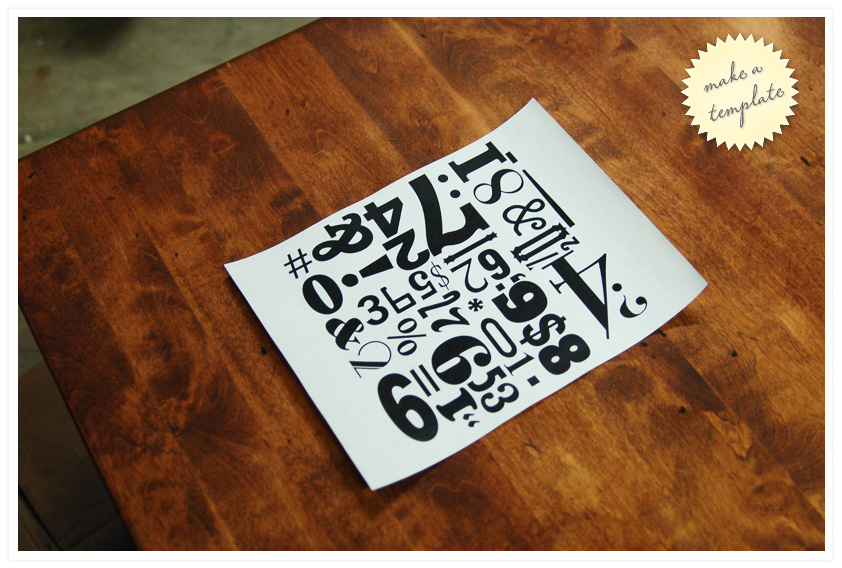 And printed it out the size of my table, in multiple sheets: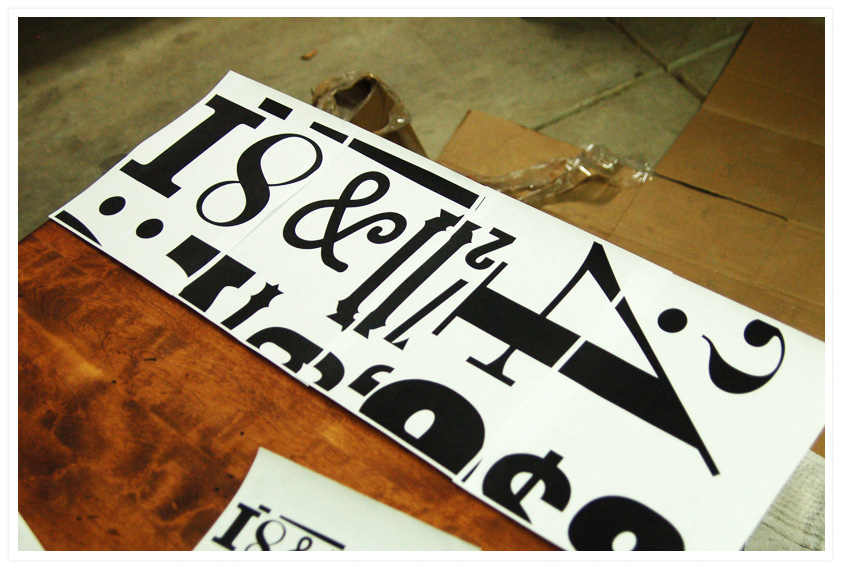 Then I had to transfer the layout to the table. There are multiple ways to do this. One is with a light projector (don't have one), another is with graphite (I used this in art school a lot), and thirdly, there is pressure tracing. Which is what I chose to do. Basically, you use a pen and press fairly hard as you trace over your print out, properly positioned on the table. This picks up a bit of the stain finish, and creates a slight indentation in the table that you can follow for filling in with paint.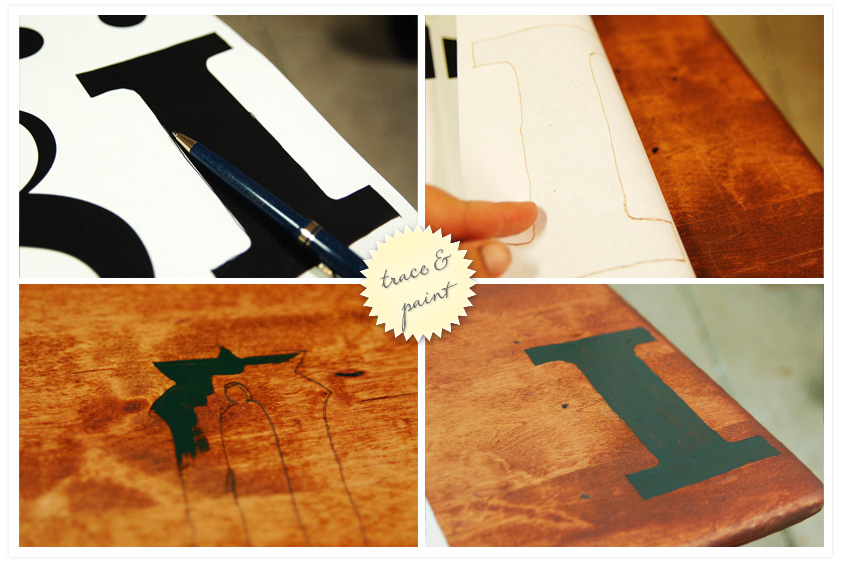 You see? Occasionally, when I had trouble seeing the light scratch mark, I would go over it with a pencil before adding the black paint (as witnessed by the zero, above left). For the paint I used leftover oil-based black (a sample from our kitchen cabinets project).
I wanted the paint to look like it came off a letterpress (with a bit of patina/saltiness) so after it dried a bit, I pressed a rag into the surface and sponged some of it off: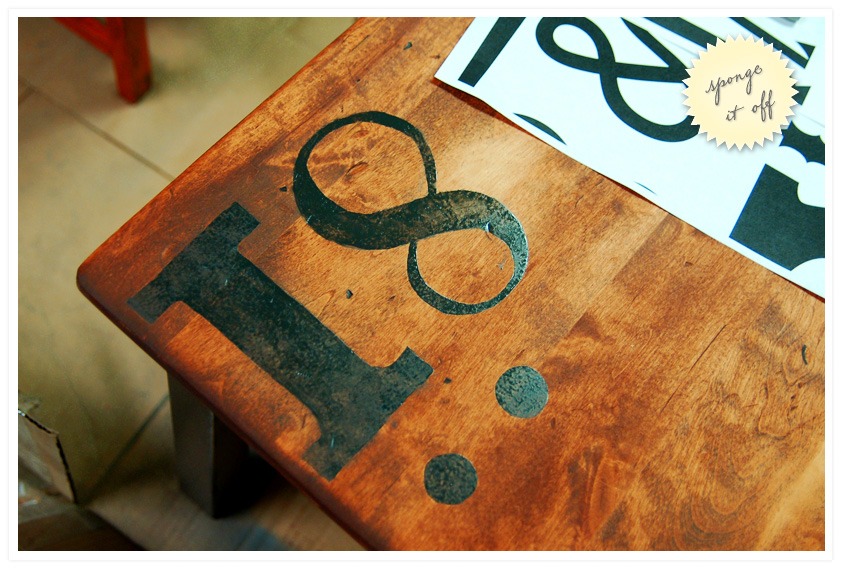 …dab, dab, dab.
It was pretty easy. The kids were in bed, Matt was gone at Boy Scout Family camp, and I had the night to myself to paint away…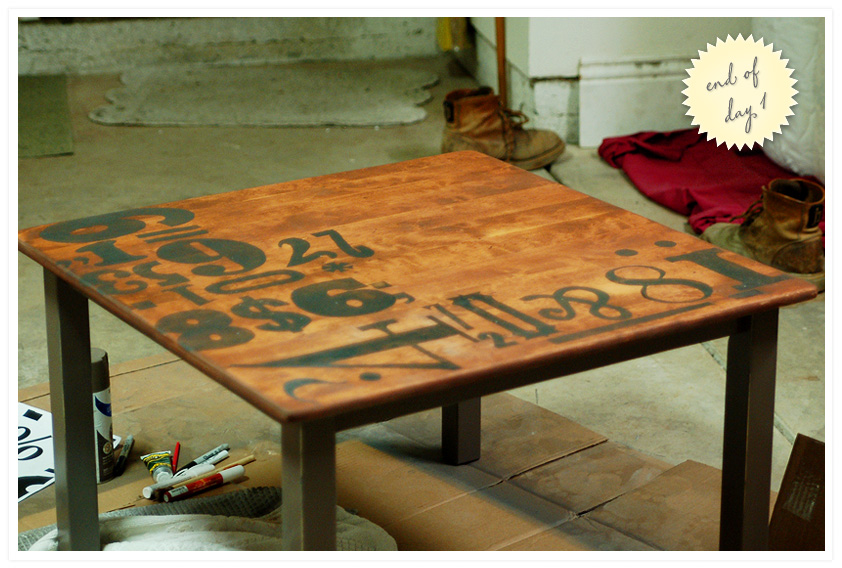 So I got a lot done on the first day. Day two I finished up the numbers during naptime…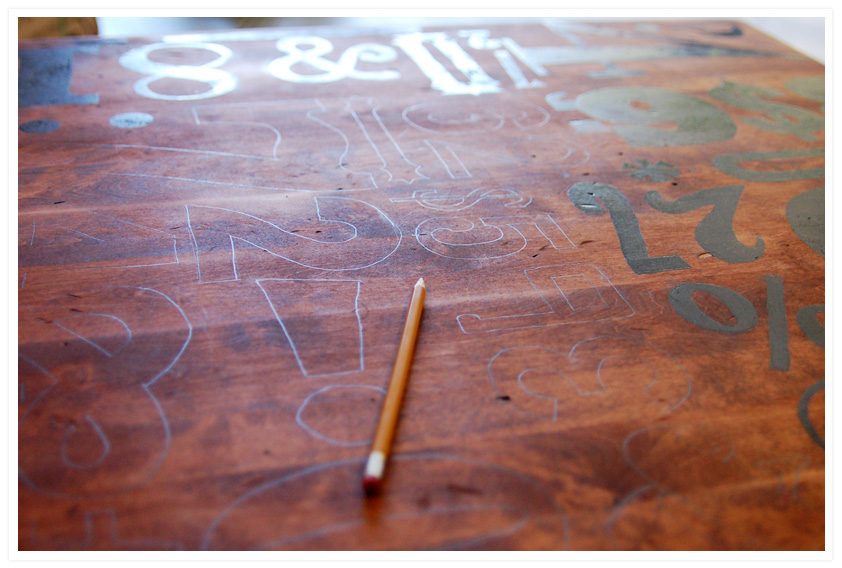 And added three coats of brush-on polyurethane…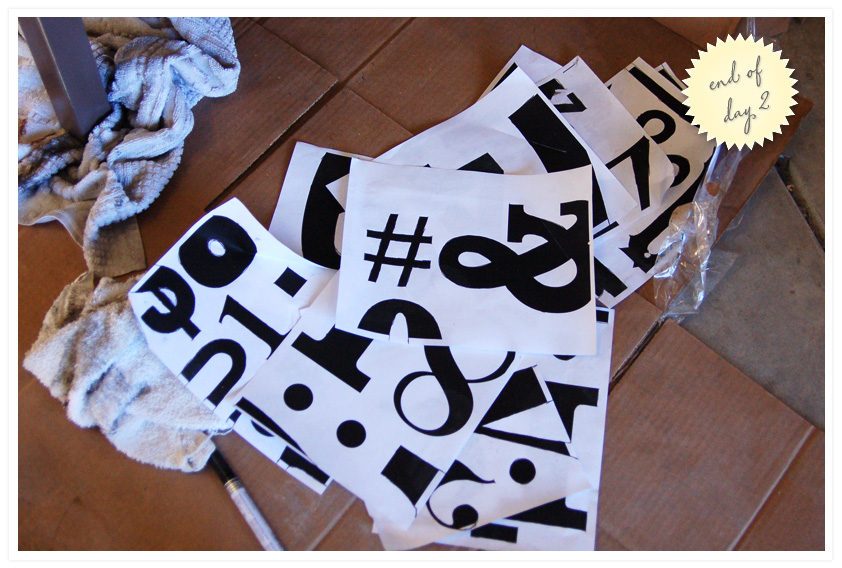 Then I cleaned up, and sat back and let it cure for three whole days (that's a lot of patience for me!!). I didn't want to put it up in Cam's room and have the finish get peeled/scuffed off right away!
At last it was ready to go upstairs…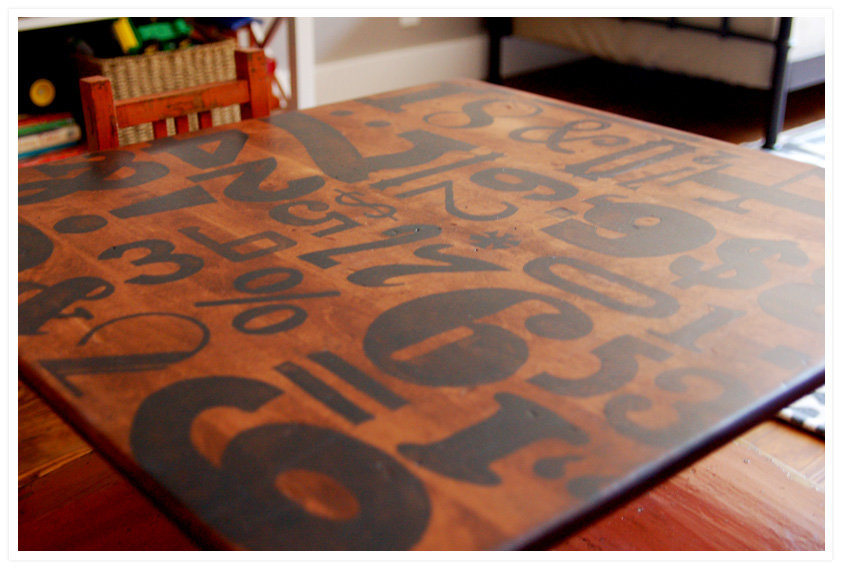 That's it folks!! A DIY letterpress-inspired number play table! I'm pretty happy with how it came out. I only have three of those cute old orange chairs, but we have plans for the fourth seat… a log stool straight from Camp Lassen itself. Rustic at its finest. 🙂
Where's the rest of the room, you say? Well, I'm mostly waiting to share it with you when it is DONE! But here's a teeny sneak peek to hold you over: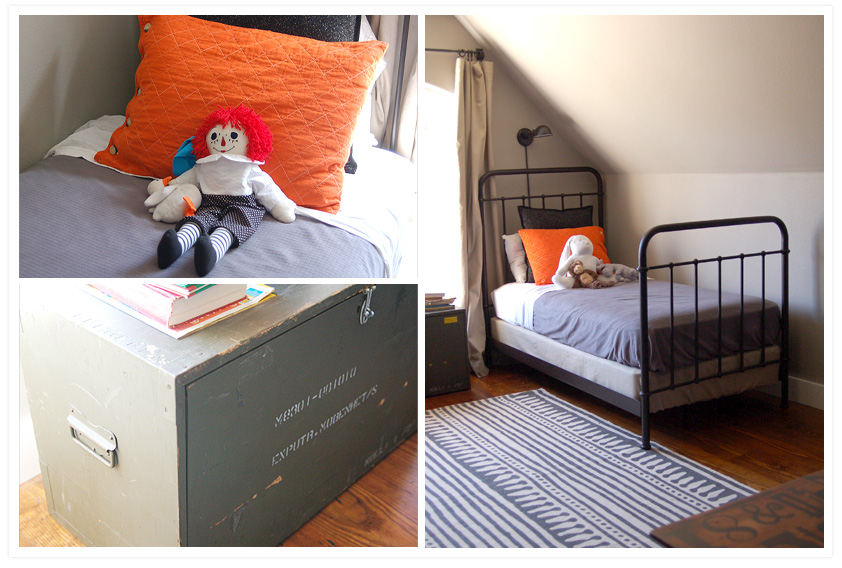 You'll just have to wait for the rest. Trust me, I'm impatient for it too!