It's Autumn at last, folks! And you know what that means… bring on the Fall decorating projects! Another year, another wreath.
This past Sunday afternoon I got inspired by the sudden cold weather and rain, so during the kid's naptime, I threw together a magnolia leaf wreath. Seriously, the whole project from start-to-finish took maybe 25 minutes, and that included collecting the leaves and running up to the attic to get the old wreath forms. So, I'd classify this DIY wreath as being easy-peasy-lemon-squeezy (as a child I used to say "easy-peasy-Japanesey" but a) I don't actually know what the heck that means, and b) it doesn't sound particularly P.C. nowadays).
This is what I made: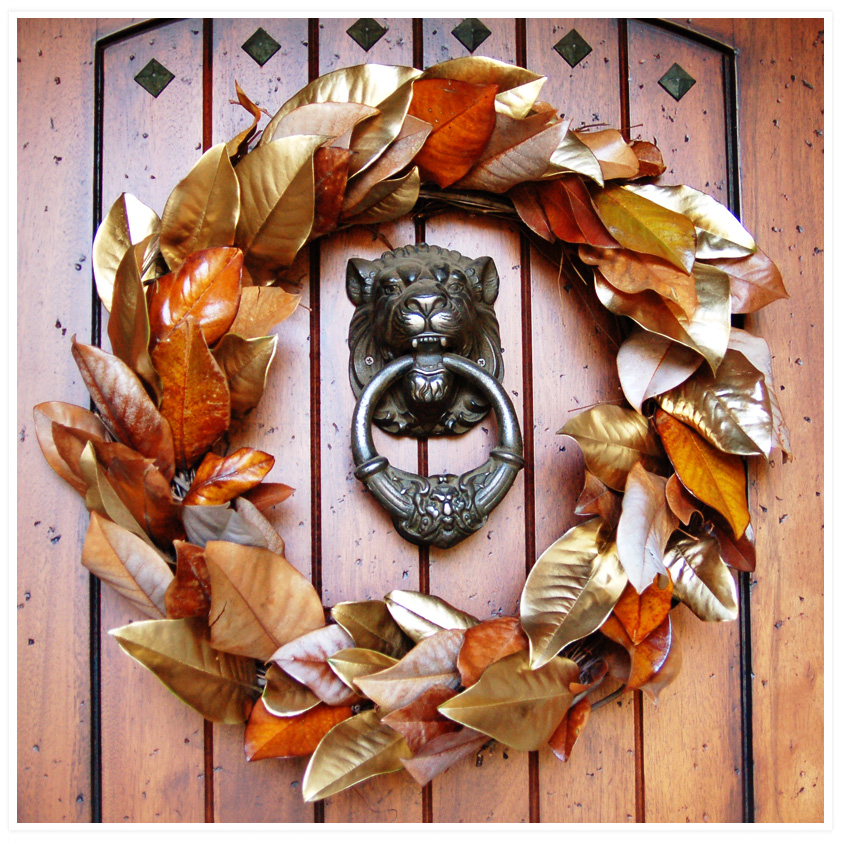 The "after" right at the beginning! More instant gratification for the impatient people!
Here's how it went down. I started by dragging my wreath forms from the attic…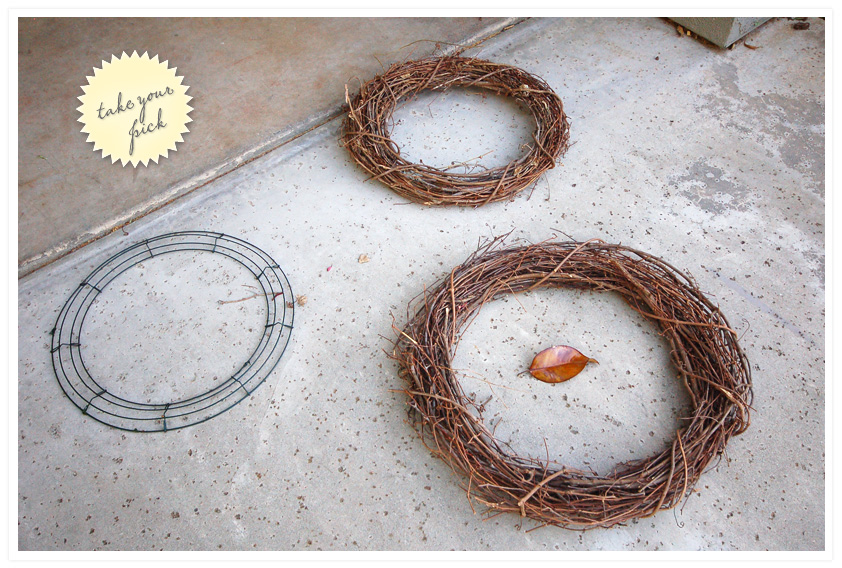 Two 18 inch forms and one 22 inch form. They are all collected from previous wreath projects. As an aside, I never hot glue any of my wreaths because a) I am too lazy, and b) I like to use the wreath forms again, as all my wreaths are real foliage, so they are completely seasonal and temporary. Item B sounds better. Let's stick with that one.
I picked the 22 incher for this project. Matt had tromped down our street and cut me off a small branch from the Magnolia tree there (it belongs to the side of the street with no houses, in case anyone thinks I was stealing it from inside a neighbor's yard).
I also collected the fallen brown leaves from the street and curb underneath…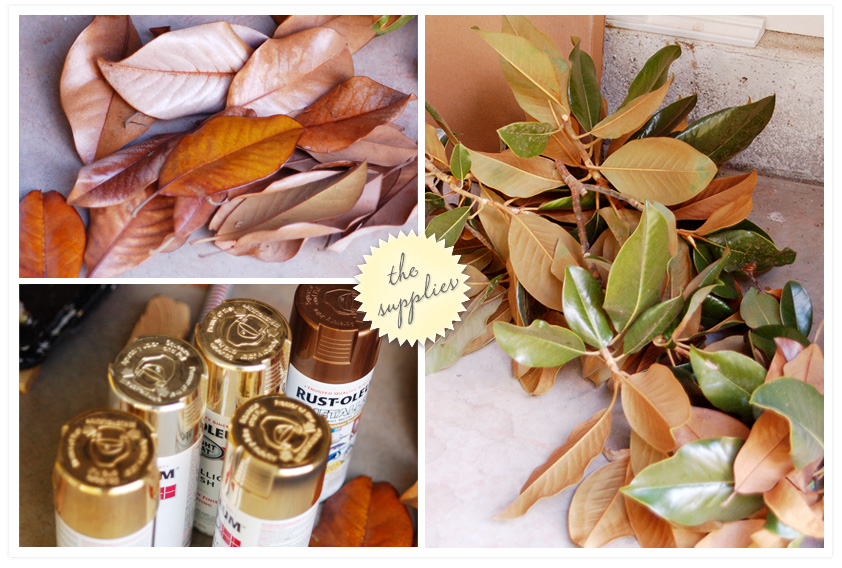 …that plus some spray paint we had already = the supplies for this project.
My plan was to spray paint the green leaves a metallic shade to add a bit of glamor to the natural brown leaves. More Glamorganic, if you will.
First I did a test leaf: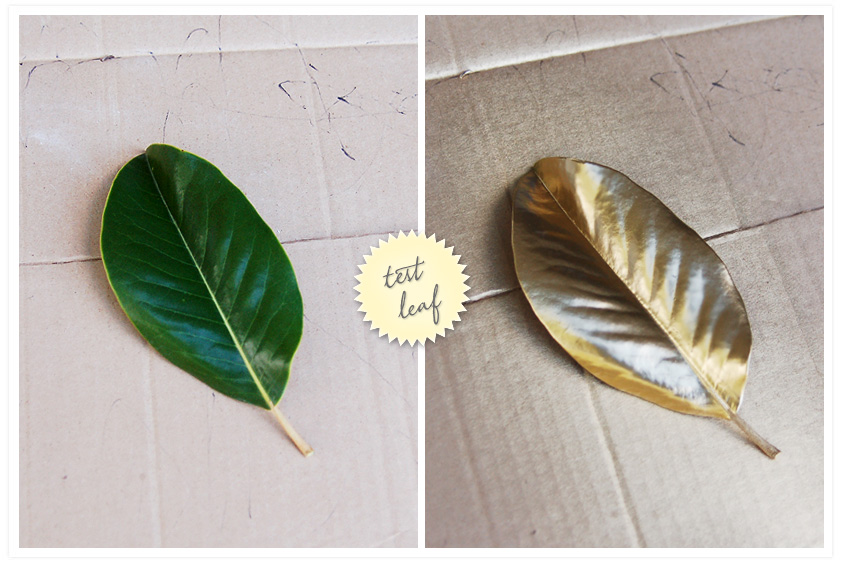 And it worked just great. I really liked how the leaf detail and veining was not lost even after it was painted.
So I batch processed…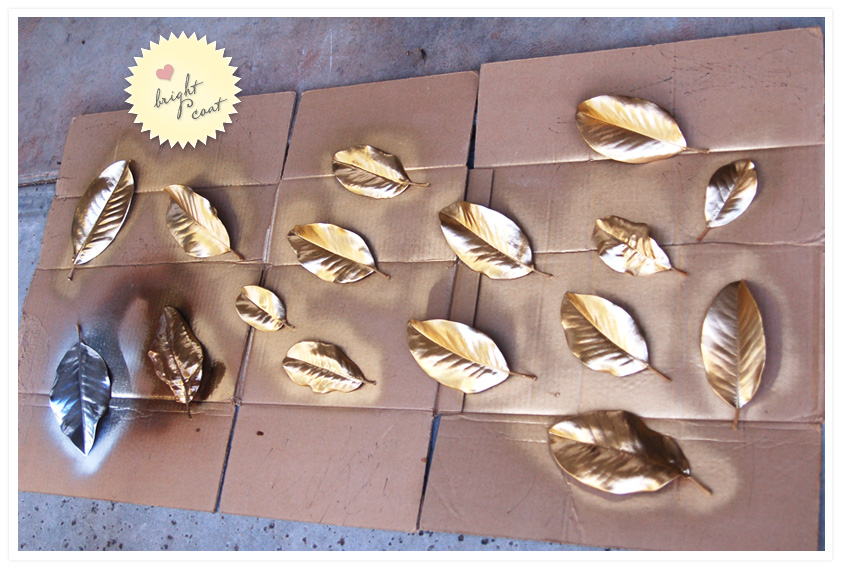 I tested silver and bronze paint too, but the bronze paint ran and dripped, and the silver color was just not very fall-ish. The very best paint for this project is Rustoleum's Bright Coat in gold. It dries almost instantly, doesn't run at all and produces the shiniest shimmer you could imagine. I love the stuff. (Not paid or perked by Rustoleum to say so, either.)
Next I tucked the natural brown leaves into the wreath form, intermixing it with the shiny gold ones…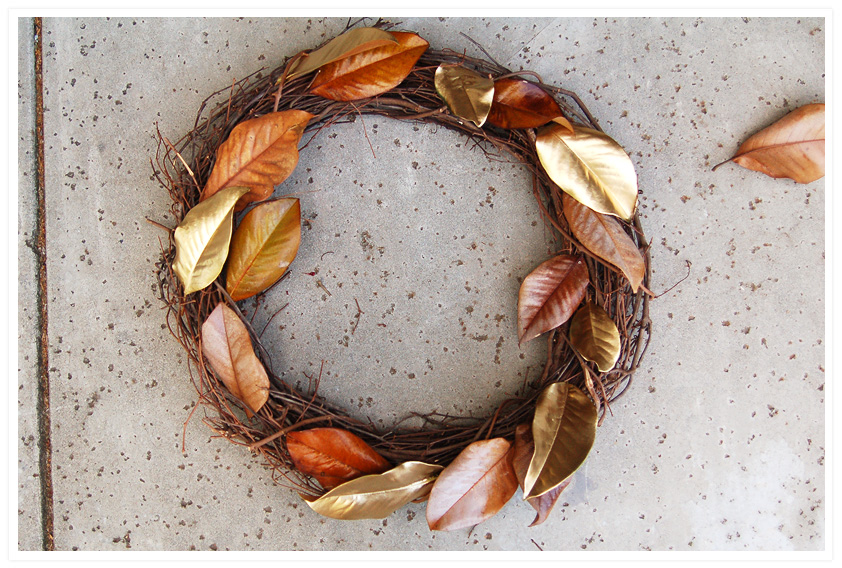 Just tucked them in, no wire, twine or glue. About halfway through I hung it on the door to finish, so that anything that was going to fall off, would fall, and I could tuck it back into place safely without too much heartbreak.
That's pretty much the show! In no time flat my wreath was done. Magnolia leaves have a natural shimmer & gloss, which I love…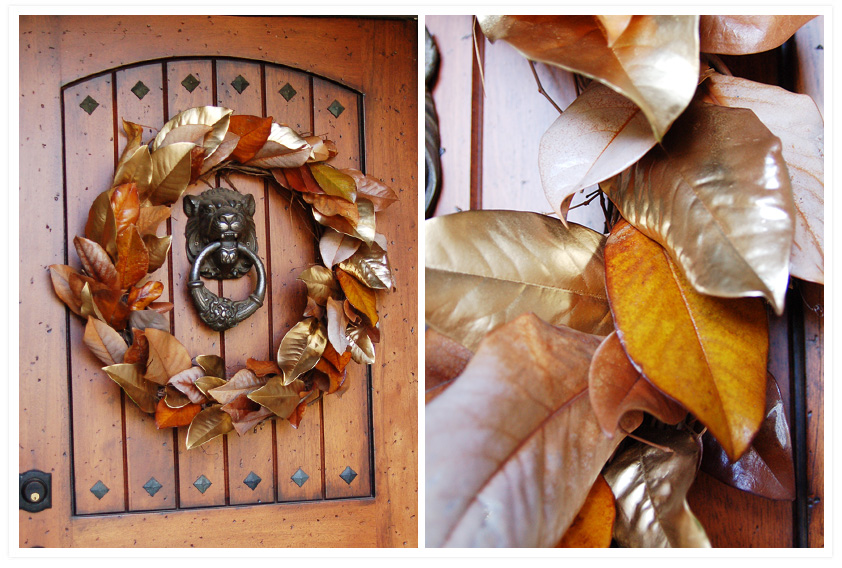 …mixed with the bits of gold, it's a shiny, happy thing. Magnolia leaves don't really wither,  they just brown and dry out, so it should last through the whole fall season.
You can see from this closeup that I left it kind of messy and didn't try to completely cover the grapevine form…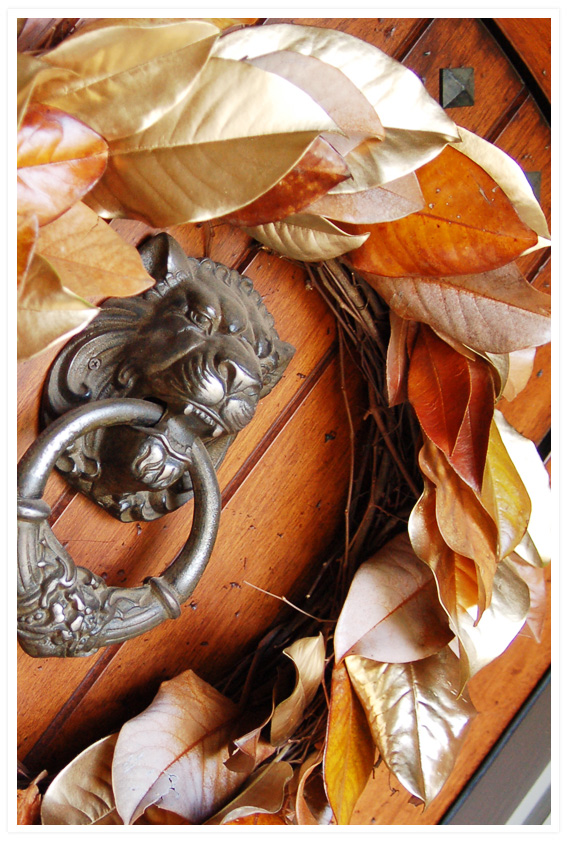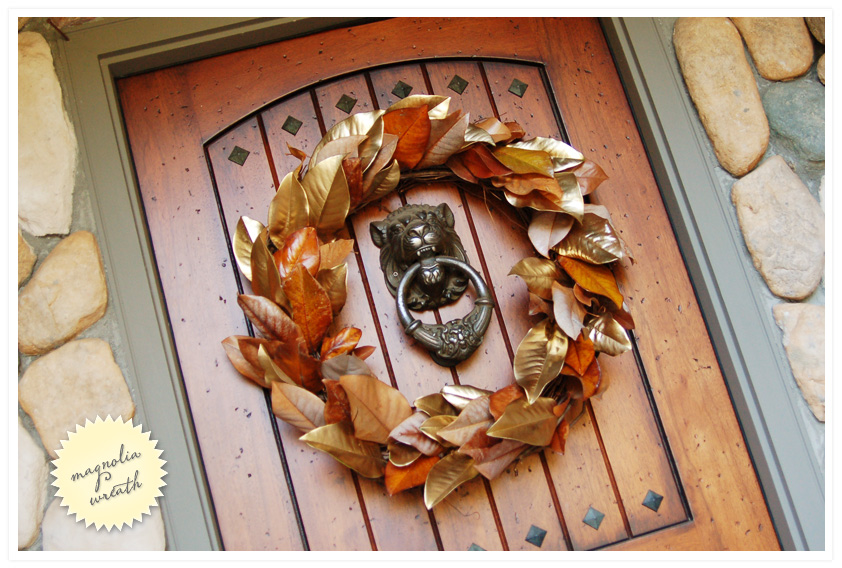 That's it! One easy wreath! And since I have a truckload of leaves leftover, I may do a garland also… we'll see.
And the cost of this puppy? Absolutely free. This is my 4th official homemade wreath, none of them have been very fancy, they stay pretty rustic and classic…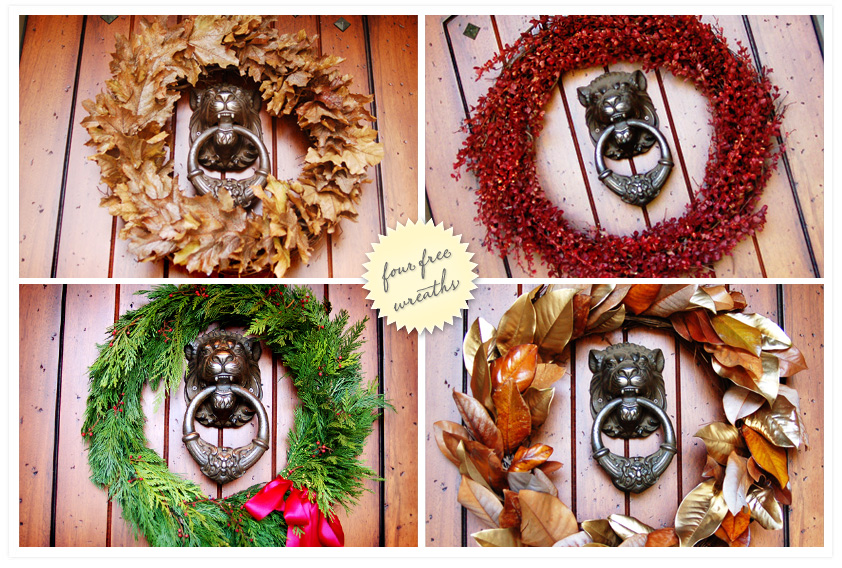 But I've enjoyed making and displaying each and everyone. That Lion door knocker isn't bad to look at either. 😉
Happy fall and happy fall decorating! Would love to see what all of you are working on…