Happy Friday! It may be Fall, but here in Northern California it will be 100 degrees out today. Not exactly sweater weather, huh?
However, I can still feel the season's changing because it cools off nicely at night and this morning our home was a crisp 67 F inside after opening up all the windows overnight.
Fall has me gearing up for fantastic autumnal delights: soup, stews, and oven-roasted goodness. This week I made my Leek & Potato soup (Leek was my 2009 vegetable of the year!) and I also made ratatouille. Not the time-intensive, cook, cook and still cook-it-more version from Francis Lam, but Ratatouille's ratatouille. You know, the one from the movie?
You can find a couple of recipes to do this. Last year I used the New York Time's version, this year I simplified and used this recipe from Smitten Kitchen. They are both delicious. Most importantly, I got to take my mandolin slicer for a spin – and did manage to shave of a section of my thumb. My mother is probably laughing now. She knows about me and sharp kitchen objects.
No pictures of the slicing process, sorry! I was too busy bandaging my own thumb. Here are some of the finished dish…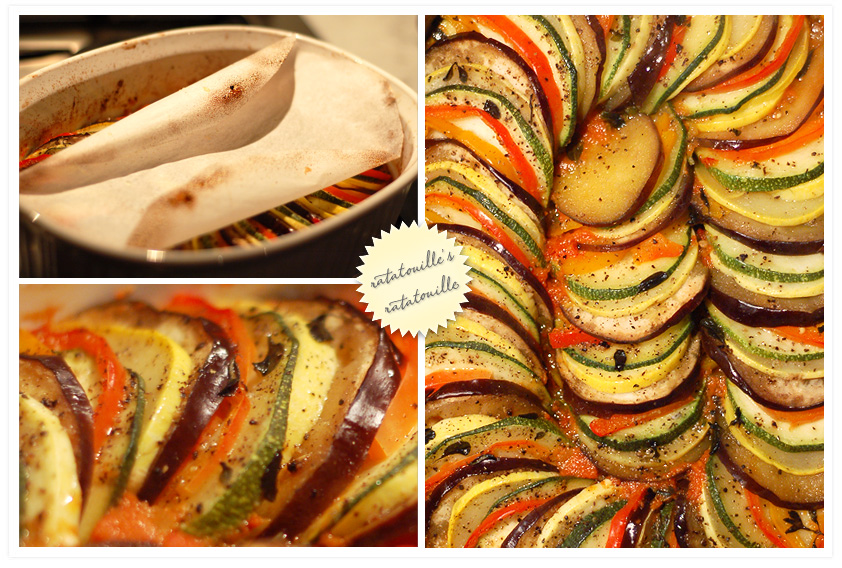 Vegetable Heaven. I got BOTH boys to eat it! Bonus: this qualifies for our Dinner on a Dime series. Let's do the math:
Zucchini, 2 large ( about 1 lb at $1 per lb)
Yellow Squash, 2 large ( about 1 lb at $1 per lb)
Eggplant, 2 Japanese/Italian size (.75 lb at $1.50 per lb)
Bell Pepper, 2 medium (2 for $1)
Tomatoes, 1 lb. (.75 cents at the Farmer's market!)
1/2 of an onion (maybe 25 cents?)
Olive oil, salt and pepper
Grand Total: $5.37!!
All from our farmer's market. Easily serves 4. We ate it all by itself, but you can serve it with crusty bread, noodles, whatever you like.
Have a lovely weekend!