Here it is, here it is, here it is!!
The Gallery. It's been finished for weeks, but I haven't gotten to photograph/edit/upload it for you until now. Rather than give you a big build-up of the how-tos, I thought I would indulge you folks who want instant gratification (you know who you are)…
I present our Gallery Staircase: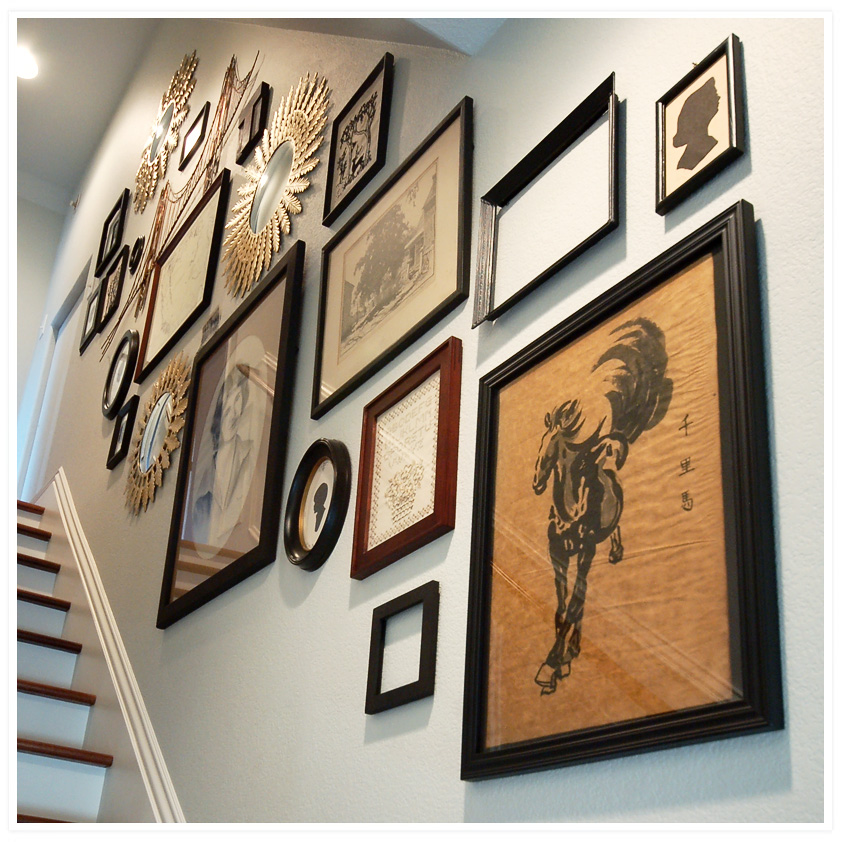 Ta-da! Do you like it? I'm pretty happy with it, myself!
But let's back up now. Start at the beginning. We had finished our little remodel of the staircase (ripping out the dingy carpet and adding wood treads and white moulding), but I wanted to add a gallery to the stair-rail-less side of the wall.
I also didn't want to spend any money on the project. Or at least as little as possible.
So, I started with this: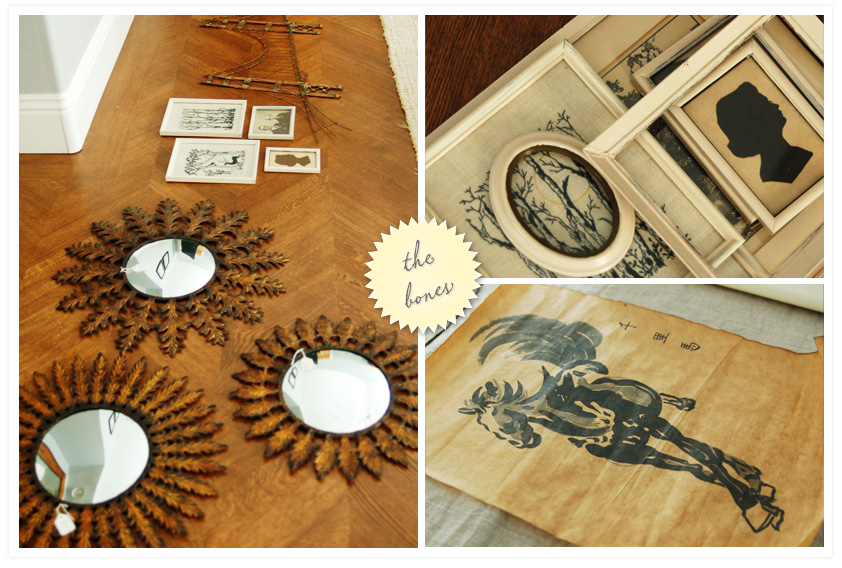 What's all that? Well, I had picked up the three convex sunburst mirrors at our local antique/thrift shop. They weren't old at all, and therefore were cheap. $30 for three to be exact. Loved the shape and the convexity of them. The finish, a poorly-executed antiquey-bronze-meets-brass, I could do without. The pile of frames were from my grandma's house. She had painted them all (rather sloppily) her favorite "paper-sack" color. Some of the artwork I planned to keep, and with a few to just steal the frames. Lastly, we had picked up a beautiful calligraphy brush horse from our trip to Korea and wanted to include that on our wall. It needed a frame.
So I started with spray paint…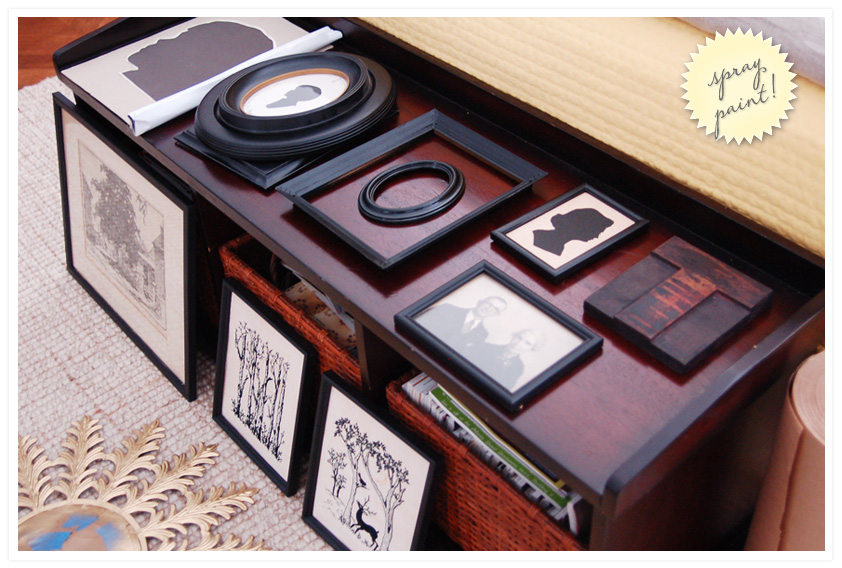 One can of black spray paint (and one of bright gold for the mirrors) can do ah-mazing things. Amazing, I tell you.
Next, I traced all of my artwork and frames onto kraft paper and cut out the shapes: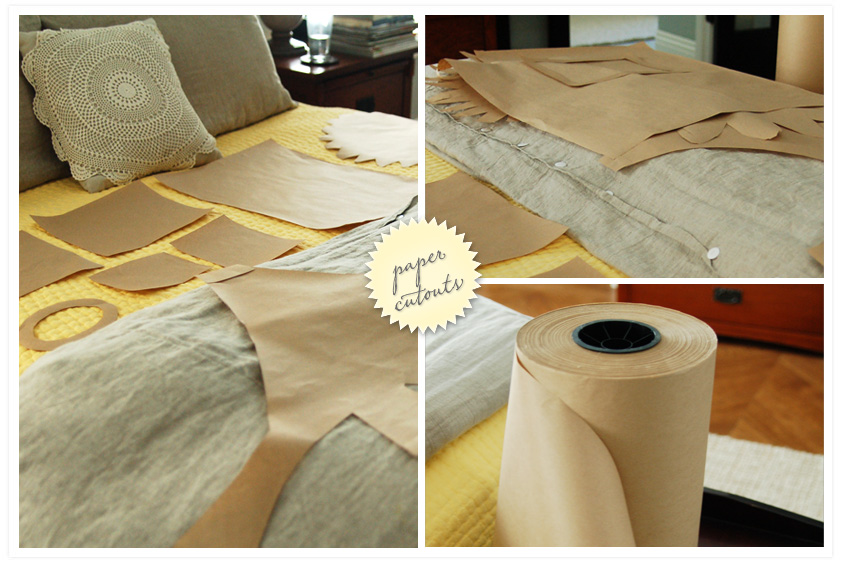 This step saves SO much time. I took the pieces (label them so you know what is what) and arranged them on our staircase wall to my heart's content. Once I had an arrangement I liked, I handed it over to Matt: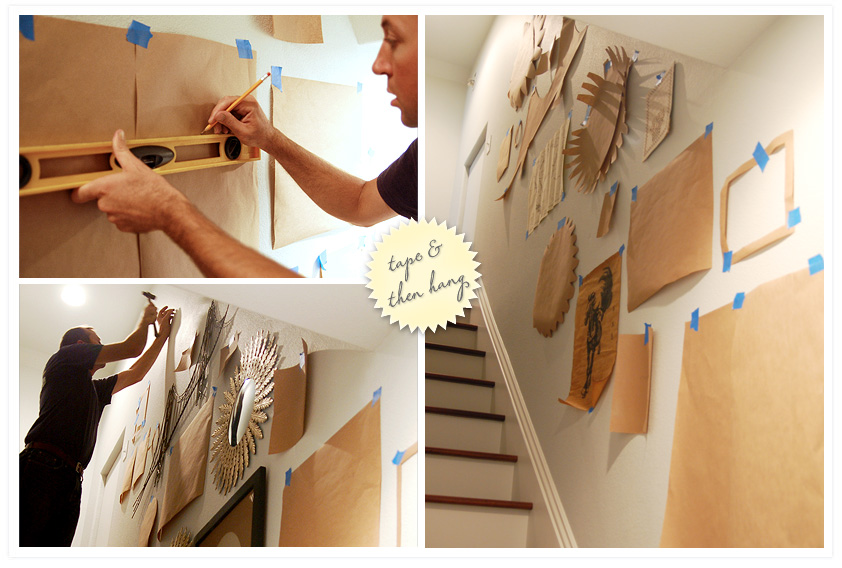 …who hung the pieces right where I had taped up the paper. It was very, very simple. This whole project took us one afternoon.
In no time at all we had this…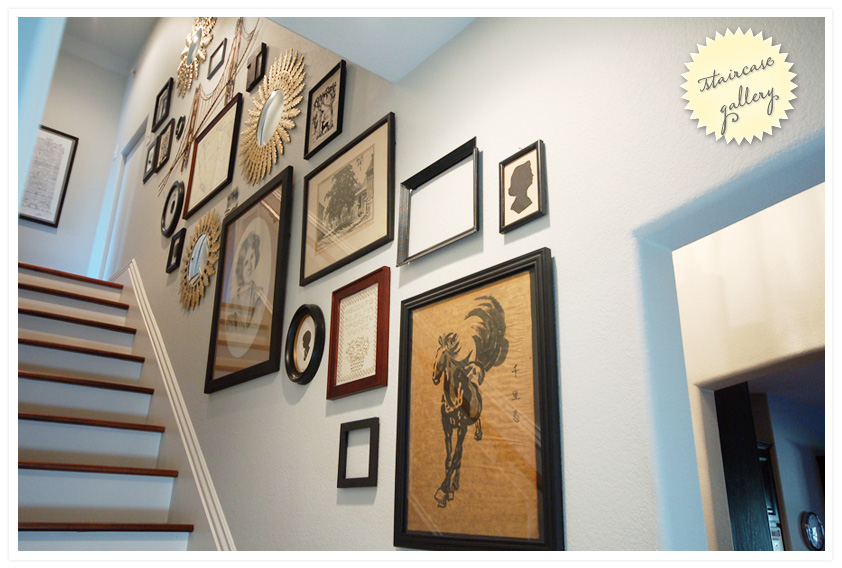 A finished gallery staircase! Yay! Shall we see it from the top?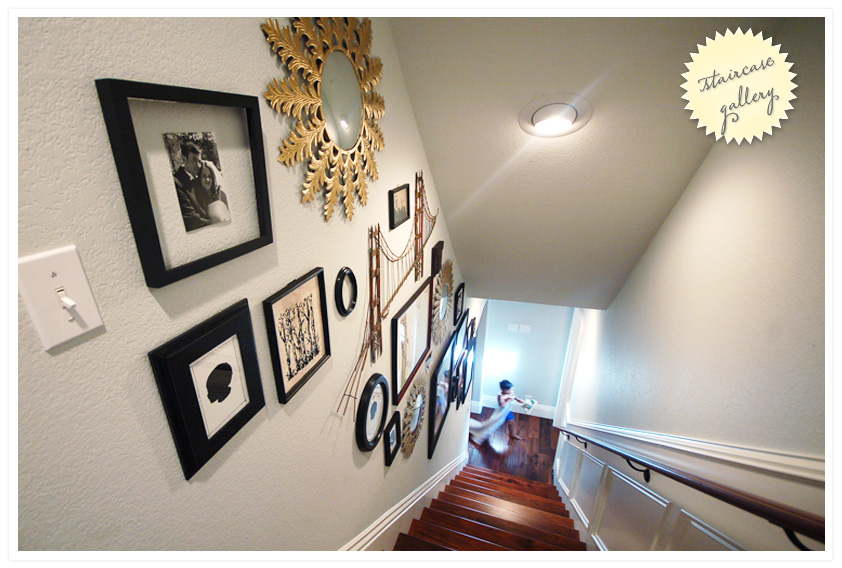 And because I love show and tell (and you did insist, right?), let me walk you through what I chose to stick up on the wall.
Here we have: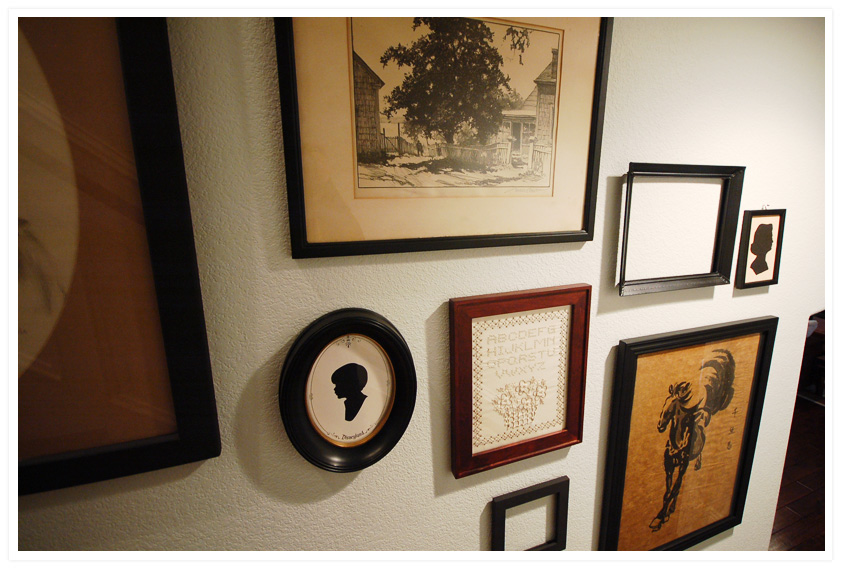 1) A childhood silhouette of Matt (from Disneyland), 2) an old sampler (well not too old, from the 80's) 3) the calligraphy horse from Korea, 4) My grandmother's silhouette, 5) some empty frames, and 6) a favorite lithograph of Matt's. To the left (not pictured) is a sketch of my great-grandmother Bessie Davis.
Moving on up…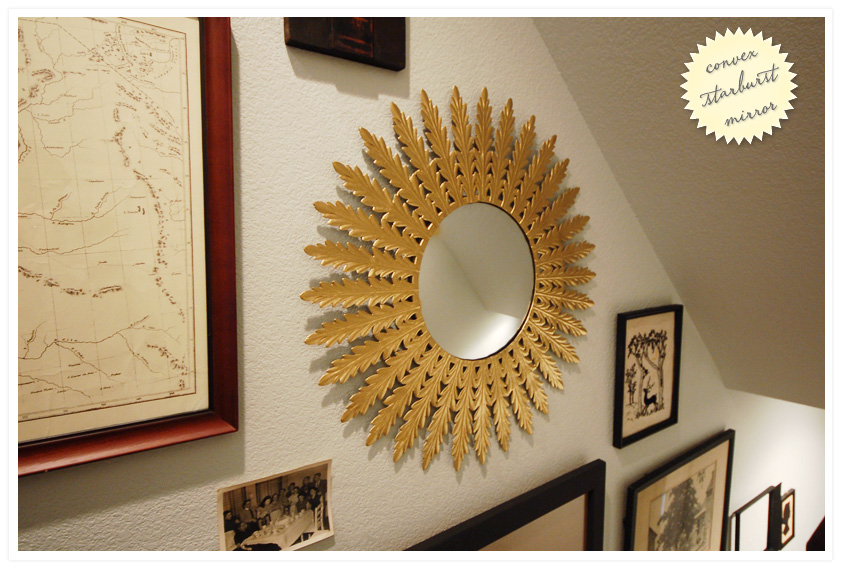 Starburst mirrors! Three of them! Looking fabulous in gold, I might add. A few black and white stitcheries.
And further up…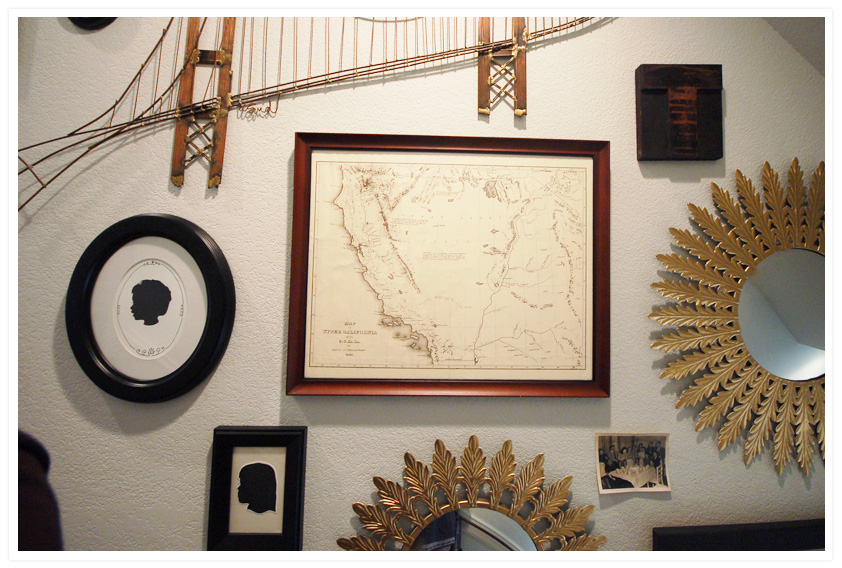 1) A reproduction of an old map of "Upper California" found in our attic stash of maps. This is a complete hoot – I'll have to read it to you sometime. 2) Cameron's silhouette at age one (drawn by me). 3) My childhood silhouette. 4) A wire sculpture of the golden gate bridge. 5) Wooden type – the letter "T" (for Tennis, of course) and 6) an old snapshot stuck to the wall with removable tape.
You can see the snapshot close-up here…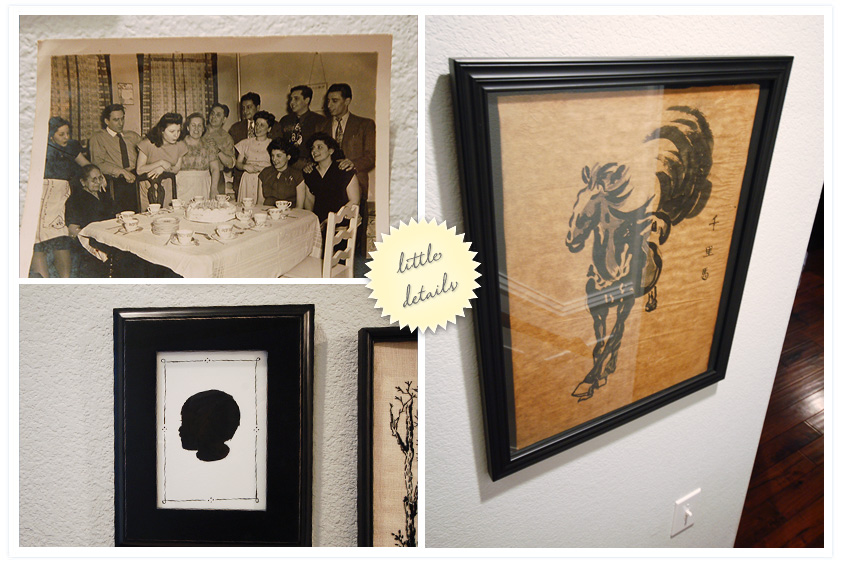 …the italian side of my family. My grandpa is the handsome guy casually leaning on the left, and seated next to him further left is my great, great grandmother. 🙂 Also, Lance Parker's silhouette at 9 months, drawn by me.
Not shown above, a black and white wedding photo of Matt and I. And some empty frames. I love empty frames – although I do think it confuses most people who look at the staircase. "What's going here?" they say. "Um… maybe blank space? Maybe a picture later? Not quite sure. I like it though!"
If you think Matt's side of the family is underrepresented here, I just got my hands on some awesome old photos of his dad and grandad on tractors, so they'll be up on the wall soon. Which is what is so wonderful about a gallery wall – it can grow and change easily, and be so expressive of who you are.
So, what did I spend on my staircase gallery? Not a whole lot! With some carefully hoarded coupons, just $42 in extra frames from Aaron Brothers, to be precise.
Here is the artwork at the top of the stairs…

It's a letterpress print by Allison Rae, "Vertical Cities". I love it and I hope the boys will be able to spend plenty of time on the way up to their room staring at it and analyzing all the cool tiny details.
Just so you can see the complete progression, here's the before and after: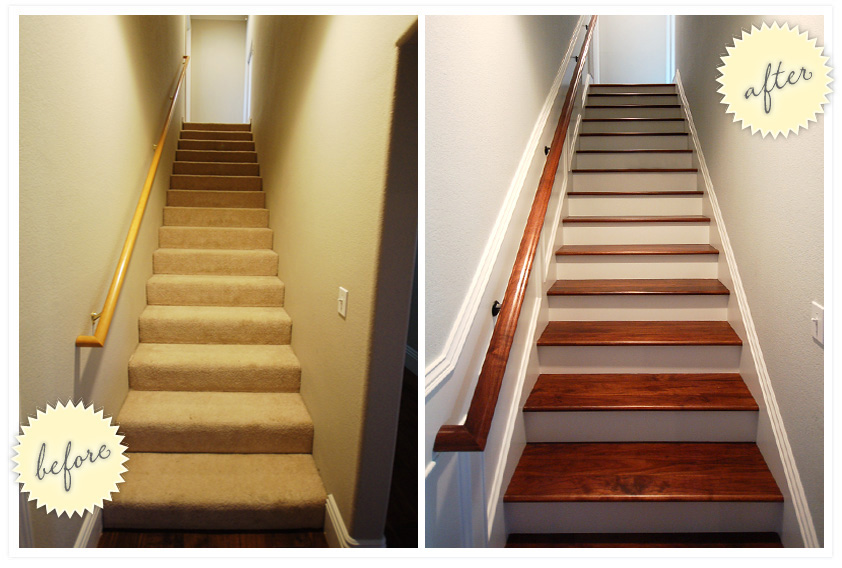 And now the "after" after:
I think I may be done for a while. Unless… I decide to add a runner to the stairs! Or add a garland to the left side for the holidays! Or, or, or???
Better stop now while I'm ahead.