Hey friends! Remember me? That person who used to share with you about her letterpress life and other things? Ahem, yeah. It's been a little busy around here. Mostly All gearing up for our debut at the National Stationery Show, which starts THIS Sunday in New York!! So this week I thought I would share with you a series of posts about us getting ready for the show, before blogging the big reveal of our 45(!) new card designs….
When we decided to exhibit at the show, I did a ton of research on booth options. I found some less than desirables: the very ugly drape provided by the show, or you could bring your own curtains, fireproofed of course, or you could have Manny Stone install foamcore walls for you, also fireproofed (this option costs a pretty penny, let me tell you!). I disliked the notion of using foamcore and then throwing it out, and I super disliked the high pricetag (thousands of dollars!) and so we decided to build our own plywood walls and ship 'em to NYC. That's where all the crazy began.
So how do you build a booth? Here's our 1,2,3: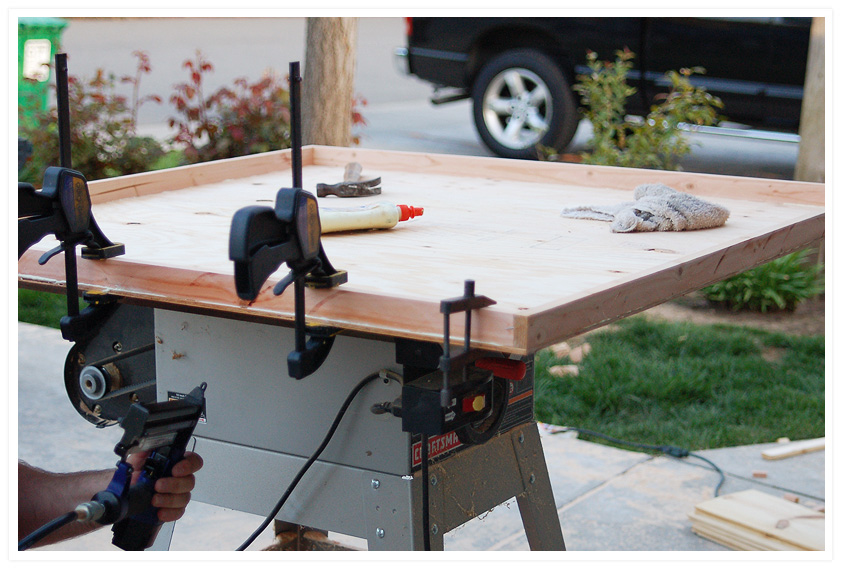 We started (okay, Matt started) by building some plywood frames – 4 x 4. They made these nice boxes…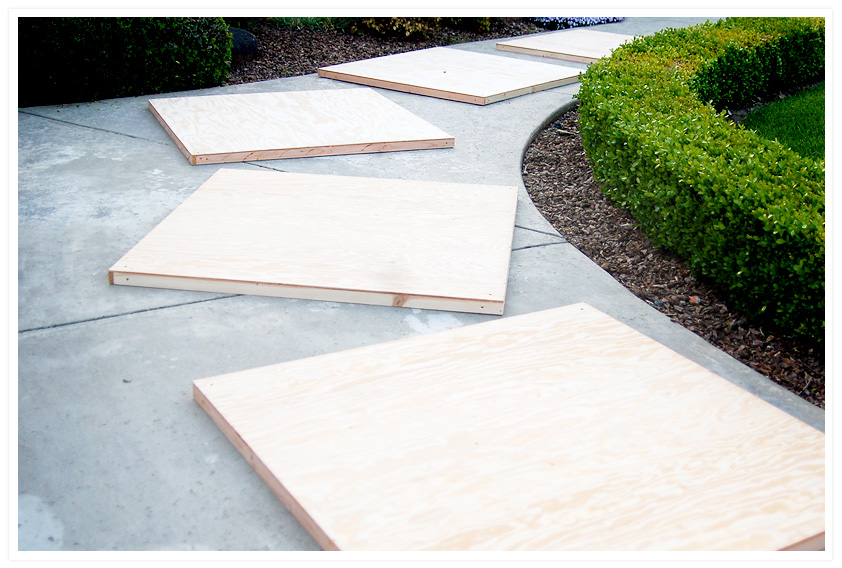 Matt hinged them together, and our walls started to come into place. Our booth is a corner booth, so it only has two walls (one eight foot and one ten foot).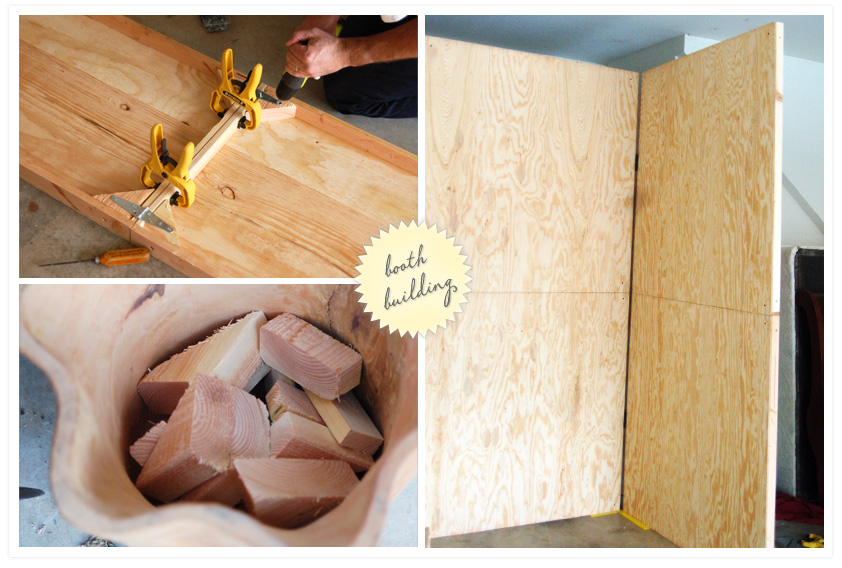 When the the panels are all folded up – the fit neatly into a small(ish) and lightweight stack…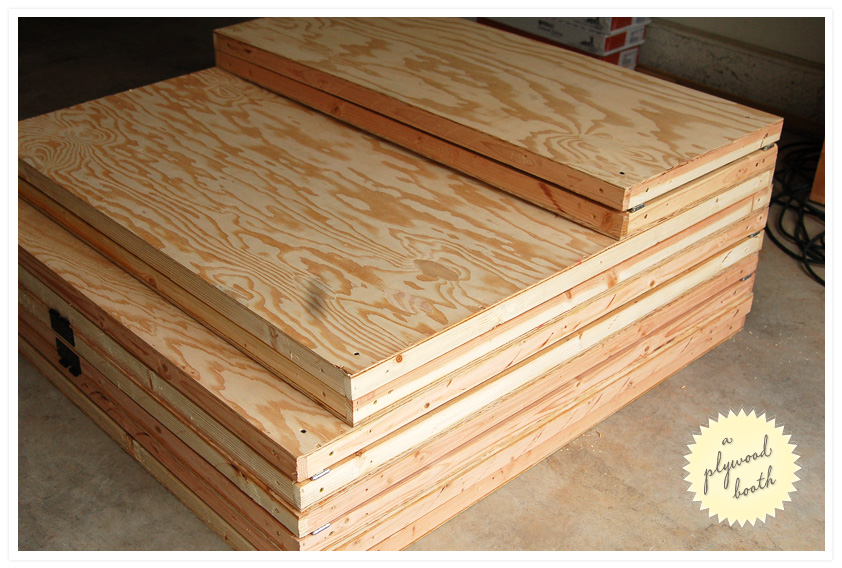 The next part was up to me. Painting! It seems like it's always up to me… good thing I love to paint. I did two coats of gray primer, and two coats of… wait for it… gray paint. To be precise, gray chalkboard paint. I'd been itching to try Hudson's colored chalkboard paint, and this was my chance. I chose a warm gray called Designer Special.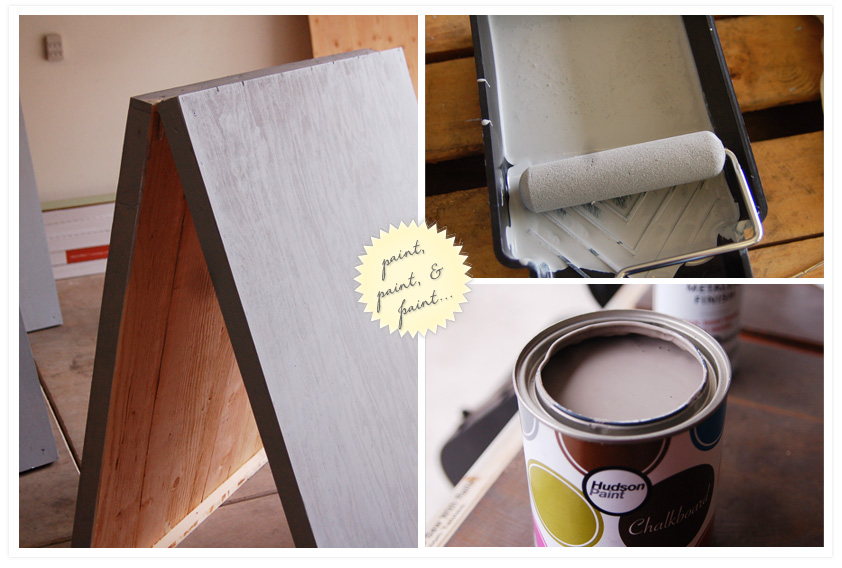 I painted without any childcare, so Cam was entertained by painting his own little plywood "booth"…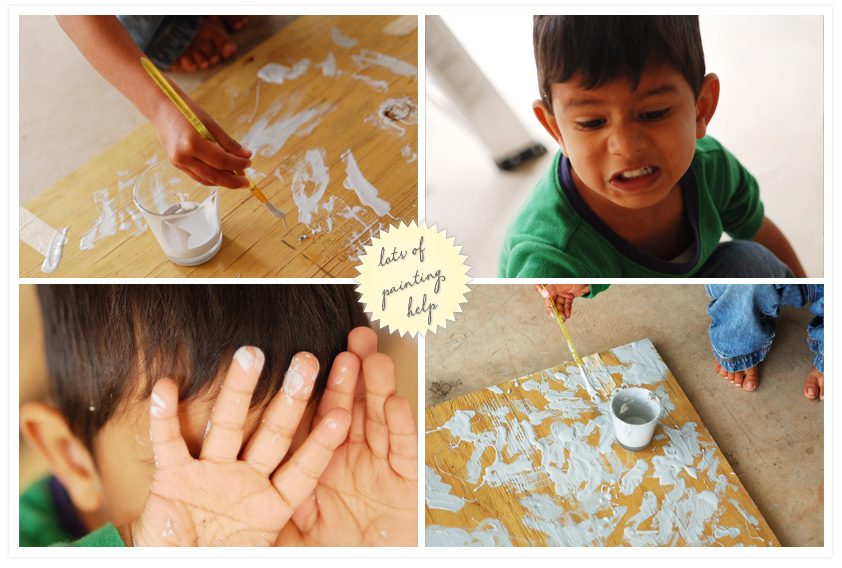 …if you see the size of that paintbrush you know I'm a mean mommy. 😉
Meanwhile, back at the ranch… more painting!! I ordered two laser cut MDF versions of our logo, and spray painted them a metallic gold…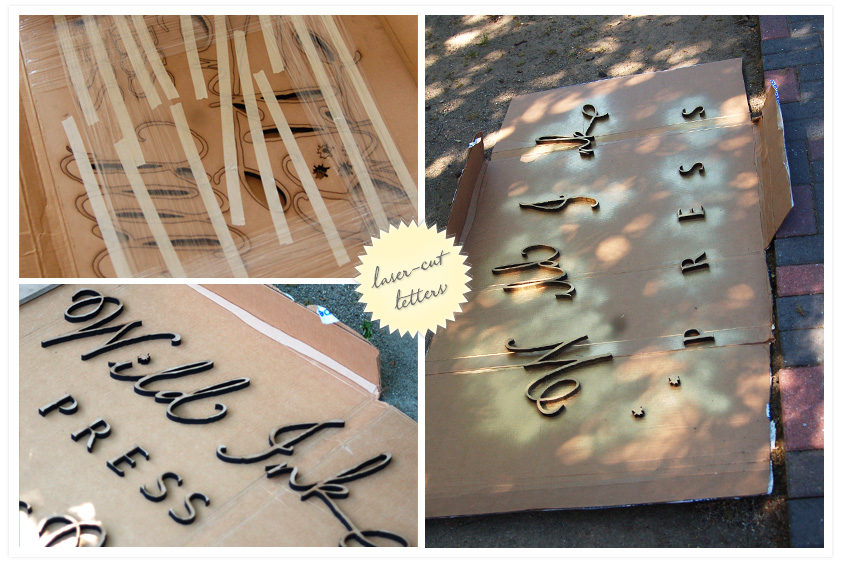 It only took seven coats to get the right shine…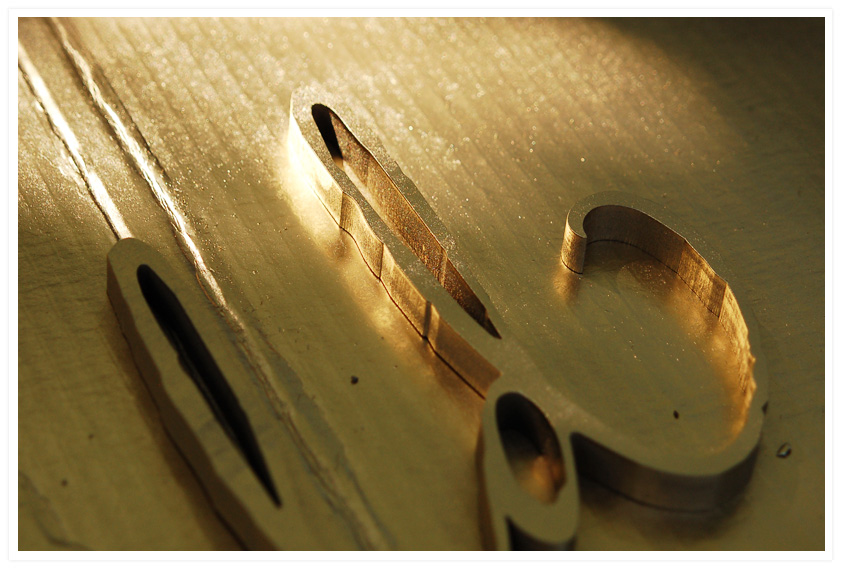 Once our booth walls were dry and cured, we seasoned them with chalky-goodness: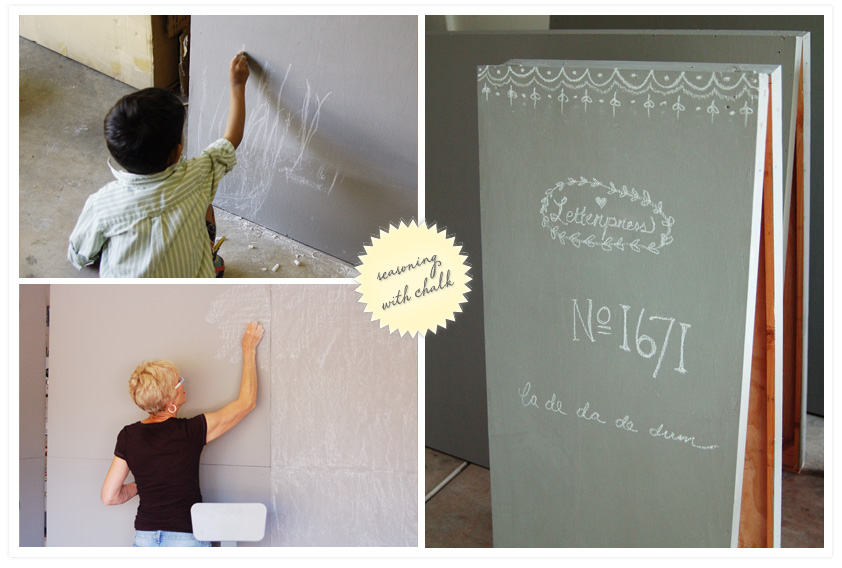 …and I did a couple of test drawings and realized I LOVE the walls.  The chalkboard made my heart skip a beat or two. I had to call Matt at the farm out of the blue to express how happy the chalk made me. Silly, I guess.
Audrey, my mother-in-law and intrepid NSS booth companion, came over and we did a test run putting the booth together and taking it apart, just us two, no power tools and no ladders. I'm SO glad we did that test run! Once it was all put together, Matt installed the logo: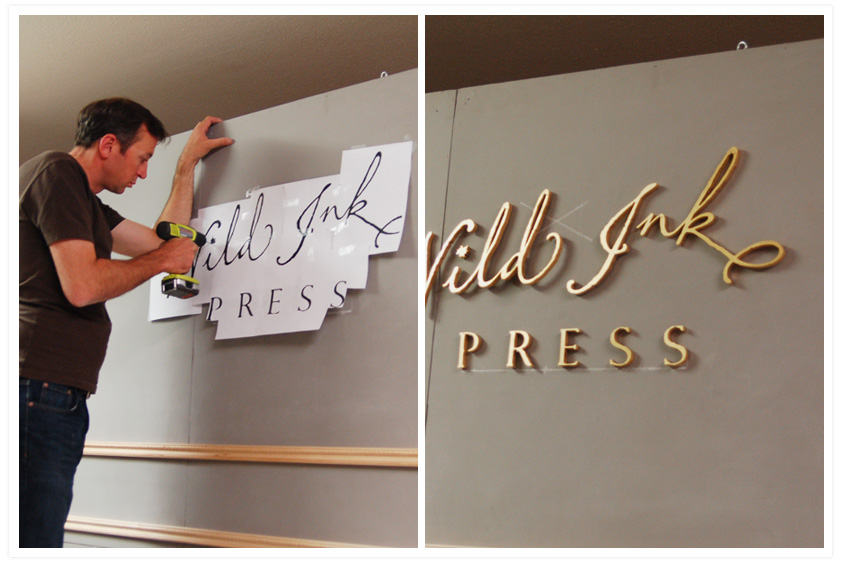 You can see the chalk comes in handy for placement, huh? 🙂
Sneak peek of Booth 1671!!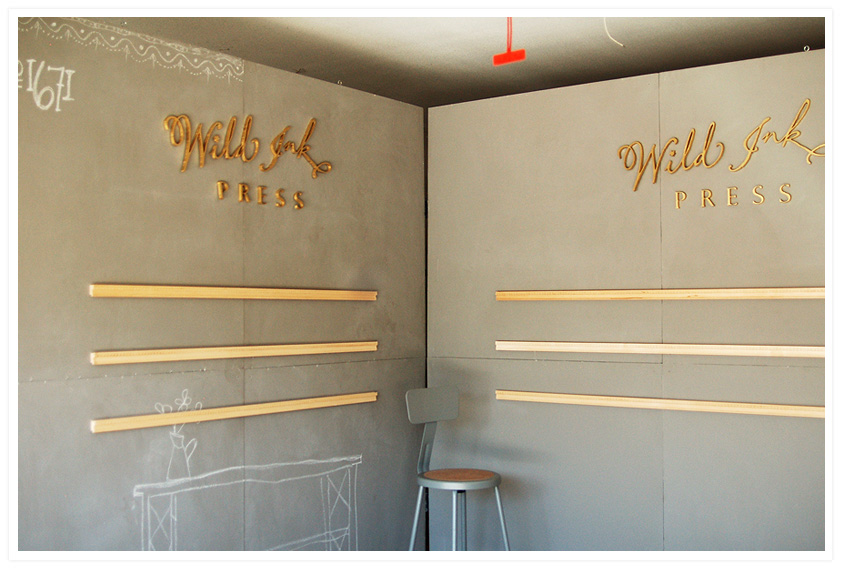 I have since painted the molding (white) and of course those drawings were crazy-temporary. I also experimented with cards and a chalk-pen: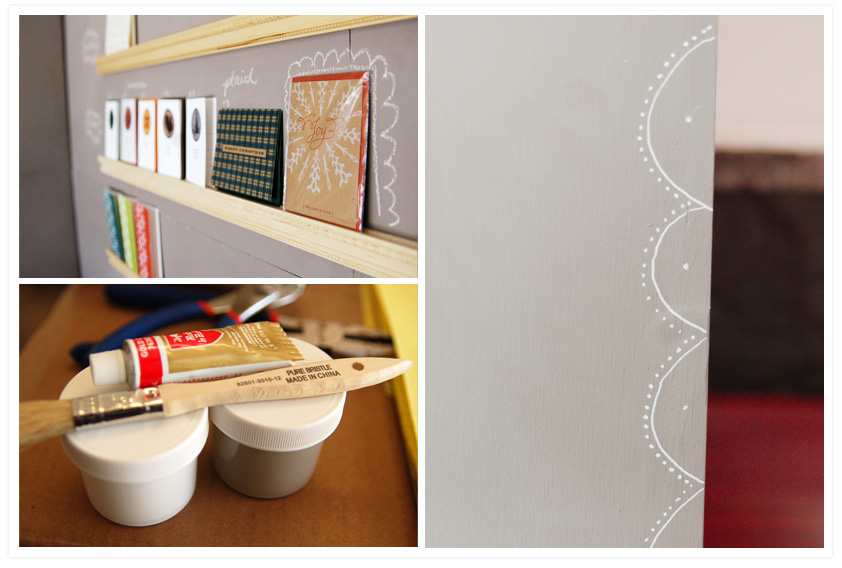 …and made up a little touch-up kit for NYC because I'm crazy like that. Hey, what if it gets a big scratch en route?
The final night before it shipped we stayed up very, very late and were very, very tired. Sounds like the story of every night this month, actually.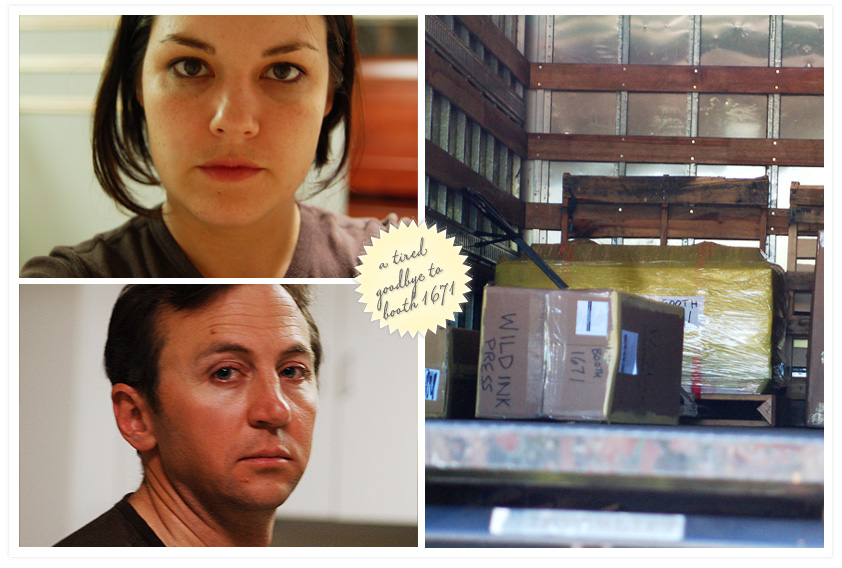 And it was off to New York for the pallet! We'll see you later this week, little booth!
Coming up next… a peek at our mailer and our NSS giveaway(s)!