I'm waay overdue to update you on our remodel (phase three: staircase and big boy room). I'm pretty sure I've just left you hanging in suspense this entire time. How have you been able to stand it? =)
Seriously, we haven't made that much progress on the room. But, the bones are done (yay!) and Cameron has moved up there, albeit in camping style. Last time you checked in, it looked like this: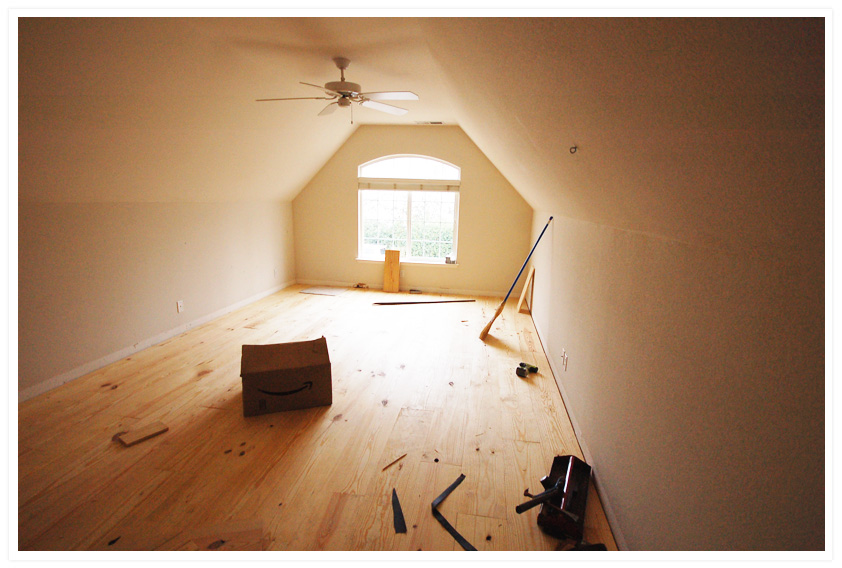 And then, we had a quick call to go to Korea. I had even started to write a post about how we distressed the floor with a chain and other cool doo-dads, but that's been hanging around in WordPress unfinished for over a month!  So I'm just going to wrap it all up together and bring you up to speed, okay? Ready, set, go!
Observe items one and two: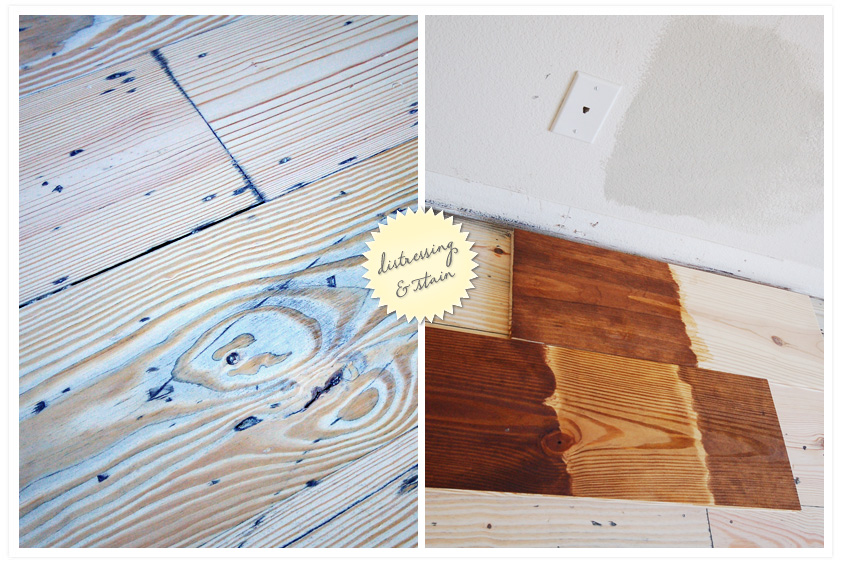 On the left, we distressed the pine – hammer, chain with nails, scrapey things all involved in this process. Also on the left, we wiped in an ebony stain and then wiped it right back off. It settled in the dings and knots and crevices. At this point, I had qualms (okay, a minor meltdown) that the floor would look very, very ugly because, well, it did. On the right, stain and paint samples. I'm a try-it-all kind of a girl, and all my stain choices (and some of my paint choices too) have ended up being mixes. "I like a little bit of the provincial brown, but really want some of the warm red tones of the red mahogany too, oh, and the natural really pops the grain…" You get the idea. This was no exception. The stain became a custom mix.
Above is how it all looked when we left for Seoul to bring home Lance.  And, while we had been planning to do the entire thing ourselves and be very proud of our mad "DIY skillz", it was not to be.  We chose to have a flooring guy come in and finish the stain for us while we were gone. It did up the price for us, but it was still not nearly as much as having the entire thing done professionally. This was probably the best choice I have made all year, because I can't imagine adjusting to a new family while DIY remodeling! So, new mantra: save some money sometimes, save some sanity others.
Our floor guy, Tony, did a fabulous job. I had chosen tung oil as my preferred finish (a living finish!), and when we came home, it looked like this: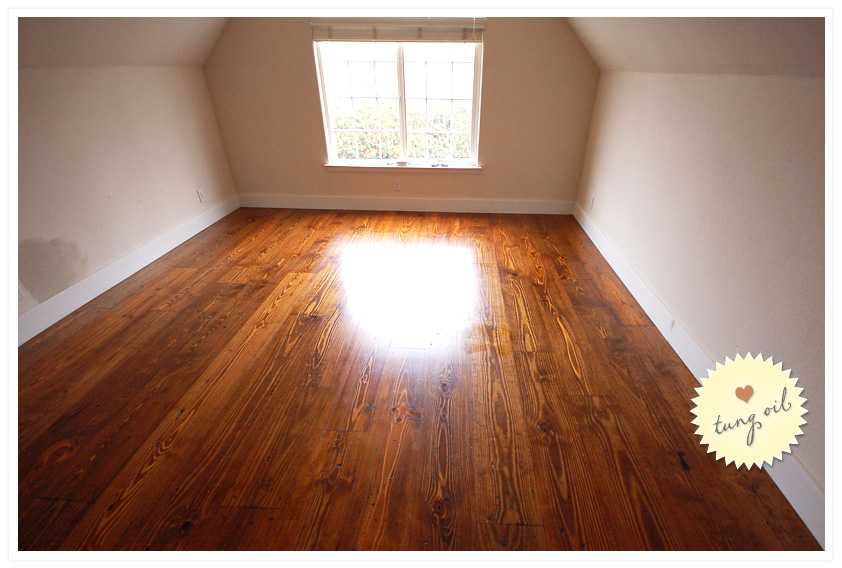 See, see, see how pretty? The luster of tung oil I would compare to the hand rubbed wax on my kitchen cabinets – sheeny, and velvety and a little bit different everywhere. I love it.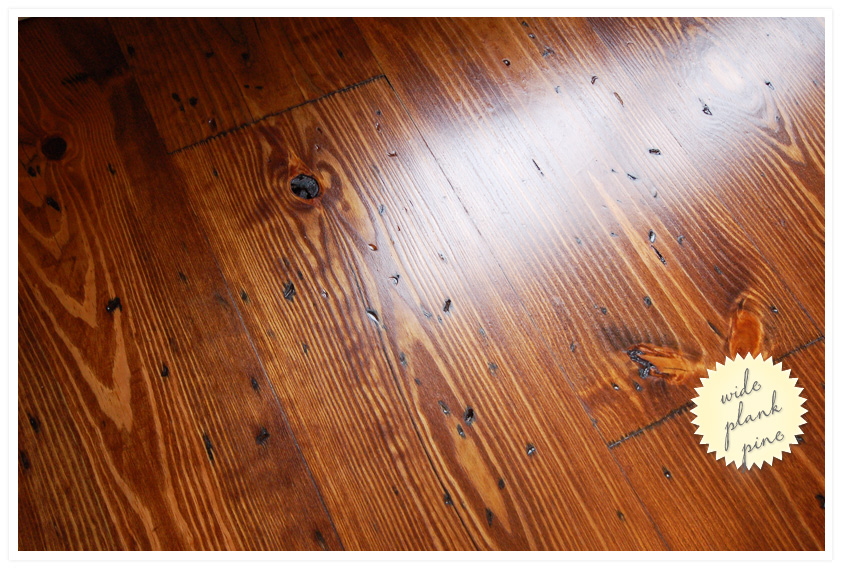 And once the stain and oil were on, the ebony distressed cracks looked fabulous, rather than scary. And I think the wide plank pine looks pretty good for being $1.79 a square foot (from Lumber Liquidators).
It's soft wood, so it will ding and scratch very easily…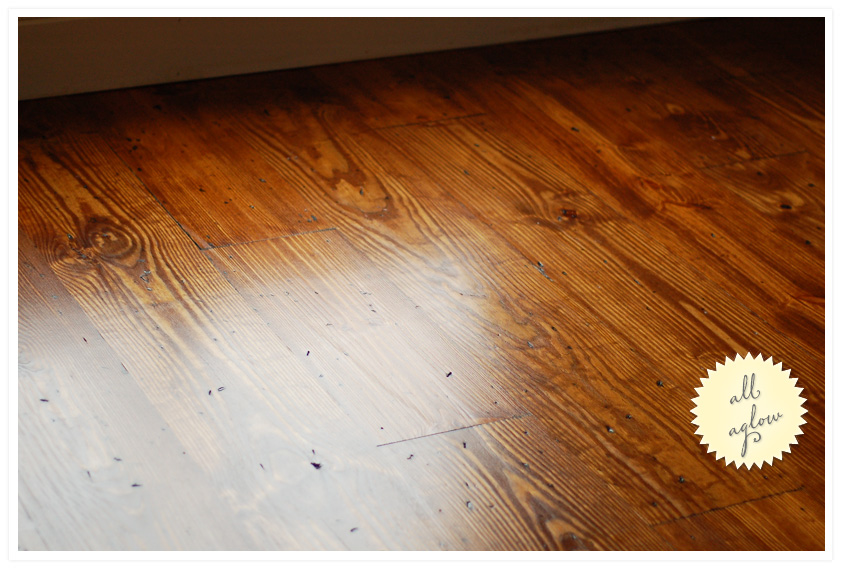 …but we've already dinged and scratched it, so new ones will fit right in. If we have a gash that's too big or too light, I plan to whip out my sharpie marker (a technique I also use on my kitchen cabinets) and fill it in, then dab a little tung oil on top. Easy Peasy.
Next, we ordered some twin mattresses from our local mattress shop, Square Deal (unique to Chico, and not a chain). We were wonderfully pleased with their price, quality and service. Seriously, on Saturday we walked into the shop and ordered our mattresses, then they made them right here in Chico, and on Thursday, they delivered them to our home and even carried them upstairs for us. All for around $300 for two mattresses and box springs. Not bad, right?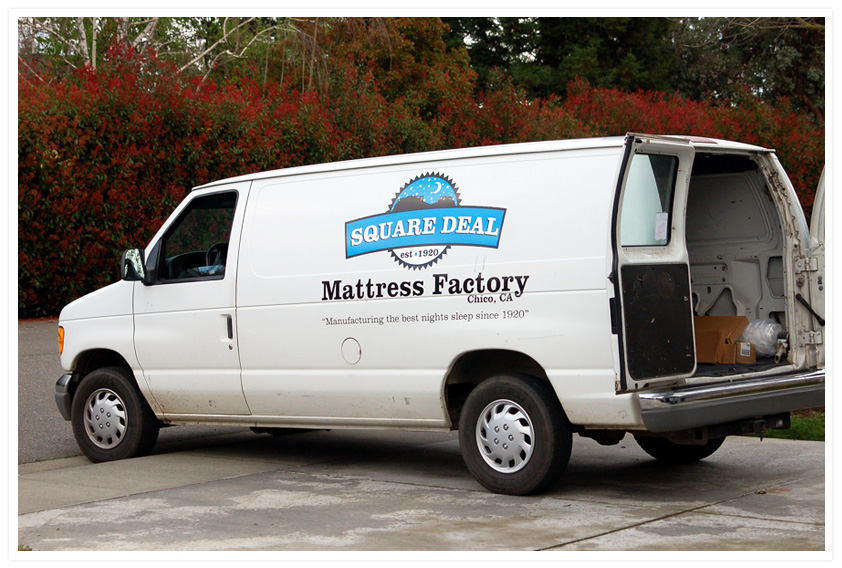 Cameron was pretty excited about his big boy bed…
…you think?
Fast forward to right now: the room is painted (Benjamin Moore Silver Fox, another gray, of course) and Cam has been merrily camping up there for the last three weeks…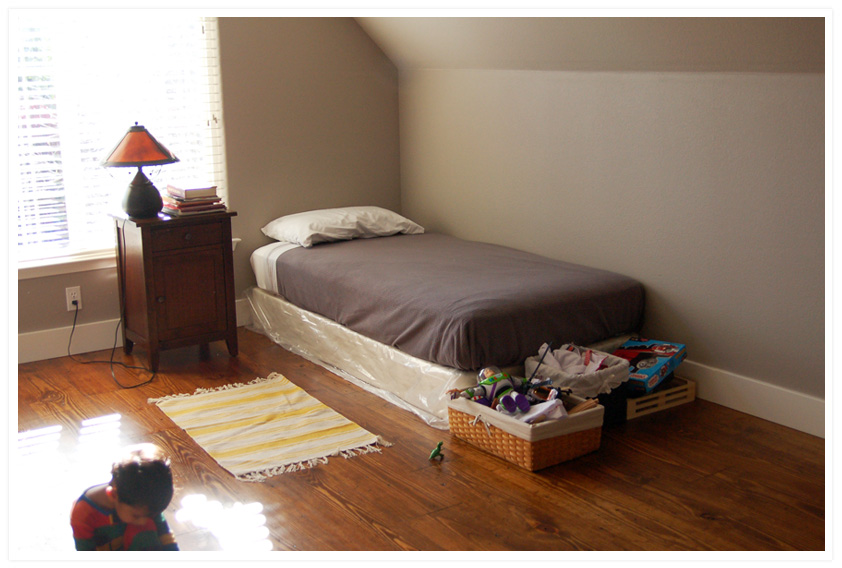 It's livable, but no where near done. He loves it though. So what's next? Well, Friday the bed frames should arrive! After that, the finishing touches are all on hold until after the National Stationery Show… it's just too busy right now to finish.
So what do you think? Stay tuned for a staircase update soon!