Here's the one sentence summary: Korea is a fantastic place to eat, but I wouldn't want to have to wash the dishes.
Seriously, these people love their banchan (side dishes)! Every single time we ate in korea, we had no less than 14 plates between us, sometimes many more. In America, our understanding of kimchi is spicy pickled cabbage, right? Well, in Korea, it means pickled or fermented anything. It's radishes or green onions or cucumbers or you name it. It would be kind of an Italian saying "pasta" and people thinking it meant only spaghetti!
I'm going to let the pictures do the talking today! Ready for some eye-candy?
Our first lunch, seafood…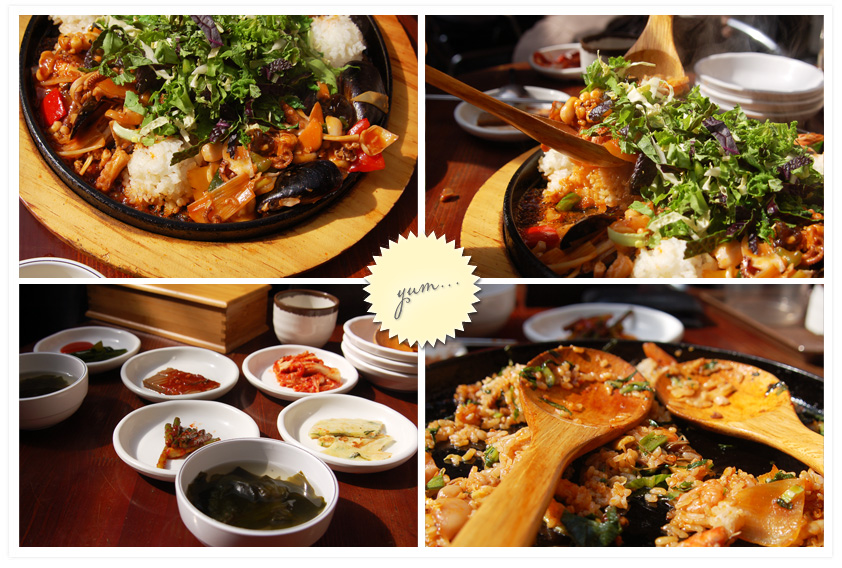 …I love how korean cuisine gives you the opportunity to mix (and in some cases cook) your own food. It keeps the vegetables/seaweed, etc. so very fresh!
The street food is everywhere, and smells heavenly…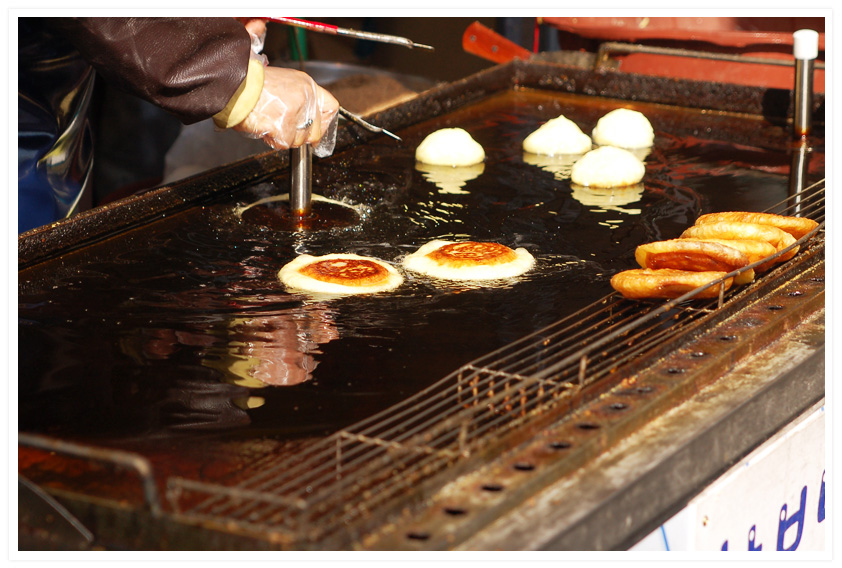 Lots of sweet deep-fried goodness, and everywhere the aroma of toasting nuts…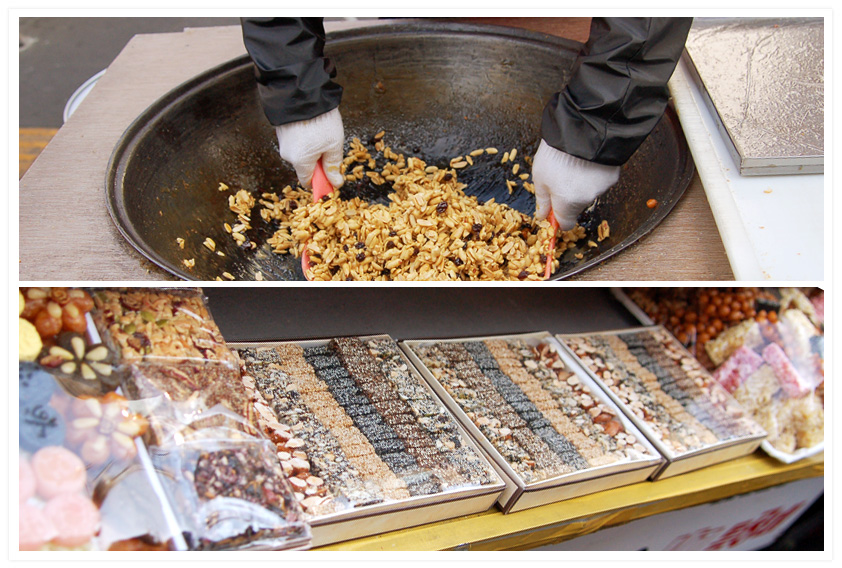 …which usually ended up packaged in candy form, encased in what I would describe as a sticky marshmallow-y coating, sometimes with popped rice involved.
I read online that American-style brunch is making waves in Seoul, so we decided to give that a try as well. I'm secretly fascinated with trying other countries' concept of U.S. cuisine, I guess it would be like someone from China tasting our chinese takeout and having a good laugh. Well, western breakfast is something they have figured out over there! It was delicious, although I would argue that the item listed as "butter" was never really that. They also listed "I can't believe it's not butter" as an option on nearly every menu we read…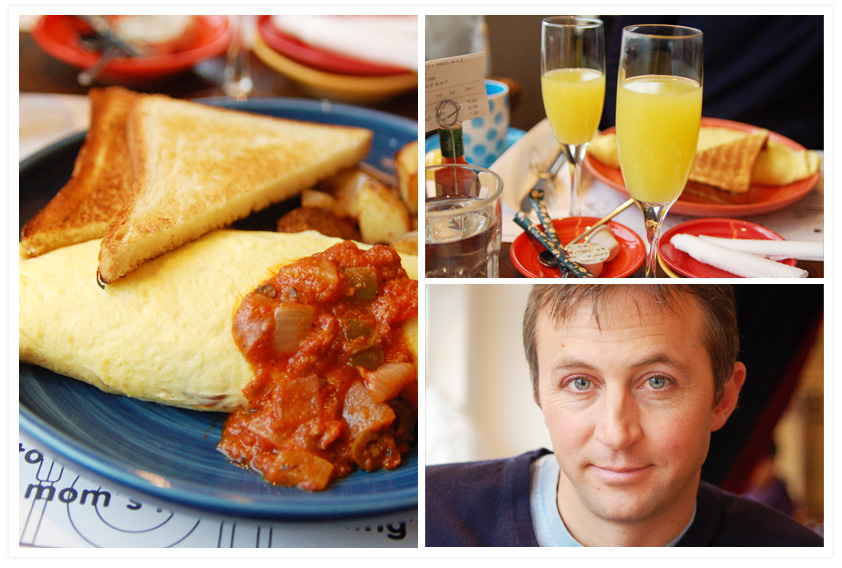 Speaking of menus, do you like your eggs "runny"? 😉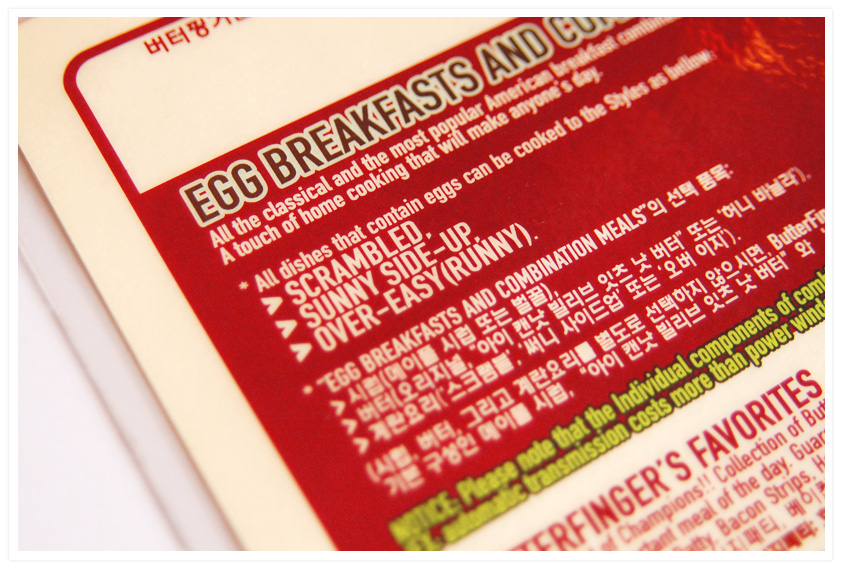 Now here's the part where I make a confession: I nearly always forgot the camera at dinnertime. It's big to lug around in the evenings, so we were often served our dishes, then I would gasp at how amazing they looked and then lament that I had not brought my camera. Enter crappy iPhone pics. Sorry, best I could do to recover from the situation!
One of our most memorable meals was at a restaurant that served only one item: medicinal duck. Yes, it's as awesome as it sounds. It's also not cheap at 50,000 KRW (about $44) for the duck. Since you must order a whole one, I'm guessing it would be much cheaper to have three or more people go together. Still, it included all the sides and dessert and was generally incredible.
Remember, warning – iPhone pic…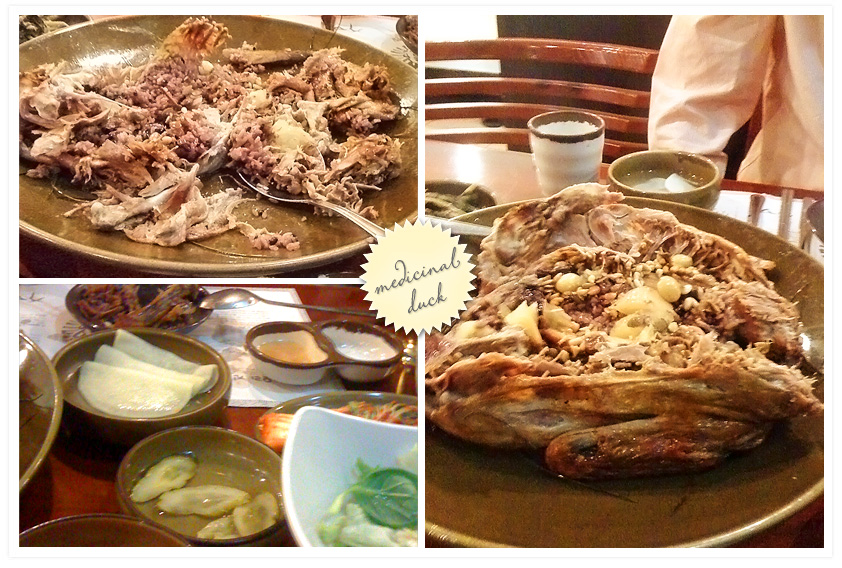 The server slashed open the breast with scissors before I could get a picture of its glorious stuffed-ness. In fact, it went something like this: They presented the duck at our table two seconds after we sit down. Ooohs and aahs occurred. I reached into my purse for camera phone, and found it off. Started the very slow process of turning on the phone – loading, loading. Servers were obviously very uncomfortable that we hadn't dug in. They paced by, and then the first server took the scissors from the table and slashed open the breast of the duck, revealing its rice-y, bean-y insides. The iPhone finally loaded, and I snapped one blurry picture and then reviewed it. "Wait, that's not a very good shot." In the meantime, the second server came up to the table (obviously thinking us idiot tourists needed some help figuring out that duck is edible), picked up the two forks and sort of mashed and spread the rice/duck mixture around the serving tray, with one gesture at us. We got the hint and I stowed my camera until end of meal. 🙂 It was awesome. Best described as earthy, it had black rice, deer antler and beans and ginseng and many other herbs I'm sure.
We also walked into one restaurant site-unseen, which is always fun to do while traveling (just pick the one that looks the busiest with no tourists), and had two very traditional korean dishes, bibimbap in a stone pot, and bulgogi (which over there is served in a broth!):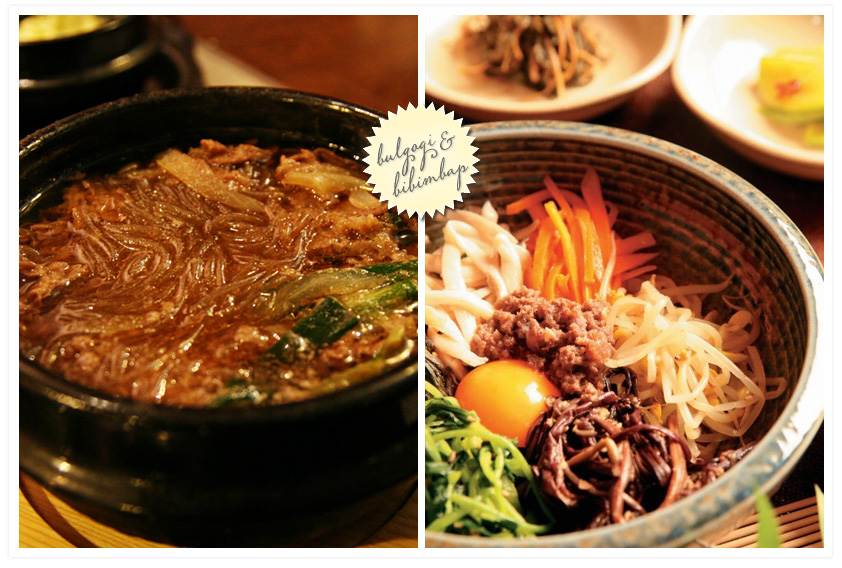 Photo credit: one & two. Both pots were sizzling when they came to the table, and the raw egg cooks slightly as you mix it against the sides of the bowl and into your rice. The version of bibimbap I've had in the U.S. didn't contain the raw egg – I must say it's a very nice addition.
In Korea, nearly everyone out at restaurants drinks soju, although wine is a big trend right now also (and is very pricey). We tried soju once, and I honestly didn't care for the stuff, perhaps it's an acquired taste. I'd say it's similar to sake, but more alcoholic and not quite as easy to drink. There are advertisements with girl movie-stars holding bottles of soju just about everywhere in Seoul.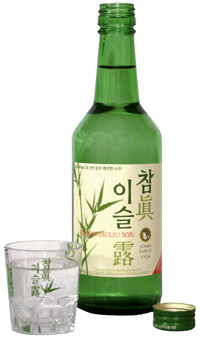 We also tried Asian-fusion, two different restaurants with their take on mixing Korean and Italian, or Korean and Continental cuisine. Fusion food is a fascination to me, it's on my 30 while 30 list for mastering some fashion of it, so I love trying things that other countries have done! The first that we went to was "Mad for Garlic" a chain in Seoul, great atmosphere (think wine cave), probably a bit too western to be called fusion in my book. I had this…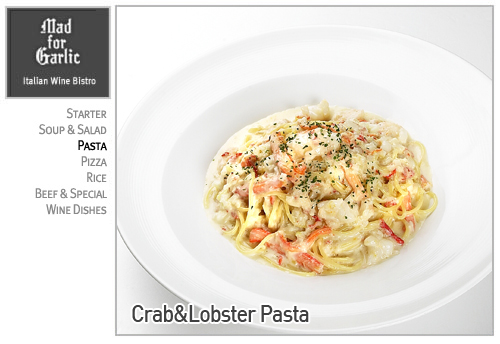 I must say they do seafood right in Korea. Everywhere we ate it was so very fresh.
The second fusion inspired restaurant we picked mainly for the ambiance (Sale e Pepe) and it didn't disappoint. The nightlife and the area of town it was in were fascinating! Also, if you have a hankering for Robster…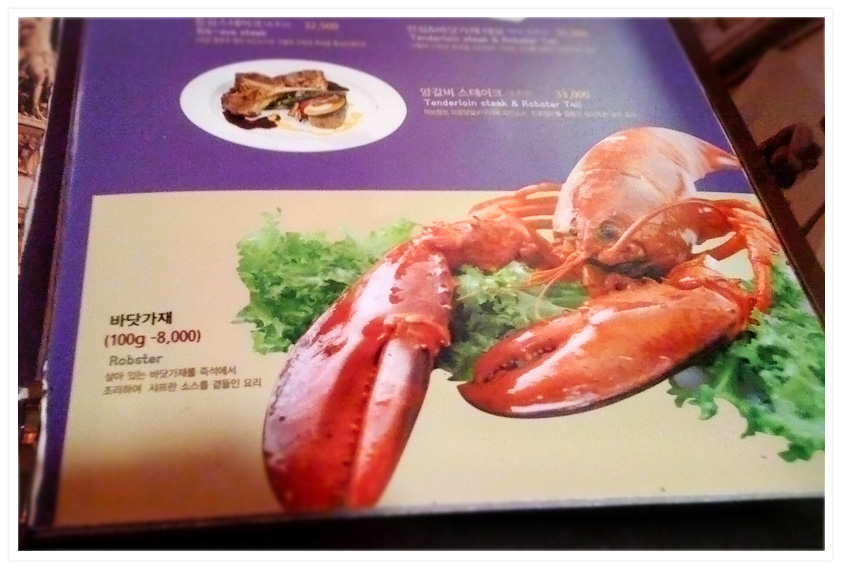 …or steak and robster tail, this is your place.
We also settled on some 7-Eleven (or Family Mart) convenience food for the time we were holed up in the hotel room with our new babe trying to get him used to, well, us. It wasn't the time to head out to a fancy spot for dinner, and we sure didn't want to pay the hotel prices for room service. So we had steamed Mandu (which I would think of as Siopao coming from the Philippines)…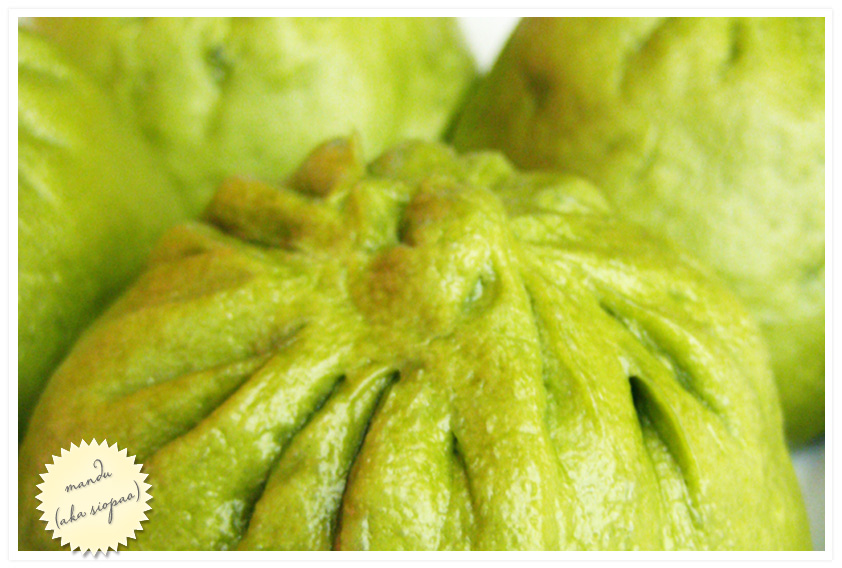 …the green coloring is from an added algae, and there were several fillings: pork, beef and bean paste. Photo credit.
In my food round-up I would be completely remiss if I didn't mention the tidal-wave force that has swept Seoul, Korea: western coffee shops. They are everywhere. Starbucks, Tom n' Toms, Holly's Coffee, the Coffee Bean and Tea Leaf, Caffe Bene, Seven Monkeys coffee, Davinci coffee, Angel-in-us, and our favorite, ToPresso (free wifi is why!). They are all Starbucks clones, and they all open past 9 am in the morning, then stay open late into the night.
Tom n' Toms seemed to be the most wide-spread, and if you doubt the cloneyness: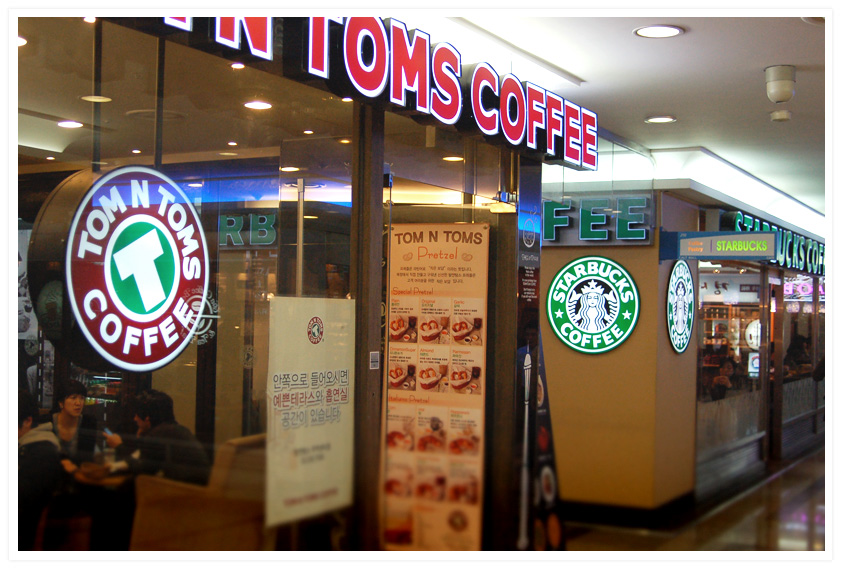 A little side-by-side comparison for you 😉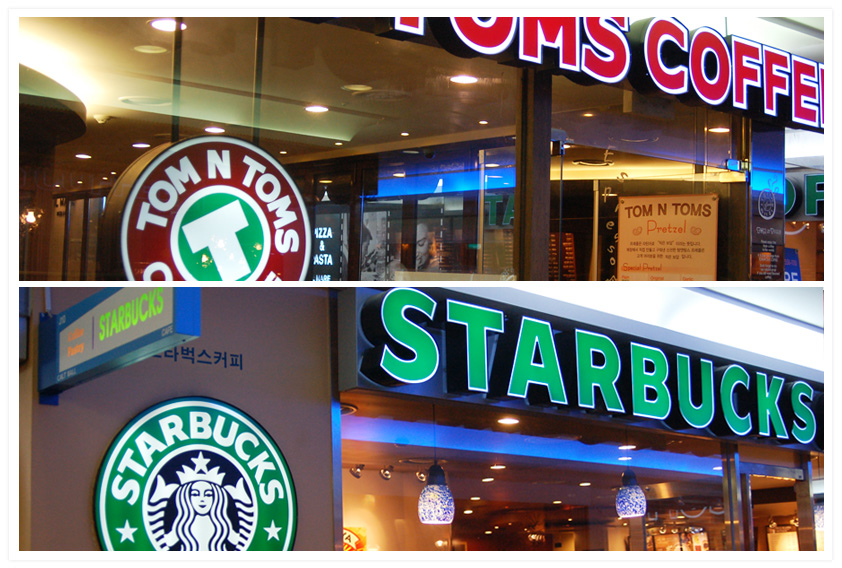 Overall, we found Seoul to be a very impressive city, with fantastic restaurants, clean transportation, interesting buildings, sculpture, and a blinged out, pop-culture nightlife. Although we chose to stay away from certain items, like live octopus, chicken feet platter, or soondae (blood sausage), I still felt like we had a fun, fairly accurate representation of urban korean food. You know you're not in the US when you walk by the market and they're selling these: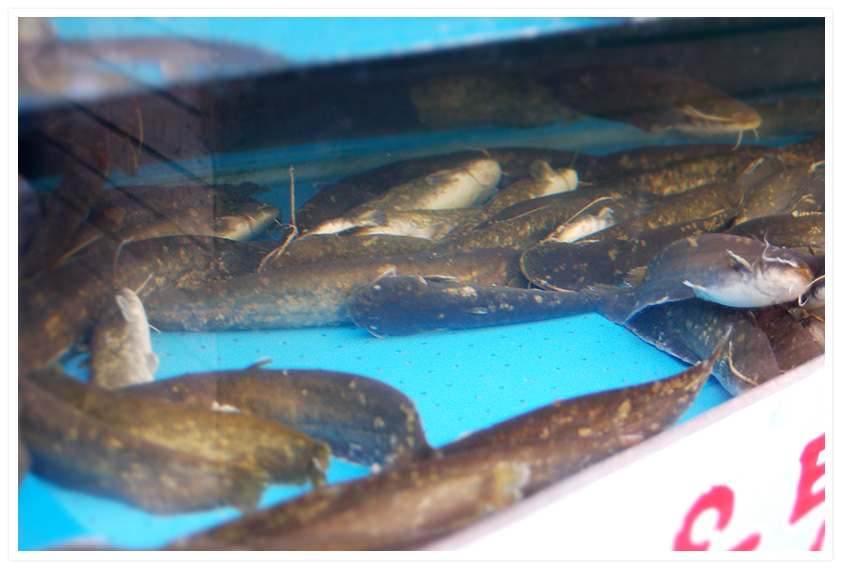 …for you to take home for your dinner.
Thanks for joining me on the culinary safari! You've been very patient, so the next post will be all about our latest addition (at last!)