Hey there, friends. Well, we're back from my grandmother's service (which was beautiful) and I can't thank you enough for your kind words, comments and emails. They were an encouragement to me in a tough time.
When I made it home (11 hours later by car)… I found that Matt had finished installing the upstairs wide-plank pine. Such a nice thing to come home to! I think it looks pretty luscious…
…keep in mind we were going for very rustic and inexpensive. I'm already dreaming up stain colors. I'm thinking a warm honey with a tinge of red, and some dark spots in the knots and crevices. That and a little chain distressing…. well, it's coming along nicely.
Also coming along nicely is our staircase. This morning Matt ripped up the carpet. Adios! Goodbye! Farewell! There is now no more honey/dingy oak, and no more carpet in this entire house. And that, my friends, is something of a miracle. Today they started to add moulding to the walls, and while it's not pretty yet, I already like it better than the "before", plywood, staples and all: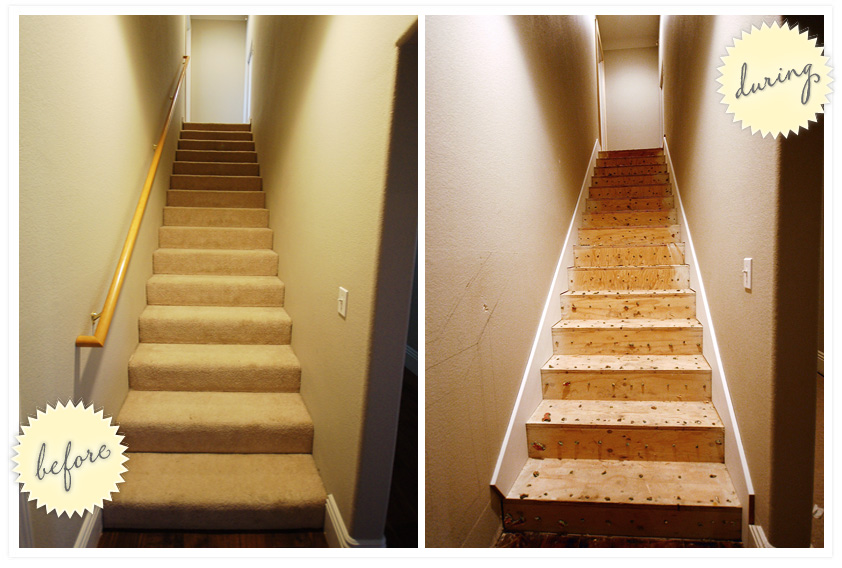 Okay, maybe that's a little overboard, but it's going to look awesome, trust me. 😉