Well, howdy, February, where did you come from? There are no words, no words, to express how fast my life is flying by right now. You glance up, and a full week has passed. How does that even happen?
And you know you're working too hard and are out of touch when your parents, you know, the one's who gave you birth, your life and soul… email you to see how you are doing. They usually get a lot of their updating from the blog, but it's been a leetle quiet around here past week and a half… so let's just say I'm properly embarrassed about not being in touch with all of you (and yes, I emailed them back before writing this post).
Anyhow. On to business.  A mood board! For the big boy room! At last! Recall the inspiration images… all set?
Here's the bonafide mood board: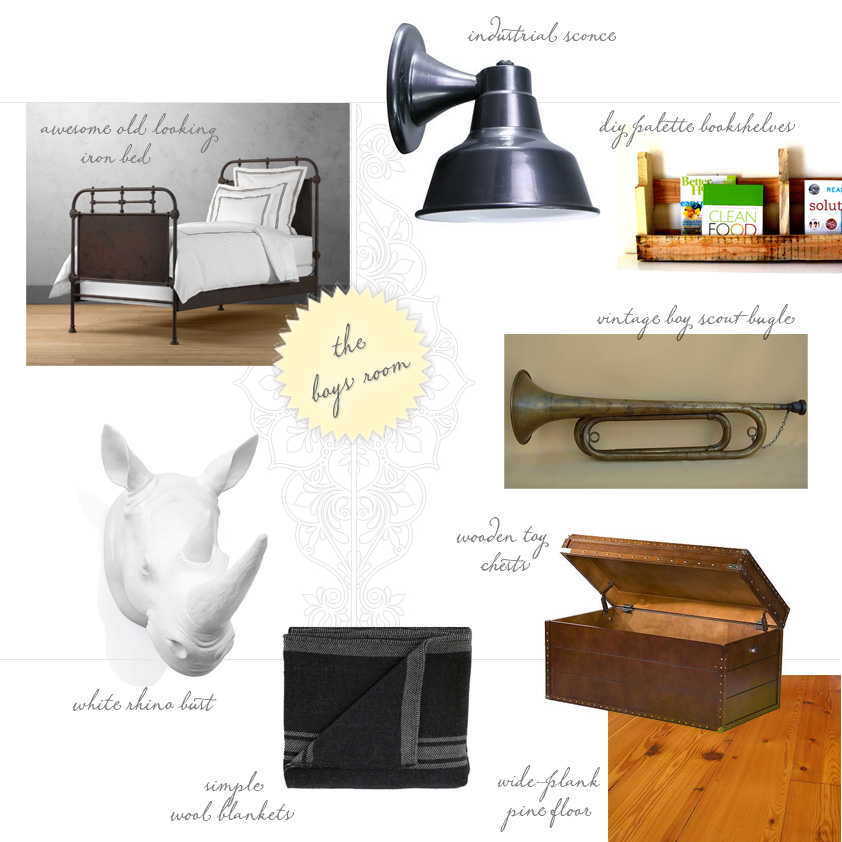 Clockwise from top left: Restoration Hardware iron twin beds (they're one inch too tall! We'd have to cut them down, also they aren't 25% off right now), a pair of wall sconces for reading at night (my favorite, hope it's their's too!), some salvage palette bookshelves we plan to DIY, vintage boy scout bugle (because everyone loves props!), two wooden toy chests, wide plank pine floors, also a DIY install, some simple wool blankets, and an animal bust – the rhino because it's Cam's favorite.
There you have it! Bare bones inspiration for the big boy room! All the pine wood is acclimated, and we start floor install next week! Wish us (okay, Matt) luck!