Did you know that crab season on the West Coast (San Francisco, anyway) is in the middle of the winter? I found that out sort of the hard way this past summer… I was enticed by all the glorious photographs of lobster feeds mid-summer at the beach, and clam bakes in the sand, crab feeds over the 4th of July… it all looked so delicious and fun. We've been eating local and therefore seasonal fare, so I can't tell you my disappointment in realizing that every one of those events was occurring on the East Coast… where summer is the time for crab and other yummy crustaceans.
Our season? For mouth-watering Dungeness Crab? Starts in October. Brr! So, I had to rework my mental imagery of sandy picnic tables or outdoor dining. That doesn't mean we can't enjoy a fabulous Crab Feed! We had one over New Year's at our family cabin in the mountains… it was so simple, so inexpensive and so tasty.
The photos, I admit, leave something to be desired. Chalk it up to wanting to eat right away and low cabin lighting at night. C'est la vie.
Here's all you need:
Dungeness Crab, 1 per person (Live… or not. Up to you!) We got ours for 1.99 a lb! If you buy it cooked already, have your butcher clean it for you.
Newspaper (Spread it all over the table)
Crab/nutcrackers (a pair of cabin scissors worked in a pinch too)
Butter, melted (I say unsalted, but that's up to you)
White Wine (Chardonnay really is the best choice here)
Sides (Finger food – you know, crusty bread or french fries. I made our french fries from scratch using the Joy of Cooking method – both regular and sweet potato fries. They were heavenly crispy!! I also served broccolini steamed crisp/tender… but it was ALL finger food. )
Napkins.
That's it! No plates, no silverware, just dig in.  Bon Apetit!
While we're on the subject of New Year's/cabin getaways… thought I share a few sweet photos from the weekend. Things that were awesome and must become a tradition (some of them are traditions already):
"Champagne" (read: sparking cider) toasts in stemware glasses with the kids…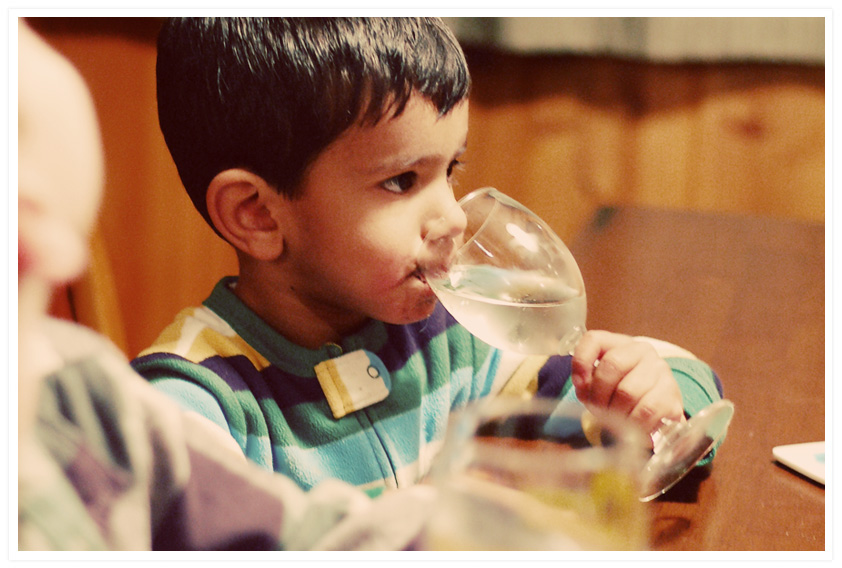 …including a resolution or two. Cameron's is to obey Mommy and Daddy and go only on the potty, and I think those are excellent choices. =)
Oh, and don't miss sledding…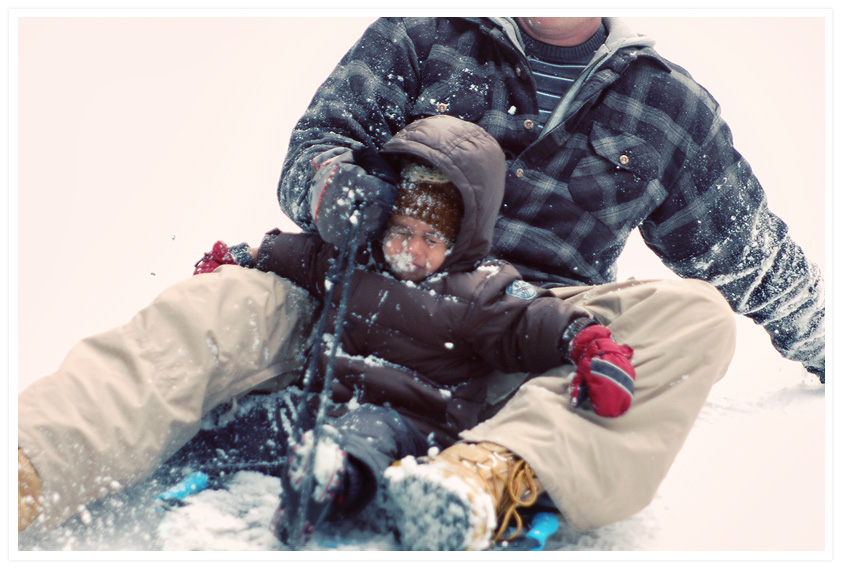 …and getting a mouthful of snow.
After which, brrr!…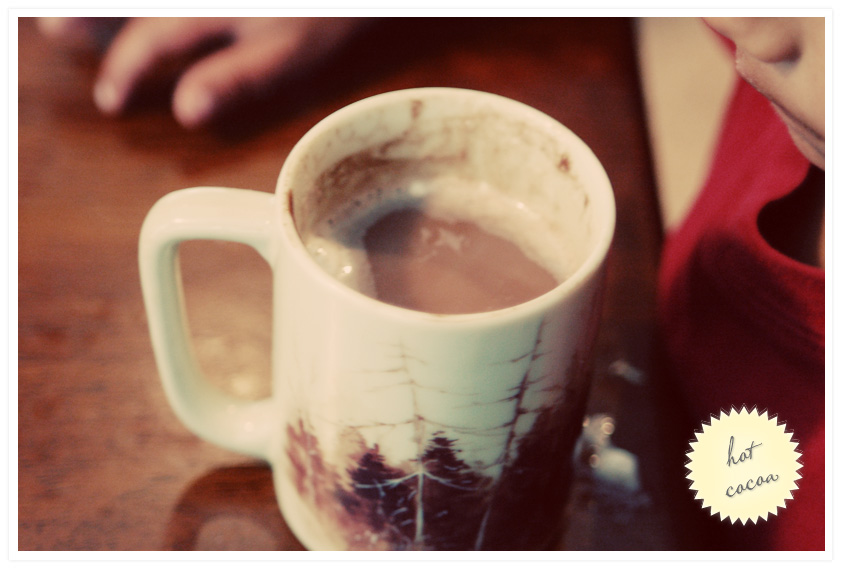 …warm up with some hot cocoa.
Hope your winter is going well! Happy weekend!