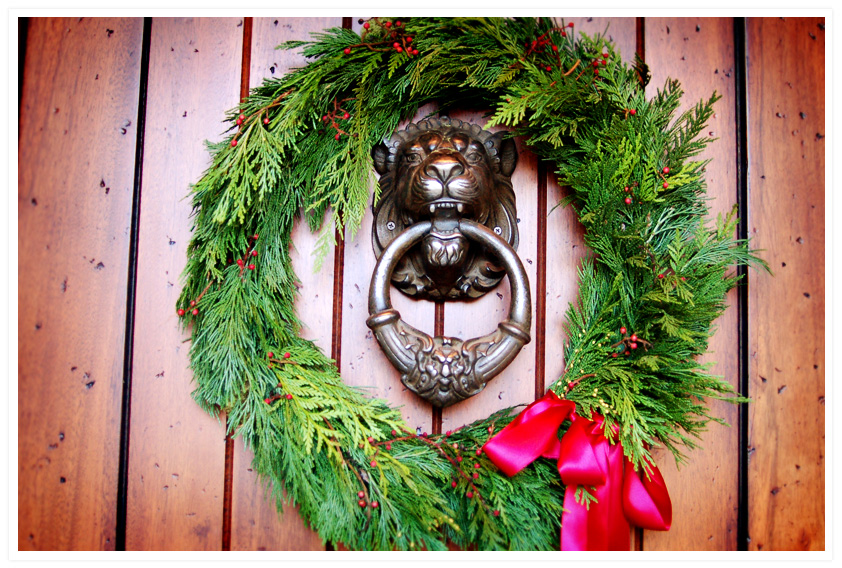 "…the Merry Christmas wreath for the window."
Okay, I may or may not have seen  It's a Wonderful Life last night while coding this blog post. (Sheepish grin.) 'Tis the season.
Speaking of wreaths (note smooth segue), I hope you aren't sick of my wreath tutorials, because I have another one coming your way! Ordinarily when Christmas rolls around I trudge down to the store and buy a green wreath for my front door. Home Depot, Lowes, Costco, even Trader Joes, all of them offer a flavor of fresh evergreen wreath that you can have and hang for about $15-20. It has worked out nicely in years past.
But this year I wanted to do something different. I also wanted to make a wreath large enough to allow my pretty and old Lion door knocker to function.  I also wanted something that was not made of Noble Fir or Silver Tip tree trimmings (don't they all look the same at the lower price point?).  And I wanted to spend… nothing. This meant, you guessed it… a DIY project!
Here's what I started with:
Because of all my previous wreath projects, I had all of this on hand. But if you needed to buy the 24″ wire form, I think it is under $5 at a craft store even at full price.
Then I brought in a basket of cedar trimmings (clipped Thanksgiving weekend at our family cabin, from some obliging trees):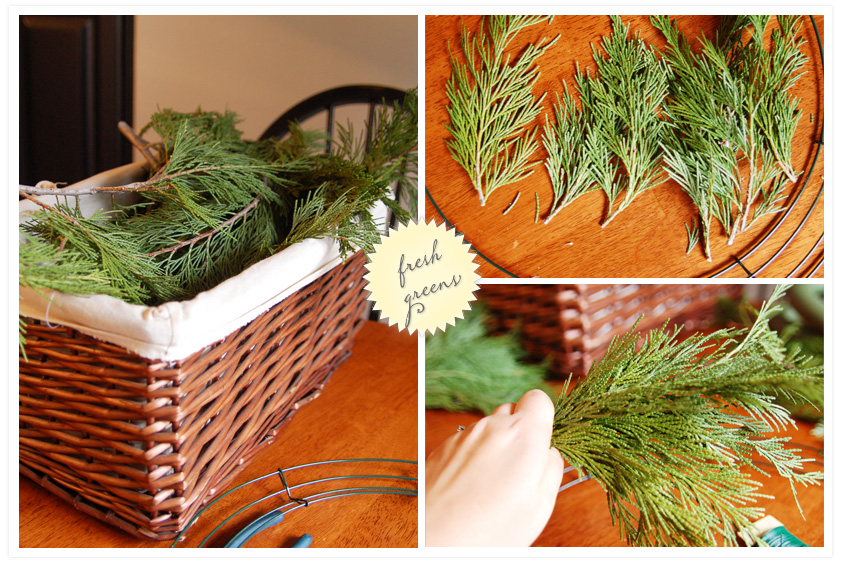 And I cut and separated them into little bundles, like so: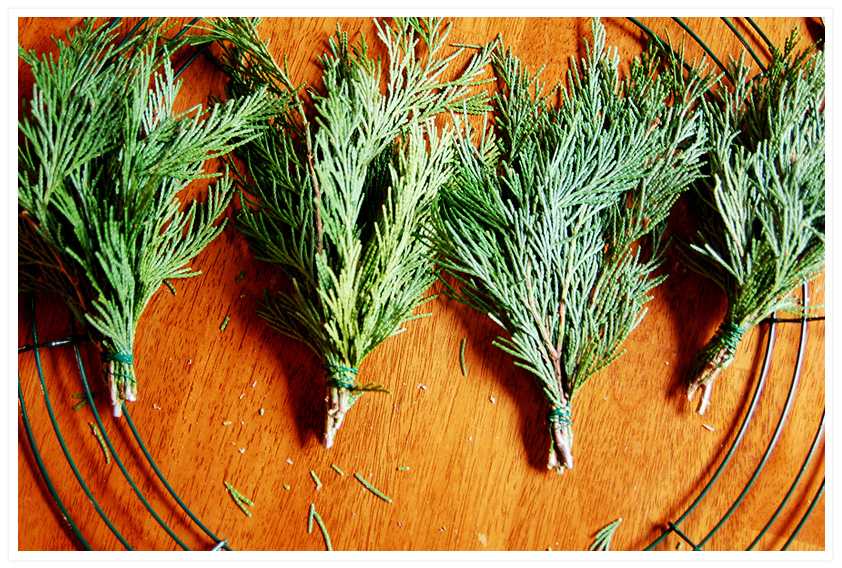 I wrapped each little bundle in wire to hold them together. About 18 little bundles (5 small branches) did the trick: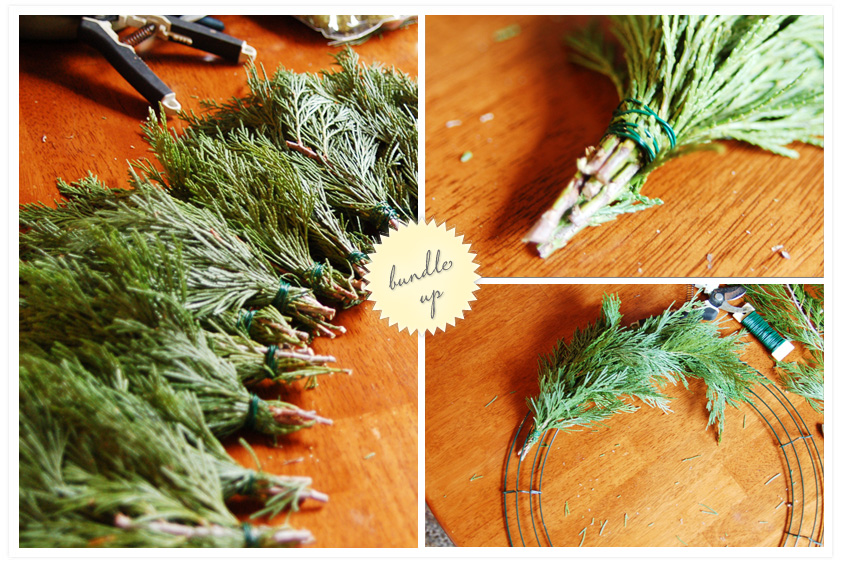 Then, I fastened the bundles to the form with florist tape. I love this stuff! It sticks to itself, it sticks to greenery, it sticks to wire, but it doesn't stick to your hands. Can we say perfect?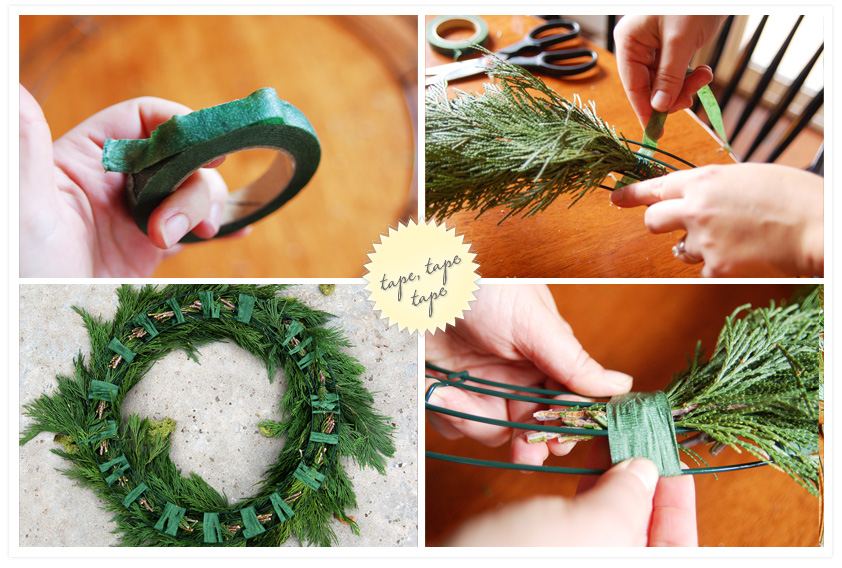 You can see I used plenty of tape on the back to have it on snug. Then I hung it on the door: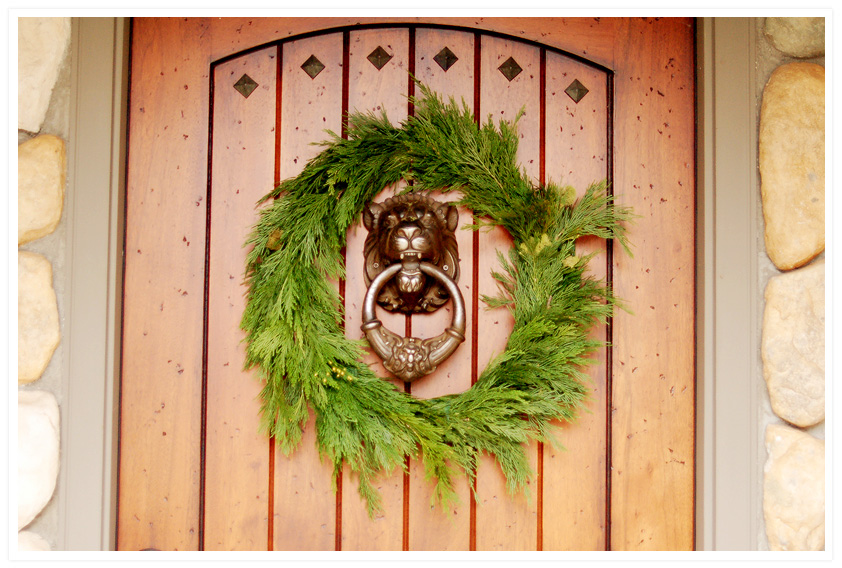 Hmm. I think it still needs some love. First I tried wrapping with ribbon: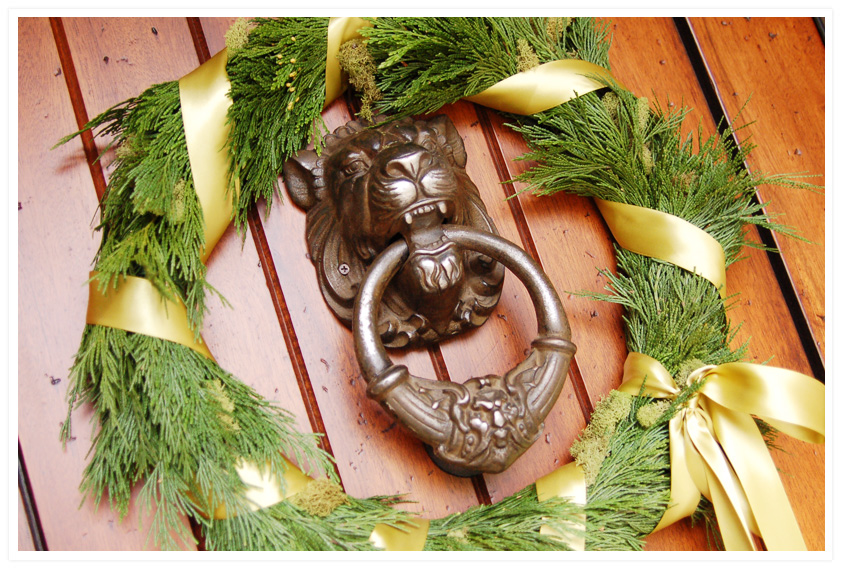 But decided that was too busy for my simple taste. No this had to be pure, and old fashioned, inspired by Little Women (one of the most awesome Christmas movies in modern time), I trimmed the wreath, rotated it and went with the pure cedar and a red bow: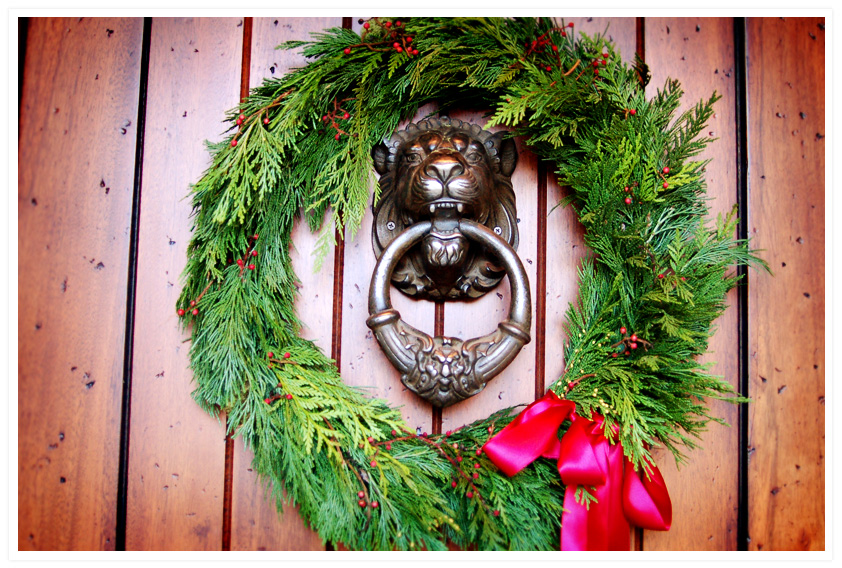 …which was exactly what I was looking for. I'm so happy with how it came out, really! A little bit of trimming the scraggly parts and a few berries from the tree in our front yard make it seem simple and elegant. I think it sort of compares to this wreath for $99(!), and it cost us all of $0 to make.  =)
Around the door frame, I added a live cedar garland purchased for $14 at Home Depot (no, I didn't make this one!):
The wreath project took one hour, start to finish. I was hoping for 30 minutes, but I had a three year old clamoring for some attention at the same time. I would call the project simple, but a bit more effort than my other two wreath tutorials.
And to round out our outdoor decor, I zig-zagged lights atop our boxwood path: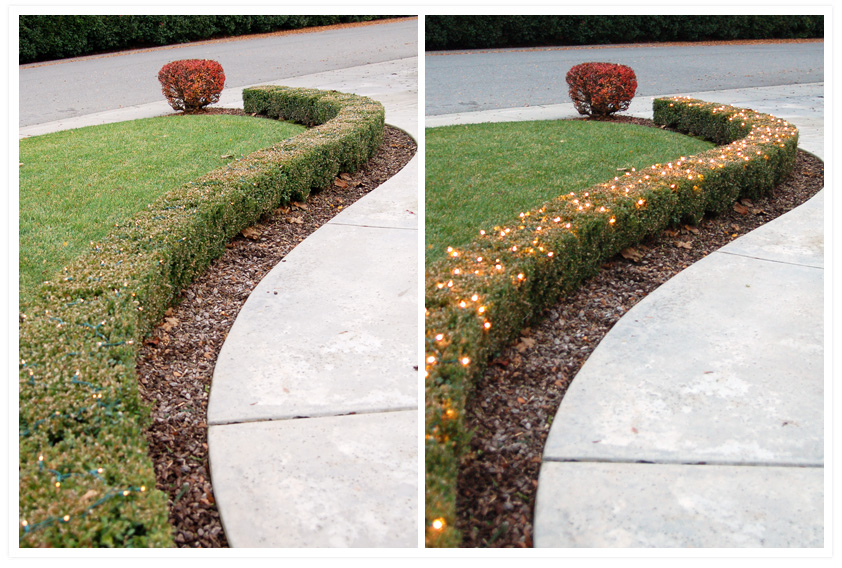 And up the trunk of our little Japanese maple tree.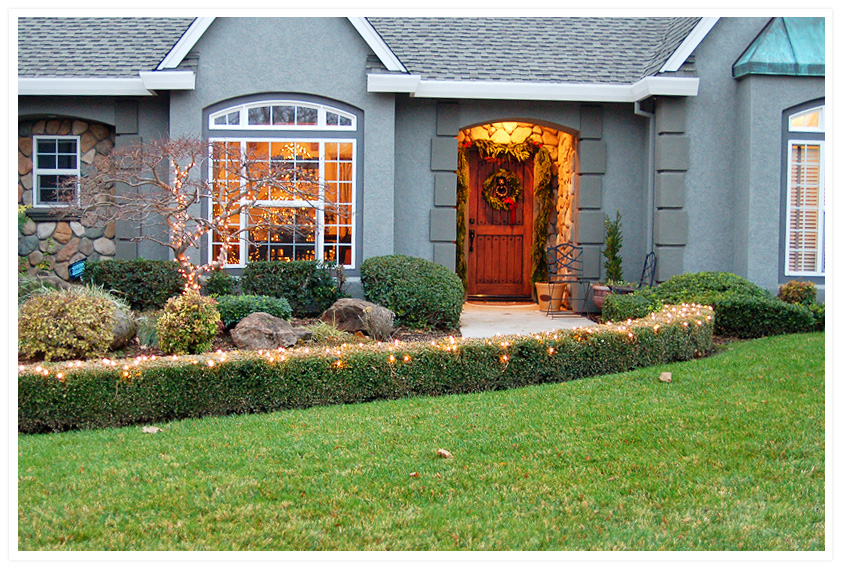 That's the show this year, I'm afraid! How did your holiday decor turn out? Any great DIY decor to share?
PS – That brings the total spent on Christmas decor this year to $24: $10 for our tree, plus $14 for greens. Yay for using what you have already on hand!!