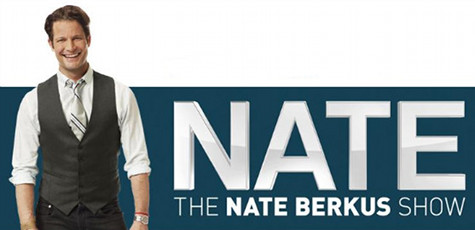 Here it is! My clip on the Nate Show, which airs today! I can't believe they posted it on the internet. So fortunate, because now I get to share it with you…
And then here's the behind the scenes holiday tips video (yes, my face is a little "glowy" aka sweaty):

I had to think of those on the spot, so maybe that's why it's a little scatter-brained. =)
Aaand, a guest blog on the Nate Show site about painting my cabinets (which you can read the complete works of that in a four volume set right here on my blog). Read it over there (or check out more details on my blog here).
Lastly (there's more? I'm exhausted!) a photo gallery of quick weekend projects, also on the Nate Berkus Show website.
Whew! I think that's about it! Check them out and see what you think. The whole thing was so much fun, I'd like to add some brief thanks to my family (for support and last minute childcare) my friends, you my readers and kind fellow bloggers and most of all my dear husband Matt (who is the backbone of the entire DIY operation). Love ya, hon.
And dear new readers from the Nate Show: Big Hello and welcome! We hope you'll stick around and I'd love it if you introduced yourself (the comments are a perfect spot for that)… don't be a stranger!
=) Rebekah