In the world of cake vs. pie (one of the most serious debates of our time), I come down firmly on the pie side.
Pie is to dessert what Grace Kelly was to fashion: timeless and elegant. If you doubt my affinity toward pie, you can look at previous posts: apple, cherry, ricotta, shepherd's (x 2)… clearly it's an obsession. On a side note, if you read my food archives, you may think I eat pie and soup only… it's not true. I just love those two things "a lot-lot".
Where was I? Oh, yes, pie. Pumpkin pie, to be precise. Pumpkins are everywhere right about now, and I picked up the cutest little sugar pumpkin at a local patch: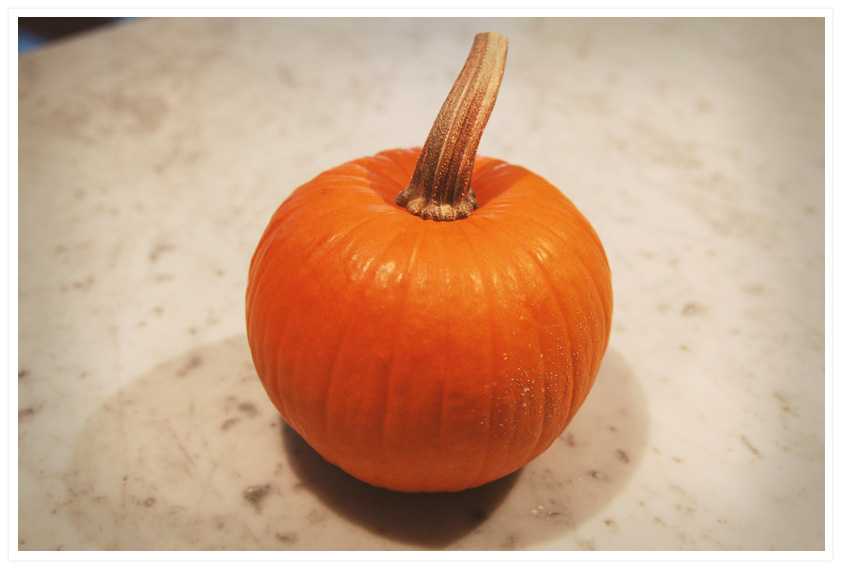 Isn't it adorable? Don't you just want to pinch its cheeks or something? I had about 4 lbs of this squashy goodness sitting on my kitchen counter, so I had to give pumpkin pie from scratch a shot.
Here's what I came away with: just say "no" to the can. Canned pumpkin will not have the teeny flavor quirks and eccentricities that fresh pumpkin you baked yourself can provide. It's the perfect season to use your oven and do it yourself!
I followed this recipe loosely. Key word "loosely". Pie seems to be more forgiving for a baker than cake (maybe that's why I like it so much) so you can feel free to adjust according to your preferences.
Start by baking the pumpkin…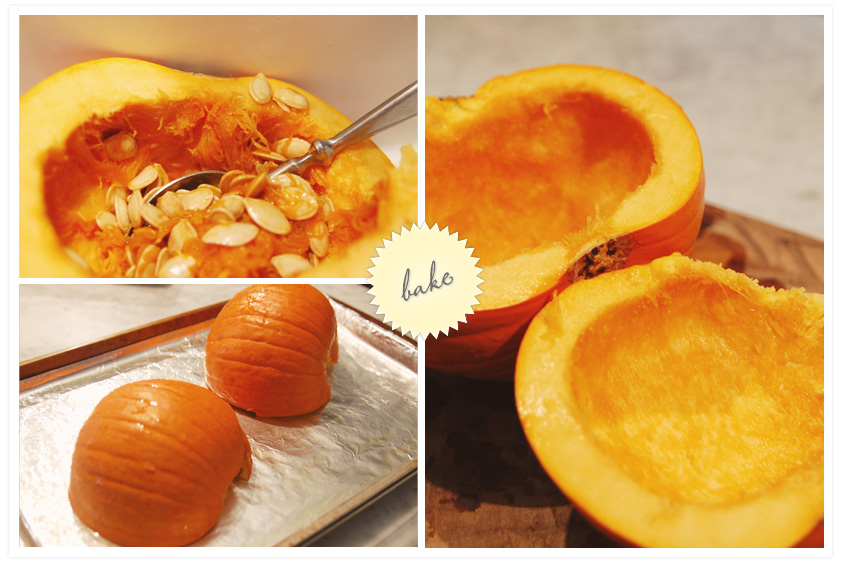 And roll out your pie crust (because pie crusts are so pretty and I love their soft blanket, I'm giving you two gratuitous photos of crust):
Mix your main ingredients (this pie is spicy! lots of spices):
I ran the pumpkin puree through the food processor for silky smoothness. Fill the crust: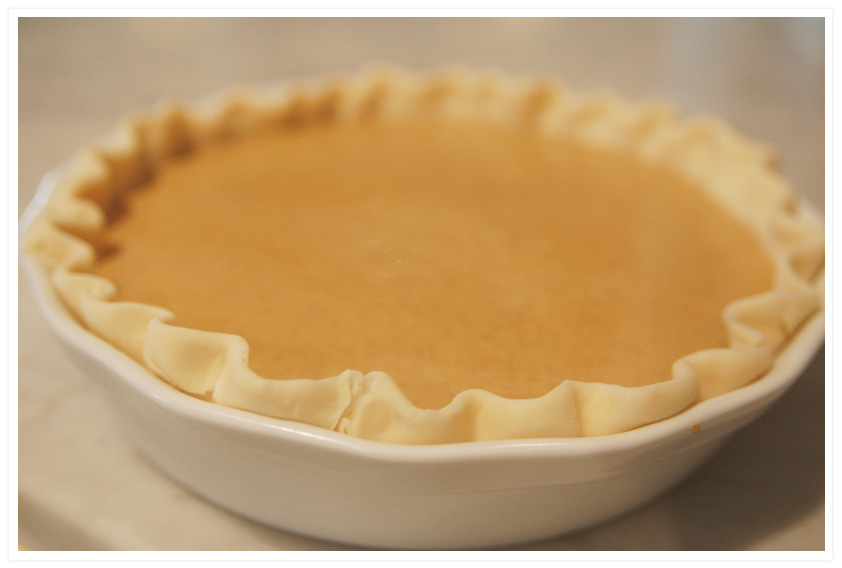 …And bake: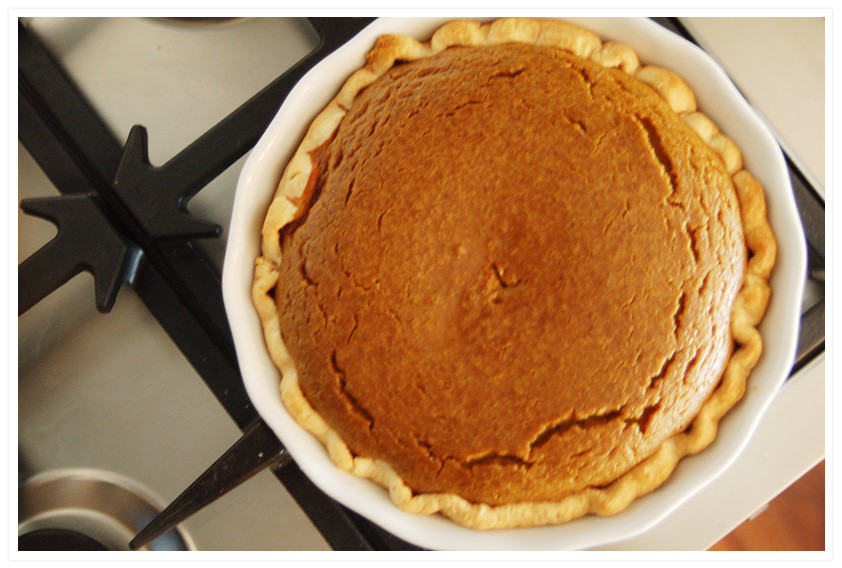 Tada! Be sure to let it sit for a good while. I like to refrigerate it and I actually think it tastes even better the next day.
I didn't have any whipped cream (and it was lunchtime – pie for lunch!) so I crumbled a bit of good quality goat cheese on top. Sooo good, and the perfect creamy/tangy accompaniment to the spicy pie.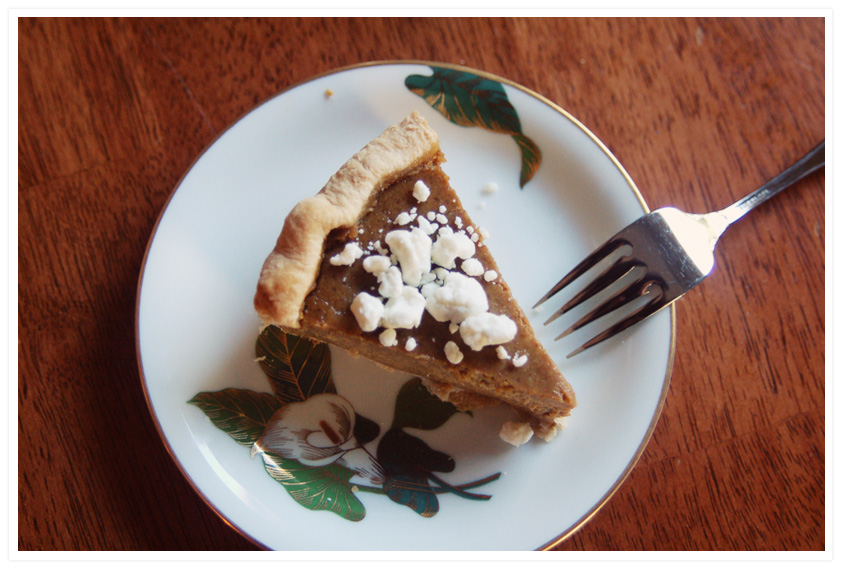 Isn't Matt's Grandma's second-best china set pretty? I love that folks used to have best and second-best china sets.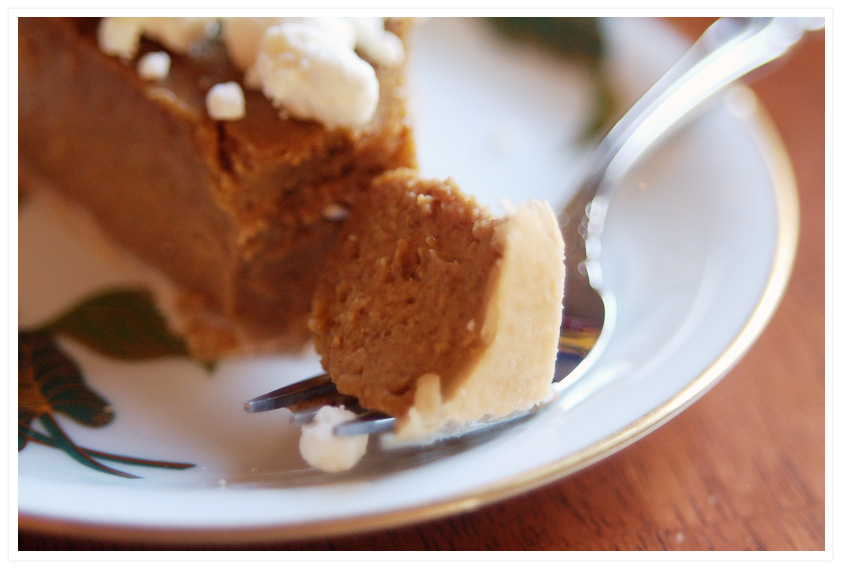 Perfection in a bite. Pie.
=)