If you wonder why it's taken me so long to post pictures from Cameron's recent tractor birthday (see the invites here), it's because going through almost 500 photos takes a long time. Going through 450 really good photos takes even longer! How to choose, how to choose…
But, I have done it. I narrowed it down so that it can squeeze into one long post (sorry for the photo overload).  But a picture is worth a thousand words, right?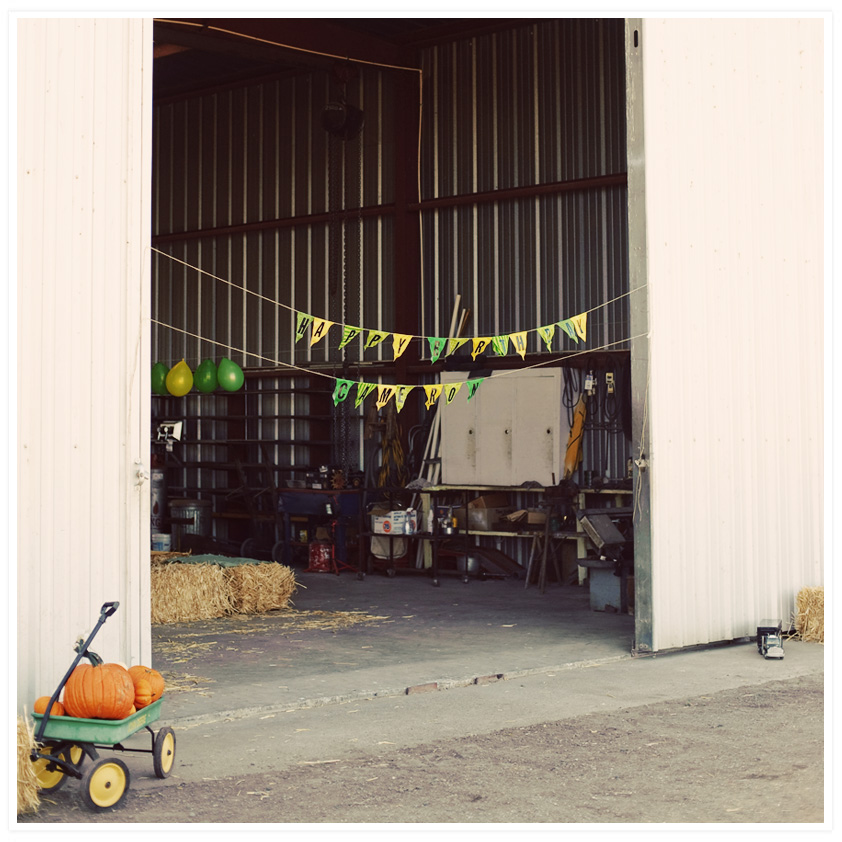 We held the party at our family ranch, during rice harvest, as that's when Cam's birthday naturally falls. I tried to take the huge warehouse that is our shop (and houses harvesters, tractors and work equipment) and turn it into something fun and approachable for kids.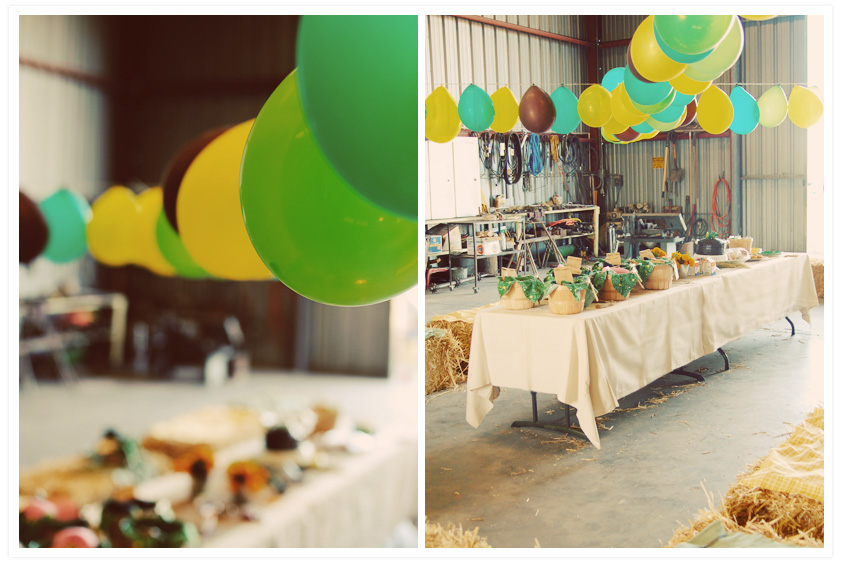 Matt strung balloons across the center of the shop to bring the tall ceilings down a bit. We arranged hay bales around tables in the middle to provide seating and also a safer spot for small kids. Hay bales are awesome for inexpensive party seating – $3 per bale and the nice family we bought them from allowed us to return any that were still in good shape.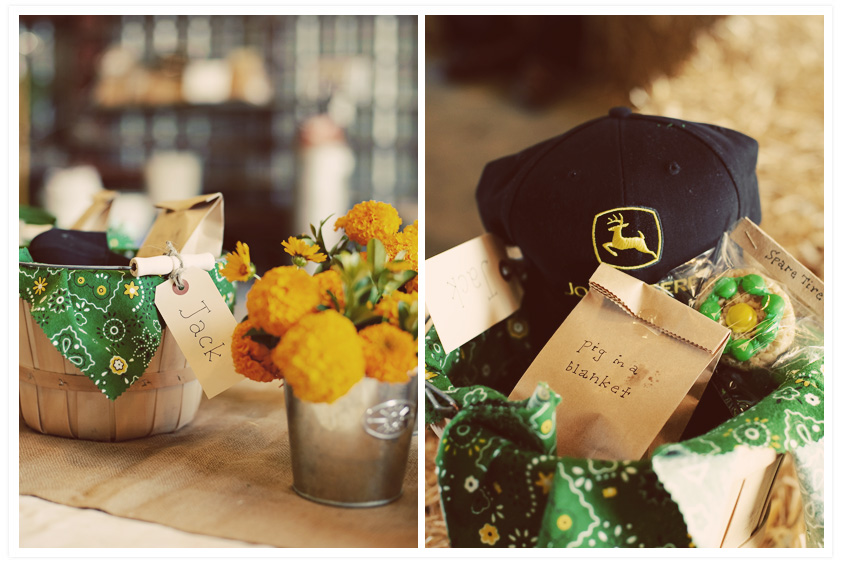 I made up little baskets for each of the kids – they each had a little farmer's meal: apple, cheese stick, pretzels (labeled hay sticks), a pig in a blanket (hotdog) and a spare tire (rice krispy treat decorated as a tractor wheel). They also included a child size John Deere hat and a little matchbox size tractor as a party favor.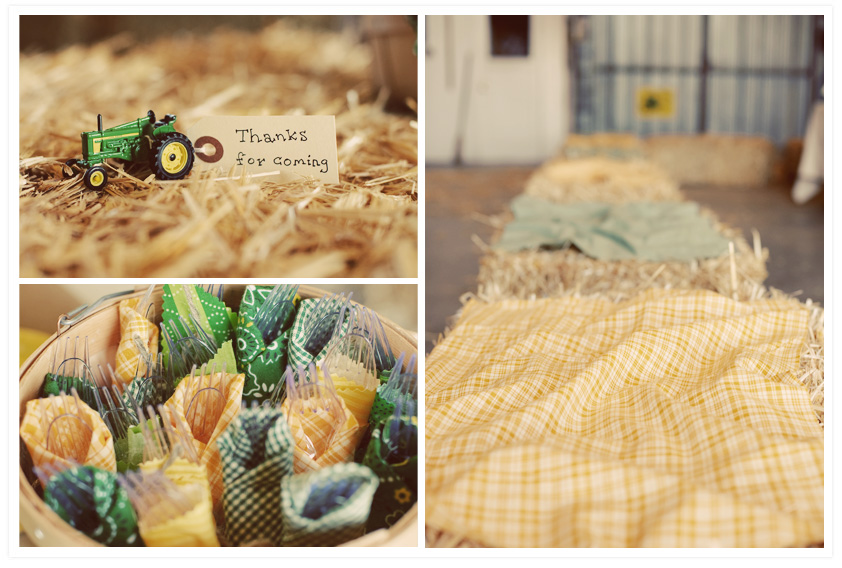 We kept the party fairly small – I did go over the "your child's age plus one" rule, but only because I invited siblings, wanting the whole families to be able to come. I think it was so much more enjoyable this way, and less overwhelming for Cameron. In fact, here is the entire party, kid-wise…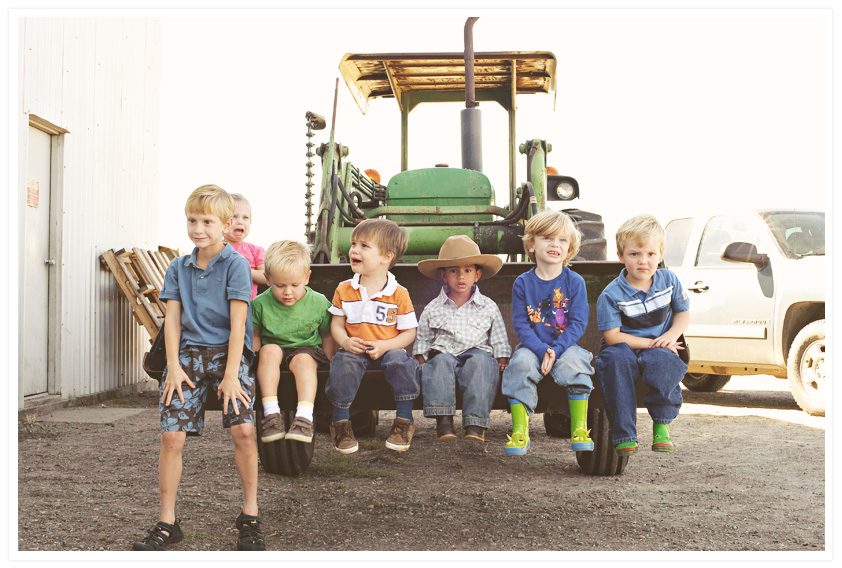 …Obviously my "let's take a picture in the scoop" idea was an unpopular one.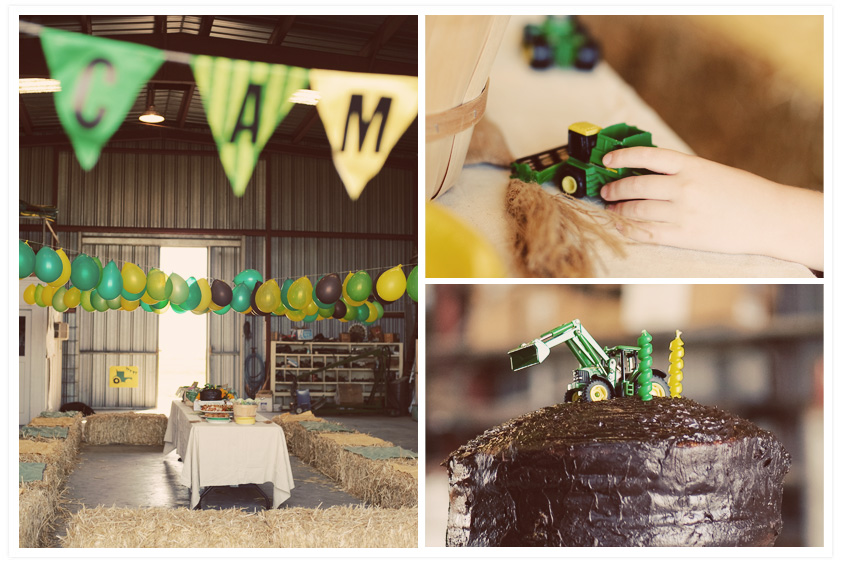 The birthday bunting I threw together with fabric scraps and stickers the night before. If I knew how to sew these would look better, but it was fun anyhow: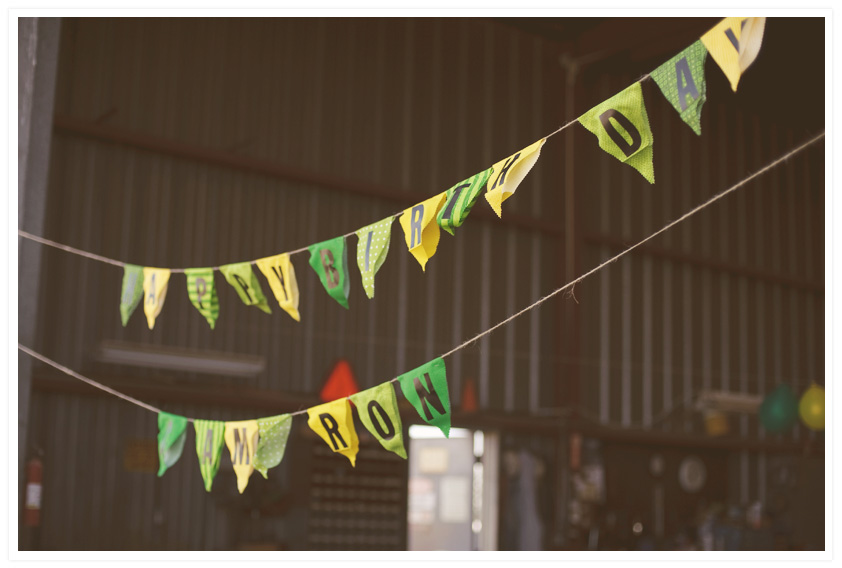 For the grown-up food, we had a rice theme, since it was rice harvest, after all: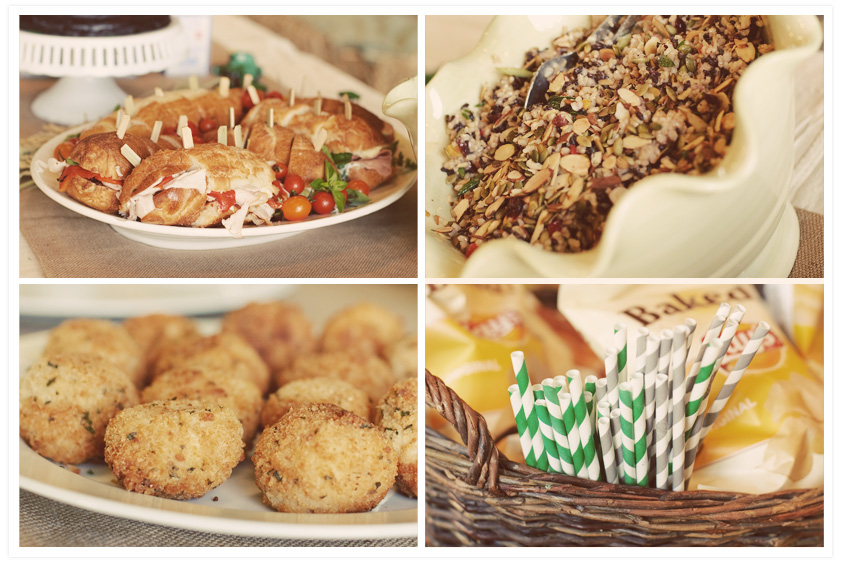 My mother-in-law made delicious gourmet sandwiches (with basil aoli, roasted red pepper and more), we had Bacio's famous Chico Rice Salad which is SO good: nuts, seeds, different rice grains, I wish I could make the stuff, it tastes like a bit of rice heaven. Plus we had arancini (risotto balls) – with just a wee bit of cheese oozing out from their gooey centers. Yum.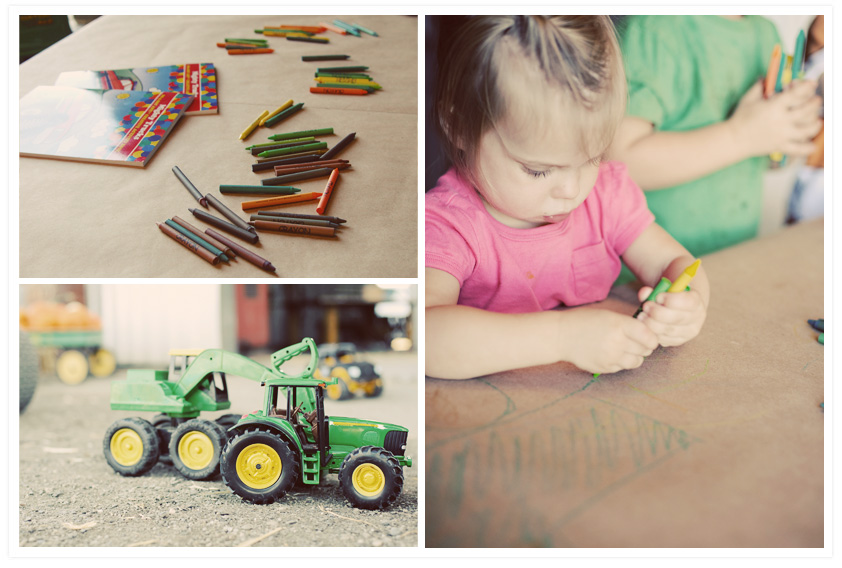 I set up play areas: dragging all Cameron's sandbox tractors from home and covering the welding table (which is low to the ground) with butcher's paper and putting out crayons and tractor coloring books. Much crayon hoarding ensued, but overall the areas were a big success. =)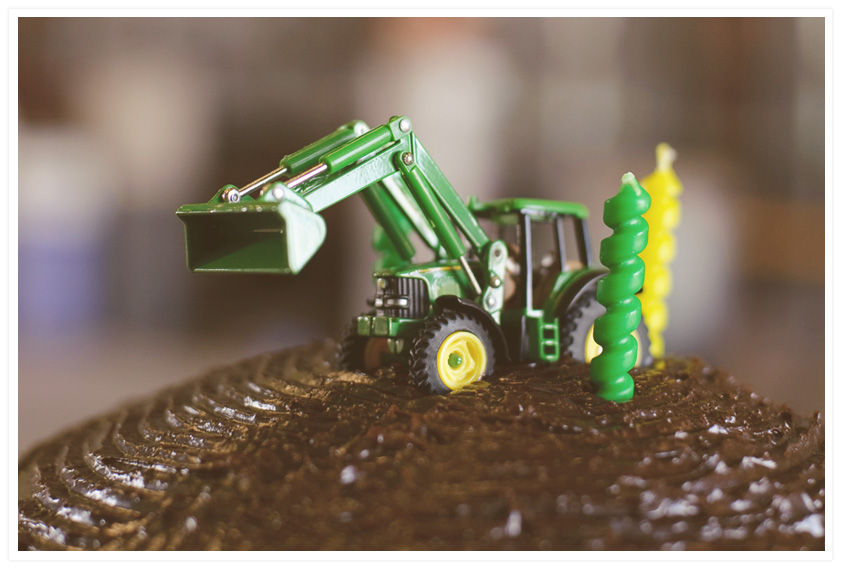 For the cake I kept it simple: chocolate frosting with tracks combed in and a tractor on top. I made it myself (baking is not my forté, but will a three year old notice?). The big surprise was on the inside when we sliced it open: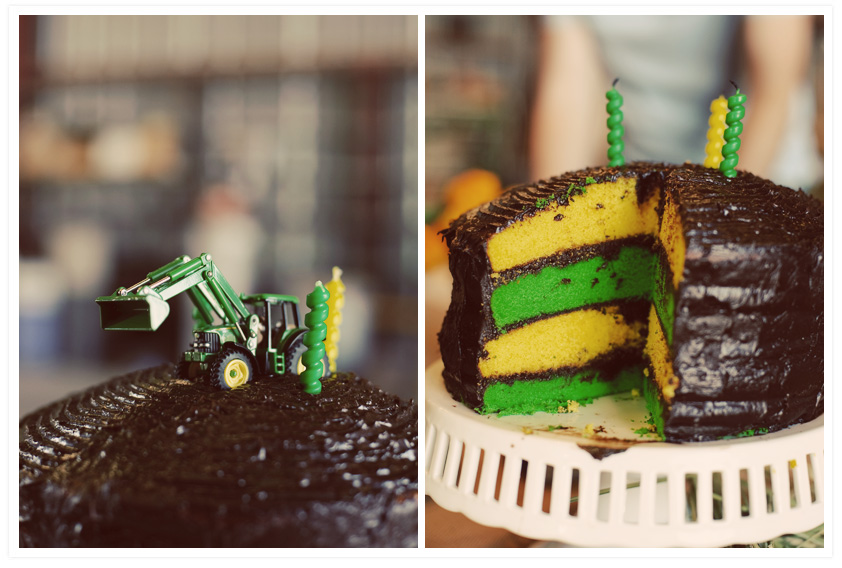 John Deere Green and Yellow. Oohs and Ahs ensued. The green layers were vanilla cake, the yellow ones lemon.
The pints of milk were a big hit with the kiddos: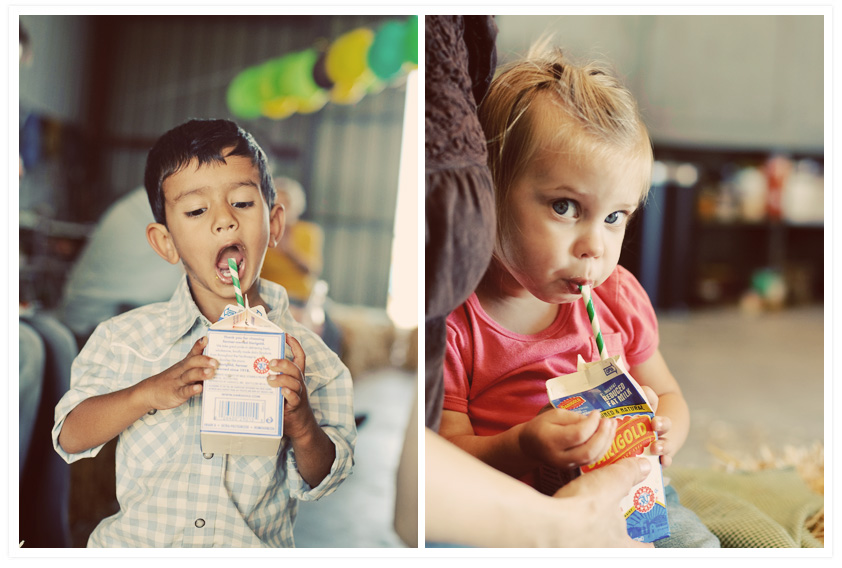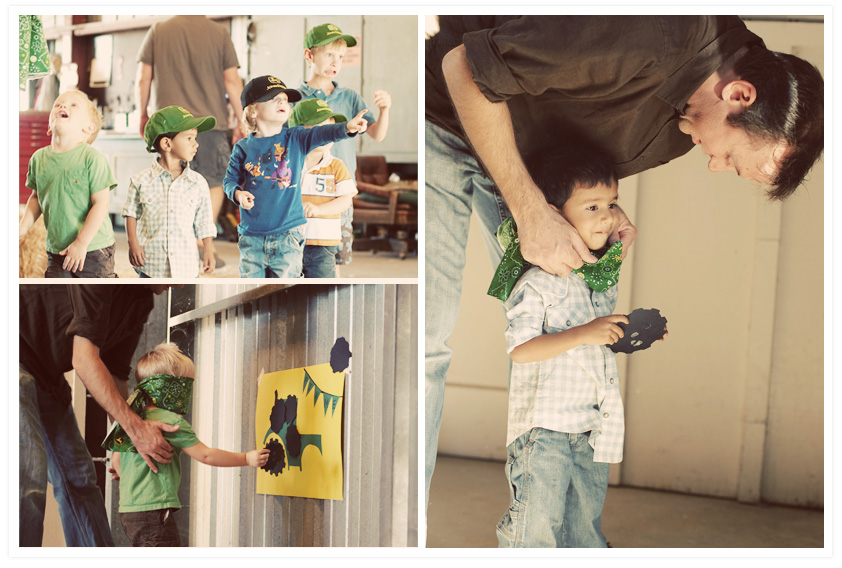 We played Pin the Wheel on the Tractor, which was met with mixed enthusiasm. It was very cute though. =)
Then we did a bit of what everyone had been waiting for… tractor rides!
Cameron's Grandad showed the boys how to test the rice for dryness.
We had tractors to ride of all sizes (borrowed from friends):
Folks hung out and waved as the tractors went by. They all had a turn to ride, if they wanted.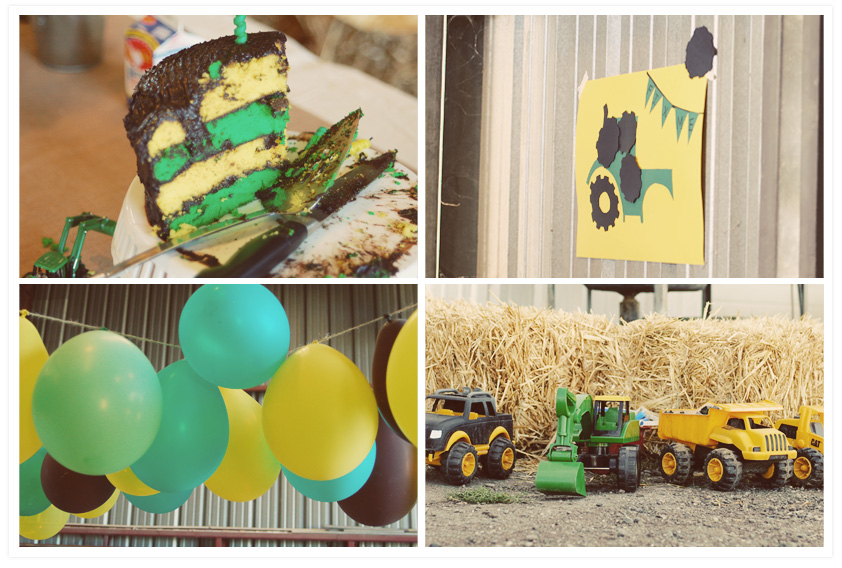 In the end, the games were played, the cake was eaten, and tractors were ridden. All in all a good day.
Okay, here's some Cam cuteness overload (I can't resist). Here's Cameron welcoming people to his tractor birthday: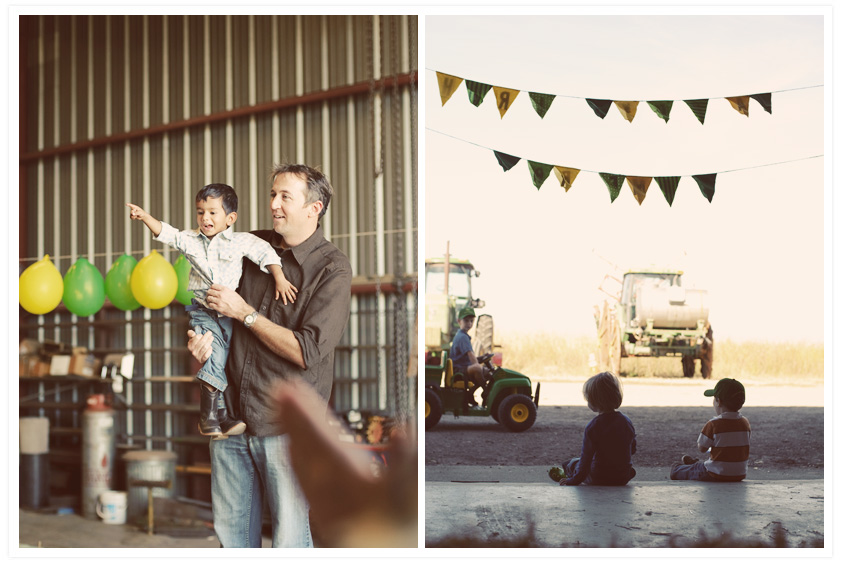 …And friends just hanging out. That's what's awesome about age three that age two doesn't seem to have.

Blowing out candles and pondering presents: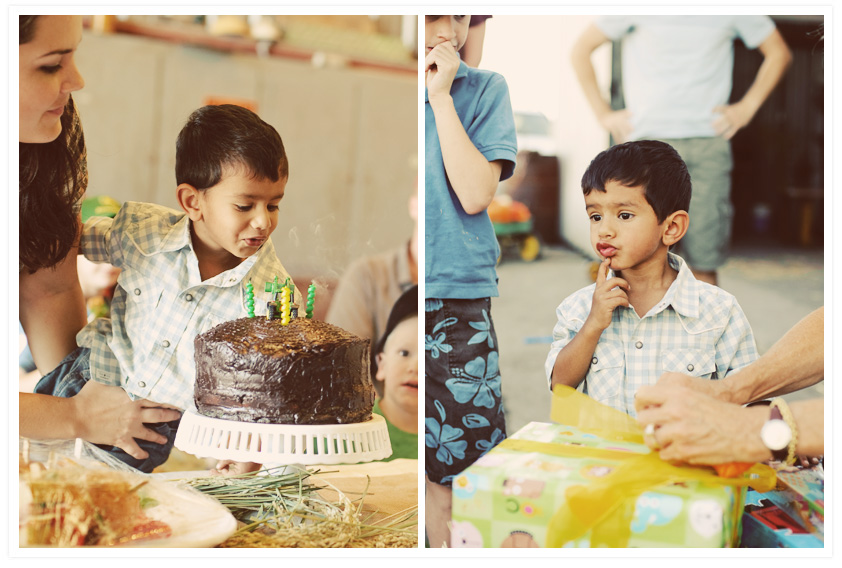 Oh and how old are you, Bubby?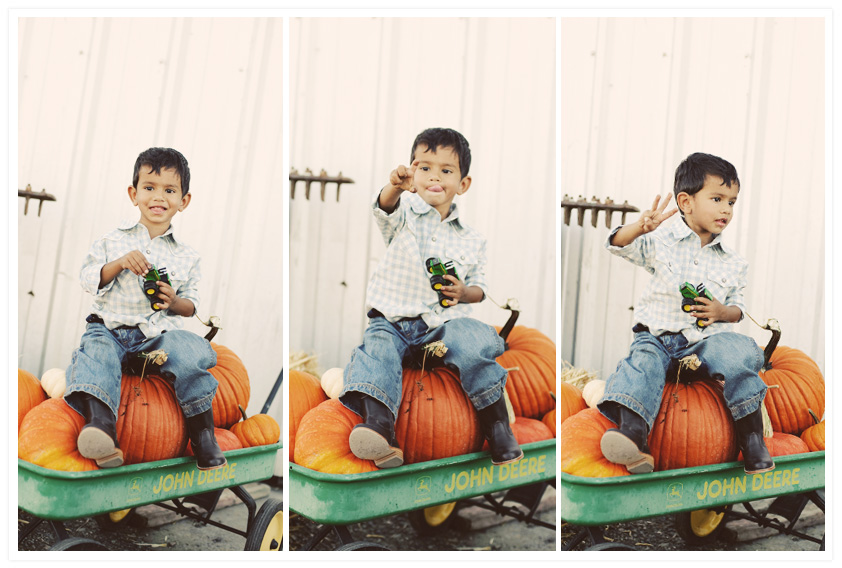 Happy third birthday, Cameron! Hope you all enjoyed the party!
Photos taken by my awesome and talented friend Stella from Eikon Photography.