Okay, so that may be a silly, made-up word (I didn't even originate it, I think it comes from here, but I've heard it several places). Glamorous, yet organic feeling. And here organic refers to naturalness of shape, form and texture, not USDA certification of food or anything else. I've been enjoying this style for the past year, for example, I used it in last Christmas' sparkly and natural decor. West Elm has some beautiful examples in their holiday line up as well.
All this to say: Monday I decorated for Fall… and it's a bit glam. And a bit organic. Wanna see what it looks like? I was hoping you would!
We went to a pumpkin patch pumpkin-patching the week before (the FFA patch, which was awesome) and picked up this wagon-load of pumpkins: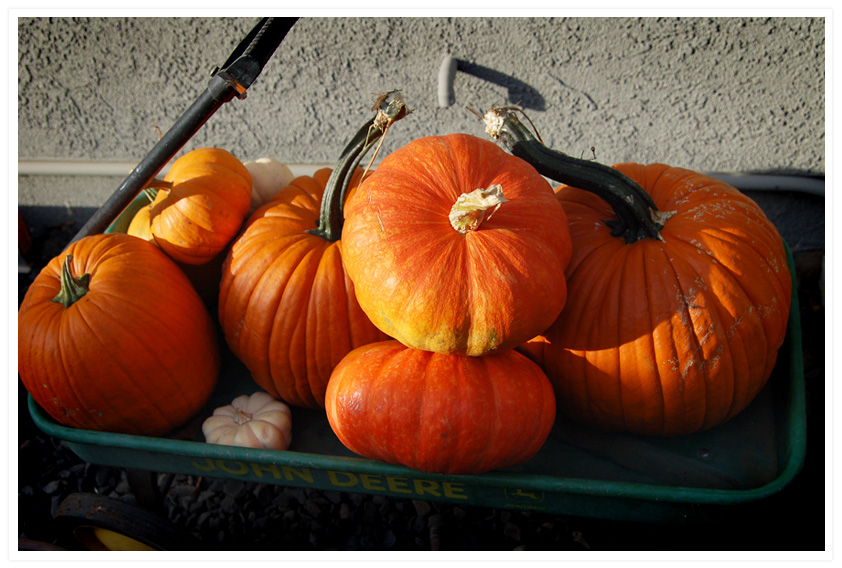 All of those pumpkins = $24. With free entry to the patch, and pumpkins as far as you can see.  It's not the most activity-centered pumpkin patch, more like pick-your-own-pumpkins-and-go. We didn't have a lot of time to play, so it fit our schedule perfectly. If I have room this month I'll squeeze in a post about the visit.
Anywhoo, we had our pumpkins, and I decided to experiment. I had a tri-pack of Martha Stewart glitter that I'd never found a reason to use, so I decided to give it a try. Nothing like a three year old child + glitter to make for a messy morning! Cameron loved it. We did this: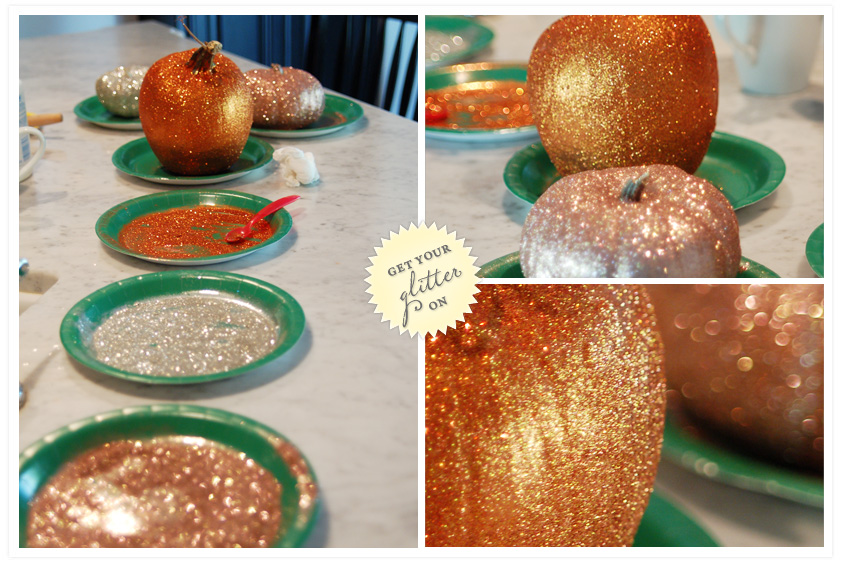 It's pretty simple. Brush the pumpkins with glue and then dust the glitter on! Martha has a tutorial here. I had Fire, White Gold and Copper in my three pack. We did three pumpkins only, so much was left over. By then I had had enough glitter.
With the other pumpkins I did this…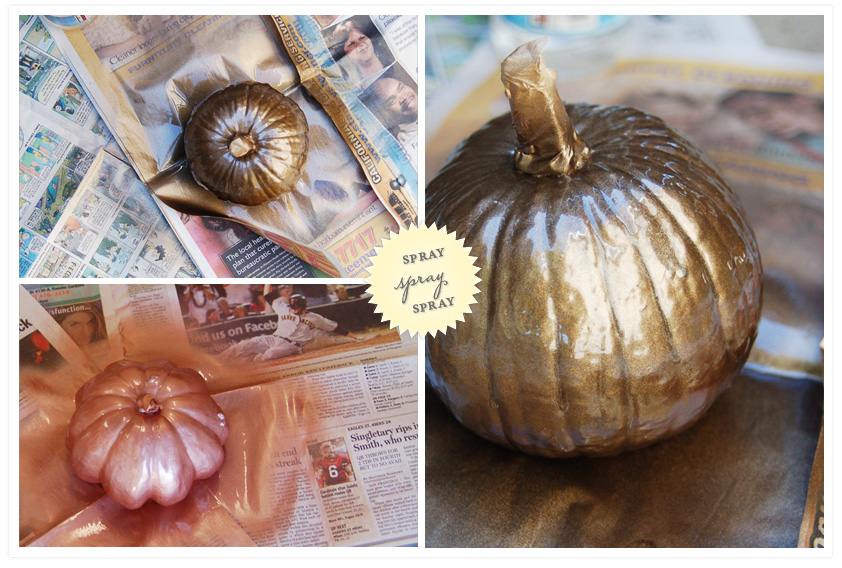 Spray Paint. Possibly the easiest (and one of the cheapest) decorating sources ever. I used cans we had on hand already – I recommend keeping around black, white and an array of metallics – you'll be craftier just by having them, I promise. Pictured above is Antique Brass and Copper. I did tape the stems to keep them from being sprayed.
Fast forward 30 minutes so that every thing can dry. This is what I ended up with…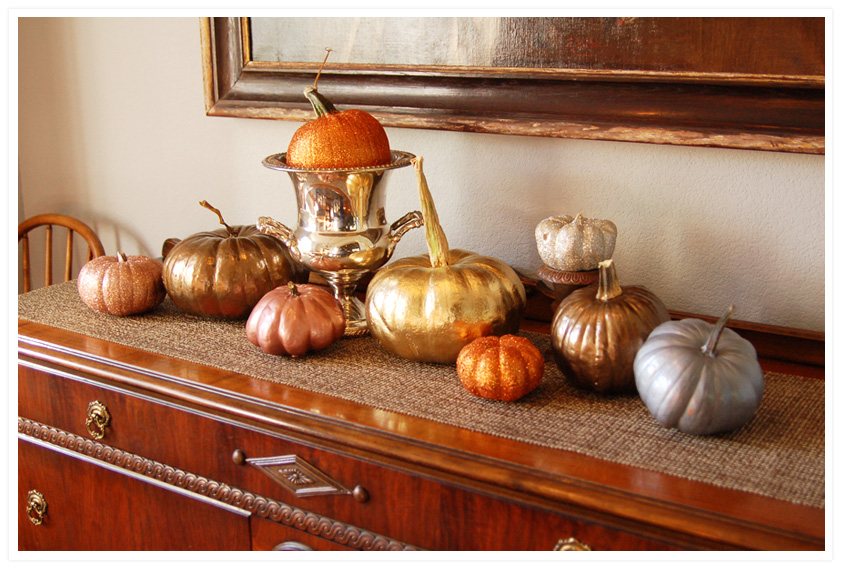 Fun, huh? Hopefully subtle and sparkly but natural (you can't get those shapes from fake pumpkins!).
I especially love how the super-metallic gold came out…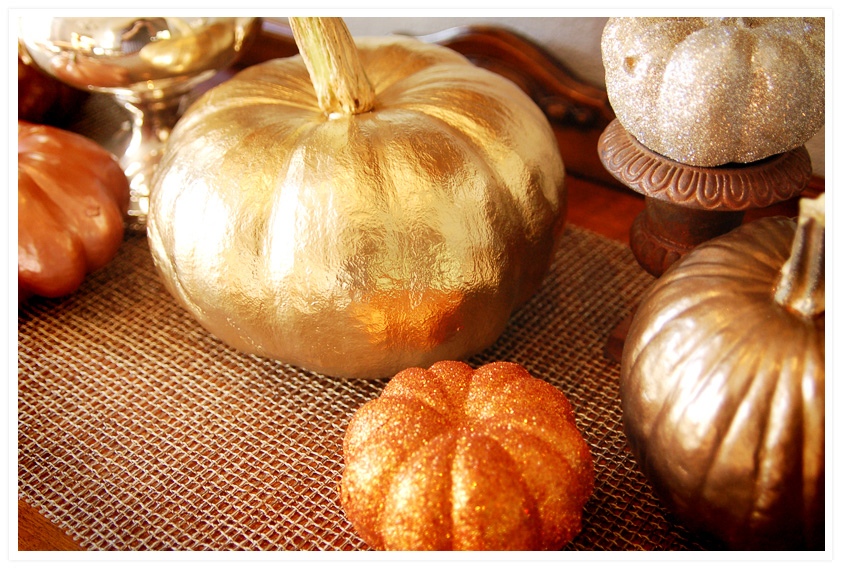 It almost looks like metal leafing, doesn't it? And it went on like a dream.
My second favorite pumpkin is the "Fire" glitter one in the champagne bucket…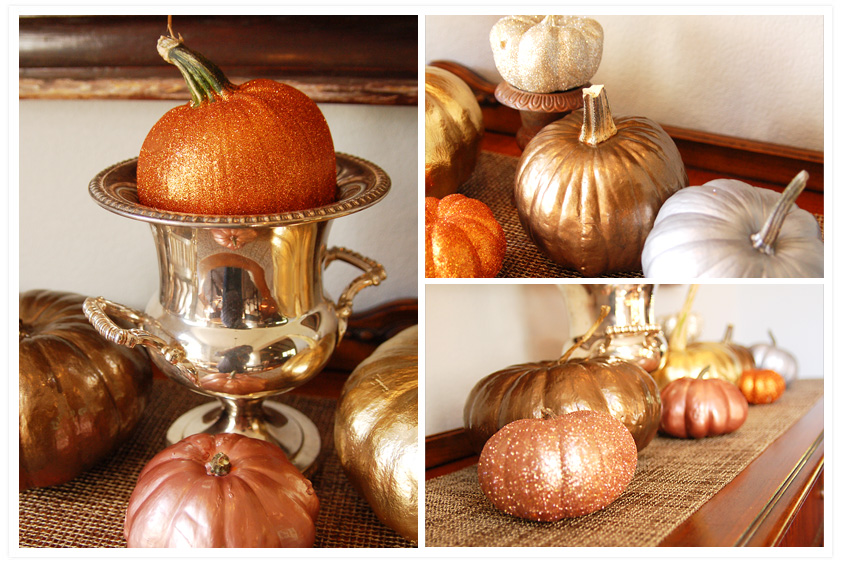 …but really, I like them all. =)
Here's a shot of most of the dining room (they are on the sideboard):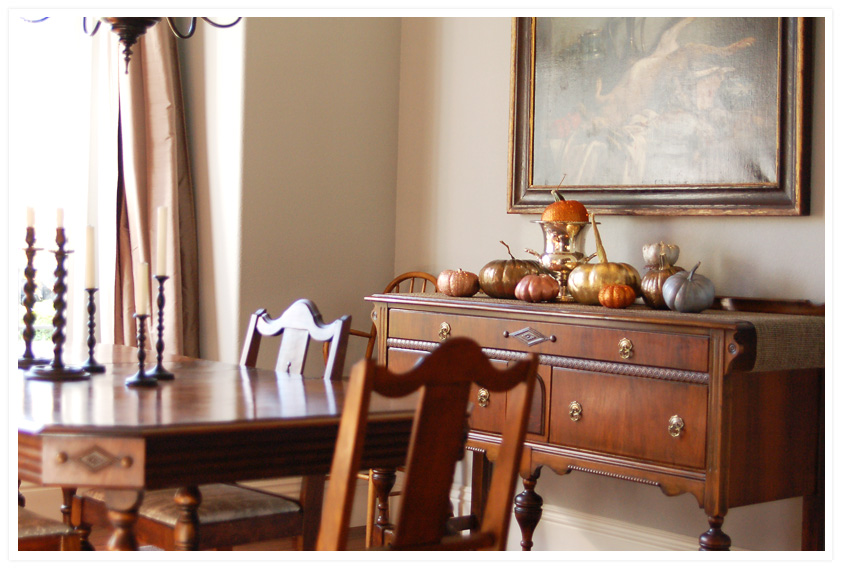 I added candles to the table in a sparse, Shaker sort of way. I love the different twisty shapes: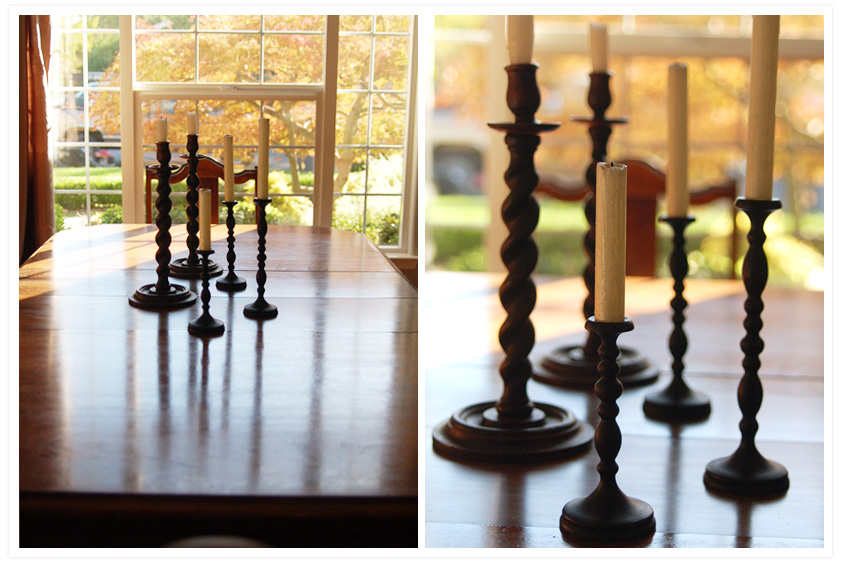 (The two bigger ones I got at the Alameda Flea, the three smaller ones I picked up for $5 total! at Zucchini & Vine during this year's sidewalk sale).
I also had Matt cut me some Manzanita branches (dead ones, actually) last time we were at the cabin. Here I tried them out on the mantel: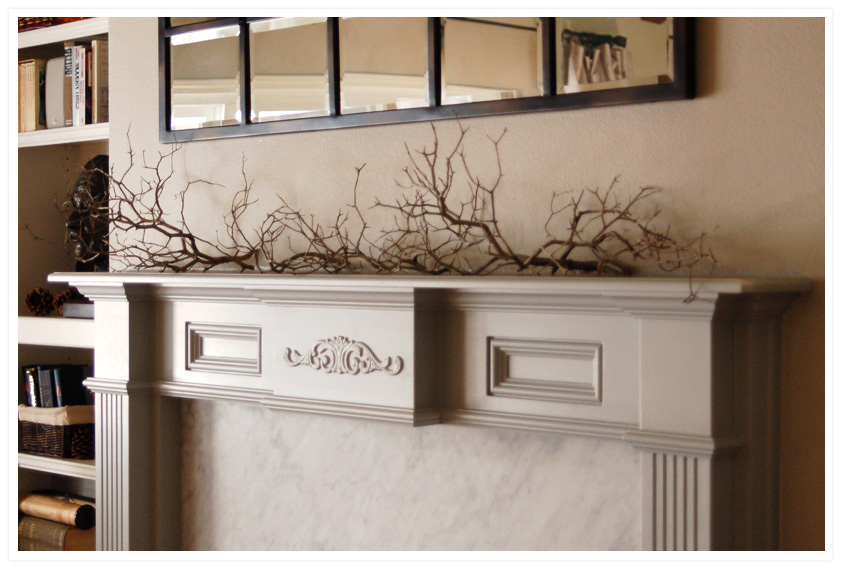 And decided it was too thorny looking. But I did trek out and spray paint those too (the more the merrier!):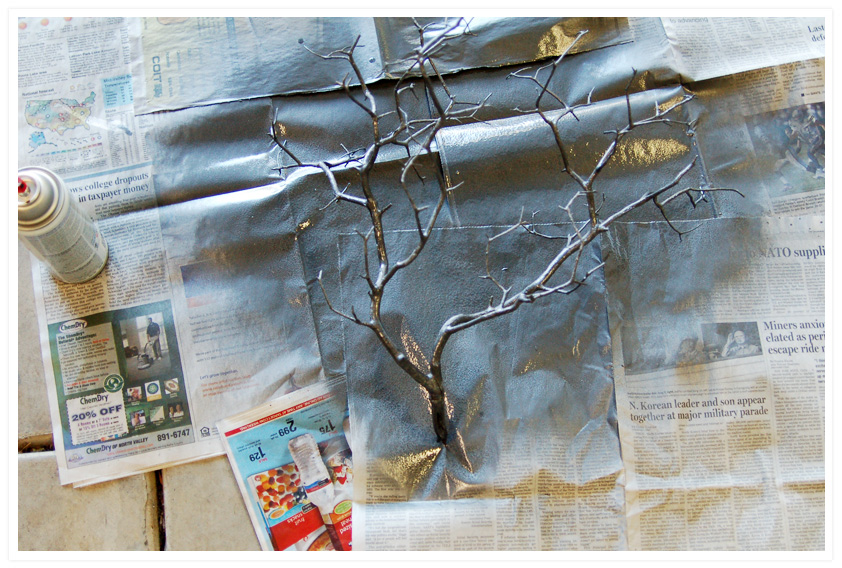 And ended up using a few of them on the mantel: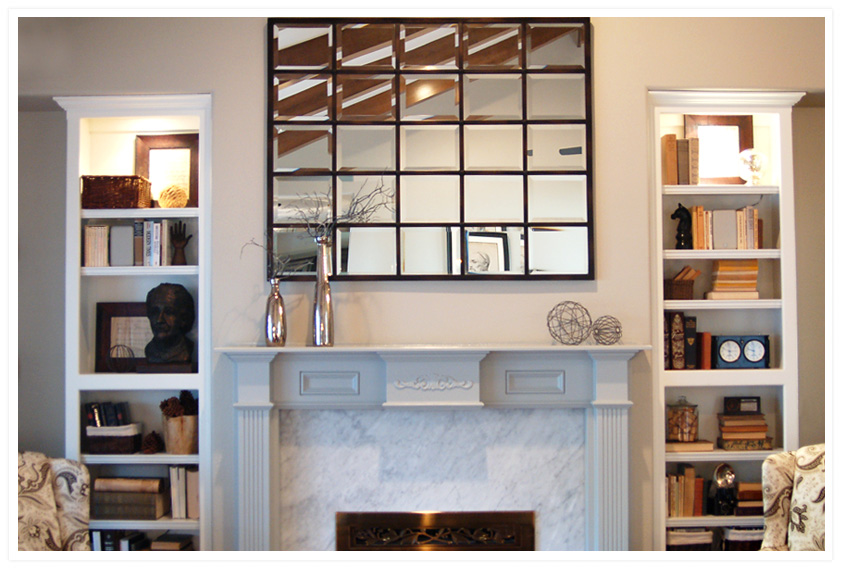 And most of them above the china hutch in the dining room.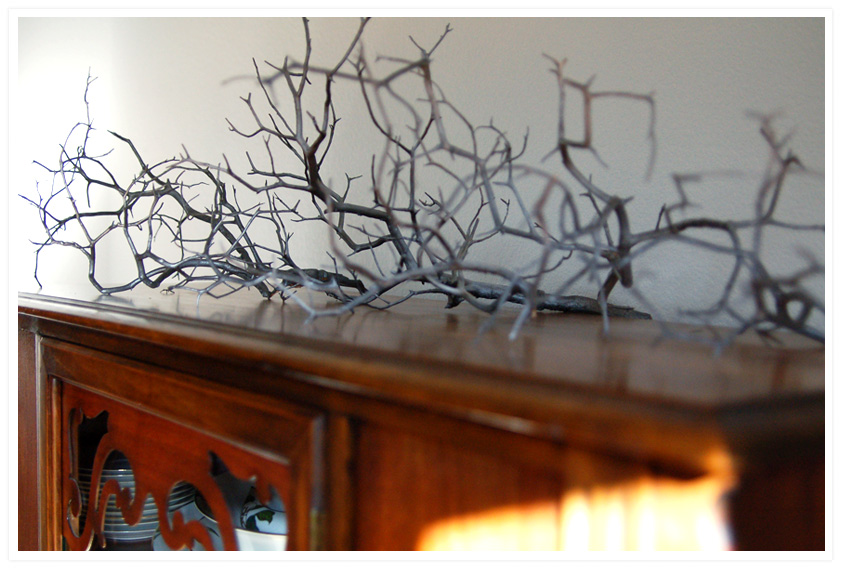 It's not perfect but it is interesting.
Lastly, I made a wreath. All in the same afternoon, with the pumpkins and the manzanita branch projects too, so you know it must be easy. Will share soon.
And those $24 worth of pumpkins? I still had four big ones left over! A couple for the coffee table…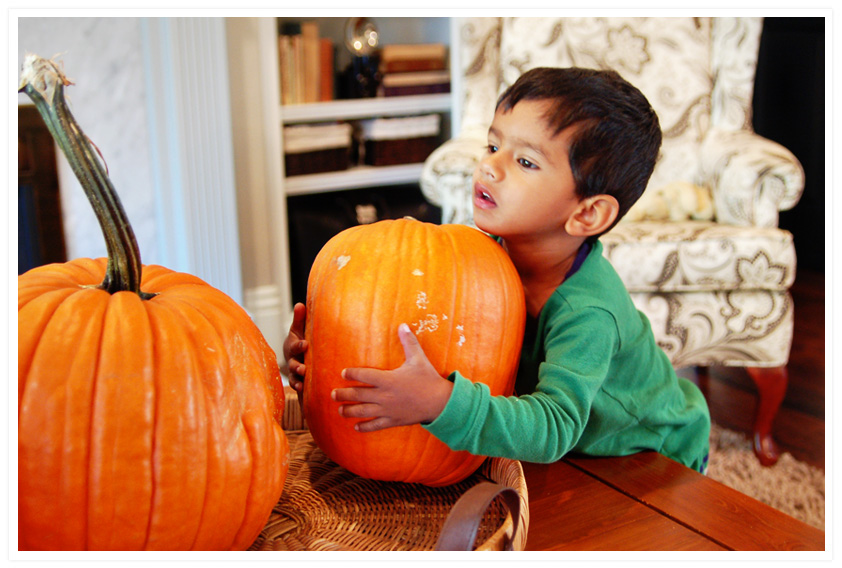 …getting some love from Cam. I still have two for outside (although I'm wary to put them out there because last year we had our pumpkins stolen twice).
What kind of fall decorating have you done? Stretched your decor-dime at all? Do tell!
PS – If you want to see last year's fall decor, you can check it out here. And here.