It's been ages since I did a post on food (way back here, I think)… but don't think for a minute that we have stopped eating! This summer has been full of farmer's market bounty, and since the weather has been so mild (relatively), the growing season on many items has stretched out longer than you could imagine.  I do feel like I've died and gone to fruit and vegetable heaven, so to speak.  In fact, let me just take this moment to dedicate Summer 2010 to the Tomato.  Thank you God for such a delicious fruit (vegetable? berry? whatever).
Anyways, I did have a point here. One of our favorite things to do is have people over, we seriously love entertaining and getting to know people, and staying involved in peoples lives in that way.  And one of our favorite ways to do that is to have a dinner party.  Sounds a bit ostentatious, right?  Believe me, it's not at all, and I hope our hospitality never comes across that way.  Rather, our goal is to make people feel special (not every dinner gathering has to be burgers on the grill), to enjoy good food with good friends, which inevitably leads to good conversation and good times. It's really not that hard to pull off a dinner party, so don't feel intimidated by this post – I wanted to show you how rewarding and enjoyable it can be.  Ready?
To begin with, I set the table.  Outdoors is the perfect place if the weather is right, because it can make a fancy menu seem relaxed and casual just by virtue of the setting.  I also keep the table very simple.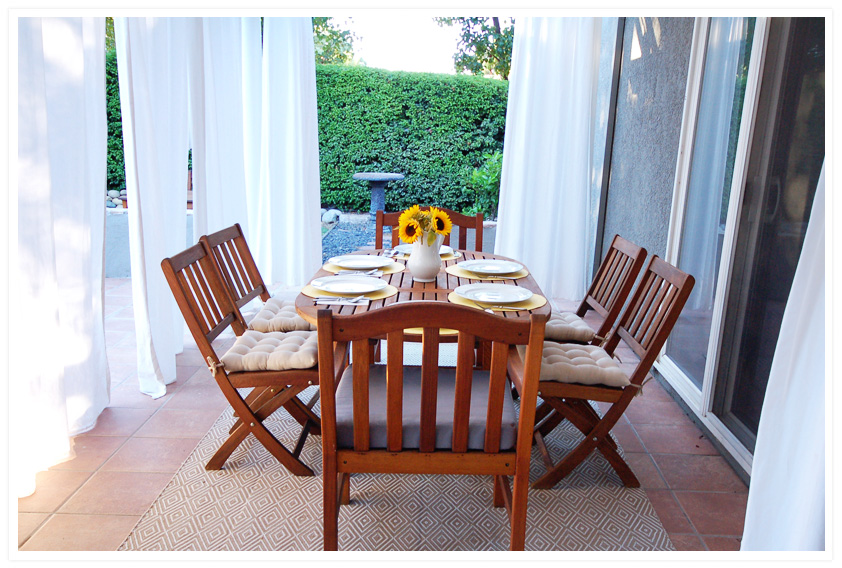 Table set for dinner two weeks ago, our back porch.
You can see I don't even set glasses on the table. In my experience, people often have their wine glass, beer bottle or water in hand by the time we sit to eat.  It can get so cluttered in a small space with so many glasses! I do provide a pitcher of water on a side table, usually.  The outdoor curtains are cheap Ikea cotton, second year in use, and they add a nice "outdoor room" touch to the space, I think.  Remember refinishing the outdoor furniture? This is where it all pays off!
Usually, our menu has a bit of a motif. Not an over-the-top, in-your-face theme, I hope, but just enough to tie things together in harmony. Like "southern Italian" or "recipes from our trip to France" or "Americana."  It's a fun way to bring the palette through a meal.  This dinner party's menu featured wild rabbit, which Matt and co. shot out at the ranch a week before. Now, I'm not very familiar with rabbit (I've only cooked it one other time: here) so I decided to do a very simple preparation and have lots of user-friendly side dishes in case the bunnies didn't "turn out" as I hoped. I always try to pick items where all of the work can be done in advance, so that when company comes, you are not stressed to finish something off perfectly at the last minute.
We started with cold soup:
Chilled Peach Soup with Mint
Just remember that chilled summer soup is usually just a smoothie on steroids, and if you have a blender you can pull it off. I blended it ahead of time and stuck it in the freezer to cool even further. It can be a refreshing appetite stimulant if it's not too heavy (I don't like the cream happy versions too much).  This recipe has a bit of sparkling wine in it, and you can serve the rest of the bottle to your guests. 🙂
Here's the main parts of the menu: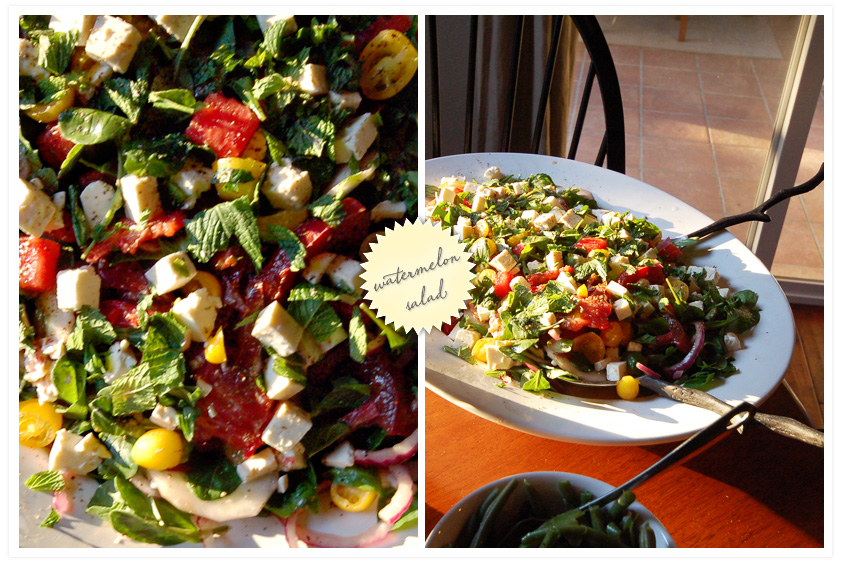 Watermelon and Heirloom Tomato Salad Greek Style
This salad was fabulous, and a show stopper. It and the peach soup recipe can be found in Placer County Real Food, one of my new favorite cookbooks. It's based on local food, in season, and two imaginative women who had a dinner party for six or eight every Monday for the entire year, with a menu based solely on items from their farmer's market. Want ideas for food you can find in California in July?  There's four weeks worth of menus, or just pick a recipe or two!  Seriously, I highly recommend this book if you're in California, other states might work too.  But I digress. It's a great salad, filled with watermelon, tomato, feta, arugula, mint, red onion, and cucumber and topped with balsamic and good quality olive oil. It tastes like summer in a basket and you could easily serve it as a main course.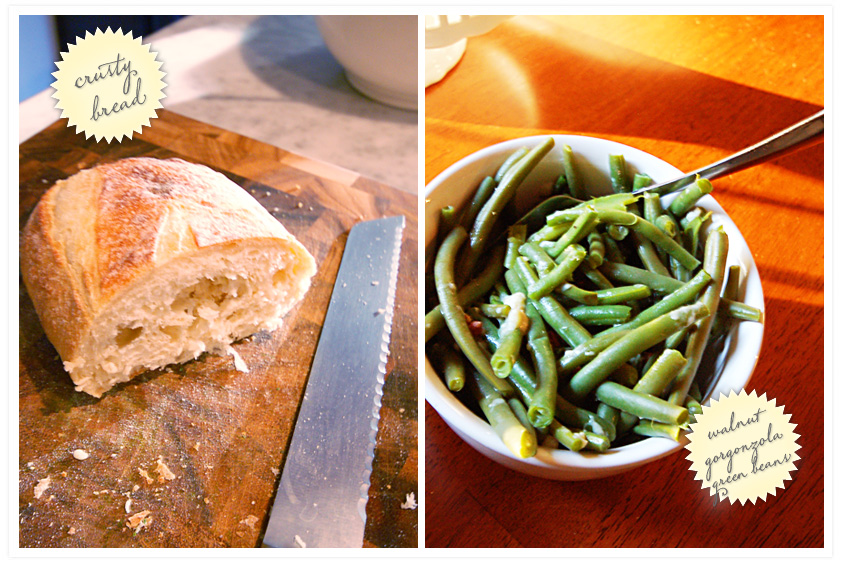 Crusty Bread, and Walnut Gorgonzola Green Beans
These are the simple sides that anyone would like, in case the rabbit proved to be difficult.  Buy the bread fresh the same day and make sure it "crackles" (ala Ratatouille). The green beans were very fresh and I just steamed them lightly and then tossed them with olive oil, toasted walnuts (which I buy already toasted from Trader Joe's – cheapest place to get this) and crumbled gorgonzola.  This side could not be easier.
**Here's where I take a moment and apologize for the blurriness/quality of some of the photos.  A) I am not a food photographer. B) I am not a professional chef, so presentation is lacking sometimes. C) This was a real dinner party, and so to not mess with the flow, I snapped the photos very quickly before the dishes went out to the table. Most of our dinner parties are never photographed because I'd rather be in the moment and well-photographed food is cold food!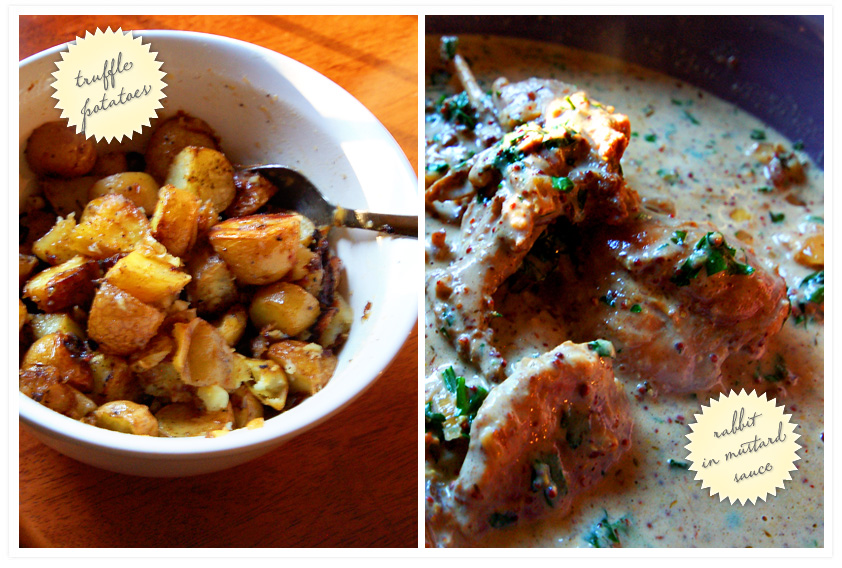 Roasted New Potatoes with Caramelized Onions and Truffle Oil, and Rabbit in Mustard Sauce
More sides: roasted potatoes with truffle oil.  Recipe here (my new favorite food site, thanks so much Rodney).  Let me take a moment here to be straight with you: truffle oil is expensive. Like gasp-I-can't-believe-it-is-there-gold-in-there? expensive. I took a leap of faith to make the purchase, and I am SO GLAD I DID. It was $16 at Raley's for a small bottle (you may find it cheaper elsewhere), but our meat was free and I wanted to give the oil a chance and see if it lived up to my expectations (which were high, let me tell you). It did. Above and beyond. The recipe just calls for half a teaspoon, so I have so much oil left, and the flavor was incredible. It took the potatoes from "good" to "fancy-restaurant-I-love-the-chef great." Really. So, got a birthday coming up? Ask for truffle oil. That is, if you haven't already requested saffron. 😉
And the main course: rabbit in mustard sauce (check out the recipe, his photos are way prettier than mine). My last preparation of rabbit was similar to this, but it didn't have the cream and included other ingredients in the braising process. This recipe is simpler, and it was SO GOOD. The universal consensus was that it may be the best sauce anyone at the table had ever tasted. And the rabbit meat was delicate and flavorful and downright sumptuous. Thanks so much to the recipe maker, Hank Shaw!!
So, finishing it all off…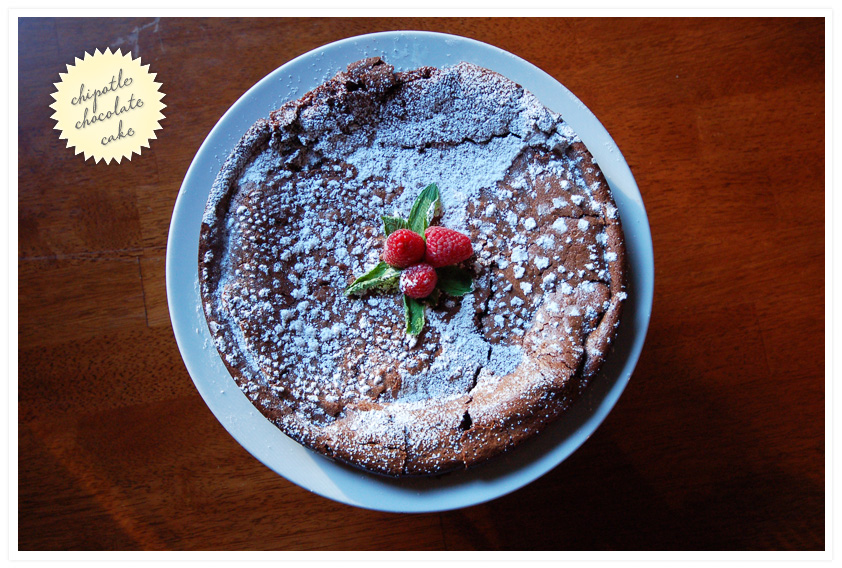 Chipotle Flourless Chocolate Cake
Inspired by my visit to Ginger Elizabeth last time I was in Sacramento, a decadent (and easy) chocolate cake with a spicy twist: chipotle. The heat is subtle, fun and unexpected, but doesn't dominate the rich cake, it's more like a layer of taste. I put two doilies atop the cake before sprinkling the powdered sugar. If I could do it again, I would use just one in the center for more of a focal point, but that's splitting hairs for sure.
Here's a few snapshots of dinner with our guests.  Apologies on any unflattering angles, I was using my wide-angle lens. You all know you are beautiful dinner guests. 🙂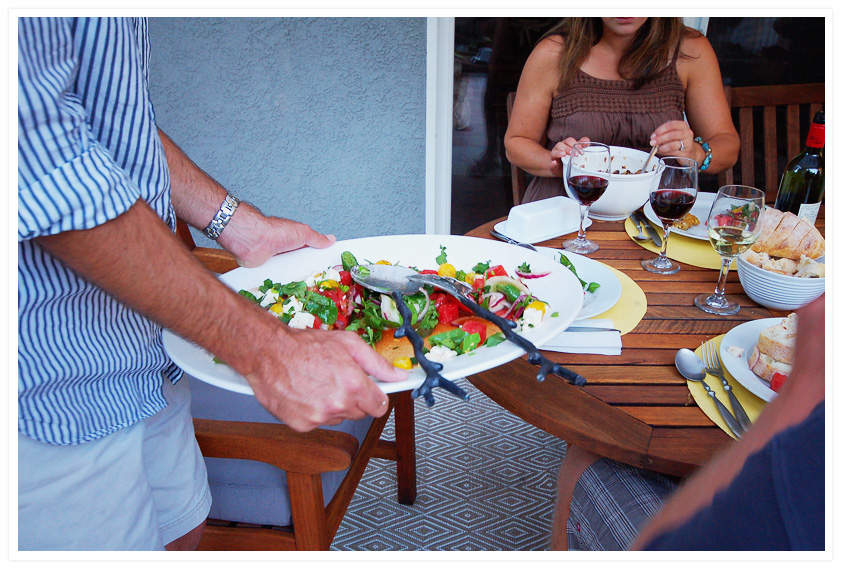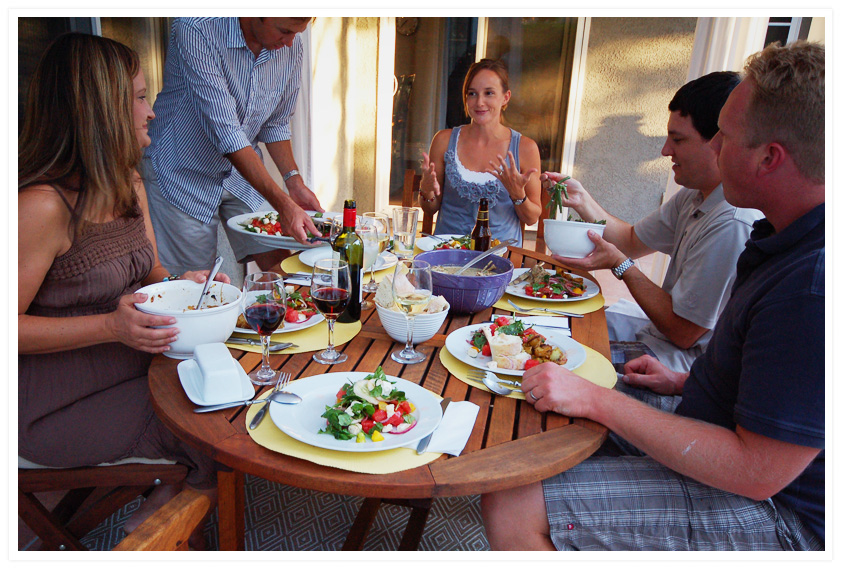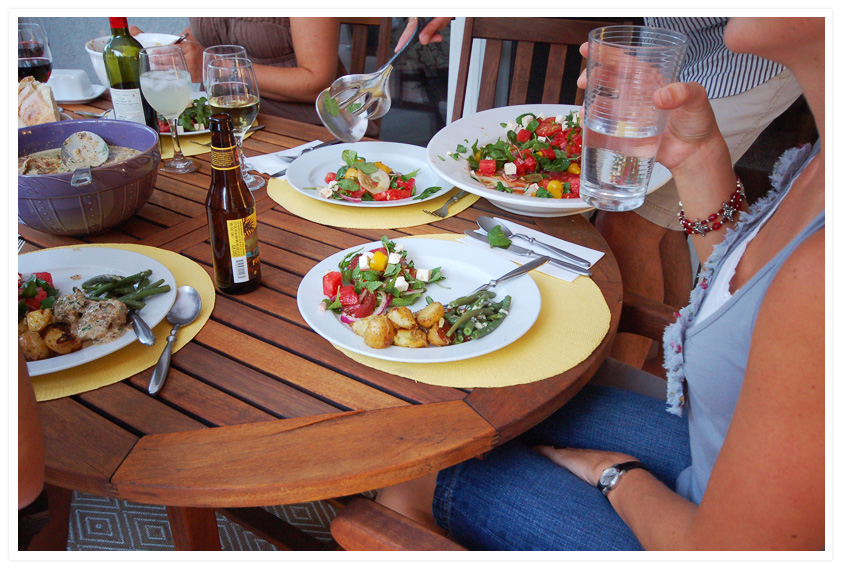 As a postscript, I'd like to add that the budget on this dinner party need not be expensive (aside from the truffle oil). A steak dinner would total far more than what we created here… the fruits and veggies were mostly from the farmer's market, where I never spend more than $40 per week. In the height of their season, fruits and vegetables are inexpensive and taste incredible. If you have a dinner guest bring a bottle of wine (which we didn't, but you could) it can be affordable entertaining, but in a manner that makes everyone feel extraordinary.
Happy summer… Happy entertaining!
P.S. Aside from the bread, this meal is entirely Gluten Free (yes, even the cake). Happy eating to my dad and sister! 🙂