Way, way back when, I promised you details on our master bathroom remodel (remember, the one we started in January?).  Well, it's been more than a month, and I have yet to produce anything for you.  What's more, I haven't even posted the after photos on THIS blog (although I had the joy of sharing them on Brooklyn Limestone in May).
All this to say… here they are, and it's high time, too!  I'll now try to make up for it by giving you so many photos you'll have sore eyes by the time you're done (if your browser ever finishes loading 'em, that is).  Oh, and since I've had quite a lot of questions, either by comments, email or by contact form, I thought I'd take the time to do a mini FAQ right now, answering questions you, my readers, asked.  Which, I might add, is SO flattering that you would find my bathroom exciting enough to ask me questions about my sources!  I'll do my best to answer them all.  Here goes.
If you want history on this, start with the mood board here.  Then look at before pictures here.  And here's the reveal post I did on Brooklyn Limestone. All caught up?
First, a few after pics…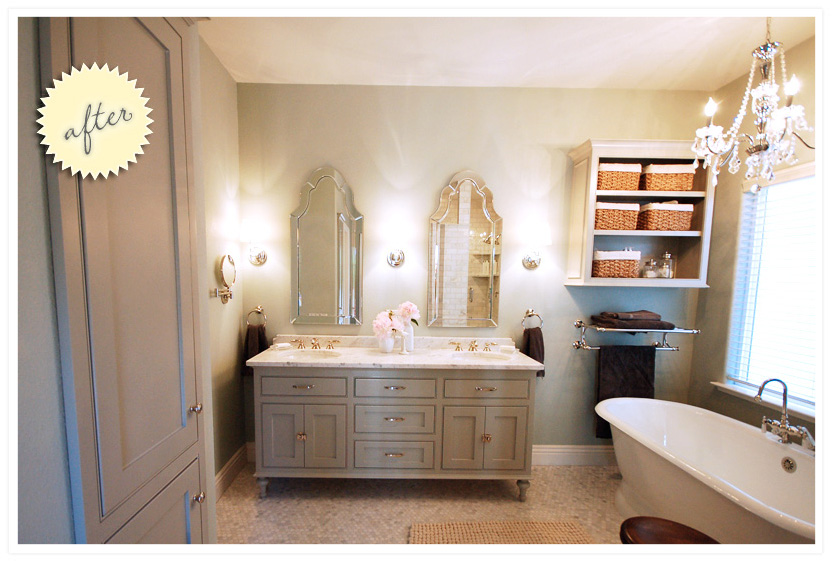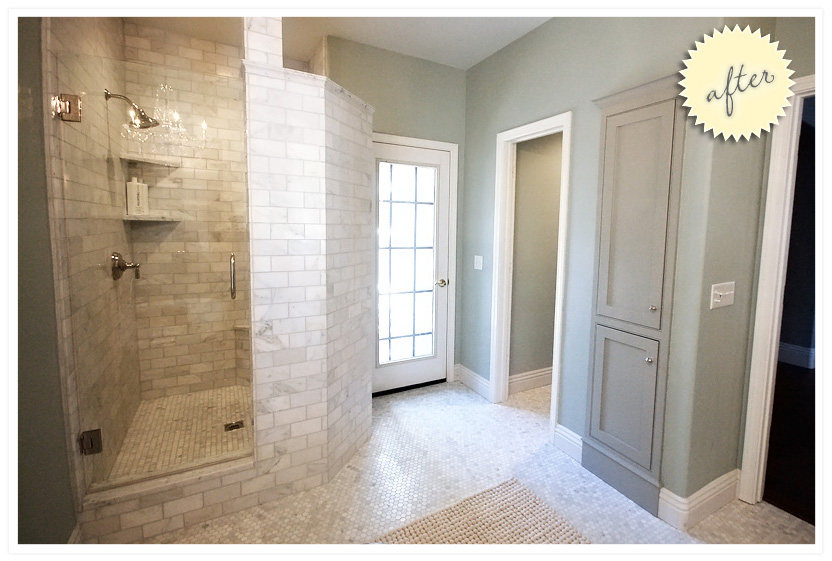 Can I just say we love it?  It turned out wonderfully, and we are really enjoying the benefits of hard work, plus plenty of research and planning.  It's cool and refreshing and spacious and functions very, very well.
Let's start the most popular question:
Q) Where did you get your vanity? Can I buy it online?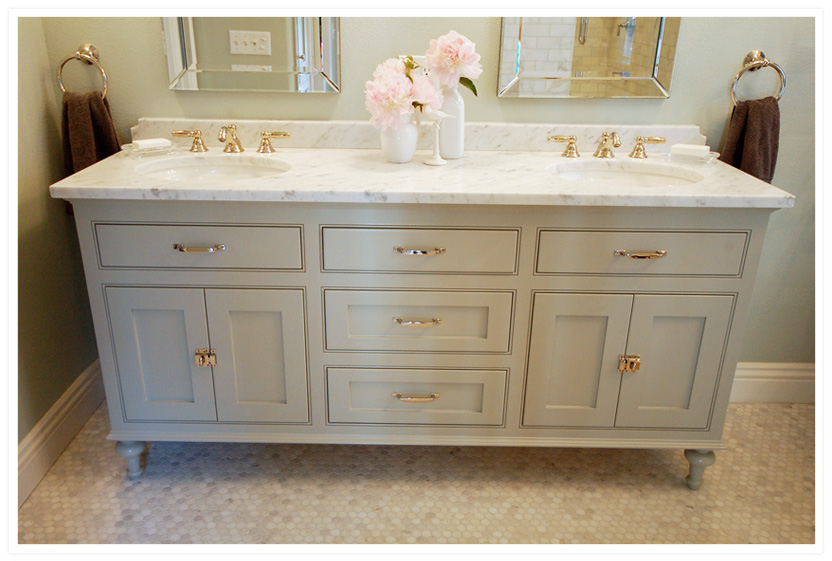 A) Sadly, no.  Our vanity was custom made by a local cabinet builder (D'Amato and Lee, they always do excellent work).  We priced buying a ready-made vanity from Pottery Barn or Restoration Hardware or something similar, and believe it or not, it was much cheaper to custom build a vanity, even considering hardware, sinks and marble top (we bought a remnant in the Bay Area and had it fabricated locally).  In building the vanity, here's what I did:  analyzed what I liked about my favorite vanities (shaker doors, turned legs, wide center drawers, etc.) and hodged-podged it into a sketch of what I wanted.  The cabinet builder took it from there.
And one of the bid benefits of having something custom built, is we were able to get shelving and recessed cabinets made to match at the same time…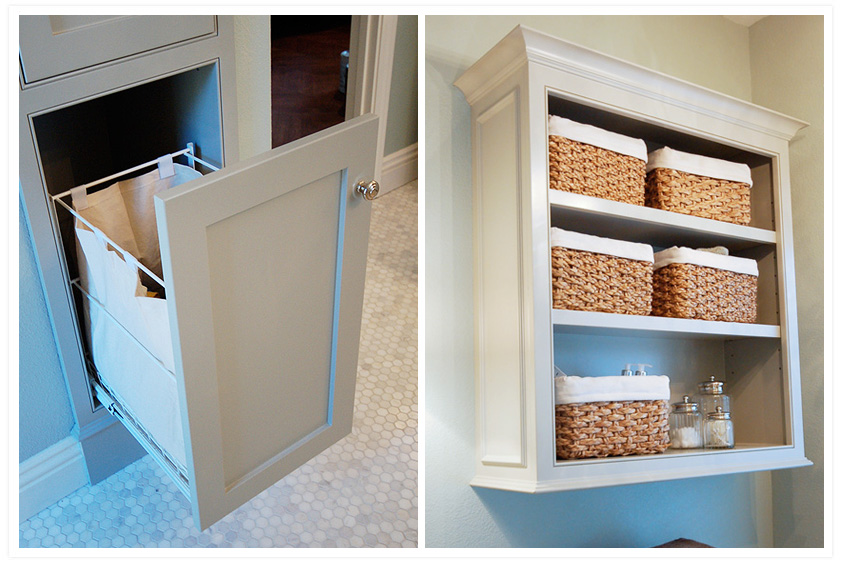 … at a minimum added cost. Oh, and the pull out laundry bin?  I love it.
Q) Where did you find your tile?  Isn't marble really high-maintenance?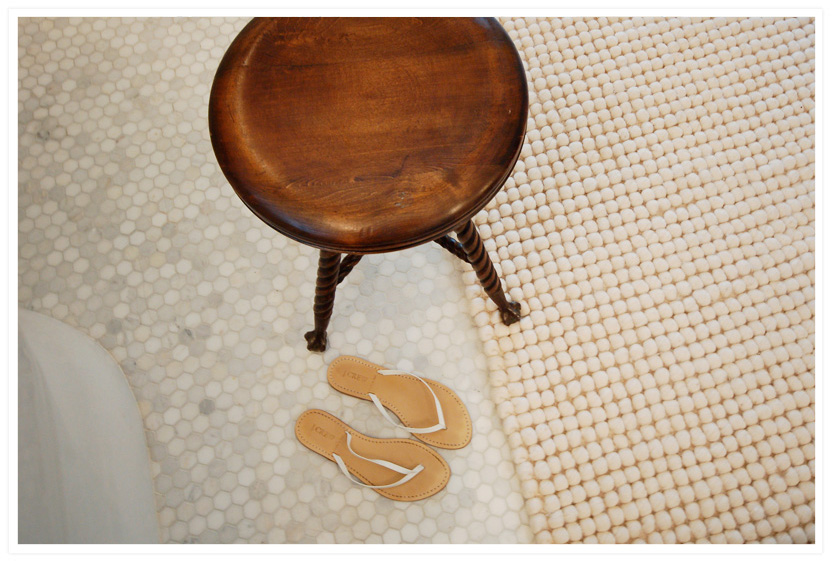 A) Not only is marble tile supposed to be high maintenance, but it's supposed to be super-expensive too.  Whenever I see marble tile mentioned in a home decor magazine, it's usually upwards of $50 a SF!  I did a lot of research (local tile shops, bay area tile shops, online, remnant places) and found the best deal online – $7 a sf.  Shipping will be extra, so add that into your costs.  Oh, and BE SURE TO GET ENOUGH.  We ran a little short and were terrified the extra we ordered wouldn't be in the same shade.  It worked out, but the extra shipping for the second time was not fun.
About the maintenance thing, we chose honed carrara marble (not polished) to make it lower maintenance.  If you've seen our kitchen, you know we love marble (understatement) and we're okay with patina (etching) as it may happen.  I did seal the tile with a very premium product (Miracle Sealant's Porous Plus) which I highly recommend – we use it in our kitchen too.
Q) What are your paint colors?
A) The walls are Benjamin Moore Silver Marlin in washable Matte finish.  The ceiling is a 50% mix between Silver Marlin and our trim color, White Dove.  I do 50% mixes on nearly all of my ceilings – it really blends things well and I like the softer appearance than straight white paint.  The cabinets are Benjamin Moore Fieldstone in Satin Impervo (I used Satin Impervo in Black for my kitchen cabinets, LOVE the stuff, no chipping at all 1.5 years in under heavy use).  Fieldstone is a warm grey color that is not currently on Benjamin Moore's palette, but it's an old color of theirs and if you ask they will have the formula for it still (I think the number is 1557).  I found the inspiration for using that color on Cote De Texas' blogpost on Sally Wheat's kitchen.
Q) Where did you get your chandelier from?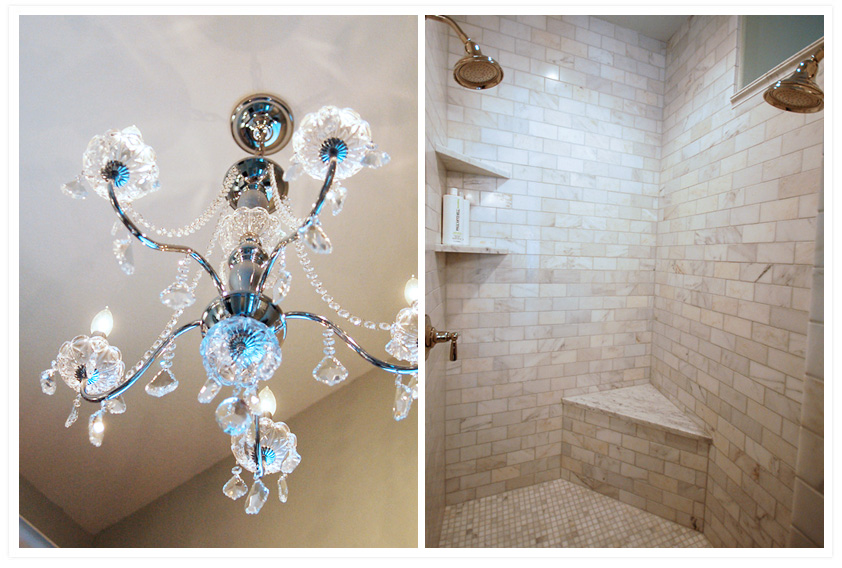 A) The chandelier is from Overstock.  It was 20% off when I bought it, so under $100. It comes in a bajillion pieces, ready to be assembled.  I thought about blogging on the assembly (I have a photo of all the pieces spread out on the bed), but I didn't want to give anyone a heart attack! It really is a great chandelier for the price.  I loved the one from the mood board, but couldn't justify even the sale price (40% off) of it. We have it on a dimmer, which is easy to install and makes for great bath mood lighting.
Q) Where did you get the soaking tub from?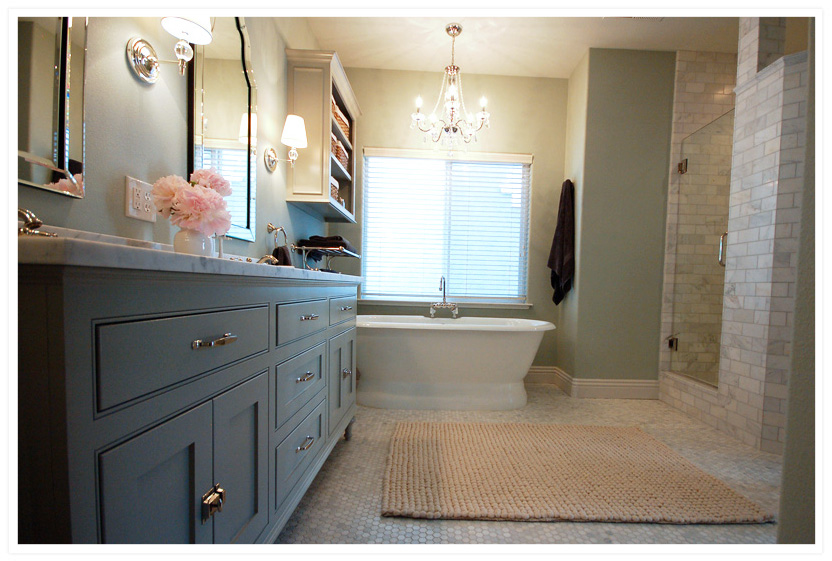 A)  I found the soaking tub online at Vintage Tub and Tile (I used them for some items with my kitchen and all of my experiences have gone well).  It is cast iron and so very, very heavy.  We both love it, it's deep and narrow and fills for a really nice deep bath.  The rim fits my shoulders perfectly and Matt has no complaints either (he actually takes more baths than me, believe it or not!)
And connected to this one…
Q) Do you actually read in the tub?  Does the rack work?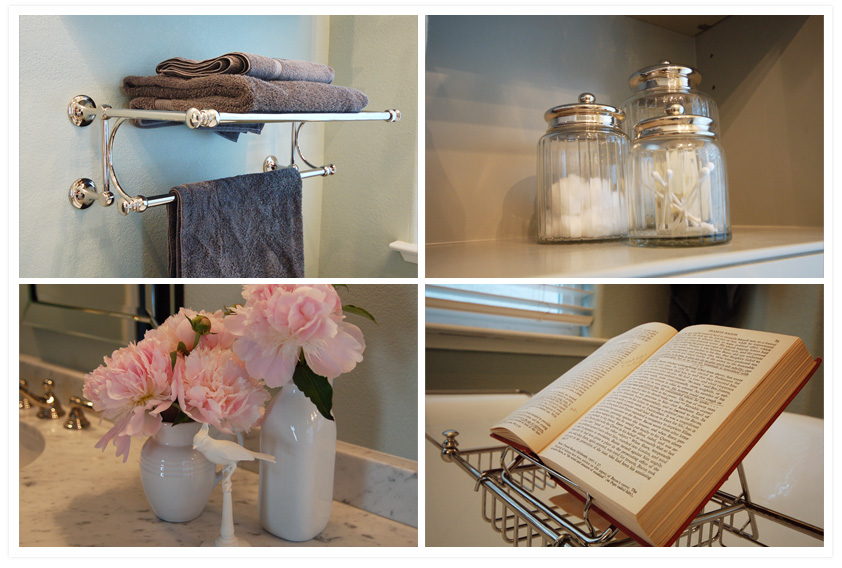 A) We do.  What's a tub without a book rack?!? The book from the photo shoot was not staged, it's the book Matt had left there from a bath the night before.  I have to admit, I don't read Will Durant's History of Philosophy in the tub, I might bring in House Beautiful or Elle Decor for a bit of spacing out. To each their own. 🙂
Q) Where did you get your faucets, what brand are they?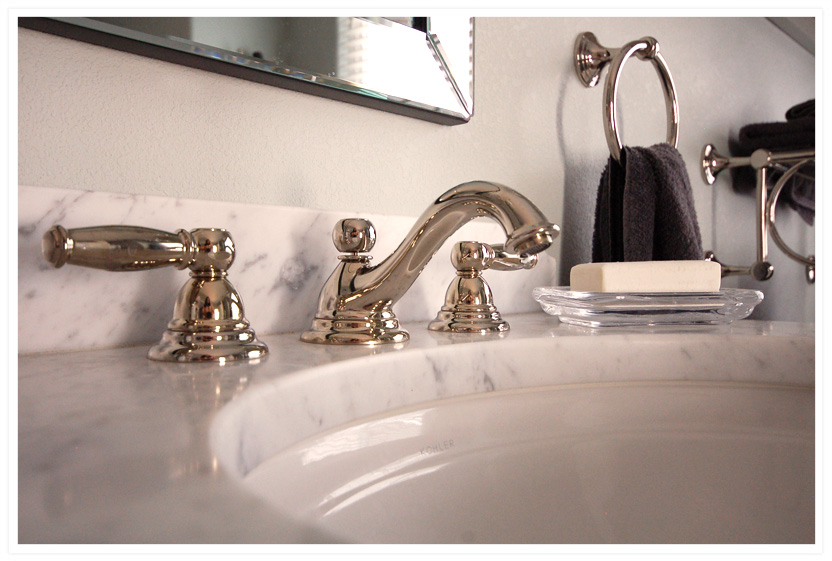 A) I found the faucets on Amazon, they are no longer available.  I really wanted faucets in polished nickel, the finish we used throughout the bathroom, and it was difficult to find anything that didn't cost an arm and a leg (over $200). I bought them brand unseen because the price was a good deal ($120) and they turned out to be Hansgrohe (which usually costs up to $600) and very high quality.  They are terrific, and everyone comments on the craftsmanship and heft of them. However, sadly, I got the last two.
Q) Where is your hardware from?  Where are your mirrors from?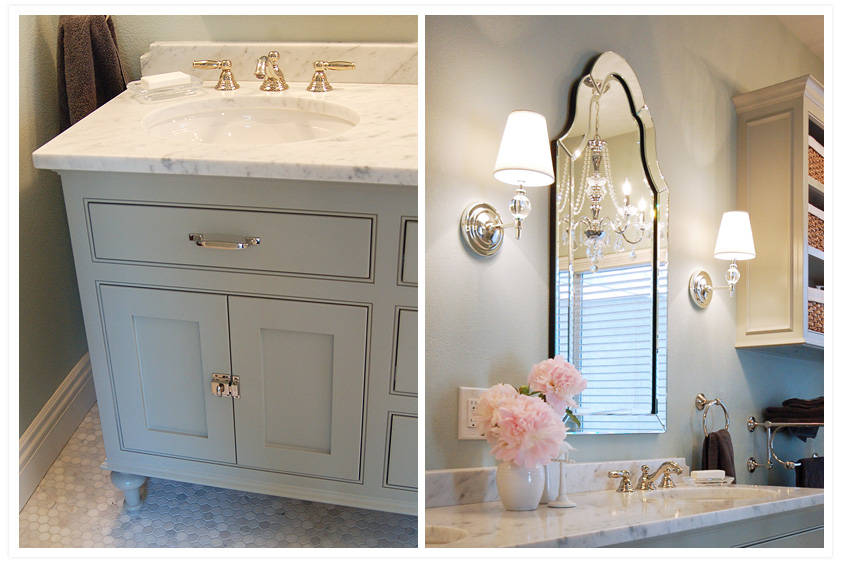 A)  The hardware is from two spots – drawer handles are from here.  The cupboard latches are by Cliffside Industries, and I found the best deal for them here.  On a bonus side note, Cameron still hasn't figured out how to work these.  It's like antique good looks and child proofing all rolled into one. 🙂 Enjoying it while I can!
The mirrors are from Pottery Barn, their Elise mirror.  No longer available, sorry!  That was fast.  I don't think they are originally intended for a bathroom but they work great in there!
Q) Where did you get your bathroom stool from? What a great idea!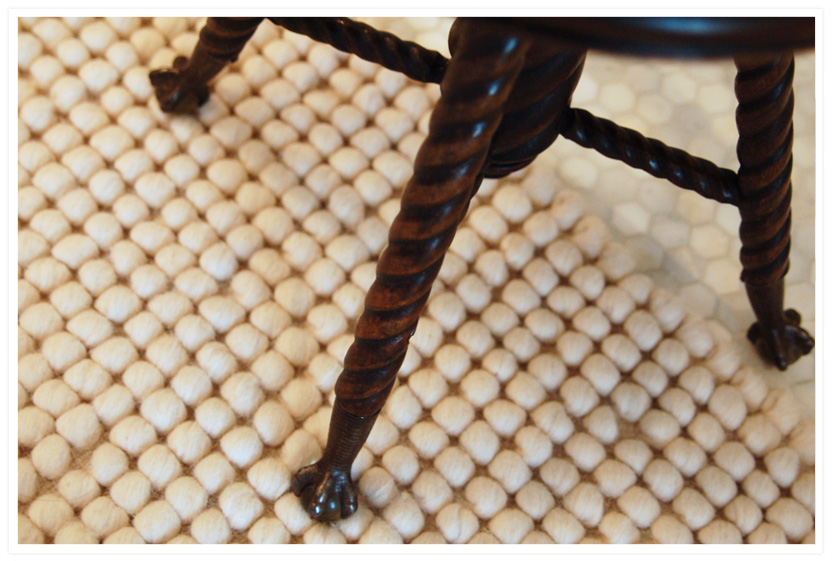 A)  Aw, thanks!  All praise in this instance should go to my mother in law, Audrey, who has always had a charming piano stool in her bathroom.  I just thought it worked fabulously (wood, adjusts up and down, perfect size, etc) and I hunted down one of my own from an antique dealer.  You can do the same!  A cute stool with clawfeet shouldn't run more than $100 or so, or you could restore a shabby one.
Q) And the rug?  Where's it from?
A) The rug is from West Elm, their 3 x 5 Pebble Rug. It's not a bathroom rug, per se, but we needed something bigger to cover our floor, and I love the softness of it.  We vacuum it regularly, and so far, so good on maintenance!
Q) You sure love grey and marble, Rebekah!  Don't you think you might get a bit sick of it?
A) Well, nobody really asked that.  But I thought I'd point out the obvious.  Let's hope I don't get sick of it! 😉
Thanks so much for joining me for my first little Q and A!  Flattered to have it!  If you have any more questions, don't hesitate to ask them in the comments…
Thought I'd leave you with a sneak peek of the bathroom floor leading into the new Master Bedroom floor (chevron!) which is receiving the last decorating touches this very week.  Look for it soon here on the blog!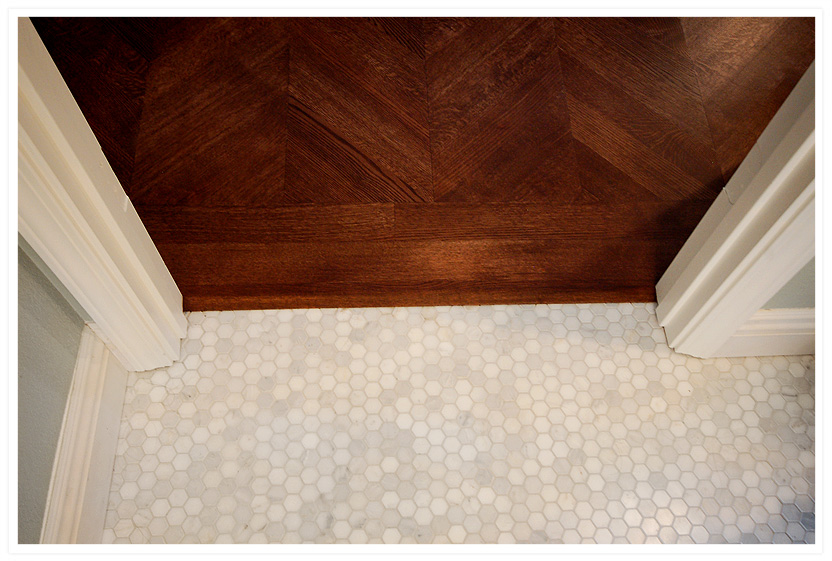 Happy pattern. Happy weekend!