I actually hadn't planned to do a post on this (have the master bath details and also a pretty wedding suite we just printed all lined up and ready to go).  But how often does one change decades?  Not too many times – I've only done it twice so far (my thirtieth birthday being tomorrow, still 29 here, folks)! So, it seemed a good time for a bit of reflection and pondering accomplishments/failures/lessons, not to mention looking forward to the future and what it may bring.
Anyone who knows me well knows I loooove lists… the pleasure of checking things off satisfies some deep primal urge to feel organized and accomplished all at the same time, I guess.   And while I think most people make "30 before they turn 30″ lists, as usual, I'm late on the bandwagon, but what matter?  Here's a "30 while I'm 30″ list… a fun way to gear up and goal up for this new decade!
Here goes nothin' (and in random order no less!)…
Eat local, eat seasonal. (we've been eating local/seasonal since January, so I'm cheating on this one… but I need to keep it going) Aced this one!!

Go to the farmer's market every week. (so far, six weeks strong!) What was life like before the farmer's market?

Write 30 personal handwritten notes. This should be doable in a year, right? I've got the stationery for sure…
Get back to my goal weight (8 lbs down, won't say how many to go!!)
Clean kitchen cupboards.  Eradicate ants that are attempting invasion. Check, check!
Potty train the boy. Yay, mission accomplished!
Go to the Ashland, Oregon Shakespeare festival. It was fabulous. What art and culture isn't?

Travel somewhere (at least once).

Remember birthdays and anniversaries!! I'm shockingly bad at this.
Listen to new pieces of classical music.

Organize my linen closet. It's shameful.

Much less shameful now.
Convince my parents to move up here.  Mom, Dad?
Learn how to make a pie crust from scratch, and do it well. (Audrey? Help!) Still working on the "do it well" part…

Attempt to learn Calligraphy.  Even if I fail, I've got to try.

Finish Master Bedroom.

So happy that it's finally done!
Teach Cameron to swim.
Have friends (old and new) over to dinner frequently.
Complete my study of eschatology. (honestly, I've only scratched the surface so far – I need to finish three full books)
Go to the Alameda Flea Market.  Any Bay Area people want to meet up there? We went!

Investigate/find a good lotion or eye cream to control wrinkles.

None yet, but ounce of prevention, pound of cure, etc. Now gray hairs are another matter…

Turn upstairs bedroom into a boy's room. Nearly there…
Run (at least) a half marathon. I'm hoping for a whole, but we'll see.  Right now I'm only at the 5K stage…
Master/create my own version of California-esque Filipino cuisine. I love Filipino food but would like to try and make it more understandable/less foreign to picky Americans. Something like what Sunset has been doing a bit, maybe…

Read a light and fluffy summer novel down by the lake at the family cabin.

Exhibit at the National Stationery Show next spring.  I wish I may, I wish I might…
Have a date night every other week. We've been shockingly bad at this. You'd think we don't like each other (we do).
Create a small album of our wedding designs for retail stores that have requested it.
Do something stimulating and different with Cameron once a week.  A new book, a field trip, a coffee shop, something special.
Figure out the local drama/theatre scene. I'm sad to admit I've yet to go to a play in Chico.
And lastly but definitely not least… Take Down Our Christmas Lights before NEXT Christmas happens! Yay, we did it!!!!!
Those are reasonable, right? Note that I didn't say "consistently get the laundry done" or anything impossible like that. 😛 I'll be crossing them off as they get completed.  Check back to see how much of a slacker I've gotten done!
And just because I never do a post without an image…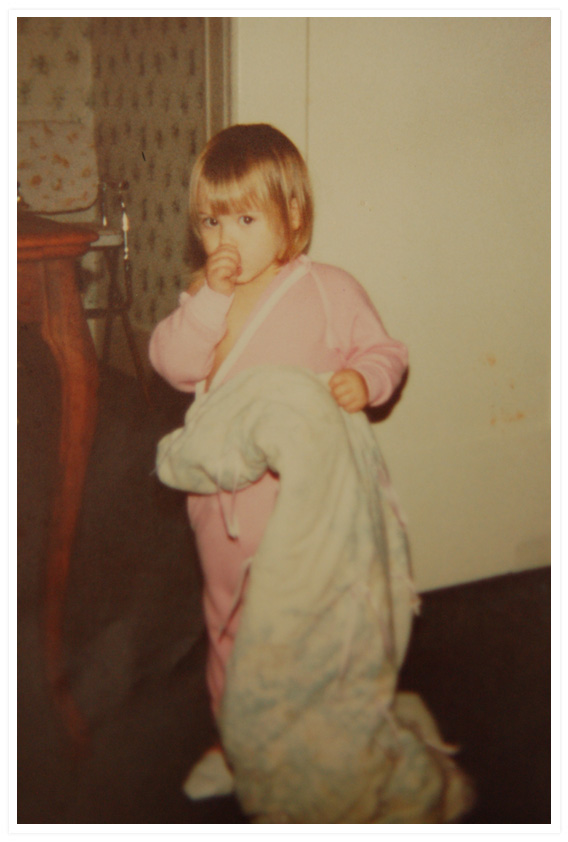 Me, age two.  A complete Linus.  Man, I miss that thumb even now!