It's here, it's here! It's been demoed, remodeled, styled, primped and photographed – it's d-o-n-e.  Ladies and Gentlemen, I'd like to introduce to you our new guest bathroom. (happy dance, happy dance!)
Let's start with a bit of review… we embarked on the "both bathrooms" remodel (our phase two) in January.  Remember this original inspiration board?  Well, let's look at it again to refresh the memory a bit: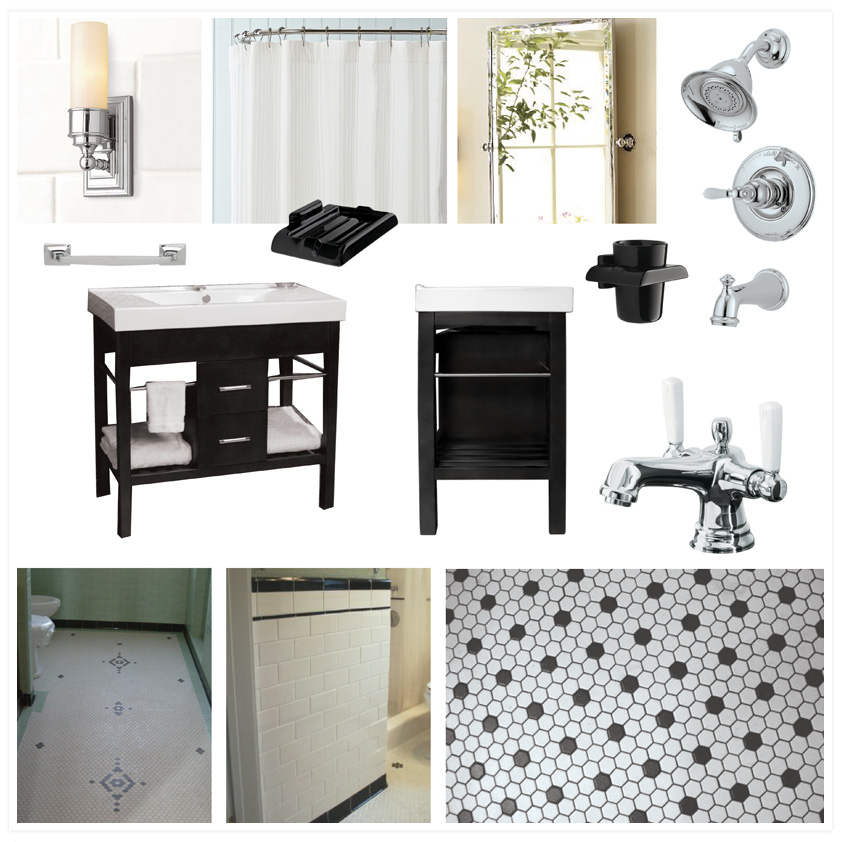 We were going for the black and white 1920's Tudor look.  And then we spent a lot of time and effort creating the right black and white tile pattern, remember?  And lastly, ages ago, I left you with a sneak peek of the room.  And now, finally, it's done!!  Much, much effort, but very, very worth it.
Before I launch into "after" photos, I realized (slaps forehead) that I never really gave you a proper "before" picture.  Well, I don't think I ever really took any.  I did manage to find one or two originals, they can't show you the whole space because it's super small and the camera lens was not wide angle.  Here is what I have: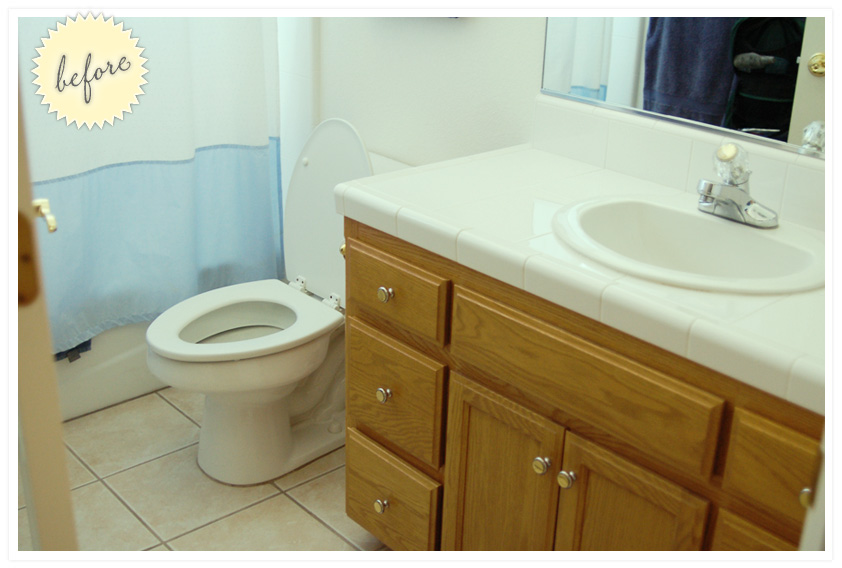 There you go, the guest bath before – in all of it's boring-ness.  Leaving the toilet seat up required for authenticity.
And here's the after: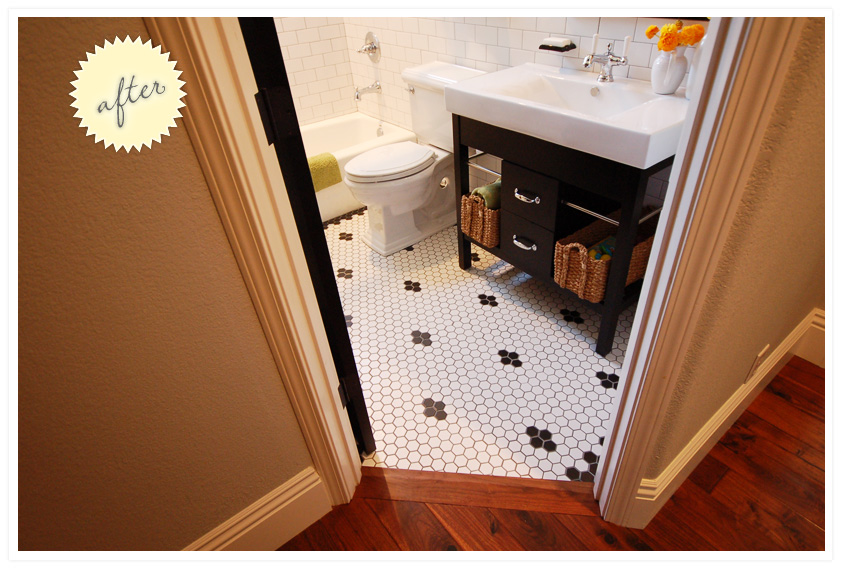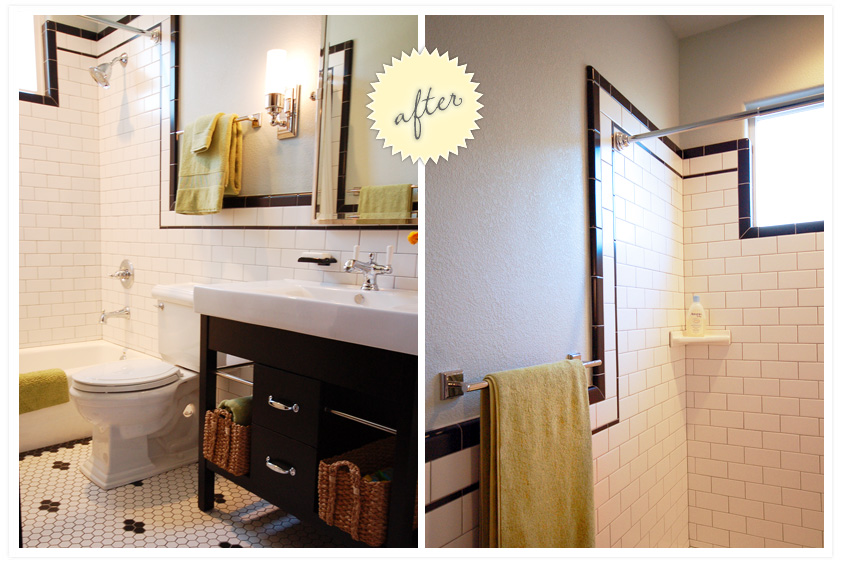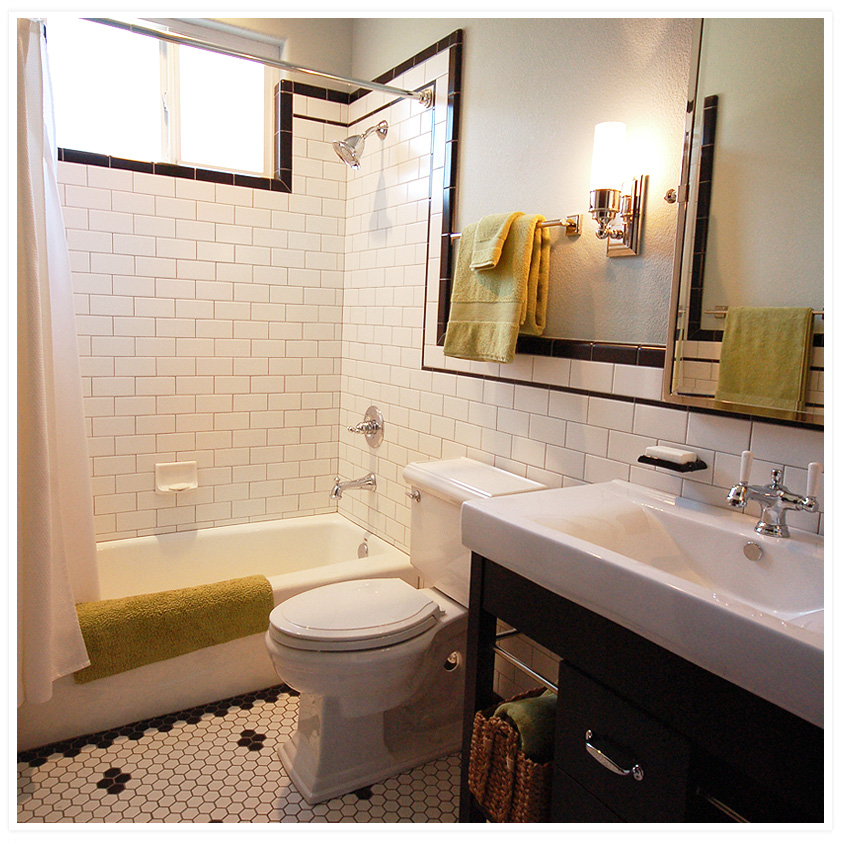 Aaand… we love it!  It's exactly the lived-in, classic/vintage yet kid-friendly bath I was hoping for.  Not to mention the plumbing now works, which is a big deal, and Cam loves taking baths in here.  We call it the guest bath, but it's really his bathroom (the "boys bath").  We planned through the remodel to create as many kid-friendly touches as we could, like a corner spot available for a stool (or a diaper pail as it stands now) and a mirror that tilts down for small people to see themselves.  Plus baskets for bath toys and dirt-hiding gray grout.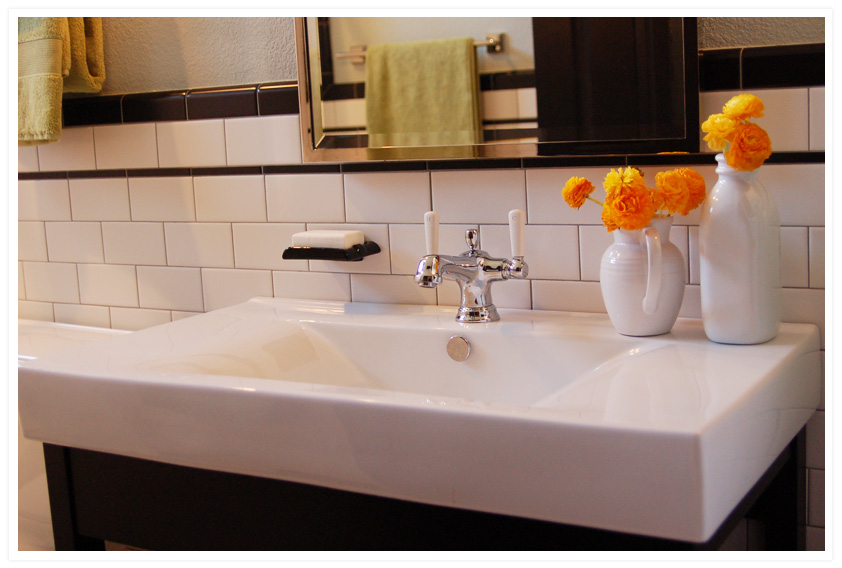 Oh, and an easy-to-wipe-down sink. 🙂
Here are little bits that I love…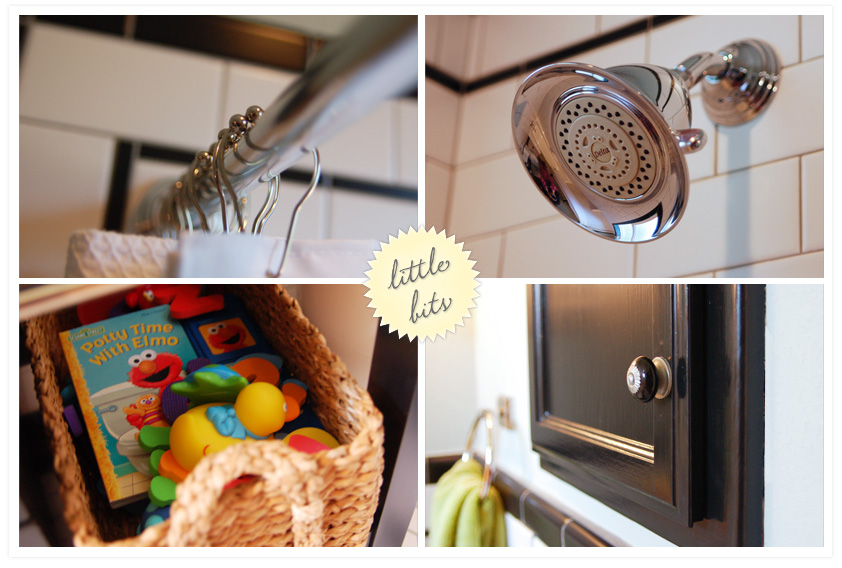 Clockwise from top left: Curtain rings that actually slide without getting stuck.  A shower head that produces water (hot and cold!). No more oak – black paint and a knob from Anthropologie update our medicine cabinet.  Potty time with Elmo (yes it's that time, wish me luck) and assorted bath toys have a happy place. I like to call these small blessings that make a BIG difference.
Our black vanity…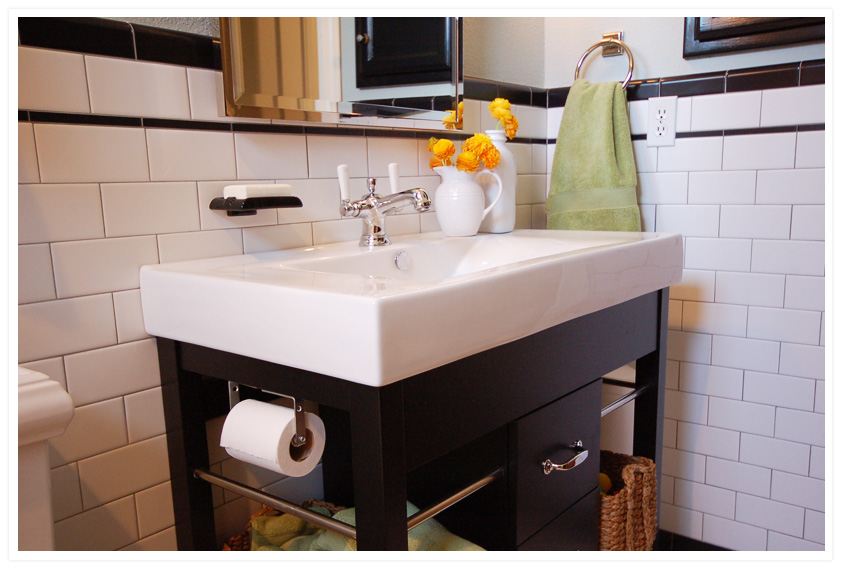 Matt jury rigged (is it really jury rigged and all these years I've thought it was jerry rigged?) the toilet paper holder.  It's industrial and out of sight and so much nicer than having the TP on the facing wall.  I tried to warm up the vanity, which was quite modern, by replacing the rather severe drawer handles with some softer looking pulls –  they're window lifts, actually.  Also, I added a couple of baskets to cozy up the lower space and provide more storage.  Lastly, I chose a less modern faucet  (whose cute little bunny ear handles have grown on me) to keep it a bit more retro.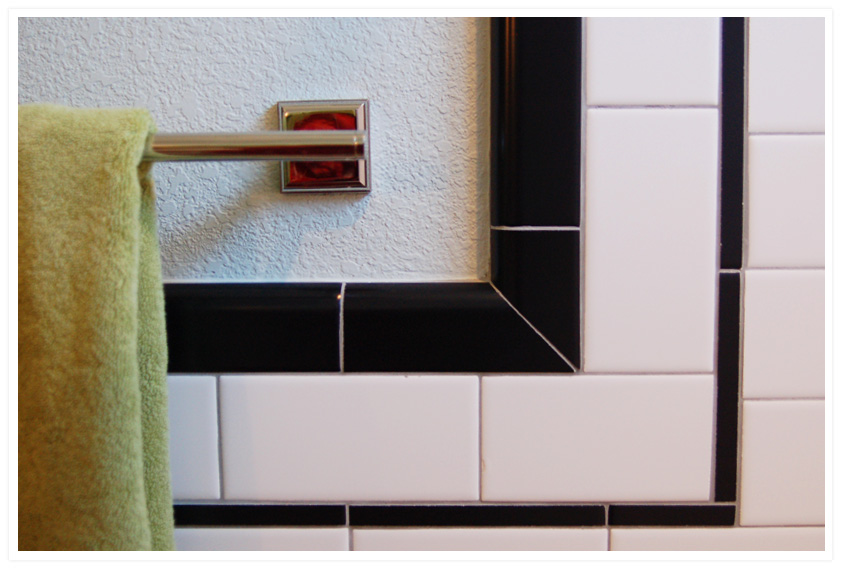 And we can't say enough about the tile.  Love it, and love how it came out, and loved working with our tile guys – they were grrreat. Can you believe that black and white border? And the black hex pattern?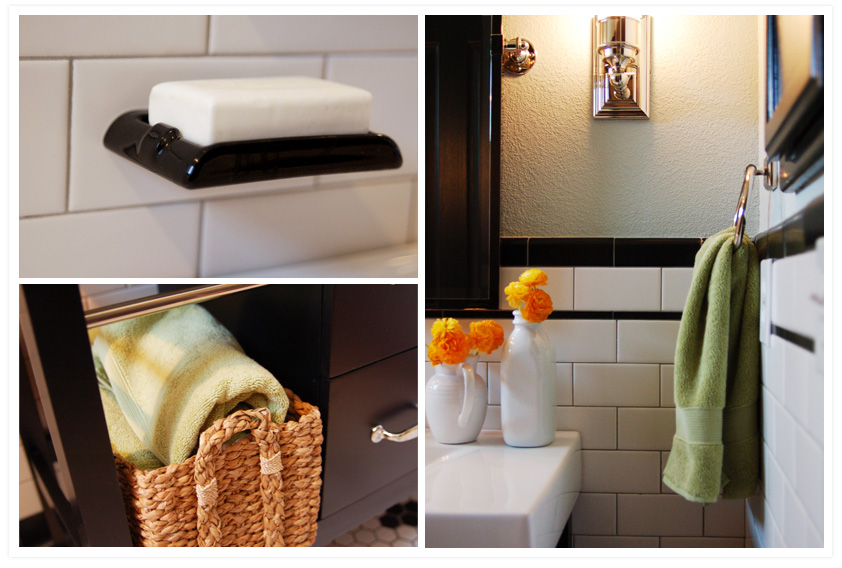 There are little things remaining to be done, like finding/hanging artwork, changing out the light switches/plugs for black ceramic ones, oh, and adding a doorknob to the door so you can actually use it in private.  Little stuff, you know.
Thanks so much for coming on this little tour of our new bathroom!  If I missed anything and you have questions (or advice) – we love comments!
Come back later this week for a post on the master bathroom – with details on how it came together in there. See ya then!