Been wondering where we've been, have you?  Were we… 1) Disappeared off the face of the planet? 2) On an extended second honeymoon for our anniversary?  3) Basking in the sun and hanging out with our fabulous two year old?
Sadly, none of the above.  Let's just say it's been busy, super busy, and work combined with the end of the remodel really wiped the livin' daylights out of me.  But I am soooo pleased to report… the remodel is (practically) finished! Well, I still need to paint the baseboards in the master and bathroom, but we can talk about all of that stuff another day.  Today is about stationery, folks!  Yup, what Wild Ink Press is known for and loves doing. Hip, hip, hurray!
I wanted to share with you a custom wedding invitation we recently finished.  Wedding invites are tons of fun, and custom wedding invitations are the best of all.  Add to that a bride with fabulous taste who keeps it simple.  That's what we're talking about today.  The bride approached me to design and print a custom invite for her on recommendation from Amanda at the mouth-wateringly delicious Bacio Catering (thanks Amanda!).  She was looking for something clean, modern, and unique, in their wedding colors, yellow and grey.  The venue is the Palms here in Chico (which has stunning gardens) and they wanted a clean, casual vibe with no script fonts.
The flower for the event is the Craspedia (trying saying that ten times fast, I guarantee you'll end up saying Crapsedia at some point) a.k.a. the Billy Ball (Billy Button).  Such a fun, mod little flower!  Don't know what it looks like?  Here are some great pictures: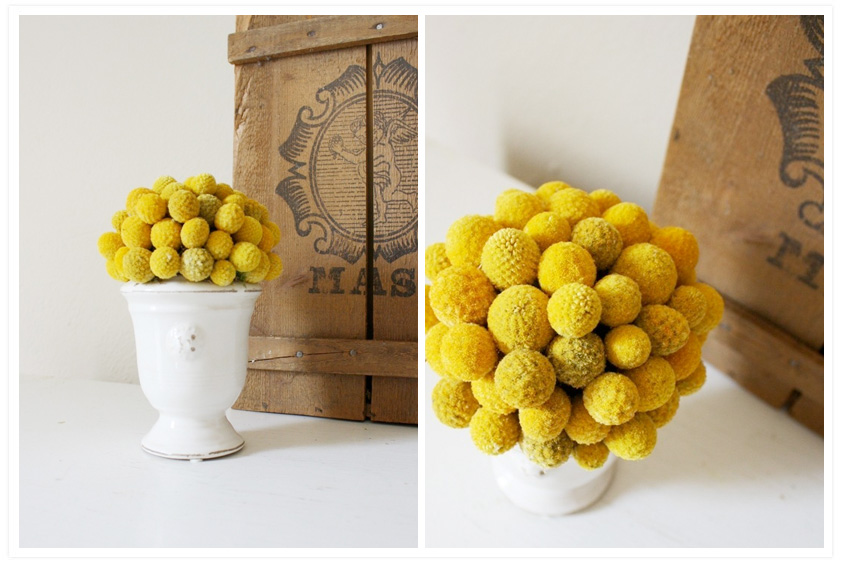 Billy Ball topiary available from etsy seller floresdelsol. Wouldn't it make a fabulous mother's day gift?
Billy Balls look great bunched together, but also beautiful and graceful as their tall and leggy selves: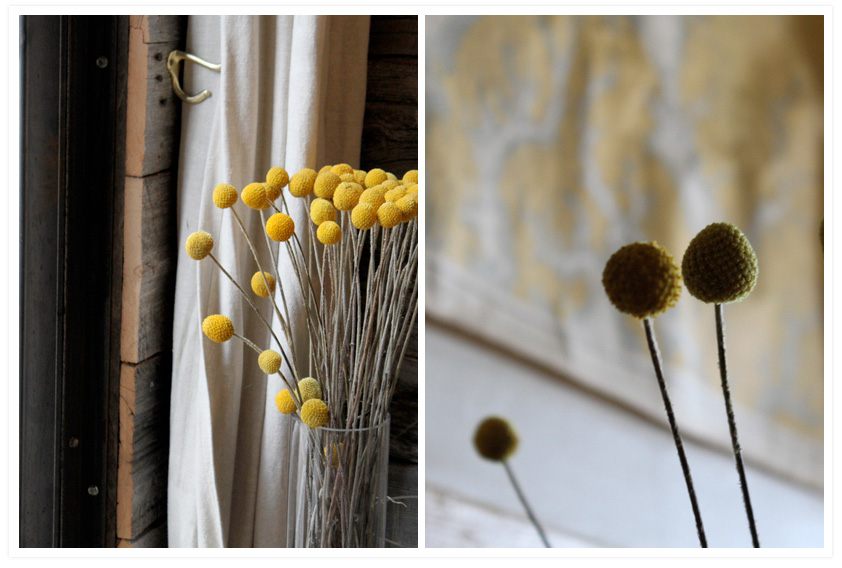 Inspiring Flickr image by Emerson Merrick – I think everything she touches must turn to gold, really.
Where does the grey part come in?  The bride also shared with me her bridesmaid dresses (great way to get a feel of the event), which are from J. Crew: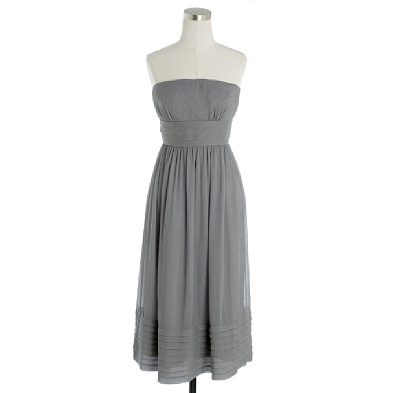 Armed with the information, I came up with this draft for the bride: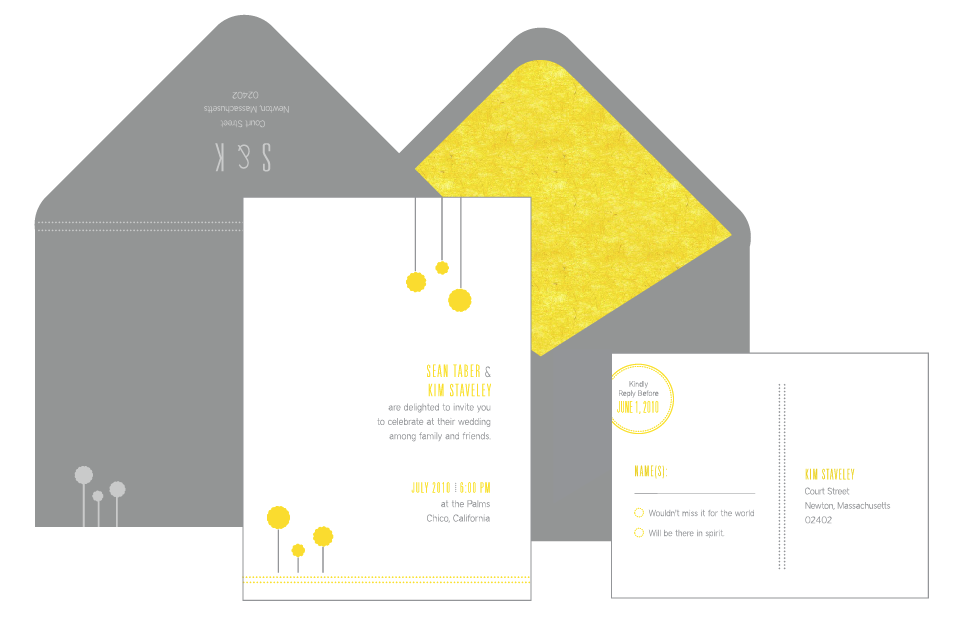 Celebrating the billy button, and their Palm-Springsyish venue, the invite is retro mod, clean and simple.  The postcard was used for RSVP as a cost saving (and eco-friendly) measure.  Limiting your design to two main pieces also helps keep costs down.
Shall we see the finished product?
Didn't it come out great? The yellow mulberry liner (tree-free paper) is a fabulous bright touch.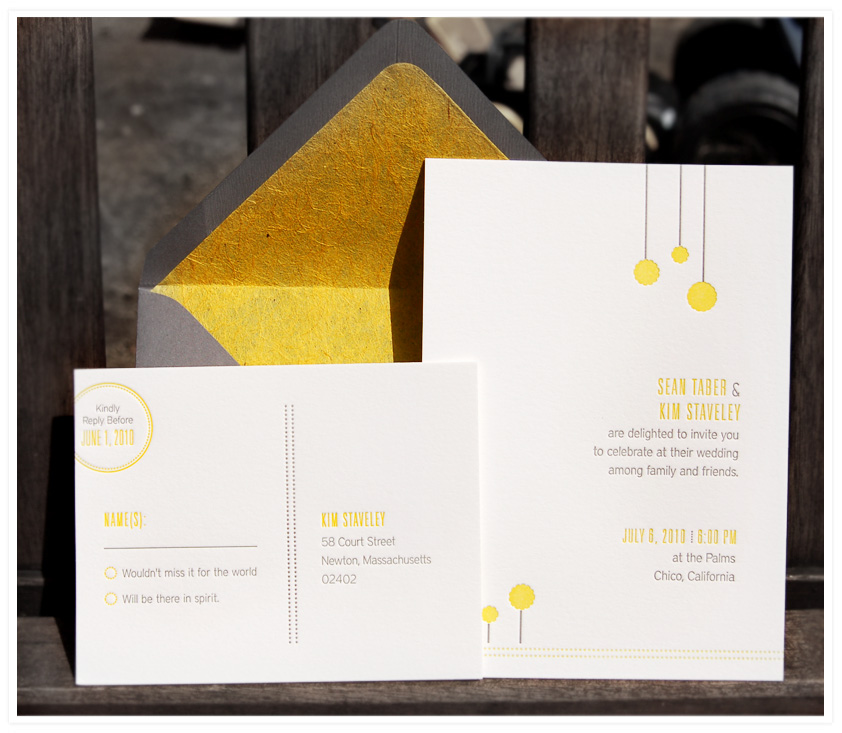 Dates and addresses have been digitally modified for privacy's sake.  That's the whole suite above. Here are bits and pieces: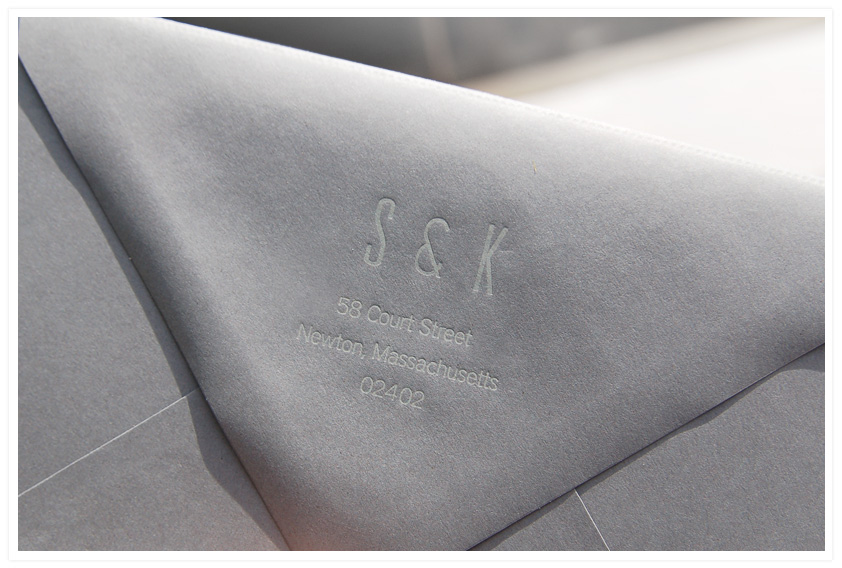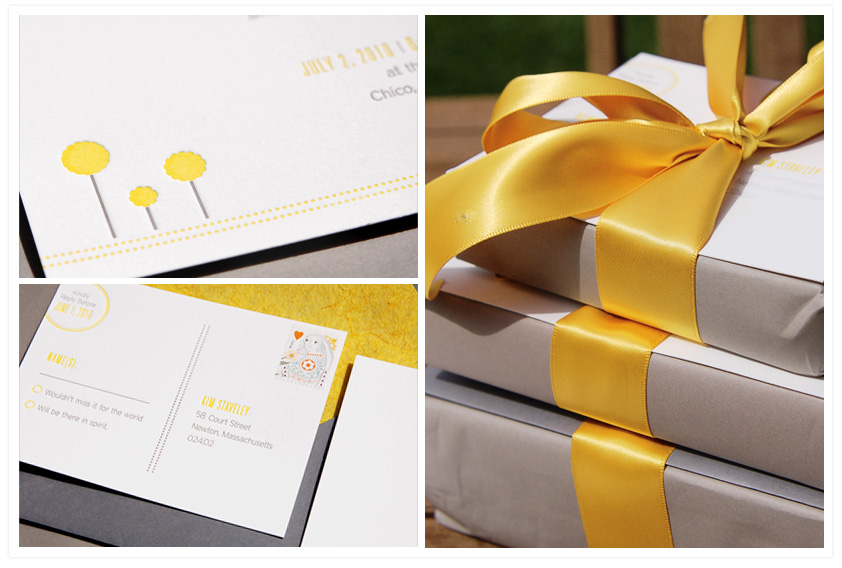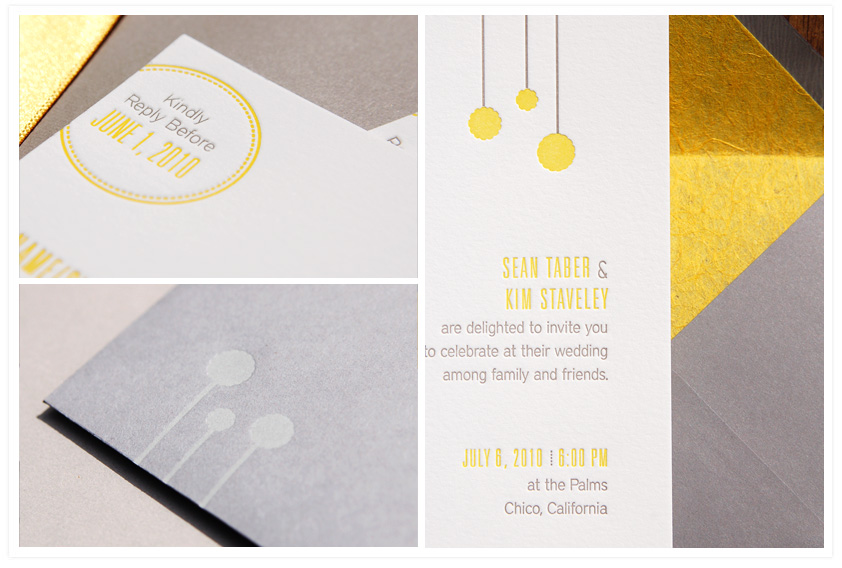 Don't the King and Queen Stamps from USPS go well with this invite?  I was so excited to send this job off to the client last week – I'm sure their wedding will be stunning, and I hope she'll send me some pictures! (Hint, hint)
Speaking of pictures… we've got more coming up this week, including Mother's day cards and the big remodel reveal!  Stay tuned!