Happy 2010, folks!!  We're back, drummed up, ready to go, and have already leapt (WordPress doesn't think this is a word.  Think again, great blog machine!!) both feet first into the new year.
It's only the 7th day of this fine new decade, but we are already currently working on: weddings, business cards, a special top-secret local project to be revealed in February, valentine's cards and a few personal stationery orders.  Oh, and our main website is set to finally launch the third week in January, provided I can finish it. Whew!!  But I'd say business is looking groovy, right?
Well, on the home front, we're in the throes of still another project… the long awaited bathroom remodel(s). That's right, you read it correctly, bathrooms plural.  You see, both of our full baths are still in their original, untouched, oak-and-tile Mc-beigey builder-grade state.  As in, completely characterless. Do they function? Yes. Well, somewhat. The guest bath shower head doesn't work. Do we like or enjoy them? Nope. No sirree, no. It's time for a change, and that time is now! And, since it's majorly a better deal to do two baths simultaneously (think about it – tile guy comes out once, plumber once, electrician once, …you get the idea), so, well, we're crazy enough to just do it and save some money in the long run.  I guess washing my hair in the kitchen sink for months appeals to me.
I don't have any trusty "before" pictures on hand, but I'll share them with you as we progress! In the meantime, I thought I'd show you my inspiration a "mood board" for the master bathroom. Let me issue a disclaimer, I'm not any good at this, it's more a hobby and sharing my personal mood board is a bit of a stretch for me – I really just make them to visualize how it might look in the end.  Well, if you promise no laughing (be kind), deep breath, here it is…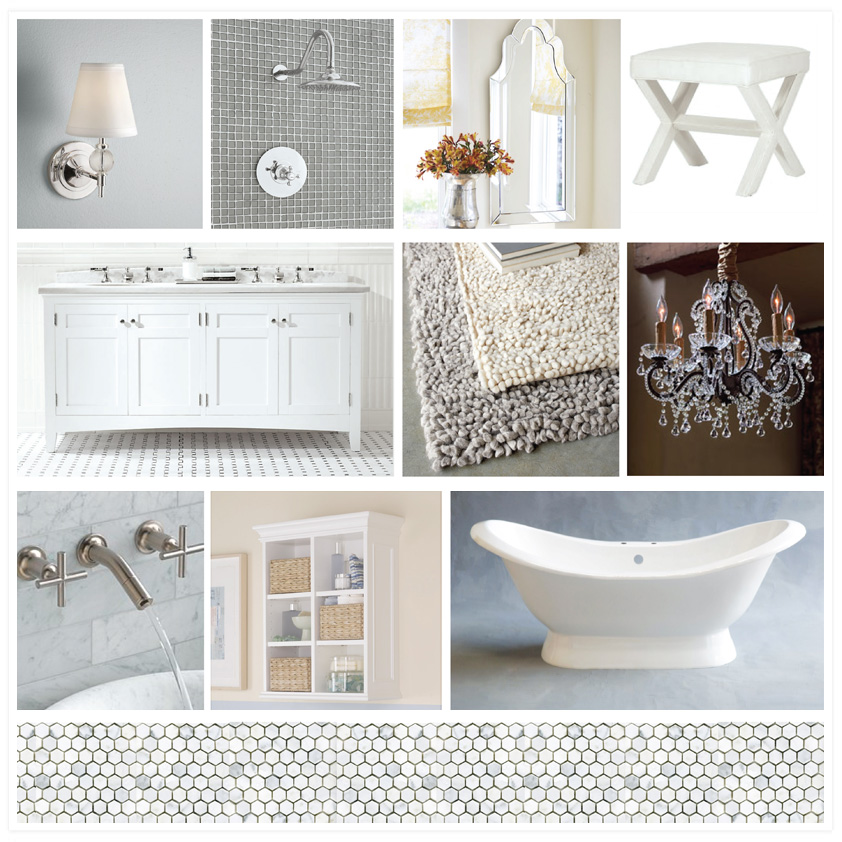 Clockwise from top left: Restoration Hardware Wilshire Sconce, Rain Forest Shower head (we wouldn't be buying this specific brand, but that's the look), Pottery Barn Elise Frameless Mirror, Ballard Designs X stool, Horchow Madeline Chandelier (was on sale originally, I'm waiting till it's on again), Footed tub from Luna Plumbing, Cabinet from Pottery Barn (our local cabinet guy would make ours), Hexagon and subway honed Carrara Marble from Builders Depot Direct, double sink vanity from Restoration Hardware (ditto on the cabinet guy making this) and lastly, pebble rug from West Elm.
Well, what do you think? Is it a calm serene marble retreat as I want it to be?  What color would you paint the walls?  Ideas, thoughts, suggestions?  Shoot them at me now, before I make final decisions!
Stay tuned for the guest bath – it has a 1920's tudor / black and white look planned.