It's here… finally!  The post on our Christmas decor! I've been meaning to do a post on this for about two weeks now, and I'm sure all of you have decorated your trees and moved on.  Oh, and you've finished your Christmas shopping, sent your cards, made all of your meal plans, travel plans, baked cookies, exchanged ornaments, and are now sitting back sipping hot cocoa by the fire. Right?  RIGHT?!? Of course.
Well, I haven't.  In fact, the only part I've really gotten done is the Christmas decoration part. I know, yeesh.  But… whether you've finished (or not), here is a little shiny inspiration for your midweek.
I do different decorations each year.  It makes it a lot more fun and interesting!  Some years we've had red and silver, or red and green, or green and gold, and it's been blingy, snowflakey or glam, depending on the mood.  This year, I went with a completely neutral palette (gold and silver, not a sign of red or green in the main house).  It's a bit sparkly, and a bit woodsy (couldn't decide, and it turns out I love them mixed).  Sort of pine cones meet crystal.  It all started with our glorious tree, which Matt hoisted  into the tree stand in a corner of our living room, and I strung with lights…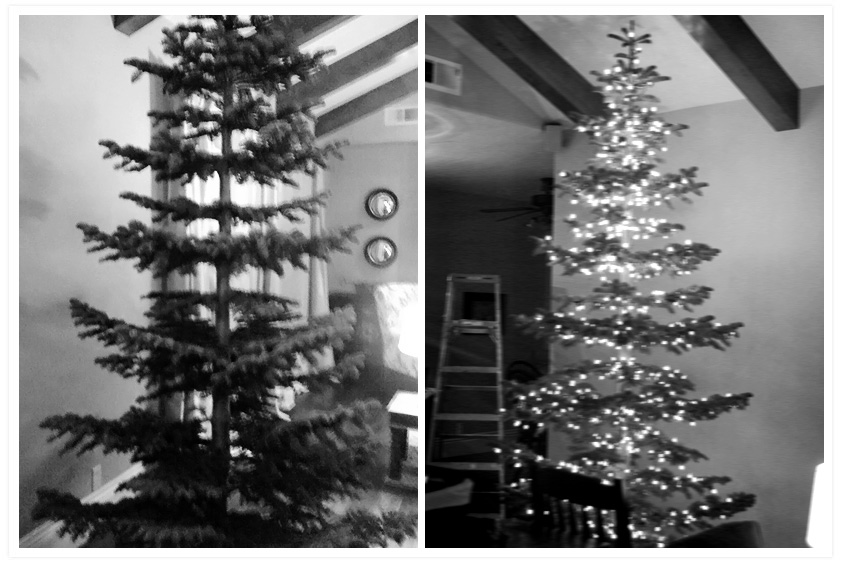 I know, I know.  Bad photos. They were from my iPhone, the battery on my Nikon was dead at the time, or I was too lazy to go get it.  I can't remember.  Moving on now…
I was decorating alone (Cam was in bed and Matt was printing), so for our twelve foot tree I needed a tall ladder and some blaring Christmas music to get me motivated.  You can imagine my delight when I opened our ornament storage boxes (bought last year) to discover this…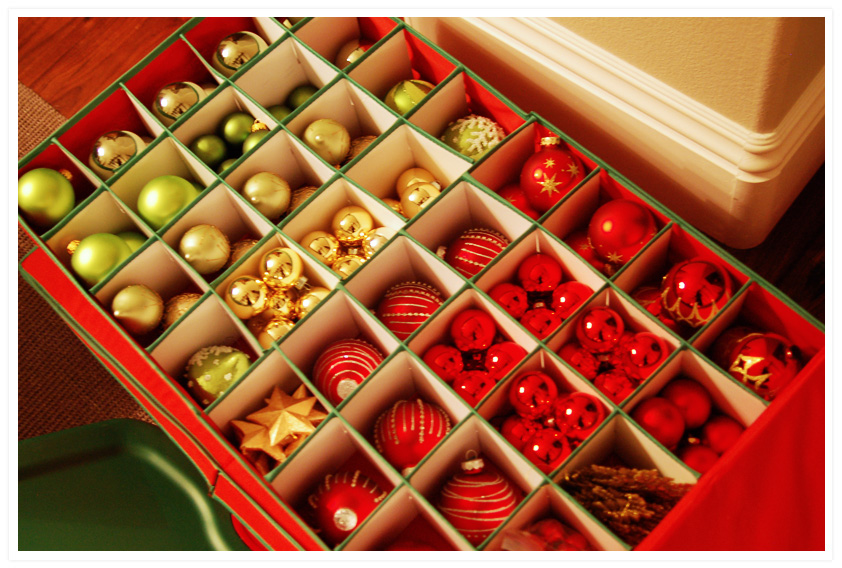 God bless my organizing heart! Can I pat myself on the back like ten times right now? Sorted by color, size and shape!  I could write a poem about how perfect it was. But I wasn't using red or green ornaments, so this box was going to come in very handy…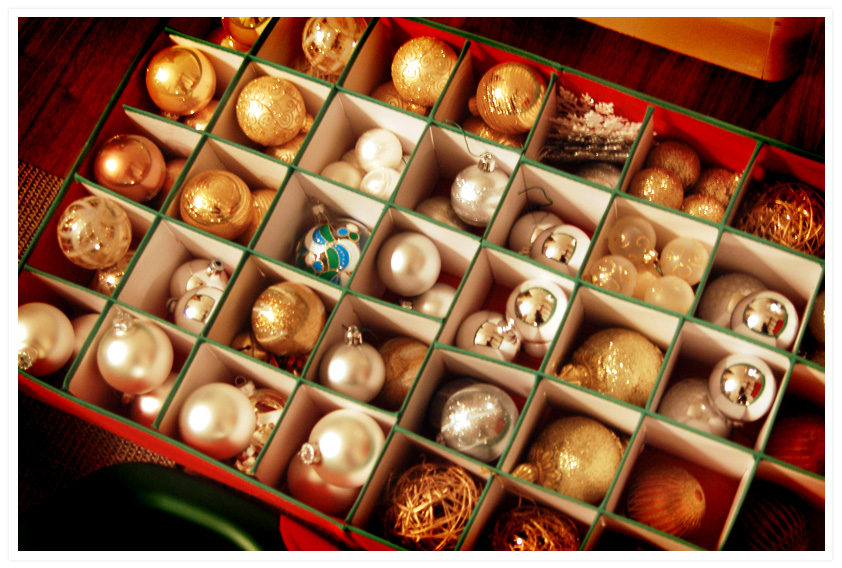 I know.  I had to show you two boxes, they looked so good. I also had some green trimmings…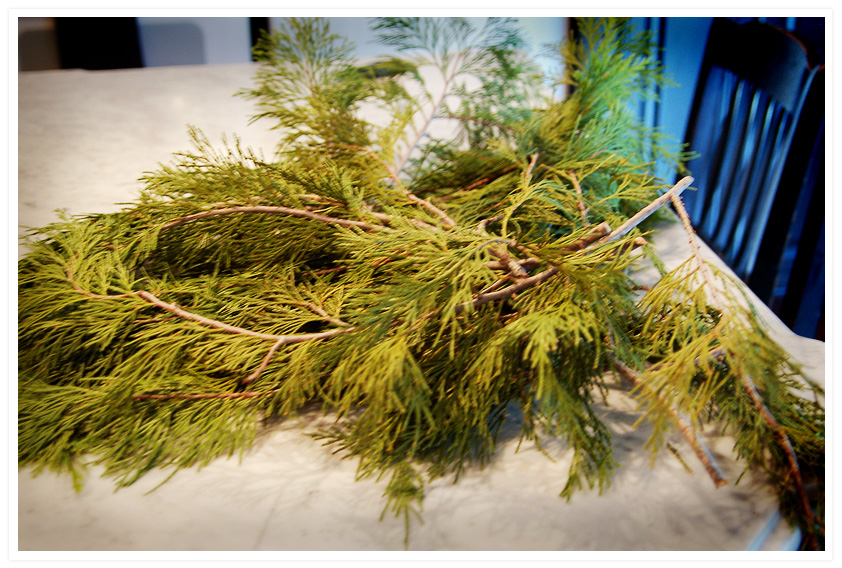 Delicately pruned from a few obliging evergreens, and absolutely free.
That's all the before/during pictures I took.  Shall we look at the finished result?  Let me preface this by saying it is REALLY hard to photograph a Christmas tree well.  Here is my best shot…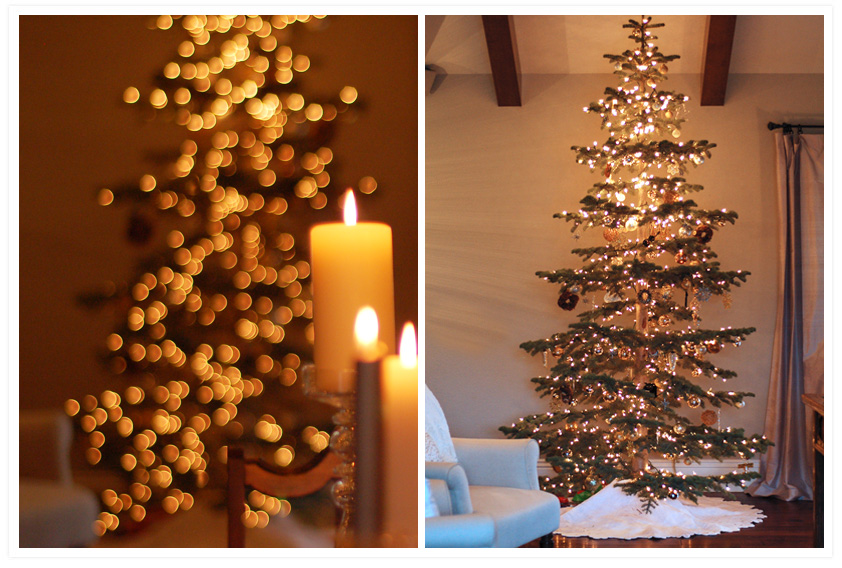 How the tree really looks is somewhere in between those two photos.  Use your imagination!  It is beautiful.
Matt and I give each other one ornament each Christmas.  We now have 14 (7 years worth!) and I hung all of the non-red ones on the tree.  They are special, unique and so very beautiful…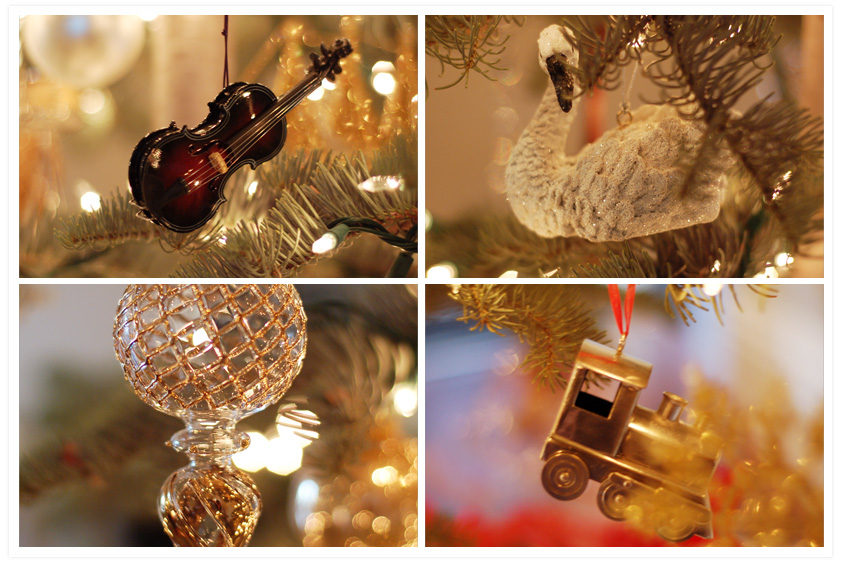 Usually there is some good story on how they came to be bought/given. Building our traditions a little at a time!  I love things that have a history and meaning.  But that doesn't mean my tree isn't coordinated besides!  A bright red or green special ornament can be in safe keeping for the next year.  They don't all have to be on there at once. I call it "design meets love" and the pruning result is what you see now. 🙂
Now, where was I?  Oh, heck, let's just take a full tour!  First, the greenery, a bit in every room.  The mantle, with gold and silver picks, pine cones and wrapped birch balls…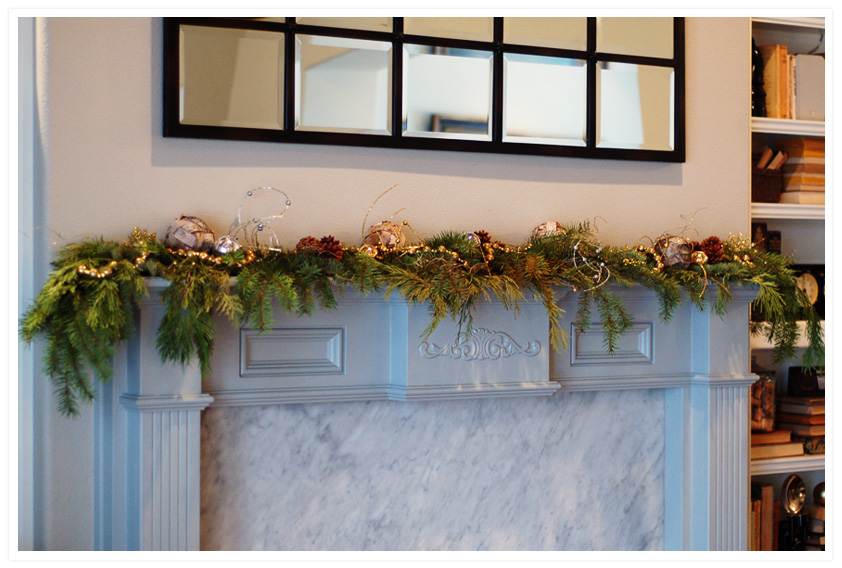 The dining room…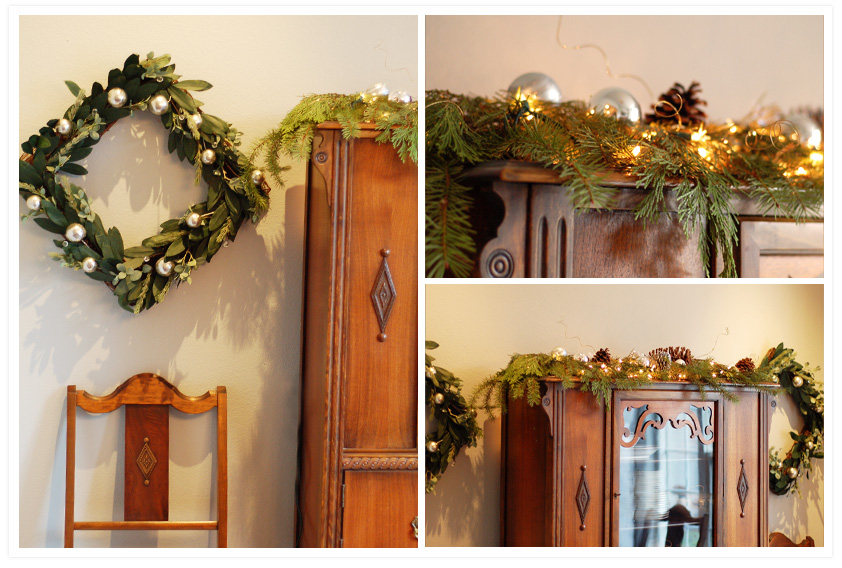 And the study…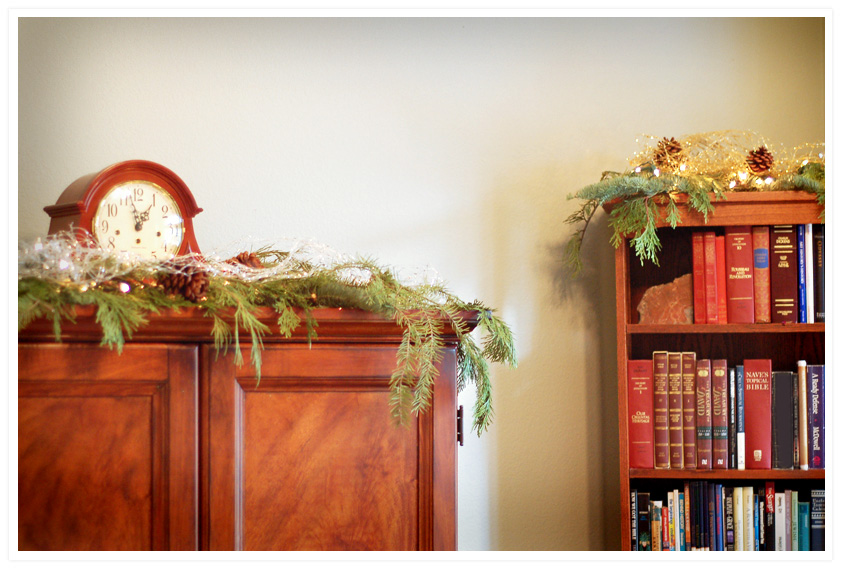 Easy as a wink.  Just add greenery, twinkle lights and a few ornaments, and you're there!  It adds festiveness to nearly every room, and has a sort of a Little Women (1994 movie version) feel to it.
A few more shots of the tree…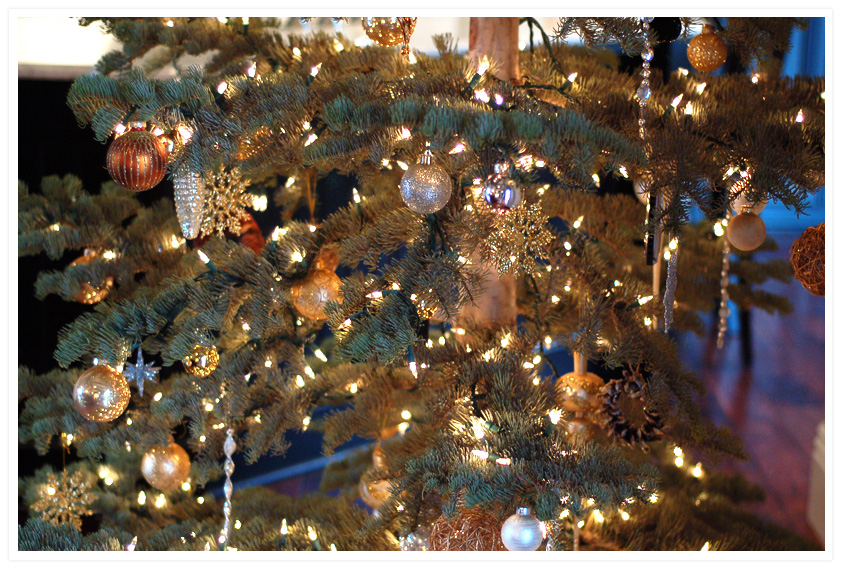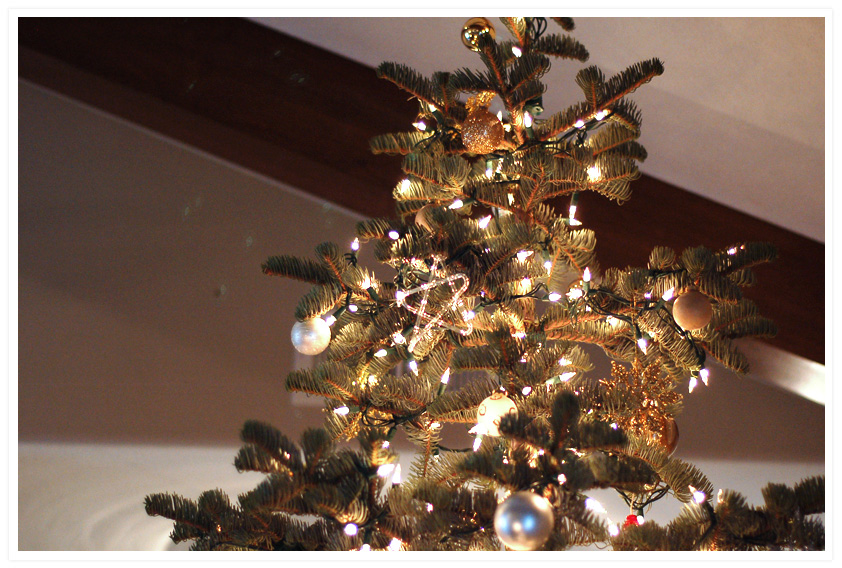 See that cute little whimsical glass star up high?  Matt made that from a test tube when he was a kid.  I wish I had more like it!
And I love my scalloped tree skirt…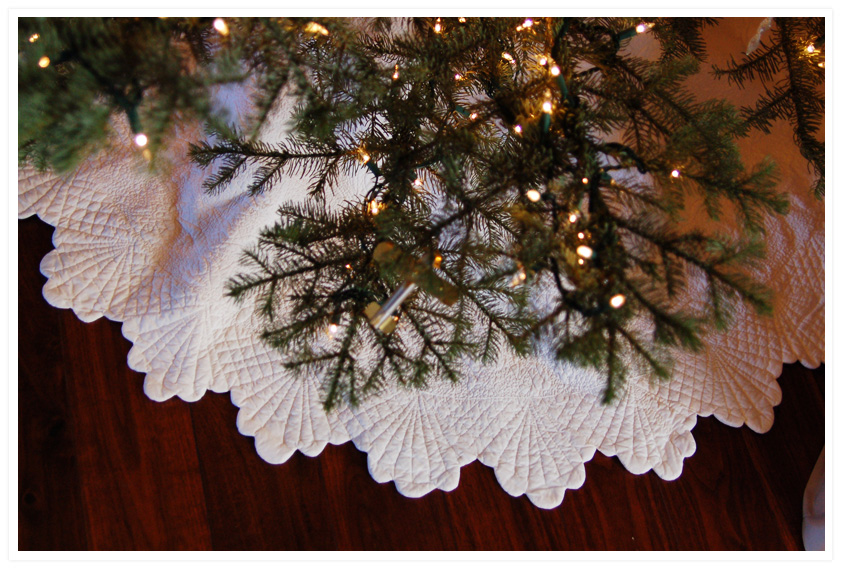 On the built-in bookshelves, I didn't change too much – I'm still fond of the autumn decor I put up recently.  But I swapped out the framed maps for vintage sheet music, and changed small pumpkins for small ornaments: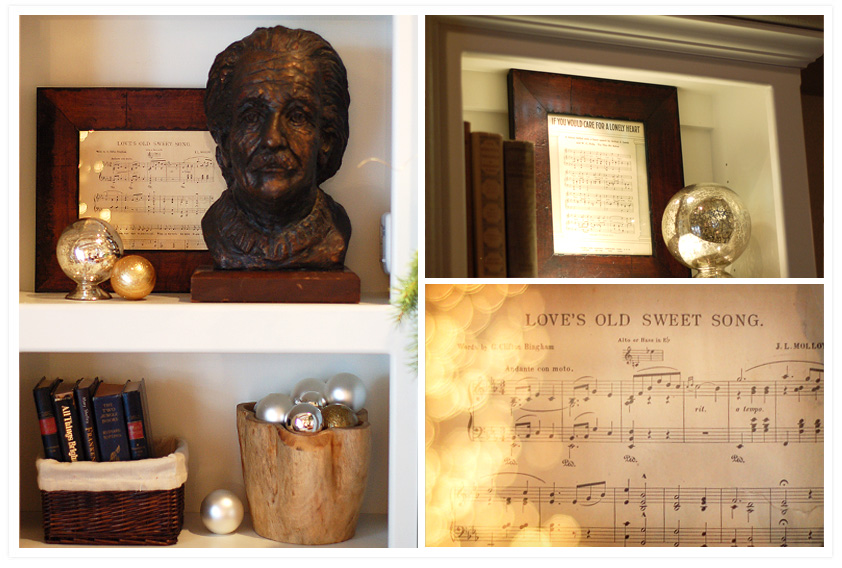 Plus a bit of mercury glass. Subtle holiday shine.
Now, for the two tables that would hold the party food and platters, I used a very simple arrangement: candles.  You can't go wrong with glowing candlelight!  It looks good in the daytime and the night both…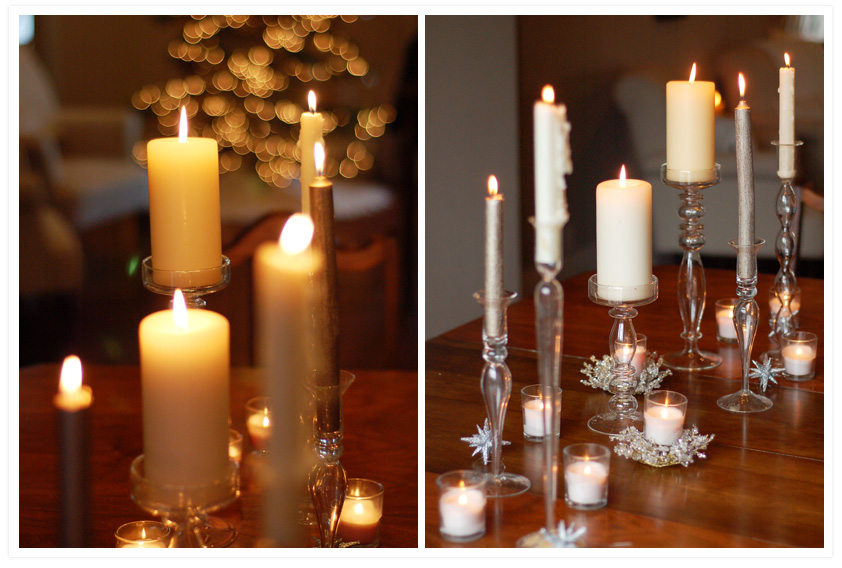 This arrangement (on the bare wood of my table) was so simple and only takes a minute to reproduce.  I used candlesticks from my cupboard and mixed and matched size and height with complete abandon.  Well, not really, I limited myself to silver and glass finishes. 🙂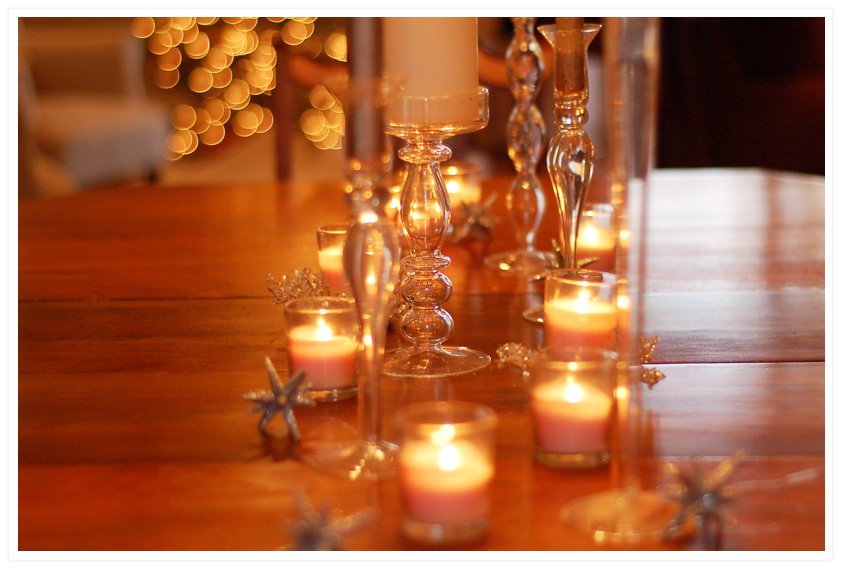 So romantic.  You can use them just about anywhere, you know…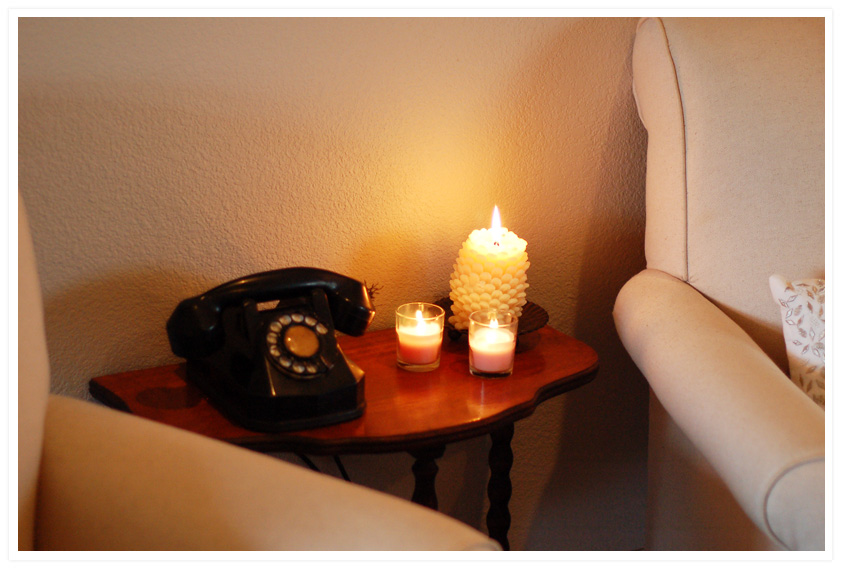 They'll add coziness to practically any spot.
Well, we've seen a lot of sparkle and bling, but where, you might ask, is the natural?  Here are bits and pieces…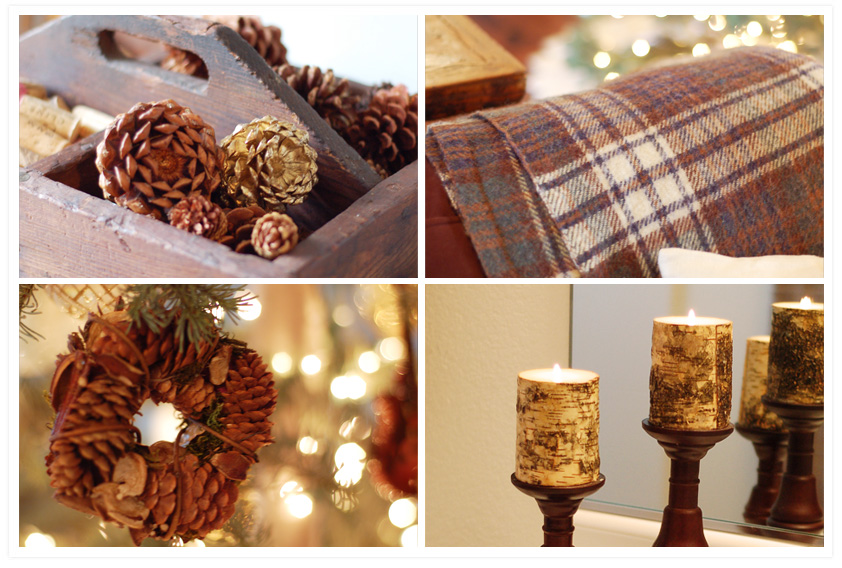 Pine cones and corks in an old crate, a plaid throw from the closet to warm things up, birch bark wrapped candles (from Cost Plus) and a couple of pine cone wreath ornaments on the tree. Those candles are in one of our bathrooms, which reminds me: always decorate your bathroom a bit for holiday cheer!  It doesn't have to be much…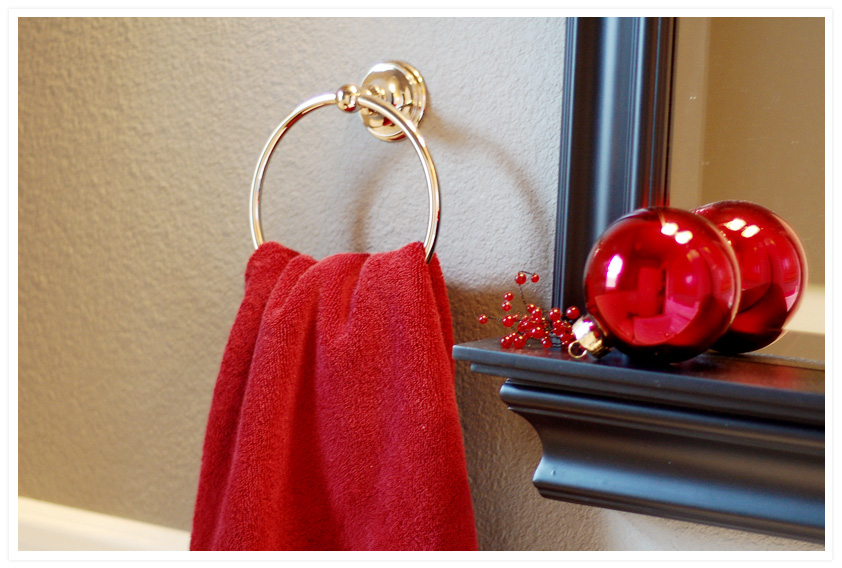 Just enough to pull the season into the room.
Thanks for joining me on the holiday/party decorations tour! There were lots of other photos, I had trouble choosing and had to leave out many, in fact. But I'm trying not to bore you all.  I'll leave with a shot of the coziest spot in our house – perfect for cuddling in a blanket with a hot drink and staring at the fire…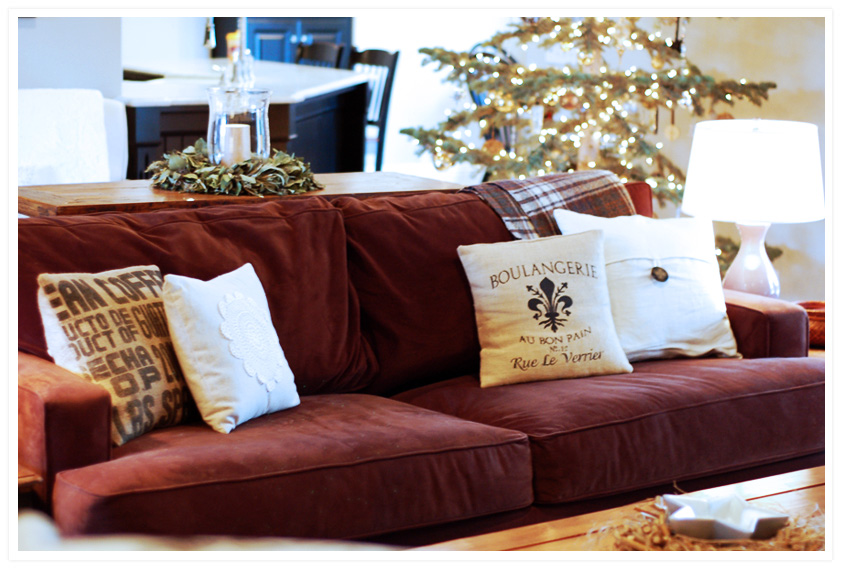 Merry Christmas and happy decorating!