Happy new work week to all of you!  Surviving last week at all was a grand feat for me: the whole family is still going through a massive cold, Matt's still working at the ranch seven days a week (I miss him!), and Cameron has decided naps are for suckers.  But here we are, a new Monday, a chance for a really productive week.  Yay for that!
This week will be fall-inspiration heavy, I have decided.  The fall decorations are out (finally!)  the trees have all turned and are glorious, and I even have an easy DIY wreath project to share with y'all.  That along with a preview of all of our Christmas designs… but let's not get ahead of ourselves!
Today, I want to take you pumpkin-patching (see, it is a verb) right here in Chico: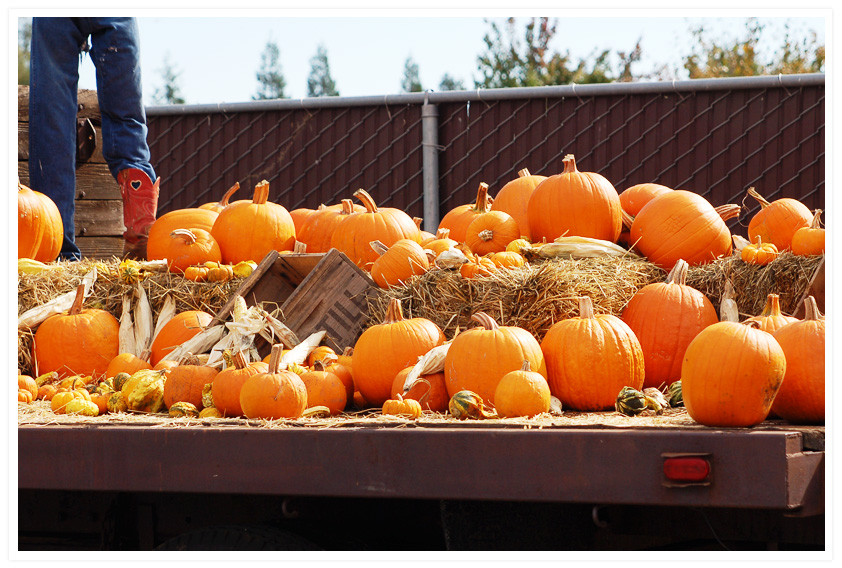 The main pumpkin patch and autumn legend in town has always been The Book Family Farm.  They were always the folks with the hay rides, the iconic hand-painted sign off of Highway 99, all the great farm animals, and lots of pumpkins for picking.  Now this was all before my time, but even I knew about it, because you can't visit Chico without noticing the Book Farm on your way.  Sadly, after their grandmother passed away, the Books decided to close their pumpkin patch and harvest festival.  And so ended the legend.
Last fall, our first year in town, we went to TJ Farms, the other local pumpkin patch.  We went on a Sunday afternoon, it was lots of fun, including a blacksmith demonstration, animals, etc… but sadly no pumpkins!  They had been sold out that year, anything left in the field was rotting or broken – the last week in October may be too late of a time to go.
So… that brings us to this fall.  We heard of a brand new pumpkin patch in town: the Garner Ranch, and decided to check it out.  It was a perfect fall Saturday, and the Garner Ranch ended up being loads of fun!  I'd say the ranch as it was set up this year was absolutely perfect for children under the age of five.  Which made it a wonderful experience for Cameron! Older kids may desire something a bit more exciting.  But enough talk, I have loads of photos to share with you, let's let them do the talking…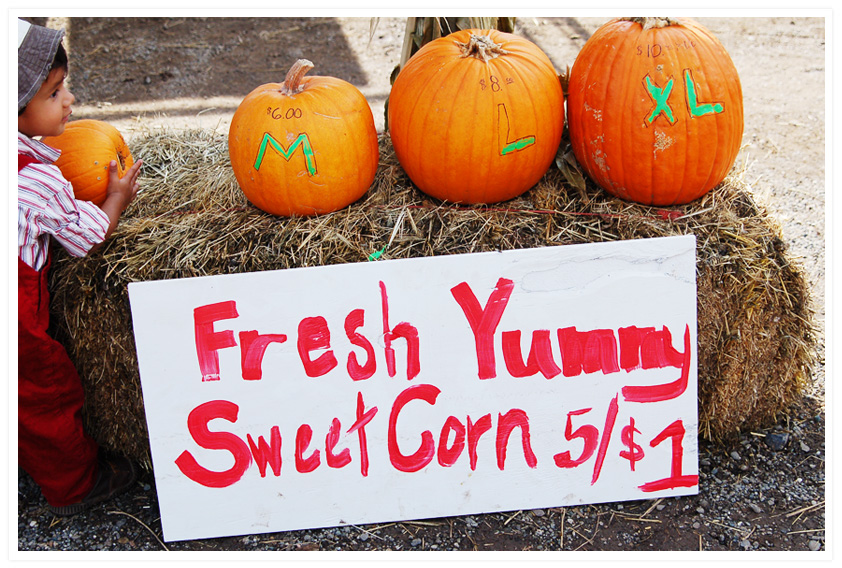 At the entrance.  Admission was $5 per person, children two and under free.  All the activities once inside are complimentary.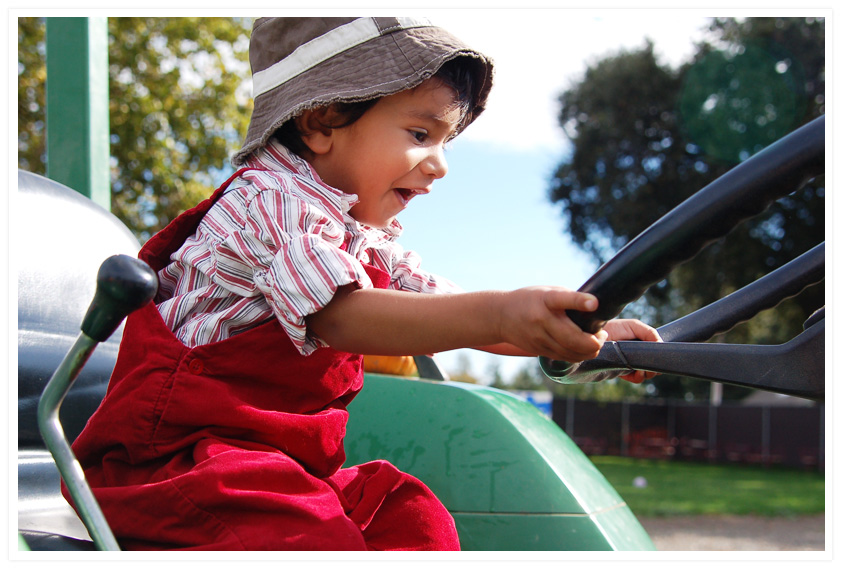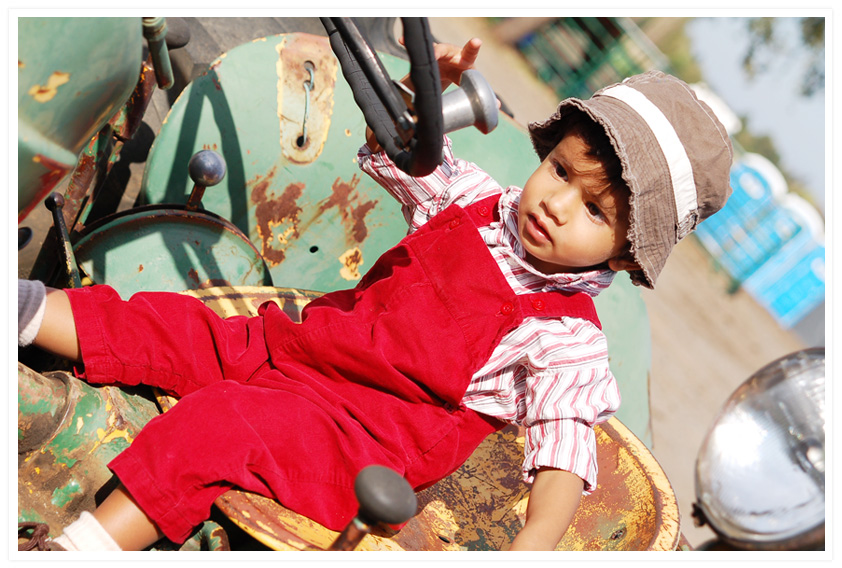 Cameron on a few of the tractors.  He probably would have "driven" them all day if we let him.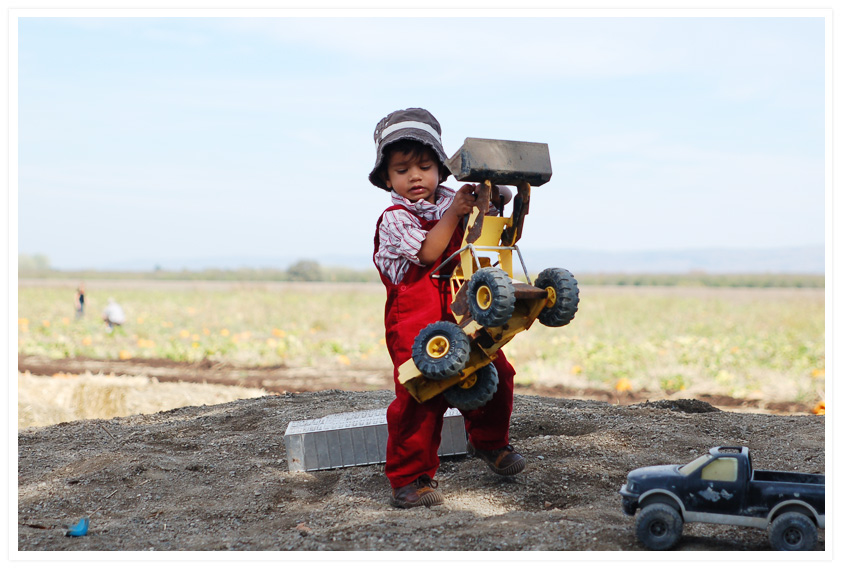 Another big hit was the very large sand box.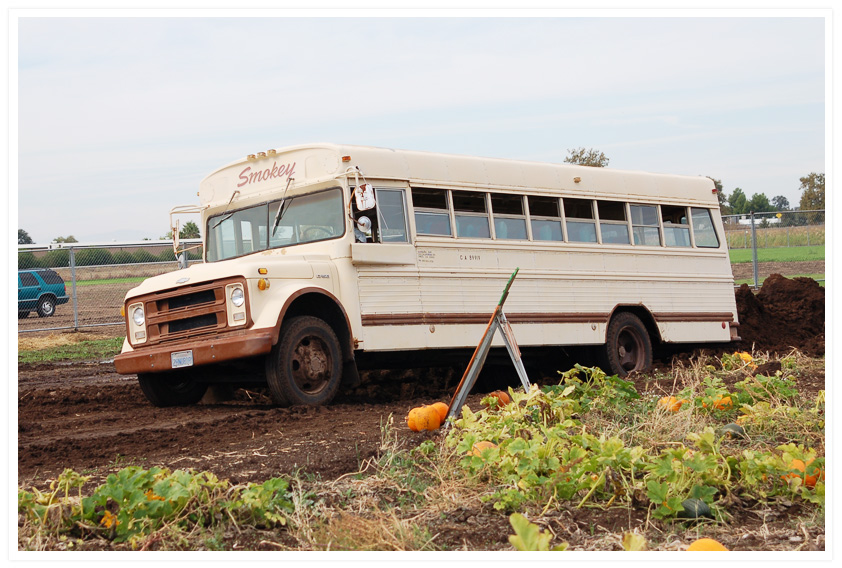 A wild and woolly bus ride takes you around the very large pumpkin patch.  Believe me, it was actually quite wild!  And muddy and fun.  When we left, the bus was stuck in the middle of the patch.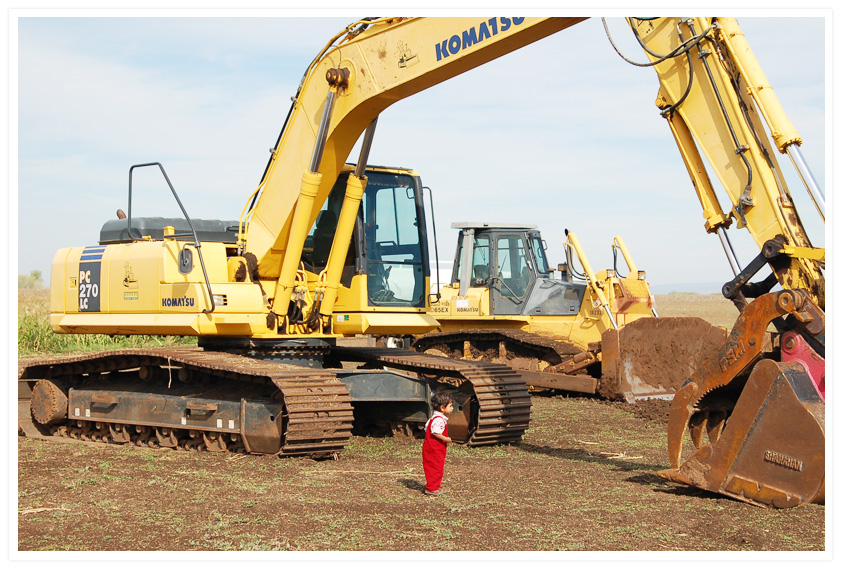 Lots of big machines to explore.  Here, Cameron checks out a Snort (Are you my Mother?).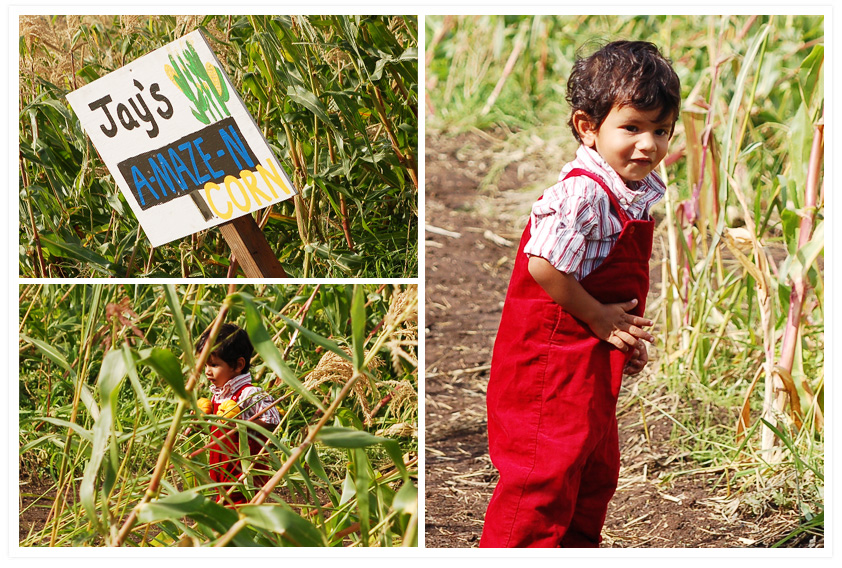 Next, we attempted the corn maze. It was surprisingly difficult. Cam leads the way!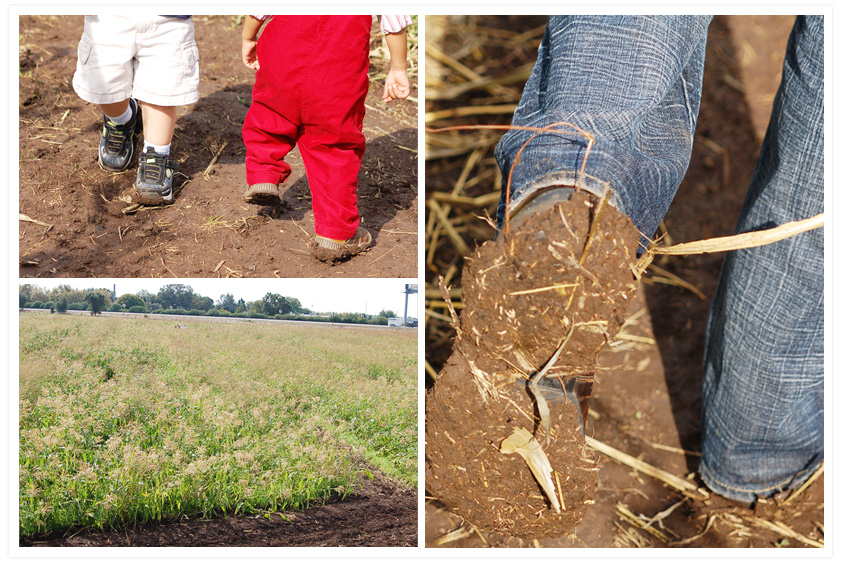 Clockwise from top left:  Cameron and his friend Micah didn't mind the mud, Matt models a muddy shoe, and we took the second emergency exit to end our maze adventures.  See those sad saps way in the far back?  They'll never make it out!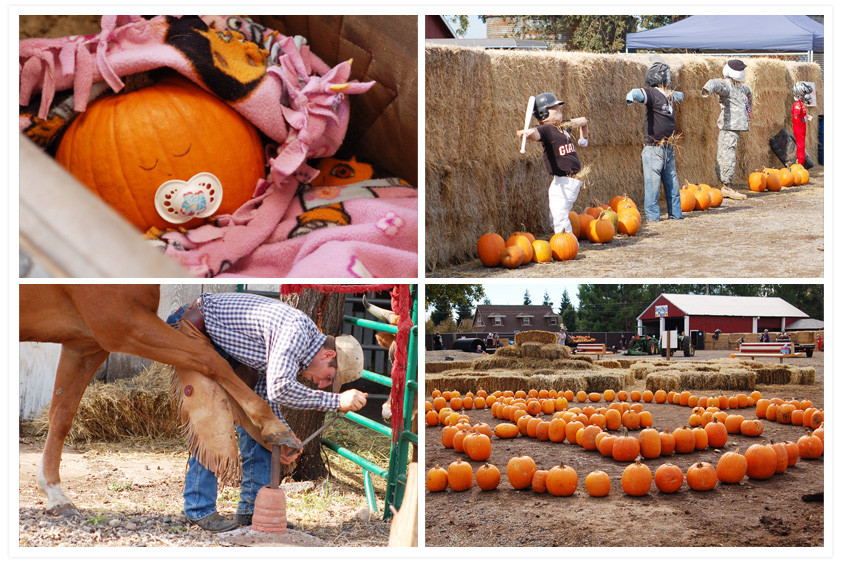 Back in civilization. Clockwise from top left:  pumpkin baby in stroller, various scarecrow careers, a pumpkin maze and hay maze (perfect for toddlers), a horseshoe demonstration.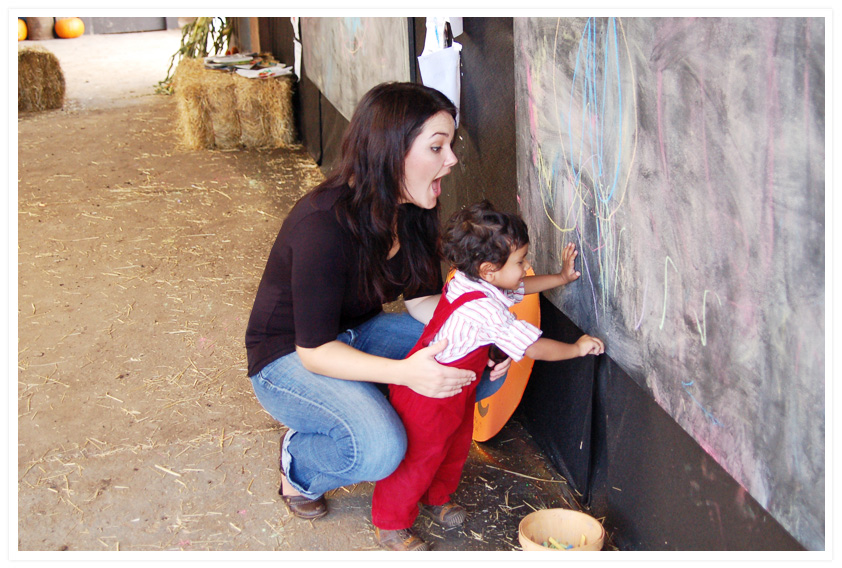 A children's coloring section! Dorky parental expression not required.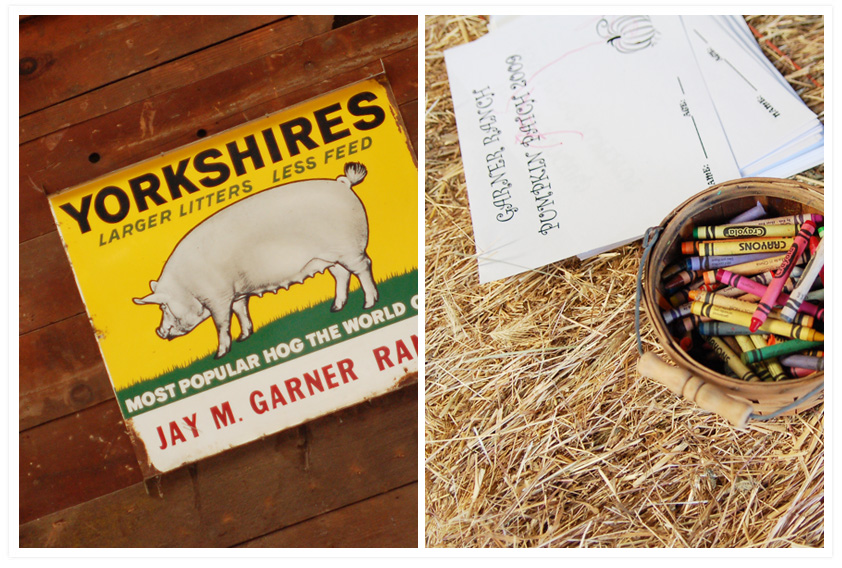 Crayons, and and original Jay Garner Ranch sign (he raised pigs).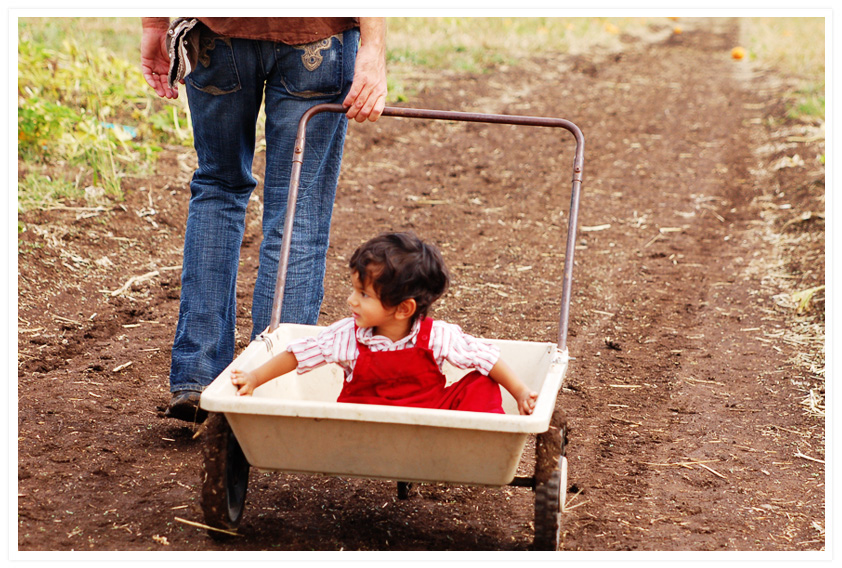 On to what we came for!  Let's get pumpkins…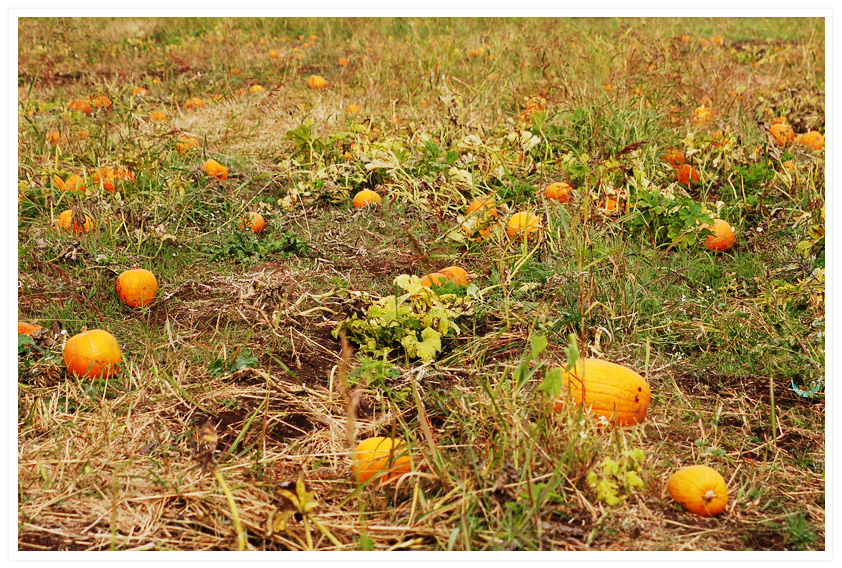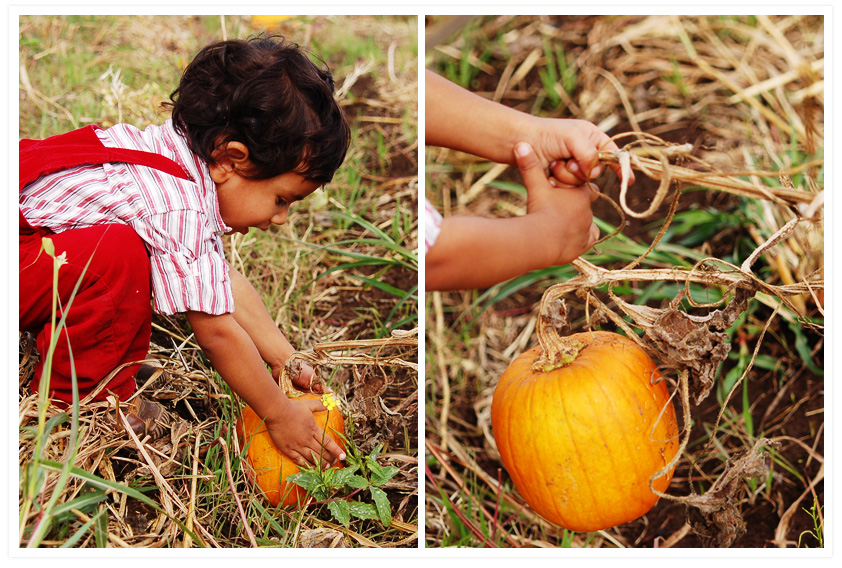 Cam wasted no time in finding a pumpkin just his size.  It was detaching it that was his problem!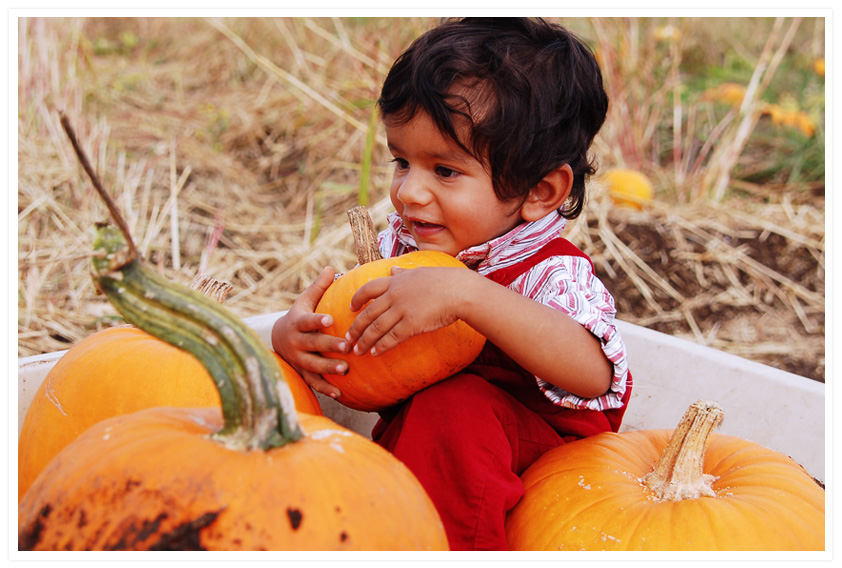 Riding off with booty.  He loved that pumpkin.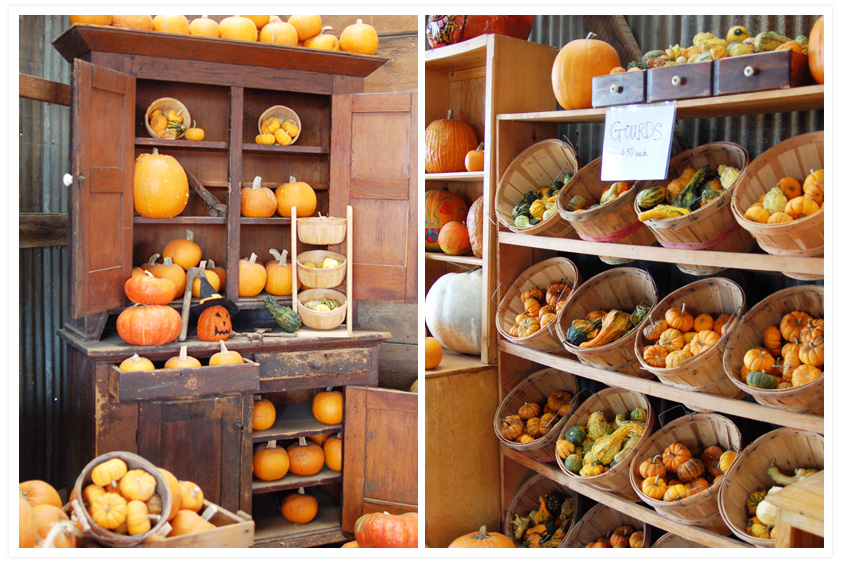 On the way out, you walk through the pumpkin store. Any and all varieties of pumpkin could be yours.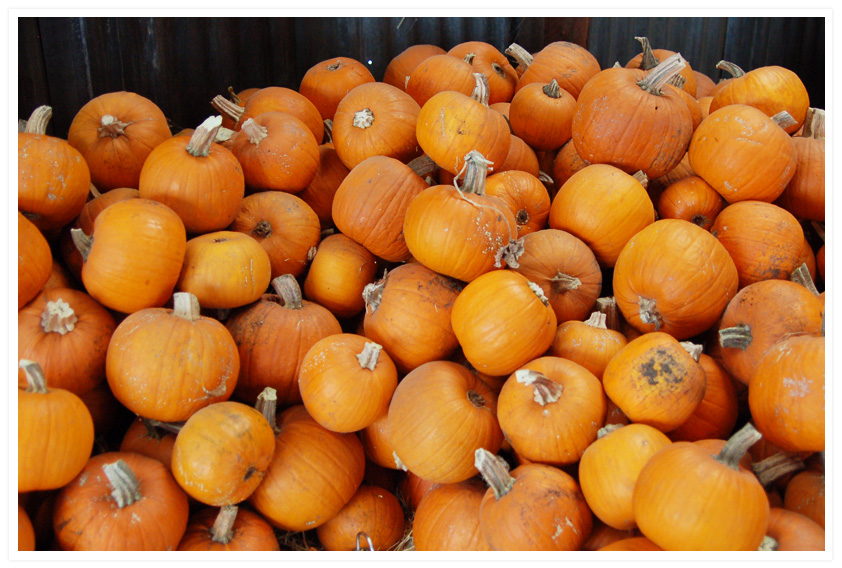 Pumpkin Bounty. And lastly…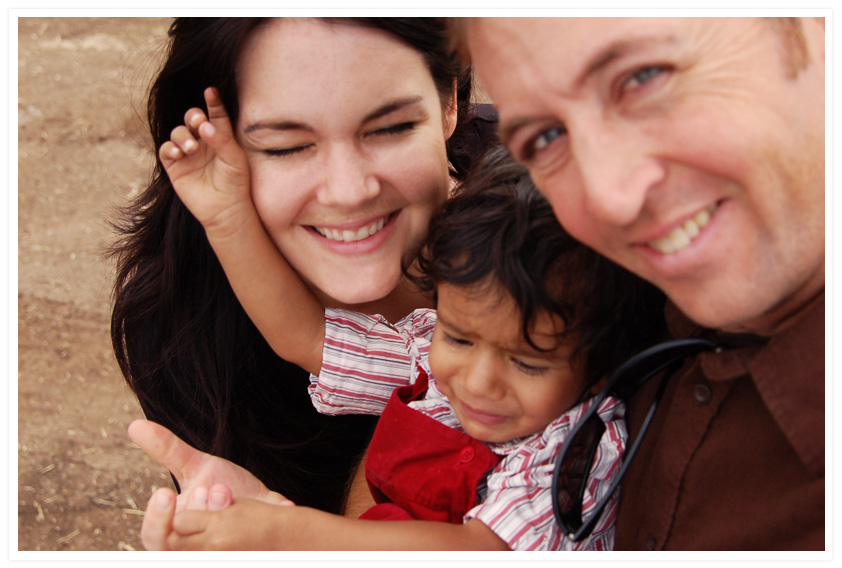 An imperfect (self) family portrait to end the day. Someone needs a nap.
So now we're ready for fall!  Our porch has pumpkins (or as Cameron calls it, "pumpkin patch") and the world's largest hay bale.  How does your porch look?  What pumpkin patch (if any) did you go to this year? Are you going to carve them?  Do tell!
Have a happy week!