We're halfway through kitchen remodel week – and we've reached …the cabinets.  Cue dramatic music. Grab yourself a latte and have a seat.
Painting the kitchen cabinets myself was probably my most successful DIY ever.  It was also definitely the longest, most time consuming, heart-wrenching, drag-out-dirty project I've ever done.  And so worth it.  I would do it again (although don't make me). Sounds entertaining, right?  Well, follow these uncomplicated steps, add blood, sweat and tears, and a brand new kitchen can be yours for pennies on the dollar.
You want the secret?  The real secret? Elbow grease.
Step 1).  Doors. Remove cabinet doors.  Remove hinges from doors.  Put them all in a container, with screws, labeled "cabinet door hinges".  Don't lose said container in your remodel mess. Decide now if you are planning to paint the INSIDES of your cabinets. We didn't paint most of ours because they are white laminate inside. The ones with the glass fronts we not only painted but also installed bead board to the inside. More on this later.  We did keep food in our cabinets during the paint job – we had to, really, living there.  It will get very, very, very dusty but just remember you can clean it all later.  If your cabinets are empty, you can tarp and tape the insides to cut down on the dust somewhat.  Here's our exposed cabinets during the sand/putty phase: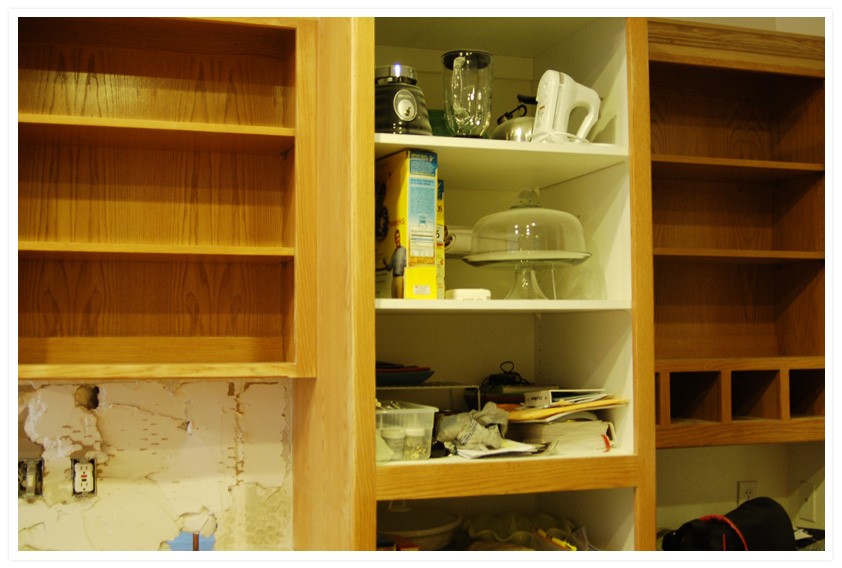 Note the nice hole in the lower left wall that shines through to the living room.  Oops.  Tile demo gone very, very bad.
Step 2). Drawers. Remove drawers and drawer tracks.  The drawer tracks don't tape well and will make a big mess if not removed. Save the drawer tracks, labeled, in a container. I would recommend taping each set together with masking tape and writing right on the tape with a Sharpie "1″, "2″, etc. making note of which drawers you chose for those numbers.  We didn't do this last part, but it would have saved us some hassle in the reinstall.  Remove drawer pulls, knobs, any hardware. Place in another container, if you are keeping them (we replaced ours).  NOW is the time you choose your new hardware.  Why, you ask?  If your current drawer holes are 3.5″ apart, and your new bin pulls are 4″, you'll need to putty up the holes and sand that down so you can paint over the whole thing.  So, decide that now. Here's all of our drawers stacked and puttied: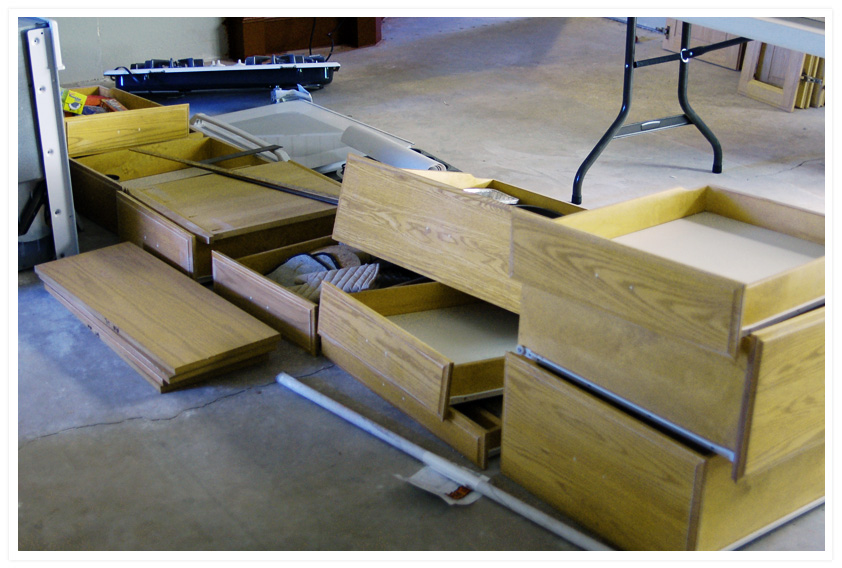 Step 3) Carpentry. Still with me?  Okay, at this point, get all of your carpentry work done.  If you are adding crown to the cabinet frames, do it now, with us it was both crown, bead board inside a couple of cabinets, and also pillars and bead board around the peninsula.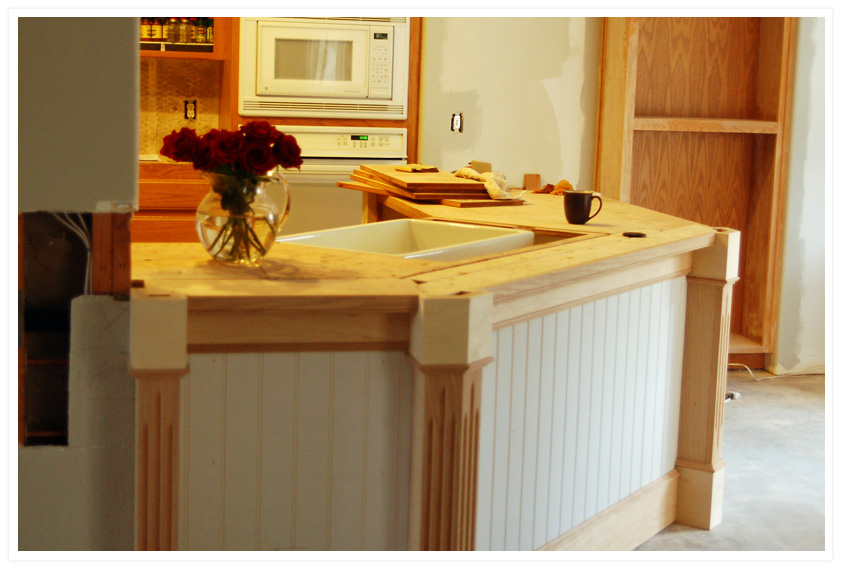 Note red roses (thanks, Hon). Keeping flowers or something pretty around was an important part of me staying sane during the remodel, with no kitchen sink, dishwasher, stove or oven.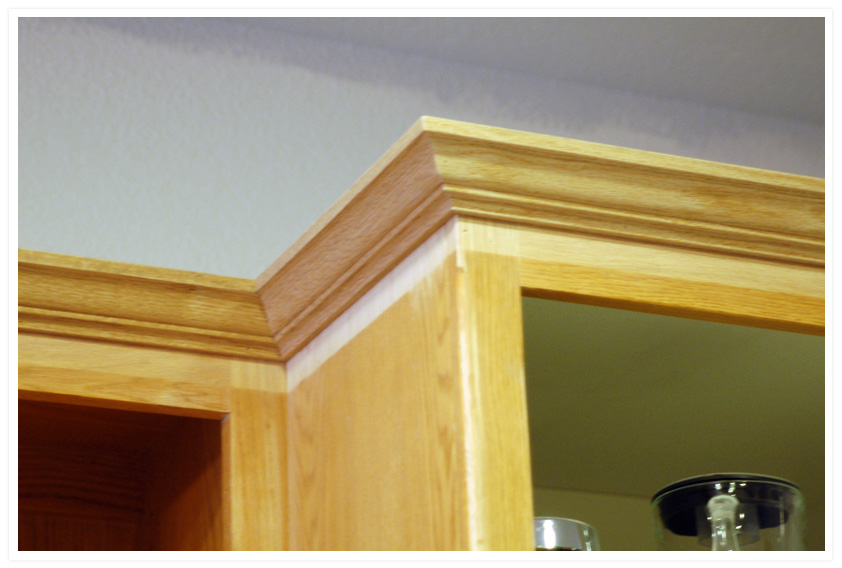 Our new crown is raised a bit from the old crown, which was kind of squished up right next to the doors.  This gives a taller and more elegant profile to the cabinets.
Step 4) Appliances. At the very last minute, remove all of the appliances you can.  We took out our stove (new stove and counter were going in), our wall oven, our dishwasher and our sink (new one was going in).  The wall microwave we removed the trim kit from around, so that we could paint it cleanly. The fridge moved into the living room.
Step 5) Meet your new best friend: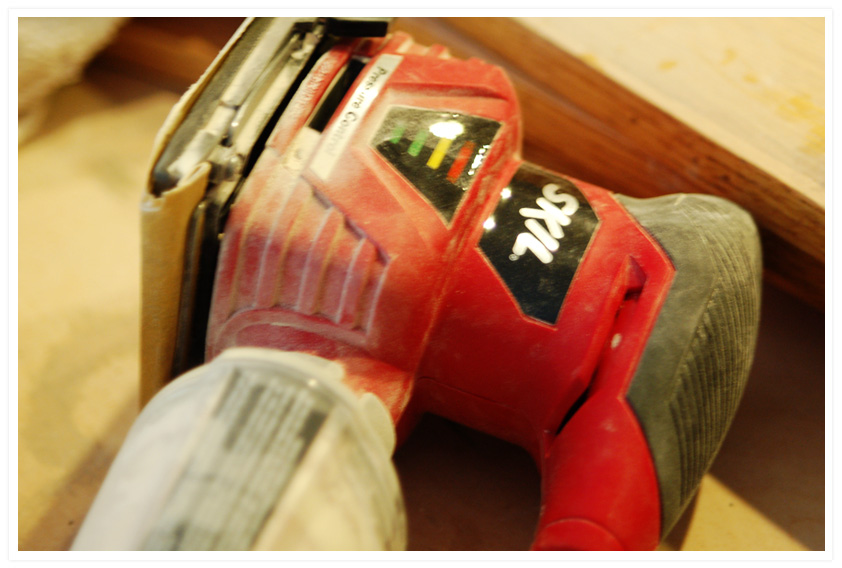 This may be the best $26 dollars you spend on the entire project.  If you don't have one, get one, a pad sander beats sanding by hand any day. Which, you'll get plenty of hand sanding too!  Step 5 is Sand and Putty. I sanded the whole set of cabinets, and the drawer fronts.  The doors were new, and therefore unfinished, so no sanding – yay for that! The moulding you have to sand by hand.  Don't feel like you need to get all of the polyurethane off of your cabinets, that would take forever.  Just rough it up well, and then wipe the dust off with a tack cloth. You don't want any dust left behind when you prime.  For grit I used P180 at first but then found it to be too coarse (scratching the wood) so I switched to P220 (AKA Very Fine).  I spackled all of the nail holes and other imperfections with Elmer's wood spackling foam – you probably could get away with regular spackling foam, however.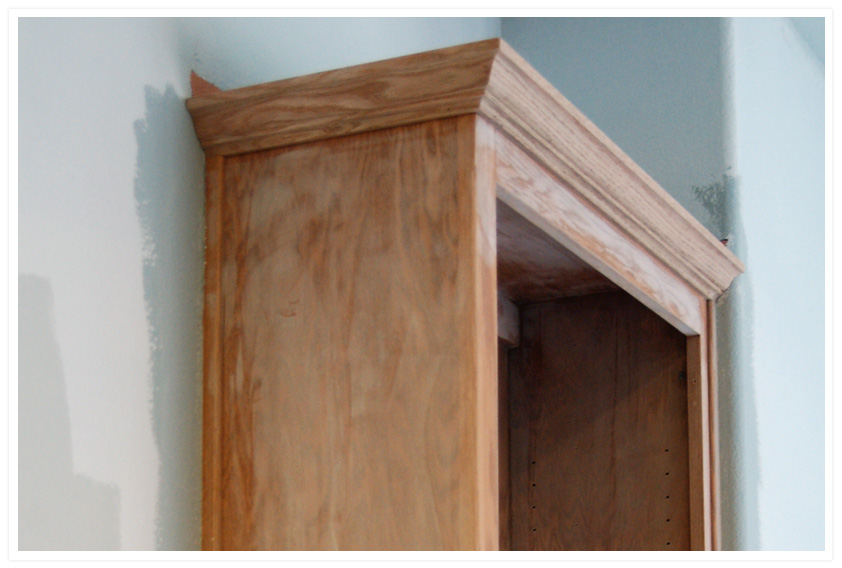 After sanding, but before wipe down. It goes fast with the pad sander.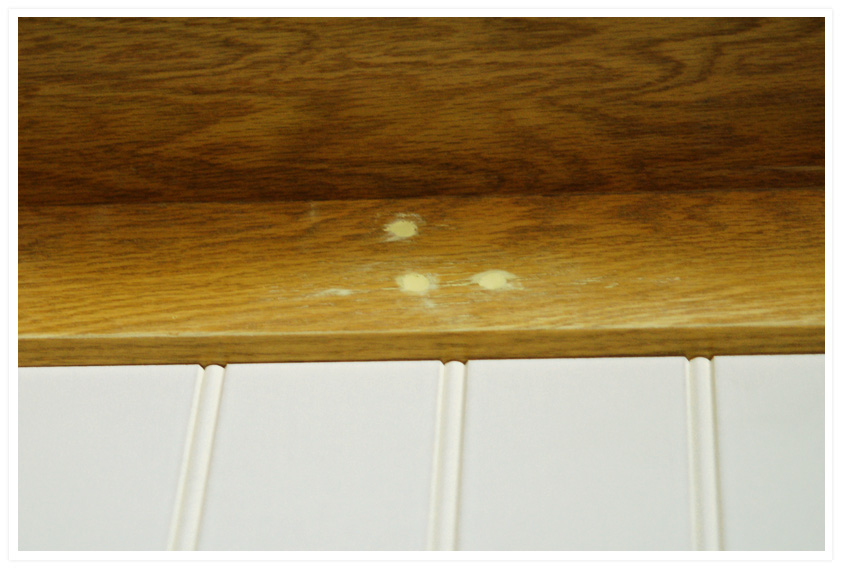 Spackled, sanded, wiped down and ready to go.
Step 6) Tape. If you're not painting your walls, You'll want to tape around the cabinets.  We didn't tape there because we were repainting the walls and I also wanted to be sure to cover over every inch of oak.  We did tape our unremovable shelves, at the edges where they met the cabinet frame, like this: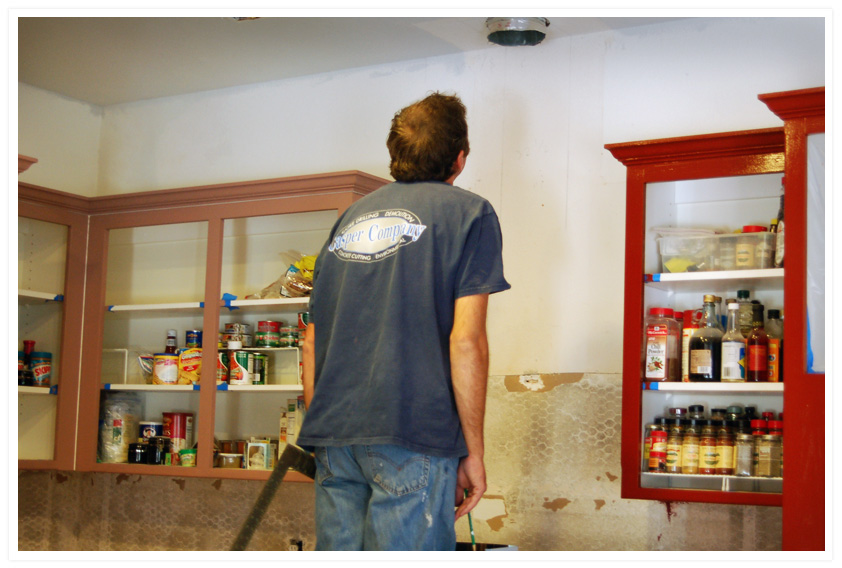 Note the blue painters tape on the left shelves.  This is also a sneak peak at primer, caulk, undercoat, and Matt contemplating horrible venting situation.
Step 7) Prime. Get out the brushes and the mini-roller!  We're going to paint!  Well, paint primer anyway. I recommend high quality paint brushes.  They're the only thing that will see you through this project.  For our primer I used Kilz Oil-based "Sealer-Primer-Stainblocker". Try to get the odorless version if you can.  It helps somewhat with interior fumes.  The folks at Lowes tinted it for me – as dark as they could (filled the can with color).  It was supposed to be a red/brown tint in case I sanded the edges too much in distressing, I didn't want white to show through.  It ended up being dark flesh/taupe colored, and that worked just fine, although it was depressingly ugly to apply. I rolled the primer, which dries very flat, and didn't worry about roller marks (back-brushing) because I was going to sand again and add quite a few more coats of paint to the job.  That's right, you heard me…
Step 8 ) Sand and Caulk. Yup, bring out the trusty pad sander again. First, have your handy husband caulk the whole kitchen (I could have done this part, but don't like to, plus I think I was doing more that my share of kitchen labor here).  Caulking is very important, don't skip it or your perfect paint job will look crappy. Even a crappy caulk job is better than no caulking at all. Sand, wipe down.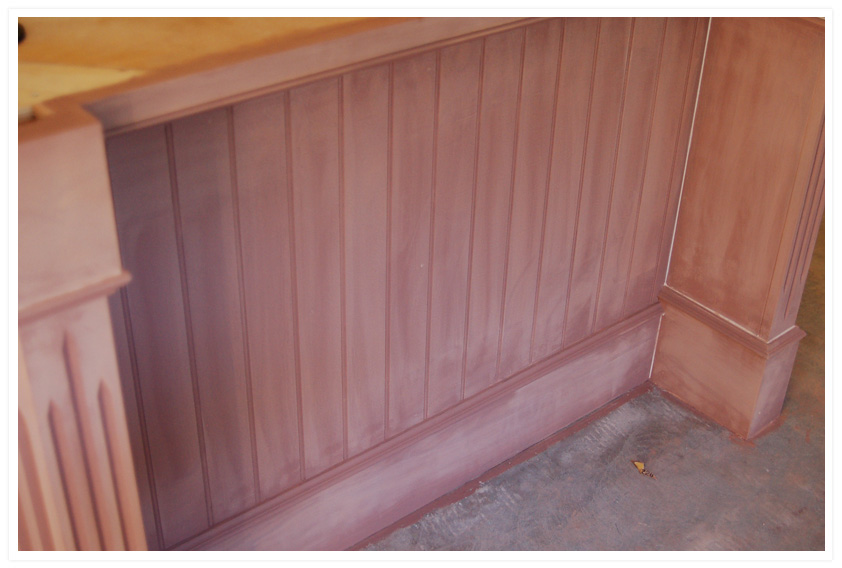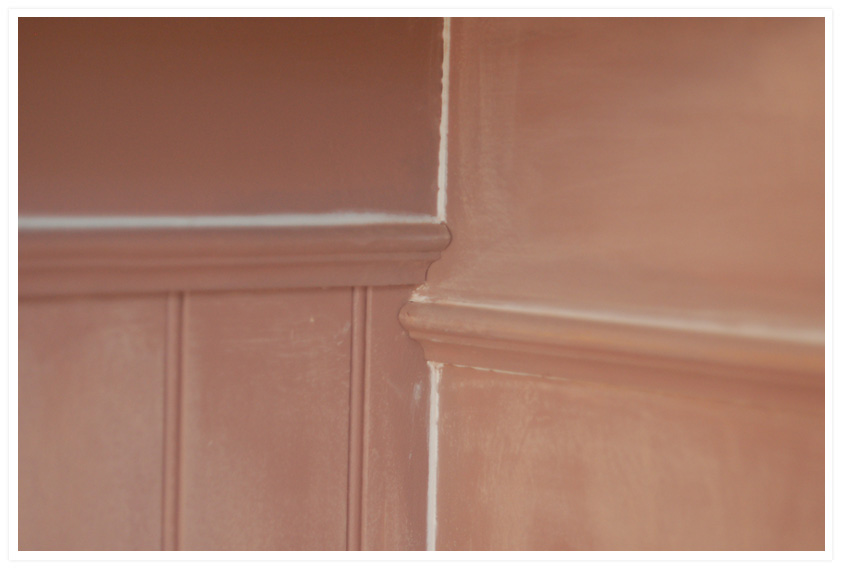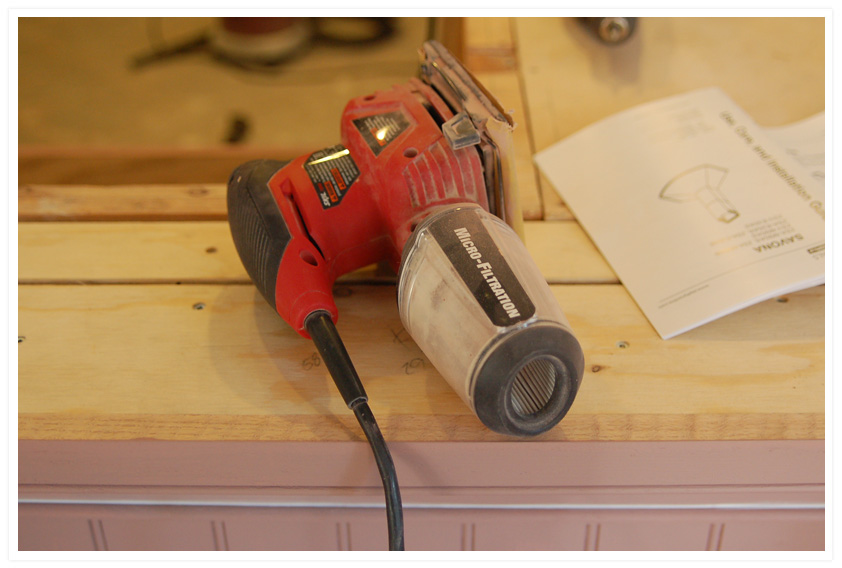 Step 9) Paint. In my case, I was doing a red undercoat.  This is because I wanted to sand through to the red for a lightly aged and distressed look, to warm up my black paint (nothing too drastic).  An undercoat does add a lot of extra work to a job.  If you don't want the layered, more rubbed black look, skip it.  For all of our paint, we used Benjamin Moore Satin Impervo.  I can't recommend it highly enough.  It's oil based and produces the perfect soft look, the paint levels itself rather magically and it applies like butter.  And, no they don't pay me for an endorsement, I'm far too obscure for that!  The undercoat color I chose was Heritage Red,  it's kind of a barn color.  I love the shade and tone.
Please note: We didn't tape that plug outlet because we were trading it out for black.  Otherwise, be sure to tape your outlets.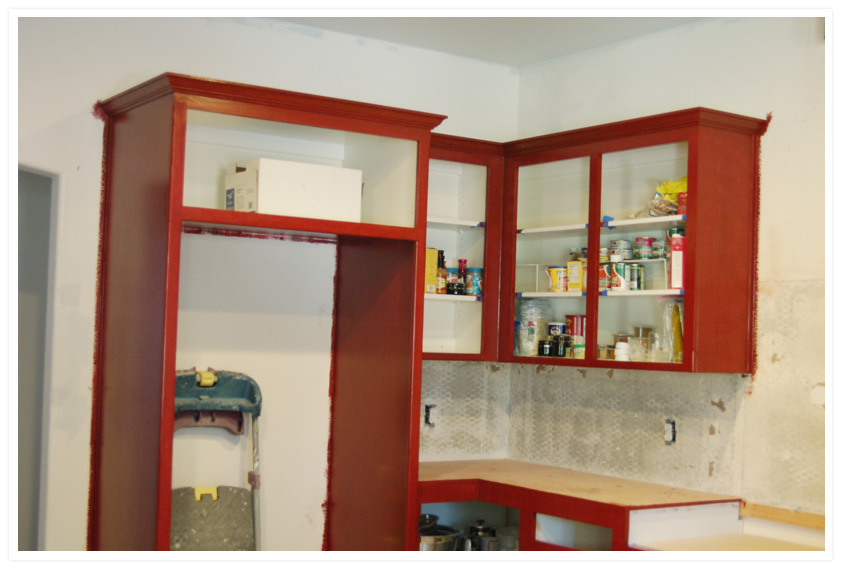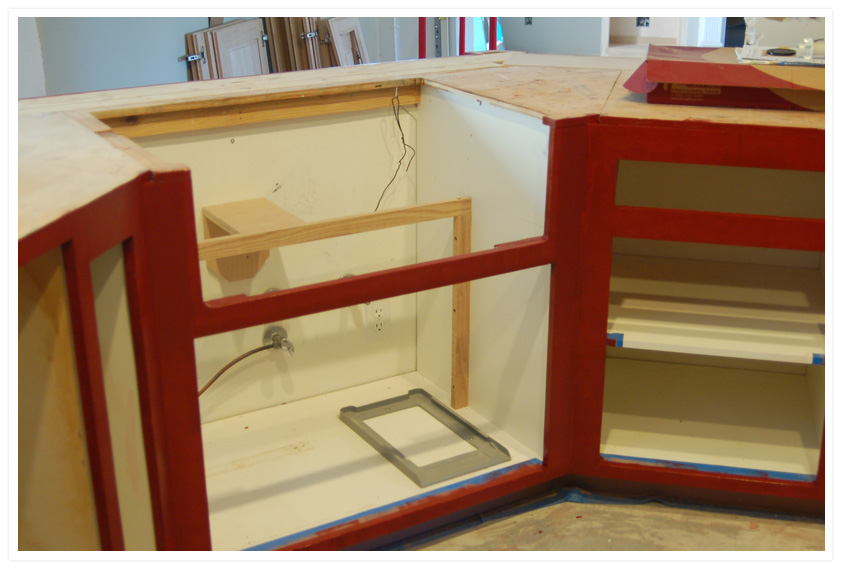 Note the pizza box on the counter.  This is your main form of sustenance during a remodel.
Step 10) Sand, then Paint again. I should mention here that oil base paint needs about 12 hours between coats to dry.  I always let a full 24 hours expire before I lightly sanded (now with 320 grit) and started on the next coat.  Sanding between coats is a great time to address drips, if you get any.  Sand that section smooth and it can be good as new!  I painted a SECOND coat of the red undercoat, which may have been overkill:
That red is starting to look pretty luscious.
Now, what you've all been waiting for…
Step 11) Sand very, very lightly, then Paint. The black.  We're there, we've arrived.  For our black, we had tested Benjamin Moore Onyx (in Satin Impervo, of course) and it was just not quite a rich enough black, although I liked that it didn't have ANY blue or red undertones to the paint.  Looking for the blackest black we went to the local Benjamin Moore store (Chico Paint Mart), and they are so helpful there!  They mixed us a custom, awesome, blackest black ever.  Dead black, really.  It does cause the paint cans to practically overflow, there's so much color formula in there.  But it was perfect.  If you need the formula, email me and I can hunt it down from the cans in the attic.  Obviously the shade of black you use is a matter of taste.  Okay here's the black paint: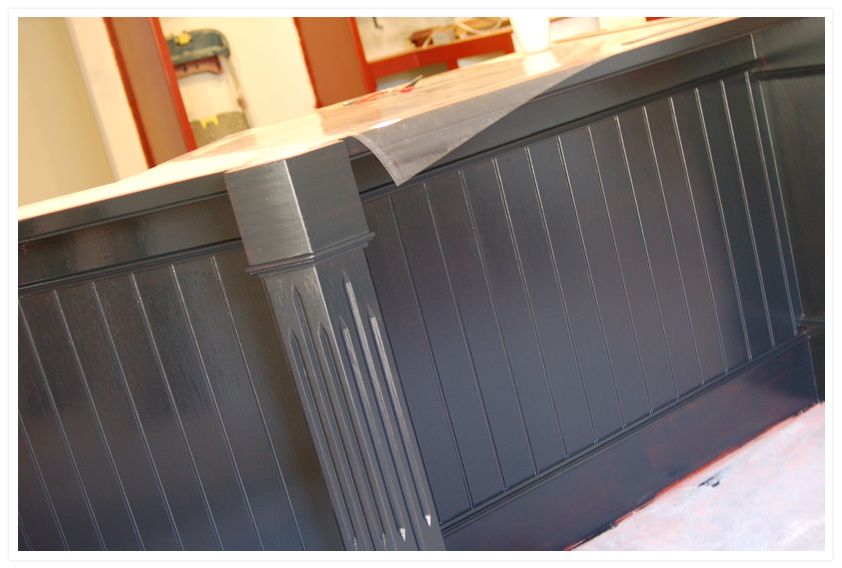 Lots of red show through, still.  A second coat will take care of that.
Not to get too monotonous here – let's take a brief break and see what Cameron thinks of this project, shall we?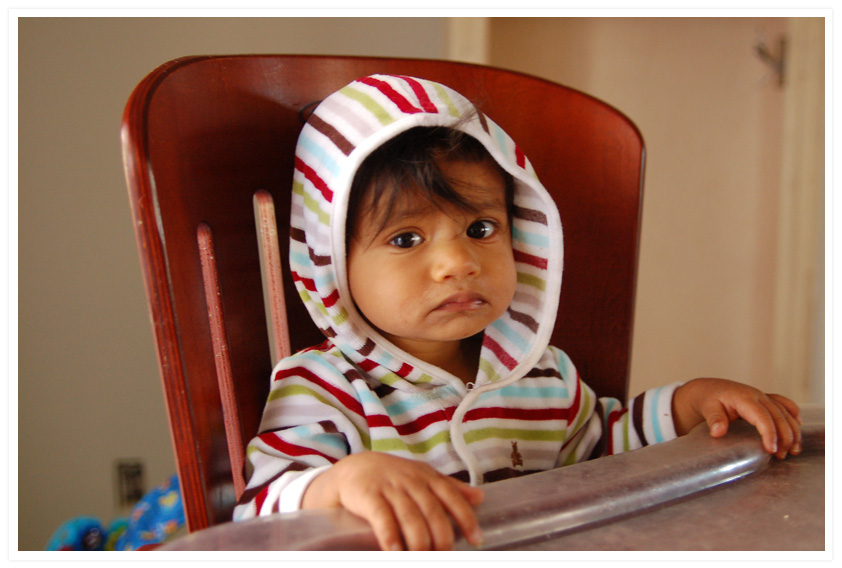 Yeah, he didn't really like the remodel very much.
Step 12) Sand very, very lightly (just gently brush/scuff really) and paint your final coat. A couple of things I should mention here.  In my painting technique, I generally used a "brush corners and crevices, roll on with mini-roller, then back-brush once over that" technique.  It was the fastest way for me to get the hand-applied brush look I wanted.  I hate roller marks!  One of the great things about oil based paint is that you have quite a bit of time to "work with it" before it sets up.  So I could paint crevices, rollover and then brush-back a whole panel easily without it getting tacky.  When I say brush-back, I'm not sure I'm using the right term, but what I mean is I cleanly run a straight fairly empty (not loaded with paint) brush through what I've already rolled, in order to remove roller marks and replace them with brush marks.  This sort of mostly levels as the paint dries anyhow, but for me it was a more pleasing look. Another thing to note about Satin Impervo:  it's quite glossy at first, don't be alarmed.  In about 30 days it cures to a wonderful mellow, satin, low sheen finish.  It's like magic.  Here's the few photos I have after the second coat, with counters and back splash plus sink finally installed: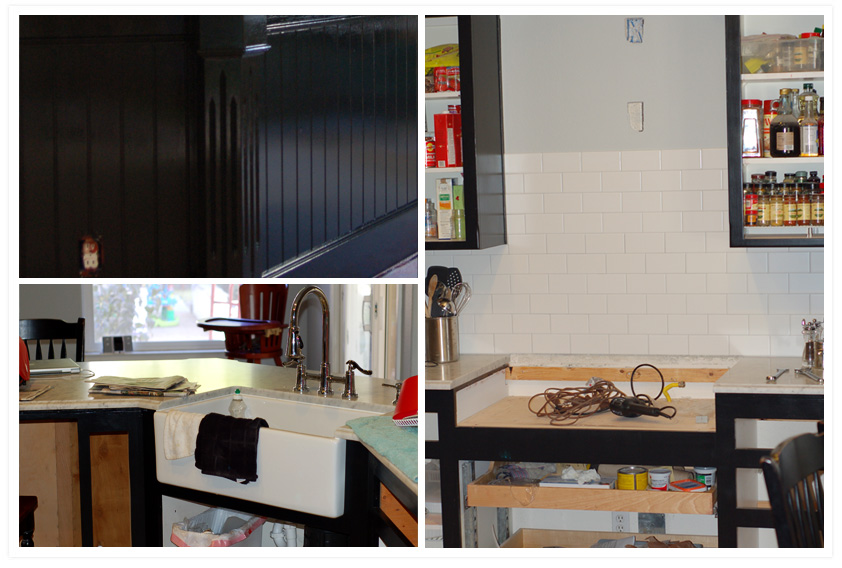 Still a huge mess, but we're getting there.
You've painted your cabinets!! But what about the doors and drawers?
PHASE 2: I did the doors and drawers as phase two.  The most important thing was to get our kitchen back in functioning order, and finishing the base cabinets allowed the countertop, sink and stove to go in so we could stop eating pizza. Plus, I was working with limited hours each day, I had Cameron, Matt was harvesting full time and installing sinks and drains and gas lines after he got home from work at 7 pm.  So the doors became their own phase.
And what a phase it was!  Matt set up the shop (before it was our studio) as a paint factory: setting out every table we owned, tarping them with plastic and the floor with drop cloths.  I set the doors up on the table and away we went.  I would paint 4.5 hours per day.  That's the quickest I could get it done.  Here's how it would go:  Cameron goes down for bed at 6:30 (those were the days!).  I'd start painting the rows and would listen to good music/podcasts.  at about 9, I would break for dinner with Matt.  Then off to work again, and finally in bed by 11:30 each night. Day 1: Prime one side. Day 2: Sand and prime the next side. Day 3: Paint one side. Day 4: the other side.  Day 5: Second coat. Day 6: Second coat again.  Day 7: coat of black. Day 8: other side. Day 9: Second coat of black. Day 10: other side. Whew!!!  In reality, it took two weeks, not ten days.  I had some break days thrown in there.  Don't forget sanding between each coat!  Some days the shop was very cold so I would let them dry even longer than 24 hours.  Then, when I was done, I let them cure for a full week before installing them back in the kitchen.  I didn't want to ruin anything that took me that long! Here's some photos of the black coat: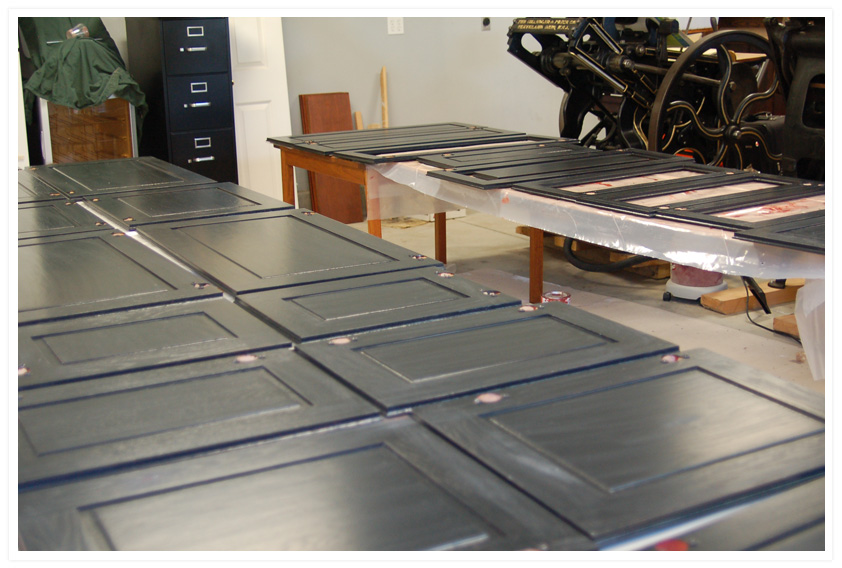 Paint Studio from one angle.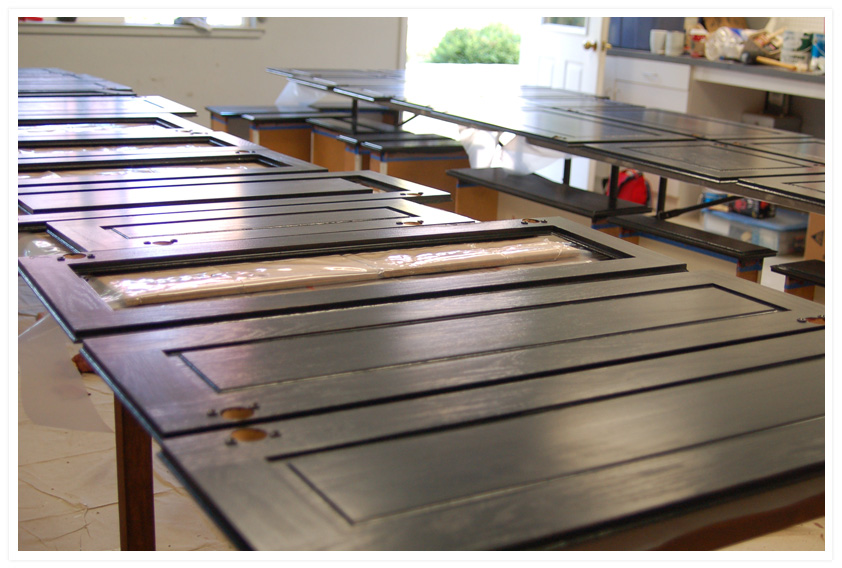 And the other.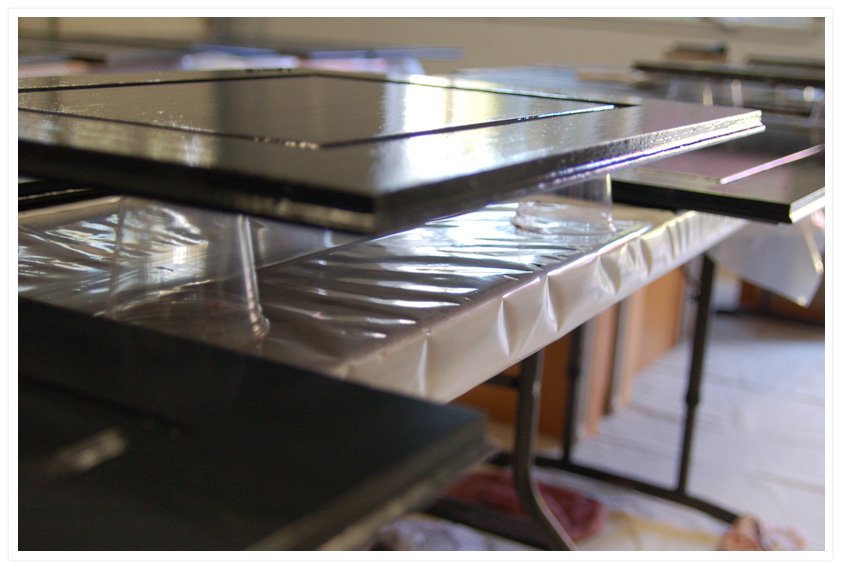 Plastic cups propped up the doors as I painted them… note the plastic-lined table.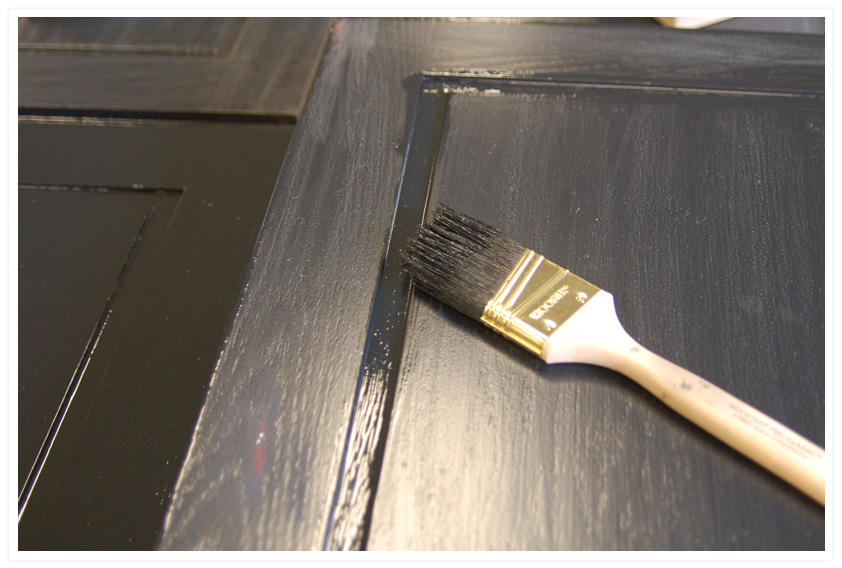 Brushing the crevices.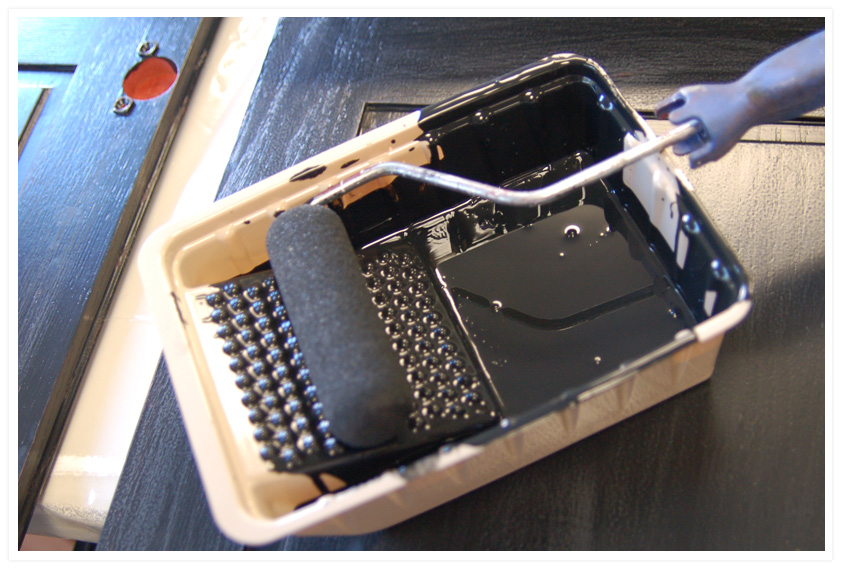 The mini-roller.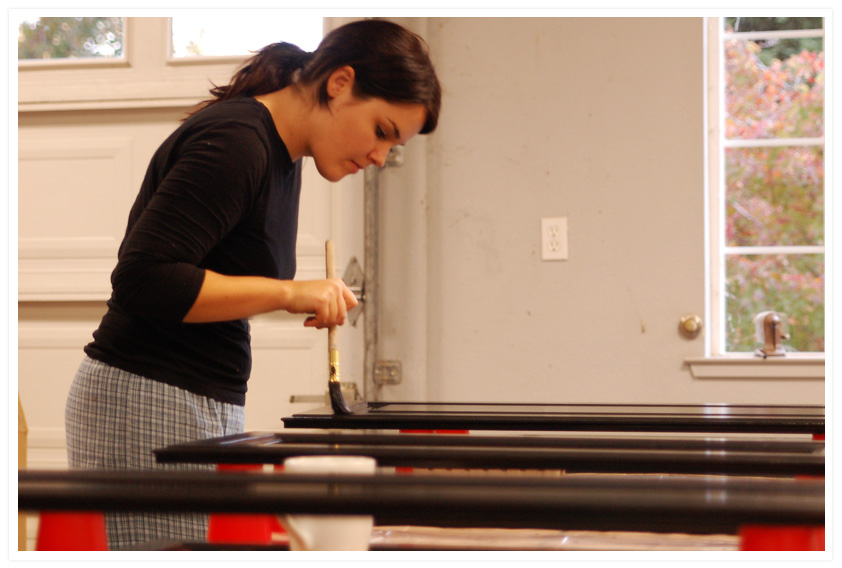 What I looked like for weeks and weeks.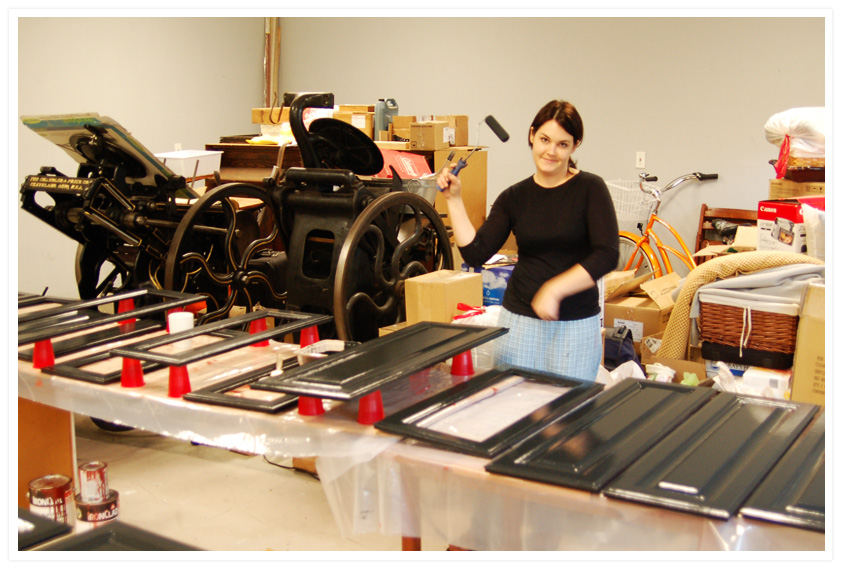 Rolling this much can officially make you crazy. See our two poor presses languishing in the background.
And then… one day, I was done.  Carl came and put all of the doors back on, Matt and I installed the hardware, Miller put our seeded glass in, and we were done.  Wow.
But wait!!! Hang on a sec!! Stop right there, hold the presses! Wasn't I going to softly distress them?
The answer to that is yes.  And to this day I'm about half-way done with that project.  Call me lazy, I guess!  After letting the paint cure for 30 days, I lightly sanded the cabinets around the stove.  Then I waxed them with paste wax for a hand-rubbed lustre – it's a more aged look.  I just haven't gotten to the cabinets around the rest of the room yet!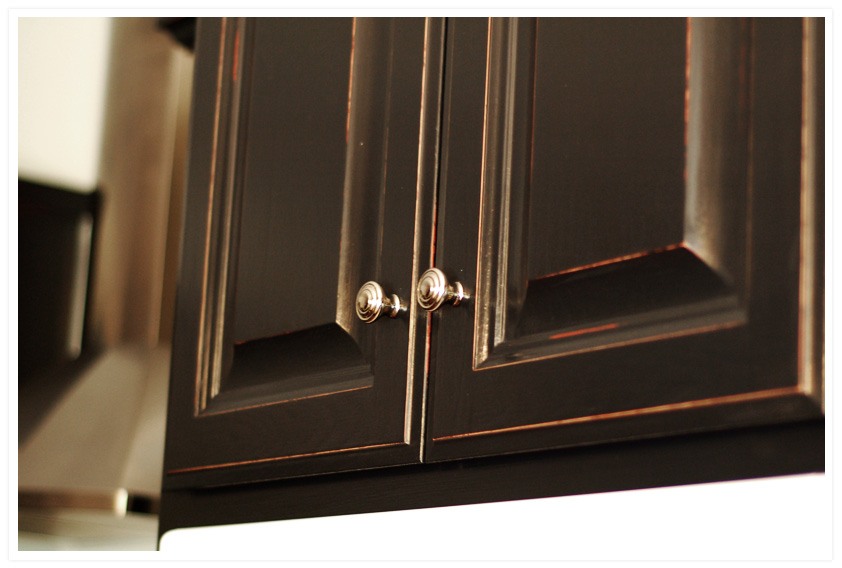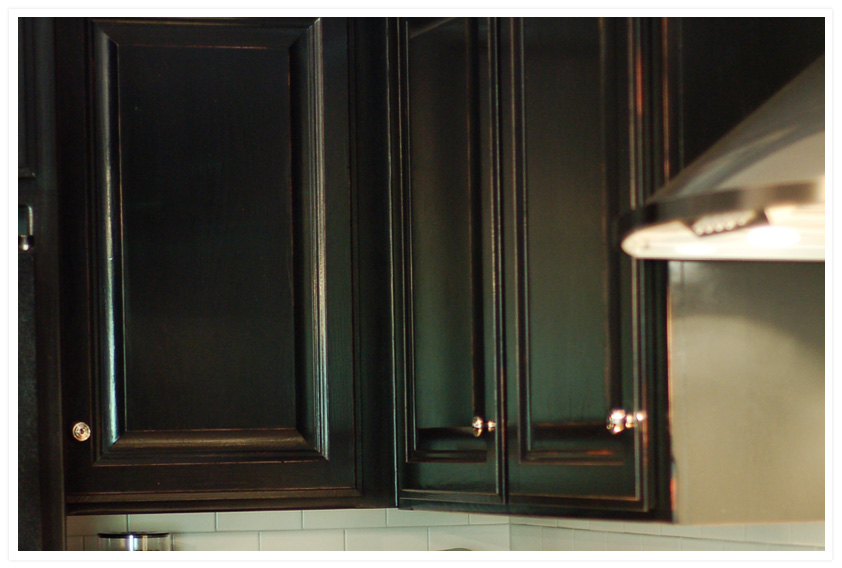 Someday, someday.  It will all be done.
So goes the tale of a girl and her cabinets.  She met them, she painted them and they lived happily ever after.  And you could too.
The End.
P.S. Stay tuned for a complete source-list tomorrow!