Our kitchen remodel.  This time last year, we were in the thick of it.  The kitchen part of our overall remodel wasn't actually planned, it just sort of happened in that snowball-y fashion that things sometimes do.  First, it was the floors.  We wanted to change the white carpet/tile combo (which dissected the living room in the weirdest fashion) and knew that there was no time like before we "moved in", which I put that in quotes because we were living there, just not unpacked.  So, if you're going to do the floors, what do you have to do first?  Make sure the footprint of your room is the way it's going to be for a long while.  So, enter living-room wall redo. We changed the wall, and fixed that footprint issue.  Then, there was the kitchen.  We knew we needed to fix the shape of our peninsula, which meant, you guessed it, changing the footprint.  Which became carpentry, painting the cabinets, new counter, new lighting and a few new appliances.
Overall though, the remodel was a BUDGET endeavor.  We only wanted to spend on things that really mattered.  The kitchen had dated oak cabinets and white tile counters.  The cabinets were in good shape, however, and so entered the fateful idea of painting them.  I thought, "I can do this, I can" and scoured the internet for resources on how to produce a quality cabinet paint job DIY.  My goal this week is to create what I could not find:  a comprehensive run-down on painting oak cabinets, with pictures and step-by-steps. Today: before and after!!  Tomorrow: the kitchen choices/breakdown. Wednesday: how to paint oak cabinets. Thursday: tile. Friday: Bubby's birthday.  Sound good?
Before I begin, let me say that my biggest inspirations were Garden Web (their kitchen forum) and the blog One Woman's Cottage Life (now called Twice Remembered).  Garden Web's forums were a wealth of knowledge and reviews on everything, and the cottage blog was the most successful cabinet-painting-adding-moulding-DIY job I'd found on the web (she painted them a soft red).  It wasn't until after I was done with the whole project that I found Layla's black cabinet paint transformation, which is most similar to mine.
Enough chit-chat.  Y'all ready?  Fasten your seatbelts, this is a doozy!
Here's the oakalicious before: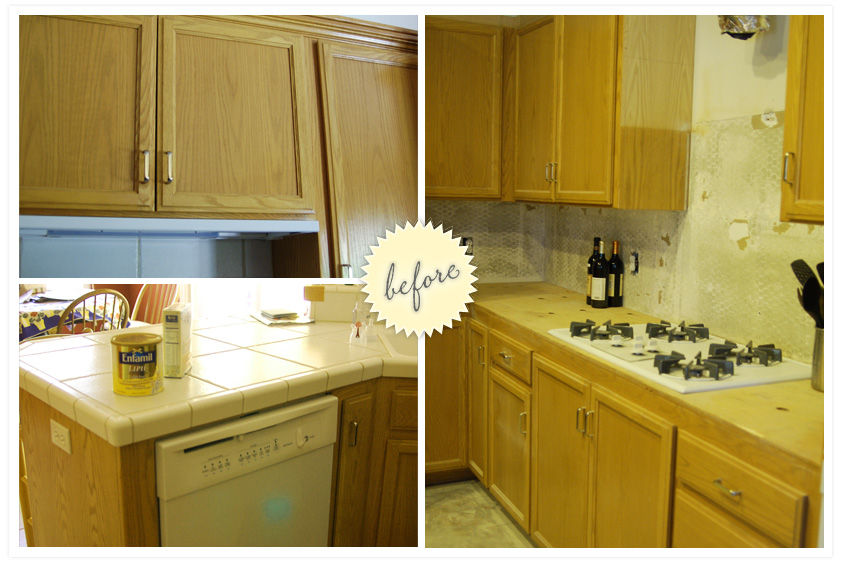 And the same exact spots after: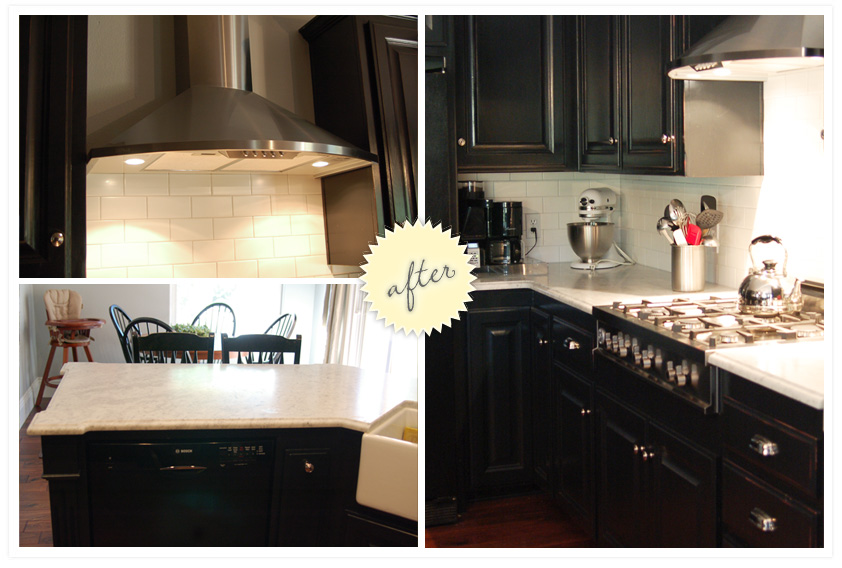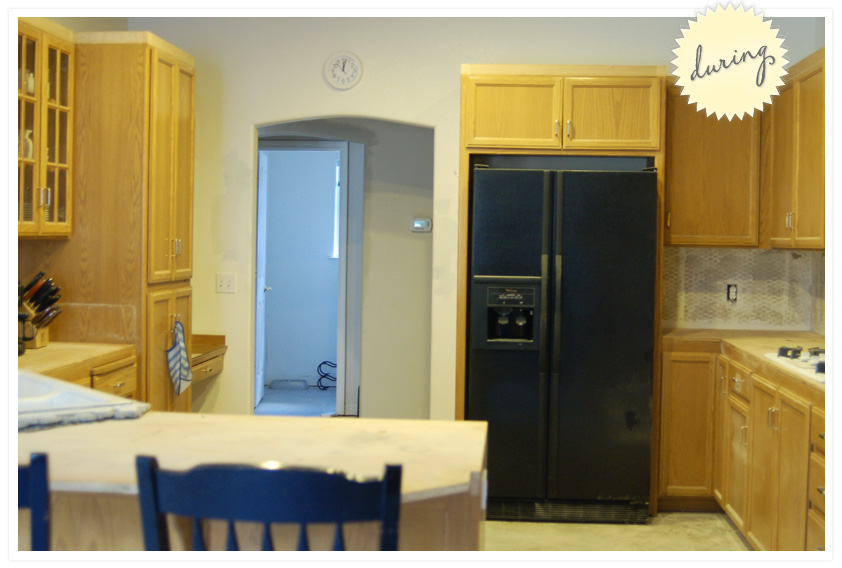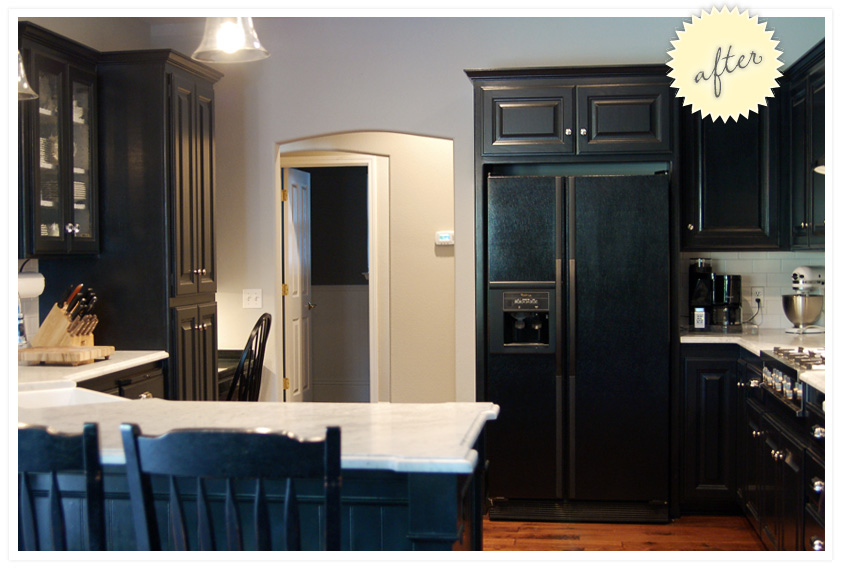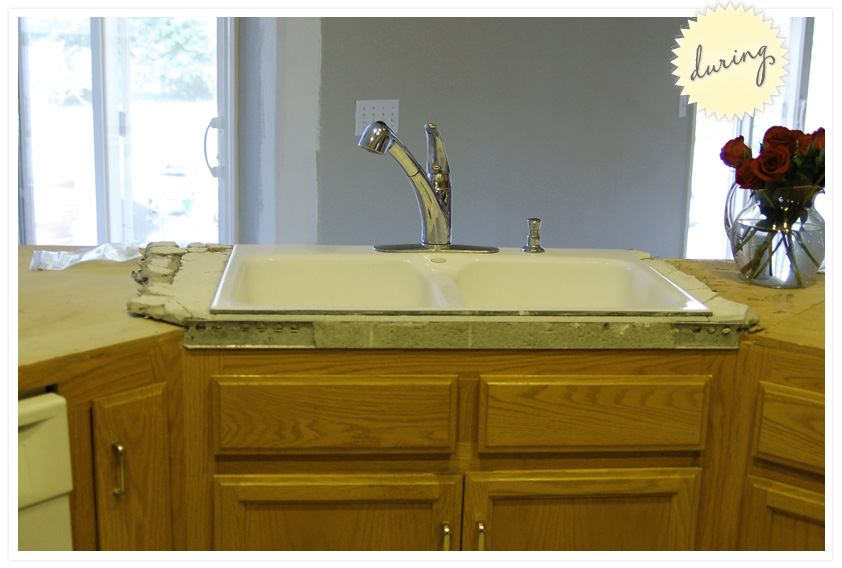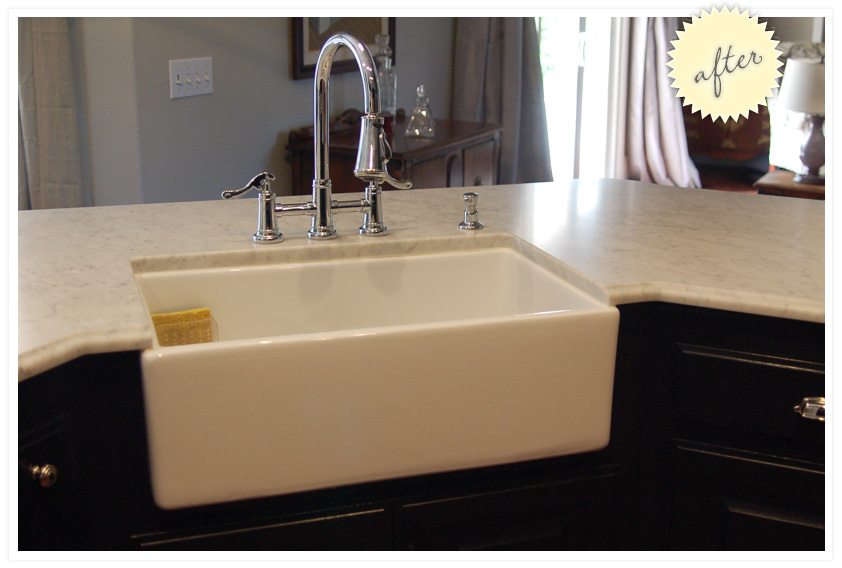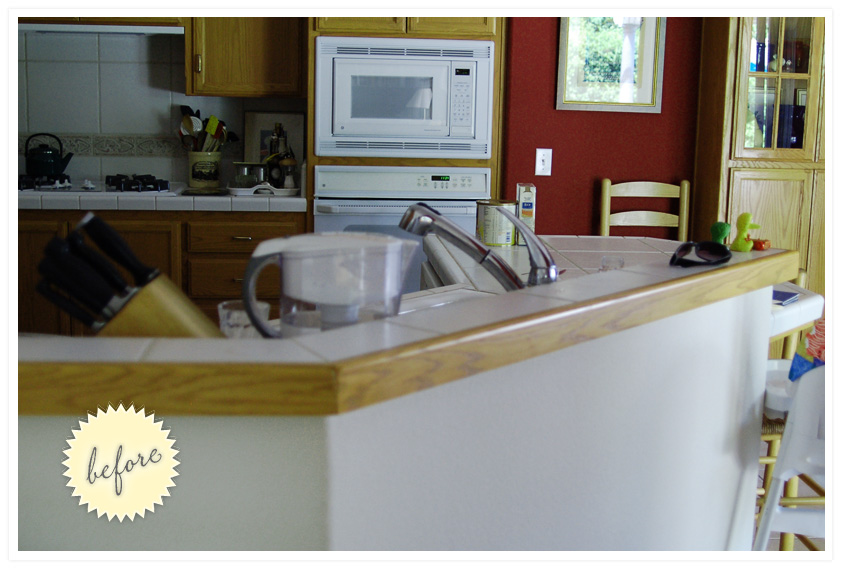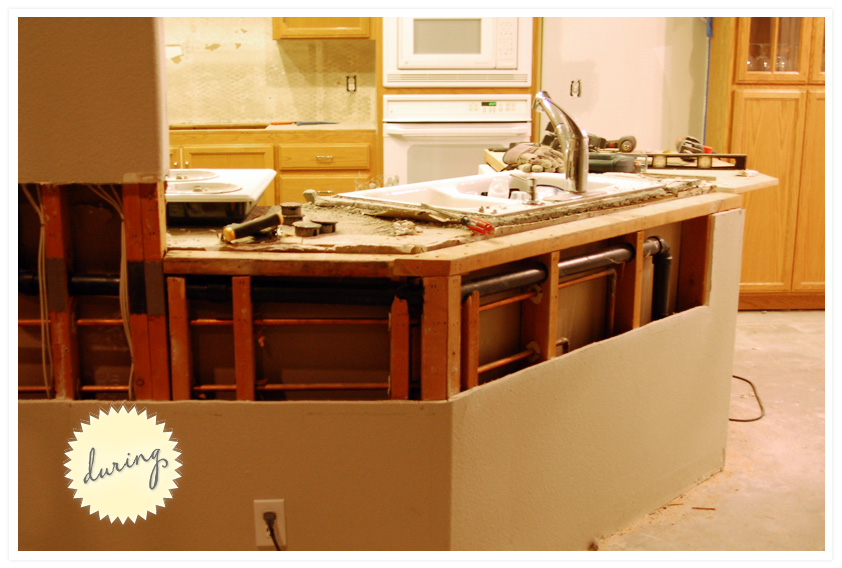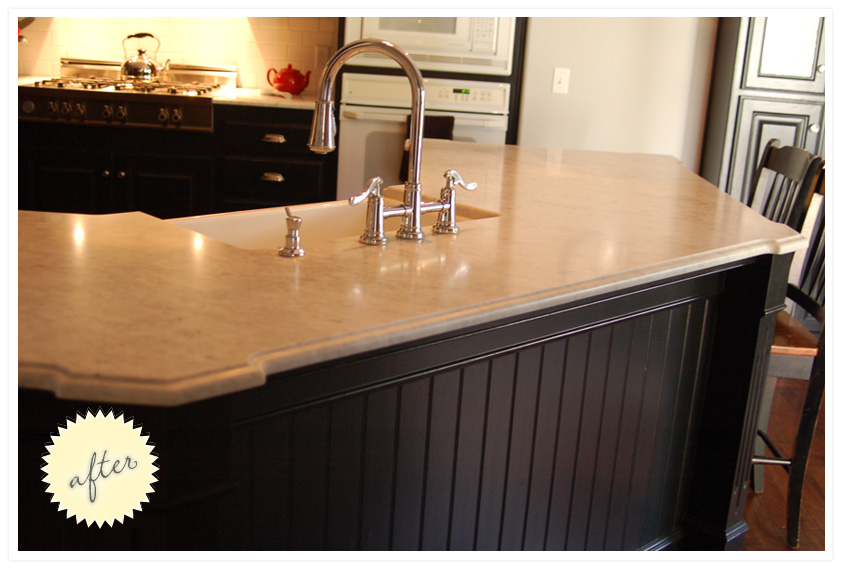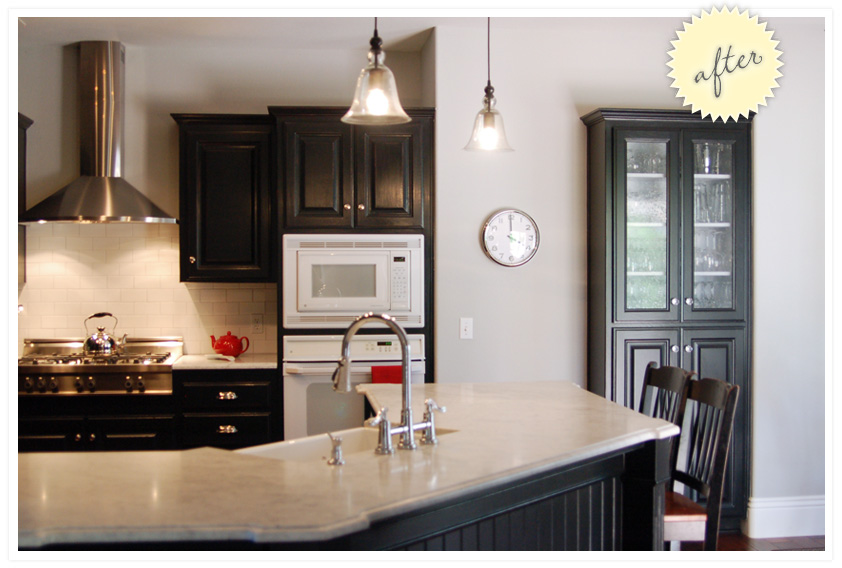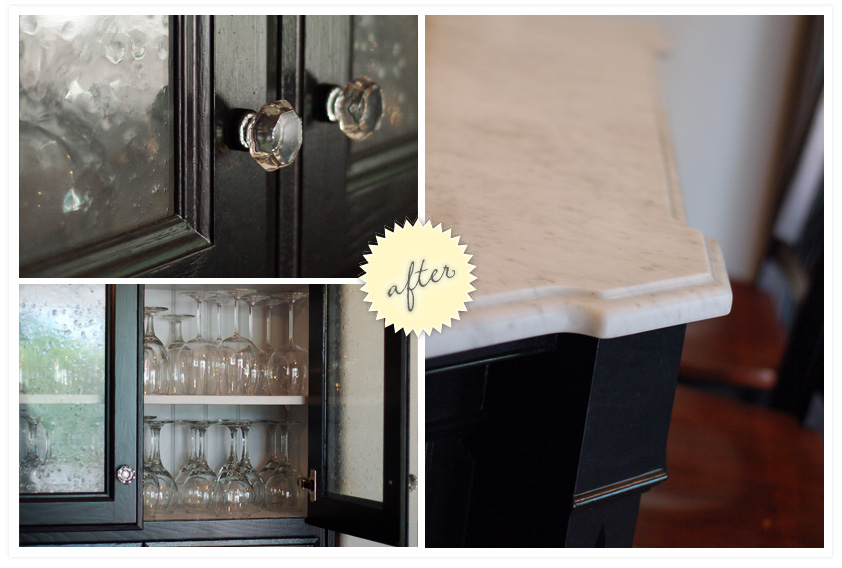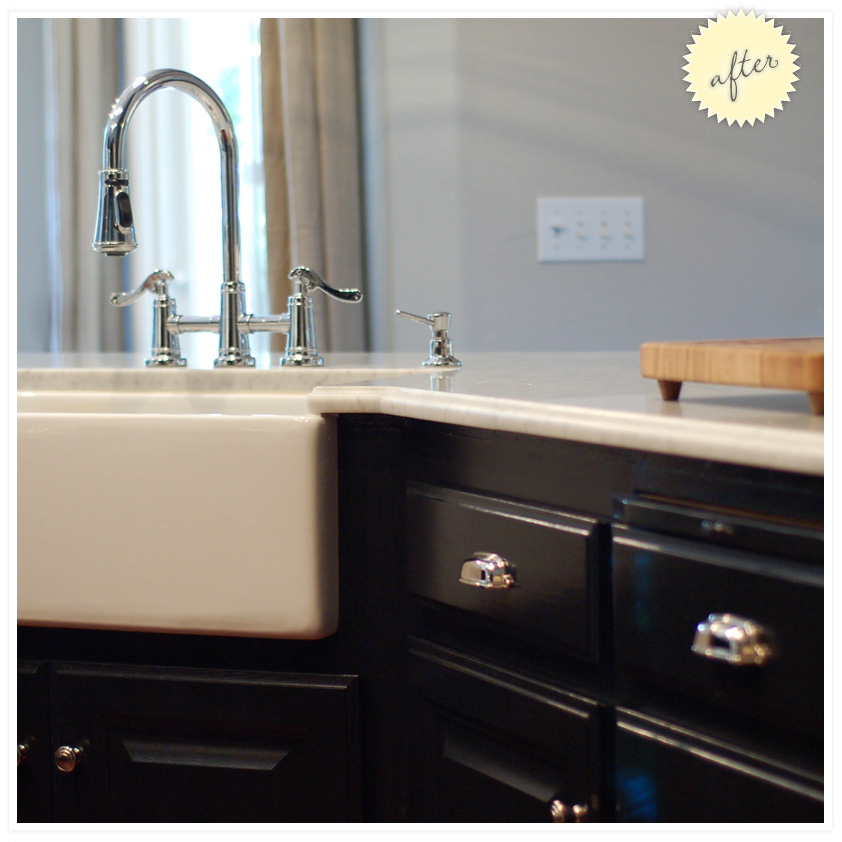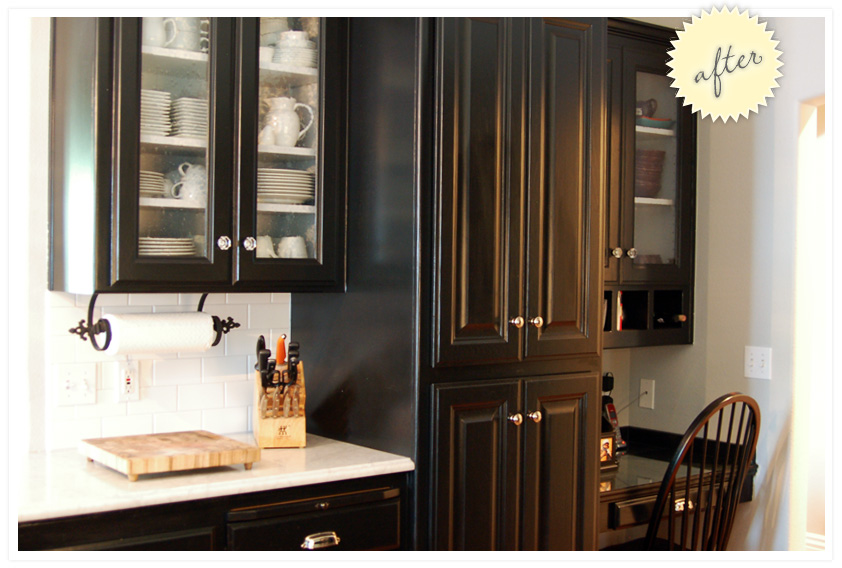 Fun, right?  So much work, but so worth it!
More tomorrow!